‍
Clothing is an item synonymous with elegance, simplicity, or comfort. Learning how to start a clothing brand is no cakewalk, especially as the textile market is rife with competitors and ever-evolving trends. However, once you find your voice, you can rise above the noise.
From Chanel to Versace, these recognizable brands have truly inspiring stories as to how they became global fashion houses.
These days, eCommerce and online shopping via social media platforms have become the modus operandi for many fashion brands. Sustainable clothing lines are being introduced to the market, proving that eco-conscious products can uphold quality and authenticity.
‍
How to start your own clothing brand with these 10 easy steps
As an entrepreneur, you are aware that plenty of thought and effort goes into starting a business. As for a clothing line, there are no definitive steps to follow when it comes to how to start your own clothes brand. It all depends on your brand ideology and the niche that you are targeting.
You may be wondering whether it's even possible to tackle how to start a clothing line with no experience. It's entirely possible with the tips below.
We've put together a simple ten-step guide explaining how to open a clothing brand from scratch.
1. Develop a brand identity
To create your own clothing line, any entrepreneur must have a long-term business strategy that focuses mainly on brand identity. Your brand identity highlights your visual elements along with the main attributes your fashion line has to offer.
The millennial generation loves to wear brands that offer an experience. Brands should be able to resonate with that desire and add a particular cachet.
Here are some key questions to ask yourself before creating clothing brand ventures:
What is my brand identity, and how do I make it resonate with the masses?
What challenges might I face while starting my clothing brand, and how will I overcome them?
Who is my target audience?
How do I make my own clothing brand stand out from the crowd?
Would I personally want to wear the clothes before I market them to potential customers?
Does artistry matter more than the essence of my business?
How are my products different from existing clothing lines?
Answering these questions will lay the foundation to build your brand and put forth the best business you could ever run. You can also save yourself the whole stress and hire B2B PR firms to devise a functional brand-building strategy.
When it comes to how to start clothing line business products, you have to consider some introspection and research before taking a deep dive.
‍
2. Find your target audience
"Niche," "target audience," and "potential customers" are words often used as part of business parlance. Once you have your brand identity in place, the next step is to identify your customer base.
You can start by answering the following questions:
Are you looking to cater to millennials or older individuals?
Is your brand leaning towards luxury clothing or fast fashion?
Another important aspect that you must consider in this step is brand equity. Brand equity will determine how your brand impacts the minds of your target audience.
You must determine what attracts your target audience towards your brand. Your brand offering should be exemplary and able to lure loyal customers from other brands.
From style-conscious customers to those assessing the value of a clothing item by its price, having a well-defined target demographic is a crucial answer to the question of how to start a clothing brand.
‍
3. Identify key business components
Starting a business is not easy. From the logistics and equipment to finances and marketing, there are a lot of wires that need to be in sync for your brand to flourish.
Pricing structures, product descriptions, material usage, filing the necessary paperwork, and registering the business are important from an operations point of view. Make a detailed guideline and outline every aspect before you launch your clothing line.
‍
4. Start designing and sourcing
At this stage, start designing and sourcing authentic-quality fabrics for your clothing brand. Considering this is your livelihood on the line, make sure your creative and entrepreneurial spirit kicks into high gear.
For example, if your brand specializes in men's suits and pants, ensure the fabric quality of these suits are top-notch to provide the best comfort.
While designing and sourcing, keep your brand ideology in mind. The first impression is always the last, so make sure your products are well-made and carefully designed.
Practical decisions, quality products, and cost-effective pricing are what will set you apart from your competition.
‍
5. Find the ideal manufacturer
Manufacturers play a significant role in the success of a fashion brand. At this stage, you need to answer the following questions:
Are you looking to set up a studio?
Are you planning to source and tailor outfits by yourself?
Are you looking to source your fabrics from a well-established manufacturer?
Would you want a workshop of artisans to create the masterpieces?
You need to start setting up meetings with potential manufacturers. You can learn a lot about the other party based on their clothing manufacturing logo, so make sure to gather as much information as you can to determine the right sources for your needs.
If you have a decent budget and are looking to stand out, you need to find the ideal manufacturer. This will be tedious but will serve as a monumental stepping stone for your business.
💡Tip: If you are working on a tight budget, you can start designing and manufacturing your goods locally. Do extensive research on which manufacturers offer the best prices while maintaining quality. Never compromise the quality of your clothes to save a buck.
‍
6. Determine your pricing structure
It's essential to understand the numbers and price your clothing goods accordingly. Pricing structures should be concrete, definite and practical. You can't take on how to start a clothing company without tackling your prices.
Before you price your products, take a dive into your startup costs and keep realistic expectations. You can't expect to make a profit of a million over your first couple of years. The priority at the start is to offer accessible yet beautiful products that attract attention. Remember, cost-effective products offer a competitive edge.
If you are looking to raise funding, having a strong business plan is imperative to get potential investors or venture capitalists onboard. Your funding will depend on how well you sell your idea, so make sure you fully believe in your vision before you set up appointments.
‍
7. Platform selection and marketing
Decide where you want to start your fashion line, whether it's a retail store, an online store, a home studio, or any place that is accessible to your potential customers.
However, with the increasing number of virtual shoppers, setting up an online store is the best way to launch your clothing line. You can start by creating an attractive and stylish website with friendly eCommerce platforms like Wix or Shopify, and registering a memorable domain name.
For your online clothing store, .store is a great new domain extension that is meaningful, brandable, and will be super relevant to your customers. With .store, your domain name can simply be www.<brandname>.store.
💡Tip: Your target audience plays a major role in this decision. If your target audience chooses clothes based on feel and touch, a home studio or retail store will work well. If you are targeting customers interested in fast fashion, an online store will get the job done. Choose wisely.‍
Another important aspect of your brand is creating a logo that is chic and helps you outshine your competitors. Once you have your website and logo ready, marketing is the next step in how to start a clothing brand.
A social media presence will add great value to your brand. Budgeting your marketing goals and getting on board with social media managers and graphic designers will take your business to the desired heights. Also, think about providing an involved customer experience that continues beyond the purchase.
Consider using a CRM with email marketing. Having an integrated tool like this will allow you to convert websites from visitors, and personalize email communications with your target audience. Most CRM software are easy to use and simple to set up.
Engage with your customers, use innovative product packaging, use QR Codes with logo on your labels, and provide discounts to improve customer experience and create brand loyalty.
‍
8. Test out your designs
Feedback is an essential part of launching any new business, especially before you decide to go all-out with your new venture. When it comes to the birth of a clothing line, it helps to know that your designs are well-received and loved by potential customers. The testing stage helps consumers understand your brand, and it gives you (as the designer) an idea of where your business could be going.
Marketing spaces, conventions, online marketplaces, and fairs are great avenues to meet people and market your line. You may allow interested peers to try on your designs and observe the general response. Any feedback is great feedback, and this guides you to resolving any issues with your designs before you launch the line.
The truth of the matter is, the testing stage never ends. As long as you have a clothing line, you will be adding more designs and collections as time goes on. You will always need this kind of growth in your business and having a pre-emptive strike in this aspect makes all the difference in the world.
‍
9. Launch your clothing line
Starting a clothing brand should similarly start with a soft launch. It is always a great idea for fashion brands looking to set their base.
A soft launch mainly focuses on limited quantities and selective ownership. Start by focusing on your business plan to get potential investors on board to have access to capital.
Once you start seeing significant growth, you can focus on gaining full ownership of the profits and collaborations.
‍
10. Scale up your clothing line
Now that you have successfully launched your new clothing line, what's next for your business? Continue to scale it. This does not mean you need to immediately add new products and overwhelm yourself with ways you can move up the ladder.
It is simply thinking about the genuine direction of your brand and how you can seamlessly activate your growth as a designer. Before committing to your next action plan, take some time to reflect on the trajectory of your business. Success does not entail grand ideas; it entails real purpose.
You've started your own clothing line, but it's time to remember the mission of your business. Start small and work your way up.
For example, in the midst of success, a suitable next step would not be to immediately hire a full team of employees to sustain your brand but to look for a few that truly understand the essence and vision of your clothing brand. Think about your designs. How do you want people to feel when they wear your clothes? Incorporate that insight into new products down the line.
Remember your purpose as a designer, and forever scale up in that light.
‍
How to start your own clothing line and stand out from competitors
Clothing brand logos are essential, but there are other ways to stand out and make an imprint on the fashion industry.
With the emergence of a global pandemic, most brands are leaning towards the Internet as their greatest business asset. Statistics show that, in 2020, the online shopping market nearly reached 4 trillion globally, with 46% of women in the United States buying clothes online.
Rest assured, the clothing industry is booming, and there are many opportunities to stand out and reap the benefits.
Branding is essential, but here are other valuable tips to consider.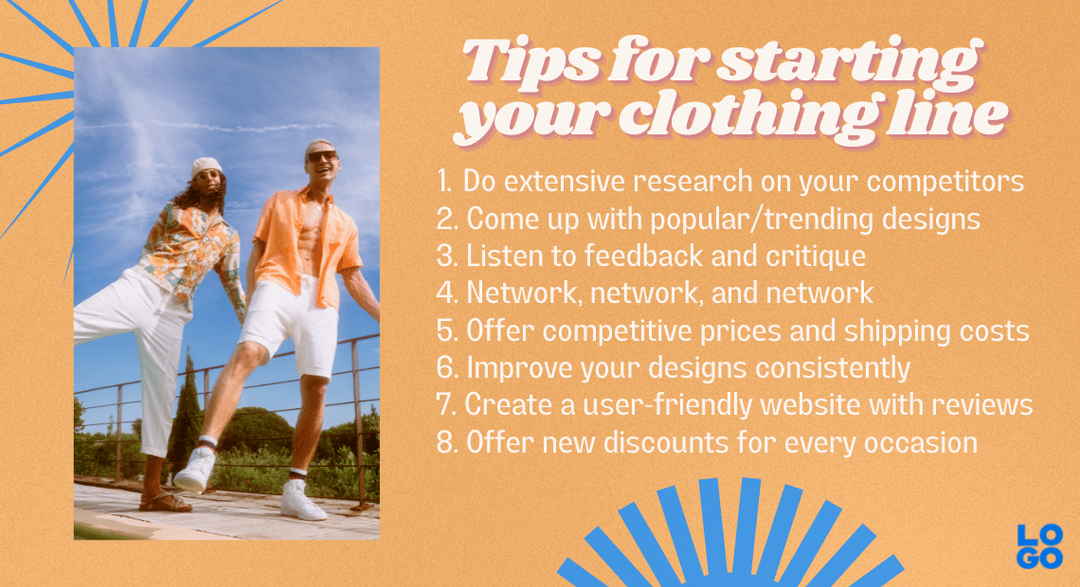 Do extensive research on your competitors
Come up with designs that you know people would want to wear
Take as much feedback and critique as possible
Network, network, and network
Offer competitive prices
Offer competitive shipping costs
Improve your designs consistently
Create a user-friendly website
Offer new deals and discounts for every occasion
Feature reviews on your platform
Studies in the past have shown that high shipping costs are the number one reason for cart abandonment, next to discount codes that don't work and arrival times that take too long. Curb these hiccups at the start to show users that your brand prioritizes its customers at all times.
These tips can help keep people interested in your clothing line, but a good branding strategy boosts the professionalism and quality of your online entity as a whole. A logo is like a visual pitch, and if it's appealing enough, it can compel users to check out your designs.
LOGO.com can assist you with getting a logo, a name, and tons of services to help you on how to make your own clothing brand. Find out how below!
‍
6 steps to creating a free clothing brand logo
When thinking about how to start a clothing brand, you need to think about clothing brand logos.
A logo can help establish the visual identity of your clothing business and set it apart from the competition. The fashion industry is notoriously known for being highly competitive, so having your business stand out in a positive light can do wonders for your brand.
Building your clothing business can boost trust and reliability between you and potential customers, which is vital as your brand needs their loyalty to generate sales and future growth. Once you manage to build a connection with your audience through effective branding, your job gets a whole lot easier.
A strong logo is one giant step that can help you get there, and with our logo maker to assist you, your visual branding needs are pretty much set. Here are six easy steps to get free clothing brand logos and ways to promote and market your business with your new visual.
‍
Step 1: Find a great clothing business name
Your clothing business name is more for your customers than it is for you. Decide on a name that oozes charm and style, so much so that it would compel onlookers to learn more about your brand.
Creating a clothing brand name doesn't have to be challenging. Consider using a business name generator to provide you with a great and memorable name along with a beautiful logo to go with it.
All you have to do is input 1 to 3 relevant keywords that describe your business and optimize your preferences.
For example: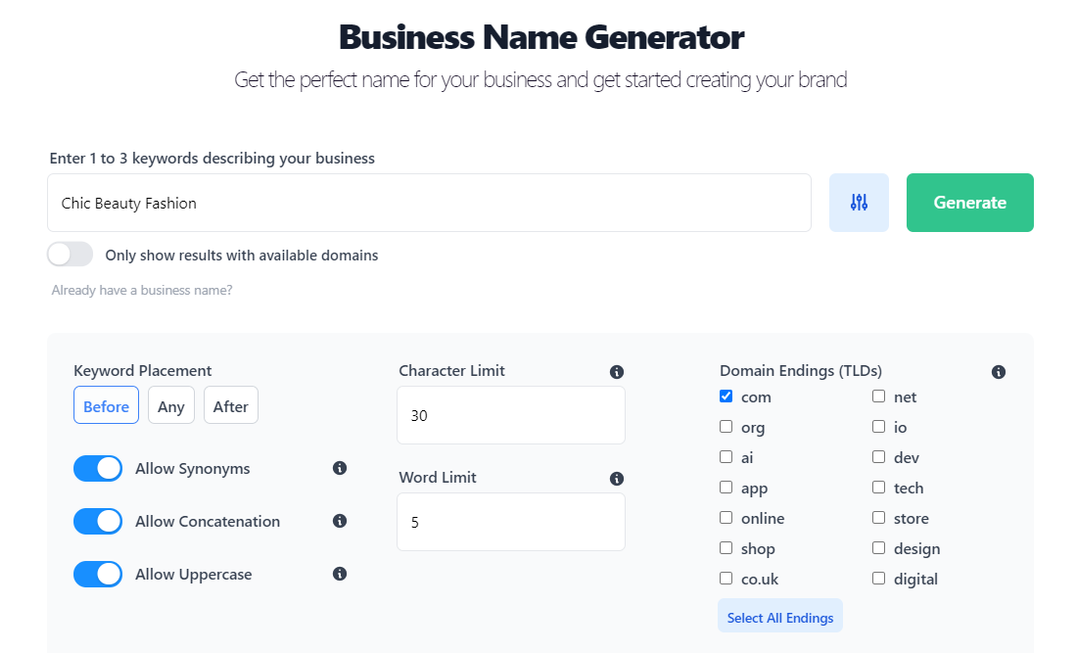 The tool will generate a ton of names along with potential logo ideas for you to choose from.
‍
Step 2: Choose the clothing line name you like

Browse through the selection of names and choose the one you like the best. Don't worry about the logo design just yet— you'll soon get hundreds of different designs to choose from.
Here are some tips on choosing a great name for your clothing business:
It should be unique and distinctive
It should be relevant to your products/designs
It should be easy to pronounce and memorize
It should be simple and recognizable
It should reflect who you are as a clothing brand
Once you have chosen the right name, click 'Ideas' on the upper left of the page to check out hundreds of logo designs for it.

‍
Step 3: Find the perfect clothing line logo to customize
Every logo you'll find is customizable according to what you prefer. Find a design that is closest to your ideal logo and click it to customize it. From here, you can modify its font, colors, icons, spacing—pretty much everything! Don't stop until it's perfect.

Here are some tips for when you customize the logo to ensure it's effective:
Use one or two colors at most
Opt for a neutral backdrop
Choose the colors that best represent your clothing business
Use one or two fonts at most
Consider sans serif fonts for their readability
Avoid overcrowding the logo with too many elements
Build a simple yet strong design
Ensure that it looks memorable and professional
Use an icon that best represents your designs
‍
Customization is essential because it allows you to make the design your own. You are in total control of its elements. Nobody knows your ideal logo as well as you do, and with a professional logo maker, you get to make your vision come alive in exactly the way you need it to.
Customizing clothing brand logos also helps your line stand out from the rest of the competition, which is a big deal in the fashion industry. Your logo is an essential step towards how to start clothing line goodies that will awe your customers.
You get to add your own spin to the design instead of using pre-designed and ready-made logos, which tend to be ordinary and monotonous. A logo represents your brand, so you wouldn't want the same qualities to be said about your designs.
These are the benefits of logo customization:
Helps in standing out from competitors
Allows you to tap into your creativity
Achieves your ideal logo design
Adds distinction and memorability
Helps make brand-specific elements come alive
Proves that the design is truly your own
‍
Step 4: Finalize your logo design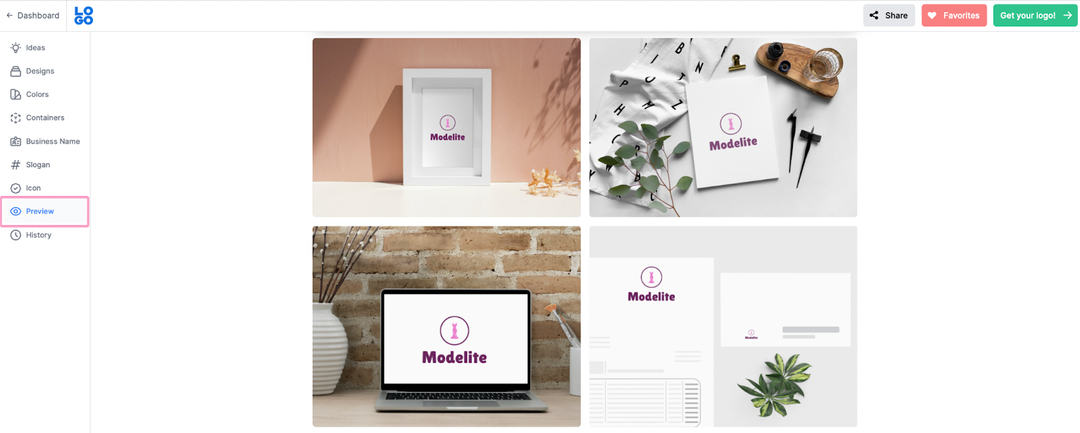 Once you're happy with the design, go ahead and click 'Preview' to see how your new logo will look on various platforms and merchandise. You will also receive details about the font, color palette, business cards, and whatever else you need to get your clothing business running.
That's all it took to get clothing brand logos! Four simple steps, and you're almost at the finish line.
‍
Step 5: Download your free clothing brand logo
Once you have finalized your logo, click the 'Get Your Logo' button. From here, you can take your new clothing brand logo home free of charge!
You can start using your clothing brand logo right away with these benefits:
Full ownership of your logo - Once you purchase your logo, it completely belongs to you and no one else, even if you decide to delete your account.
Instant access to your logo - Your logo is safe in your account. It is secure for you to come back to it whenever you need it.
100% satisfaction guarantee - Your happiness is everything to us. If you're unhappy with your logo, we will issue you a full refund.
Launch your clothing brand in almost no time at all. It's practical to get an early start, so go for it! But take note that your logo is just the start. You still need branding materials featuring your new logo to build your online presence.
This is where the Brand Plan comes in.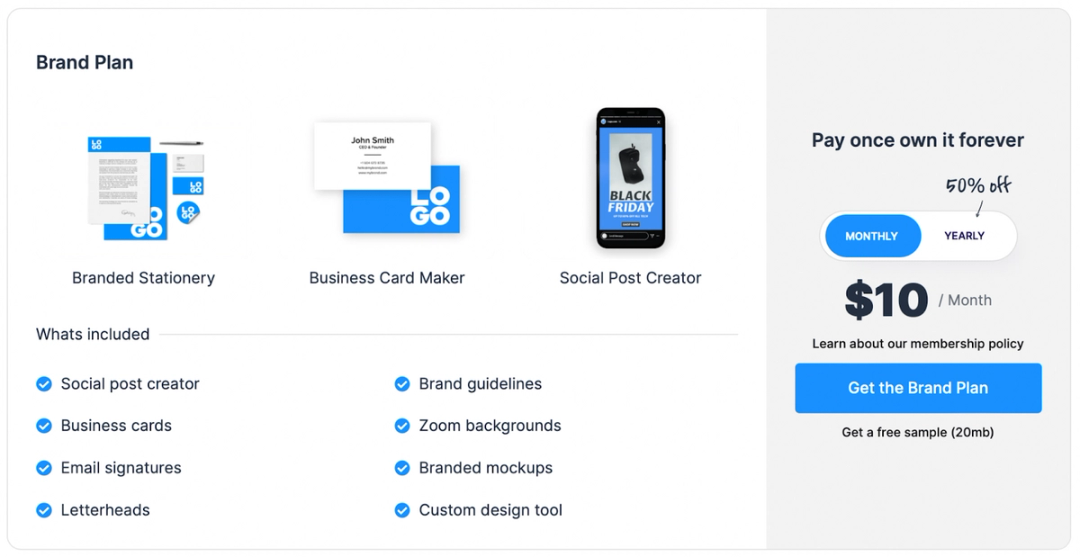 Our Brand Plan is your brand-building best friend. For only $10/month, you have instant access to:
Unlimited logo edits
Business card maker
Email signature maker
Custom design tool (Stitch)
Brand showcase
Brand guidelines
Perpetual brand backup
Oh, and all of them are pre-set with your new clothing brand logo. Say hello to instant convenience and results!
‍
Step 6: Promote your clothing business
Social media branding is an effective tool that allows you to market your clothing brand to the right audiences efficiently. For example, Instagram is the perfect place to display your clothing designs and promote your products.
But before you post any designs, a way to build credibility in your clothing business is to make your social media presence consistent.
A social media kit offers this consistency. LOGO.com gives you ready-to-use files for all your social media platforms, such as Facebook, Instagram, LinkedIn, Youtube, and Twitter, so that you can get started in no time.
More importantly, to build a clothing business, you would need a website to feature your designs and have customers purchase your products. LOGO.com offers a website builder, which gives you infinite possibilities for how you would want to use it for your brand.
You can also dive into other forms of promotion, such as creating blogs about your journey as a designer and entrepreneur, providing tips and tricks to aspiring designers while also building your clothing business.
According to a study from Hubspot, 80% of internet users interact with both social media and blogs. What are you waiting for? Get a social media kit and a website builder today!
‍
Frequently asked questions: 4 popular FAQs about how to start your own clothing line
What are some commonly asked questions about starting a clothing brand? Get your questions answered with four FAQs.
1. How much does it cost to start a line of clothing?
The initial investment required to launch a clothing line can vary widely depending on its size, but in general, a small line will need at least $500, a medium line between $1,000 and $5,000, and a large line between $25,000 and $50,000.
2. How can I start a clothing business with no money?
The print-on-demand dropshipping strategy is the finest way to establish a clothing line with minimal funding. With this approach, you only pay for supplies when a customer orders them. You don't need an inventory, and you don't stand to lose much if the product doesn't sell.
3. How do clothing brands become successful?
Having a distinct brand identity that resonates with your ideal customers, sticking to that identity, and effectively communicating it to your target audience are likely the most important factors in the phenomenal success of your clothing brand. So, before you launch your brand, give it some serious thought.
4. How to start your own clothing brand with no experience?
You only need to know what to sell, to whom, and how and why people will buy your clothing.
Are you selling the clothes or wearing them as a form of expression? Consider the fierce rivalry already present in the fashion industry as you seek a niche for your brand. This means you need to convince the buyer why they should buy your products rather than your rival's.
‍
How to open a clothing line brand like a pro
There's a lot to think about when you start your own clothing line. You need to draft out a plan, follow this guide, weigh your pros and cons, and go with what your instinct says. A logo is the core of your visual branding needs because it builds a foundation between you and your target market. It shows that you care about your clothing line enough to brand it properly.
Compelling logos can ultimately set you apart from other designers, and they can potentially tell users a story with a single glance. Many say that patience and grit determine the success of your business. In the end, you need to choose a business that fuels the fire in you, one that you can run on your own terms and that will provide immense satisfaction to you.
Ready to design your free logo? Get started with our logo maker!