‍
In 1925, Gabrielle Bonheur Chanel, commonly known as Coco Chanel, created her fashion house and a powerful logo that has remained unchanged to this day. The Coco Chanel logo is dominant in her designs and all Chanel products— proudly displayed on bags, shoes, and jewelry. As a result, the logo is a huge aspect of the brand's image.
As one of the most memorable logos not only in the fashion industry but in the whole world, the Coco Chanel logo has always been a representation of elegance and superiority— qualities that Coco Chanel herself exuded.
Coco Chanel originally designed and sold hats to the wives and mistresses of the wealthy. Her original business location was in the same flat as Étienne Balsan's (her lover and financial sponsor) salon that served to the French hunting and sporting elite.
This gave her multiple opportunities to rub elbows with the upper class and was experience their fashion tastes. She eventually befriended Arther "Boy" Capel who was a friend of Étienne and became his mistress thereafter.
Arther recognized her talent and financed her first fully independent business venture, Chanel Modes, in Paris, France. Due to permit restrictions, she could only sell hats at first and had to stay out of the clothing design side of the business. However, within two years, Chanel was able to make her entry into clothing and started selling designs that were functional and allowed women to play sports.
Coco Chanel's impact was so potent on society that, more than a century after the company was established, people still wear the brand emblem in the form of necklaces, earrings, and even T-shirts.
The design is an interlocking C logo, depicting the creator's name but with a world of symbolism. The logo was designed by Coco Chanel herself and is entirely the same as its origins in 1925. It has never been altered, improved, or modified, as changing it would undo over a century's worth of brand recognition.
Though the shape is designed to represent the designer's name, it is also meant to inspire quality, elegance, and sophistication.

‍
The history of Coco Chanel

Coco Chanel was born on August 19, 1883, in Saumur, France. In contrast to her life as an adult, she did not grow up with wealth and glamour. Instead, she was raised in an orphanage by nuns after her mother had passed away.
As a young child, the nuns taught her how to sew garments, and this would eventually become a valuable lesson for her. By the time she was 20 years old, Chanel had moved to Paris. She slowly moved up the social ladder and had made friends with affluent and influential people.
By 1910, she opened her first store with the help of her friend Arthur Chapel. She started her fashion house by only selling hats. As her success gradually grew over the years, she opened two other stores in France and started selling her own clothing designs.
Her very first glimpse of success was the moment she fashioned a dress out of an old jersey on one chilly morning in France.
Impressed by the design, bystanders noticed her and asked where she had gotten that dress. She announced that it was a personal creation and offered to make one for them. Chanel regards this humble memory as the seed to her eventual grand success.

"My fortune is built on that old jersey that I had put on. Just because it was cold in Deauville."

By the 1920s, her most notable creation to this day had been starting to get traction. Her perfume, Chanel No. 5, was an immediate hit. But, more than that, it is said that she captured the spirit of a modern and independent woman by the scent alone. This perspective carried over with her clothing designs.

Chanel also introduced the concept of the 'little black dress', which has become a staple garment in most women's wardrobes. Chanel believed that every woman must have a little black dress in her closet— an attire they can always rely on no matter the occasion.
In 1954, she launched a variety of the Chanel suit— this ensemble is the most influential of her designs and is best known and remembered today. A Chanel suit is a boxy, collarless blazer with a fitted skirt.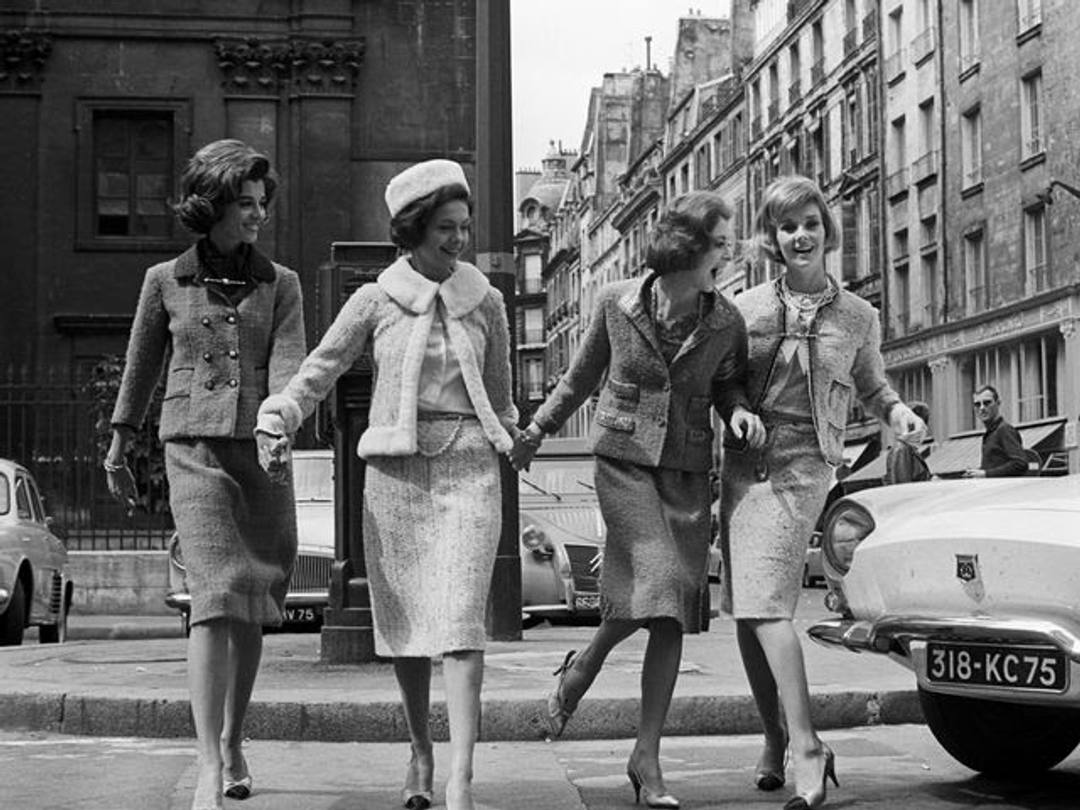 Coco Chanel rose not only beyond her limited financial status but also above the limitations put on women during this era— a time when women were encouraged to be silent and modest. Chanel was one of the first designers ever to introduce less restricting clothes for women.

"Women must always tell men that they are the strong ones. They are the big, the strong, the wonderful. In truth, women are the strong ones."

‍
Coco Chanel logo: Meaning

The Coco Chanel logo is considered a significant factor for the brand's massive success as it is one of the most memorable logos in the fashion world. As a designer, Chanel catered to elegant and sophisticated women through simple but impactful designs.
Her tailored pieces replaced the normalized over-designed and constrictive clothes of 19th-century fashion for women. Rooted in class and simplicity, the logo continues to exude an aura of iconic history and heritage.
The Coco Chanel is a black interlocking C logo that stand for the creator's name. Chanel herself designed the logo, which forever connects her to the brand even after her unfortunate passing in 1971.
Though it is simple to regard the logo as a name brand visual, the backstory behind it evokes the importance of roots.
‍
The idea for the logo was inspired by the orphanage where Chanel grew up. A popular story suggests that the interlocking C logo was inspired by the stained glass windows in an Aubazine chapel which featured interlaced curves and also housed an orphanage where Chanel spent the latter half of her childhood.
The logo title's black hue represents the sophistication and elegance that Chanel stands for and lives her life by. In addition, the simplicity of the logo subtly adds luxury, incorporating Chanel's philosophy of "less is more."
The logo is a classic combination among fashion houses, featuring black text on white space. The Dolce & Gabbana logo displays a striking similarity as it uses black for the wording and a white backdrop for emphasis.
Similarly, Chanel's interlocking C logo takes prominence as, underneath in much smaller text, is the name of the brand in bold uppercase letters.
The Cs are in gold on her products, providing a pop of color that immediately catches eyes while also remaining subtle and sophisticated. The double Cs are perfectly symmetrical, which is a pleasing visual. The logo is also scalable so that it can be displayed on various products regardless of the type and size.
Since it was designed in 1925, the Coco Chanel logo has never been changed and remains the timeless design you see today.
The logo font is simple and minimalist, which are reflections of the designs that are created by Chanel. The font is featured on almost every piece created by the fashion house.
The font was specifically customized for the brand, and it is known as Couture. The Chanel font is set in all capital letters with bold and clean lines— another representation of the brand's simplicity but with a touch of extravagance. It is displayed in a traditional sans-serif typeface and is remarkably close to fonts like RoundCut Bold, Double Porter 3, and ITC Blair's Pro Bold— but with modifications.
Chase Babb created the Couture font out of Chanel's handwriting, and she later copyrighted it. It is a clean font that is versatile, readable, and scalable, which are marks of an incredibly effective logo design.

When it comes to branding, simplicity is not merely a word that is thrown around for design. Instead, it is a tried and tested strategy that significantly helps entrepreneurs and budding business owners transition their brands from the unknown to the known.
To attest to this, Chanel's logo and clothing designs prove the effectiveness of minimalism in both couture and brand recognition. Other luxury fashion brands like Dior and Gucci have similar logos that feature the use of black and the aura of simplicity. However, Chanel was the first to design her logo in this manner.
The Coco Chanel logo evokes power, quality, authority, and wealth. Though it has a grand representation, the logo is also a statement of the founder's heritage. The essence of the logo has been cultivated over several decades since the brand's existence in the luxury market, and it continues to carry on even further.
The energy of goodwill and prestige surrounding the brand helps to ensure that its logo design is one of the most memorable in the world. It says so much when a simple logo design manages to enhance a brand's reputation for more than a century.

‍
Coco Chanel logo: Symbolism and significance

The Coco Chanel logo is entirely composed of two parts: a logotype and an emblem. Both elements can either be used together or separately, but regardless, they are badges that one can instantly recognize as Chanel property.
The iconic Chanel logo was created at the beginning during the origins of the fashion house as a reflection of Coco Chanel's principles, namely, comfort, geometry, and clean lines.

The symbol has intertwining Cs that stand for "Coco Chanel" while enclosed in a thin circular frame. All the elements are perfectly balanced with neat, clean, and distinct contours, which evokes a sense of harmony and excellence in its style, shape, and spacing.
The two interlocking Cs have several alleged symbolism and hidden meanings, but the most common explanation is that it represents the inseparable relationship between the business and its customers.
Chanel products have a remarkable ability to make its patrons feel modern and glamorous, regardless of their background. Essentially, once a customer identifies with any of the company's products, they become an integral part of the Chanel brand. And even better, they get to enjoy a lasting cordial relationship with the company.
Forever, the brand is intertwined with its customers— not only by making them feel complete with its designs but by also incorporating that intention in its logo. Coco Chanel felt deeply about the liberation of women, and she wanted to be a part of that confidence and independence for all time.

"Dress shabbily and they remember the dress; dress impeccably and they remember the woman."

There is an oval shape that is formed from the interlocking of the two Cs. If one takes a critical look at that region, a subtle image that looks like an eye reveals itself. An eye is a world of symbolism. It can represent insight, wisdom, moral conscience, and light. When incorporated into a brand's identity, the oval shape represents awareness and eternity.
The Coco Chanel logo has never changed since its formation because the foundations of which it was built are formidable and authentic qualities. Chanel grew up in an impoverished environment. The vision to make a name for herself was not a dream that she visualized to come true due to her unfortunate roots.
Nevertheless, she made this dream a reality by understanding the restrictions put on women and society. In a time that was the most difficult for a woman to come out of her shell, she achieved just that and guided other women along the journey by making them feel free with her products.
Chanel's impact in the fashion industry does not just stay there— it carries over as a universal milestone that rectified a social issue. And it continues to make women feel beautiful and confident as time goes by, having an eternal influence on the world as a whole.

"There are people who have money, and there are people who are rich."

The monochrome aspect of the Coco Chanel logo can be utilized both in original and reversed designs. Black lettering and an emblem wrapped in white space represent simplicity, elegance, and power.
Black and white are neutral hues with opposing differences but seamlessly come together to form a powerful meaning. Black represents mystery, authority, and formality. White represents simplicity, humility, and perfection.
When combined, the qualities form positive attributes that the Chanel brand has always signified and continues to do so over the years.
On Chanel products, the emblem is in gold. As a representation of wealth and glamour, Chanel remembers her roots and reminds women that prosperity is achievable no matter the obstacles.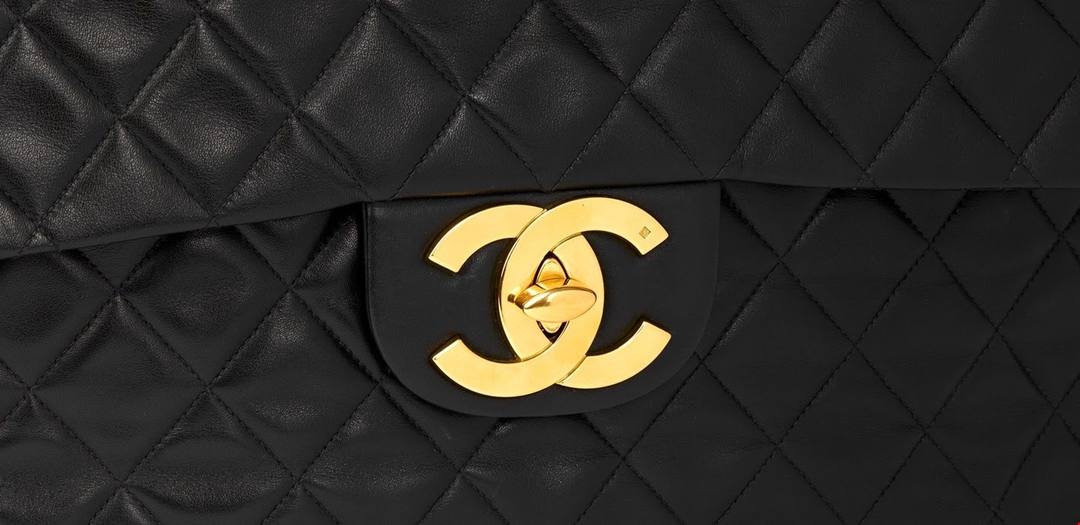 ‍
The LOGO.com versions of the Coco Chanel logo design
Coco Chanel's logo is unquestionably one of the most successful examples of fashion branding in the world.
Women of all ages, from teenagers to the well-heeled, covet items having the instantly recognizable emblem of the interlocking Cs, and men of all ages try to impress with gifts displaying the same symbol. But could the famous design be reimagined?
Design similar versions of the Coco Chanel logo below and take them home for free!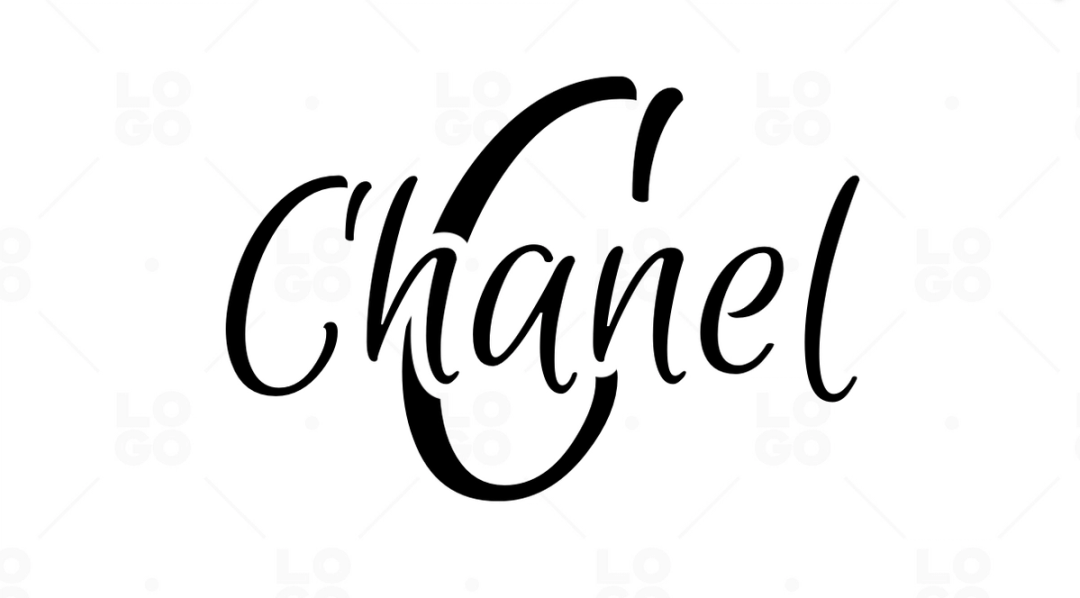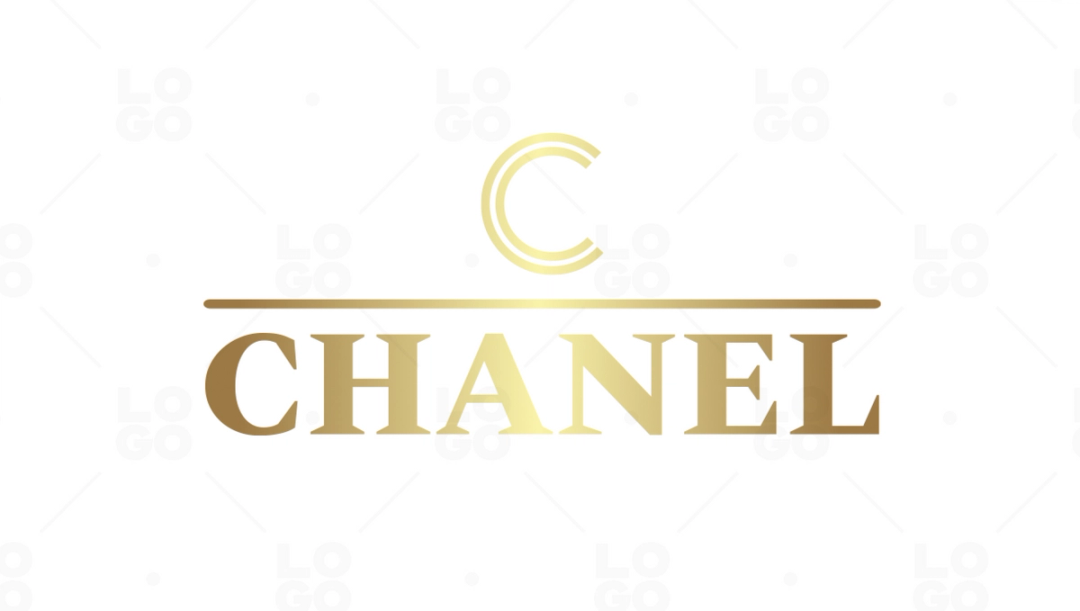 Thanks to a few subtle tweaks, we now have not one but two Coco Chanel logo variations to take inspiration from.
‍
The best Coco Chanel quotes
Coco Chanel had some strong opinions. Some of her quotes stand relevant even in today's 21st century. Here are some of the best, most popular Coco Chanel quotes:
"A woman is closest to being naked when she is well dressed."
"Elegance is refusal."
"In order to be irreplaceable one must always be different."
"I only drink Champagne on two occasions, when I am in love and when I am not."
"Fashion changes, but style endures."
"Adornment, what a science! Beauty, what a weapon! Modesty, what elegance!"
"A girl should be two things: classy and fabulous."
"The best color in the whole world is the one that looks good on you."
"Don't spend time beating on a wall, hoping to transform it into a door."
"Elegance does not consist in putting on a new dress."
"A woman who cuts her hair is about to change her life."
"My life didn't please me, so I created my life."
"Simplicity is the keynote of all true elegance."
"A woman can be overdressed but never over elegant."
"A woman who doesn't wear perfume has no future."
"You can be gorgeous at thirty, charming at forty, and irresistible for the rest of your life."
"If you're sad, add more lipstick and attack."
"I don't do fashion. I am fashion."
"Elegance is when the inside is as beautiful as the outside."
"The most courageous act is still to think for yourself. Aloud."
‍
Fun facts about Coco Chanel and its Logo

The iconic interlocking of Cs on Chanel products was not always a part of the original design. Karl Lagerfeld incorporated it as a tribute to Coco Chanel after her passing.
The charms attached to some Chanel bags were inspired by her lovers. The significance of the turtle charm was because one of her lovers (a fisherman) told her that turtles brought good luck because they indicated fish were around the area.
The chain-link straps on some Chanel bags were inspired by the design of the rosaries that the nuns had at the orphanage where she grew up.
Chanel designed two pockets on each side of her tweed jacket because she could keep her cigarettes in the left pocket and her sewing kit in the right pocket.
Coco Chanel was a very superstitious woman. Though unlucky for many, her lucky number was the number 13.
Wearing black during this era was primarily only for unfortunate events as it was perceived as a mourning color. However, Chanel made wearing black fashionable for any occasion. One because it was her favorite color, and two because she felt black "accentuated the essential." A mindset that carries over in the logo.
In 1939, the Chanel brand closed due to World War II. By 1954, aged 71, Coco Chanel reopened the fashion house. When asked for her reasons by friend and actress Marlene Dietrich, she said it was because she was "dying of boredom."‍
Coco Chanel never married. She had a 10-year affair with the Duke of Westminster, Hugh Grosvenor. He eventually proposed marriage to the designer. She refused later, stating, "There are lots of Duchesses, but only one Coco Chanel." ‍
One of the most iconic symbols of the Chanel brand is the camellia flower. It was her favorite flower and was regularly featured in her products— even as a stand-alone in the form of a brooch. Camellia flowers continue to grow on her gravesite.
Coco Chanel's influential perfume, Chanel No. 5, is sold every 30 seconds.

‍
The difference between Chanel, Gucci, and Hermès
Gucci, Hermès, Chanel and Louis Vuitton are the four most valuable luxury brands in the world. Gucci focuses on sensuality, Hermès takes inspiration from its equestrian roots and is less serious than other luxury brands, whereas Chanel represents timeless elegance and liberated femininity.
‍
Coco Chanel: From rags to riches

Many biographers report that Coco Chanel was and remains an enigma. She lived her life full of contradictions, but somehow, her motives always seemed to shine through.
Coco Chanel's childhood instilled in her resourcefulness and survival instincts, which were her eventual keys to success. As a result, she ultimately modernized women's fashion and built a powerful fashion empire that still flourishes today.
The impact of being fearless and hardworking throughout her difficult life establishes that this is a woman who was truly self-made.

"My life didn't please me, so I created my life."

Not only did she solidify herself as a world-renowned designer, but she also proved that with determination, one can always be successful. Coming from a torn family and an orphanage full of loneliness, she worked to become the woman that she was.
For a logo to be the face of a brand for 96 years without alterations to the design is incredible. Brand visions and identities can sometimes change as the business grows over the years. However, if you are set in your beliefs, and those values are rooted in goodwill, they never need to change.
The Coco Chanel logo and her line of products have many qualities in common: quality, appeal, modesty, sophistication, and elegance.
With these principles set in stone, the company and its brand remain a timeless and classic influence on the world for the unforeseeable future.

"I don't do fashion. I am fashion."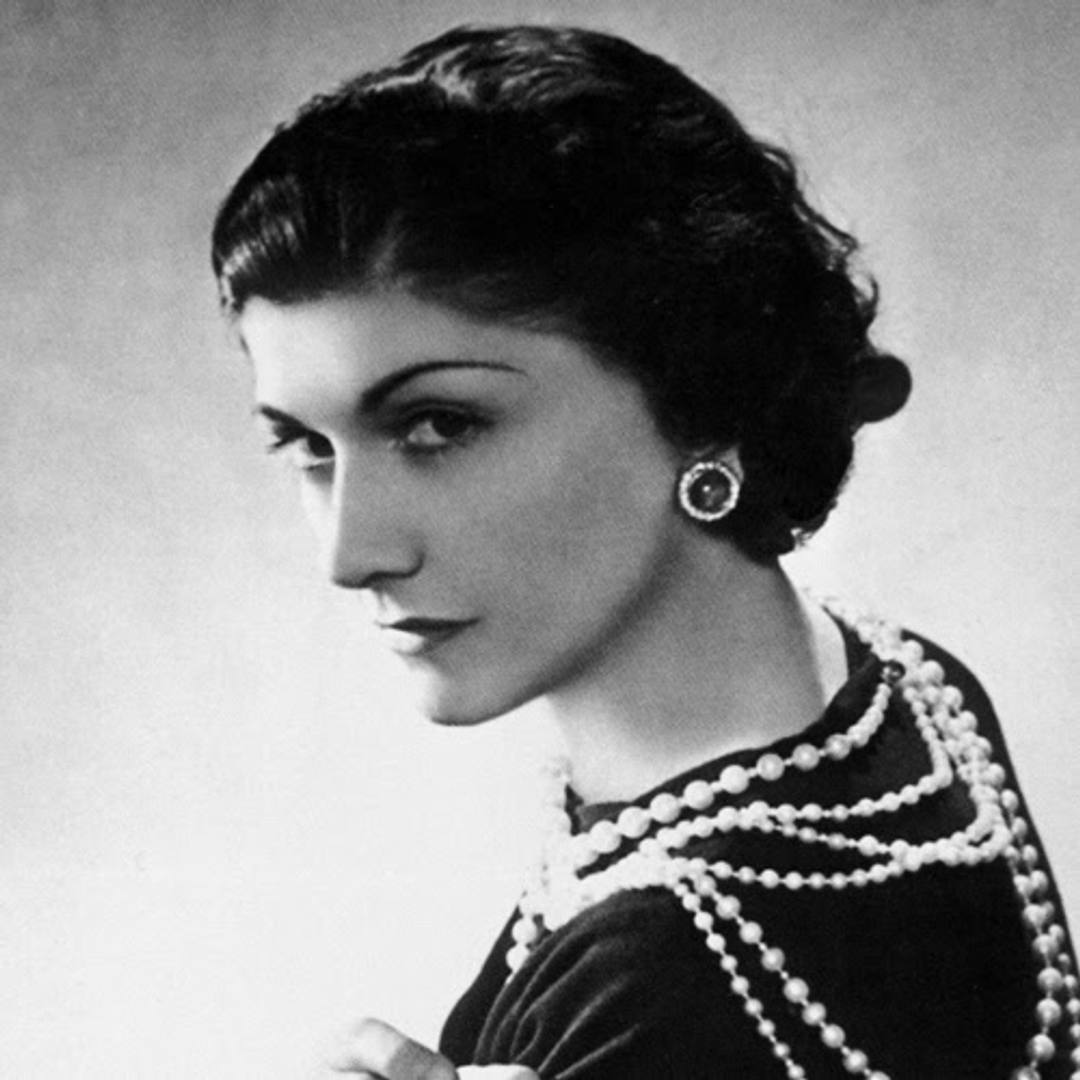 If you are looking to represent your own values and principles in your brand logo, we have all the selection in the world to make that a reality.
Do you live a simple life and believe in minimalism? Create a minimalist logo today.
Do you believe in making a statement and living your life out loud? Create one full of color and life.
Ready to design your free logo? Get started with our logo maker!