Learning how to start a dog walking business will be a walk in the park (pun intended) with this comprehensive guide. Do you enjoy a nice stroll in the park surrounded by some furry friends? If so, a dog walking business may be the perfect venture for you.

A dog walking business is pretty much the opposite of a typical office job because you get to stay active, spend time outside, and of course, be around dogs all day. Talk about a fun spin to a lucrative business.

But take note that the lucrative aspect can be dependent on several factors. According to Glassdoor, an average dog walker in the United States makes about $28,000 every year. Yet, it's not unheard of for dog walkers to make up to $150,000 yearly by walking dogs. Yes, you read that right!

Financially making the most out of your business entails following this checklist: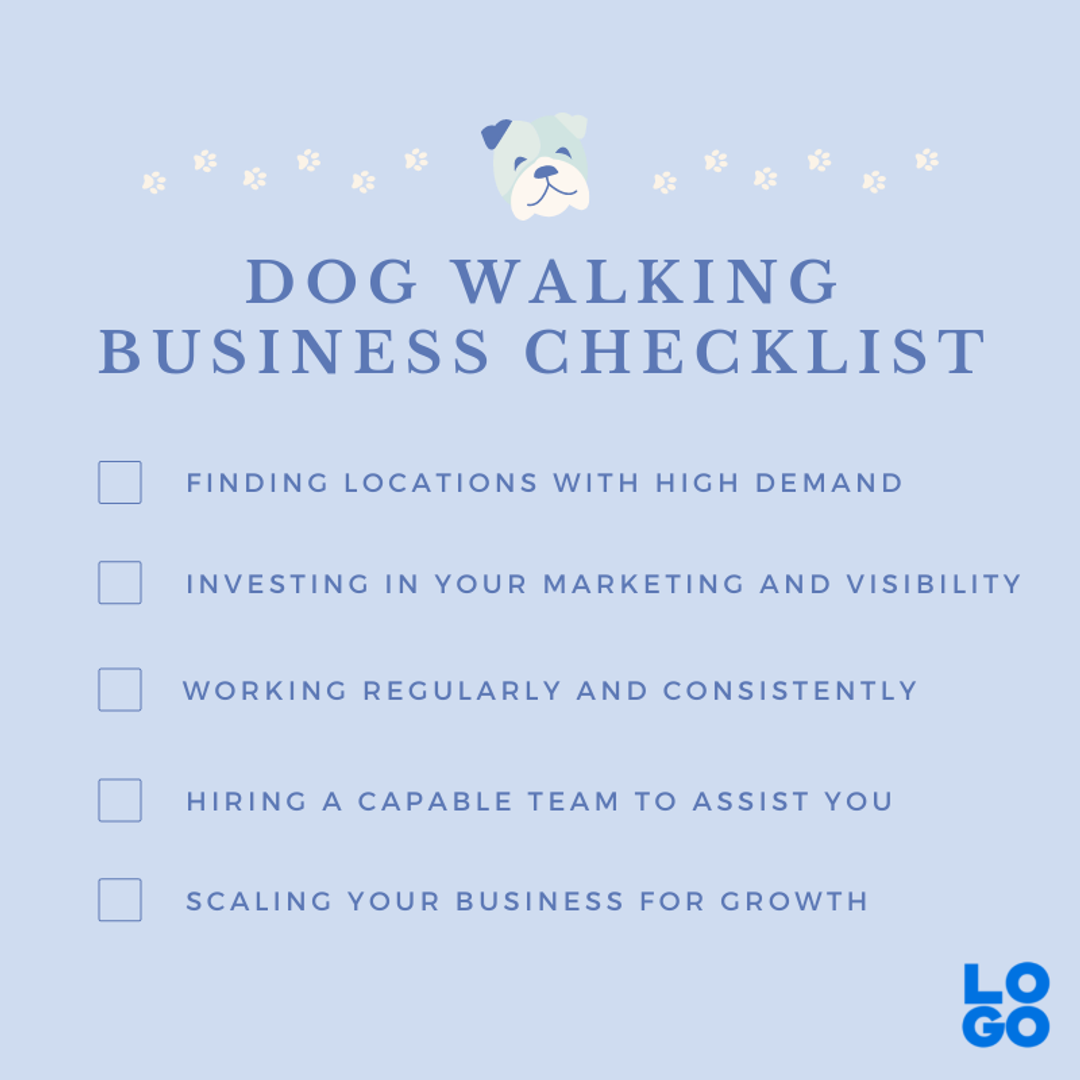 A dog walking business might sound like fun in theory, but there is an extensive list of preparations to consider before taking this role head-on. Is there a demand for it in your area? Do you need a team of reliable dog walkers to assist you in taking more jobs? How do you plan on reassuring pet owners that their dogs are safe in your hands?

You might even be wondering if a dog walking business could be sustainable in the long run, especially with today's public health concerns. Here's the low down: it can absolutely be sustainable if you take the time to build and nurture a relationship with your clientele.

There is a lot to prepare for, but knowing how to start a dog walking business can be extremely rewarding in its own light. Aside from the obvious benefit (dogs!), you also get to enjoy working with freedom, flexibility, and relaxation.

In this guide, you will learn about how to start a dog walking business with these five simple steps:

1. Assess the market
2. Gain experience
3. Set a pricing structure
4. Obtain dog walking insurance
5. Promote your business

You will also get an understanding of any accreditations, insurance, and financial solutions to keep your dog walking business afloat and teeming with credibility for long-term success. Let's get started!

5 Steps On How To Start A Dog Walking Business And Gain Trust

This may sound silly, but having a dog walking business isn't just about walking dogs. It's a huge responsibility, and you need to be prepared for any obstacles that come your way.

Some dog owners would go as far as to view their own dogs as their children, and for them to be in your care even just for an afternoon is a massive commitment. Show them that their beloved pets are happy, safe, and secure in your hands.

To get there, start with these five fundamental steps:

Step 1: Assess the market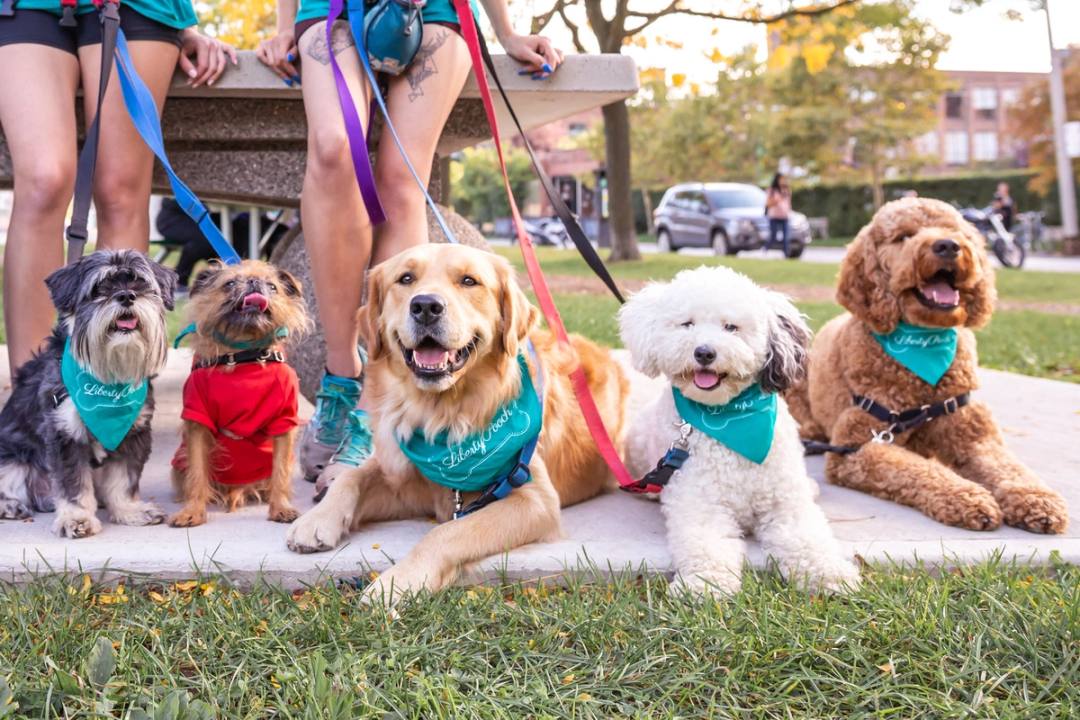 The premise of supply and demand applies to almost every industry in the business world. The demand for a service directly correlates with how much supply is needed to satisfy the market. Let's break this down in the dog walking industry!

If you observe high demand for dog walking services with little supply in your area, go ahead and begin with this venture. You may even get to price your services a little higher due to a scarce supply in the market.

On the other hand, if you notice a good amount of dog walking providers in your area, you might want to get ahead by offering competitive prices. This gives you an edge over the existing dog walking businesses in your location.

What does this chain have to do with dog walking? Everything. If your target audience is already exposed to several dog walking businesses, you may find yourself struggling to get clients. An ample amount of research is essential before moving forward.

Step 2: Gain experience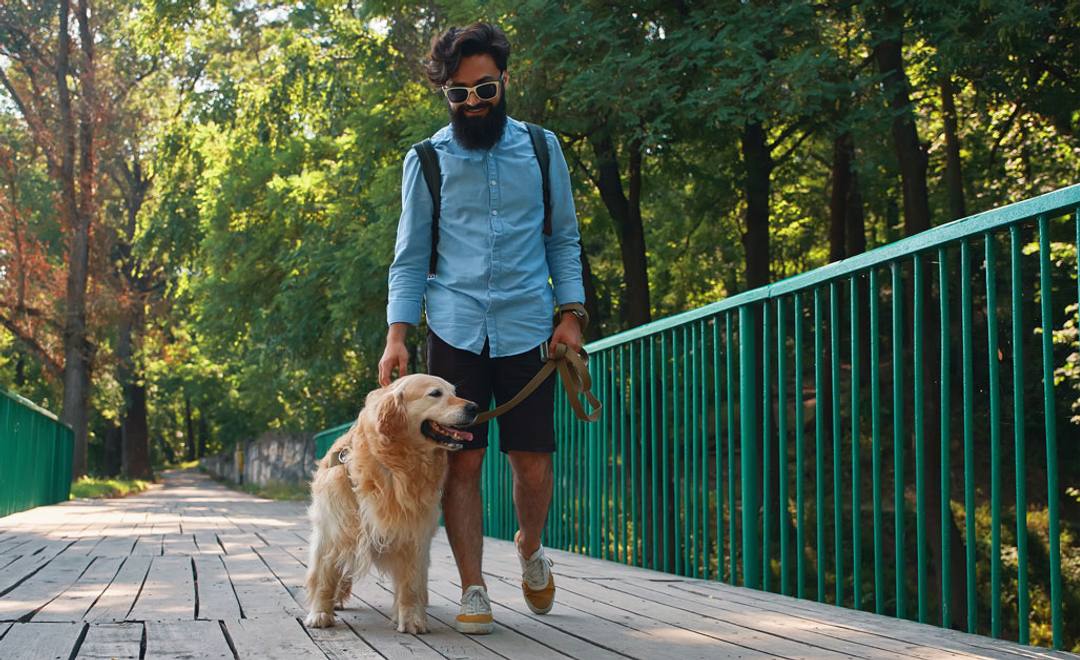 If you were about to receive an injection, would you rather it be administered by a practiced nurse or a first-time med student? The same rule applies to dog walking. Pet owners need to know that their dogs are safe and protected when they're not around, and that usually means trusting them with people prepared for that responsibility.

There are no specific qualifications to being a professional dog walker, but having experience in the field significantly boosts your chances of getting more customers. This isn't exclusive to walking dogs; it also means being trained in animal first aid and care.

Look out for pet-sitting organizations and get some on-the-job training. Some clients may even look for some sort of accreditation that supports your business credibility, so it would be a practical move to dive into as many organizations, charities, and shelters as possible. First aid is often the most desired prerequisite among other dog walking skillsets.

Experience is crucial. Take as much time as you need with this step. Visit and volunteer at your local dog shelter and spend time with the animals. Observe their behaviors and interactions, and offer to assist with any medical treatments. These practices will enhance your professional standing and give your clients peace of mind.

Step 3: Set your pricing structure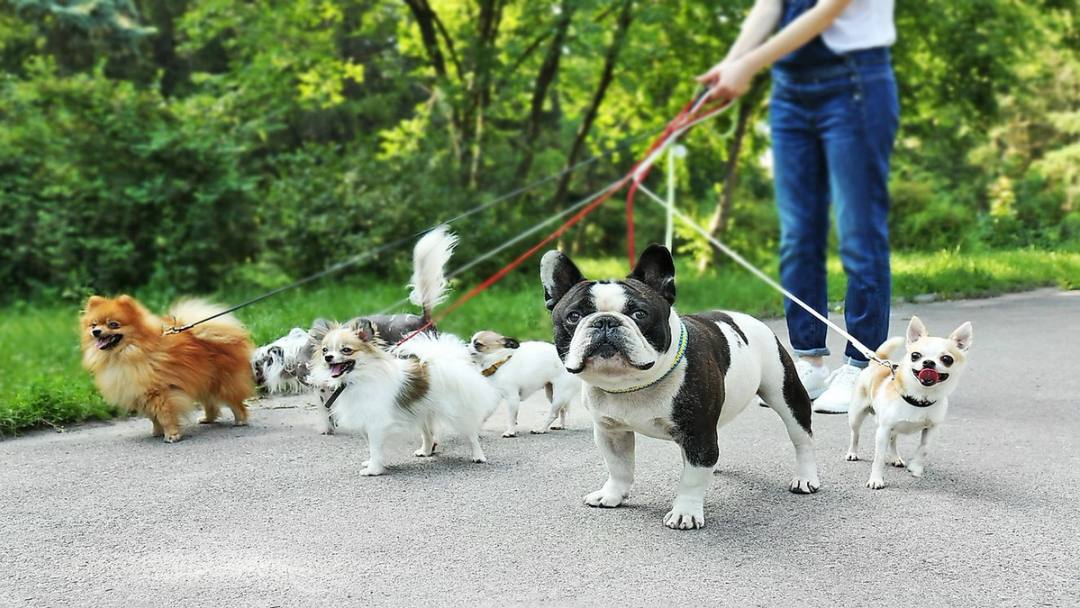 If you took the time to assess your market, you probably have a good idea of the level of demand in your area, which makes it easier for you to determine your pricing. How much are your competitors charging for a day of work? Offer competitive prices to get your business in motion, especially as you are starting out.

You may also provide potential customers with the option to pay in advance for a month of daily walks at a discounted price. This exchange gives your clients convenience and you immediate income to start planning out your next moves.

How do your competitors set their dog walking schedules? Use this information wisely and develop a process that would pull potential clients to you.

For example, if you notice that the dog walking businesses in your area work between specific hours, you could aim for messaging that lets customers know that your schedule is their schedule. You're there when they need your services, and it's as simple as that. This is another point in their convenience that helps them gravitate towards you.

Come up with a list of pricing packages that you feel would appeal to the potential customers in your area. Daily plans, monthly plans, and hey, maybe even a stamp card that grants them 25% off for every six purchases. At the end of the day, let your customers know they have convenience and flexibility should they choose you to take care of their dogs.

Step 4: Obtain dog walking insurance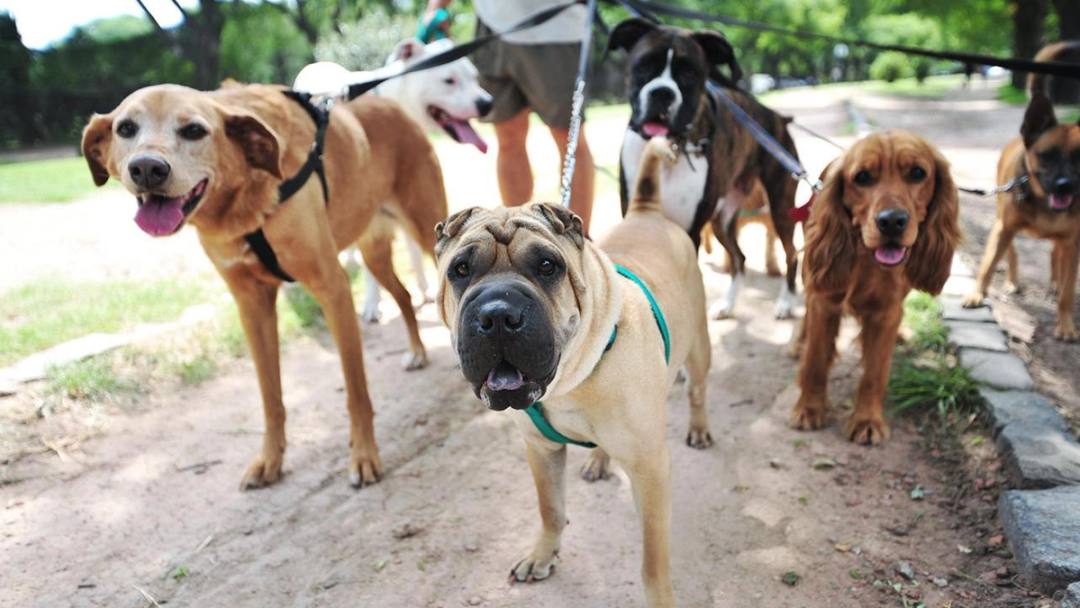 Yes, it's a real thing.

Having a dog walking business isn't all rainbows and butterflies. Dogs can be boisterous, and accidents do happen. It's possible to encounter some mishaps with property damage or injuries, whether in the dogs or anyone and anything else. This isn't a sure occurrence, but it's best to be prepared for worst-case scenarios.

Usually, dog owners buy pet insurance such as Pumpkin to protect their animals from any accident that might happen, but remember it is also important to insure yourself and your dog walking business for any potential accidents.

This is also precisely why experience plays a fundamental role in the industry. Then again, there will always be situations you can't predict. Insurance comes in handy in these times, and it makes it that your business doesn't go under for any possible mishaps.

If you need help looking for dog walking insurance, look no further. To learn more about which dog walking insurance would work the best for you and your needs, check out this resource.

Step 5: Promote your business

To successfully have a dog walking business, you need to promote it with brand marketing strategies. One of the most important steps is to create a website that features all the happy dogs you've walked, feedback from grateful dog owners, and accessibility for new customers to enlist your services.

Use social media to your advantage too. Again, dogs have a personality of their own. Post pictures and videos of the dogs enjoying themselves on their walk, and engage with your audience, with the dogs being the star of the show. And isn't that the way it should be? Just don't forget to get consent from the owners first.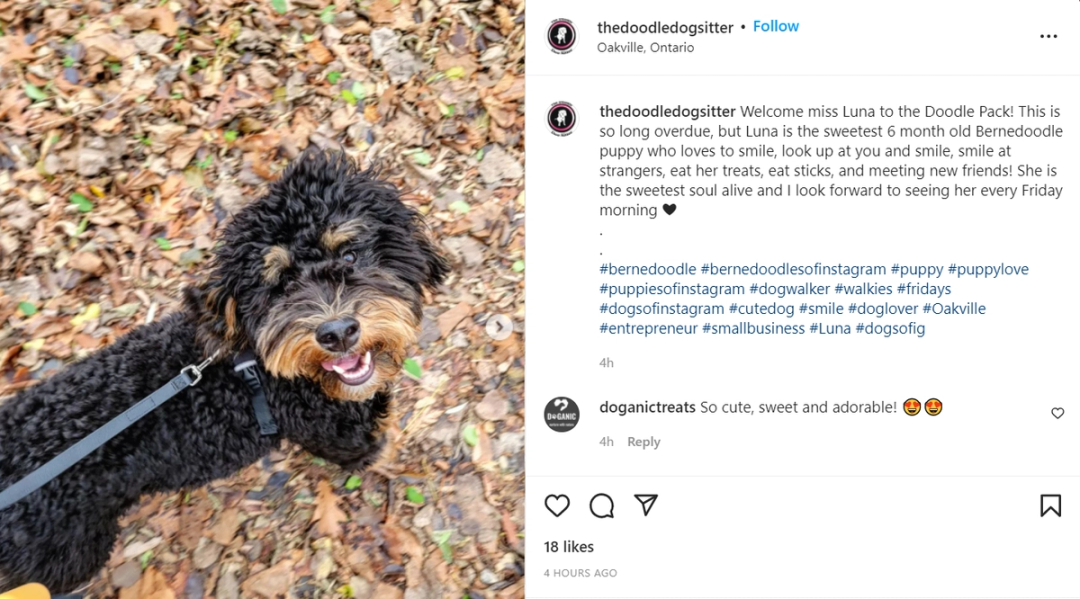 Don't shy away from using hashtags, either. Who would say no to puppy content? For example, if you are a dog walker in New York, try using the hashtag #newyorkdogs. Have fun with it!

For one thing, nothing beats word-of-mouth marketing. Be as connected as you can with the dogs you walk and their owners, enough for them to vouch for you to their peers. Give everyone involved a delightful and safe experience, and you will likely be recommended to all sorts of people that need assistance.

You may also want to create flyers with your business name and logo. Give it to everyone and place it everywhere. Never forget about advertising in the real world—it's just as helpful.

Speaking of a dog walking business logo and business name, it's time to create a title and design that sparks reliability and trust to help dog owners believe in your business and capabilities.

Design A Paw-fect Dog Walking Business Logo In 6 Easy Steps
Are you a professional dog walker? Why not get a dog walking business logo to strengthen your branding and build credibility? Find out why it's important and how to make one below!
A logo is the face of your dog walking business, potentially setting it apart from others doing the same thing. Your dog walking business needs proper branding to build a rock-solid foundation. A logo is a huge step in the right direction.
Good business branding allows you to form a bond with your target audience, inclining them to learn more about you and engage with you.
A distinctive dog walking business logo elevates your brand, but more importantly, it provides credibility—a crucial attribute for any brand to have from the start.
Building your dog walking business logo promotes trust between you and potential customers, which is vital as they would be relying on you for the safety and well-being of their pups.
When you build a connection with your audience through effective branding, your inch your way closer to easy brand recognition.
A strong logo is a huge step to help you get there, and with our logo maker to guide you, your visual branding needs are set and ready for the world to see.
But before we get to that, here are some valuable steps you should consider to make your dog walking business stand out from the competition.
How To Make Your Dog Walking Business Stand Out
Your dog walking business logo is essential, but there are other ways to stand out and make a good impression.
A 2021 dog walking study assessed the market before and during the peak of the global pandemic. The frequency of walks among dogs (and even humans) drastically decreased due to the virus.
The findings emphasized a strong need for dog walkers to be prepared to meet the needs of these pets, including access to care and emergency supplies. According to the study, "conditions that require others to take care of an individual's pets are likely."
Fortunately, this market can be lucrative because some pet owners who have or are scared to contract the virus need assistance for their dogs' walking needs. But you must come prepared and proceed with caution for your and the client's sake.
Branding is essential, but here are other valuable tips to consider:

Find out as much as you can about possible competitors
Be accommodating and friendly to your clients and their dogs
Build a bond with your clients—connect with them genuinely
Get to know the dogs—owners can tell if their pets are comfortable with you
Reassure owners that safety is your number one priority and honestly believe it
Find the right balance between discipline and gentleness with the dogs
Ensure that the dogs have a great experience with you
Offer simple payment and subscription plans
Avoid taking the dogs to unsafe areas—stick to parks and public spaces
Keep emergency care with you, such as first-aid essentials for you and the dogs
Avoid rushing the walks and let the dogs enjoy themselves

The most important thing you can do to stand out is prioritizing the dogs' safety and enjoyment every step of the way. You must also build a genuine bond with both the dogs and the clients. Dog owners will gravitate to you if they know you are a good and wholesome person who will assuredly take good care of their dogs.
Build trust and focus on safety at all times and dog owners may eventually come to rely on you with their furry companions wholeheartedly.
These tips can keep customers intrigued by you, but a good branding strategy boosts the professionalism and credibility of your business as a whole. A logo is like a visual pitch, and if it's compelling enough, it can sway users to learn more about you.
We can assist you with getting a free logo, a name for your dog walking business, and tons of services to help you promote your brand. Find out how below!

6 Steps To Create A Free Dog Walking Business Logo
Here are six easy steps to get a free dog walking business logo and ways to promote and market your brand with your new visual.
Step 1: Find A Great Dog Walking Business Name

Your dog walking business name is more for your customers than it is for you. Decide on a name that oozes friendliness and reliability, so much so that it would incline onlookers to learn more about your dog walking services.
Consider using a business name generator to provide you with a unique name along with a gorgeous logo to go with it.
Just input 1 to 3 relevant keywords that describe your business and optimize your preferences.
For example: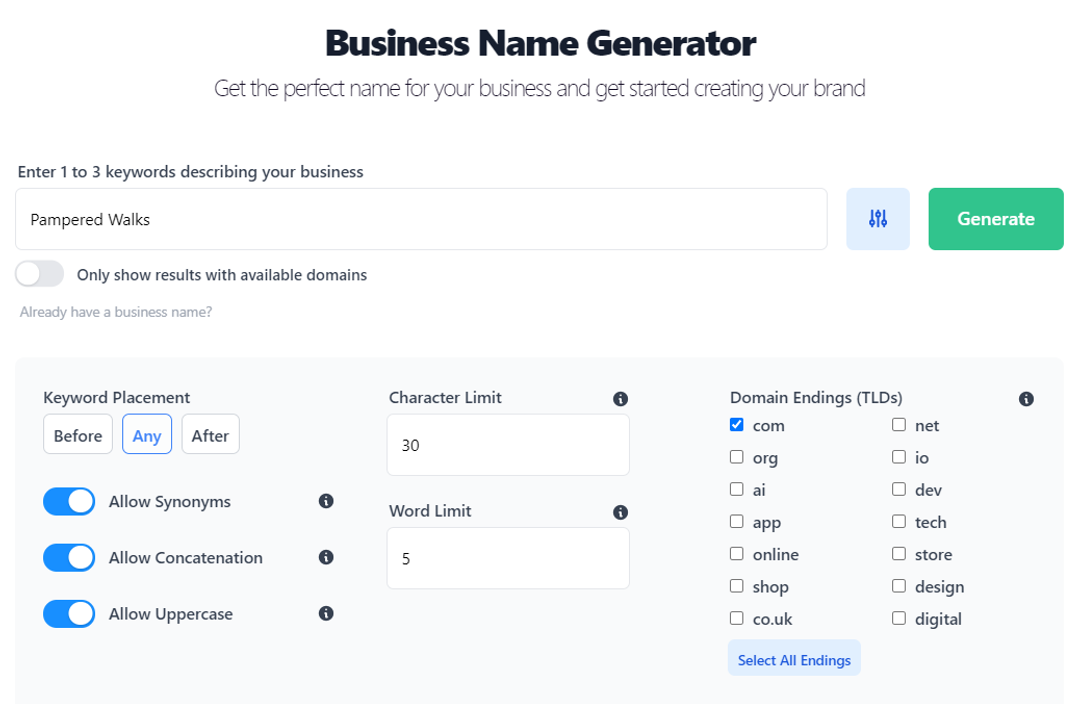 The tool will generate an endless list of business names along with potential logo ideas for you to choose from.
Step 2: Choose The Dog Walking Business Name You Like The Most


Browse through the wide arsenal of names and choose the one you like the best. Don't worry about the logo design just yet! Soon enough, you'll see hundreds of different designs to choose from.

Here are a couple of tips for choosing a great name for your dog walking business. An effective name should:

Be memorable and unique
Incorporate your services
Be effortless to pronounce and memorize
Be recognizable and simple
Reflect who you are as a dog walker

Once you have chosen your ideal business name, click 'Ideas' on the upper left of the page to check out hundreds of logo designs for it.


Step 3: Find The Perfect Dog Walking Business Logo And Customize It

Every logo you see before you is customizable according to your preferences. Look for a design that is closest to your ideal dog walking business logo and click it to customize it. From here, you can start modifying its font, colors, icons, spacing—everything! Keep going until it's perfect.


Here are a couple of tips to customize a compelling dog walking business logo. Consider:

Using one or two brand colors at most
Choosing brand colors that best represent your dog walking business
Using one or two fonts at most
Opting for sans serif fonts for their readability
Avoiding overcrowding the logo with too many elements
Building a simple yet strong design
Ensuring that it looks as memorable and professional as possible
Using an icon that best represents your dog walking business

Customization is fundamental because it allows you to make the logo your own. You are in complete control of its elements. This gives you the ability to design something that meets your vision entirely.
Customizing your dog walking business logo also helps you stand out from your competitors. You get to add your own spin to the design or use our pre-designed and ready-made logos. As long as you let your creativity and intuition shine, you should be fine.
Here are a couple of benefits of logo customization:

Aids in standing out from competitors
Lets you tap into your creativity
Achieves your ideal logo design
Incorporates distinction and memorability
Helps make brand-specific elements come alive
Proves that the design is truly your own

Step 4: Finalize Your Dog Walking Business Logo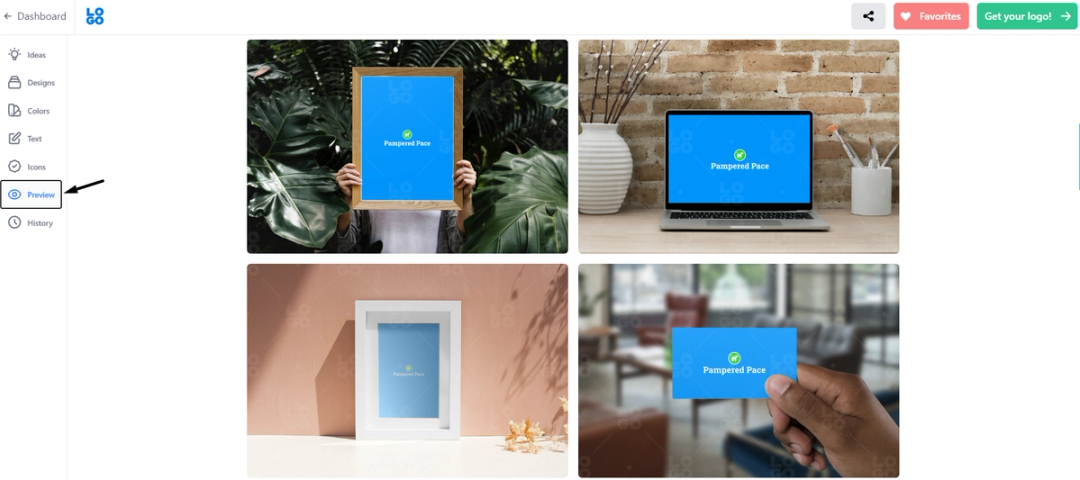 Are you happy with the design? If you are, go ahead and click 'Preview' to see how your new logo looks on various products and platforms. You will also receive details about the logo's font, color palette, business card mockups—whatever you need to get your dog walking business running.
That's all it took to get a dog walking business logo—four simple steps, and you're almost at the finish line.

Step 5: Take Your Free Dog Walking Business Logo Home

Once you have finalized your logo, click the 'Get Your Logo' button. From here, you can take your new dog walking business logo home free of charge!
You can start using your dog walking business logo right away with these benefits:
Full ownership of your logo - Once you purchase your logo, it completely belongs to you and no one else, even if you decide to delete your account.
Instant access to your logo - Your logo is safe in your account. It is secure for you to come back to it whenever you need it.
100% satisfaction guarantee - Your happiness is everything to us. If you're unhappy with your logo, we will issue you a full refund.
Launch your dog walking business in almost no time at all. It's practical to get an early start, so go for it! But take note that your logo is just the start. You still need branding materials featuring your new logo to build your online presence.
This is where the Brand Plan comes in.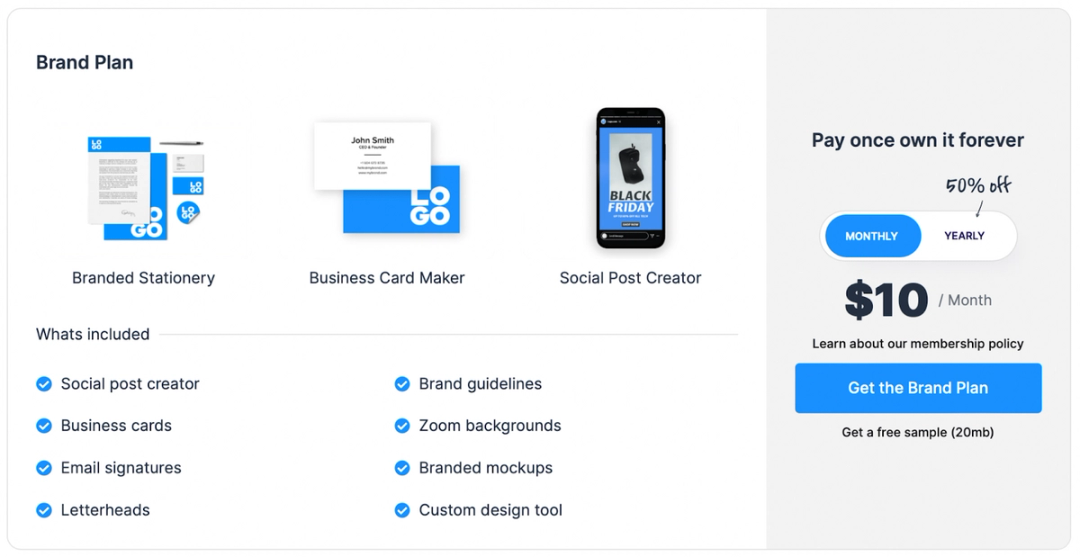 Our Brand Plan is your brand-building best friend. For only $10/month, you have instant access to:
Unlimited logo edits
Business card maker
Email signature maker
Custom design tool (Stitch)
Brand showcase
Brand guidelines
Perpetual brand backup
Oh, and all of them are pre-set with your new dog walking logo. Say hello to instant convenience and results!
Step 6: Build Your Dog Walking Business

Social media branding is a great way to promote your brand to the right audiences efficiently. More than half of the world's population is on social media, which gives you a great reach (and that's still quite an understatement).
But remember: having successful social media engagements only happens when you have credibility as a business, and a way to boost your online credibility in your dog walking business is to make your social media presence as consistent as possible.
Our social media kit offers you this consistency. We provide you ready-to-use files for all your social media platforms such as Facebook, Instagram, LinkedIn, Youtube, and Twitter so that you can get started with your dog walking social platforms in no time.
We also offer a website builder, which gives you endless opportunities for using it to boost your dog walking business. Every business needs a website, and now you have one! If anyone needs to book your services conveniently, you have this in the bag.
Not to mention, you can also use it for diving into other forms of promotion, such as creating blogs about your journey in putting up a dog walking business— providing tips and tricks to aspiring dog walkers while promoting your brand. Wins all around!

10 Great Examples Of Dog Walking Business Logos

Here are some attractive dog walking business logos to give you some inspiration:

1. This logo has it all! A relevant icon, a readable font, and a classic color scheme.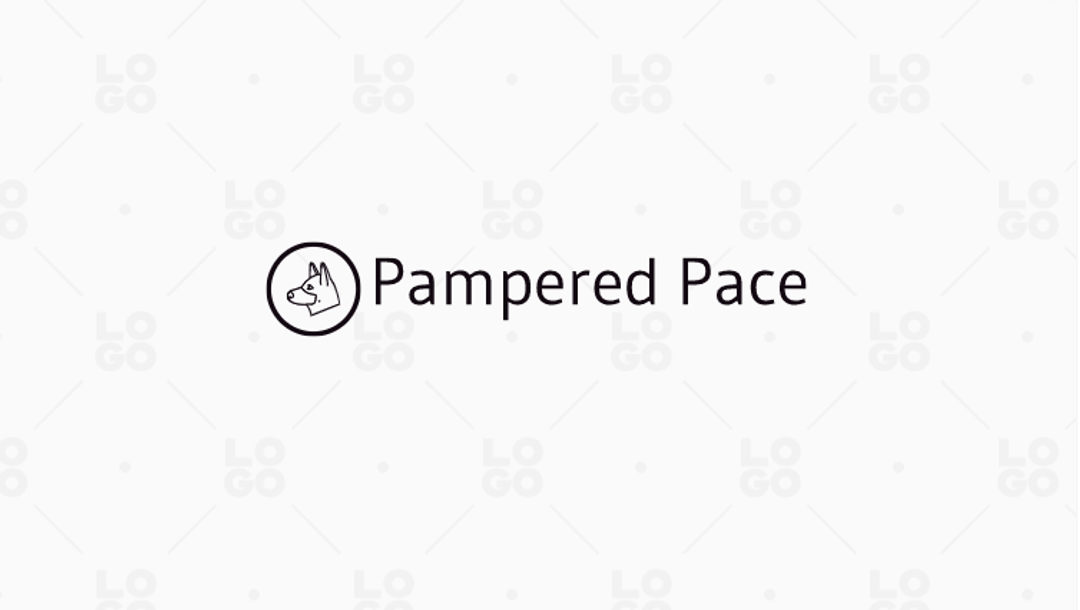 2. Soft blue is the perfect color for a dog walking business logo— it exudes professionalism and gentleness.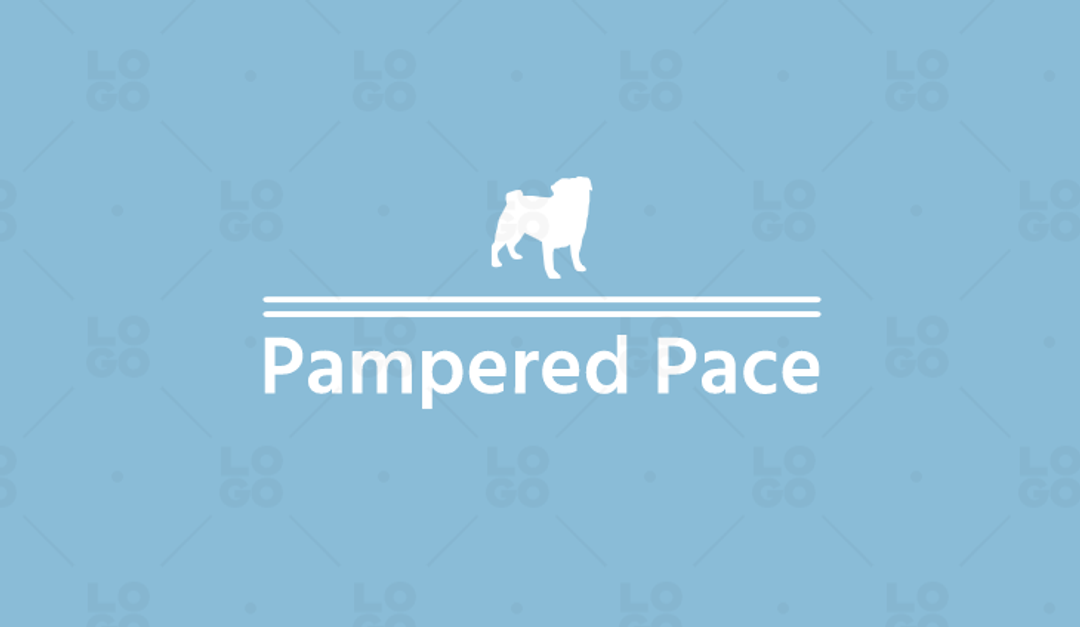 3. Yellow is such an eye-catching and joyful color. This dog walking business logo works on so many levels.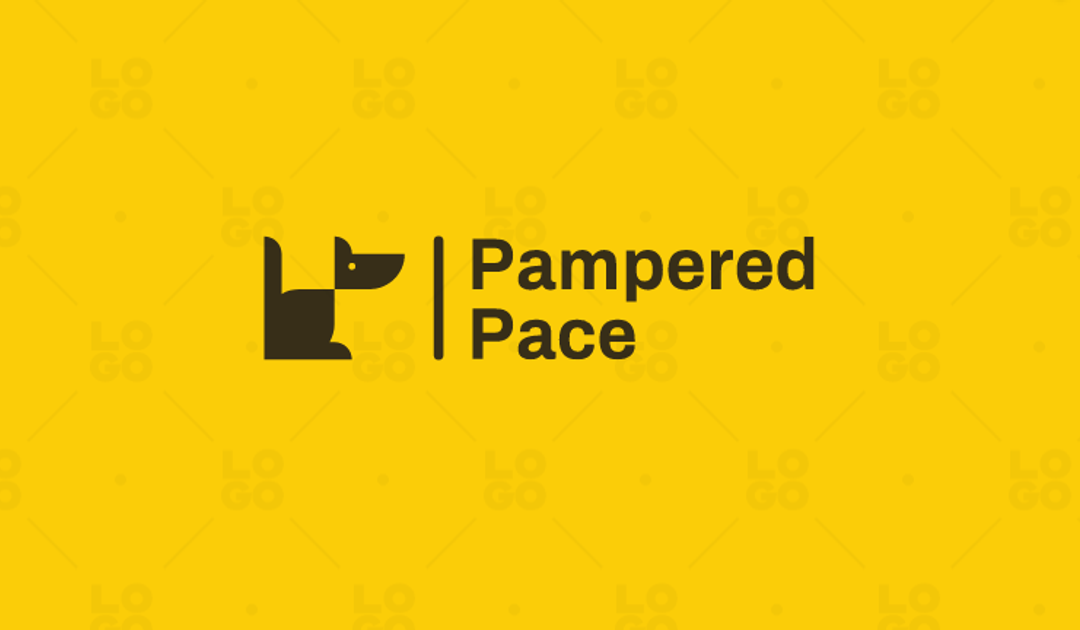 4. This logo is a unique and quirky one. Positive visuals are essential for any business!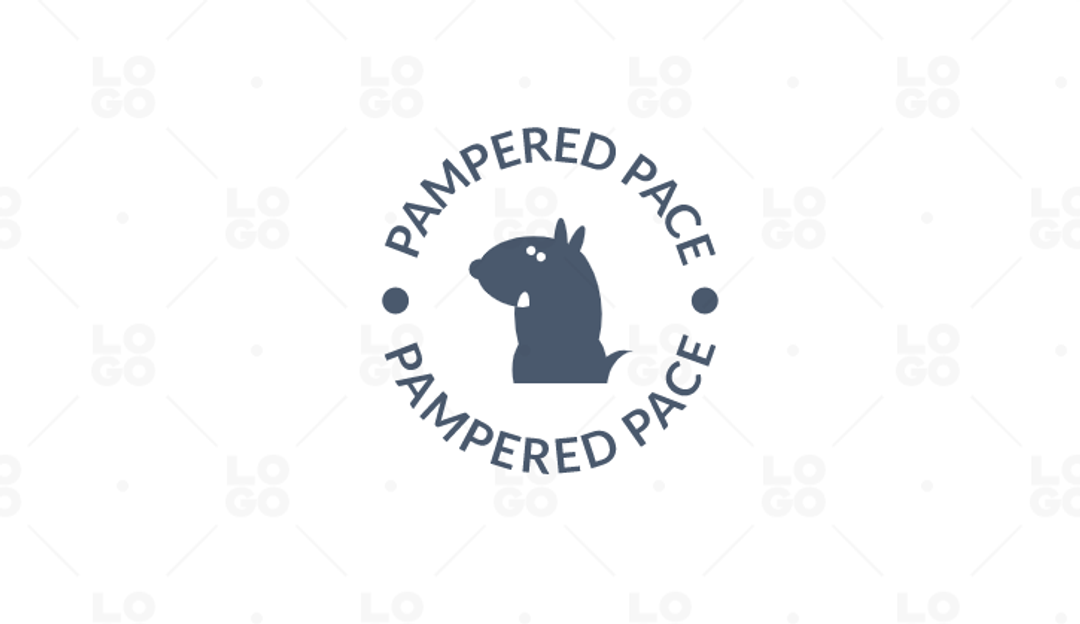 5. Dark and light colors complement each other very well. They make a logo's elements stand out in such a classic and simple way.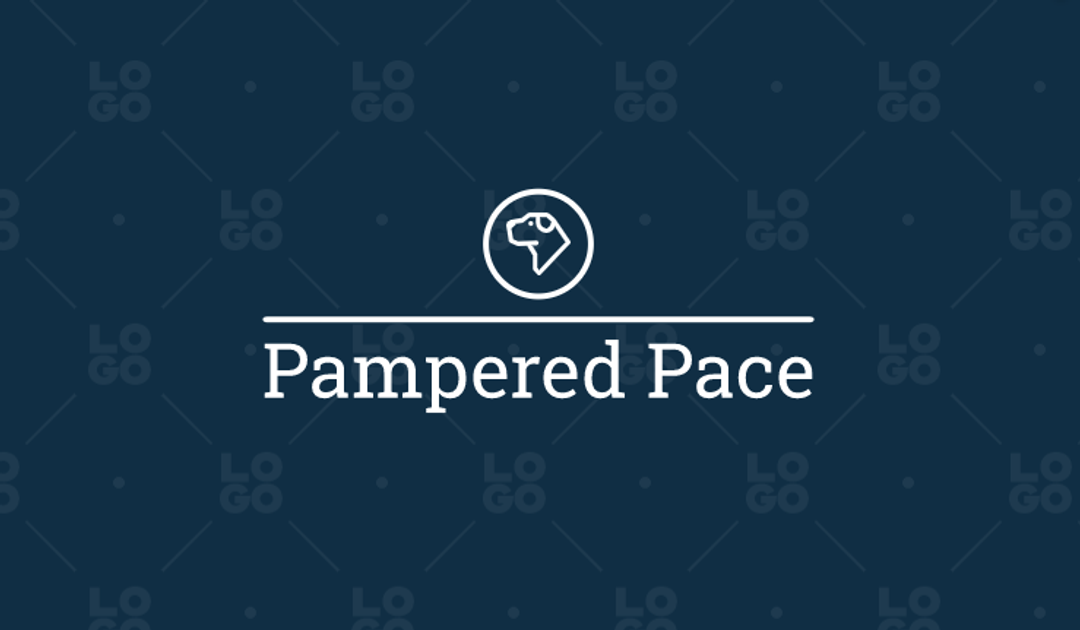 6. Go with soft colors for a dog walking business logo to show clients that you will take gentle care of their pets.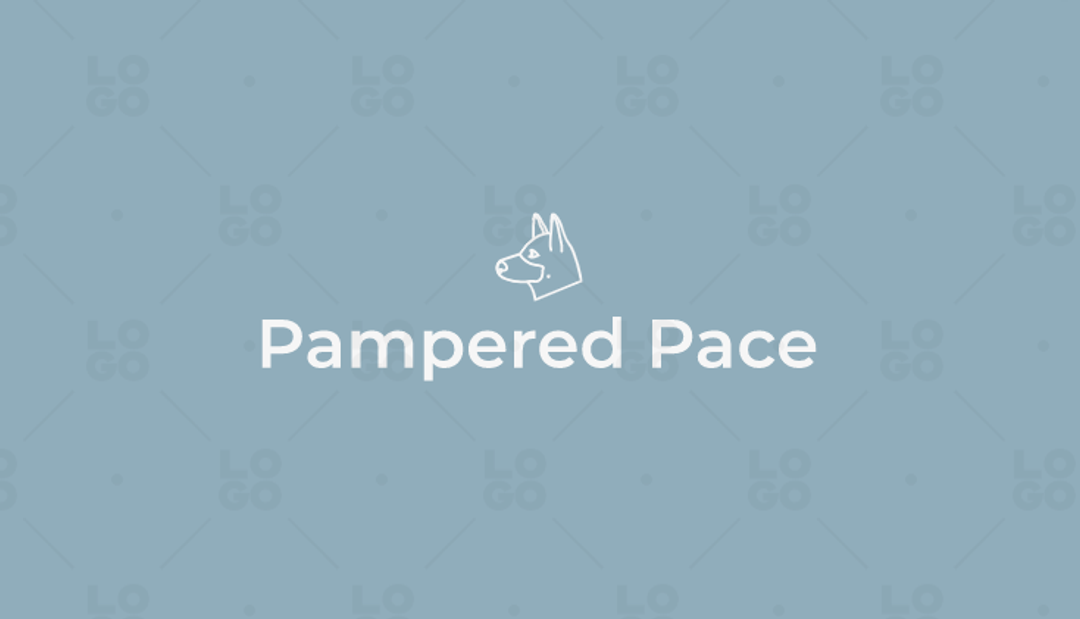 7. Blue is a popular choice for logos because it exudes professionalism and reliability. Go with blue!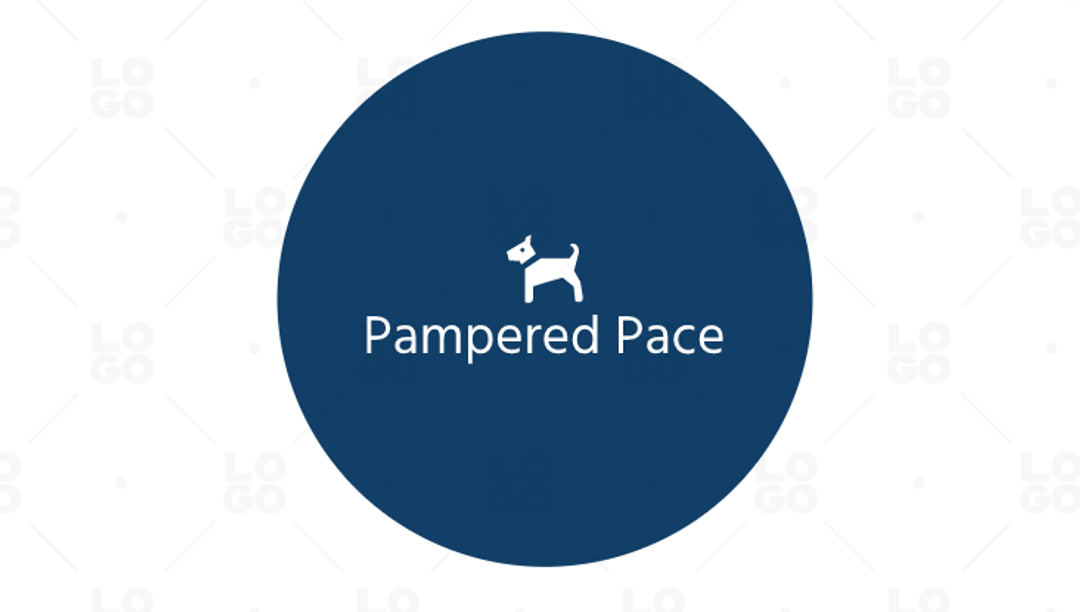 8. You can't go wrong with simple and minimalist logos. They'll always be relevant as the years go by.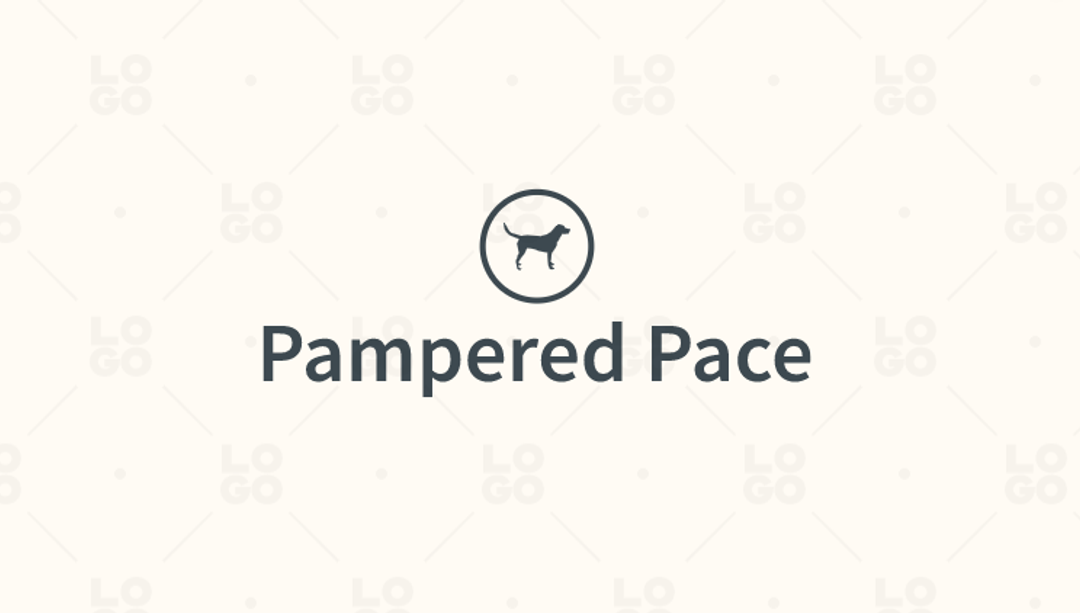 9. This logo is brimming with class and professionalism. Show customers that you have these qualities with this dog walking business logo.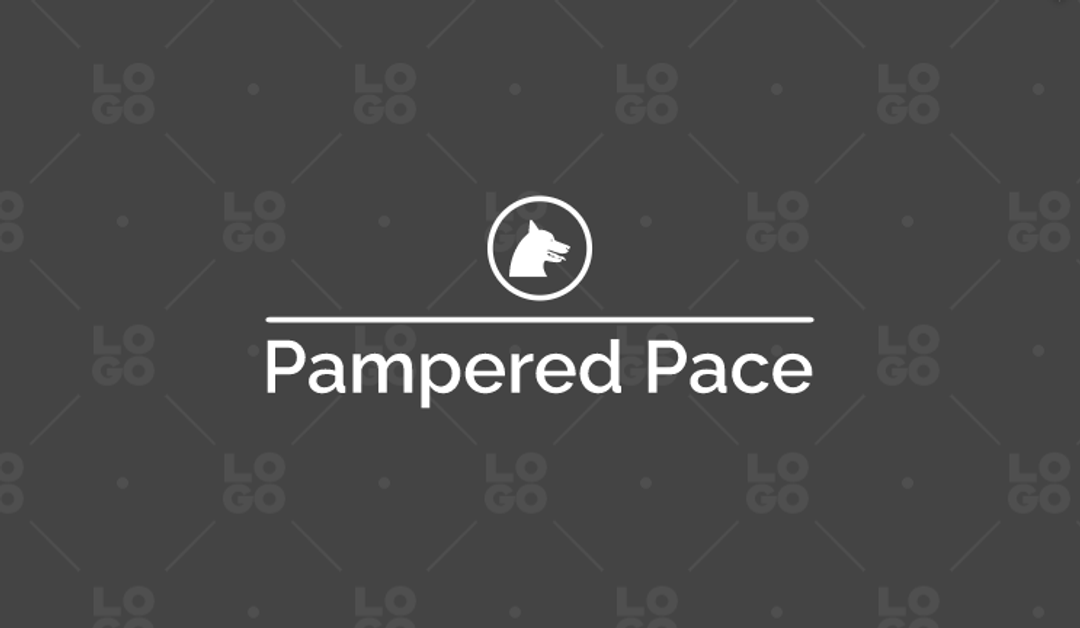 10. Blue and white logos always work. If Facebook can do it, so can you!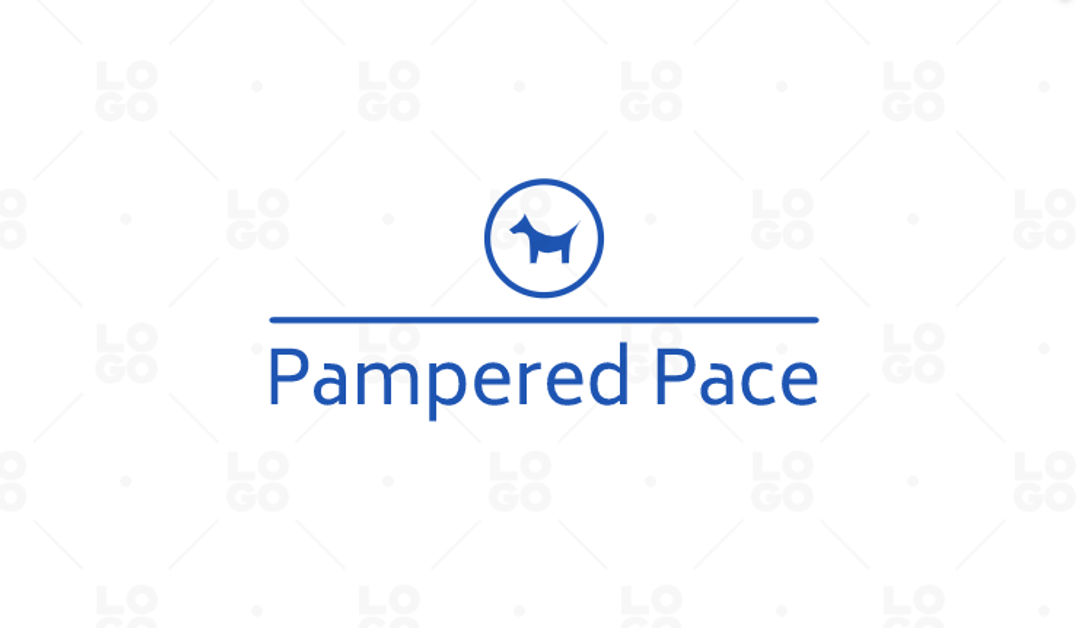 Building A Dog Walking Business Logo

A logo is the core of your visual branding needs because it builds a foundation between you and your audience. It shows that you care about your dog walking business enough to brand it properly and well.
Compelling logos can ultimately set you apart from the rest, and they can potentially tell users your story with a single glance.
Ready to design your free logo? Get started with our logo maker!
‍‍