A logo maker is a fast, easy, and efficient way to get a great logo design for your business. However, there are so many best logo makers, so, how do you choose one? Vhoosing a logo maker solely based on speed and price may not be the best way to handle the process.
For perspective, here are three methods in getting a logo for your business:

Hire a design agency to do it for you (but this can be time-consuming and costly)
Work with a freelancer or designer (feasible, but still time-consuming and costly)
Use an online logo maker (fast and budget-friendly)

It may seem like we're biased, but the truth is, working with design agencies can be out of the price range for most new businesses and startups. Working with a freelancer can be a good idea, but only if you're decisive about what you want and looking for someone to execute your vision.
However, an online logo maker gives you hundreds of options to choose from that you can edit and customize to fit your requirements. Some logo makers give you a choice to go back to your logo design after a couple of months and refine it if you need to (without charging an extra penny).
What is a logo maker?
Logo makers, also known as logo generators, are intuitive web-based applications that help you create a professional-looking logo in a shorter span of time.
All you have to do is add your business name, a slogan (if you have one), choose a category, and explore hundreds of designs that the best logo makers give you.
You get access to free stock photos, the best fonts for logos, icons, and everything you need to create that perfect logo design for your brand.
Pros and cons of using a logo maker

Pros:
Logo makers are budget-friendly
Logo makers are sophisticated and easy to use
Logo makers are available around the clock
Logo makers are fast and efficient
Logo makers can give you more designs in a minute than any designer could
Some logo makers offer a branding kit along with the logo

Cons:
You may not always get the exact design that you're looking for
You have to put in a bit of work to customize your logo
Why LOGO.com is one of the best logo makers for businesses and individuals
Creating a logo used to be a complicated and time-consuming process. You had to meet with a designer, explain your vision and business to them, and hope that the design they come up with matches your expectations.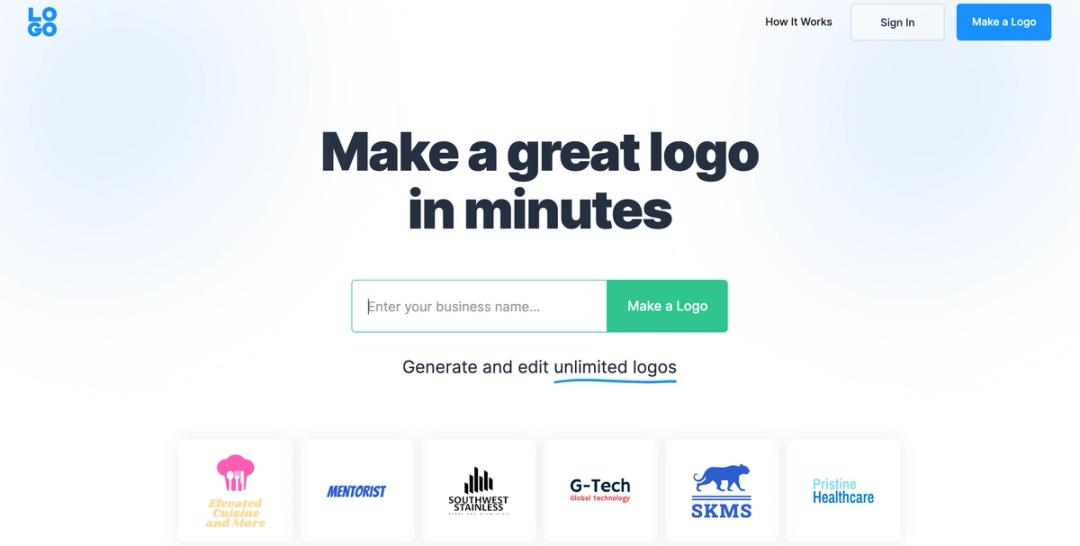 The multiple back and forths and design iterations cost a lot of time and money— a luxury most new or bootstrapped businesses don't have.
LOGO.com is an AI-based logo maker that is your best designer friend. The tool was created with two solid foundational aims:

To reduce the back and forth process that companies have with designers about their logo design. LOGO.com anticipates the common discussions between the two parties and has an optimization that tackles these setbacks right away.

To save customers thousands of hours worth of research to study logo designs and understand what kind of logos work better in creating that connection with the user.

Some of the best logo makers today require the user to have some design sensibilities. However, LOGO.com has already processed this information, and it only gives you resources to design your logo that have proven to be effective.
A great logo is clean and simple. Most users won't always have the eye to figure out what's missing about a design— LOGO.com does that for you.
You don't just get a beautiful logo when you use LOGO.com; you receive a complete branding kit to launch your business, which includes:

Full ownership of your logo
A dashboard where you can download your logo anytime
PNG files
High resolution and vector images
Design and print files
A social media kit
Business card templates
The option to edit your logo whenever you want
A free domain name
A website builder and hosting like GoDaddy

This is what users have said about the LOGO.com logo maker:

"The logo I got as a result of the day was better than I had imagined. So many files, you won't even know what to do with them all. It's just good."

"Would give them 100 stars! The entire process was fun and simple! Questions are responded to immediately! I absolutely LOVE my logo and the value and service that Logo.com provided me was amazing!"

"Everything was easy to create and the suggested colors were exactly what I needed. The process was only a few clicks and done."

We hope that sways your opinion, but at the end of the day, we just want you to have a great logo. Below are some other best logo makers in the market and how they compare to LOGO.com:

1. Looka
Looka is an AI-powered graphic design company that automates design processes and builds brand identity.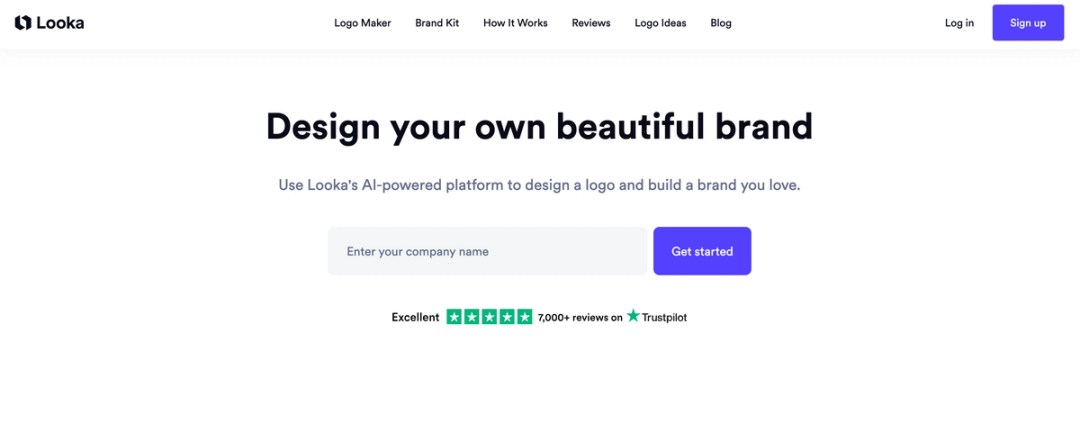 Top features of Looka:
Hundreds of logo options to choose from
Get full ownership of your logo

Pricing:
Basic (subscription): $59.88 / year
Premium (subscription): $95.88 / year
Basic (a single logo file): $20 one-time purchase
Premium (just logo): $65 one-time purchase
Enterprise (just logo): $80 one-time purchase

Looka has a great logo maker, but it is not optimal for users looking for a bargain. LOGO.com offers everything this platform has to offer at a more affordable cost— one where you can get way more than what you pay for.
$20 for a single logo file and nothing more may not be the best deal when you can pay the same amount for a logo and a free domain at LOGO.com.
2. Logo Makr
Logo Makr is a good logo maker with hundreds of fonts and icons to help you design your logo from scratch. Unlike LOGO.com, it doesn't provide ready-made designs to choose from, which can be difficult for users who don't know what they want yet.
Top features of Logo Makr:

Receive revised designs in 24 hours
Once finalized, you get a formatted vector logo

Pricing:
Free
Custom logo design: $299

Logo Makr has dynamic selections for logo designs. However, speed and cost are significant factors. Receiving customized designs takes up to 24 hours whereas LOGO.com has an average design time of 20 minutes. If anyone knows the importance of convenience and timeliness, it's business owners. Waiting 24 hours (and sometimes weeks) is not practical when you can get it in less than an hour.
Custom logo designs go for $299 a pop, which may also be a little steep for startups or beginners. It is unnecessary to spend this amount of money and still have to wait almost a day for the finished design (that you may or may not like). LOGO.com can give you a quality and professional logo for as little as $20 with a turnaround time of 20 minutes--that's what best logo makers are made of.
3. Brandmark
Brandmark is an AI-powered logo maker that allows you to create business card designs, social media graphics, app icons, letterheads, and more.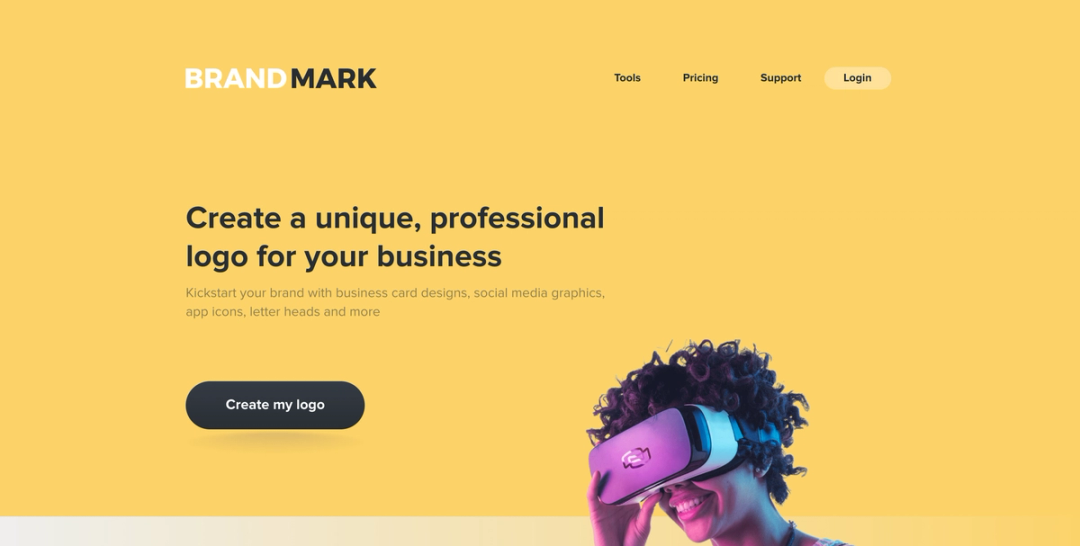 Top features of Brandmark:
Get full ownership of your logo
Option to modify your logo after the purchase

Pricing:
Basic: $25 one-time purchase
Designer: $65 one-time purchase
Enterprise: $175 one-time purchase
Brandmark has similarities with LOGO.com in its services, such as instant logo results, the option to change the design at a later time, and full logo ownership. However, Brandmark does not offer flexible plans and subscriptions— merely one-time purchases.
People need logos for all sorts of purposes, and one-time purchases may not be feasible in this aspect. Many companies prefer a more stable and reliable platform, where they can enlist for subscriptions that give them the best bang for their buck, as opposed to having to pay the same fee over and over again.
LOGO.com offers one-time payments and plans and packages— providing for all types of businesses an arrangement that most suits them instead of having services that are too linear and impractical.

4. Designhill
Designhill is a creative marketplace that caters to the creative needs of businesses that can source great designs and buy unique products.
Top features of Designhill:

Initiate your logo design process by answering a few questions
Pay a one-time price for your logo

Pricing (only for the logo design):
Fast track: $249
Standard: $399
Executive: $699
Premium: $999

DesignHill is one of the best logo makers to get a logo— for people who have extra cash to spend. Their cheapest logo design is $249, which is a one-time purchase. This is a service that most startup owners or beginners may avoid. Quality logos don't necessarily have to come at such a hefty price.
LOGO.com offers a one-time purchase of only $20 for a professional, unique, and appealing logo. The cheapest annual fee being $5 a month. Logos need to be more accessible to business owners because they are an essential branding component. It is unnecessary to have to empty your wallet to establish your brand.
5. Logo Garden
Logo Garden has a basic user interface (UI) that's great for creating a basic logo. It's a good platform to test different combinations when figuring out the sketch of your logo.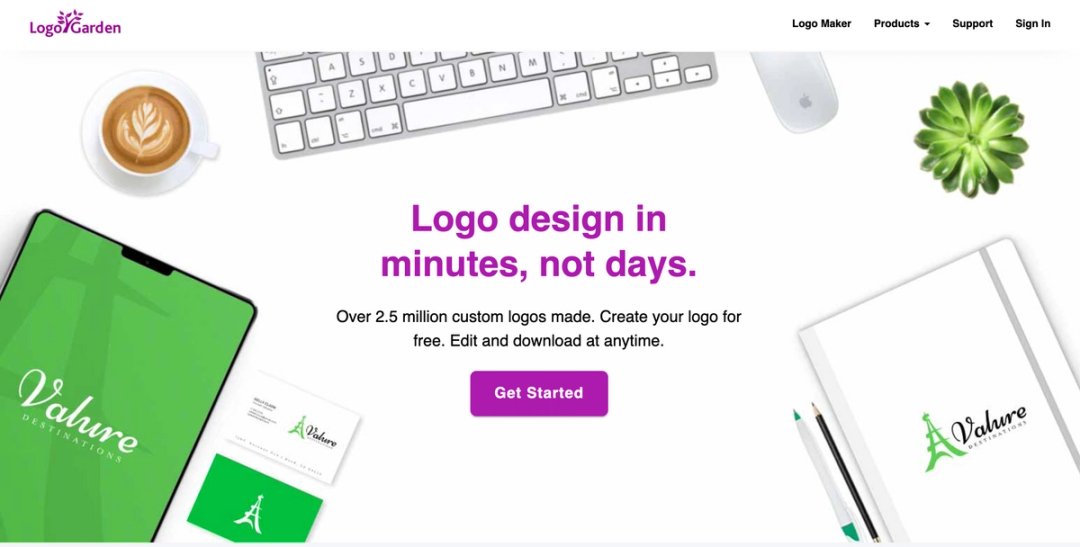 Top features:
A collection of icons by industry to choose from
Option to edit your logo anytime

Pricing:
Logo Maker: $12.50
Custom Logo: $39.99

Logo Garden is an excellent choice for startup companies looking for a bargain. However, quality must also come into play whenever you make any kind of investment. Logo Garden uses a basic interface which results in a simplified logo process, but the design itself may not be state-of-the-art.
LOGO.com utilizes an AI-powered system solely to allow any possible combination of elements to come alive in a design while preserving quality and professionalism in the design. If you're going to spend, spend on quality.
6. Logo Genie
If you're looking for a minimalist look, then Logo Genie is another one of the best logo makers that might be a good bet for you. Choose from a wide range of logo templates and customize your logo in a few minutes.
Top features:
Create a logo for various industries
Option to customize your logo to suit your needs
Download your logo in multiple file formats

Pricing:
Standard Logo Pack: $19.99
Extras to the Standard Logo Pack
Vector Formats: $8
Social Network Formats: $4
Unlimited Modifications: $4
Black & White Formats: $4
Exclusive rights to your logo: $120

It is a fact that minimalistic designs make for powerful logos, and Logo Genie does this well. It is a similar platform to LOGO.com, where there lies a vast array of customizable icons and designs.
However, business owners should not be placed in a box when it comes to designing their logos. Minimalism works, but other strategies work too. LOGO.com offers designs in any format you want it in— whether you want to go over the top or live between the lines.
Furthermore, Logo Genie's website needs a little more sophistication. If you are building a reputable brand, you want your logo to come from a source with a professional display. They offer capable services, but LOGO.com still wins this race with our credible interface and website presentation.

7. Canva
Canva is a design platform that offers a logo maker and other design features, such as social posts, videos, banners, posters, flyers, etc. Unlike LOGO.com, the platform isn't an exclusive logo maker, which can be confusing for people who just want a logo for their business.

Top features:

Choose a logo design from various options
Option to design your logo from scratch
You can unlock professional icons and premium images by subscribing to the platform

Pricing:
Canva Pro: $12.99/ month for the first user, then $6.99/ month for each additional user
Canva Enterprise: $30 per month

If you wanted to design a logo from scratch, why consider a logo maker? Canva is a platform for people looking for a wide selection of design services— not just logos. Because of this, the process may become a little convoluted and overwhelming.
If you are looking for best logo makers, it may make more sense to attain that in a platform that caters only to providing logos? LOGO.com was built with the mission to serve compelling and distinctive logos for companies to set them apart from their competition. Canva, though capable, is too broad for this process.

8. Hatchful
Hatchful is a simple logo creator from Shopify. You can create a bunch of templates in a few clicks. It's great for beginners.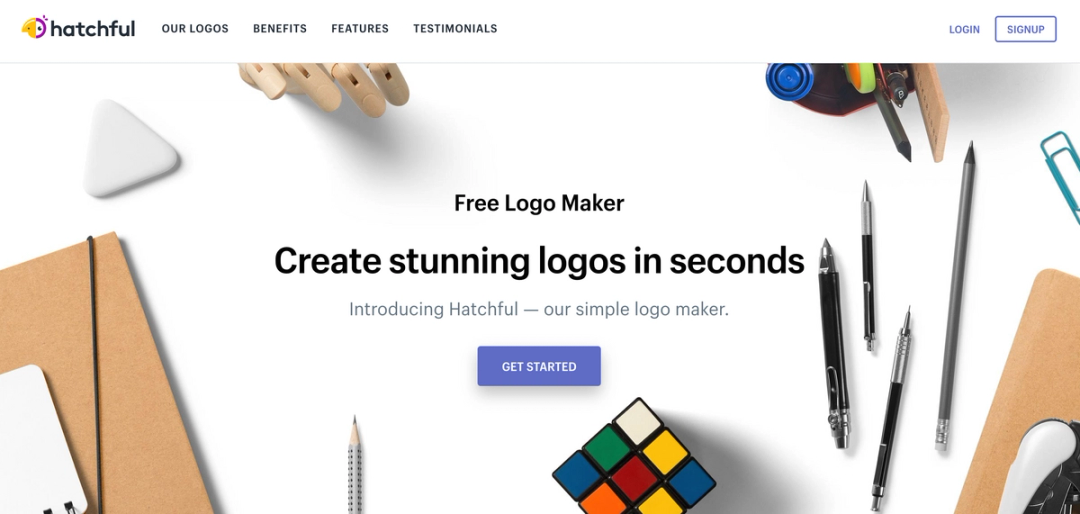 Top features:

Easy to use design studio to customize your logo
Hundreds of templates to choose from
Option to tailor your logo specifically to your niche

Pricing:
Hatchful is a great stepping stool for beginners that need a logo because of their easy-to-use designing system. Furthermore, their services are free, which can be helpful for startups. However, if you are building a reputable brand, it can be somewhat daunting to use a free logo maker.
We are not saying that free is bad. It's great! Hatchful may be the best option for beginners, but not for business owners who have already made a name for themselves and want to build quality over time. It is okay to invest a little in a platform that can help you move your business forward in the right way. And LOGO.com is the way for that.

9. GraphicSprings
GraphicSprings has a logo maker with a UI similar to a page builder. All its features are located on the left sidebar, and you have the freedom to customize your logo the way you like.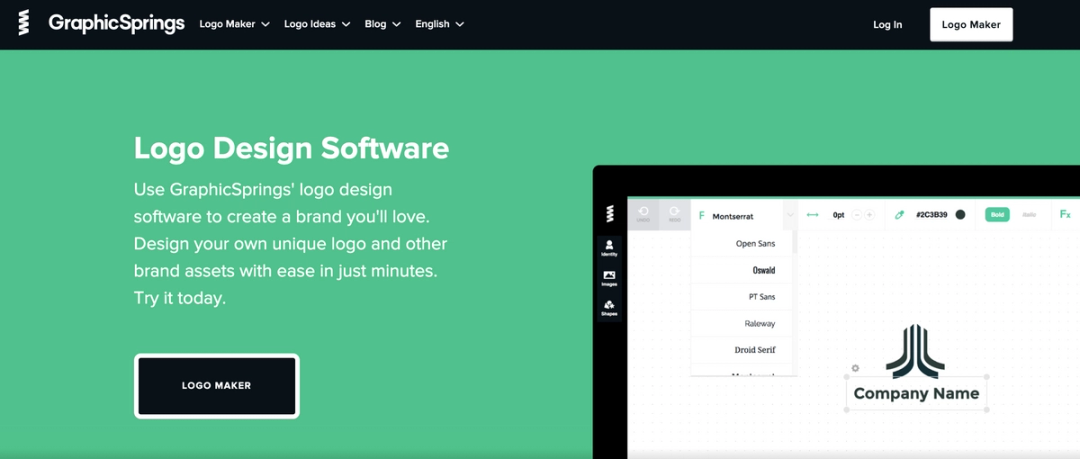 Top features:

Drag and drop features making logo designing easy
Dozens of templates to choose from

Pricing:
Basic– $20 (your logo in a JPG format)
Standard– $40 (your logo in PDF, PNG, and JPG format with edit access)
Pro – $100 (includes vector file and social media covers)
Platinum – $200 (graphical features like branded presentation template, PSD file availability, graphic protection, and more)

GraphicSprings makes the logo designing process easy and intuitive with its simple interface. However, brand owners need more selection. GraphicSprings caters to making the procedure itself simple and convenient, but at the end of the day, you have to think about the finished product.
It is best not to compromise quality designs for convenience and an easy structure. LOGO.com caters to the journey and the destination. The logo design process at LOGO.com is speedy and straightforward, and the destination is a quality logo worth all the effort.

10. Ucraft
Ucraft's is primarily a website design platform that also offers one of the best logo makers for free. It gives you a blank canvas where you can drag and drop icons, text, and shapes to create your custom logo.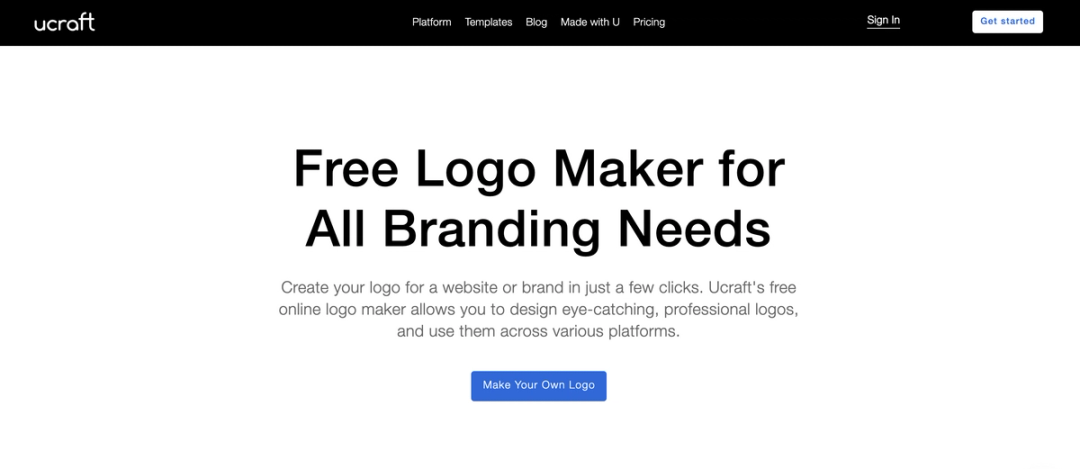 Top features:

The free drag-and-drop tool helps you create a logo easily
Download your logo and start branding your business

Pricing:
Ucraft offers a drag-and-drop feature that makes the logo designing process easier and more straightforward. However, this may only appeal to users who know exactly what they are looking for in a logo.
Most people don't know what they want in a logo yet, and the building process allows them the inspiration to figure out what they are looking for.
LOGO.com offers fully designed logos based on basic information about your business, not only for you to see something you like right away but also to be inspired by what you can do with it. Every design can be customized and altered just the way you want it. Soon enough, it can reach perfection in your eyes.
Which logo maker is best for you?
Creating a logo is an essential step in launching your business. Your logo is your brand's visual identity. The sooner you design and promote your logo, the better it'll be for your branding in the long-run. Your logo can help you improve your business's recall value which can help promote word-of-mouth and improve brand loyalty. Budget-conscious bootstrappers need a logo maker that is affordable, efficient, and easy to use.
When looking for best logo makers, consider the following factors:

Is it easy to use?
Does it really offer great logo designs?
What is customer service like?
Does it fit in your budget?
Do they have good logo designs to choose from?
Do they give you complete ownership of your logo?
Does your logo come with a branding kit?
Do you have the option to edit your logo?

Nobody can know your brand as well as you do. We know you'll make the right choice, and the right choice is LOGO.com.
What are you waiting for? Check out our logo maker today!