‍
Though visually simple, the Dolce & Gabbana logo has a rich history and enduring significance. Dolce & Gabbana, sometimes abbreviated as D&G, is a luxury fashion house popularly recognized as one of the most famous brands in the world.
Established in its vision, Dolce & Gabbana hones a brand logo that has remained unchanged since the day it was founded in 1985. This is not an easy feat in the ever-changing world of marketing and brand awareness techniques.
The Dolce & Gabbana logo was intentionally created with themes of modernity and timelessness in mind, and it has succeeded in upholding these standards. If you are looking to achieve the same goal for your business, check out Logo.com and browse through various minimalistic and classy logo designs bound to set your vision and mission in stone for the years to come.
Dolce & Gabbana's success as a widely beloved fashion brand is rooted in its origin and values, proving that sophisticated simplicity in a business takes you above and beyond.
‍
Dolce and Gabbana History
The history of Dolce & Gabbana is a story of never-ending determination to stand out in a saturated industry. Dolce & Gabbana was established in 1985 in Milan, Italy by Domenico Dolce and Stefano Gabbana. Dolce spent his childhood days in Sicily, where his family owned a small clothing business. Cultivating the skill from an early age, Dolce had designed and created his first garment at six.
On the other side of Italy, Gabbana grew up in Milan, where he studied art and graphics. Eventually, he decided to drop his art vocation and pursue his real passion— fashion. The two had first met in 1980 in a club. Later on, they worked as assistant designers for the same fashion house. This would eventually make Dolce & Gabbana history by eventually becoming one of the best fashion houses in the world.
Thus began a collaboration of ideas, virtues, and designs. To attain these aspirations and make a name for themselves, they quit their jobs, and by 1982, they had opened a designer consultation studio. Over time, this small project became a world-renowned luxury fashion brand known as Dolce & Gabbana.
Who owns Dolce and Gabbana as of 2023? So, far nothing has changed, but the duo has stated that they plan to leave the brand's legacy to the Dolce family.
The Dolce and Gabbana logo has remained the same from its humble launch in 1985 to the iconic fashion label it is now. The duo drew inspiration from their roots and surroundings. Growing up in Italy, they instinctively imprinted much of the culture into their designs.
"We feel a special bond with Sicily and its people. We enjoy showing the faces and characters that crowd the beautiful market every day." — Stefano Gabbana
Many of their Dolce & Gabbana collections, products, and emblems reflect classic Italian traditions and characteristics. As a result, the Dolce and Gabbana logo exhibits a distinctive style that portrays the contrast between light and dark, a quality that makes it memorable. The Dolce and Gabbana history is rooted in the drive to follow one's passions.
‍
Understanding The Dolce & Gabbana Logo
The general characterization of the Dolce & Gabbana logo conveys the message of a brand that possesses a strong desire for authenticity and modernity. The logo font is a slightly modified version of the Futura typeface.
Futura is a geometric sans-serif font designed in 1927 by Paul Renner. Futura demonstrates forwardness and efficiency. Renner produced the font with the specific theme of modernity in mind, believing that modern typefaces should express current models.
Back then, Futura was extensively marketed to capture the spirit of modernity, using the German slogan "die Schrift unserer Zeit" translating to "the typeface of our time" in English. Dolce & Gabbana's affinity for modernism is inspired by Italy, which embraces a homogenous Mediterranean style. TheseMediterranean designs are known for their modern and vibrant simplicity, something this luxurious brand continuously exudes in its ideas and designs.

"We built our fashion around three fundamental concepts: Sicily, tailoring, and tradition. Our dream is to create a style which is timeless, and to create clothes with such a strong personality that whoever sees them can instantly say without a shadow of a doubt: this is a Dolce & Gabbana." — Domenico Dolce
The logo wordmark in bold and capitalized letters radiates power and elegance due to its simple yet emphasizing form. The title style is a popular choice among brands, specifically those with luxurious collections.
The detailed visuals depict classiness and professionalism, indicating that the products or services share the same structure. A brand that shares a similar wordmark with Dolce & Gabbana is the renowned luxury jewelry label Tiffany & Co.

Both brands are globally successful and well-known, featuring simple logos that consist of emphasized titles in their respective fonts separated by an ampersand with a plain backdrop. However, there is one glaring difference in the wording.
While Tiffany & Co. maintains an equal distribution of size and space, the Dolce & Gabbana title is separated by an ampersand that is conspicuously smaller than the words.
The minimized ampersand was a conscious decision that led to a solid and subconscious impact on memorability. By reducing the size of the ampersand, there is an increased emphasis on the words "Dolce" and "Gabbana."
Due to the disproportion, the Dolce & Gabbana logo subconsciously introduces the concept of something "bigger" and "smaller." In this case, the "bigger" wording of "Dolce" and "Gabbana" extends a subliminal understanding of the brand's grandeur and brilliance. Additionally, the furthered emphasis on the words contributes to a more vital brand awareness, which helps in standing out and establishing recognizability.
The Dolce & Gabbana logo is the perfect example of the impact of minimalistic designs. Minimalism expresses objectivity and simplicity, communicating only the fundamentals of a message.
Founders Domenico Dolce and Stefano Gabbana believe that to amplify modernity, one must look into the past. To establish functionality and timelessness, it is essential to remember the basics.
Complicated logos can strip a narrative with overwhelming colors and elements, which may confuse. The Dolce and Gabbana logo history is about creating classic designs that could stand the test of time.
If you feel like your current logo does not fully embody the functionality of your business, feel free to check out Logo.com for simpler visuals and easier understandability. Simple logos are easier to absorb, which boosts memorability.
Logos embodies a brand's visual essence, but ultimately, it is the business that speaks for you. Visuals are one thing, but the work ethic and principles to back it up are the essential aspects, and that was precisely Dolce & Gabbana's core focus.‍
"It is not necessary to be too avant-garde, because you risk not being understood." — Domenico Dolce

The brand features three classic logos, depending on the particular product or collection line. Each logo maintains the same modified Futura font with a white backdrop but other key differences.
Dolce & Gabbana's primary logo is the capitalized, boldened black words spelling out, "Dolce & Gabbana."
The second logo is the abbreviated version of the first, depicting the letters "D&G" instead of the fully formed title. The D&G title is the most commonly known, with many of the brand's products containing the abbreviated logo rather than the complete title. Both titles are presented with the full brand name depicted underneath the abbreviation in some cases.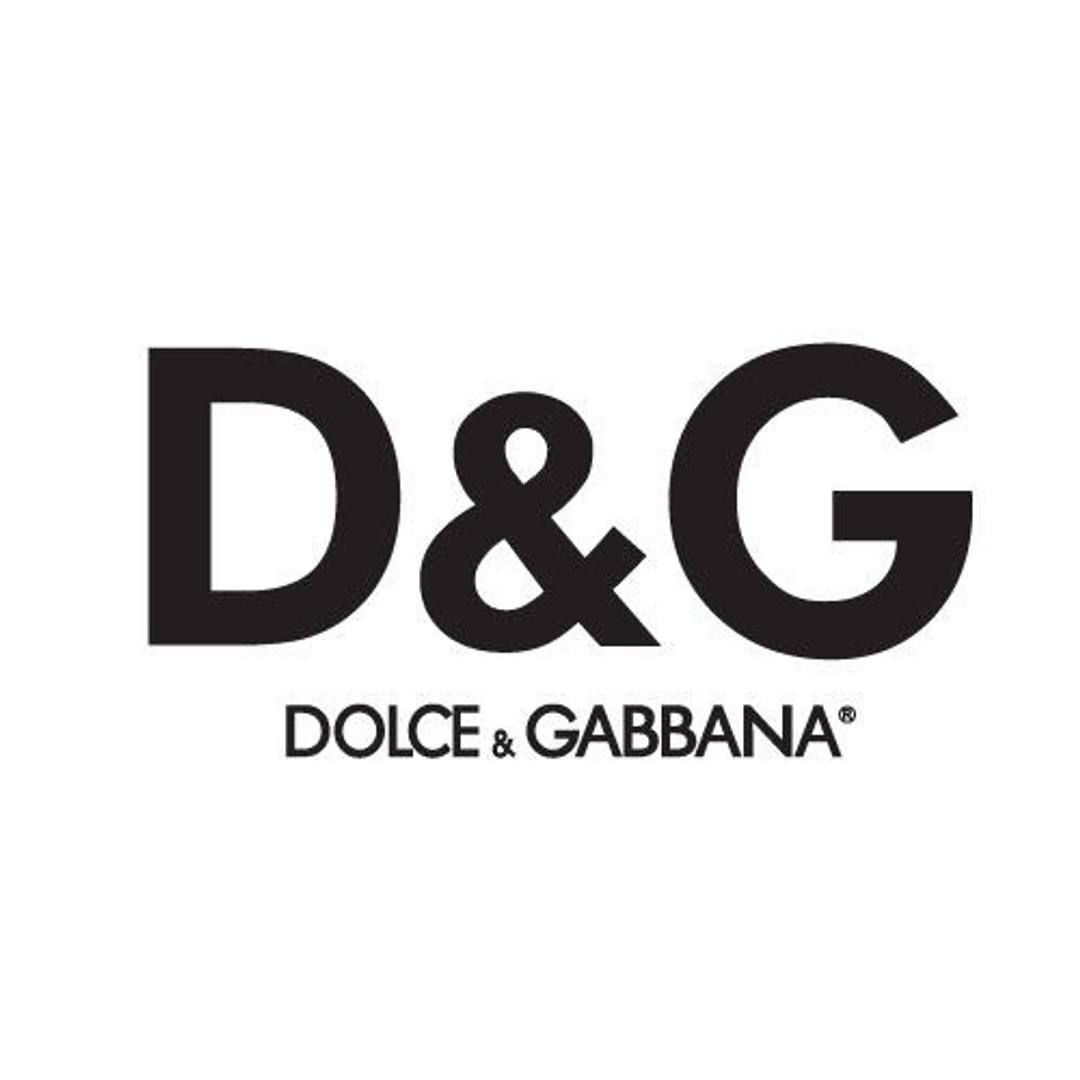 The third and last Dolce and Gabbana logo is the least circulated design as it is only purposed for the particularly lavish and valuable of their products. Thus, the logo itself is an elegant visual.
The title Dolce & Gabbana preserves its modified Futura font with a white backdrop. However, the logo is decorated in dark gold and framed in the middle of a laurel wreath. Above the logo sits a majestic crown. This logo juxtaposes the previous two minimalist designs by depicting an element of royalty, showcasing sophistication and confidence amidst simplicity.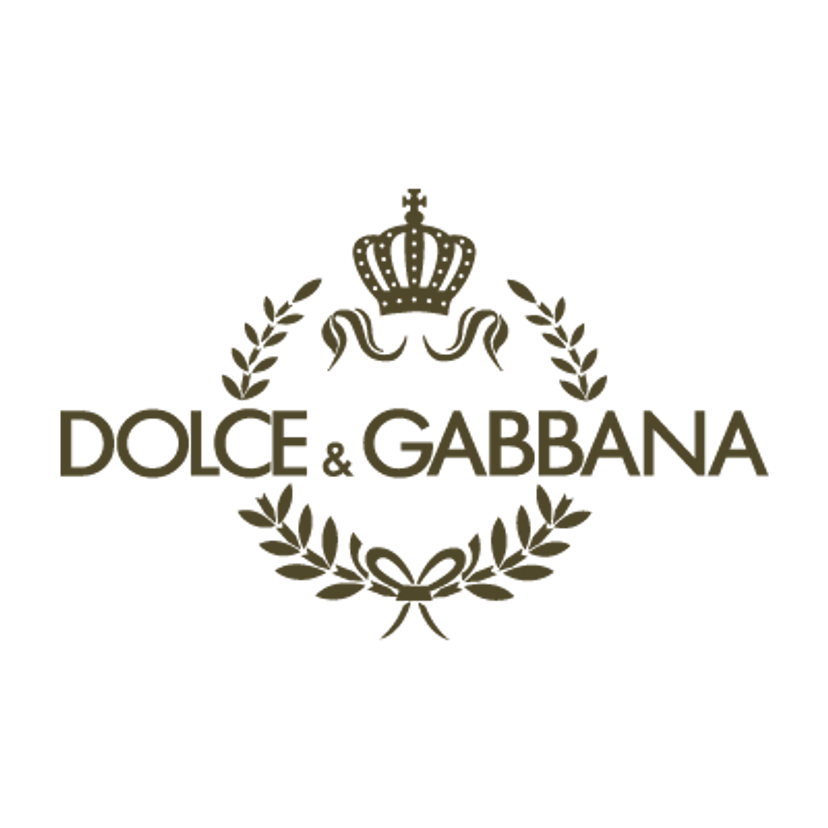 ‍
The LOGO.com versions of the Dolce & Gabbana logo design
Dolce & Gabbana is an internationally known Italian brand of stylish, high-end clothing. Domenico Dolce and Stefano Gabbana, the company's creators, first imagined a brand to create casual attire for young and middle-aged people.
But could the famous design be reimagined?
Design similar versions of the Dolce & Gabbana logo below and take them home for free!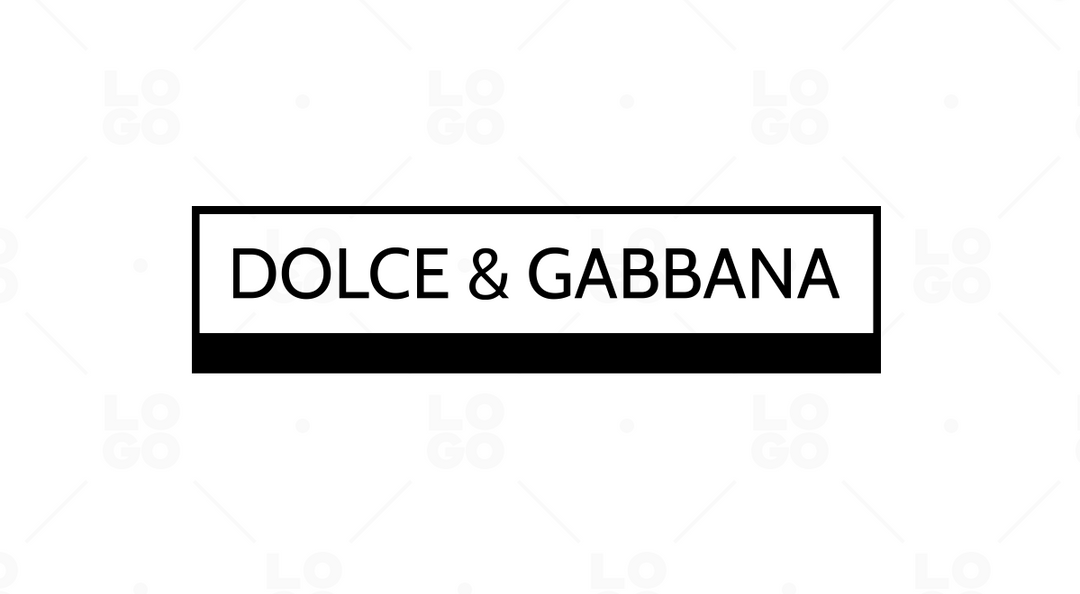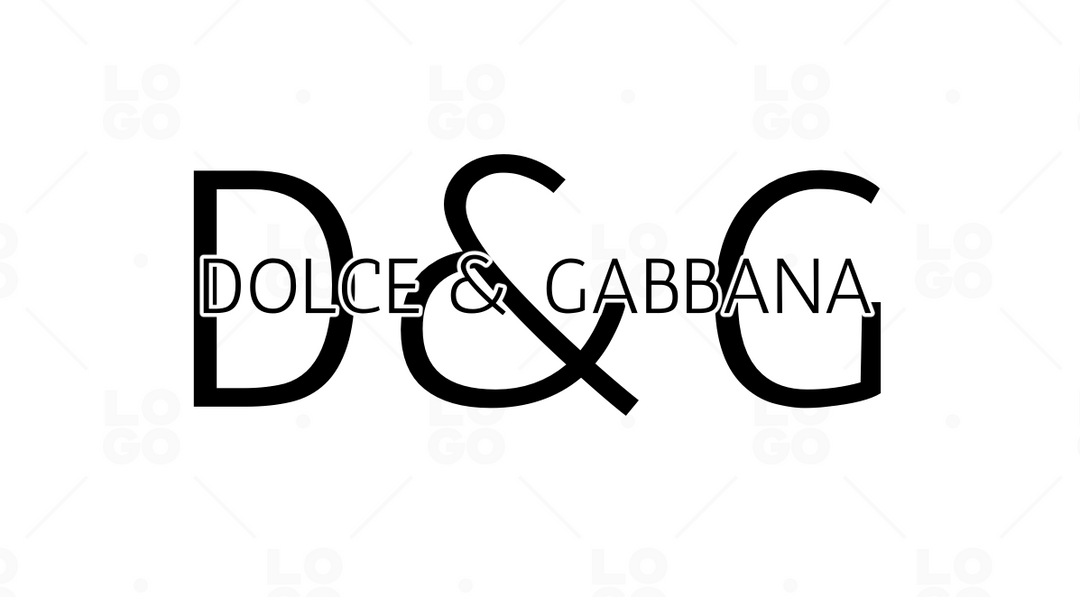 Thanks to a few subtle tweaks, we now have not one but two Dolce & Gabbana logo variations to take inspiration from.
Symbolism And Significance Of Dolce & Gabbana Logos
Dolce & Gabbana utilizes three hues among their logos: black, white, and dark gold. The Dolce Gabbana logo fonts are bolded in black, attracting attention due to their prominence on a white backdrop.
Black is a color that symbolizes power, prestige, and excellence, while white is a color associated with simplicity and minimalism. The two colors compliment each other in physical and symbolic aspects when incorporated together.
Physically, the white amplifies the black, accentuating a pronounced message. Symbolically, there is a balance of opposing themes combined to create a united narrative.
Dolce & Gabbana is a brand that believes in the impact of minimalism in establishing power and luxury. The brand threads the line between simplicity and glamour, showing that both qualities can co-exist and lead to a successful balance.
Dolce & Gabbana features a dark gold hue for its most elegant logo. Gold is a color symbolic of wealth and prosperity. Gold does not corrode, so it is portrayed as a symbol of immortality in various ancient cultures. When gold is fused with black, it takes on a darker shade known as old gold. Black, a symbol of power, and gold, a symbol of immortality, convey the powerful message of an everlasting force when used together. The usage of old gold for the brand's royalty logo is no coincidence. Dolce & Gabbana firmly believe in looking into the past to pave the way for the future. The brand incorporates timelessness into its ideas, aiming to establish immortal relevancy and influence.
Piercing through the title is a laurel wreath.
In Roman and Greek mythology, the laurel wreath symbolized the god Apollo, a source of youth and beauty. The wreath is also used in Rome, Italy, to crown a successful martial commander after the triumph. Above all, laurel wreaths symbolize eternal glory, a notable achievement, and success.
Dolce & Gabbana is a brand greatly inspired by Italian culture and modernity. The fashion house's roots are built on creating an ever-green statement that remains eternally applicable and prosperous. In the process of solidifying the brand in an industry notoriously known to be highly competitive and cutthroat, Dolce & Gabbana climbed the ladders of success and relevancy through its unique embrace of opposing concepts.
Dolce & Gabbana unified simplicity and exaggeration, uniqueness and normalcy, and overall, the harmony between light and dark. These are concepts that are clear as day in the brand's logo.
The last symbolic element in the Dolce Gabbana logo is one that thoroughly encapsulates its journey to success. Above the logo title, sitting on the intersection of the laurel wreath as a completion to the ring, is a monarch crown.
A monarch crown is a symbolic headgear that is usually worn by royalty. The crown signifies power, immortality, and glory. It is often constructed out of gold and decorated with precious jewels. Dolce & Gabbana is a timeless and expansive brand that has amassed an extensive reach of fame and love throughout the years.
Though positioning themselves as luxurious and unconventional, Dolce & Gabbana possesses a strong brand identity that sparks a resonation with people from different walks of life. Domenico Dolce and Stefano Gabbana represent universal solid values and beliefs— the importance of family, the impact of one's home, and most importantly, the pursuit of a dream.
The Dolce & Gabbana success story entails determination amidst the unknown and the courage to express creative and unconventional ideas in a world that swims along with the current. Ultimately, it is the conquering of adversity. Dolce & Gabbana features a crown as a symbol of glory, representing a narrative of attaining success by believing in oneself— a concept relevant to most people.
In the beginning, nobody believed in us... I remember the first and second collections. We would call customers, stores, and magazines, and they'd say, "Who? Dolce who?" — Stefano Gabbana
The origins of Dolce & Gabbana entailed great sacrifice. The abandonment of a stable livelihood to achieve something bigger than themselves— at the significant risk of potentially ending in obscurity. By 2020, 35 years since the brand's emergence in the fashion industry, Dolce & Gabbana has over one thousand boutiques in almost one hundred countries worldwide. Dolce & Gabbana's story as a brand is present in the confines of its logo, a simple contrast between black and white and yet a world of color hiding between the lines.
‍
Dolce & Gabbana Fun Facts
Dolce & Gabbana's "DG" logo is their most recognizable symbol. However, they were never able to attain the matching website address. DG.com is one of the oldest internet domains, registered in 1986 by computer company Data General. After the company failed in 1999, the domain was eventually put up for auction. Dollar General purchased it in 2010, winning the bidding war against Dolce & Gabbana.

In 1989, Domenico Dolce and Stefano Gabbana opened their first boutique together. But instead of opening it in their hometown in Italy, they opened the first store in Tokyo, Japan.

In 1996, the duo released a single together called "D&G is love." The words are repeated throughout the song over techno beats.

Dolce & Gabbana have collaborated with electronic conglomerates Motorola and Sony Ericsson to produce luxury cell phones with unique features under the fashion house. Both phones display Dolce & Gabbana's trademark colors, black, and gold. The Motorola phone features an exclusive pendant with the initials "D&G" illuminating in gold.

At one point, D&G was a separated label from Dolce & Gabbana. D& G was the fresher, more characterful diffusion line of the brand. In 2011, Dolce & Gabbana decided to discontinue the D&G line to strengthen their other collections. D&G now only pertains to the abbreviated logo of "Dolce & Gabbana."

Dolce & Gabbana created all of Madonna's costumes for her Girlie Show tour. Both designers eventually asked her if she wanted to be on their ad campaign, and she agreed. To this day, Dolce & Gabbana's favorite icon to design clothes for is Madonna.

Cher's iconic yellow plaid outfit from the movie Clueless was designed by Dolce & Gabbana. Cher's scenes wearing the ensemble regularly trend on social media, regarded by fans as her signature outfit among the countless others seen in the movie's duration.
‍
Dolce & Gabbana: An Unceasing Force
A logo is an emblem that distinguishes a specific brand from all the rest. The Dolce Gabbana logo is considered one of the best designs for luxury fashion brands. The design of the logo reflects the founders' core beliefs and aspirations, one of them being the formidable impact of modernism. The ability to elevate with the times while simultaneously clinging to one's roots effectively sums up the Dolce and Gabbana brand history.
Domenico Dolce and Stefano Gabbana understood the influence of a memorable emblem, allowing people to absorb the simplicity of a minimalist design quickly. Dolce & Gabbana has a penchant for cultivating their Italian culture and origins into their aesthetic.
With the incorporation of vibrant modernism and minimalism to various styles, including their logo, Dolce & Gabbana established a universal understanding of their vision. The brand believes in the importance of history to reach a triumphant future.
To Dolce & Gabbana, dominating the fashion industry is not more important than values, and this is a belief that translates into their products, collections, styles— everything. Their stronghold of principles creates an authentic fashion experience that can never go out of style. Just as their logo never did.‍
"We live the life, but in an honest way. Without compromise, without corruption. This I understand now is the key to my power— the power of Dolce & Gabbana. It's not just the clothes. It's love for the people." — Domenico Dolce

Ready to build your own iconic logo for free? Check out our logo maker!
‍