By: Sarib N.
My Search For The Perfect Logo.
A great logo is a prerequisite for any business. A well-recognized logo is as essential for a business as a national flag is for a nation. It speaks volumes about the business before saying anything. You see a ball with red, white and blue in a logo and the design that comes to mind is Pepsi, of course. It's the universally recognizable Pepsi Globe. But naturally, businesses leave no stone unturned in creating a logo that fits their model and spells out their objective. An ideal logo is not necessarily a fashion statement because fashions keep changing. An excellent logo is something that can be associated with the business for a long time and communicates values the company represents. The Pepsi Logo spells fun and youthfulness, traits related to the brand. In the pursuit of the perfect logo, today, we will examine two leading firms Logo.comand Logomakr.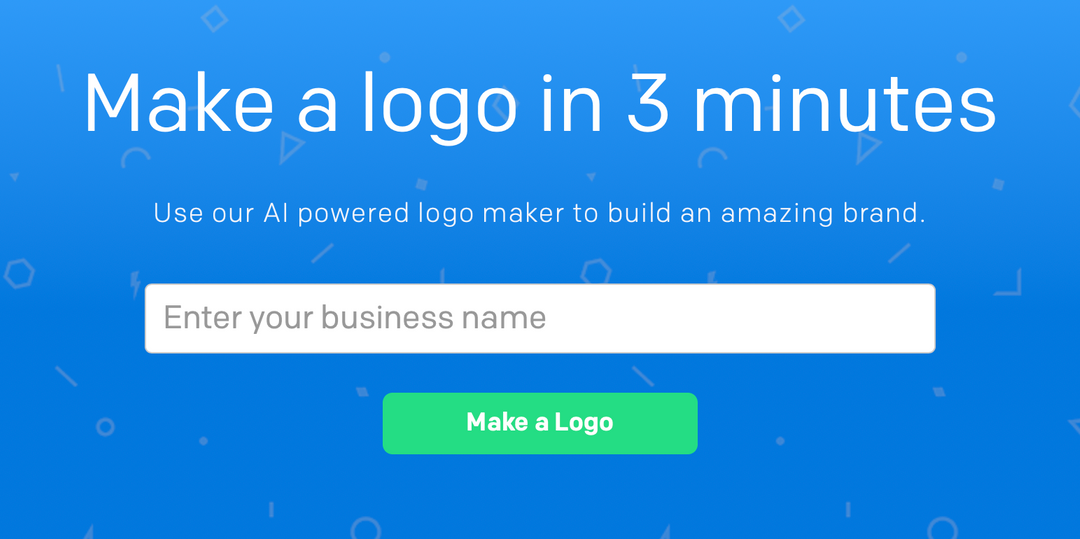 The quest for the perfect Logo.
With vast resources and designers waiting to be associated with them, it is not difficult for large business houses to create or upgrade their logos. But what about small and medium business houses? Where do they go in their search for the perfect Logo? Usually, a business will decide on a logo when first starting. At this stage, entrepreneurs have neither the time nor resources to go on an extensive search for logo makers. This is where economical and fast logo makers fit in. There are numerous websites and firms which promise the creation of logos at affordable rates, but how do you know which one is best? Logo creations are usually one time affairs. How do you create a logo which satisfies all your requirements and remains ageless and timeless?
Meet Logo.com
Logo.comis a reputed firm that has generated more than 10 million logos. That's right -- over 10 million. Logo.com has a unique AI-based logo generator, which creates dozens of unique logos blazingly fast. And yet, leaves room for a lot personalization and tweaks. Logo.com's logo generator is supported by their advanced Logo Design Engine.
Why not LogoMakr.com? Why Logo.Com?
You may be wondering why you should go to Logo.com and not to Logomakr.com? Here's the answer to this question:Logo.com offers a complete package and not just "Logo Design". The package provided by Logo.com contains various file types, and sizes, in color and black & white. These files are suitable for long-term use and can be used across marketing campaigns.
A visit to the websites of Logo.com and LogoMakr.com:
Log onto the Logomakr.com website, and you are greeted by a lengthy video tutorial on how to manually create a logo using the logomakr tool. While this tutorial can be exciting for a design student, it can be extremely cumbersome for an entrepreneur who is trying to set up their business. The Logo.com website prompts you to simply enter your business name and a slogan and details of your industry. This relatively small amount of information is all it takes for the AI-equipped Logo generator to take over and create a logo. Believe me, the AI-powered Logo generator of Logo.com works fast. After you have entered the inputs, within minutes, you will find yourself looking at a screen full of logos suitable to your business. Editing any logo design is extremely simple. All a user has to do is click on the "Continue" button, and the logo design is adjusted until the user is satisfied with the result. The "editor" feature also allows the user to change the icon, colour, slogan, or other details of the logo to bring it in line with their unique style. Another significant difference between Logomakr and Logo.com is that Logomakr does not address handling social media channels, while Logo.com provides the user with an extensive social media kit. The social media kit provided by Logo.com is suitable for use across social media platforms such as Twitter, Facebook, Instagram and many others.
Design Packages:
The Custom Design package available with Logomakr mentions only four to six designs in each presentation. The presence of the AI-powered logo generator provided by Logo.comgives the scope for an unlimited number of concepts and designs. In Logo.com, professional designers and AI-based software work together to provide the user with infinite choices based on inputs provided by the user. The AI-based software of Logo.com works faster than the software used by Logomakr saving precious time for a new entrepreneur. The machine-based algorithm eliminates the need for the customer to spend excessive amounts of time and effort incorporating their corporate message into their logo. A few quick and simple inputs are sufficient for the Logo generator to integrate existing branding into a new logo. The AI-based software enables the use of premium fonts in each logo for a wider range of choices. Users get images so precise and refreshing that they are sure to attract attention anywhere- be it billboards, websites, social platforms, or T-shirts.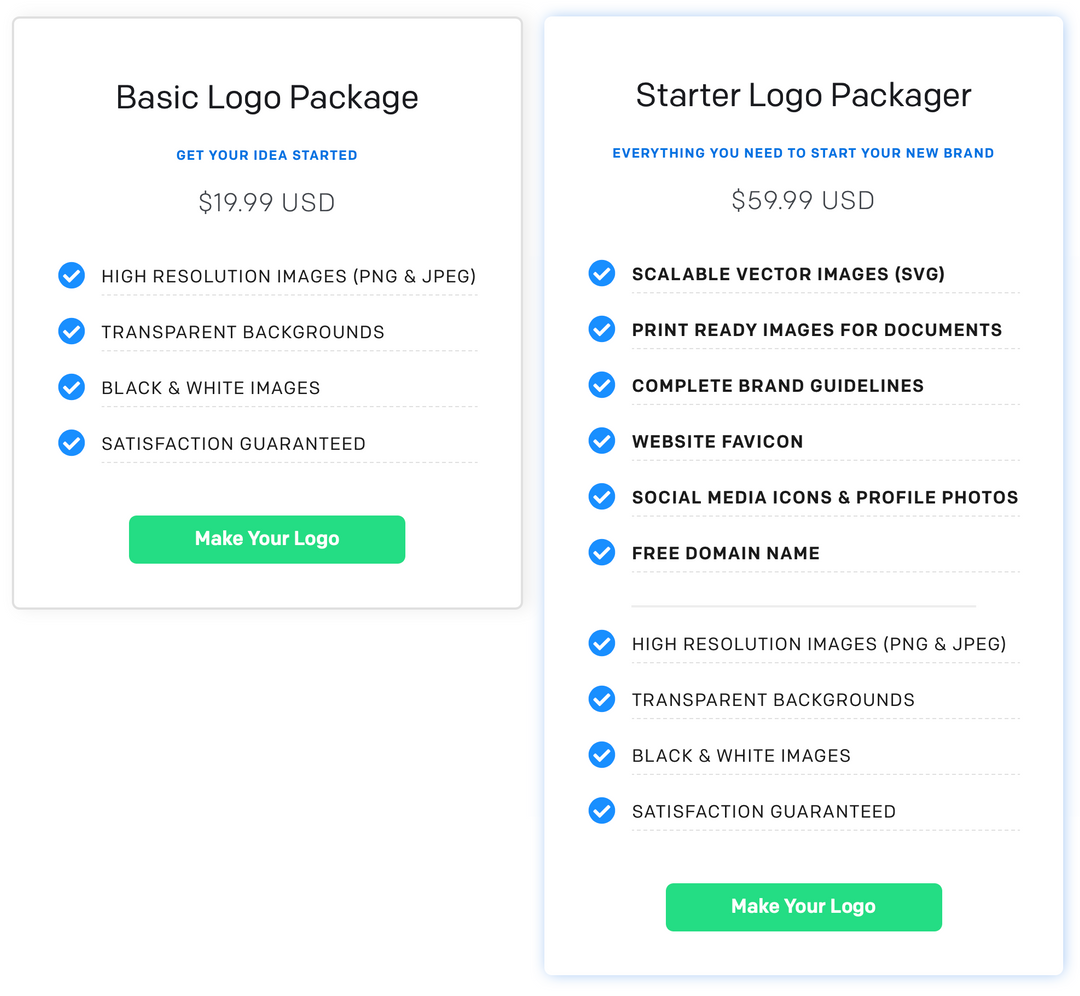 Attractive Pricing:
AtLogo.com, it's design first and price second. A customer need not worry about which package to select until after they have selected a logo. The packages offered are highly affordable as compared to those offered by competitors like Logomakr. Logo.com currently has two packages: The Basic Logo Package at $19.99, which is suitable for small businesses and solopreneurs, and the second package, The Starter Logo Package, is priced at $59.99. This is far cheaper than the Custom Logo Design Package priced at $299 offered by LogoMakr. For an emerging entrepreneur, this equates to precious savings that can be deployed elsewhere.
Freebies:
Logo.com's Starter Logo Package has features such as: Complete Brand Guidelines, Website Favicon, Social Media Icons, Profile Photos and Free Domain names. These features are missing in the higher-priced Custom Logo Design Package offered by LogoMakr. LogoMakr offers to make as many revisions as required, whereas Logo.com promises satisfaction in one attempt and within minutes. Their confidence comes from their experience and sophisticated machine powered algorithms.
When you are looking for a logo for your business, do spare a couple of minutes to check out the Logo.com website and you may be surprised with the amount of time and money you can save.
‍