If you have a passion for taking pictures, you may have wondered about how to start a photography business to take things into high gear.

You're not alone in the pursuit of turning a creative hobby into a profession. In fact, photography is a highly popular business venture these days. Many millennials and Gen Z individuals are starting to distance themselves from the nine to five business structure in favor of a more fluid and innovative work style—and photography fits that bill well.

It can be challenging to stand out from the crowd and solidify yourself as a credible photographer, but it is also rewarding in a number of ways.

For a clearer picture of how to start a photography business, let's take a look at the pros and cons of what you would be getting into:
The pros are highly rewarding, but the cons can be difficult to manage, especially if you are just starting out as a professional photographer. That being said, you will get a better handle on projects (and yourself) the more you immerse yourself in the experience.
The photography industry is rife with competition. You will have to work a little harder to separate yourself from the flock, and you can do it with patience and determination. And most of all, the genuine passion for photography to keep your inner fire burning.
Learning how to start a photography business can be your ticket to a lasting lucrative profession. One that offers a variety of experiences, flexible work hours, and a sense of freedom every step of the way.
If you are interested in turning this beloved hobby into a fully-fledged career, follow our step-by-step guide to get you on the right track.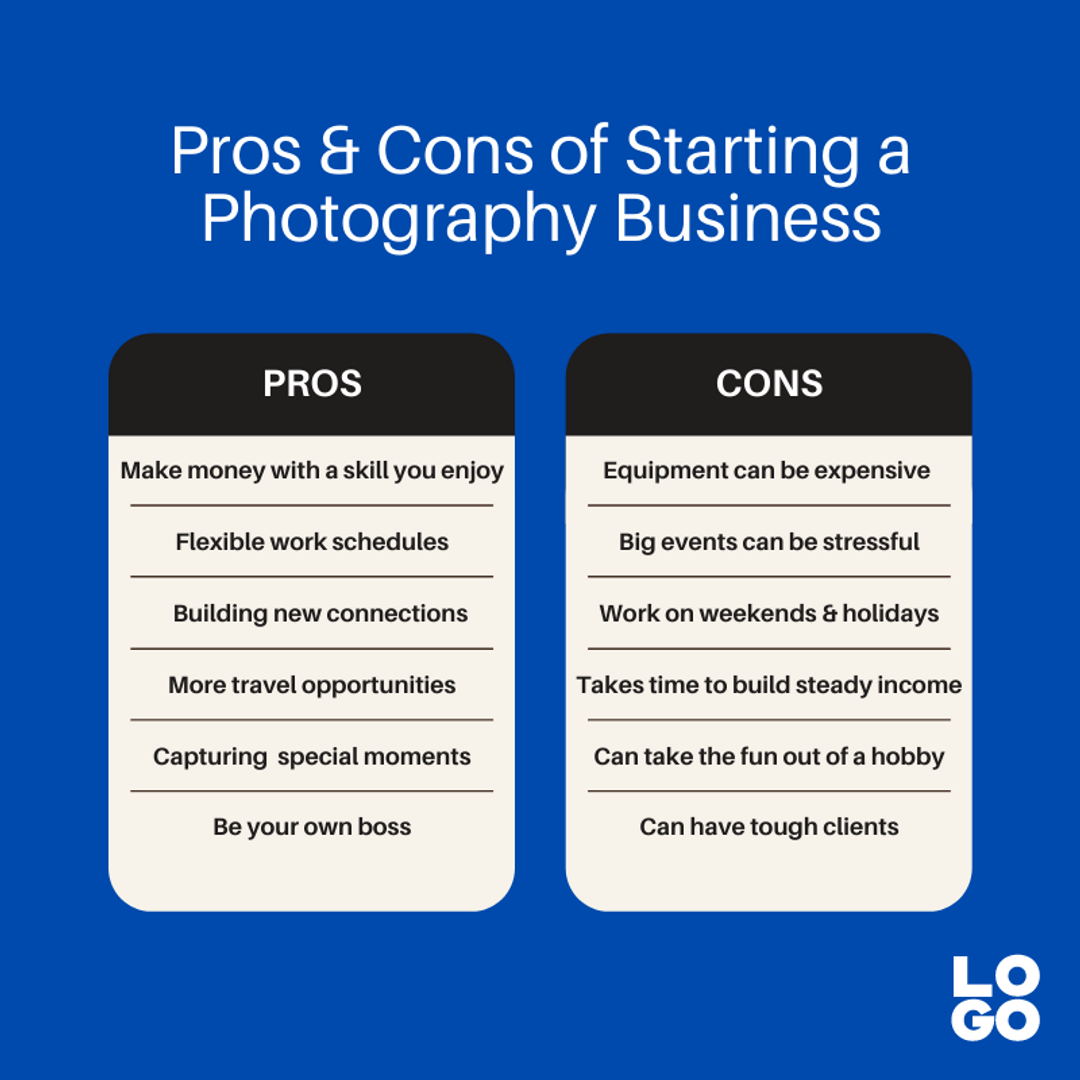 10 Steps On How To Start A Photography Business
Confucius once said, "Choose a job you love, and you never have to work a day in your life."

Pursuing your passion is wonderful, but you need to be ready to put in the work to nurture your photography business into a venture that pays off professionally and financially.

Here are the ten steps to start a photography business to inch your way to brand success.

Step 1: Determine Your Photography Specialty

People need photography services for many reasons. It's important to minimize your scope of reach at the start of your venture for more targeted offerings. This makes it easier for your audience to find you and avail of your services. It also gives you the opportunity to gain some photography experience in a specific niche.

Here are common photography specialties to choose from:

Wedding photography services
Portrait photography services
Event photography services
Real estate photography services
Travel photography services
Fashion photography services
Product photography services
Food photography services
Among many more!

The most successful photographers specialize in a particular niche because specialists are more sought after than generalists. Think about it: if you were getting married, would you hire a photographer who specializes in weddings or one that offers general photography services?

Though it is helpful to be a jack of all trades, having a specialty is a great start to establish yourself before tapping into other kinds of services. Think away!

Step 2: Have A Great Photography Business Name

Your photography business name serves many purposes. It is the core of your photography brand that allows people to find and recognize you instantly. Your business name needs to paint a picture of the kind of services that you provide.

For example, if you plan on specializing in maternity shoots, you could choose something like Mommy And Me Photography. If it's snapping pictures of delicious food, you could use Yum Yum Photography. People would immediately grasp what kind of photography they are getting out of you.

If you can find a business name with a balance between communicating what you do and leaving room for the imagination, jackpot! And if you need some help choosing a great photography business name, give our business name generator a go. All you have to do is input three relevant keywords to your photography brand, and you'll see tons of options to choose from.

Step 3: Create A Photography Business Plan

No matter the industry, you need a professional business plan to organize your thoughts and plans for the future. A photography business plan serves as a roadmap, describing what your brand is and how your services can end up being profitable. It needs to include:

Your vision, mission, and goals as a photographer
Your photography services in detail
How and why you are different from the competition
Financial projections
This is a great time to figure out your pricing structure. For example, if you want to make a$10,000 profit in your first year and think you can book at least 25 shoots a year, you'd need to charge $400. You also need to take into account the cost of equipment, travel, supplies, and, of course, your time.

Step 4: Assess And Secure Startup Funds

This is the make-or-break moment. Unfortunately, businesses are not fueled by passion alone. You need to set aside funds for growth and make investments to build a successful photography business. The beginning stage is about assessing your startup costs.

The investment that really seals the deal is the photography equipment. If you're planning on making it big as a professional photographer, you need professional gear. Camera equipment alone can cost over $10,000—not even taking into account studio or workspace costs.

Figuring out how to start a photography business is the easy part. The challenge with this venture is the expenses needed to get your start. The camera equipment is non-negotiable. However, you can always begin by working from home and getting supplies to build a set, provided that you have the space for it.

You will also need a business license, a website, accounting software, and other branding materials to get your footing. Take into account the costs for every management requirement, and don't worry too much about not availing the best of the best services right away.

Invest the most in your photography equipment. It skyrockets your professionalism and allows you to provide high-quality images to your clients. That is precisely what they expect when hiring a professional photographer.

If you've done the math and believe you have enough startup money to fund your venture, go forth! If you don't think you have enough resources to get started, that's okay. Many starting entrepreneurs need help and assistance. Consider applying for a business loan (the business plan comes in handy with this option).

Step 5: Invest In Photography Gear And Equipment

If photography is your hobby, you may already have some equipment with you. But remember, you are doing this professionally now. The same rules do not apply to recreational practices. The higher the quality of your camera gear, the higher you get to charge for your services.

When it comes to photography gear, you will need two cameras, two high-quality lenses, two flashes, and efficient editing software to refine the images. Why two of everything, you ask? Professional photographers need backup equipment—always.

For example, you got booked for wedding photography services and tomorrow's the big day. Oh no! Your dog spilled hot coffee on your expensive camera (knocking on wood), and it doesn't seem to be functioning anymore. Thank goodness you had a backup camera to not potentially lose thousands of dollars and complicate the bride and groom's big day.

Remember that you are helping people immortalize treasured moments. You need to be prepared at all costs.

Step 6: Come Up With A Pricing Structure

How much should you charge for your services? It's a difficult question for any photographer to ascertain, especially when they are just starting out. You don't want to go too low to lose financial standing, but you also don't want to go too high to lose potential clients.

But here is a great way to get around it. Determine what an hour of your time is worth. Taking into account your startup costs, skills, effort, and post-editing processes, how much is an hour of your time?

For example, if editing the images takes three hours and you believe that an hour of your time is worth $50, you could essentially charge clients a fee of $200 for an hour's session. Of course, your pricing structure is absolutely up to you. But this could be a good jumping-off point.

Step 7: Establish Your Branding And Marketing Materials

Now that you put in the work for the introduction to your business, it's time to find ways for people to know and find you. Make sure that you have a website for people to view your images, learn about you and your services, and book for them. You also need a stunning logo to be the face of your brand—but more on this below.

There are no limits to effective branding and marketing. Create business cards, digital and tangible. Set up social media accounts on Instagram, Facebook, Twitter, and more. You can prioritize some over others, depending on the kind of photography services that you provide. For example, wedding images would work very well on Pinterest.

Include a gallery of your pictures and testimonials from clients on your website. You can even set up a page with your portrait, as well as your brand story. You can make a book of photos online to present the essence of your brand. Why did you start a photography business? Talk about your background and experiences. Be genuine, and not self-serving. Valuable connections begin with authenticity.

Step 8: Network And Market Galore

Photography business or something else, a new business owner needs to network their heart out. You could be the most skilled photographer in the world, but unless people know you, that can only take you so far. You can't capture and get paid for wonderful photos if no one hires you.

Take the time to partake in events—get yourself out there! Join clubs, forums, groups, whatever you can get your hands on. Try your best to allow these people to know about you and respect how you conduct your business.

Step 9: Engage With Your Clients

A photographer doesn't just need mad camera skills, they also need people skills. Taking great pictures is fundamental to the equation, but you also want your clients to enjoy the experience as well. If the customer enjoys your services AND your company, they will trust you more. And this increases the chances of referrals coming your way.

If you can, consider always meeting the client before a shoot. This way, you can get to know them and build a rapport while listening to their ideas about the images. They will likely be impressed that you took the time to hear them out and build a connection before diving straight into the money-making aspect of the process.

Remember, you are not just selling photographs. You are selling an experience.

Step 10: Build And Update Your Portfolio

If you want more gigs and credibility in your brand, take your photography business to the next level with a comprehensive photography portfolio. You might have hundreds of images under your belt, but which ones actually strike you as truly powerful? Create a portfolio that compiles all the pictures you are most proud of.

Every time you tap into a certain niche, include the pictures in the portfolio. This shows your clients that you are a versatile photographer. You may also include brief descriptions with every image about your personal thoughts and experiences, showing your customers that the joy felt in that memory is a two-way street.

Speaking of, it's time to create an awesome logo for a photography portfolio that's as picture-perfect as your photos.

How To Create A Logo For Photography Portfolio In 6 Easy Steps
A logo for a photography portfolio— do you really need one? Absolutely! Here's why:
A logo can help establish the visual identity of your photography portfolio and set it apart from the competition. Good business branding allows you to build a connection with your target audience, potentially making them want to learn more about you and engage with you.
A relevant and unique logo for a photography portfolio can elevate its appearance, but more importantly, it provides your service with credibility.
Building your photography portfolio can boost trust and reliability between you and potential customers, which is vital as they would be relying on you for photos during important events in their lives— ones they want to remember always.
Once you manage to build a connection with your audience through effective branding, your job gets a whole lot easier.
A strong logo is one giant step that can help you get there, and with our AI-powered logo maker to assist you, your visual branding needs are pretty much set.
Before we get to that, here are some other steps you should take to make your photography portfolio stand out from the crowd.

How To Make Your Photography Portfolio Stand Out

A logo for a photography portfolio is essential, but there are other ways to stand out and make a great impression. ‍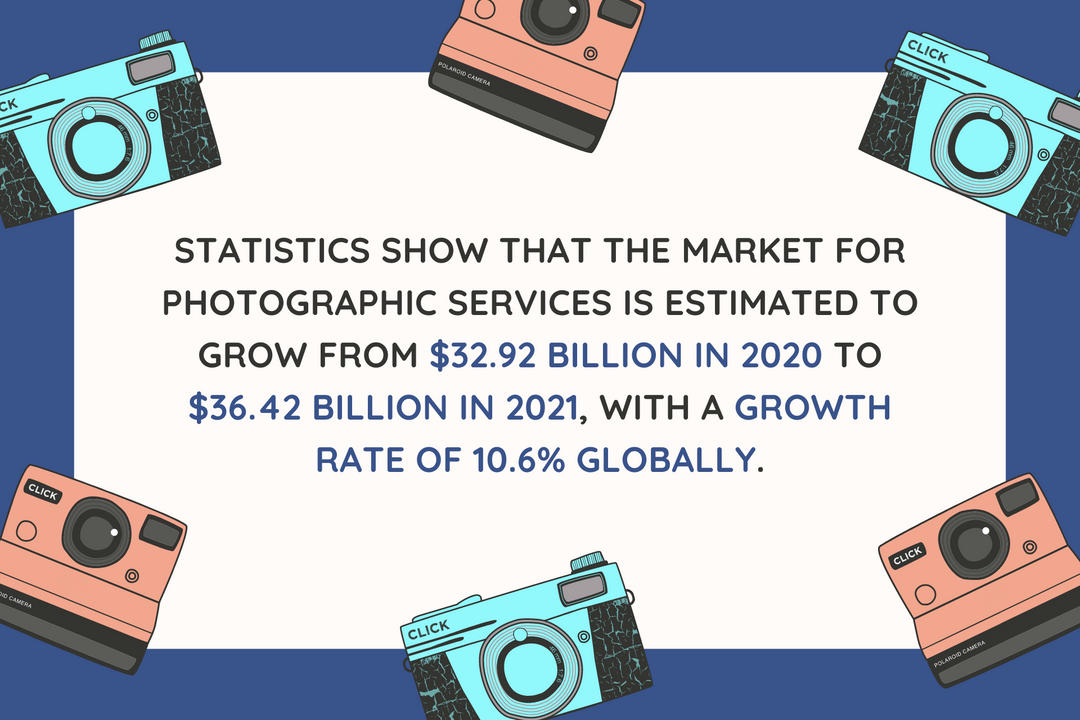 Statistics show that the market for photographic services is estimated to grow from $32.92 billion in 2020 to $36.42 billion in 2021, with a growth rate of 10.6% globally. The demand is rising, and this is the perfect opportunity for you to make your mark.
Branding is essential, but here are other valuable tips to consider:

Do extensive research on your biggest competitors
Make sure your portfolio is easily accessible to viewers
Include images from various angles in your portfolio
Ensure that all pictures in your portfolio have proper and adequate lighting
Feature close-up shots––these could be portraits or still life
Include images taken for various events (weddings, birthdays, etc.)
Show a diversity of subjects in your portfolio (humans, animals, objects, etc.)
Include information about your photography equipment
Have before and after shots in your portfolio to showcase your skills
Include images and testimonials of happy customers
Feature positive reviews and feedback on your website
Promote your images on various social media platforms

Your photography portfolio says a lot about you as a photographer. It is a collection of images that you are most proud of, and its primary purpose is to showcase your skills. Include the best of the best in it, and let your beautiful images speak for you. When it's compiled with pride and passion, it shines through to your viewers.
These tips can help keep customers intrigued and stick around, but a good branding strategy boosts the professionalism and quality of your online entity as a whole. A logo is like a visual pitch, and if it's appealing enough, it can compel users to enlist your photography services.
Our logo maker can help you find a logo, a name for your photography business, and tons of services to help you market your portfolio.

Steps To Create A Free Logo For Photography Portfolio
Here are six easy steps to get a free logo for a photography portfolio and ways to promote and market your business with your new visual.
Step 1: Find A Great Name

Your photography business name is more for your customers than it is for you. Decide on a name that oozes quality, so much so that it would compel onlookers to learn more about your brand.
Consider using a photography business name generator to provide you with a great and memorable name along with a beautiful logo to go with it.
All you have to do is input 1 to 3 relevant keywords that describe your business and optimize your preferences.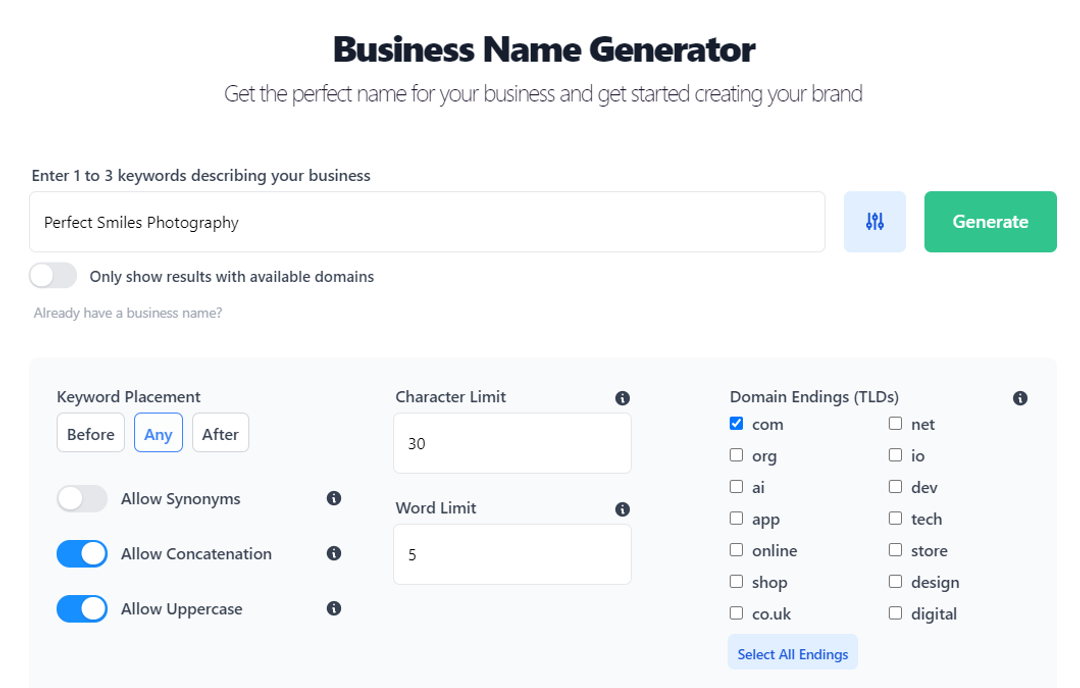 The tool will generate a ton of names along with potential logo ideas for you to choose from.
Step 2: Choose The Name You Like


Browse through the selection of names and choose the one you like the best. Don't worry about the logo design just yet— you'll soon get hundreds of different designs to choose from.
Here are some tips in choosing a great name for your photography business. I good name should be:

Unique and distinctive
Relevant to your services/images
Easy to pronounce and memorize
Simple and recognizable
Reflective of who you are as a photographer

Once you have chosen the right name, click 'Ideas' on the upper left of the page to check out hundreds of business logo designs for it.


Step 3: Find The Perfect Logo And Customize It

Every logo you'll find is customizable according to what you prefer. Find a design that is closest to your ideal logo for photography portfolio and click it to customize it. From here, you can modify its font, colors, icons, spacing— pretty much everything! Don't stop until it's perfect.


Here are some tips for when you customize the logo to ensure it's effective:

Use one or two brand colors at most
Choose the colors that best represent your photography portfolio
Use one or two fonts at most
Consider sans serif fonts for their readability
Avoid overcrowding the logo with too many elements
Build a simple yet strong design
Ensure that it looks memorable and professional
Use an icon that best represents your photography business

Customization is essential because it allows you to make the design your own. You are in total control of its elements. Nobody knows your ideal logo as well as you do, and with a professional logo maker, you get to make your vision come alive exactly the way you need it to. Customizing your logo for photography portfolio also helps your business stand out from the competition.
Here are some benefits of logo customization:

Helps in standing out from competitors
Allows you to tap into your creativity
Achieves your ideal logo design
Adds distinction and memorability
Helps make brand-specific elements come alive
Proves that the design is truly your own

Step 4: Finalize Your Logo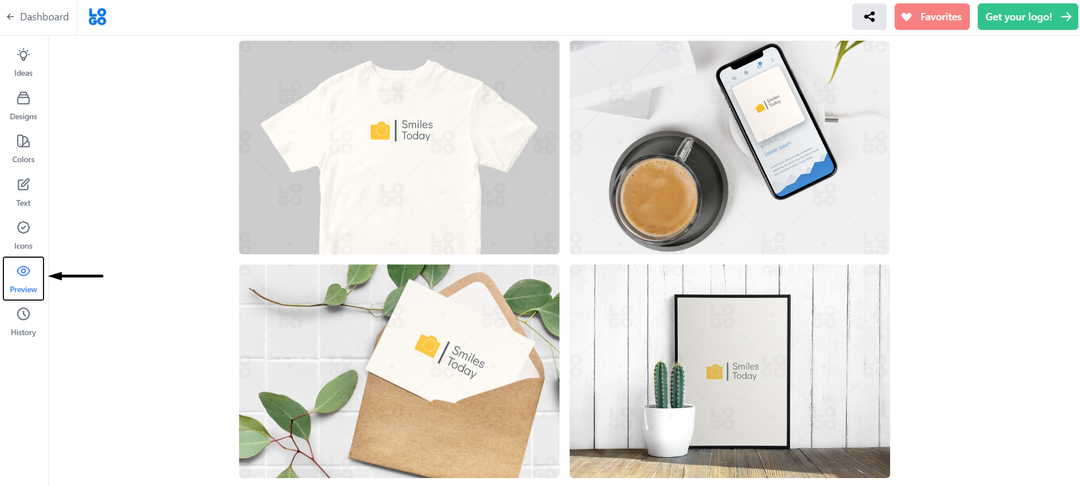 Once you're happy with the design, go ahead and click 'Preview' to see how your new logo will look on various platforms and merchandise. You will also receive details about the font, color palette, business cards— whatever you need for your photography portfolio.
That's all it took to get a logo for photography portfolio— four simple steps, and you're almost at the finish line.

Step 5: Take Your Free Photography Portfolio Logo Home

Once you have finalized your logo, click the 'Get Your Logo' button. From here, you can take your new photography portfolio logo home free of charge!
You can start using your photography portfolio logo right away with these benefits:
Full ownership of your logo - Once you purchase your logo, it completely belongs to you and no one else, even if you decide to delete your account.
Instant access to your logo - Your logo is safe in your account. It is secure for you to come back to it whenever you need it.
100% satisfaction guarantee - Your happiness is everything to us. If you're unhappy with your logo, we will issue you a full refund.
Launch your photography business in almost no time at all. It's practical to get an early start, so go for it! But take note that your logo is just the start. You still need branding materials featuring your new logo to build your online presence.
This is where the Brand Plan comes in.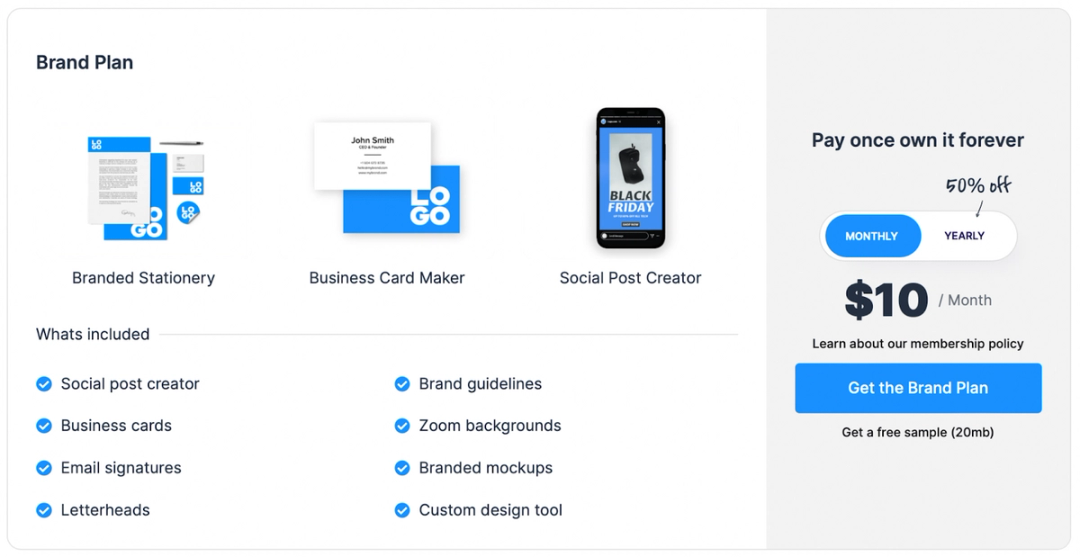 Our Brand Plan is your brand-building best friend. For only $10/month, you have instant access to:
Unlimited logo edits
Business card maker
Email signature maker
Custom design tool (Stitch)
Brand showcase
Brand guidelines
Perpetual brand backup
Oh, and all of them are pre-set with your new photography portfolio logo. Say hello to instant convenience and results!
Step 6: Showcase Your Portfolio And Brand

Social media is an effective tool that allows you to feature your photography to the right audiences efficiently. For example, Instagram is the perfect place to post your images and engage with your audience.
You can build credibility in your photography business by ensuring that your social media presence is consistent.
A social media kit offers this consistency. Our packages offer ready-to-use files for all your social media platforms such as Facebook, Instagram, LinkedIn, Youtube, and Twitter so that you can get started in no time.
You also get access to a website builder, which gives you infinite possibilities for how you would want to use it to boost your brand. You already have a logo for photography portfolio— now you have a website to feature all your images, too.
You can also use it to dive into other forms of promotion, such as creating blogs about your journey as a photographer—providing tips and tricks to other photographers while also building your brand.
According to a study from Hubspot, 80% of internet users interact with both social media and blogs. What are you waiting for? Get a social media kit and a website builder today!

10 Great Examples Of Logos For Photography Portfolios

Here are ten logo designs for some design inspiration:

1. Add some brightness to your logo with a pink and purple flair! This way, you can show customers that photography can be fun and exciting.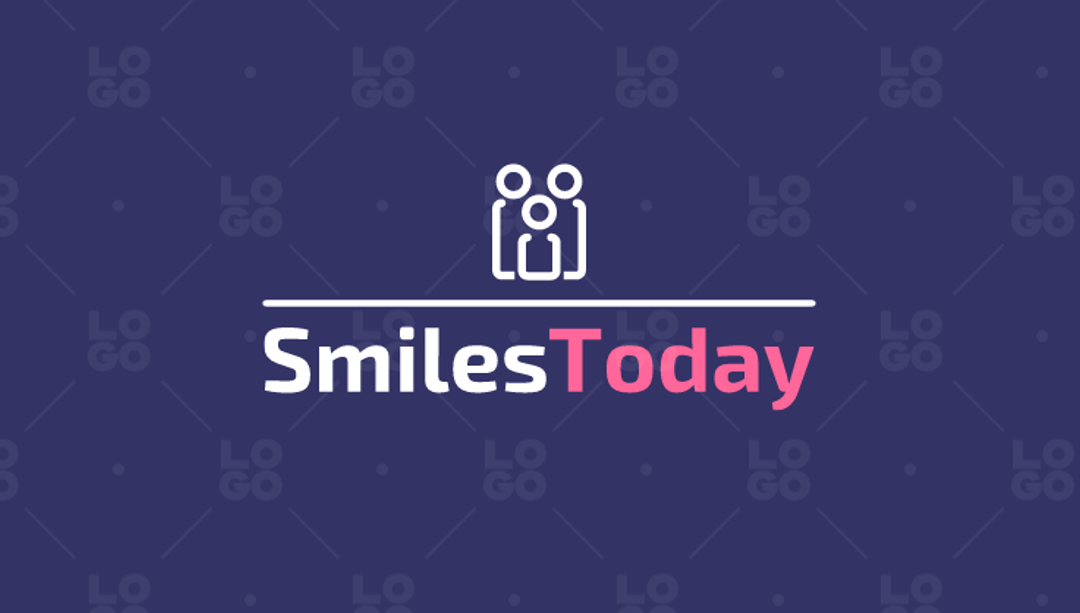 2. Simple logos are the most effective logos. This one is sure to catch the attention of many with its effortless simplicity.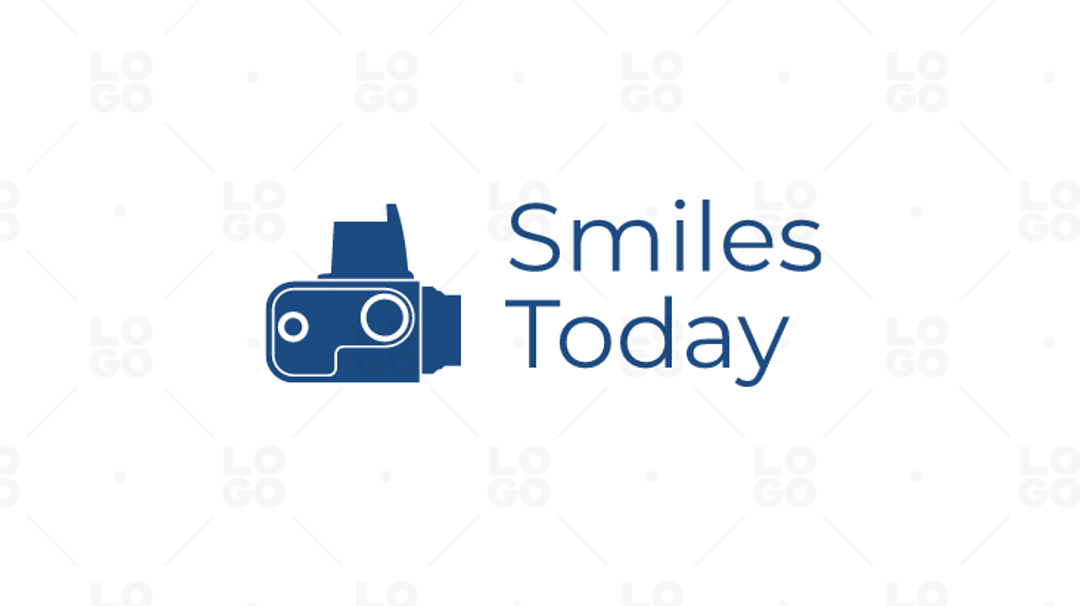 3. What color represents a smile better than yellow? It's eye-catching too! Talk about a win-win.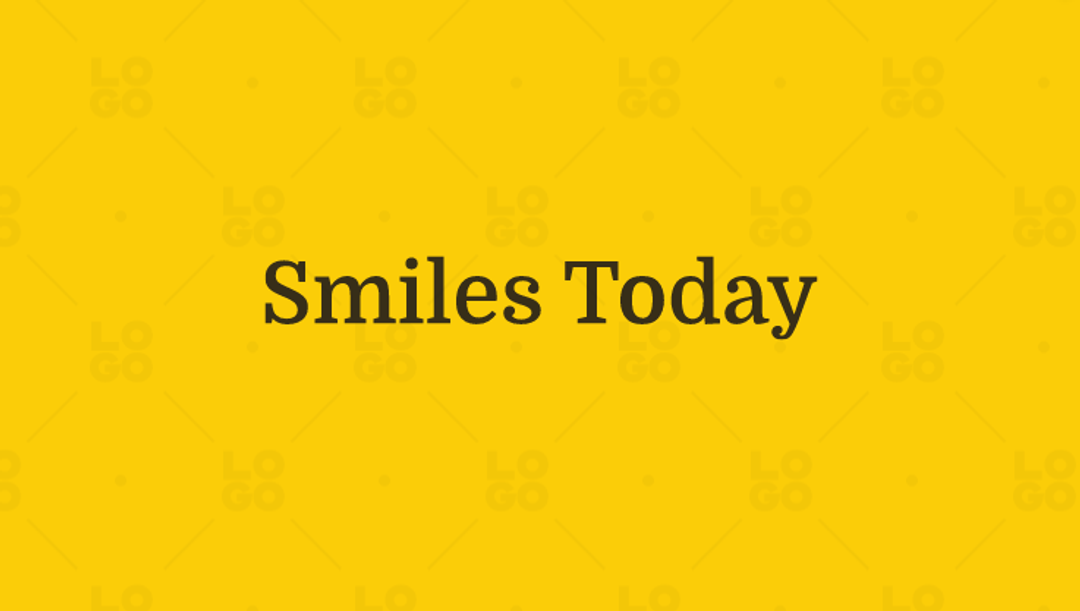 4. Show families that you can create beautiful memories for them with this meaningful and relevant logo.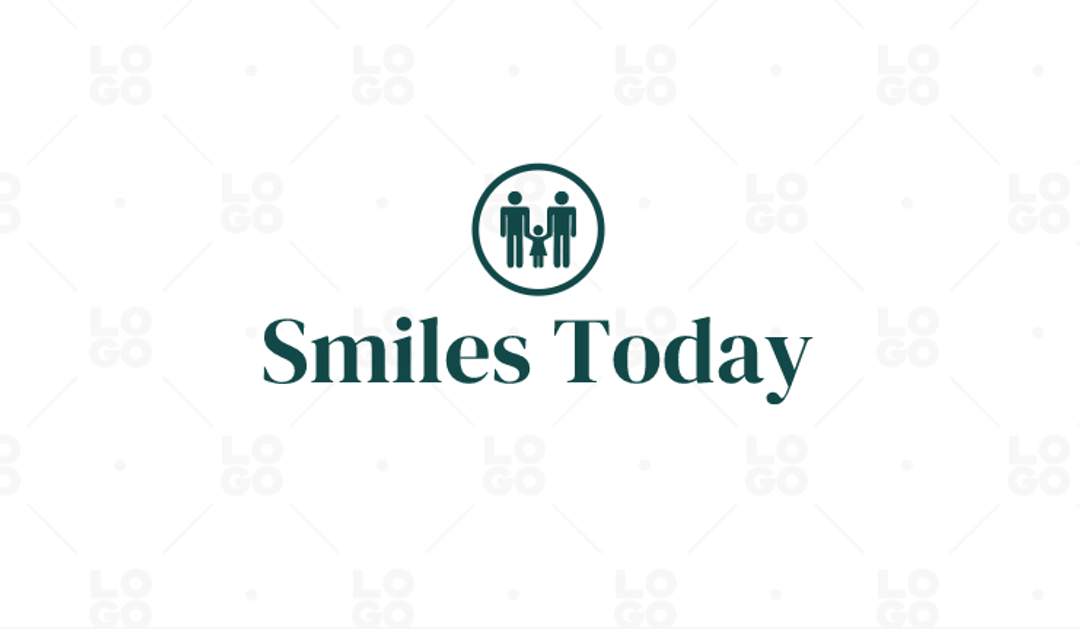 5. This logo expresses exactly what you do in an instant. Plus, having blue and white in a logo together is evidently effective. Looking at you, Facebook!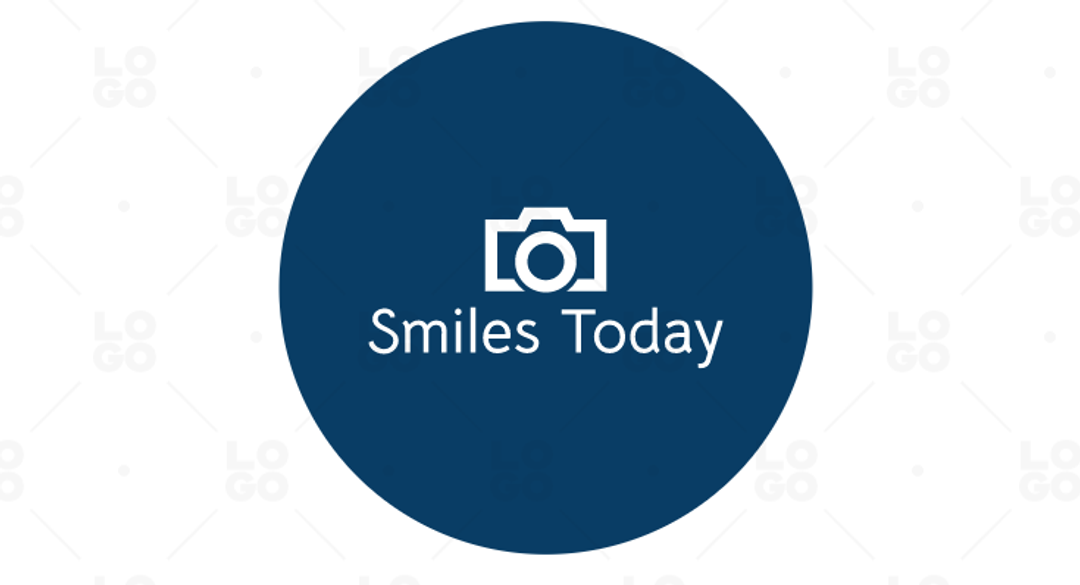 6. You don't necessarily always need an icon to represent your business. You want people to remember the name above all— and this logo demonstrates it well.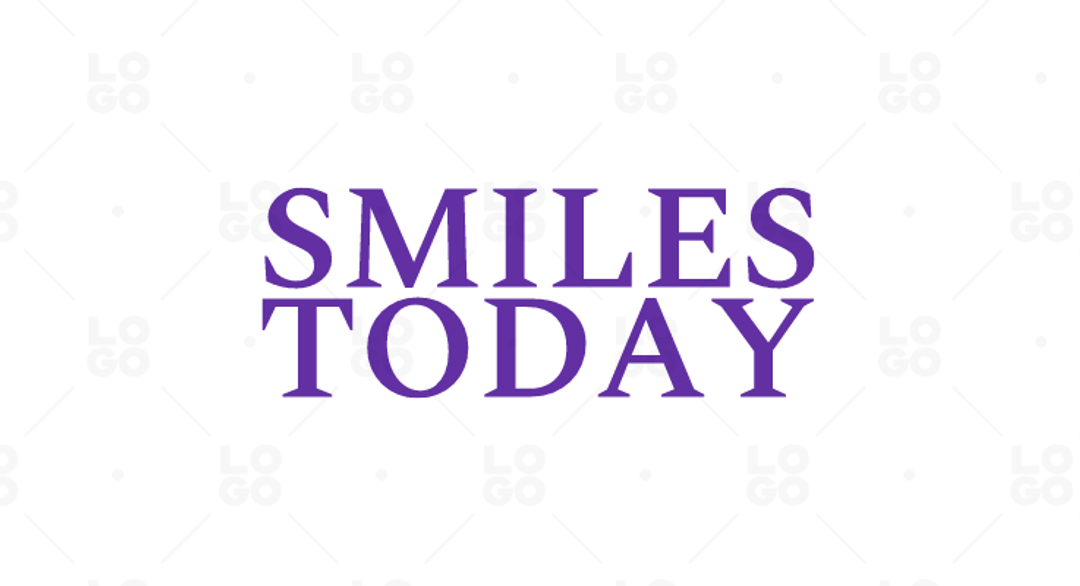 7. Show couples that you can eternalize their sweetest moments with your photographs with this beautiful icon.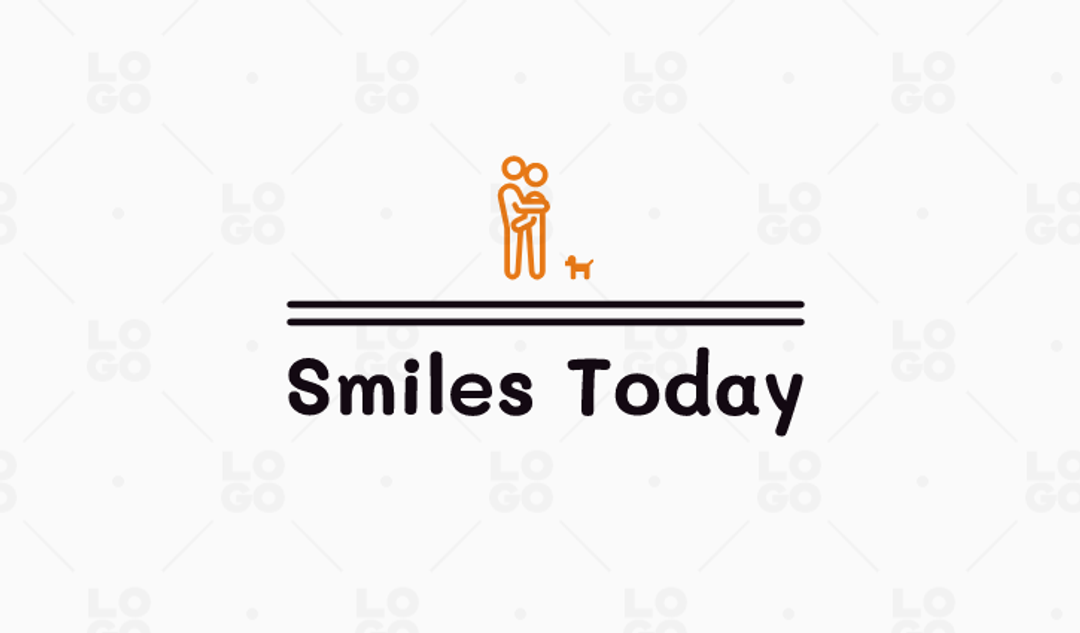 8. When it comes to logos, minimalism is the best principle. This logo expresses only the basics— and that's all you really need to make it effective.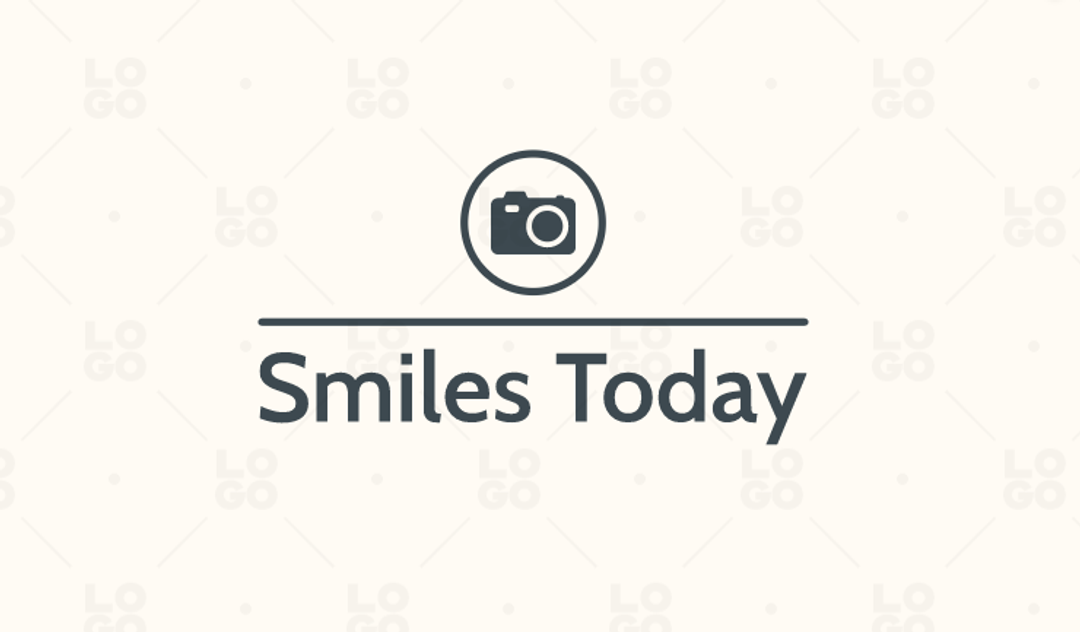 9. Dark and bright colors together in a logo complement each other and amplifies elements. And it's pretty eye-catching too!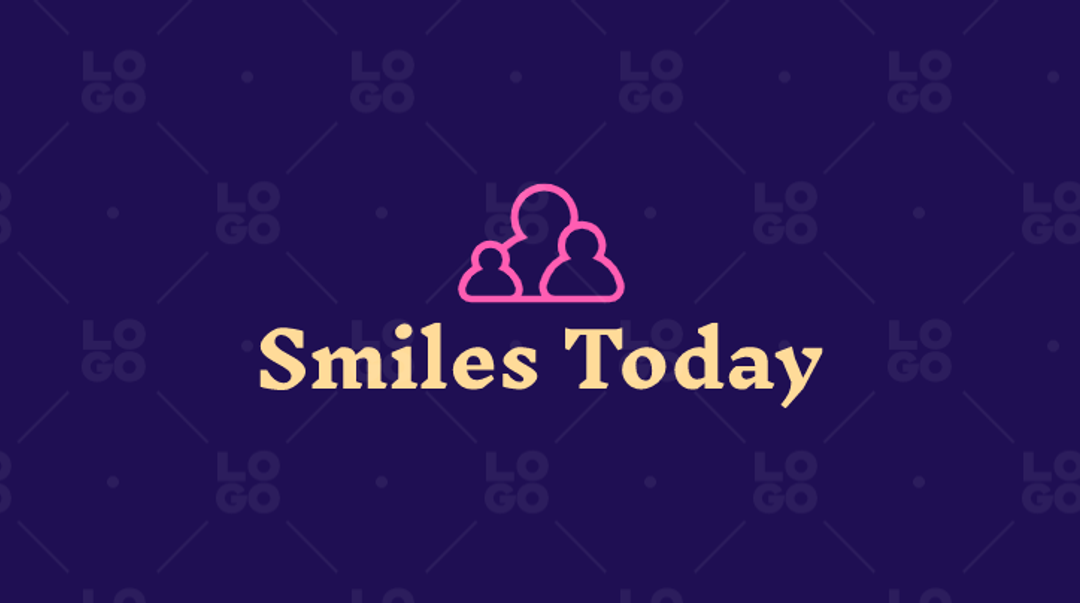 10. How cute is this font in a logo for photography portfolio? This will show people that photography with you is a fun and happy time!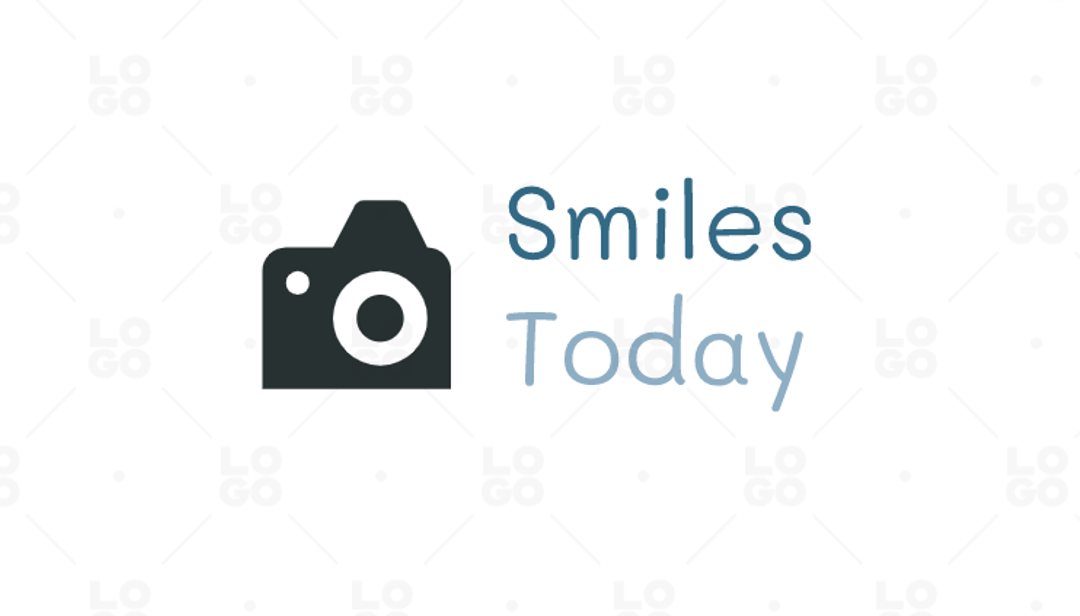 Building A Logo For Photography Portfolio

A logo is the core of your visual branding needs because it builds a foundation between you and your audience. It shows that you care about your photography enough to brand your portfolio properly.
Compelling logos can ultimately set you apart from other photographers in the industry, and they can potentially tell users a story with a single glance.
Ready to design your free logo? Get started with our logo maker!
‍‍