‍
Creating short-form videos is in vogue today, and YouTube, the most comprehensive online video platform, is the ideal place to showcase your creativity and be noticed.
The question arises: how to make YouTube Shorts that are impactful, engaging, and can effectively convey your brand's proposition? Short-form video content is susceptible to being lost in the melee of video content, but it also has the potential to be a viral video.
Before you discover how to make YouTube Shorts, it is necessary to understand what this unique platform is and how it is different from everything we've ever known YouTube to be.
‍
What are YouTube Shorts?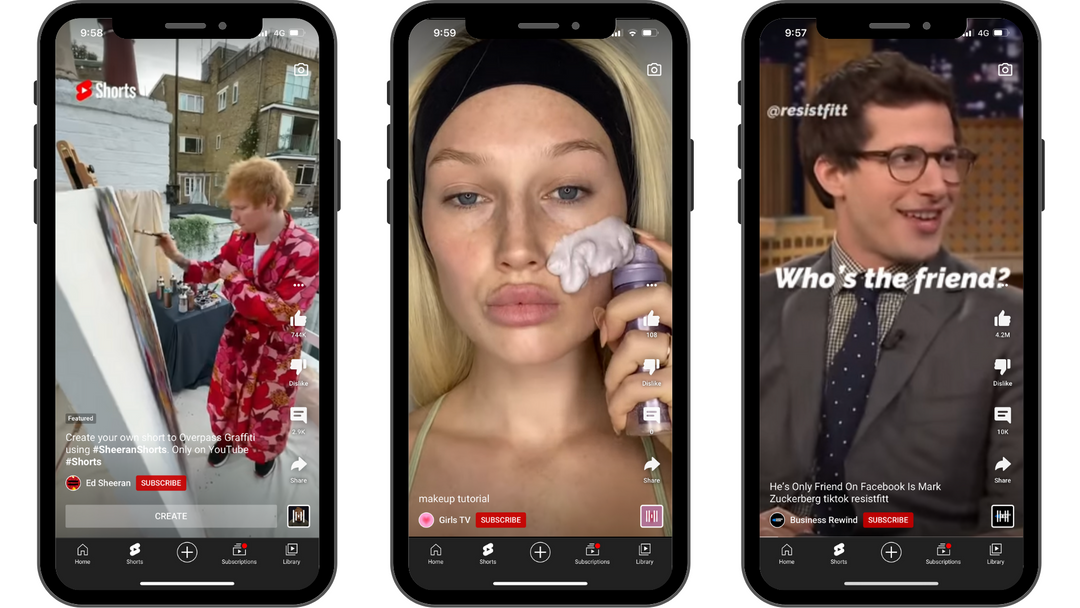 With the dawn of short-form video platforms like TikTok and Instagram's Reels, YouTube wanted to be in the game too. As a video-based search platform, YouTube Shorts helped users discover short-format content that could be served to them based on what they search for, in addition to a discovery platform that other platforms offer.
Creators are finding innovative methods that answer how to make YouTube Shorts a supplementary tool for their long-format content. To access YouTube Shorts on a desktop, open YouTube.com and look for the Shorts link on the left panel. In the YouTube app, look for Shorts on the bottom panel.
‍
How long are YouTube Shorts?
True to their name, Shorts videos are very brief. YouTube allows you to create videos of up to 60 seconds using shorts. The app provides creators with several tools to create compelling content that looks near-professional and engaging.
As you discover how to make YouTube Shorts more accessible to a larger audience, you will discover its use on smart TVs, desktops, and game consoles.
The first time you use YouTube Shorts, you will see a mix-bag of content. As you continue engaging with the types of Shorts you like, the social media algorithm will begin serving content relevant to your interests.
YouTube automatically categorizes any video content under 60 seconds as a Shorts video. If you use music from the YouTube catalog, the Shorts video will be limited to the track's duration.
‍
How to make and upload YouTube Shorts
So, how to make YouTube Shorts? It's as easy as uploading any other video on YouTube. Follow these steps, and you could be on your journey to becoming a successful YouTube Shorts creator or brand.
‍
1. Set up your YouTube channel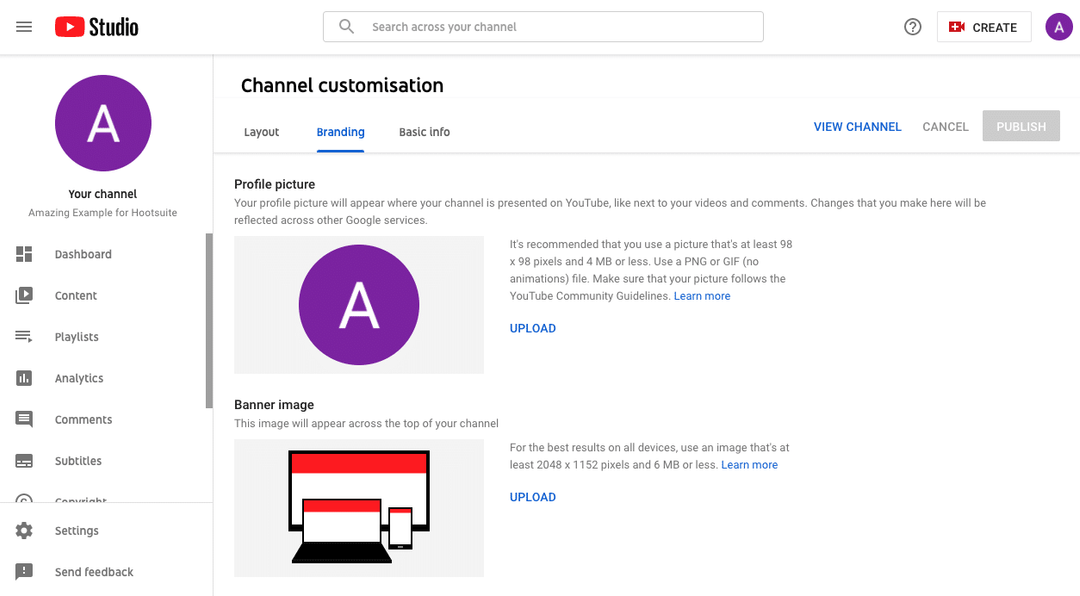 Social media hygiene is essential. It includes creating a self-explanatory profile and setting up your YouTube channel for success. Educating your viewers about what your business and content is all about.
If you do not have a YouTube account, set it up using your Gmail ID and password. If you aren't registered for Gmail, create a Google account. Having one is helpful if you plan to create a brand presence on YouTube.
Set the name as your personal or brand identifier, and pick a profile picture with your YouTube logo or an essential visual emblem of your company. Fill in the details in your About section, giving details about what you do and what content your customers can expect. Do not forget to include links to your brand website.
💡 Hot tip: Make sure you get your image sizes right for your YouTube branding.
‍
2. Start creating your YouTube Short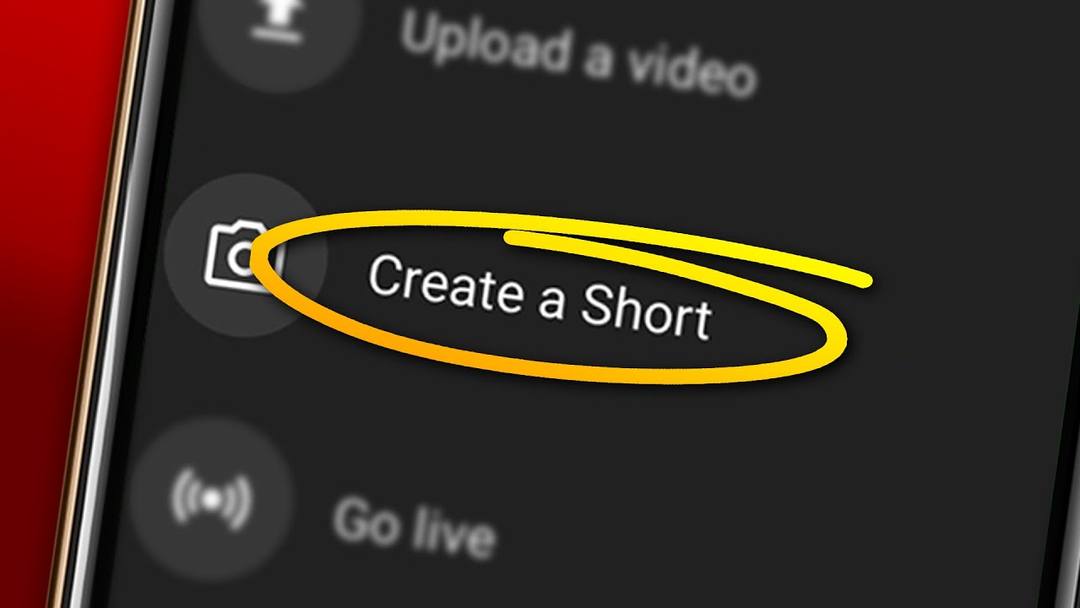 On the YouTube App, click the (+) button, and you will be prompted to select a type of video you want to create. Select "Create a Short" from the menu.
The app turns into a camera, and you can hold down the red record button to start recording your clip and stop it once done. You can set the duration of the video before shooting. YouTube gives you a choice of a 15-second or a 60-second Short. Tap the number of seconds in the top-right corner to set your duration.
Several icons will be visible on the right side of the screen. They help you create effects and shooting styles that make your video look professional. Try them out and check what's best for your video. Following this step on trial shots is advisable before you hit record on the main video.
You can switch between your front and rear camera, increase playback speed, set a countdown while shooting, add filters using the three circles icon, retouch your video like a pro at the touch of a button, and even tinker with video effects and transitions.
💡 Hot tip: Get a quick and concise walkthrough by Google on how to make YouTube Shorts seamlessly here.
‍
3. Edit and upload your Short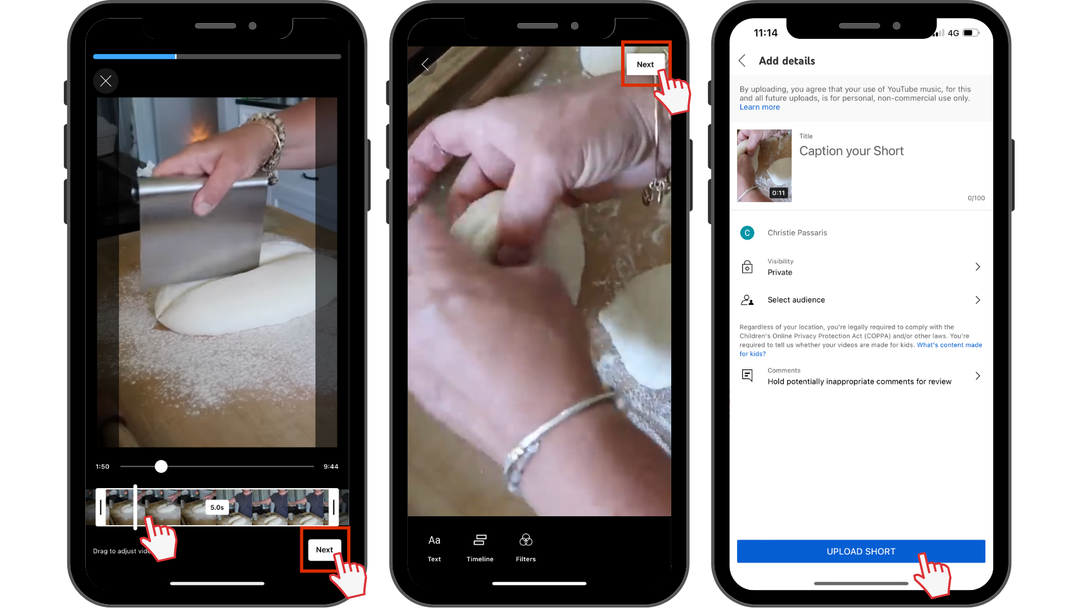 Only seasoned videographers can pride themselves on their first recording. Editing is essential to make the content appear professional. You can rely on these video editing tools to develop an eye-catching Short.
Tap the checkmark to save your YouTube Short. Add music from the YouTube library or by uploading a track locally, add supers and text on your video, and select the privacy settings you want for your video: private, public, or unlisted (where anyone with the link can view the content, but it does not show up in searches).
Add a descriptor, try hashtags, and a catchy title before clicking "Upload Short" on the app.
💡 Hot tip: Google has specific tips to help your uploaded Shorts succeed here.
‍
How to make YouTube Shorts: 7 best practices
Now that you have been through the process of how to make YouTube Shorts, it's time to develop the kind of content you create with the right aesthetics.
Here are seven best practices to follow when you create your YouTube Shorts content:
‍
1. Keep it short and snappy
The platform intends to tell as much as possible in as few seconds as possible or available. When creating a 15-second video, you have little option to add frills to your content. You would prefer jumping into the crux of the topic right away.
‍
2. Get straight to the topic
Know what you are supposed to talk about before hitting the record button.
Your content can be fun and exciting, but if the viewer does not move to the next video without recording the exact meaning of your communications, then the content has not performed its optimal goal: serving the brand.
Creators get so lost in creating short-form content that they forget the essence of the advertising.
‍
3. Add a hook
A hook is an advertising term related to a subject or a thought-provoker that makes your customers stop and listen. They find the content so relatable that they keep returning to your brand to learn more. Define the hook you have as a brand and implement it creatively on YouTube Shorts.
‍
4. Get the vibe right
While using Shorts as a complementary tool for long-format videos, keeping the conversation and mood going is essential. YouTube Shorts audiences can be starkly different from the loyalists who consume all their content from the YouTube mobile app.
Being native is the key. Check some Instagram Reels and TikTok content by leading creators for inspiration.
Try creating shorts with remixed content if you need a more extensive content bank.
‍
5. Jump on trends
There's always something trending on the Internet. Look up the trending topics on YouTube and improve your original, unpublished content to make them part of the trend. For instance, People follow trends, and if your content is built around this trend, you will find many naysayers.
‍
6. Tease your audience
Don't show your customers the deck of hands. Because of its shorter video format, you can create great teaser videos on YouTube Shorts. They address initial issues that lead to the reveal of your brand or product. Teasing your audience by giving pieces of information in a fragmented manner keeps them motivated.
7. Promote your business and channels
Once you master how to make YouTube Shorts and have it work for you, it's time to promote the content you create for your business on the channel. Promote your Shorts content on your central channel and other social media channels, redirecting users to check content on YouTube Shorts.
‍
Frequently asked questions about how to make YouTube Shorts
What are some commonly asked questions about how to make YouTube Shorts? Get your questions answered with these three FAQs.
1. How much YouTube Shorts pay for 1,000 views?
There is no official information from YouTube, but some people estimate the number to be around $0.04 per 1,000 views. What you do wind up netting, though, will be a 45% share of the gross amount, as is customary with YouTube's income payments.
2. Why are my Shorts not getting views?
A lack of views is often an indication that your audience isn't enjoying your Shorts. In other words, you're not getting enough attention with your Shorts. YouTube's algorithm is heavily influenced by its ability to monitor user interaction and video playback.
3. How many hashtags should I use on my Shorts?
Add three to five hashtags to each Short. YouTube has indicated that if more than 15 hashtags are used in a video, all of the hashtags will be disregarded. So be careful not to overdo it.
‍
Bottom line
The platform isn't new but severely under-utilized by many brands. As you read, YouTube has nearly 2.68 billion active users, which is only rising. Advertising on this platform makes perfect sense, mainly if you're catering to a well-connected, younger demographic.
The best part? You can begin today. Shoot to your heart's content, but be judicious before hitting upload. Happy creating!
Ready to design your free logo? Get started with our logo maker!