If you're starting out as a video creator, you might be wondering what the best video editing software for YouTube is.
With plenty of options on the market, the decision boils down to what your objectives are with the projects. Some creators might prefer speed, some may need composting and animation capabilities, and yet others might want great color correction.
There is no one software that can take care of all your needs to help create the perfect video, but there are some that can take you pretty close.
Why Make YouTube Content In The First Place?
If you're just beginning your YouTube journey, there are probably a lot of questions on your mind. One is obviously finding the best video editing software for YouTube. Another might be whether being a YouTube creator is even worth it.
It absolutely is. YouTube's audience size is growing rapidly by the day. Just 10 years ago, the only video with over a billion views was Gangnam Style. Fast forward to 2022, and there are 376 videos (and growing) that have surpassed a billion views.
By tapping into global markets such as India, which makes up the largest YouTube advertising audience, the platform manages to get a total of 1.7 billion unique visitors per month. YouTube is truly massive, and it's getting stronger every day. Why not take advantage of that?
There is no better time to start being a YouTube creator than now. So, go on, create your first video!
How Can I Make My YouTube Videos Better?
Even after you decide to start a YouTube channel, you'll need to edit your content and make sure you provide high-quality videos. What is the best editing software for YouTube? What software to choose to make YouTube videos? There isn't a set of rules, but these tips can tip the scales in your favor.
Always use good quality audio. You can pass off your shaky camera movements as 'avant garde,' but there aren't too many fixes for an inaudible video.
Design the visual content for your channel. Create a logo using our YouTube logo maker that attracts viewers to you by communicating who you are with a single glance. This goes for video banners and animation too. Sit down, make a deck about how your videos are supposed to look, and why they need to look this way.
‍
YouTube is a community-driven platform. To build a following, you'll need to post your videos at a consistent pace and schedule. That said, every time you do post a video, engage with your viewers as much as possible.
These three tips, along with the best editing software for YouTube, can help you create professional visual content and receive more exposure for them. Sooner or later, you'll be a star.
Each software mentioned in the list below has its unique strengths. See what you like so you can pick the best video editing software for YOUtube (get it?).
What Is The Best Video Editing Software For YouTube?
The best video editing software for YouTube is the one you like the best. These are the questions you need to figure out:
Which features are the most important to you?
Which features can I live without?
Match this list with the entries below, and boom! You'll find the one you need.
1. Adobe Premiere Pro
No 'best video editing software for YouTube' list should ever miss out on Adobe Premiere Pro. There may be some debate on this, but Premiere Pro is arguably the industry standard for YouTube creators. Why?
For one thing, the software comes with a larger creative suite than others. If you're a motion artist, you can create a seamless flow with the help of After Effects and Premiere Pro as a powerful duo. If you're a photographer, you can do the same with Photoshop. The list goes on!
However, the suite can be an expensive investment. The larger suite can be something of a double-edged sword because the more softwares you add to your suite, the pricier it gets.
2. Blackmagic's DaVinci Resolve 17 (Or Studio 17)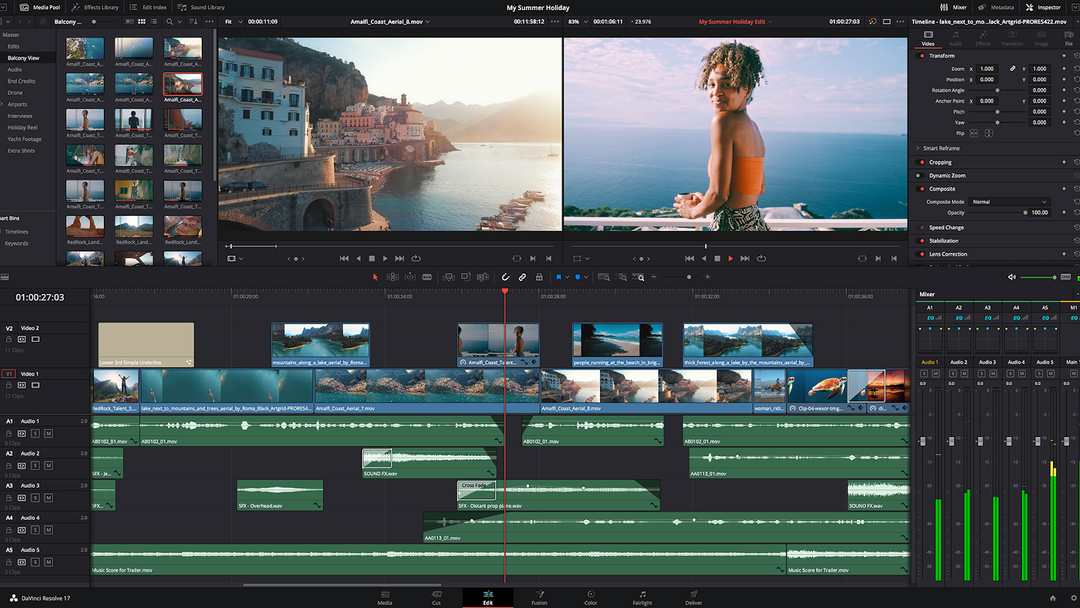 DaVinci Resolve 17 (Resolve) is one of the best video editing softwares out there. The best part? It's also free.
Resolve's greatest strength is its color correction abilities. If you shoot RAW and want to include a certain color profile to your videos, few softwares (if any) are better than Resolve. The free version does have several limitations. However, if you already like the setup, you can simply purchase Studio 17 for $299.
3. Final Cut Pro X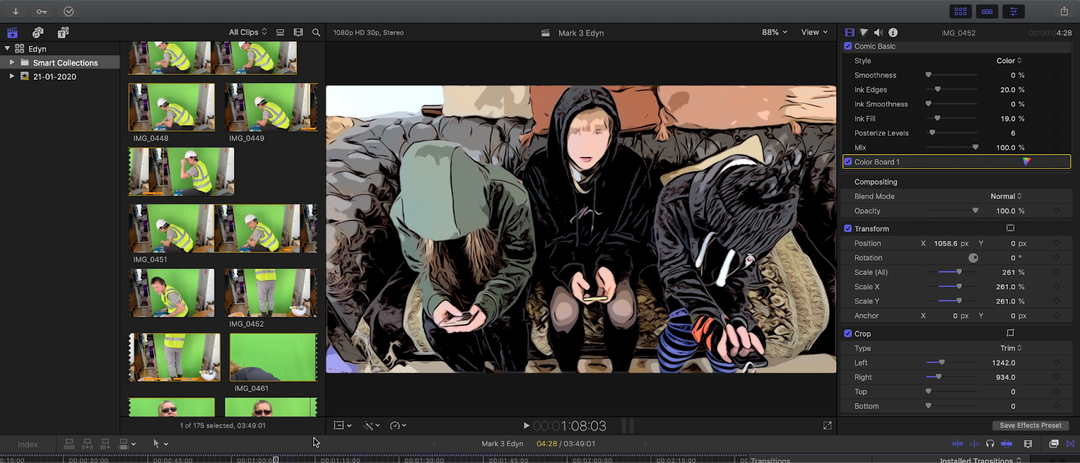 If you love the Apple ecosystem, then there is no better video editing software than Final Cut Pro X (FCPX). Everyone with an Apple product understands just how seamlessly each software integrates with their respective devices. This is why FCPX runs better than any other video editing software on an Apple device.
While its $299.99 one-time purchase can be expensive, Apple offers a 3-month trial with almost no limitations to new users. So give it a try to determine whether the software meets your needs—what do you have to lose?
Speaking of, the software has a slight disadvantage: it isn't cross-platform. Neither does it come with a suite. So, you'll have to essentially build your own suite around it, which won't be as seamless as Adobe Premiere Pro.
4. Lightworks Create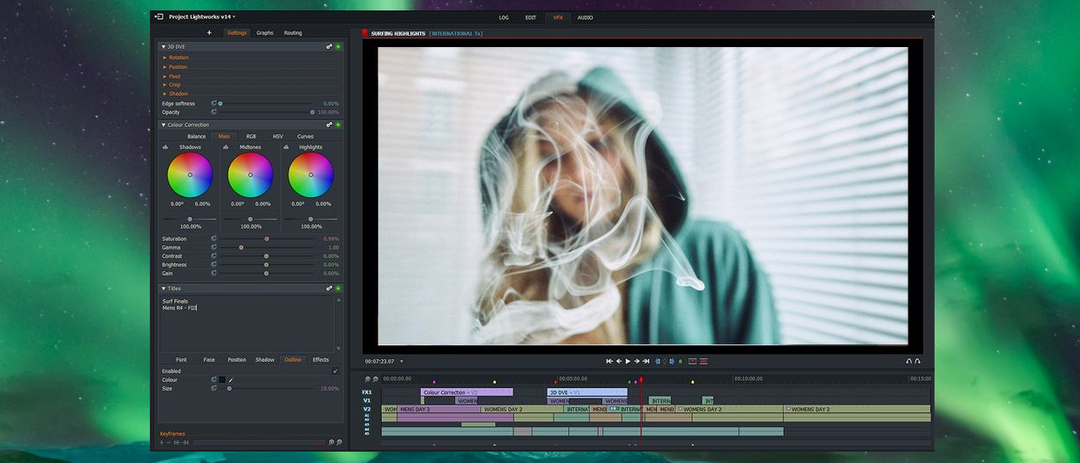 Lightworks Create is made by the same team that worked on projects like Pulp Fiction, The King's Speech, and The Irishman. Lightworks Create, however, is a different beast from its Hollywood-centered cousin.
The software was built specifically for YouTube creators in mind. It comes with attractive and functional templates, transitions, and titles. Additionally, users also get access to stock music and videos, which can be invaluable to new creators.
At $9.99 per user every month, Lightworks Create can get expensive if you have a big team. But for solo creators, it is a wonderful lightweight option.
5. Videoleap By Lightricks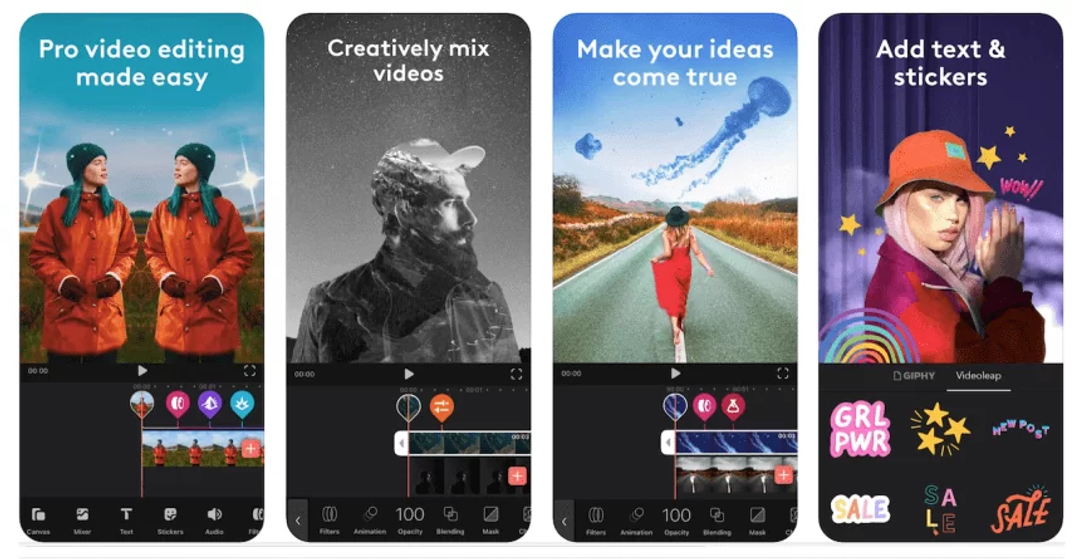 Your search for the best editing software for YouTube doesn't just need to include desktop apps. Yup, Videoleap is a phenomenal mobile editing software. It is available for free on iOS and Android devices.
Videoleap's greatest strength is its seamless transitions and ability to chroma key videos on a mobile device. So if you work with green screen videos, you won't need bulky editing softwares anymore. And if you're on the go, you never have to wait until you get your hands on a laptop. Do it on mobile. Videoleap can take care of that!
6. Vimeo Create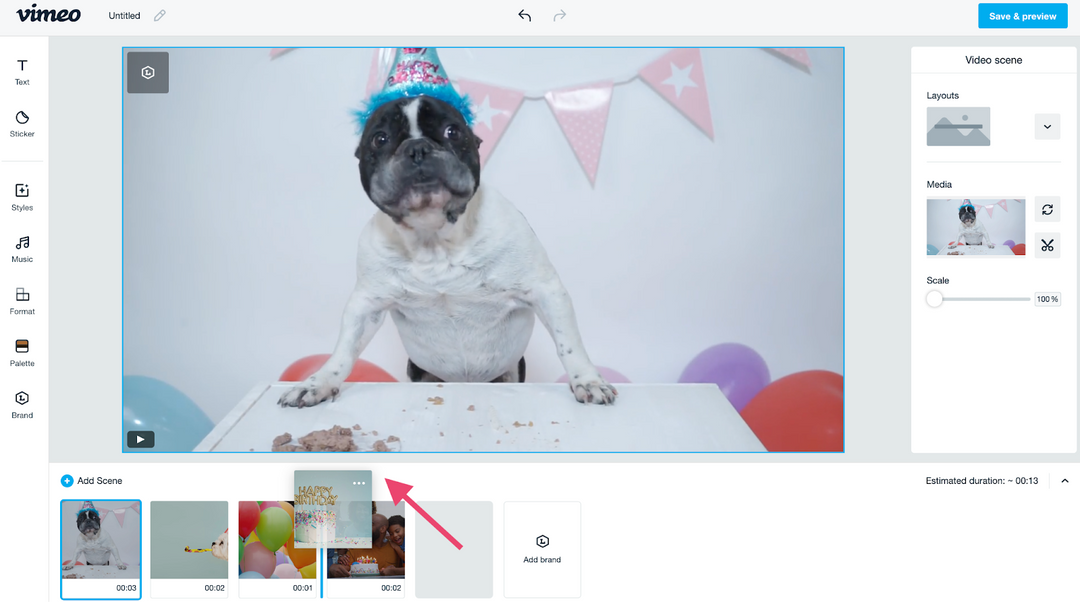 *insert rattlesnake noise*
We know what you're thinking. Is Vimeo, YouTube's top competitor, a candidate for the best video editing software? It might sound a little far-fetched, but get this: Vimeo has an entire editing section dedicated to YouTube creation.
Vimeo Create is a digital video editor that can be used to create simple yet high quality videos. There are no downloads available, so you just need your web browser, which makes this option accessible and streamlined.
Is it as powerful as a pro-level software? Not exactly. But, if that's not what you need, Vimeo Create can be a great option!
7. Adobe Premiere Rush
If your videos are simple and quick, Premiere Rush is your buddy. It works on desktops, smartphones, and tablets. The best part? It's completely free.
It is, however, a stripped down version of Premiere Pro. Additionally, in order to use additional features (like synching videos between your computer and mobile devices), you'll need to get Creative Cloud Express. The Premium Plan is $9.99, and you will get access to all the features.
With tons of great templates and options for editing efficiently, this is a great choice if your content calendar is full.
8. Avid Media Composer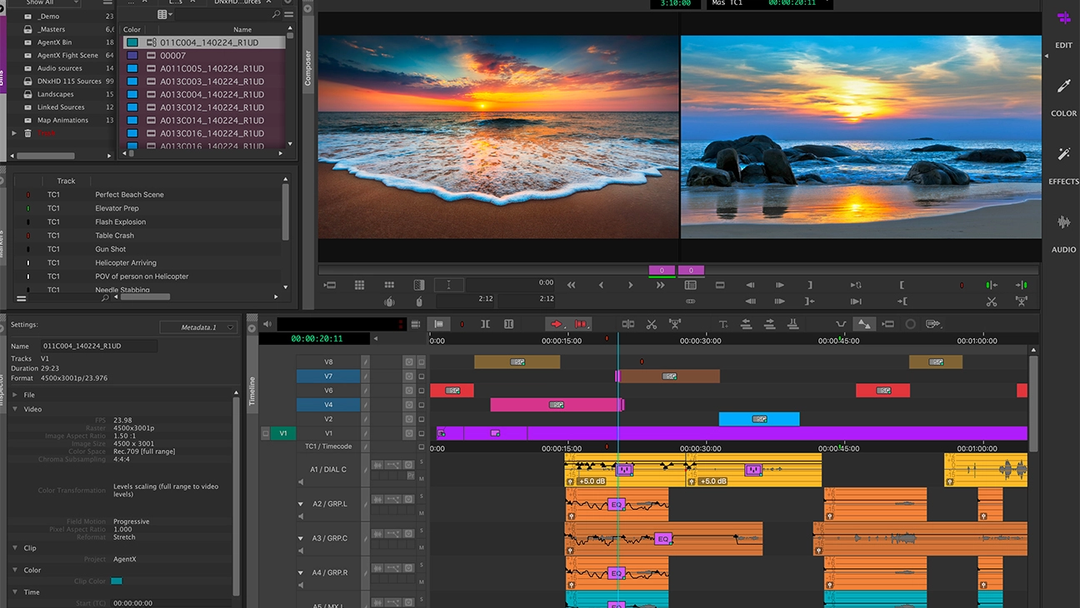 What is the best video editing software for YouTube? Try the industry standard for Hollywood. If cinema is your ultimate goal, then Avid is your go-to video editing software.
Avid has a plethora of integrated softwares, which makes post-production a breeze. However, Avid can be a little too intense for creating content on YouTube. The timeline and work of a multimillion-dollar film and a YouTube video are not the same.
YouTube videos usually go out daily, weekly, or bimonthly. Creators will likely not find the time to optimally use all the muscle on Avid. However, if you do, then more power to you!
9. Canva Editor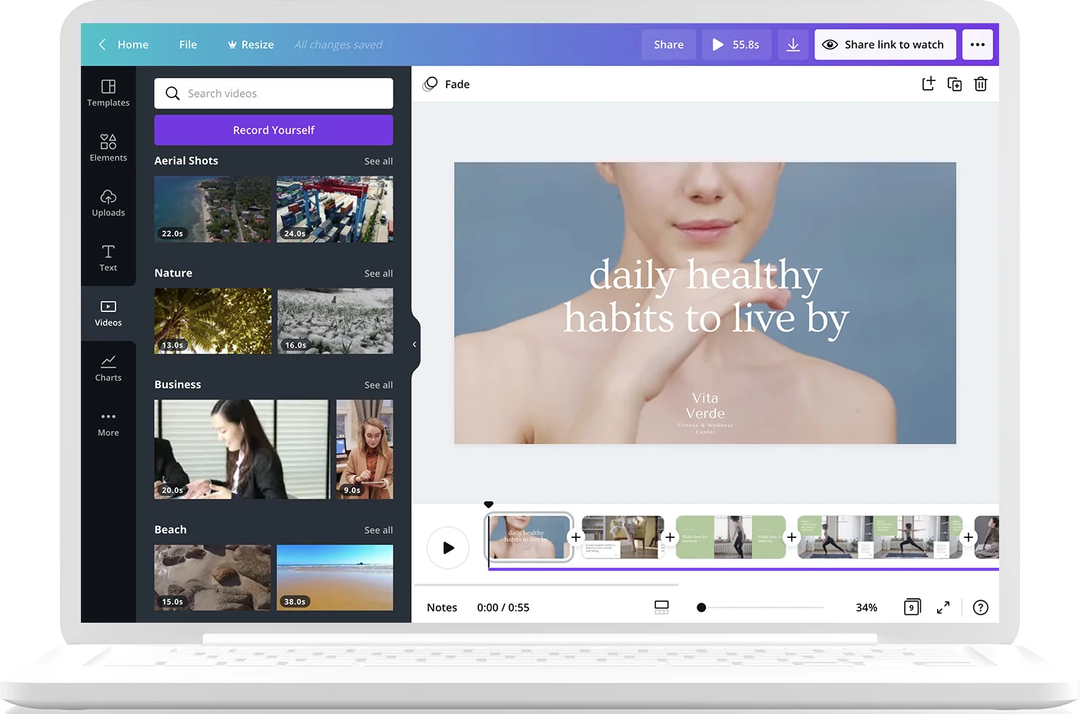 If there's anything Canva is known for, it's being a great graphic creation and editing tool. However, its video editing software can also be effective for YouTube creators. Canva has a bunch of golden nuggets throughout the platform that people don't necessarily know about until they are discovered. And this is one of them.
Canva's free version offers you free templates and designs, but the Pro upgrade takes it up a notch with millions (yes!) of audio-visual content! While it may not be as powerful as other tools, Canva has what many tools don't: tons of built-in content.
10. Blender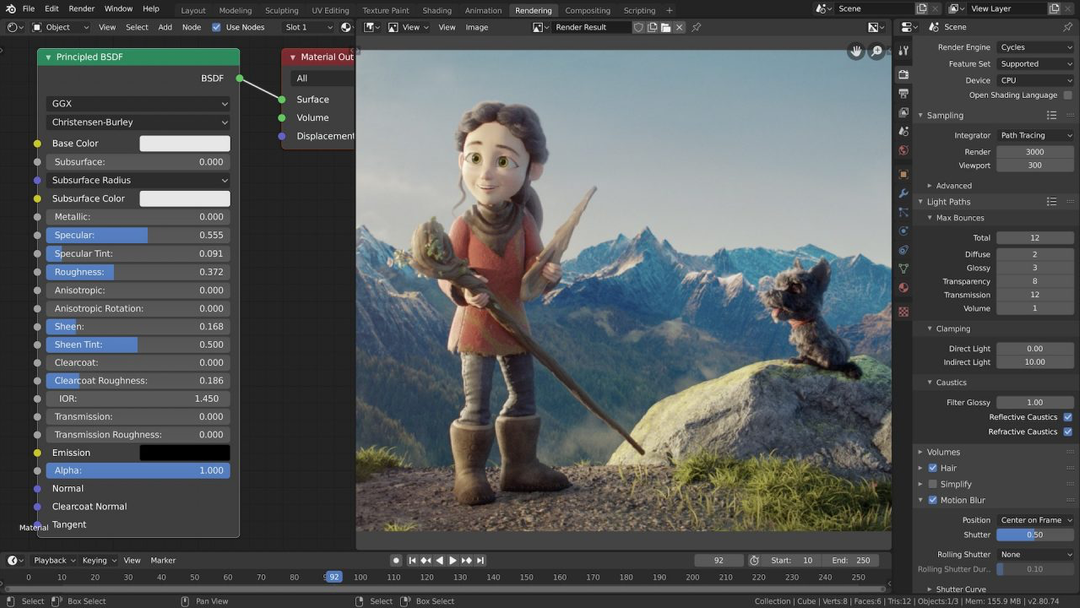 If you're an animator, the best video editing software for YouTube might be Blender. Blender is a wonderful tool that will help you design and create professional animations in many different styles. The software also has a built-in video editor with options to color correct as well!
If your YouTube content is animation, why move from software to software? Blender can get the job done. It is also completely open source and free.
What Is The Best Video Editing Software For YouTube?
To be frank, there isn't. Video editing softwares come with their strengths and weaknesses, and it's up to you to determine which works best for you depending on your specific needs.
What matters the most is how the editing feels on a software. Whatever feels the most natural and easy for you is the one you need to highly consider. The editing itself can be a chore, so the best editing software for YouTube is the one that makes you feel like it isn't.
Design a free logo for your YouTube channel today!