Want to know how to add signatures in Gmail that include your business logo and branding. It helps you effectively communicate your identity and brand with your users. A Gmail signature is a subtle way to reinforce your brand.
What Is An Email Signature?
Similar to a traditional signature, an email signature is the sign-off you use at the end of an email.
Unlike a traditional signature, email signatures can show off a lot of great information that your subscribers or potential customers can know about you. Consider this like a mini business card. It's a marketing opportunity that can potentially lead to sales and engagement.
It's a great way to show your professionalism and give your contacts the information they need to get in touch with you. It's placed at the bottom of each email, which further strengthens your credibility and helps you stand out from your competition.
Not to mention, adding a visual element like a logo is an excellent opportunity to showcase your brand.
Why Do You Need A Professional Email Signature
When done right, email signatures can leave a lasting positive impression. They help to cement your brand identity, make it more recognizable, and build trust by confirming that you are who you say you are.
Here are some reasons why you need a profesional email signature:‍
It builds recognizability.

Your signature is a part of every email you send, and let's be honest, you send a ton of emails daily when running a business. Your brand information automatically gets tons of exposure, which in time, leads to memorability. Bonus points if recipients forward your email to other people. It's an effortless way to establish your business.
It's like a makeshift digital business card.
A Gmail signature is almost like a digital business card that gets passed around, even for the most simple emails. Giving away business cards usually entails context, like meeting potential prospects or networking purposes.
With a Gmail signature, it can be a simple introduction or sending a compliment on a job well done. It's a part of everything you have to say, and it has all your details should anyone need to reach you for any reason.‍
It provides authenticity.
Don't forget; you have the greatest understanding of your business name, company logo, and job title. Incorporating these elements into your Gmail signature shows that you're you, and you care about your business enough to pay attention to smaller details.
Now, that we know the why, let's address the how.
So, you just designed a new logo with our logo maker and got a whole bunch of exciting branding tools to grow your business. You understand that Gmail signatures are essential, but how do you add your logo to it? Find out how below!
They're also great because:
You can use them to supply additional contact information
You can brand all your outgoing messages
You can include hyperlinks to other resources such as your website, social media, and more
You can improve your engagement rate by establishing credibility
You can potentially increase conversions
You can highlight any award/certification badges
You can have fun with them!

How To Add Signature In Gmail Using Your LOGO.com Logo

There are two ways you can use your new logo in your Gmail signature. The best part? They're both extremely intuitive and quick.
This is an example of a newly-designer Airbnb logo ready to be incorporated into a Gmail signature.


Here are a few ways to add your logo to your Gmail signature.
1. The Simple Copy-Paste Method

Step 1:
After purchasing your new logo, you'll be transferred to your brand dashboard, as seen in the screenshot above. Scroll down on your menu on the left of the page to find 'Email Signatures.'


Step 2:
Once you click it, scroll down on the main page, where you will then find four email formats you can choose from. Your business name and newly purchased logo will automatically be shown on the templates.

Step 3:
Choose the signature template you prefer, and edit the information, such as adding your company name, your business role (if you want to add that), directly on the box.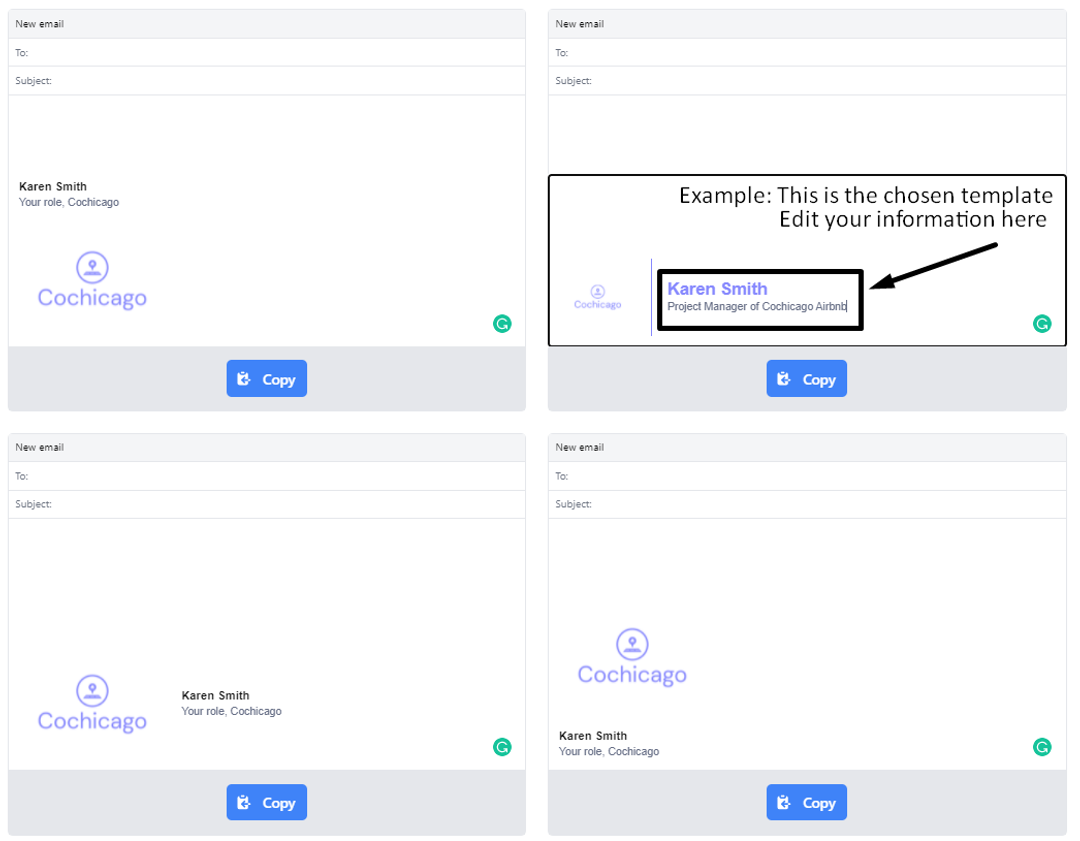 Step 4:
Once you have finished adding your details or edits, click 'Copy' underneath your template of choice and head on over to your Gmail.‍
Step 5:
Compose your email to your recipient. When you're finished with your message, go underneath your ending remarks, then right-click and paste. Your email will now look like this: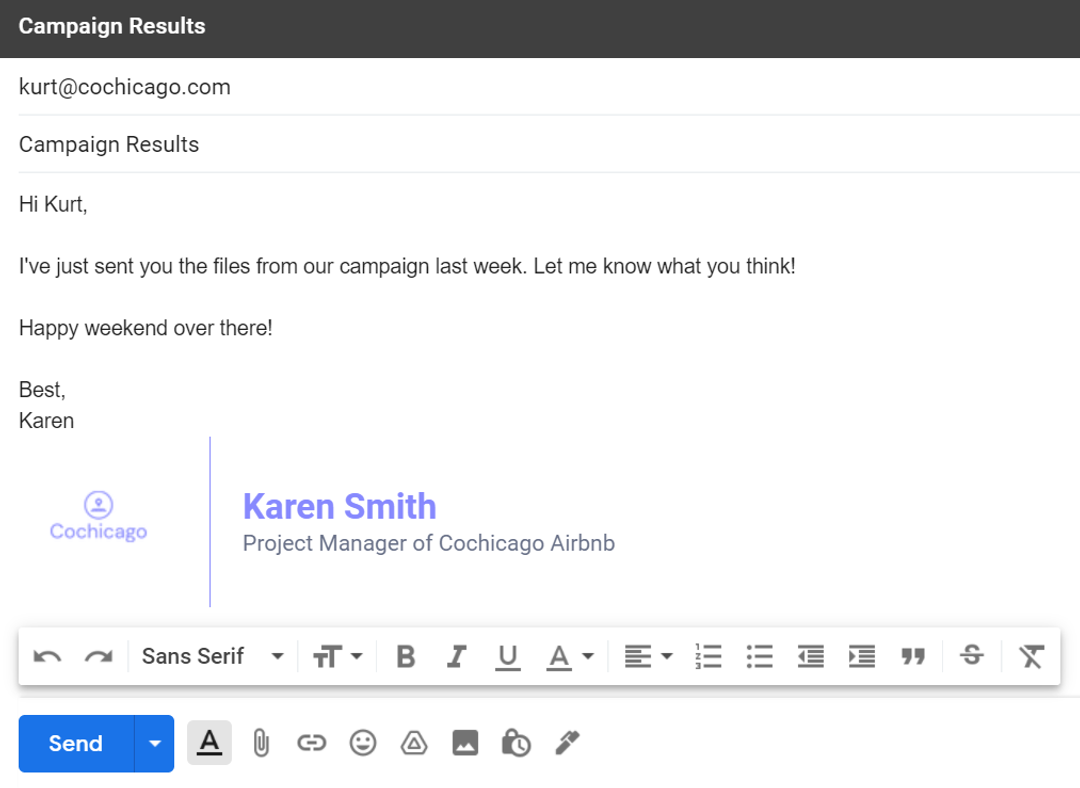 Press send, and voila—you have your new logo and signature ready to go at all times.
All it took was five simple steps, and you have elevated the professionalism of your business ten-fold. You can use this method for all logos you purchase (if you subscribe to the Brand Plan), which significantly benefits people managing more than one job or those with a side-gig (which usually means more than one logo).
You may use this method as much as you like if it suits your convenience.
However, if you're looking for a more long-term solution—one that does not entail having to access your LOGO.com account dashboard multiple times to use your signature, there's an option for that too.
This process is a little longer, but it ensures that your signature with your new logo is automatically included in every email you send with your specific Gmail account

2. The Gmail Settings Method

Step 1:
Once you've purchased your new logo, you'll be transferred back to your dashboard. Scroll down on the menu on the left of your page to find 'Email Signatures.'


Step 2:
Click on it, then scroll down on the main page, where you will then see four email formats you can choose from. Your business name and newly purchased logo will automatically be shown on the templates.

Step 3:
Select the template you prefer, and edit the information, such as the company name and business role, directly on the box.
(Let's try a different template and format this time!)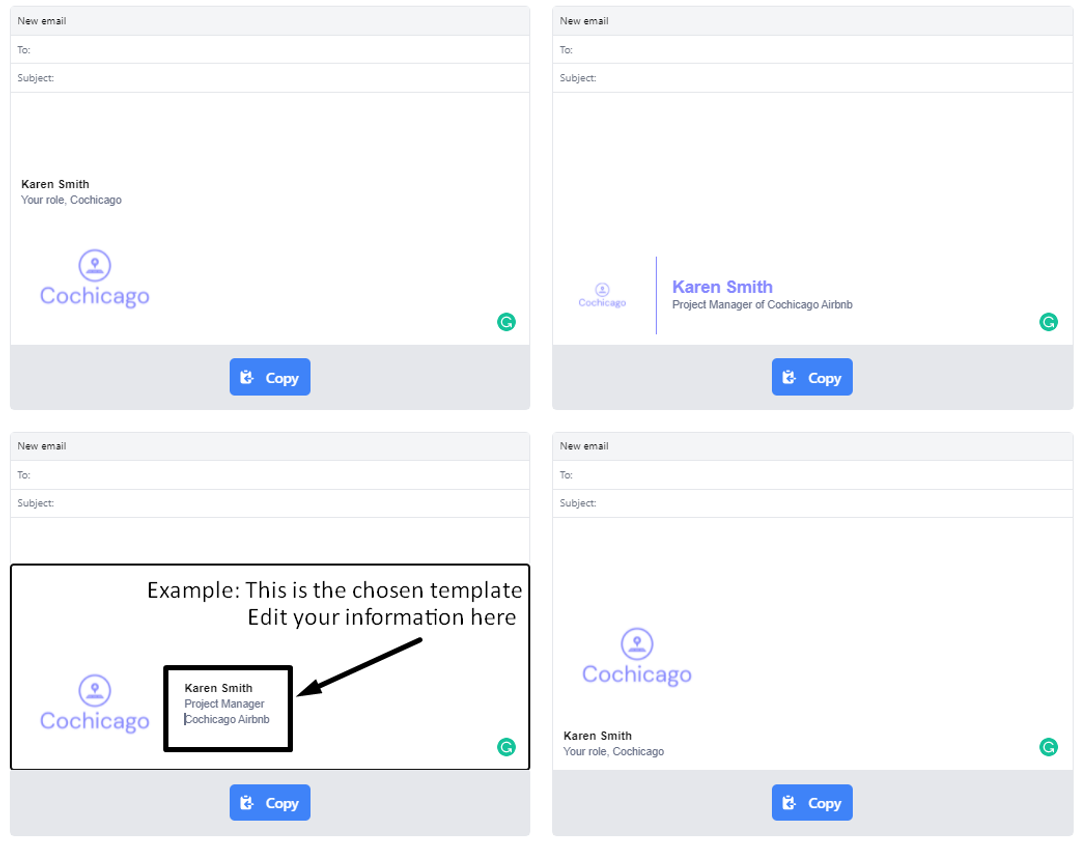 Step 4:
Once you're done adding your details or edits, click 'Copy' underneath your template of choice and head on over to your Gmail.‍
Step 5:
On the upper right of your Gmail page, you will find a 'Settings' wheel. Click on it; you will see a bar underneath that says 'See all settings.' Click on that, and you will find a list of Gmail settings that look something like this: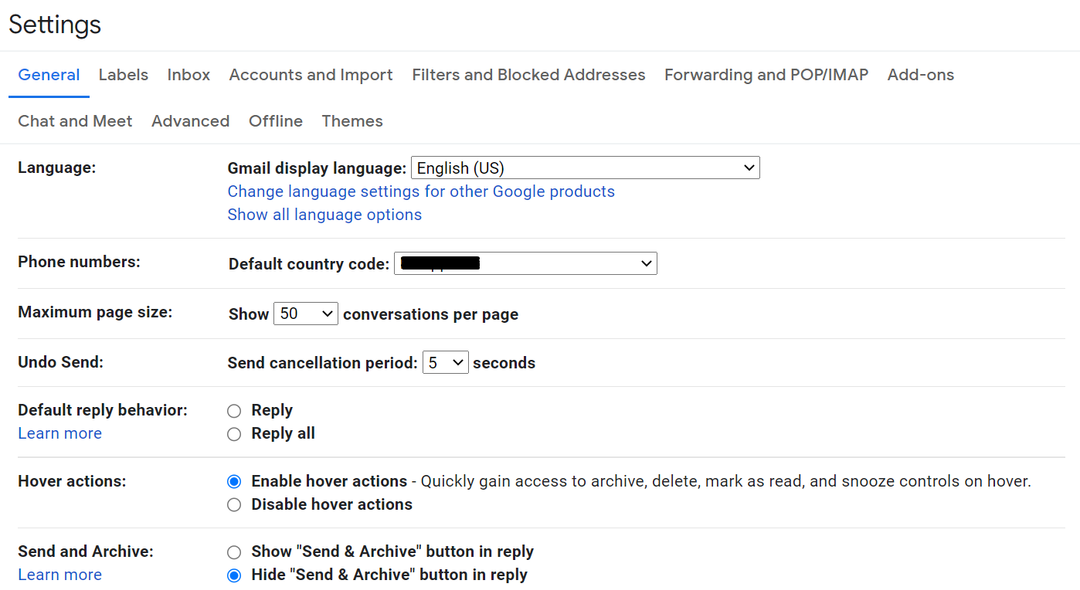 Step 6:
Stick to the General settings page, and start scrolling down until you see 'Signature' by the end. Once you have found 'Signature,' click 'Create new' on the box next to it.

Step 7:
You will now be asked for a signature name—this is to label and organize your signatures accordingly if you happen to want to use a different one for a specific email. You may use your business names to label each signature. For example:


Step 8:
Once you have added your signature name, click 'Create.' You will find a text box similar to the Gmail writing format next to the Cochicago label.


Step 9:
Paste your LOGO.com signature on the text box. It will now look a little something like this:


Step 10:
If you want to ensure that the signature is included for every new email or reply, then look right underneath the box for 'Signature defaults.' It automatically stays on No Signature, so you have to change it by choosing any of the two you want to modify and choosing the signature you want.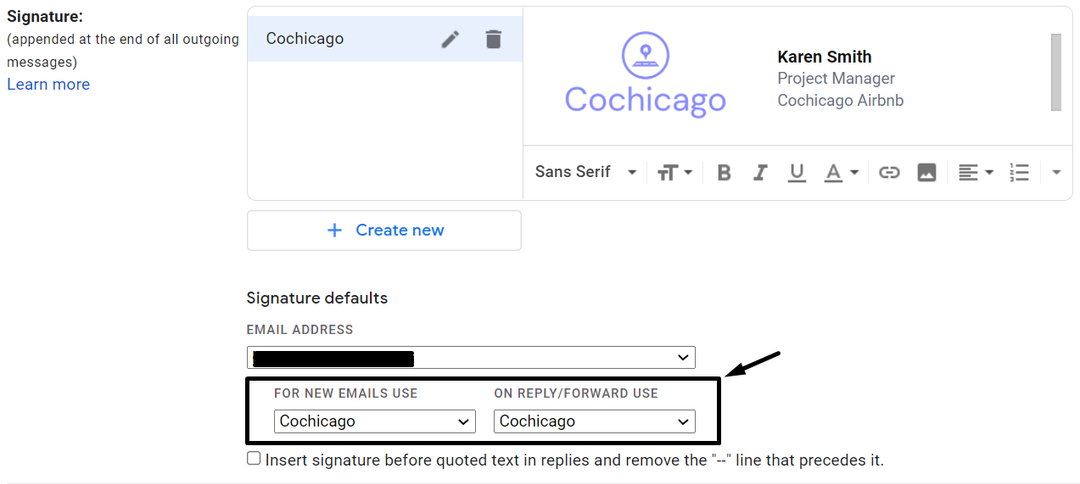 Step 11:
Scroll down to the end of the page and click 'Save Changes.' And you're done! Try sending an email, and you'll find your awesome, customised signature automatically at the bottom of the text page.
You may choose any of the two methods stated above, depending on your preferences.

The Importance Of How To Add A Signature In Gmail With A Logo

It's fundamental—and at the very least, highly suggested that you include branding elements in your email signature. Your business name, logo, slogan, contact information, basically every core aspect of your brand should be a part of everything you do.
It's easy to go overboard with branding elements at times, but LOGO.com has thought this process though enough to streamline it in a way that provides you with an effective signature conveniently.
Adding a signature in Gmail doesn't have to be complicated, and with this email signature feature, this process just got a whole lot easier.
Create your logo and try out your new signature today!