‍
Do you have a beautiful, unoccupied place and are searching for how to start an Airbnb business? Here, we will explore everything it takes to list your property, stay compliant with local laws, and attract guests.
But before we start, here's an inspiring story.
It was 2007 when Brian Chesky and Joe Gebbia realized that a large convention would take place in San Francisco. The rents in the area were high, while the availability of places to stay was low. Then they decided to lease out a part of their SF apartment to be a bed and breakfast while cheekily calling it Air Bed and Breakfast. The rest is history.
Today, the short-term home rental service has 2.9 million hosts all over the world and active listings across 100,000 cities. Let's explore what it takes to start your own Airbnb property.
‍
3 factors to consider before taking the Airbnb plunge
As a guest, you may find setting up an Airbnb to be easy, but when you dream of becoming a host, you truly begin to appreciate how to start an Airbnb business. Three key factors can impact the amount of money, time, and resources you pump into making your property ready for accommodation.
‍
Rent guidelines
Every property has guidelines that it has to adhere to. These are the guidelines set by homeowner associations or the apartment complex on the property. Make a note of these rules before you fill out your listing. Check for guest number limitations, pet compliances, smoking, or partying within the premises, and other guidelines.
Understanding local regulations is essential for owners and those managing other people's properties.
‍
Upfront costs
As an Airbnb host, you do not have the pressure of delivering service and amenities at the highest level, but this doesn't mean that guests do not expect comfort. Ensuring this comfort is paramount. Invest in making your property presentable and desirable to the target audience you wish to attract.
‍
Next, you need to make funds available for the legal paperwork that makes you compliant with your local guidelines. Hosting an Airbnb is no different than starting a business. You will have to wade through several permissions and legal documentation.
‍
Proper maintenance
Being a good host is one of the driving factors for success. Maintain your property with the same zest and zeal for your 100th guest as you did for your first guest. Pay attention to little details such as leaky faucets, peeling wallpaper, the presence of bugs, and the like.
"As good as new" is easier said than done. Here are some tips to keep your property well maintained:
Once you have acknowledged these three factors, you can begin planning how to start an Airbnb business.
‍
7 effective steps on how to start an Airbnb business
The idea of putting up your property on Airbnb is exciting. You look forward to welcoming new people, allowing them to share a slice of your lifestyle, and earning money along the way. To make this come true and have a fulfilling hosting experience, here are seven steps you can follow:
‍
Step 1: Understand the costs involved
You need to set realistic expectations of the earnings you will get from an Airbnb property. Profit growth is guaranteed but gradual, depending on several factors.
When it comes to rented housing, unlike your own home, you cannot take advantage of cleaning days. You have to be thorough and ensure that every guest leaving your property is willing to give you positive feedback and a rating so that more guests are encouraged to visit.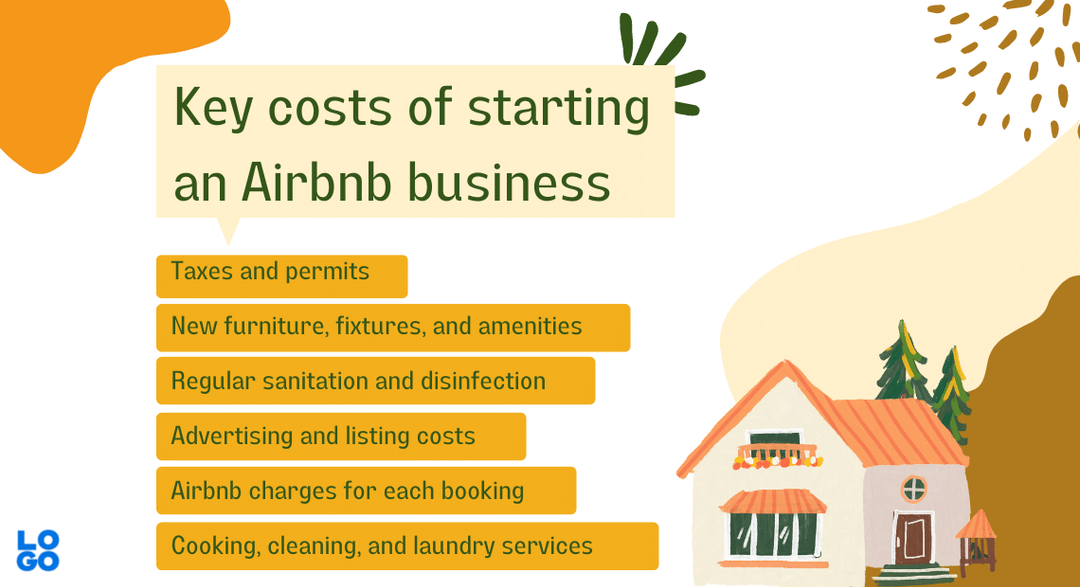 Some key costs involved are:
Taxes and permits
New furniture, fixtures, and amenities
Regular sanitation and disinfection
Advertising and listing costs
Airbnb charges for each booking
Cooking, cleaning, and laundry services
Once your property is operational, there will be ongoing maintenance costs, including water and power bills, payments to outsourced services like laundry and cleaning, and more.
‍
Step 2: Create your business plan
Right at conception, treat your Airbnb venture as a full-fledged business. Chalk out a business plan on how to start an Airbnb business and make it grow.
In addition to giving you a realistic forecast for your business growth, your business plan will also help define your ideal customer better and give you insights on costs, permits, and other formalities you need to consider.
Your business plan must comprise these key elements:
Who is your target audience?
What are their habits and desires?
What will you call your property, and how will you position it in listings?
What are the expenditures you will need to incur?
How much will you charge your customers?
How do you define profit?
How will you advertise your property?
How will you manage the maintenance of the property and its expenditures?
‍
Step 3: Form a legal entity
To do business, you need your Airbnb to be legit. There are four business types that your property can assume:
Ownership: Where you own the property and have absolute name rights to it and the freedom to alter its features as you wish.
Partnership: In this case, you work with another partner through a pre-arrangement who distributes costs or operations. In a partnership, you can choose to be a property financier without owning it.
LLC: A limited liability company (LLC) is when you define your enterprise as a company and pay taxes that a limited company pays.
Franchise: When you extend the offering of a larger company as a franchise on Airbnb, you will need to follow the rules that govern the properties owned by that company.
💡Tip: Consider ownership or an LLC as your priority choices with having an Airbnb hosting business. Both entities protect your assets if you're ever faced with a lawsuit. You never know what kind of guests you're going to get. Play it safe with your assets.
‍
Step 4: Register for taxes
When you are strategizing how to start an Airbnb business, also consider the taxes that will follow. There will be a variety of state and federal taxes you must pay. Contact your local authorities or Airbnb POCs to know what local taxes need to be registered.
There is a lot of misinformation about the taxation rules for Airbnbs. This video does well to dispel some myths:
Airbnb lists some regions where local occupancy taxes can come into play.
‍
Step 5: Prepare your listing
Many hosts begin here. But it's better to gain the understanding you have from the above four steps before you finally prepare your listing.
Here are some points to keep in mind while listing your property:
Include videos and walkthroughs of your property
Be honest about what your property has to offer
Respond to feedback and resolve to be better
Be transparent about house rules
Include accessibility notes for remote areas
Price your property strategically
💡Tip: Be detailed, honest, and reasonable with your listing. It's always better to under-commit and over-deliver.
‍
Step 6: Set your prices accordingly
Pricing an Airbnb property should be flexible. When your property is new, you want it to be affordable so that you have more visitors and break even sooner. Decide on seasonal pricing that will give you the advantage of surge bookings and prepare you for lean months.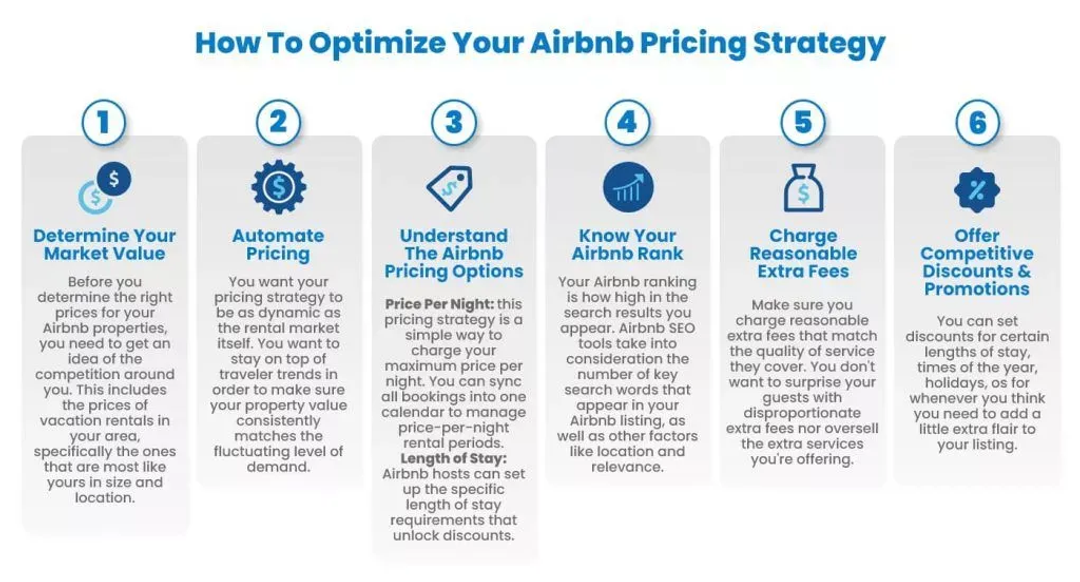 Step 7: List your space
Now is when you make your property public. As soon as you list your property, turn on all your notifications and keep your phone ringing because the calls and messages will begin pouring in.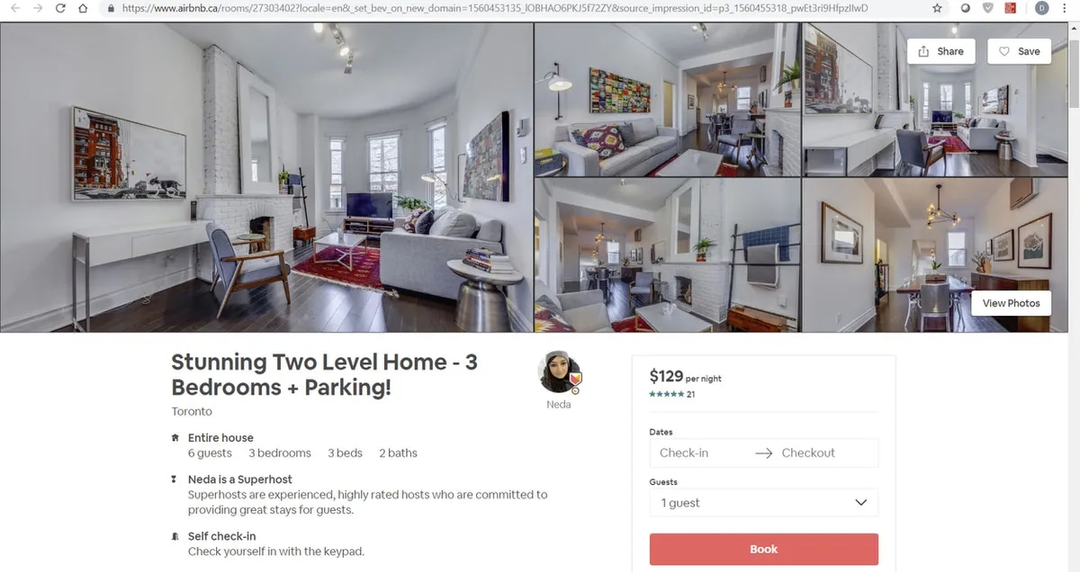 Being a responsive host helps guests build trust in you and want to visit your property more frequently. It is advisable to have a separate business phone, which can be handed to anyone else in your absence or reside permanently with your property manager. Open channels such as WhatsApp chat if customers find the Airbnb messaging feature cumbersome.
‍
Don't forget to show appreciation to the guests that did give you a chance. Building good relationships with your guests is a powerful motivator for them to return and enlist your services again.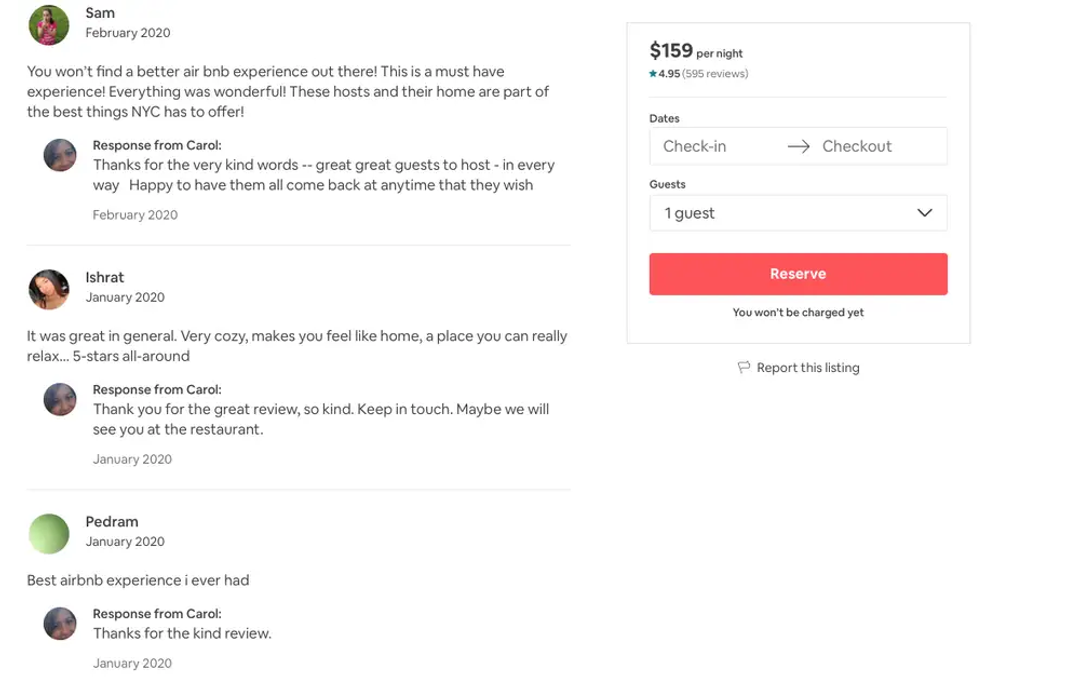 💡Tip: As you start working with guests, think about how you'd like to be treated if you were the guest. Promote open and friendly communication between you and your guests at all times, no matter how difficult they are.
‍
Now you're all set to be the perfect host and welcome people from around the world, just as founders Brian Chesky and Joe Gebbia did all those years ago. Your Airbnb is your business and needs to be treated with the same respect and care as one would treat any other business.
If you accrue several good ratings and testimonials, this property could fund another property for you and turn you into a blooming hospitality tycoon.
‍
Still unsure? Watch this video for inspiration
Airbnb is a mutually beneficial business for both hosts and guests. A study by Airbnb discovered that people who rent out their houses on Airbnb use the money they earn to keep afloat during tough economic times.
Furthermore, the study discovered that people who use Airbnb stay longer, spend more money in the locations they visit, and contribute to less-visited regions.
Watch this video on the impact of having an Airbnb business and let this inspire you:
If this fails to motivate you to take the leap, a strong logo for Airbnb should help take you there.
‍
How to create a logo for Airbnb in 6 easy steps
A logo for Airbnb — do you really need one?
A logo can help establish the visual identity of your Airbnb business and set it apart from the competition. Good business branding allows you to build a connection with your target audience, potentially making them want to learn more about you and engage with you.
More than that, with new investors in the vacation home market, building your Airbnb brand can give you an edge over your competitors and make you easily discoverable by potential guests and travelers. This helps as they will be relying on you for their safety and lodging during their travels.
A strong Airbnb logo is one giant step that can help you get there, and with our logo maker to assist you, your visual branding needs are pretty much set.
Before we get to that, here are some other steps you should take to make your Airbnb listing stand out from the crowd.
‍
Valuable tips for a new Airbnb business to succeed with high marks
A logo for Airbnb businesses is essential, but there are other ways to stand out and make your mark. ‍
According to statistics published by Stratos Jets, there are approximately 7 million Airbnb listings worldwide in 2021. Regardless of your location, having your listing stick out from the sea of competitors helps get more traction for your business.
Branding is essential, but here are other valuable tips to consider when promoting your Airbnb listing: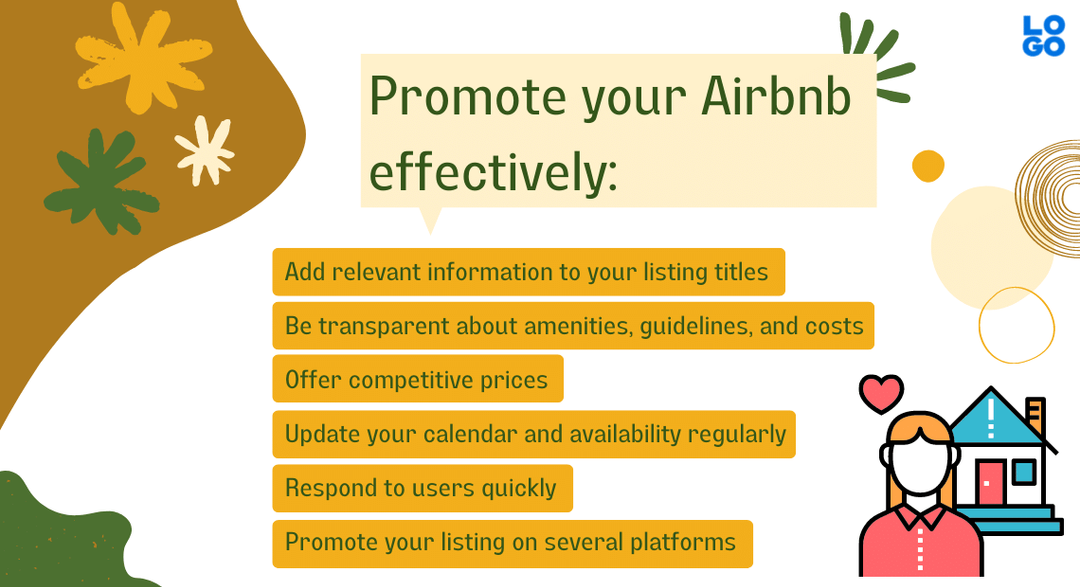 Add relevant information to your listing titles
Be transparent about the amenities, guidelines, and costs
Offer competitive prices
Update your calendar and availability regularly
Respond to users quickly
Promote your listing on several platforms
Earn positive ratings as much as you can
Being honest and transparent about your services is one of the most valuable things you can do to build a credible brand. Show users the best of what you have to offer without going overboard.
These are simple tips, but they can help keep your customers intrigued and stick around. Add a good branding strategy and it'll boost the professionalism and quality of your online entity as a whole. A logo is a part of your branding strategy, and if it's appealing enough, it can compel users to click on your listing.
LOGO.com can assist you with getting a logo, a name for your Airbnb host profile, and tons of other services to help you market your business. Find out how below!
‍
6 steps to create a free logo for Airbnb
Here are six easy steps to get a free logo for Airbnb and ways to promote and market your brand with your new brand.
‍
Step 1: Find a great name for your Airbnb
Your Airbnb name is more for your customers than it is for you. Decide on a name that oozes professionalism, so much so that it would compel potential customers to learn more about your brand.
Consider using an Airbnb name generator to provide you with a great and memorable name along with a beautiful Airbnb logo to go with it.
All you have to do is input 1 to 3 relevant keywords that describe your business and optimize your preferences.
The tool will generate a ton of names along with potential Airbnb logo ideas for you to choose from.
‍
Step 2: Choose the Airbnb brand name you like

Browse through the selection of names and choose the one you like the best. Don't worry about the Airbnb logo design just yet—you'll soon get hundreds of different designs to choose from.
Here are some tips on choosing a great name for your Airbnb business:
It should be unique and distinctive
It should be relevant to the services/amenities you are providing
It should be easy to pronounce and memorize
It should be simple and recognizable
It should reflect who you are as an Airbnb host
Once you have chosen the right name, click 'Ideas' on the upper left of the page to check out hundreds of Airbnb logo designs for it.

‍
Step 3: Find the perfect Airbnb logo and customize it
Every logo you'll find is customizable according to what you prefer. Find a design that is closest to your ideal logo for Airbnb and click it to customize it. From here, you can modify its font, colors, icons, spacing— pretty much everything! Don't stop until it's perfect.

Here are some tips for when you customize the Airbnb logo to ensure it's effective:
Use one or two brand colors at most
Choose the colors that best represent your Airbnb business
Use one or two fonts at most
Consider sans serif fonts for their readability
Avoid overcrowding the logo with too many elements
Build a simple yet strong design
Ensure that it looks memorable and professional
Use an icon that best represents your Airbnb business
Customization is essential because it allows you to make the design your own. You are in total control of its elements. Nobody knows your ideal logo as well as you do, and with a professional logo maker, you get to make your vision come alive in exactly the way you need it to.
‍
Customizing your logo for Airbnb also helps you design it in a way that accommodates your brand. You add your own spin to the design instead of using pre-designed and ready-made logos, which tend to be great for inspiration.
Here are some benefits of logo customization:
Helps in standing out from competitors
Allows you to tap into your creativity
Helps achieve your ideal logo design
Adds distinction and memorability
Helps make brand-specific elements come alive
Proves that the design is truly your own
‍
Step 4: Finalize your Airbnb logo

Once you're happy with the design, go ahead and click 'Preview' to see how your new Airbnb logo will look on various platforms and merchandise. You will also receive details about the font, color palette, business cards, and so much more.
That's all it takes to get a logo for Airbnb! Four simple steps and you're almost at the finish line.
‍
Step 5: Take your free logo for Airbnb home
Once you have finalized your logo, click the "Get Your Logo" button. From here, you can take your new free logo for Airbnb home free of charge!
You can start using your free logo for Airbnb right away with these benefits:
Full ownership of your logo - Once you purchase your logo, it completely belongs to you and no one else, even if you decide to delete your account.
Instant access to your logo - Your logo is safe in your account. It is secure for you to come back to it whenever you need it.
100% satisfaction guarantee - Your happiness is everything to us. If you're unhappy with your logo, we will issue you a full refund.
Launch your Airbnb business in almost no time at all. It's practical to get an early start, so go for it! But take note that your logo is just the start. You still need branding materials featuring your new logo to build your online presence.
This is where the Brand Plan comes in.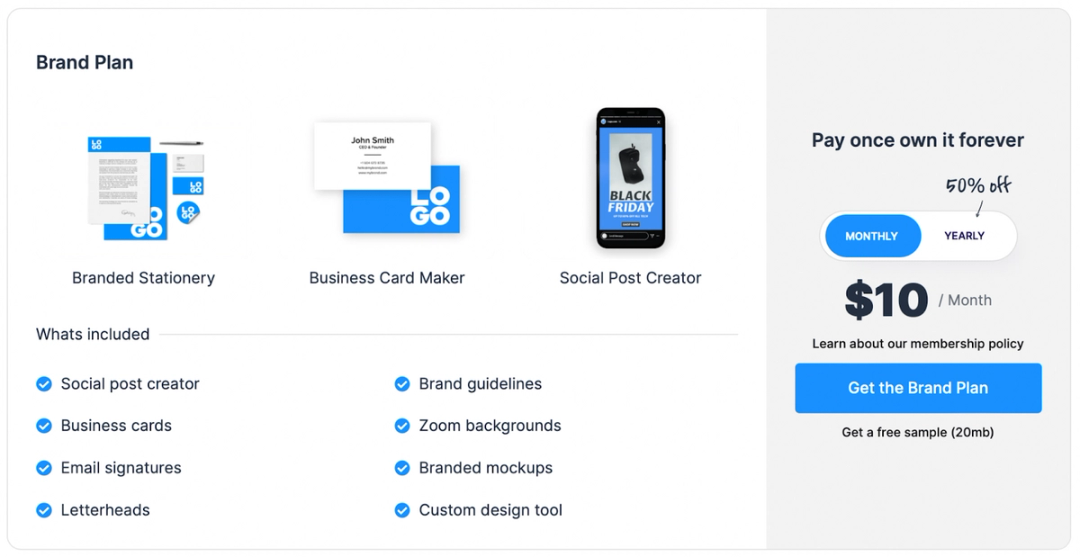 Our Brand Plan is your brand-building best friend. For only $10/month, you have instant access to:
Unlimited logo edits
Business card maker
Email signature maker
Custom design tool (Stitch)
Brand showcase
Brand guidelines
Perpetual brand backup
Oh, and all of them are pre-set with your new logo for Airbnb. Say hello to instant convenience and results!
‍
Step 6: Build your Airbnb brand
Social media is an effective tool that allows you to market your Airbnb property to the right audience efficiently. With branding, a way to build credibility in your Airbnb business is to make your social media branding consistent.
A social media kit offers this consistency. You get access to ready-to-use files for all your social media platforms, such as Facebook, Instagram, LinkedIn, Youtube, and Twitter, so that you can get started in no time.
You can also dive into other forms of promotion, such as creating blogs about your journey as an Airbnb host—providing tips and tricks to other hosts while also building your Airbnb business. You also get a website builder, which gives you infinite possibilities for how you would want to use it to boost your brand.
‍
Try an Airbnb Description Generator for inspiration
There is a true art to writing a great Airbnb listing description, and for this reason, many hosts are now hiring copywriters to take on the job. However, if your budget doesn't allow for external help, you could use the Airbnb description generator to get a description that you can edit to fit your liking.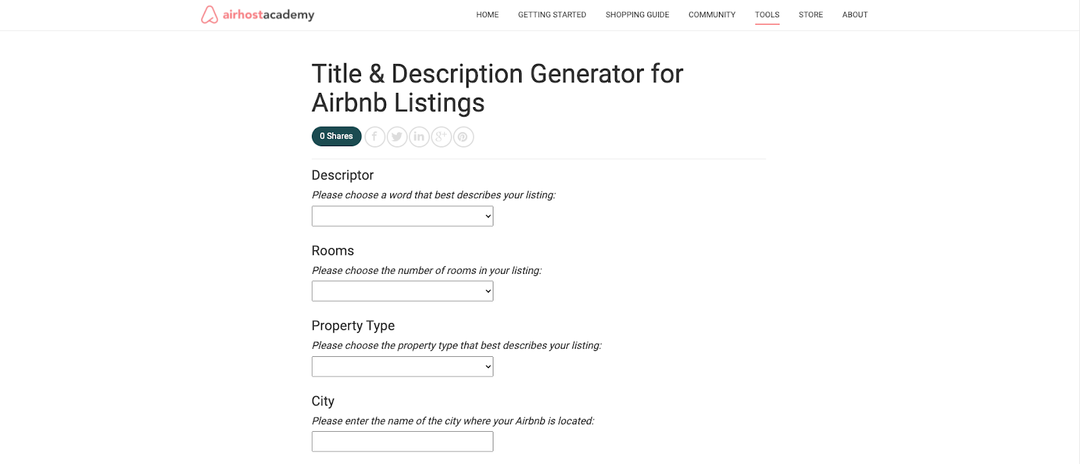 It's a great tool to get started with, and most importantly, it takes away the stress of a blank page.
‍
Frequently asked questions: 4 popular FAQs about how to start an Airbnb business
What are some commonly asked questions about starting an Airbnb business? Get your questions answered with these four FAQs.
1. How much do most Airbnb owners make?
It depends! According to Airbnb, hosts in the United States earn more than $9,000 a year on average. However, these figures vary. Some hosts purchase or lease many apartments or homes and rent them out full-time.
Your earning potential is determined by:
How much do you charge for your space?
How frequently can you rent it out?
Both of these factors are affected by how much time and money you put into furnishing and maintaining your place.
2. How to start an Airbnb business without owning a house?
One of the most popular misconceptions on the platform is that in order to make money on Airbnb, you must own property. Non-property owners can sign up for an Airbnb account and earn money in a variety of ways, including:
Becoming a property manager
Maintenance, income objectives, cleaning, concierge and key service, and other tedious activities can be handled by you. Property managers are among the highest-paid individuals on the Airbnb network.
Becoming an affiliate
Airbnb has an affiliate program that pays people who refer others to the platform. Refer your friends and relatives to Airbnb and assist them in creating an account and making their first booking.
Finding open rentals in your area
Simply ask the owner of an unoccupied property if they would be interested in putting it on Airbnb. They likely will be, but they may be unwilling to put in the extra effort. You can create an Airbnb with no money and earn big this way.
Offer Airbnb tours and experiences
Provide guests with tours to attractions, one-of-a-kind experiences, historical sites, and so on. You can collaborate with Airbnb property owners if you know of activities in your area that customers would be ready to book on arrival.
You can create your very own adventure tourism logo to motivate new guests to choose you over competitors.
3. How to start an Airbnb business with no money?
The most frequent technique to start an Airbnb business with no money is to engage in rental arbitrage, which entails convincing a landlord to lease you a house, which you then furnish and sublet on Airbnb.
You can easily use the funds from your short-term rental to pay down your lease while also profiting. If done well, this can be a full-fledged business in and of itself.
4. What type of property is best for Airbnb?
When choosing your ideal short-term rental, as with any investment property, location is the most critical element. Tourist destinations such as beaches, mountains, or national parks are often excellent locations for Airbnb real estate investing.
‍
How to start an Airbnb business flawlessly
A logo is the core of your visual branding needs because it builds a foundation between you and your audience. It shows that you care about your business enough to brand it properly. Compelling logos can ultimately set you apart from other Airbnb hosts, and they can potentially tell users a story with a single glance.
Give our logo maker a run, and let your story shine through with a beautiful, new logo today!