If you enjoy serving large groups of people your delicious food, learning how to start a catering business may just be the perfect fit for you. The catering industry is thriving, and the best part is you get to tailor your services to whatever suits your business structure.

The catering industry pulls in a broad range of aspiring entrepreneurs looking to expand their networks and build a positive reputation. If you've got some killer recipes, why not take advantage of what this industry has to offer?

Getting into how to start a catering business comes with a bunch of benefits!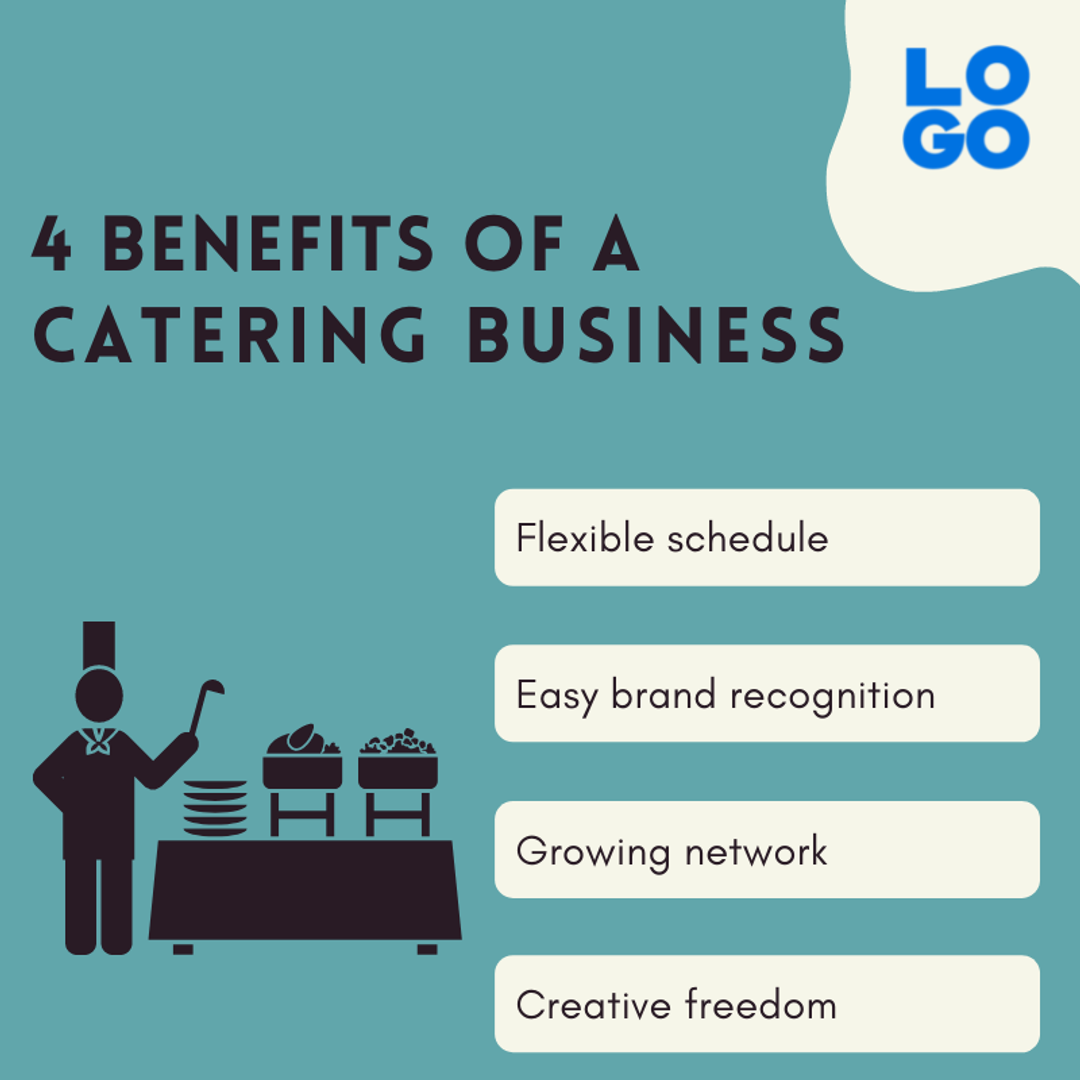 These are the four benefits of starting a catering business:
Flexible schedule - Wave goodbye to the weekday nine to five arrangement, and say hello to more freedom and flexibility in your business. You are totally in charge of coming up with your own hours according to what suits your needs most. Though customers can call you any time and make an appointment, you have the power to plan ahead and fit the event in a schedule that works for you.
Easy brand recognition - Even if you're an amateur chef or just starting out in the catering business, your brand recognition grows significantly even with a single event. Every opportunity gives you more exposure to your target audience, and if you do an excellent job, they'll think of you for their next event.
Growing network - Many catering businesses spend one-on-one time with their clients to understand their vision, which nurtures a bond between the two parties. Spending this much direct quality time paves the way for a connection that some other businesses don't get to have. Not only do you get to expand your network, but you may also get to make some friends.
Creative freedom - Catering is more than just serving delicious food. It's also about serving stunning (and tasty) dishes. Whether it's a buffet or waiting tables, you can create a gorgeous presentation of food to wow your customers. They may just take photos or even post your beautiful dishes on their social media accounts, which gives you more exposure.
Potential expansion - Catering isn't just limited to serving delicious food at events. With the growing trend of online food ordering, your catering business could also provide customizable meal kits that customers can order directly from your website. These meal kits, filled with pre-portioned ingredients, allow your customers to recreate some of your signature dishes at their convenience. This gives them a taste of your menu from the comfort of their home, broadening your customer base. Offering an online service like this not only provides a unique addition to your catering services, but it also becomes another avenue for you to showcase your culinary skills, establish your brand, and expand your online presence.
Knowing how to start a catering business can grant you these note-worthy perks, but it is essential to begin the process right.
In this guide, you will learn how to start a catering business successfully with these six steps:
1. Create a catering business plan
2. Get the necessary permits and licenses
3. Build your menu and determine your pricing
4. Prepare for transit logistics
5. Hire trained staff
6. Market and network galore
Let's get started!
6 Steps On How To Start A Catering Business And Serve Class
This list is everything you need to know about how to start a catering business. With a little guidance, you will soon be delighting customers at events, parties, and festivals—enough for them to look for you to cater the next gathering.

Step 1: Create A Catering Business Plan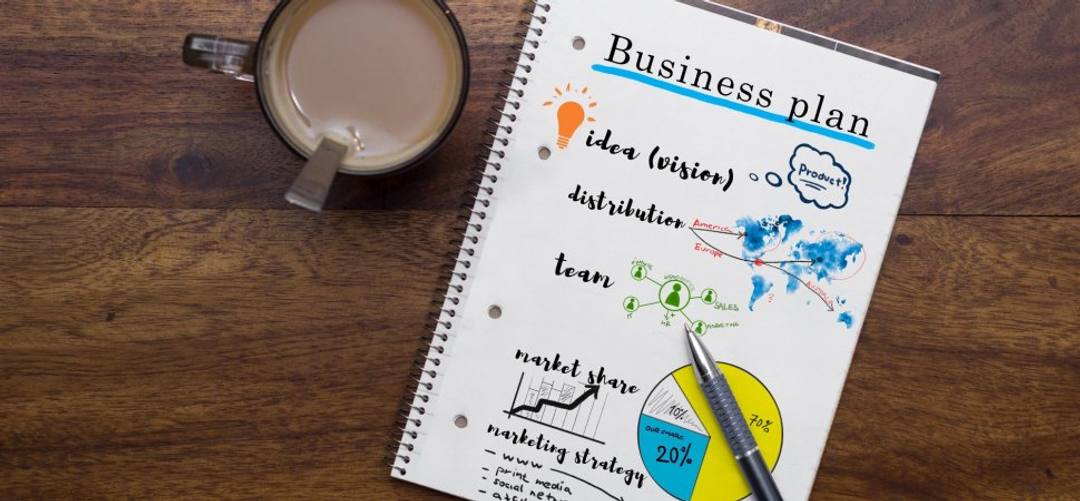 Writing a business plan for your new venture takes some work, but it pays off in the long run to have a plan to fall back on while building your brand. Your catering business plan should include:

An overview of your business
Your vision, mission, and belief system as a caterer
A market analysis
Your menu and services
A financial plan
Sales and brand marketing strategies

If that sounds like a lot, don't worry. You can always fill in the details and add to your plan as you learn more about your experiences in the catering industry. More importantly, it is essential that you conduct proper research on the market and competitors. This way, you can identify potential clients and plan ahead.

Is there a specific type of catering needed in your area that is currently in demand with little supply? It would do you wonders to tap into that market. For example, if you reside in an area with a community center, you could essentially cater to events held in that lodging. An extensive market analysis helps you sustain your business in the long run.

Step 2: Get The Necessary Permits And Licenses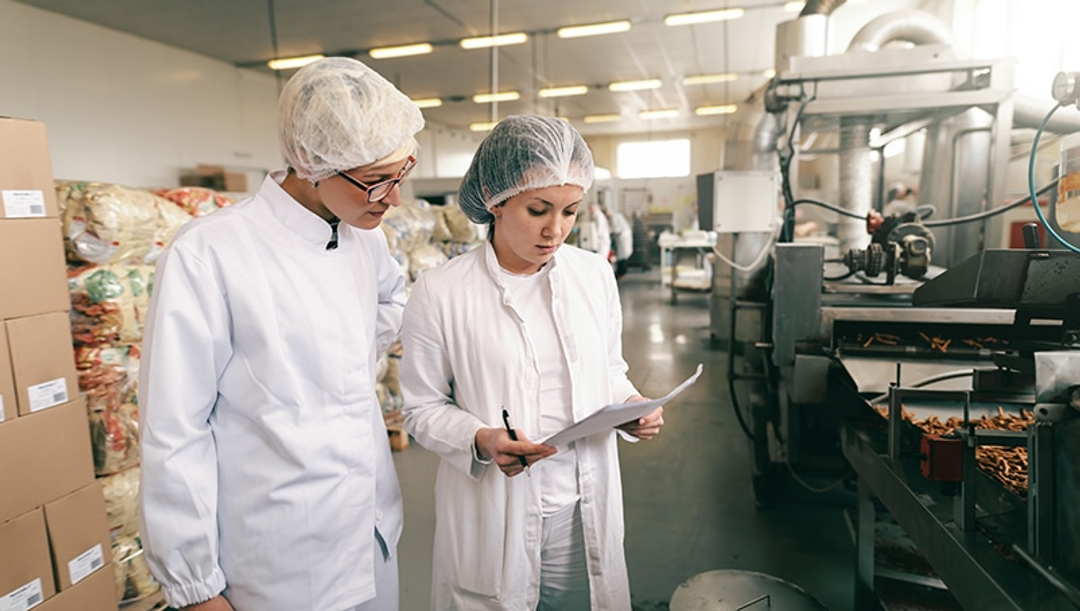 Any business that involves food prep entails a process of licensing before getting started on the operations. After all, a catering business means cooking and serving customers food that they will eventually consume. It's critical that you secure your credibility and safety precautions before you run your business officially.

First, you need to obtain a business license from the state you are currently living in, as well as a food handling license. Second, you need to pass a health inspection. This makes it tricky to run a catering business from home, as a residential kitchen likely won't make the cut. Consider looking for a commercial kitchen that has already passed an inspection.

If you're unsure of the requirements in your state, get in touch with your local:

Chamber of Commerce
Small Business Administration
Small Business Development Center

You may even want to consult a lawyer who specializes in the food service industry for assistance in attaining the requirements and getting them sorted before you run your kitchen.

Step 3: Build Your Menu And Determine Your Pricing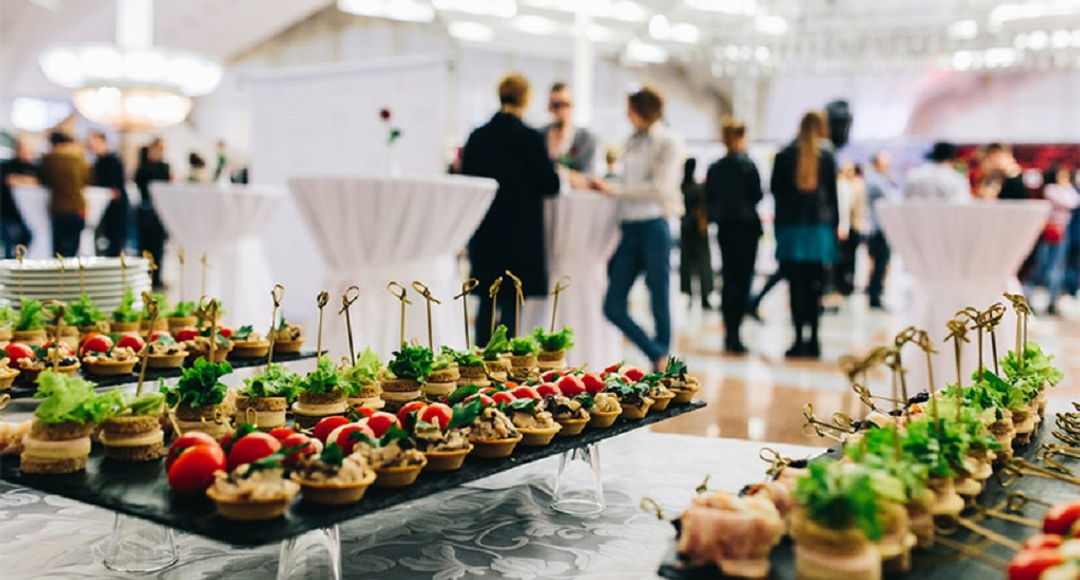 A caterer does many things; cooking delicious food, interacting with guests, and ensuring a safe and enjoyable time for everyone. But nothing is more central to the identity of your catering business than your menu.

The taste, presentation, and service of your food must be impeccable. These are the defining factors that will have customers coming back and referring you to their peers. And as an added bonus, if you provide reasonable prices at the beginning for these professional services, clients will continue to seek your business.

When the time comes to increase your pricing structure, it's likely that these devoted customers stay that way and remain loyal to your brand. After all, you are letting your tasty dishes and professionalism speak for you. Given that this industry entails a lot of direct contact with the customer, you will get to build a meaningful connection with the client. And there's no better cause for a loyal following than that.

Build a menu that is near and dear to your heart. Come up with well-loved dishes and add your own unique spin to them. Food is so much like fashion and technology in that you can't rely on current trends—it's an evolving discipline. Diving into your personal interests and cooking with your heart is the optimal way to start your catering business.

Step 4: Prepare For Transit Logistics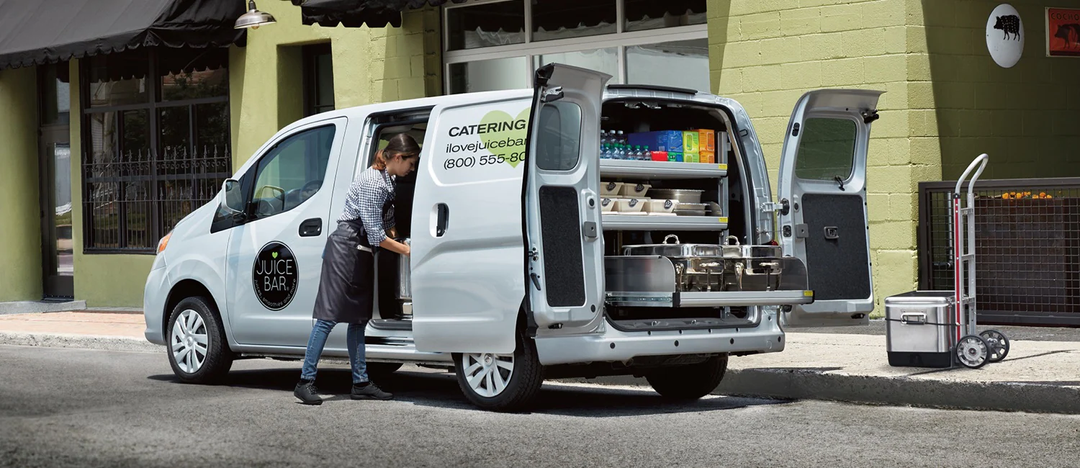 This is the main difference between having a restaurant and having a catering business. You're not settled in one place. You have to travel to different locations to cater to your customers and guests, which means your food has to travel with you. Having a reliable transportation method is a necessity.

In the initial stages of your business, you can simply rent a truck on an as-needed basis. But as your business grows more successful, you may want to consider purchasing a company van with your business name, logo, and slogan (if you have one).

With either option, there's more to transporting your food than simply loading it in the truck. You will be needing supplies to ensure that the dishes stay fresh and protected throughout the trip. Some of these supplies include:

Insulated food carts and trays
Food carriers
Beverage carriers
Banquet carts
Cold packs or a refrigerator
Thermal insulators

Most importantly, plan for the unexpected. Your customer is relying on your catering services because they need stable and convenient food services. The last thing you want to do is risk the success of the event and have guests go hungry. Think about what could possibly go wrong and plan ahead to reduce potential disasters.

Step 5: Hire Trained Staff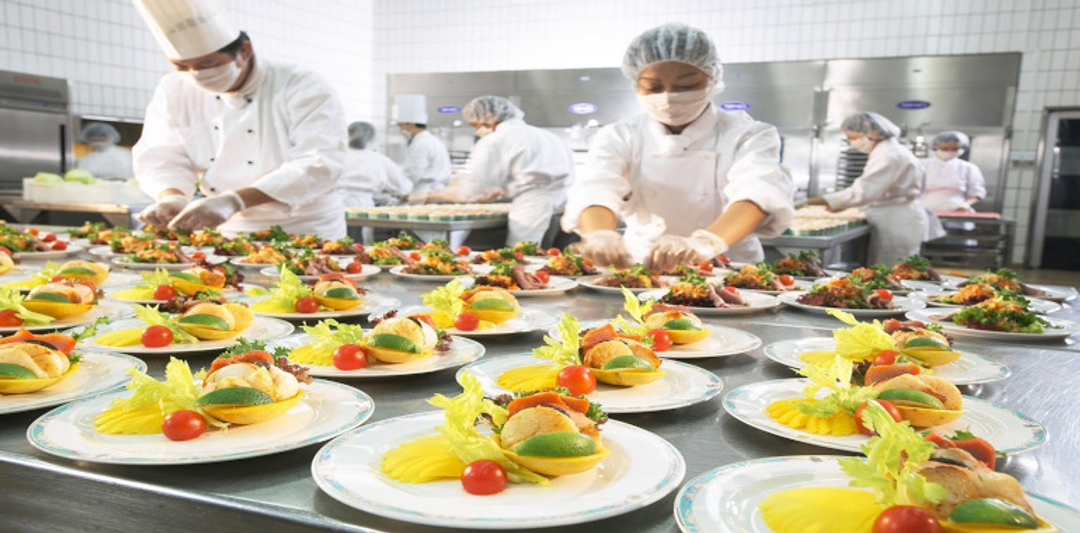 You can't cater an event all by yourself. Your team is just as important as you are to the success of the business, if not more, as they will be directly in contact with the guests.

Make sure to hire trained staff whether by job-seeking sites, word-of-mouth marketing, or relying on your network of connections. Take your time and find people that truly understand your vision and mission in putting up a catering business. A single slip-up can compromise the reputation of your catering brand, so don't skimp on this step.

Step 6: Market And Network Galore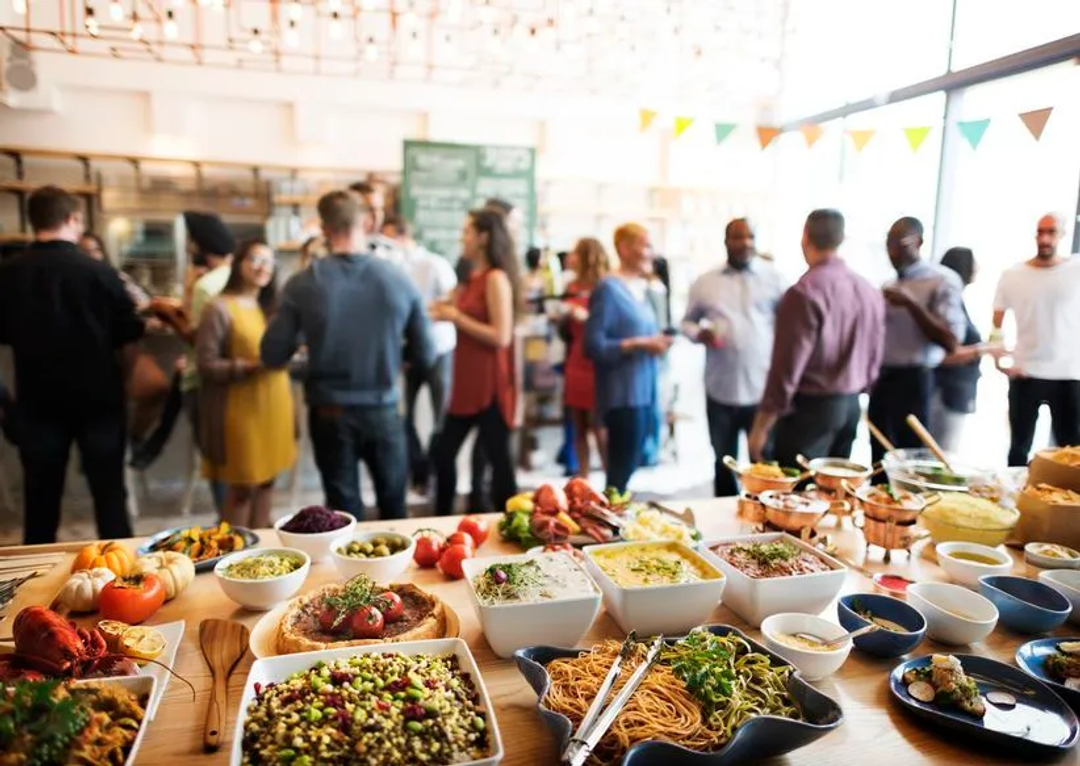 Marketing a catering business is all about networking and skills. You are putting food in peoples' mouths, and if they are impressed with the dishes, that's really all the ammunition you need to make a statement.

With catering, the way to build your customer base is through the guests that attend these events. They have first-hand experience in understanding your expertise, and this is precisely where your eventual referrals come from. Every single catering event that you serve is a new opportunity to expand your business to new heights.
So keep this in mind and hire an events photographer to cover your event. It will allow you to have content for your social media channels whenever a potential customer searches for you.
Now that you know how to start a catering business, it's time to figure out how to get a free catering business logo as pleasant to look at as your dishes.
Design A Tasty Catering Business Logo In 6 Easy Steps
So, you've been making some delicious dishes lately. What better than an attractive, free catering business logo to go with them? Find out why it's important and how to make one below!
A logo can help establish the visual identity of your catering business and set it apart from the competition. Your catering business needs proper branding to build a strong foundation—a logo is a massive step in this direction.
Good business branding allows you to build a connection with your target audience, potentially making them want to learn more about you and engage with you.
A relevant and unique catering business logo can elevate your brand, but more importantly, it provides credibility— a critical attribute to have from the start.
Building your catering business logo can boost trust and reliability between you and potential customers, which is vital as they would be relying on you for enjoyable food during important gatherings.
Once you manage to build a connection with your audience through effective branding, your job gets a whole lot easier.
A strong logo is one giant step that can help you get there, and with our logo maker to assist you, your visual branding needs are pretty much set.
Before we get to that, here are some other steps you should take to make your catering business stand out from the crowd.
How To Make Your Catering Business Stand Out
Your catering business logo is essential, but there are other ways to stand out and build a positive and professional reputation in the food industry. ‍
Statistics show that the catering market in the United States reached approximately $11 billion in 2020, declining from 2019's almost $13 billion due to the pandemic crisis. However, the sector is forecasted to reach $12 billion in 2021— a slow pick up from 2020's effects.
The catering market is gradually recovering in 2021 from less strict pandemic regulations, allowing you to take advantage of the sector's reemergence.
Branding is essential, but here are other valuable tips to consider:

Do extensive research on your competitors
Research food trends and incorporate them into your products and services
Offer people an incentive if they post and tag you on their social media
Ensure products have an appealing presentation, so people are inclined to post it
Make sure your staff is well-trained and professional
Decide on a specialty cuisine
Ensure that you have enough portions to accommodate everyone
Offer competitive prices and discounts for returning clients
Take on as many catering and event opportunities as you can
Make meal adjustments for clients with special needs or allergies
Take attractive images of your dishes and videos of your catering methods
Have a comprehensive and diverse menu
Offer special promos and discounts during holidays and events
Promote your meals on various social media channels

Keep in mind that having a catering business is not just about the food and ingredients. It's about building relationships THROUGH your food. If a client is happy with your service the first time, chances are, they will rely on you for all their catering needs in the foreseeable future.
Providing quality services includes top-notch food and professionalism at every step— even the littlest things matter, like how you present and serve meals. Be consistently reliable and accommodating at all times, and people will surely remember you.
These tips can help keep customers intrigued and stick around, but a good branding strategy boosts the professionalism and quality of your online entity as a whole. A logo is like a visual pitch, and if it's appealing enough, it can compel users to learn more about you.
Steps To Create A Free Catering Business Logo
Here are six easy steps to get a free catering business logo and ways to promote and market your brand with your new visual.
Step 1: Find A Great Catering Business Name
Your catering business name is more for your customers than it is for you. Decide on a name that oozes skill and professionalism, so much so that it would compel onlookers to learn more about your services.
Consider using a business name generator to provide you with a great and memorable name along with a beautiful logo to go with it.
All you have to do is input 1 to 3 relevant keywords that describe your business and optimize your preferences.
For example: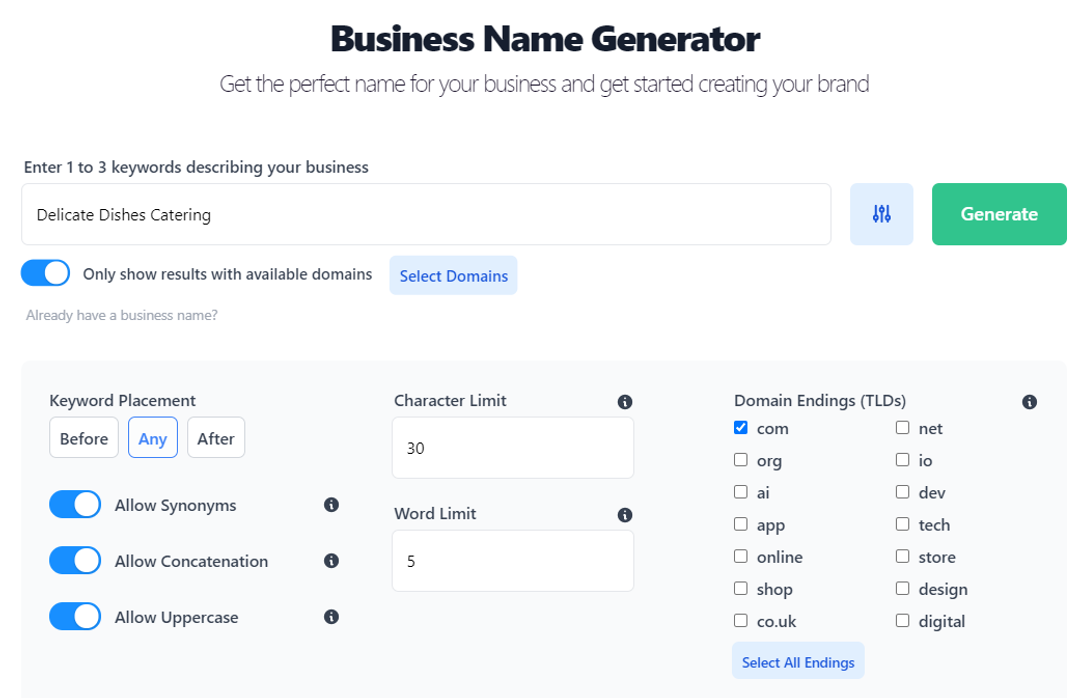 The tool will generate a ton of names along with potential logo ideas for you to choose from.
Step 2: Choose The Catering Business Name You Like The Most


Browse through the selection of names and choose the one you like the best. Don't worry about the logo design just yet— you'll soon get hundreds of different designs to choose from.
Here are some tips in choosing a great name for your catering business:

It should be unique and distinctive
It should be relevant to your dishes and services
It should be easy to pronounce and memorize
It should be simple and recognizable
It should reflect who you are as a caterer

Once you have chosen the right name, click 'Ideas' on the upper left of the page to check out hundreds of logo designs for it.


Step 3: Find The Perfect Catering Business Logo And Customize It

Every logo you'll find is customizable according to what you prefer. Find a design that is closest to your ideal catering business logo and click it to customize it. From here, you can modify its font, colors, icons, spacing—pretty much everything! Don't stop until it's perfect.


Here are some tips for when you customize a compelling catering business logo:

Use one or two brand colors at most
Choose the colors that best represent your catering business
Use one or two fonts at most
Consider sans serif fonts for their readability
Avoid overcrowding the logo with too many elements
Build a simple yet strong design
Ensure that it looks memorable and professional
Use an icon that best represents your catering business

Customization is essential because it allows you to make the design your own. You are in total control of its elements. Nobody knows your ideal logo as well as you do, and with a professional logo maker, you get to make your vision come alive in exactly the way you need it to.
Customizing your catering business logo also helps it stand out from the competition. You add your own spin to the design or you can use our pre-designed logos. As long as you let your intuition come alive, you're good to go.
These are the benefits of logo customization:

Helps in standing out from competitors
Allows you to tap into your creativity
Achieves your ideal logo design
Adds distinction and memorability
Helps make brand-specific elements come alive
Proves that the design is truly your own

Step 4: Finalize Your Catering Business Logo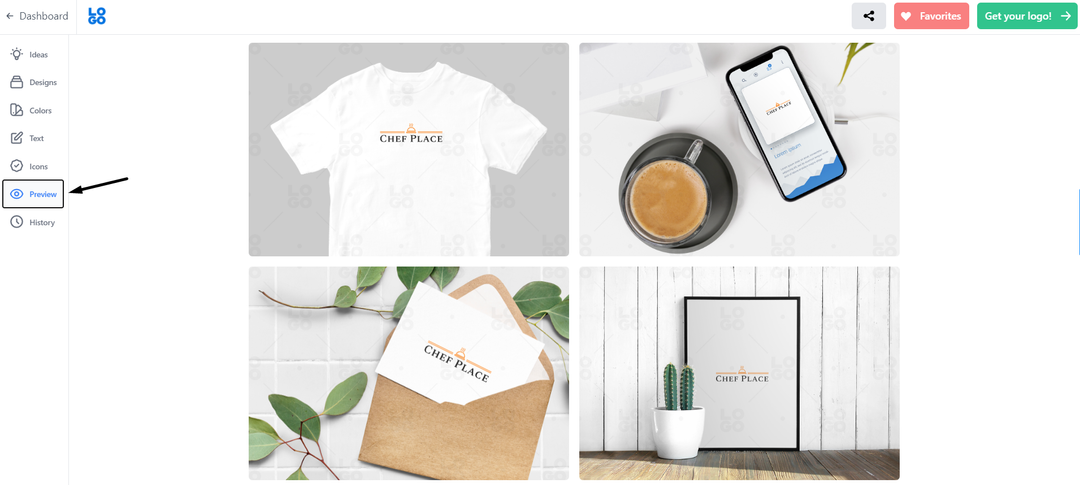 Once you're happy with the design, go ahead and click 'Preview' to see how your new logo will look on various platforms and merchandise. You will also receive details about the font, color palette, business cards—whatever you need to get your catering business running.

Step 5: Take Your Free Catering Business Logo Home

Once you have finalized your logo, click the 'Get Your Logo' button. From here, you can take your new catering business logo home free of charge!
You can start using your catering business logo right away with these benefits:
Full ownership of your logo - Once you purchase your logo, it completely belongs to you and no one else, even if you decide to delete your account.
Instant access to your logo - Your logo is safe in your account. It is secure for you to come back to it whenever you need it.
100% satisfaction guarantee - Your happiness is everything to us. If you're unhappy with your logo, we will issue you a full refund.
Launch your catering business in almost no time at all. It's practical to get an early start, so go for it! But take note that your logo is just the start. You still need branding materials featuring your new logo to build your online presence.
This is where the Brand Plan comes in.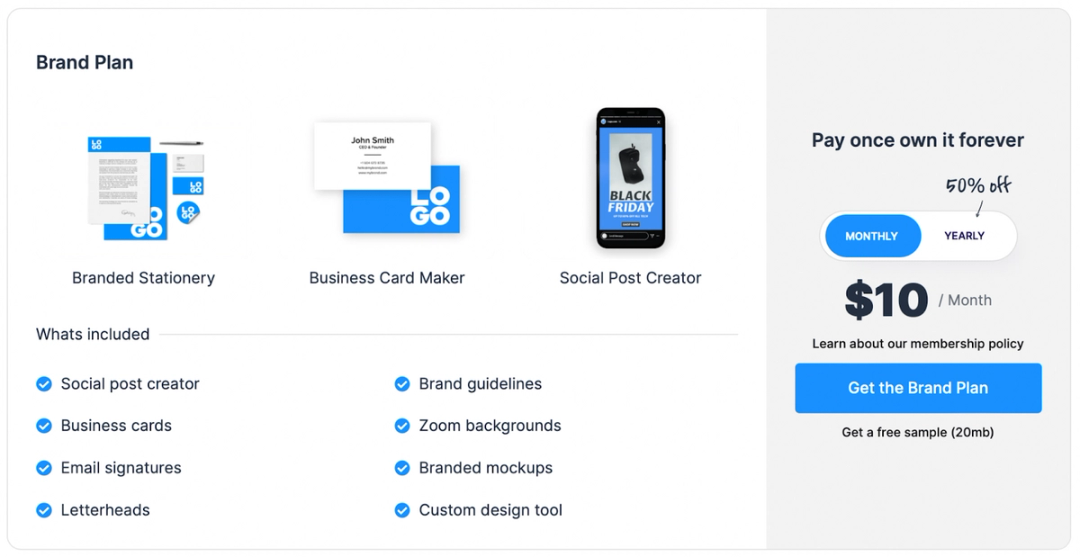 Our Brand Plan is your brand-building best friend. For only $10/month, you have instant access to:
Unlimited logo edits
Business card maker
Email signature maker
Custom design tool (Stitch)
Brand showcase
Brand guidelines
Perpetual brand backup
Oh, and all of them are pre-set with your new catering logo. Say hello to instant convenience and results!
Step 6: Build Your Catering Business

Social media branding is an effective tool that allows you to promote your brand to the right audiences efficiently. For example, Instagram is the perfect place to post attractive images of your dishes and videos of your staff in action. It also easily allows you to engage with your target market.
But having successful social media engagements only happens when you have credibility, and a way to build credibility in your catering business is to make your social media presence consistent.
A social media kit offers this consistency. We offer ready-to-use files for all your social media platforms such as Facebook, Instagram, LinkedIn, Youtube, and Twitter so that you can get started in no time.
You also get access to a website builder, which gives you infinite possibilities for using it to boost your catering business. Every business needs a website, and now you have one!
You can also use it for diving into other forms of promotion, such as creating blogs about your journey in having a catering business—providing tips and tricks to caterers while promoting your brand.
According to a study from Hubspot, 80% of internet users interact with both social media and blogs. What are you waiting for? Get a social media kit and a website builder today!
10 Great Examples Of Catering Business Logos
Here are some deliciously beautiful catering business logos to give you some inspiration:
1. Doesn't this icon just get your mouth watering? Show customers that your dishes are precisely that.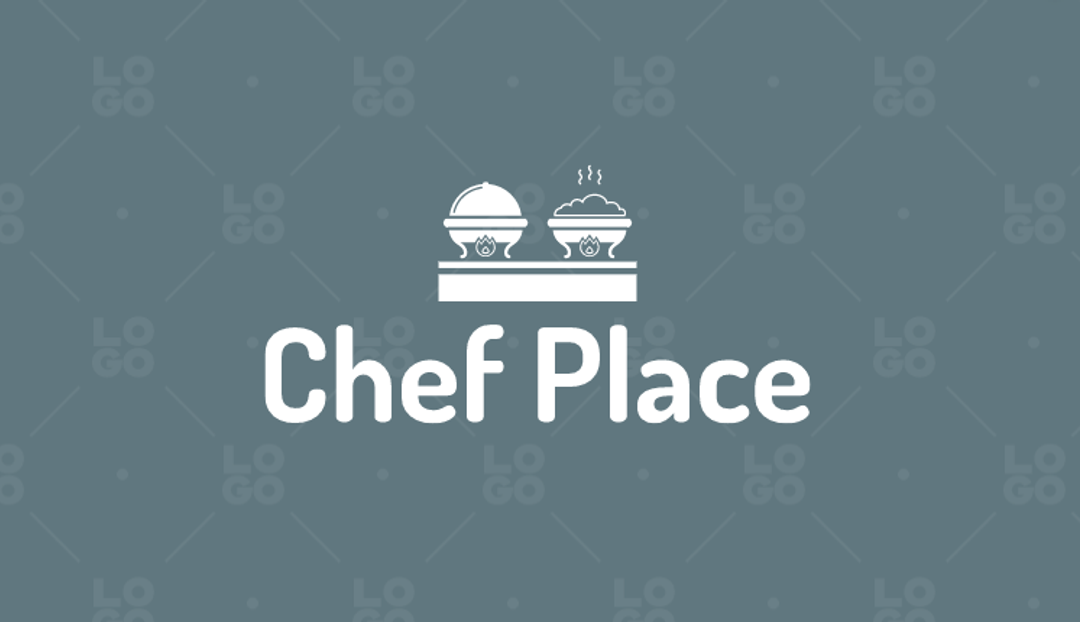 2. Many businesses opt to use blue in their logos because it represents professionalism at its finest. And that is a quality you absolutely need in a catering business logo.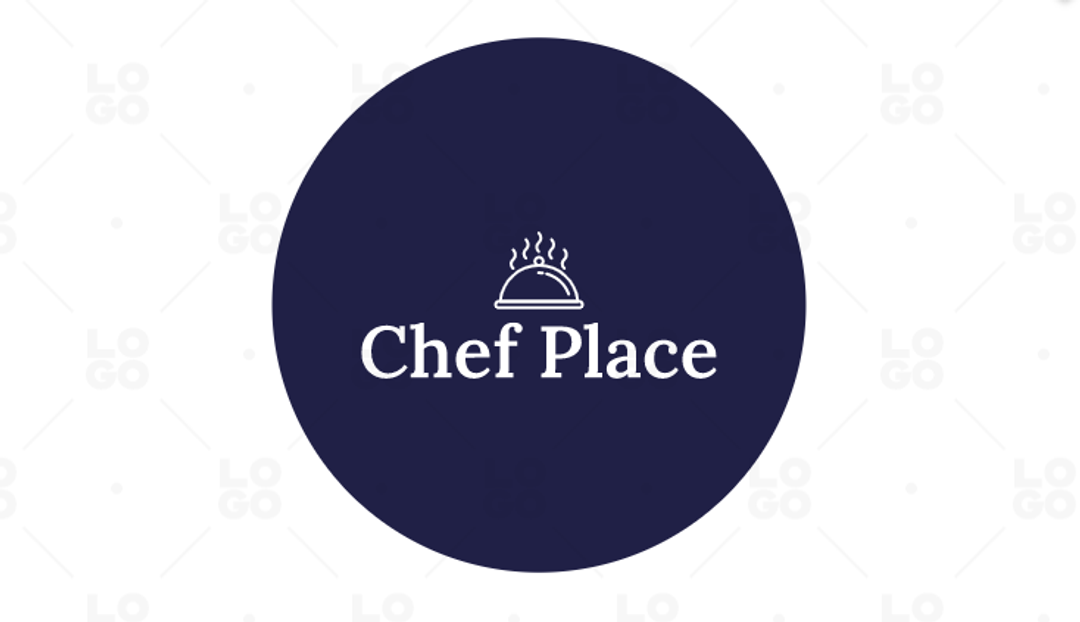 3. Show customers that you are friendly, on the go, and dedicated with zesty orange!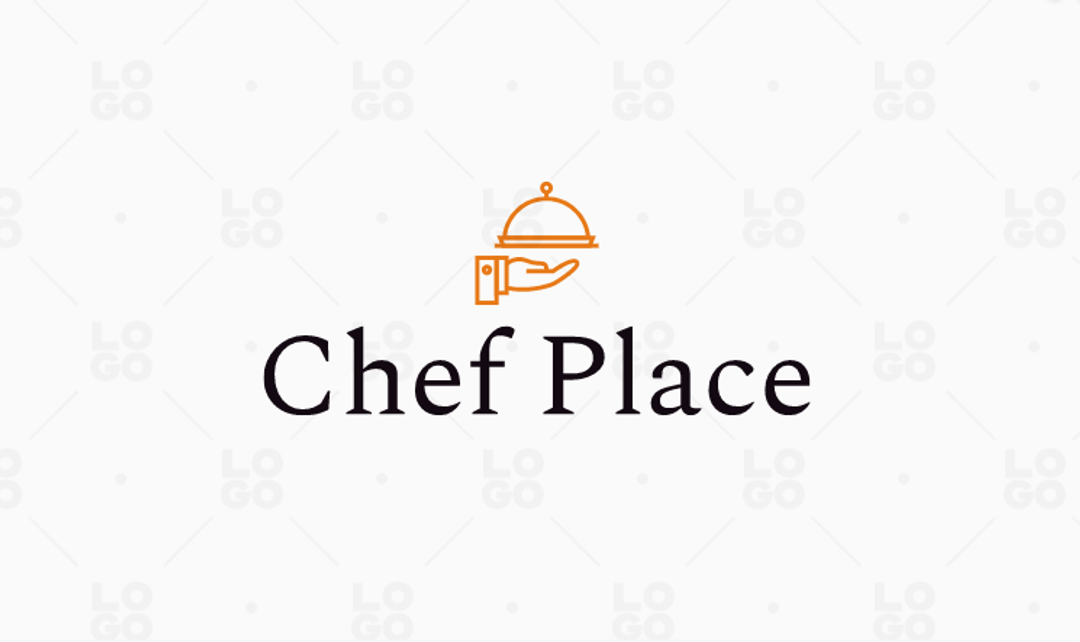 4. Want a timeless color scheme for your catering business logo? Classic black and white is the way to go.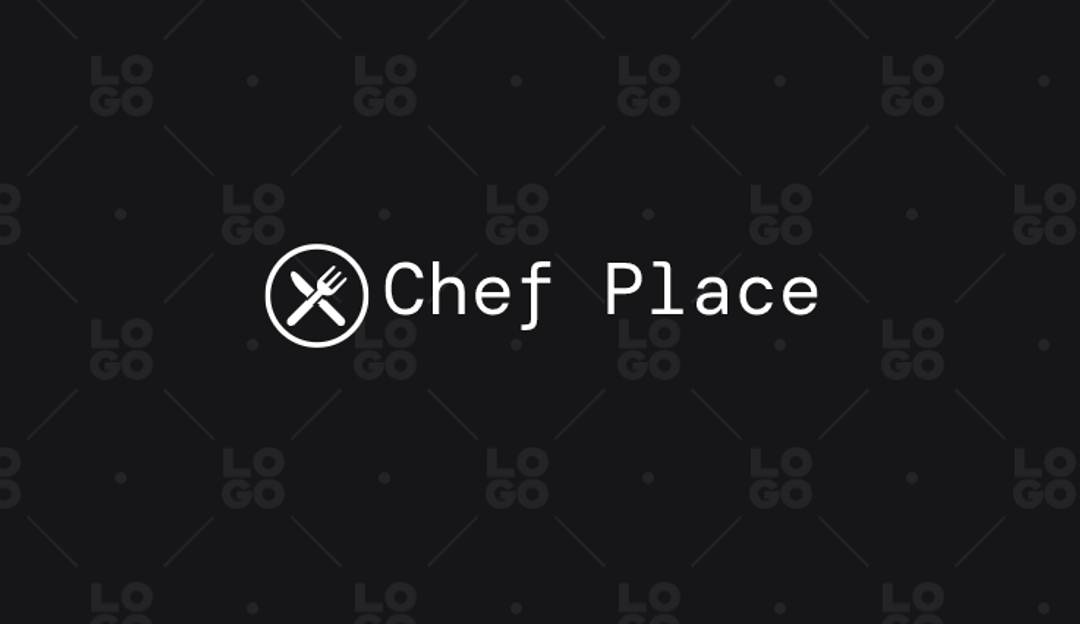 5. You don't need an icon to tell a story. It's in the wording— that's what you want people to remember. Plus points when the words are emphasized like this one.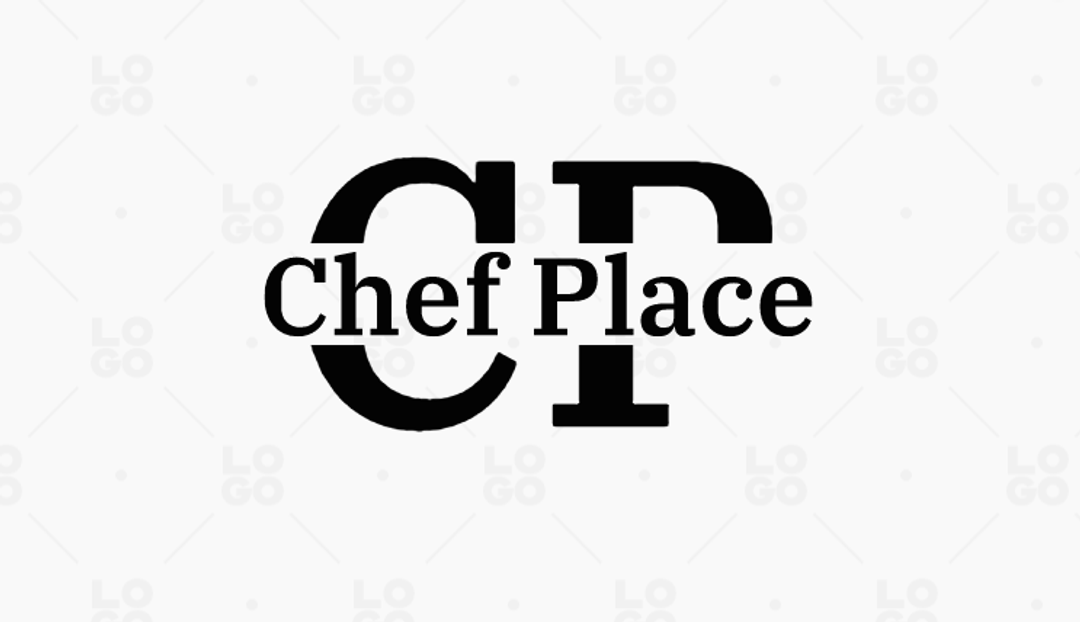 6. What could be more eye-catching and joyful than using yellow? It'll help you stand out!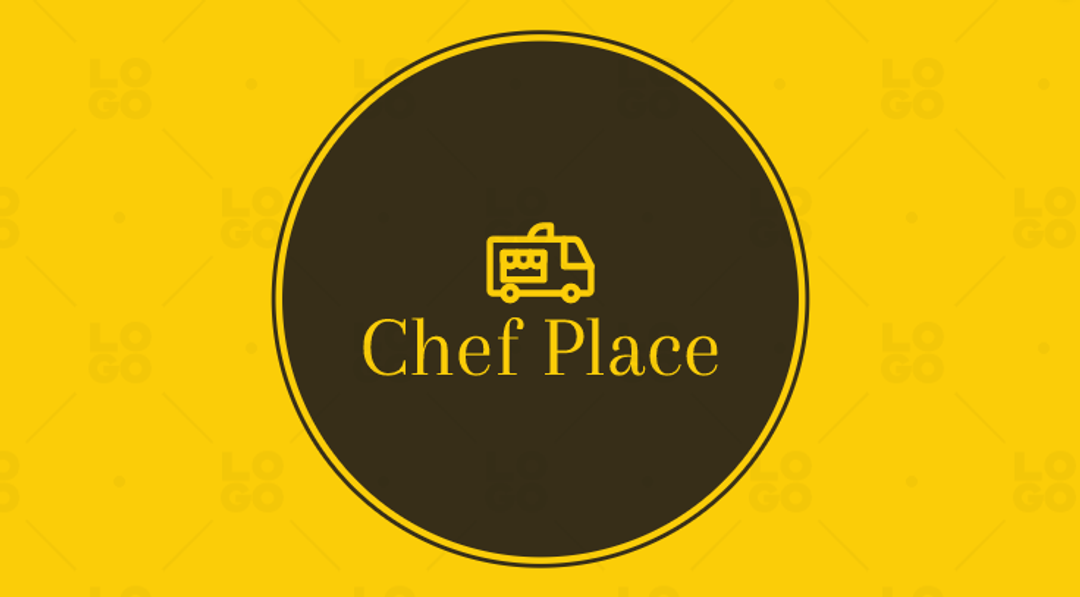 7. Red is for power and passion. Show customers that you are fully dedicated to providing them with high-quality dishes with red in your catering business logo.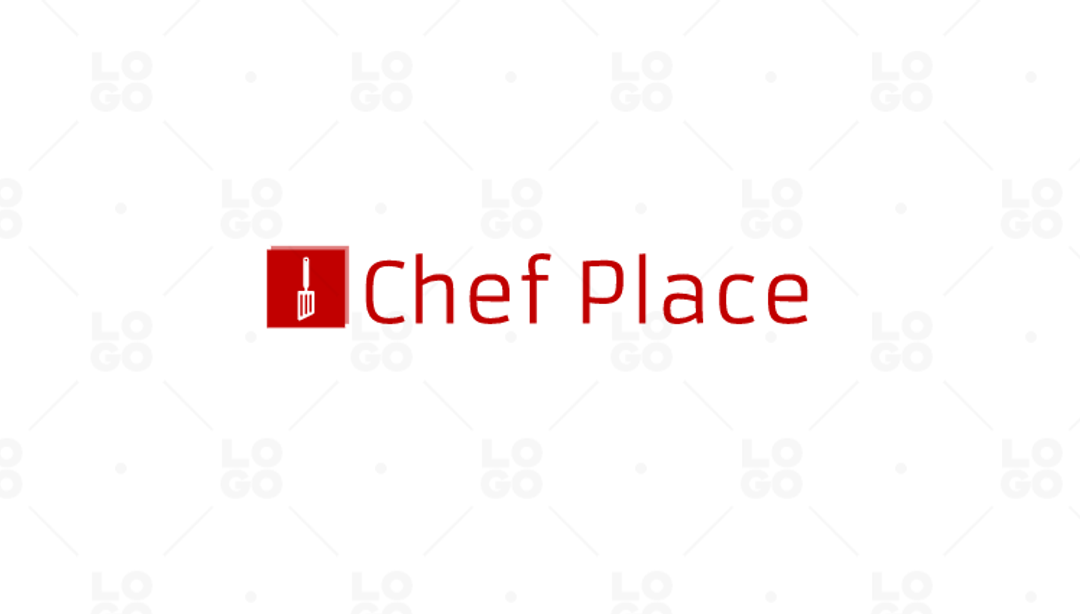 8. Simplicity at its finest. This logo hits every mark of effective visual branding.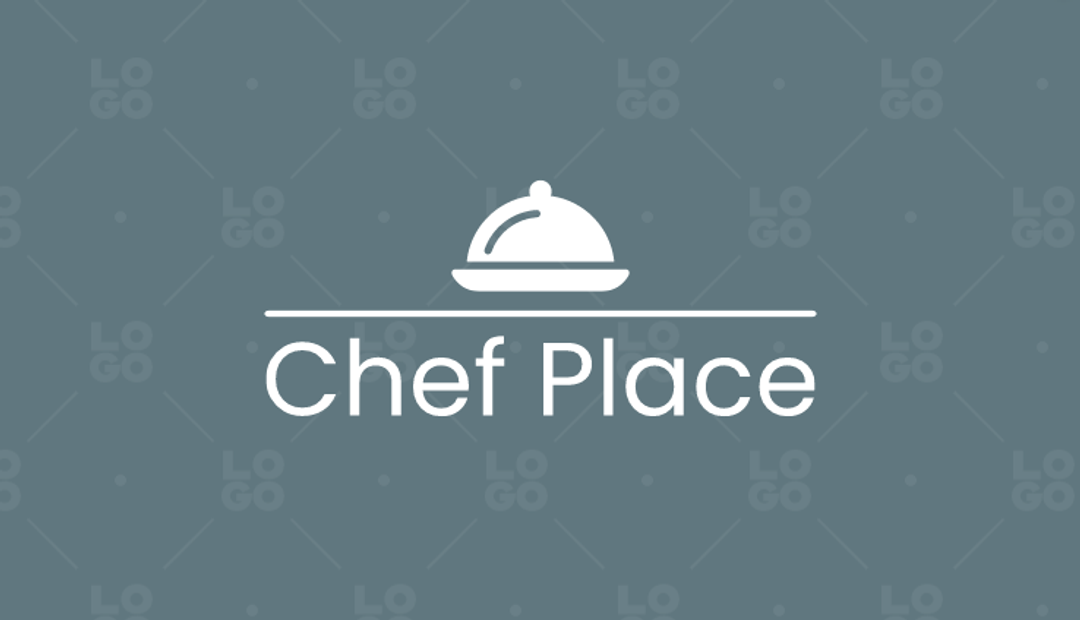 9. Finding a typography balance of elegant yet legible is not easy, but this one does it outstandingly well.
10. Show customers that you are ready for all their catering needs and preferences with this telling icon.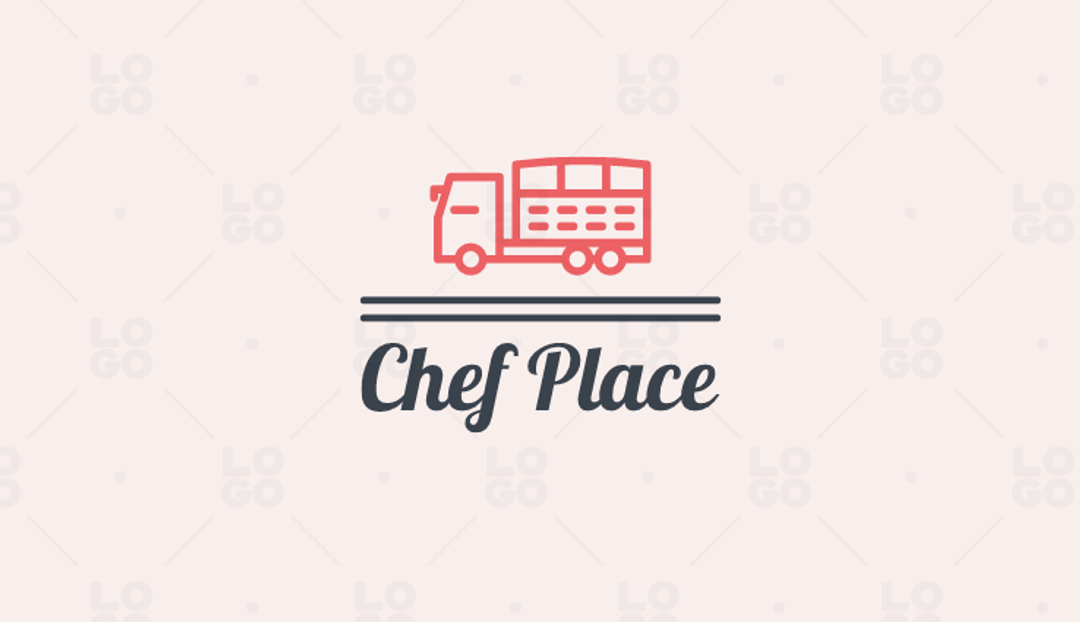 Building A Catering Business Logo

A logo is the core of your visual branding needs because it builds a foundation between you and your audience. It shows that you care about your catering business enough to brand it properly and well.
Compelling logos can ultimately set you apart from others in the food industry, and they can potentially tell users your story with a single glance.
Ready to design your free logo? Get started with our logo maker!
‍‍