‍
Any seasoned marketer would agree that brand development doesn't stop at creating a logo. No matter how much work you put into branding, there's always more you can do to build your brand.
Your brand will soon leave the safe confines of your mind and become a tangible entity that comprises your devoted team, potential clients, brand loyalists, and more.
Great brands spend time building their reputation over months, years, and decades. With a marketplace that encounters new avenues of development so often, no brand can claim that they have fully developed with the times.
‍
What is brand development?
Brand development is a continuous process of testing, researching, and implementing new systems to keep your brand relevant. Your brand's identity isn't defined by your logo alone. It needs to exhibit personality traits like those of a human.
The arduous process helps you define your brand more confidently and make it more relatable to the customers who consume it.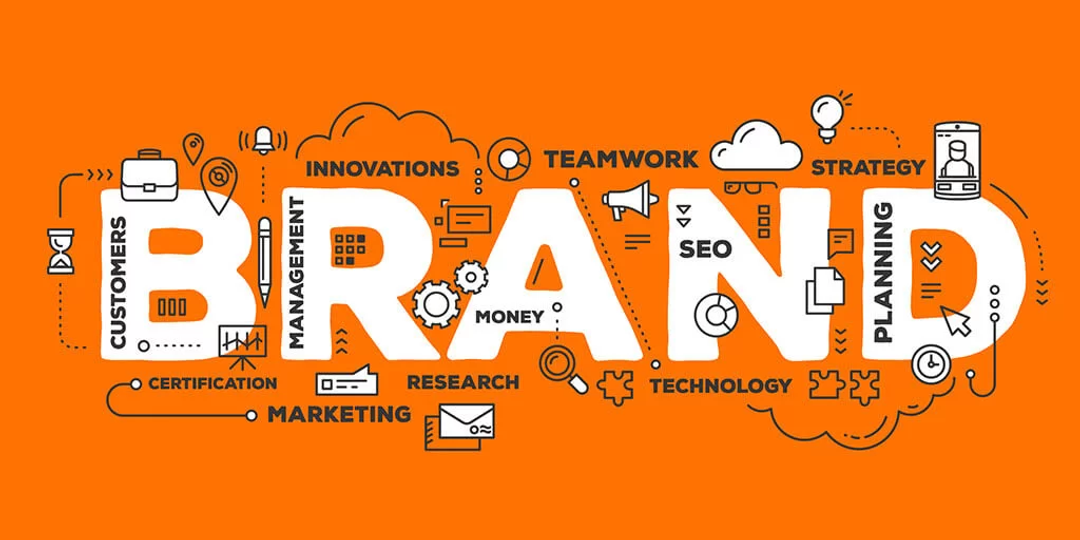 Brand development never stops but takes different shapes and forms. It addresses critical aspects that can put you in front of your competition at different stages. Over time, your brand becomes associated with a characteristic that builds your customers' trust.
Apple, Volvo, Nike, and other successful brands have invested years of experience and resources into developing their brands and keeping them relevant with the times.
‍
9 steps to own your brand development strategy
Whatever your strategy, it will include all or most of these nine steps. Each step is designed to give you the confidence to grow your brand's story and turn it from a business into a belief.
‍
1. Recall your current strategy—is it working?
Introspection works like a charm. On every new day, challenge your beliefs from the previous day. The brand strategy you started with may not be relevant in a few years.
Brand development strategies must evolve with changes in your business and industry. If your competitors are surging ahead, you do not want to stay back, and you can do this by auditing your current strategy. It helps to measure the strengths of your current strategy by checking the achievements you made against the goals you had set for yourself.
If you're working fine, look at unexplored avenues your competitors are adopting.
‍
2. Identify and research your target audience
Your target audience or target group is made up of those individuals to whom your brand caters. You may assume that your target audience can only be defined by gender, age, and geography. But there is so much more to that.
If your brand is already marketing, study the audience that is interacting with it the most. If this group differs from the audience you initially developed content for, there's a whole new target group to address.
When you begin advertising, you must pay the money to reach specific audience sets. If the audience definition isn't correct, you will be paying money to speak to the wrong audience and wasting your limited ad budget.
‍
3. Develop your brand positioning
One of the best selling points for your brand is its positioning. During a brand development exercise, you must make your brand more palatable for customers.
Coca-Cola positions itself as a drink that brings happiness whenever it is consumed. Brand positioning gives your brand a strategic advantage in the minds of customers and on retail shelves.
Brand positioning need not be a tedious exercise. It simply spells out what makes your brand different from the competition and why customers need to pay. For a strong positioning statement, address the single most significant problem or need that concerns your target audience.
‍
4. Come up with a messaging strategy
Messaging strategies ensure that your brand is represented in the same tone—the tone you set for your brand when you first imagined it. This exercise helps you stay consistent with what you stand for and how you wish to be perceived by customers.
Your brand development strategy will depend on this because it sets the communication pillars for your brand.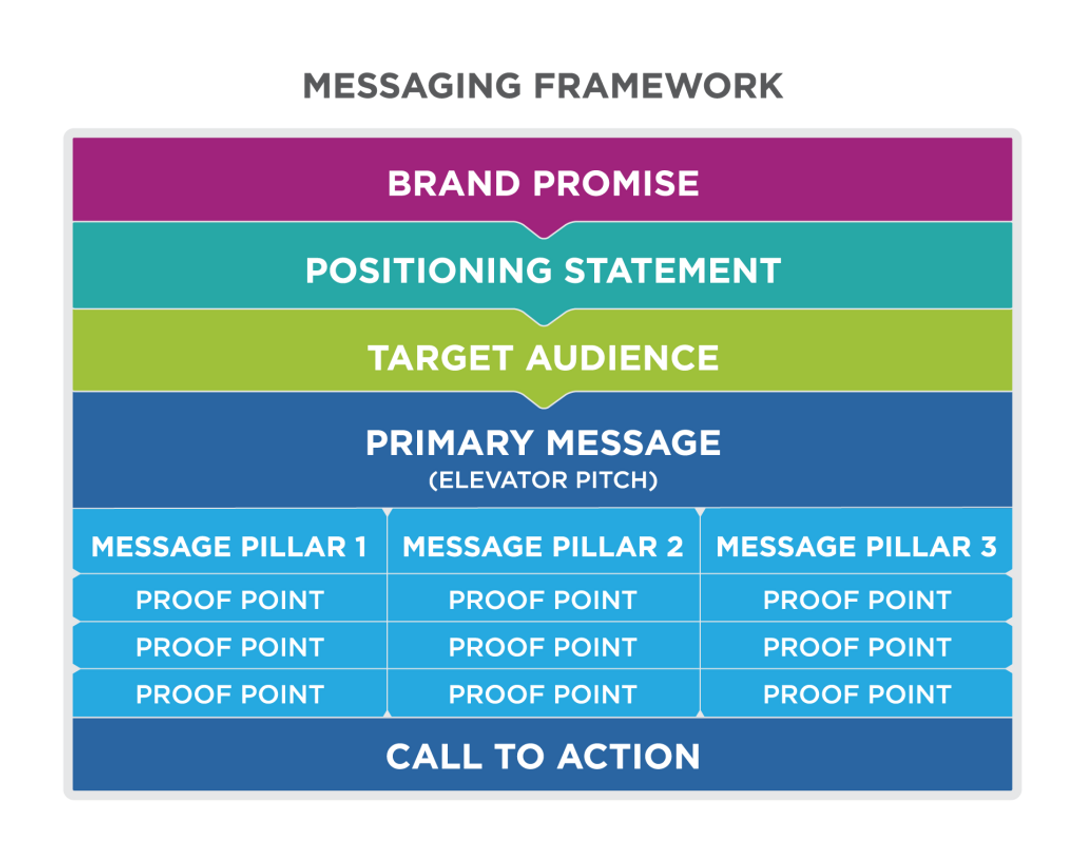 Your communication will vary depending on the platforms you wish to be present on, the type of product you wish to speak about, and the kind of audience you choose to address from time to time.
‍
5. Create your business name, logo, and slogan
If you hadn't done it before we were at point 1, you'd better start naming your brand now. If you find yourself lacking inspiration for the perfect business name, consider using a business name generator for unique ideas.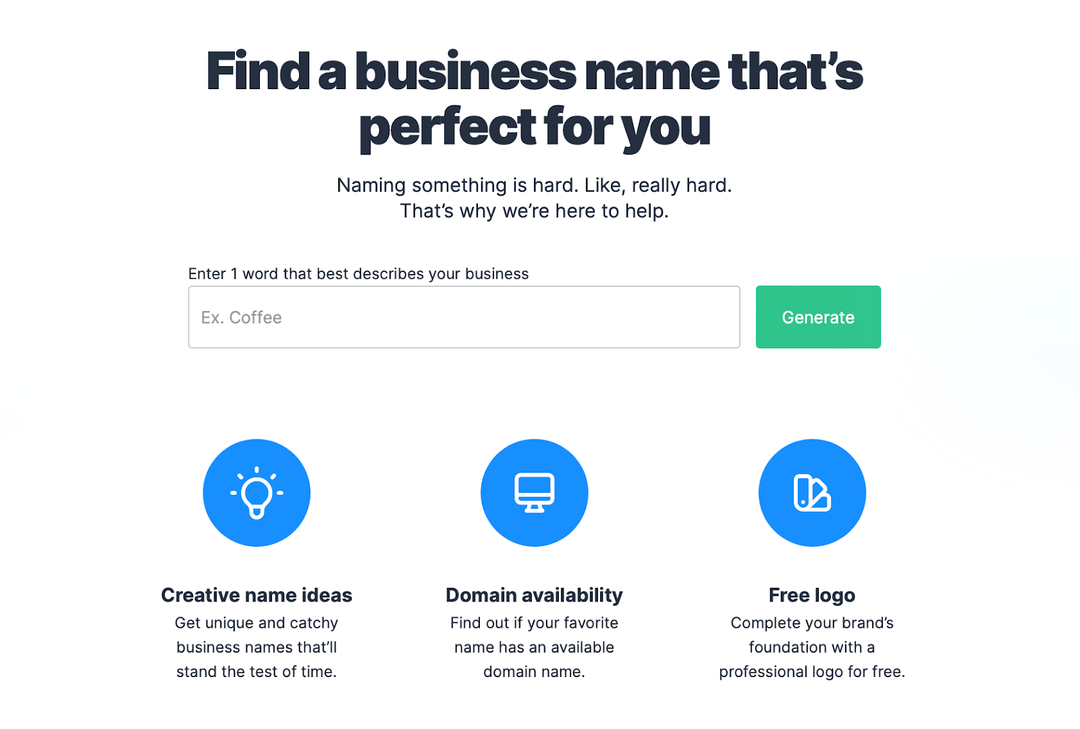 The LOGO.com business name generator displays dynamic business name options while also informing you of available domain names in line with your name of choice. From there, you can head to the next step of your branding journey and create the perfect logo for free.
‍
No one is going to understand your business vision as well as you do. With LOGO.com, you can create a logo in a couple of minutes that truly exemplifies the core of your business values and take it home for free.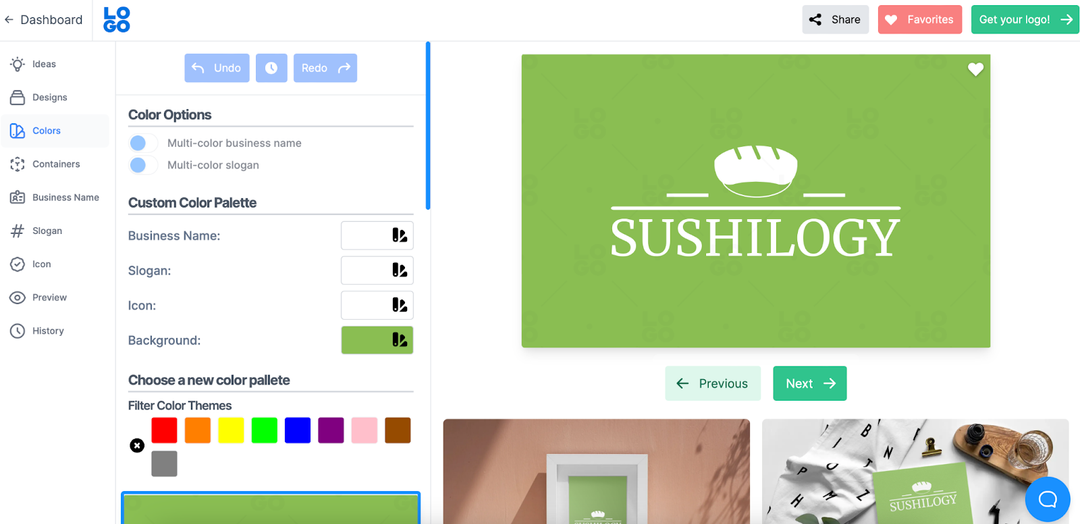 Your logo becomes the visual identifier of your brand. This design is what your business will be recognized by, sometimes more than its name.
On the other hand, writing a slogan can help you articulate the unique selling point of your business or highlight its positioning. The combination of a business name, logo, and slogan is often addressed as soon as entrepreneurs decide to start a small business.
It is okay to postpone this activity till you have understood the market you operate in so that you do not give your brand an identity that already exists.
‍
6. Tap into content marketing
If you light a candle in a dark room, you do not hide it under a basket, do you? Content is the metaphorical candle for your brand. It helps your product shine forth and keeps the flame of engagement burning in the minds of your customers.
Identify the platform, audience, and context for which you will be creating content. Once you do this, you can access several resources to take your brand's content far and wide.
You will soon understand what kind of content your customers love consuming, and you can build on this relationship over time.
‍
7. Build your website
Your business requires an online home where customers can indulge in everything you tell them. Creating a brand website is much easier than it used to be, thanks to several tools available for free.
Developing your website with a professional developer will embark you on a journey of discovery as you learn about the experience your customers could have when they encounter your brand for the first time. You could also do it with ease with the help of a handy website builder.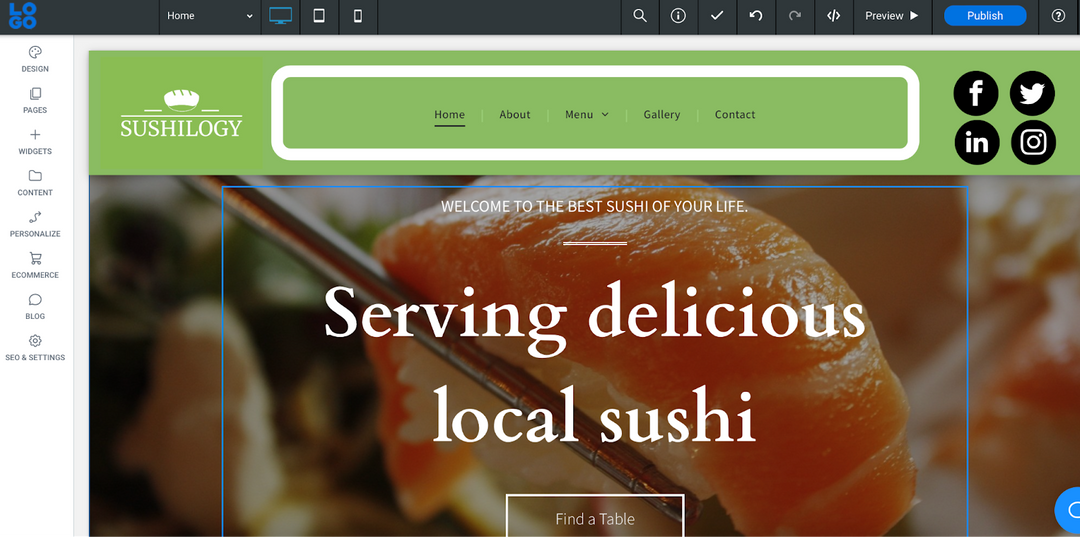 LOGO.com offers a beautiful website builder that will help you set up a distinctive website open for your eager customers day in and day out. Thanks to our partnership with Duda, you can simply choose a website template and customize it to your business needs.
Your website becomes the go-to place for anyone who wants to learn more about your brand. As soon as your website work begins, consider search engine optimization (SEO), so your website shows up on the first page of search engines. Discoverability makes your website more successful.
‍
8. Track and adjust
Set up periodical tracking and reporting for your brand development strategy. This process will help you know how your brand marketing efforts are going. Thanks to convenient brand-support options, you can adjust the content and targeting.
Do not shy away from discarding your entire marketing strategy if it doesn't work. There is no merit in keeping an unfruitful branding effort going if it does not reap the desired results.
‍
9. Rinse and repeat
So, what do you do if something works? Revisit it anyway. Your instinct will help you recognize what works, and you can adjust your strategy accordingly. If something is working well, let it keep going.
Your brand will face instances in its journey where you may feel that what works is causing you to stagnate. Refrain from interfering or stopping anything that delivers what your brand expects.
Look for ways to improve your performing assets without being too disruptive.
‍
Frequently asked questions about brand development
What are some commonly asked questions about brand development? Get your questions answered with these three FAQs.
1. What is brand development about?
Brand development refers to the steps taken to safeguard a brand's reputation, sales, and loyal customer base. Creating value for customers is at the heart of brand development.
2. Why is brand development important?
Brand development is critical because it creates loyal customers. By establishing a rapport with your target demographic, you can win their trust and loyalty, which in turn increases your chances of making a sale. You can gain an edge over competitors who aren't capitalizing on this by building a brand that people care about.
3. Which is the most important step in brand development?
Creating your website is the first and most crucial step. The website is the most important marketing tool you have. This is where everyone in your target market can go to get information about your business, including details like who your customers are and how you help them.
‍
Bottom line
Your brand development strategy will face ebbs and flows along the way. As a brand custodian, you are responsible for its success.
Nowadays, you do not need a personal advisor to tell you the best course of action. Use your insights, instincts, and intelligence to create a strategy that keeps the pulse of your brand alive.
Happy branding to you!
Ready to design your free logo? Get started with our logo maker!