Are you racking your brain trying to decide between Wix Vs WordPress to build your website? Wix and WordPress are both great platforms to work with, but they're also quite different in many ways.

Though WordPress is the most popular website builder in the world, it's not your only option. You may find that Wix has a lot to offer, with features and characteristics you won't find on WordPress. In fact, you could even choose between Wix and Squarespace, and you'll still have a great website.

Before you dive into the differences between Wix Vs WordPress, here's the gist of everything you're about to read.

Choose Wix if you are:

A beginner or starting out with your business
Inexperienced with coding
On a tight budget

Choose WordPress if you are:

Tech-savvy
Comfortable with coding
Looking for more flexibility
Seeking a valuable investment

But this is merely just the tip of the iceberg. There's a lot to unpack between Wix Vs WordPress, so let's start with the seven key differences between two of the best platforms.

Wix Vs WordPress: The Clash Of Website Builders

Before starting, remember: Wix vs WordPress cannot be a full-fledged debate, because there is no wrong answer. Both platforms have useful functions that are helpful for varying business needs and preferences.

But of all their differences, this is the biggest one:

1. Website Builder Vs Content Management System (CMS)

Wix is a website builder, meaning it is easy to use and offers a bunch of different integrations and add-ons. On the other hand, WordPress is a content management system (CMS), which is more flexible yet demands more technical expertise.

What's the difference between a website builder and a CMS?

Basically, a website builder is the simpler alternative to a CMS. The system comes with user-friendly guidelines to help you throughout the website-building process with little to no hassle.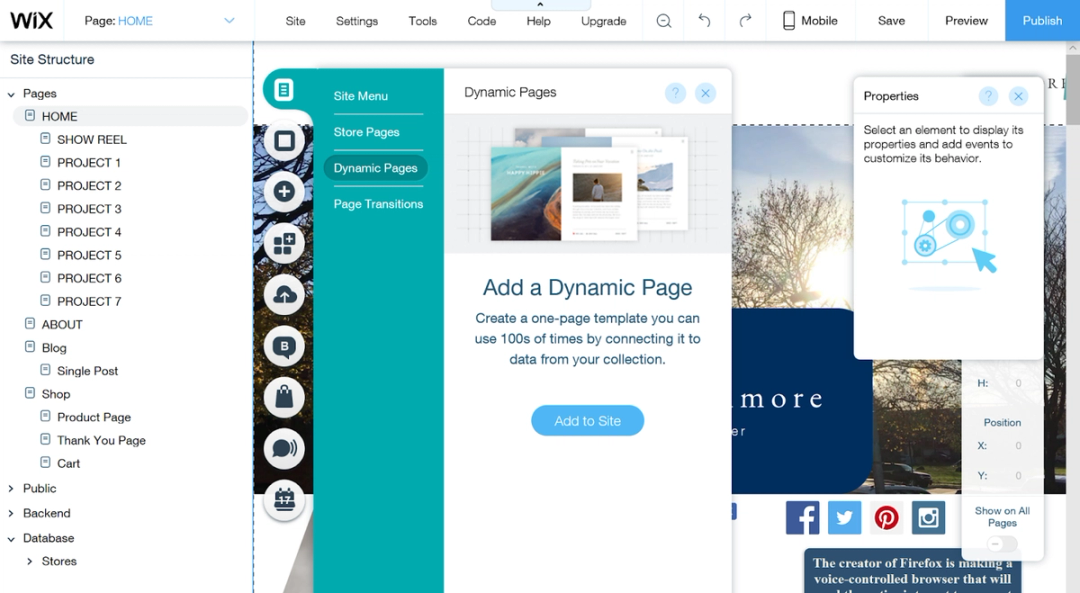 Website builders, like Wix, generally already have DIY elements and drag-and-drop functionality, which simplifies the process for beginners.

A CMS, like WordPress, is an open-source solution that implies extensive integration processes. You need to have good knowledge of HTML and CSS to create a webpage with self-crafted elements and blocks. Though you need a more technical background, you can also make your site stand out from competitors.

Let's say you have just started running a small business and don't know much about technical know-how. Wix would be your best bet for a streamlined process.

But if your business has been up and running for quite some time and you need a more advanced approach to your website, WordPress would be the way to go.

2. Drag-And-Drop Vs Block Editor

People say, "What you see is what you get." With Wix, this couldn't be more true.

Wix comes with an intuitive drag-and-drop interface, where you can literally select items anywhere on your page and rearrange them at the drop of a hat. You can write content and include media elements on your site in the most user-friendly environment.

Also, if you dread dealing with code, Wix is a blessing that saves you from all that trouble.

That isn't to say WordPress can't do the same thing, though.
WordPress also has intuitive drag and drop plugins (yes, plugins) that provide you with tools to make a professional website without any coding. Of course, you do have to invest in these additions as opposed to Wix, which just has them by nature.

WordPress does come with a powerful block editor that lets you edit your pages with a live, real-time preview. With these blocks, you can include a bunch of elements like text, buttons, headings, images, and so much more.

Choosing between Wix Vs WordPress in terms of their editors is a matter of preference and investment. If you want the easygoing option, choose Wix. If you want something easygoing AND have money to burn, choose WordPress.

3. Open Source Vs Closed Source

WordPress is an open-sourced software, while Wix is a closed-source platform.

What is the difference between the two?

Open-source software means the general public can access and use the tool. The source code is open to anyone, so it can be modified by other users and members of your business. With open-sourced software, you are responsible for the tool.

Closed-source software means the public does not get access to the code. The only person who can make changes to the code is the organization that created the software, which, in this case, would be Wix. With closed-source software, the vendor is responsible for the tool.

Check out this fun and informative tutorial about the differences between open-sourced software and closed-sourced software:
This brings the question: how much freedom and flexibility are you looking for? Being fully in control has its perks, but so do boundaries that keep you in check.

4. Professional Designs Vs Limitless Customization

Wix has over 800 professional templates to choose from, and they're all highly intuitive for your website visitors to navigate and understand.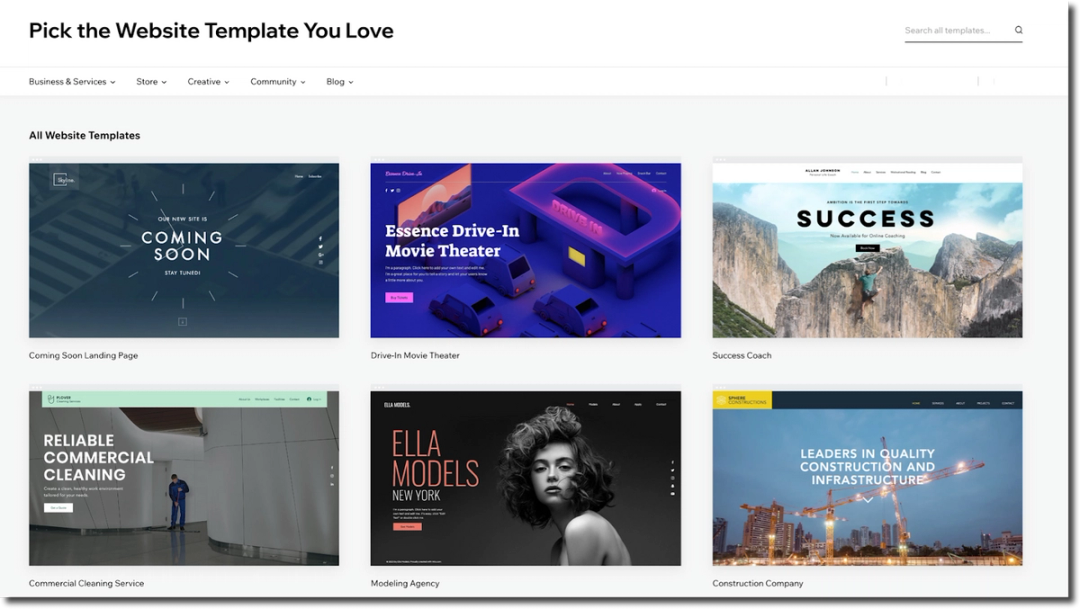 Again, it's that 'What you see is what you get' nature of Wix that gives it its beautiful simplicity. But it's not all rainbows and butterflies.

This is an important note: once you choose a template on Wix for your website, you can not change to another template should you decide to redesign. This makes it restrictive for people who require a little more flexibility. Businesses grow and move forward, and once in a while, they may want to rebrand. Wix makes this act challenging.

Here comes WordPress.

WordPress gives you almost limitless opportunities for how you want your website to look. From the aesthetic to advanced customization, you can virtually create the website of your dreams with a little work and coding knowledge. There's no limit to how much you can customize your WordPress website.

WordPress has about 200 themes, which is a big drop from Wix's 800. However, you can avail of WordPress-approved third-party themes that give you over 5000 templates to choose from.

Let's just say it like it is: WordPress absolutely trumps Wix in the capabilities of limitless customization.

5. Small But Powerful Store Vs Conveniently Growing Store

Wix has online store solutions that could knock your socks off. With Wix eCommerce, you get plenty of payment options, automatic taxes, shipping, and a bunch of new features being added all the time.

Here's a peek into Wix eCommerce and what it can do for you:
The nitty-gritty aspects of having an eCommerce store are essentially taken care of with Wix's reliable capabilities, but there's a catch.

Wix eCommerce is meant for small to medium-sized stores. Wix site's navigation is restricted to one sub-level, so this makes it harder to include larger catalogs. And you can forget about multicurrency features—you can not sell in other currencies.

That said, the website builder has powerful visual strengths and allows you to create a professional website.

With a WordPress eCommerce store, you face none of these problems, provided you use a third-party integration. The WooCommerce plugin can give you a great idea of everything you can do with your online store, and the answer is a lot.

Watch this video to witness what WooCommerce can do for your online store:
With a bit of custom code, you can pretty much take care of all your needs, no matter how big or menial.

So it really depends. Are you a small business looking to open up a small store with powerful potential for growth? Choose Wix. Are you a little more ambitious with your store and want more flexibility with your preferences? Choose WordPress.

6. Easy Blogging Vs Powerful Blogging

Blogging with Wix works in many ways. You can enable tags, categories, post-scheduling, and other features that make your blogging woes a little bit easier. Its reputation as an intuitive website builder shines again, with a clean and simple interface that lets your blog look fresh and inviting every time.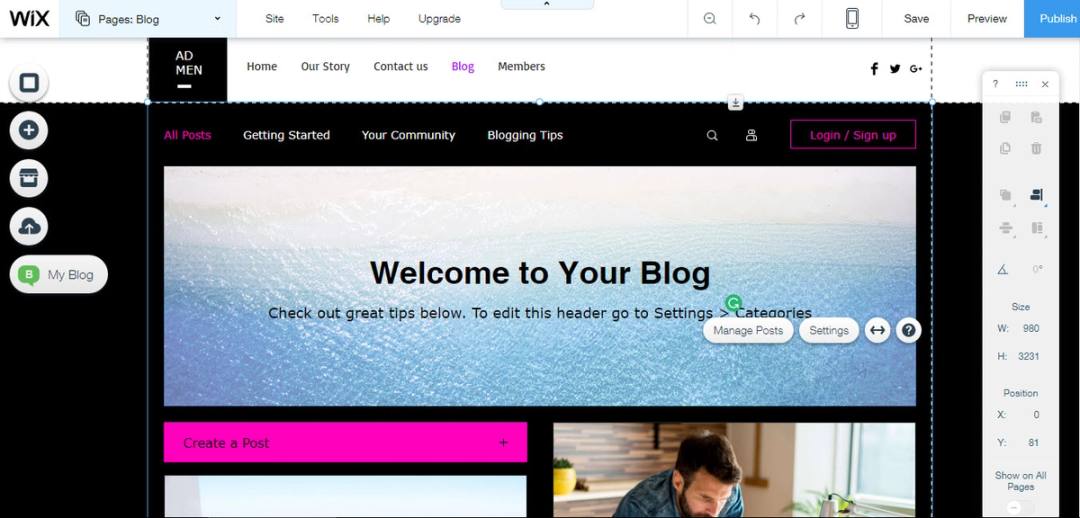 Go ahead and add text, galleries, maps, videos, dividers, and different image files like pictures and GIFs to your blog and make it more engaging. Wix's blog is about ten times easier to use than WordPress's.

But WordPress is renowned for its powerful blogging options. In fact, bloggers from all around the world create an estimate of six new blogs on WordPress every second. Every second.

Here's the thing: Wix's blog is much easier to navigate, but WordPress's blog has a treasure of features that go a long way in giving you the ideal layout you need. Here's an example of how a WordPress blog can look like: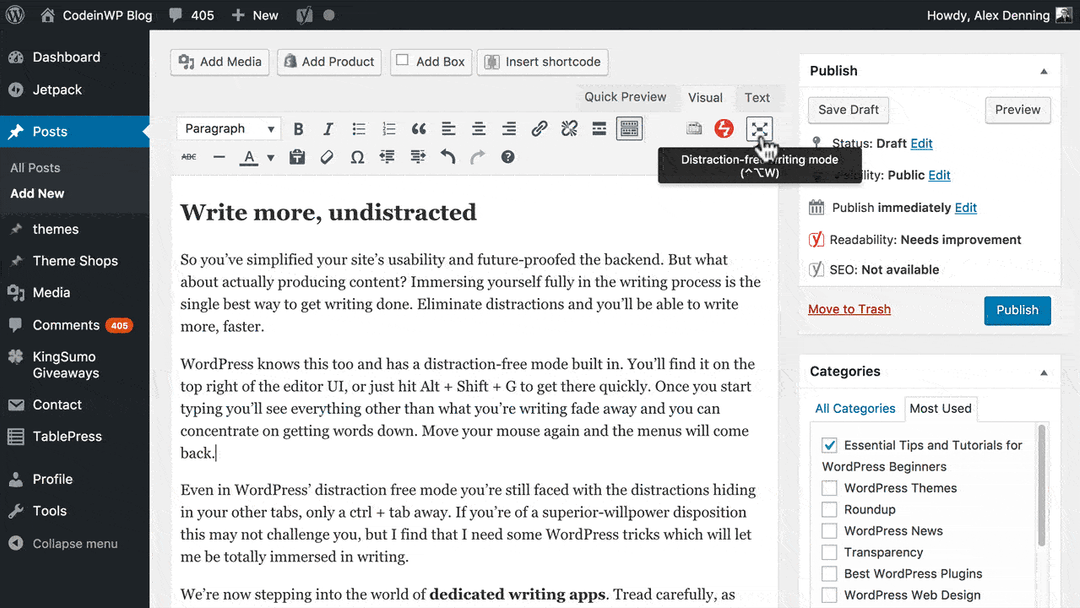 WordPress's block-based visual editor gives you more control over the layout and content of your blog. You're basically drowning in a sea of options! You can add tables, galleries, columns, and much more. It truly is a one-of-a-kind solution.

7. Budgetary Option Vs Multiple Investments

Let's begin with a bang: Wix has a free plan. You will be limited in terms of how much you can do with it, but it's a great starting point to see what it could potentially offer you.

If you decide to go forth, there are a couple of paid plans for both Wix's website builder and eCommerce store:

Website plans:

Combo - $14 a month
Unlimited - $18 a month
Pro - $23 a month
VIP - $39 a month

eCommerce plans:

Business Basic - $23 a month
Business Unlimited - $27 a month
Business VIP - $49 a month

Wix will also provide you with a free domain name for one year when you avail of the annual premium plan, which is valued at $10 to $12, as well as $300 worth of advertisement vouchers. Overall, you make a reasonable investment, and it surely gives you your money's worth.

With WordPress, it's a little different.

WordPress is an open-source software, so it's also free to download and use right away. However, a CMS alone doesn't take you very far, nor can it help you put up a proper website. You need a hosting provider, a custom domain name, themes, and plugins to create a good website on WordPress.

Hosting provider (BlueHost is highly recommended) - starts at 2.95$ a month
Custom domain name - starts at $10 a year
Ready-made themes - one-time payment of $25 to $299
Additional plugins - $0 to $70 per plugin

Though WordPress is technically free, you do have to shell out up to $200 worth of fees and make monthly payments between $10 and $40.

Wix definitely offers a better value for your money. But then again, you have to weigh the advantages you seek and assess whether investments are needed to create the website you're looking for, even if it means paying for WordPress's steep prices.

Remember, it takes only 0.05 seconds for people to form an opinion about your website, and it contributes massively to whether they stay or leave. Pricing may be tough, but you want a proper, effective, and functioning website above all.

Wix Vs WordPress: Final Thoughts

The perfect website for you depends on the features you need. Wix and WordPress have their differences, but both platforms have significantly impacted many businesses for the better. It's all a matter of what

If you are a one-person or small team looking for a strong start, Wix proves to be useful and convenient in a ton of ways. But if you're up for a challenge, consider WordPress. Some coding knowledge is needed, but you'll have all the power and flexibility you need to create the website of your dreams.

Ready to design your logo? Get started with our logo maker!