‍
The $2,245 Peloton bike isn't that fancy if you consider indoor cycling. It's a simple black and red frame with a big screen, and it operates on Wi-Fi.
But, add the incredible infomercials and streaming classes taught by the fittest instructors, and you have a fitness brand adored by the likes of Richard Branson, Jimmy Fallon, and the Obamas.
The difference really is in the branding. Consumer fitness at home isn't a novel industry. In fact, it dates back to the ab roller in the 1990s. Peloton's claim to fame is that it is focused on
bringing "serious fitness" into people's homes in a "fresh and relevant" way with its growing library of classes.
And they've delivered on their promise. The convenience of taking a top-notch studio cycling class on a high-tech bike at home any time you want, combined with incredible instructors and a supportive (also, competitive) community, has created a devoted following of people willing to pay over $2000 for a bike that doesn't include the $250 delivery fee and the $30 monthly membership to stream the live classes.
Here's Hugh Jackman sharing his progress with the Peloton community (and the world).
‍
It all began in 2012 when…
Former Barnes & Noble e-commerce executive John Foley observed that instructor-led workouts were a lot more rewarding than self-led trips to the gym. He brought exercise classes to people's homes, and the rest is history.
A year later, in 2013, after the initial investment, Peloton built its first prototype bike. It's far from what you see today, but getting it out there helped them secure some extra cash to build the brand and business further.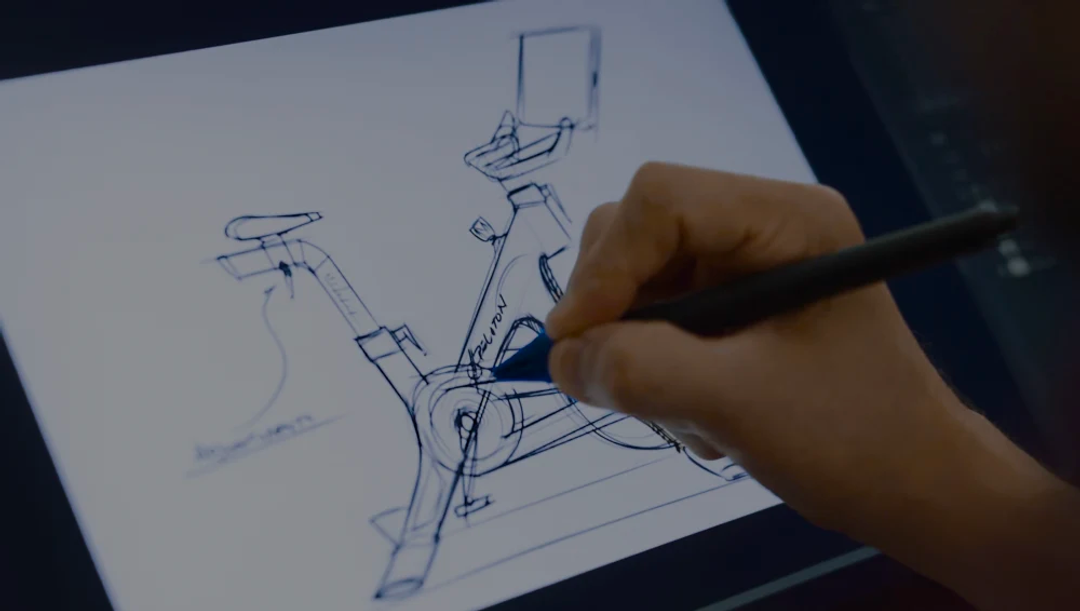 In 2014, the bike's design was modified and ready for customer use. Sales were slow and steady at this point, owing to the long production and shipping cycle.
By 2016, four years into building the business, Peloton started offering unlimited live and on-demand classes for a monthly subscription.
‍
The Peloton logo
Peloton is a young and progressive brand. Its logo meets one of the fundamental qualities of a logo—it's minimalistic.
The Peloton logo is composed of a clean font and an icon on the right. The icon resembles the letter "P" in monochrome and slanted disposition. It's this "P" icon that's placed on the circular bicycle "pedal."
If you look at the logo and the website, you'll notice the monochrome color palette that exudes power and style. While those are the core brand colors (and emotions), the brand does play with a bit of fuchsia pink, dark gray, or coral-red "P" (icon) accompanied by gray text to add a sense of energy, playfulness, and passion reflecting its company values.
‍
In terms of font, the Peloton inscription is a bold and clean typeface with precise cuts, straight lines, and fully-shaped letters. The simple combination of the fonts and color palette makes the logo design look elegant, timeless, and adds a sense of power to it (an emotion strongly associated with fitness).
‍
The secret sauce to fame
It's the perfect mix of the pandemic and celebrities.
The 2020 COVID-19 pandemic shut all the gyms and trapped people in their houses. Not only was there an audience looking for ways to get fit, but they were also looking for entertainment and a sense of belonging.
Peloton checked all these boxes. The bike with a monthly membership gave you access to this exclusive community of people who were thriving and motivated to do better. It gave a lot of people purpose, something to look forward to in their otherwise bland day.
Next, come the celebrities. Imagine working out like a celebrity!
Peloton put everyone under the same roof without anyone actually leaving their house. It had names such as Jay-Z, Meghan Trainor, Miley Cyrus, Lizzo, Alicia Keys—all doing the same workouts as anybody.
Vicki Reed, former head of marketing at Peloton, says,
The company's classes are a form of 'exertainment,' an engaging style of exercise and entertainment.
‍
What does this mean for you?
Maybe you're dreaming of building a brand bigger than Peloton, or perhaps you're a simple mom-and-pop store that wants to stand out from the competition. Irrespective of where you are in your journey, strong branding is the bridge you must cross to build that successful business.
And branding is all about emotion. People rarely talk about the quality of the Peloton bike. What they're genuinely interested in is the community and the feeling they experience after completing a challenging workout together with other people.
Maya Angelou said,
"I've learned that people will forget what you said, people will forget what you did, but people will never forget how you made them feel."
If you can make your customer feel a positive emotion, you'll have a brand that draws people in. Start by answering questions like:
What problem does your customer have?
How is this problem affecting their life? How is it making them feel?
How is your product or service addressing that feeling?
How will your customer's life look different after using your product/service?
Start operating from the point of "how will they feel?" For example, will a customer feel safe giving you their money when you don't have a professional logo, a functioning website, and a decent social media presence?
What might seem silly in the beginning may strongly impact how you're perceived.
Tapping into people's feelings is essential. Peloton did a great job at it, and so can you.
Ready to design your free logo? Get started with our logo maker!