‍
Are you interested in learning how to start a lipgloss business successfully? If so, you came to the right place.
Beauty products, especially lipsticks and lipglosses, are well-loved worldwide because they enhance a look and promote confidence. It's an enjoyment of the self that perseveres regardless of borders and differences. Everyone feels beautiful with a stunning lip on them.
As a matter of fact, lip products play such a significant role in the beauty industry that they were hardly affected by the economic downturn of the global pandemic. The best part? You don't have to break the bank to put up a lipgloss business, and the rewards are incredibly promising.

3 benefits of starting a lip gloss small business
Let's dive into the three most prominent benefits of knowing how to start a lipgloss small business:

1. Low startup costs
One thing that usually makes or breaks the rise of a business is startup costs. Fortunately, getting into how to create lip gloss isn't that pricey. The primary investments come from packaging, branding, and marketing. The ingredients for the products themselves are reasonably priced—yay!
You may have to splurge if you're looking to incorporate higher-quality ingredients, but even then, the cost-to-profit ratio remains pretty reasonable.

2. No learning curve
You know that knowing how to make your own lipgloss products doesn't hurt your wallet, and guess what else? They're also not that difficult to make. Making your own lipgloss products is a relatively simple skill to learn. You don't need to take any special classes to be a lipgloss expert. You'll likely even get the hang of the process by the first or second attempt.

3. Growing industry
So not only is having a lipgloss business cost-efficient and intuitive, but it is also a venture towards a strong and growing industry. Many entrepreneurs struggle with putting up businesses in a lacking market for them. In the lipgloss industry, that's not a problem.
According to Grand View Research, the lip care industry is expected to reach $1.18 billion by 2025. In 2020, this number was $820 million. Quite a jump, isn't it? Climb the ladder while you're smack in the middle of a flourishing industry. It's the best time to get started.

How To Start A Lipgloss Business: 5 Steps
The iconic Lil Mama once said, "My lip gloss is cool. My lip gloss be poppin'." and now, it's time for you to be making cool and poppin' lipgloss! Get started on these five essential steps on how to start a lipgloss business.

Step 1: Understand the industry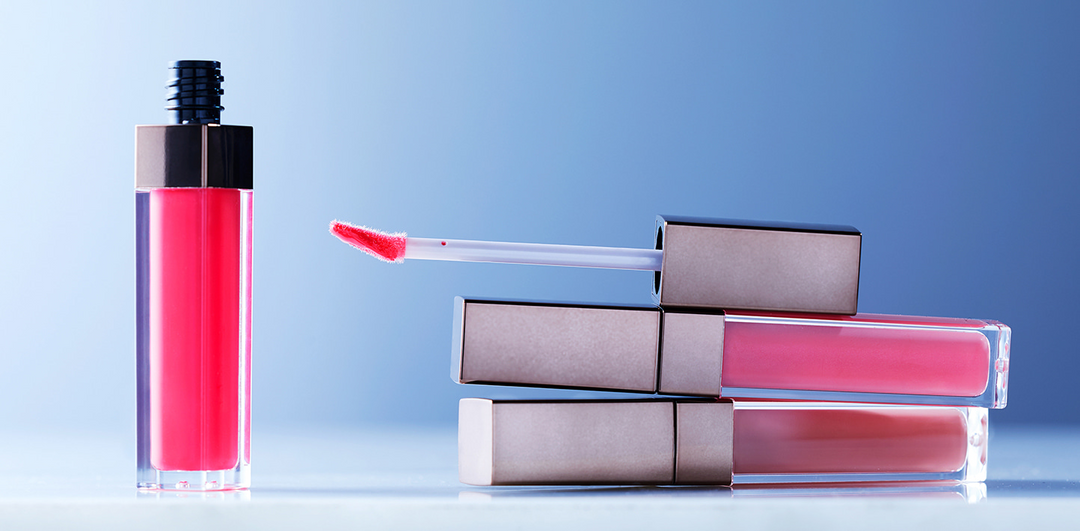 The lipgloss line of business can be supported in all parts of the world by men and women. Lipgloss has no cultural barrier. In fact, it's also the recommended starting point for pre-teenagers that want to touch base with makeup for the first time. Regardless of age and gender, lipgloss is an option for anyone going for a light look.
Having a broad market scope to work with, you have endless opportunities for your branding and marketing. This allows you to determine your niche—what makes your lipgloss products unique? Who are they meant for? Build your brand identity around that premise and cater to your target audience.
A lip gloss small business is a lucrative industry, and it's open to any aspiring entrepreneur to bust in and establish their business. You have to freedom to start small by selling your products locally, or you can choose to begin on a large scale with your lipgloss products spread across the country and other parts of the world.
With lipgloss, the world is your oyster.
‍

Step 2: Determine your packaging style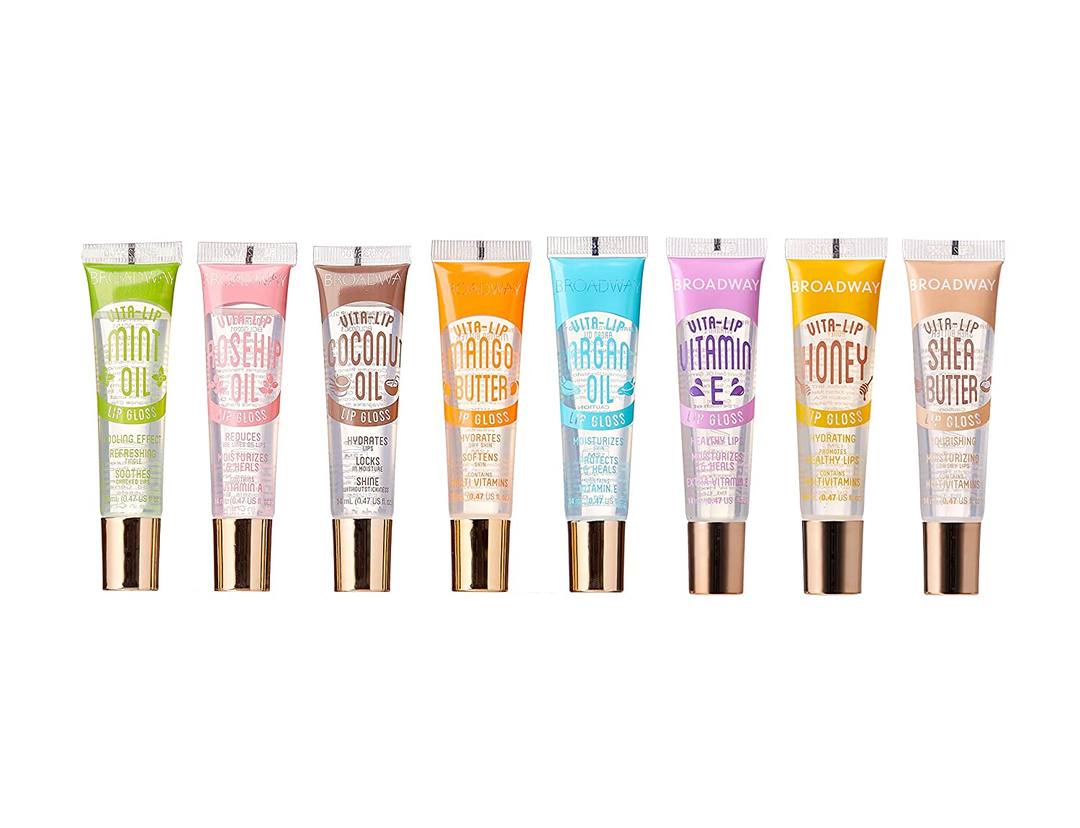 Truth be told, your lipgloss packaging can make or break your business. It sounds like a stretch, but don't underestimate the impact of appearance in the beauty industry. Of course, you want your excellent products to speak for you, but people tend to gravitate to items that catch their attention.
The narrative goes a little something like this: This beauty product looks gorgeous on the outside. It's likely just as beautiful on the inside, which means it could look great on me!
Putting effort into how your lipgloss products look shows that you care enough about your business to make it as beautiful and eye-catching as it can be. Potential customers pick up on that more than you know. The lipgloss-making process is highly intuitive, so invest your time and energy in making them look as stunning as you want people to feel when they use your products.
There are a couple of things to consider, namely:
A style that reflects your brand identity and personality
The type of illustrations (or lack thereof) you want in your packaging
The brand colors that signify your lipgloss business
A font that remains visible even in small packaging
But the most critical aspect of your packaging is that it needs to exemplify your business flawlessly. It should be so compelling that people can instantly remember you and your brand. It might take some time to get there, but the result is gratifying.
‍

Step 3: Get the necessary supplies and equipment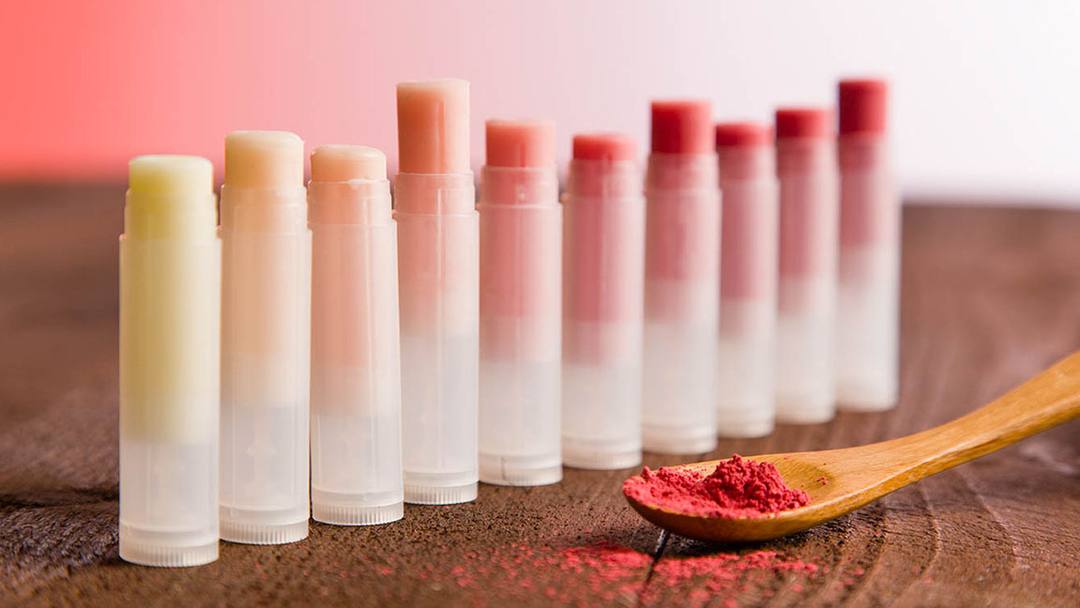 If you want to know how to start a lipgloss business, you have to understand what you tangibly need to make it happen. Let's get right into how to make your own lipgloss. In terms of the lip gloss machine and equipment, you want to invest in:
Blending or mixing machines
Molding equipment
Packaging containers
Branding labels
Sealing machines
These are some of the essential tools most lipgloss businesses have under their belt. If you want to add your own spin to the designs and packaging, add that to the list, but ensure that you cover the necessities first.
Now, what about supplies? These are the most important ingredients to make lip gloss for business purposes:
Coconut oil - for moisturizing properties
Olive oil or grapeseed oil - for skin barrier protection
Vitamin E essence - for dry lips and skin regeneration
Beeswax - for sun and UV rays protection
Cocoa butter or shea butter - for smooth hydration
Mica pigments (purified, and not synthetic) - for that color sheen
These ingredients should be the core of every recipe when it comes how to create lip gloss. The rest is up to you. Should you decide to add scents, coloring, or any other element to your products, make sure to get every item from a reliable lip gloss manufacturer. Your customers are applying these products on their lips, and you want to keep their safety as your top priority.
‍
Step 4: Work out your pricing structure
There are many things to consider when you price products that belong in the beauty industry. First, some startups lowball their lip gloss prices at the start of their entrepreneurial journey to attract customers to the business. Though it is practical in most situations, you should consider avoiding this for beauty products.
When the lipgloss price is too low, users may not feel completely safe using them, assuming that the ingredients of the product are low quality. Of course, this isn't always the case, but it is a norm in the world of makeup.
Then again, there is an umbrella term known as "drugstore makeup," which pertains to effective products at a reasonable price. Examples of brands that have been dubbed as drugstore makeup are Maybelline, Covergirl, and L'Oréal Paris. They sell their cosmetics, including lip products, at a fairly reasonable price ($6 to $28). And they do work.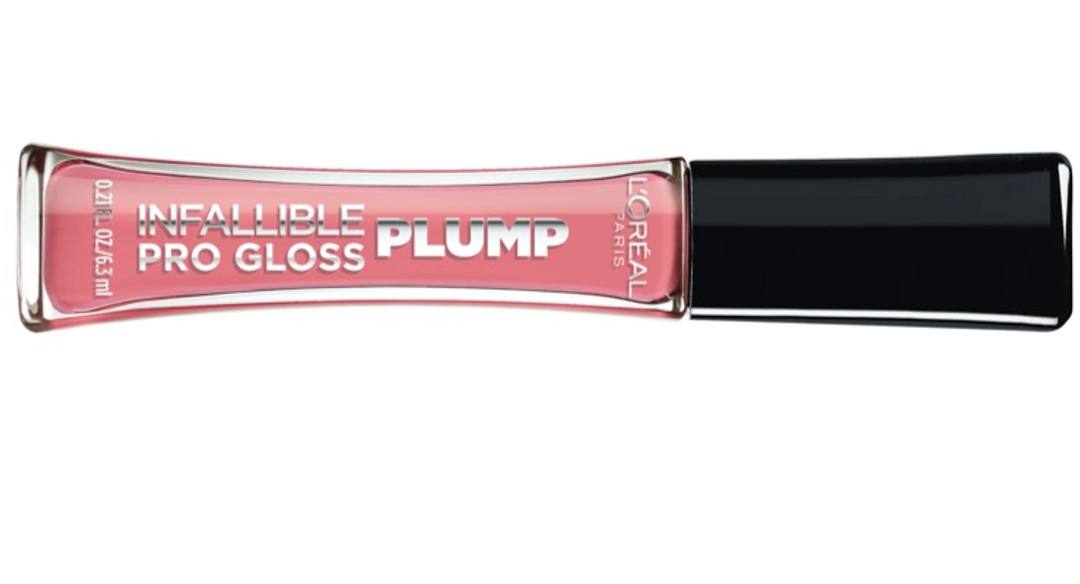 If you want to go with this route, ensure that your products have high-quality and safe ingredients. Who knows? You may just be the new top brand in the drugstore makeup world.
On the other hand, we have brands like Mac and Nars. They price their products a little on the higher side, still reasonable but not as affordable as the examples above. You'll find lip gloss prices from $26 to $90. They are considered luxury brands, and they also work as well, if not better.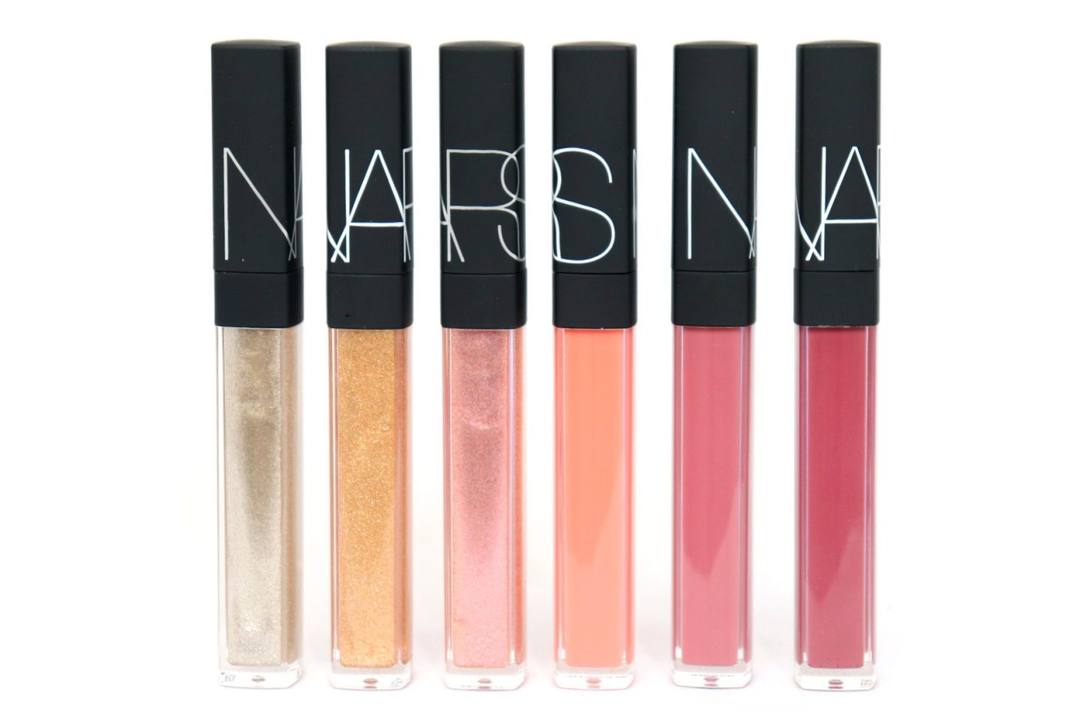 Your pricing approach depends on you. If you want your lipgloss products to be more accessible to the public, go ahead and set low prices. Just be sure not to price them too low for users to question their credibility. If you want to go with the luxury brand route, ensure that you back up those prices with unique and long-lasting products.
‍

Step 5: Market your products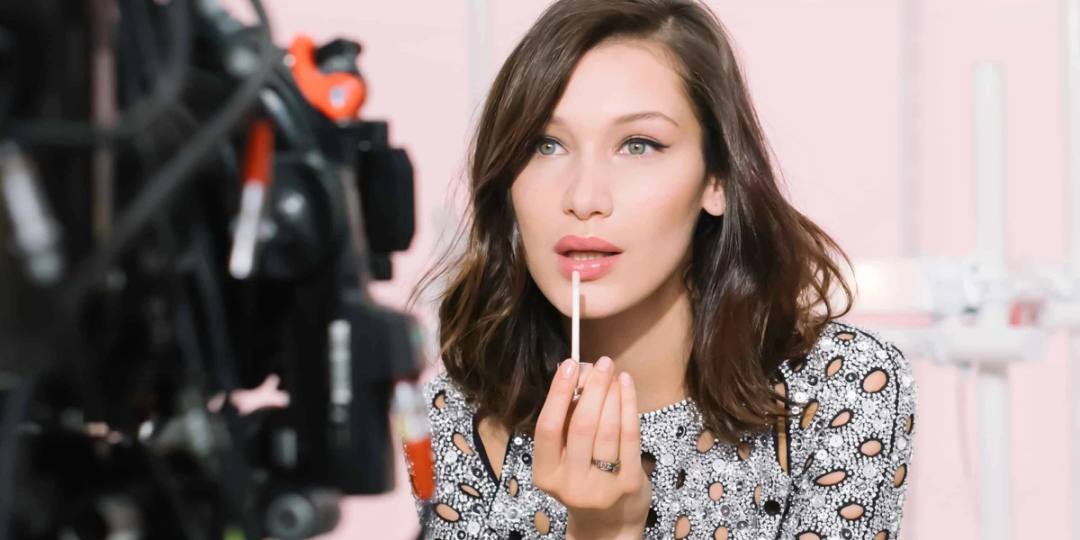 Running a full-fledged business means being proactive when it comes to the brand marketing of your products. You put in the time and effort into making your lipgloss products look and feel phenomenal—they deserve to be out and proud for the people to see.
Though the lipgloss market is vast and promising, you also have quite a bit of competition doing the same things you are. Having marketing strategies for your small business can provide you with significant growth at the start, which accumulates to long-term success if you're consistent enough with it.
Here are some marketing strategies to consider for your lipgloss business:
Advertise on blogs, forums, social media channels
Create a strong website for a just as strong online presence
Engage with targeted communities when you can to sell your products
Provide discounts for new customers or when they refer a friend
Join in on events, tradeshows, and fairs, and let people test out some samples
Encourage word-of-mouth marketing; prioritize referrals
You'll be a lipgloss boss in no time!
You are already creating gorgeous lipgloss products. Now, it's time to make a just as magnificent lipgloss business logo to attract people to your brand.
‍
How to make your lipgloss business stand out
A lipgloss business logo is fundamental to your brand, but there are other steps you can take to build a favorable reputation in the beauty industry. Awareness is a significant factor.‍
Statistics show that the global beauty industry made $500 billion in sales in 2019 before taking a dip in 2020 due to the pandemic. The provision to wear masks has led to a downturn in lip product sales. However, sales appear to be slowly picking up from $483 billion in 2020 to $511 billion in 2021.
The growing 2021 trend with lip products, especially lipsticks and lipglosses, is satin or sheen textures. Full-coverage and dense shades are also classic options that are continually popular among women.
Branding is essential in standing out, but here are other valuable tips to consider:
Learn about and research your most prominent competitors.
Research lipgloss trends and popular shades and textures.
Offer products that are organic and safe to use.
Provide products that are environment-friendly and not tested on animals.
Be as descriptive as possible when describing each product.
Branch from lip glosses and offer various lip products (lipsticks, lip scrubs, etc.).
Offer competitive prices and shipping costs.
Use appealing and convenient packaging for your products.
Come up with fun and quirky names for each lipgloss.
Feature reviews and feedback from happy customers on your website.
Use social media branding to promote your beautiful products.
A lipgloss business can be a great idea as this market caters to a wide demographic, especially among women in their pre-teen to teen years. Most younger women are more inclined to use lip gloss than adult women, most of whom gravitate to fuller coverage products.
Don't forget that understanding your target market allows you to optimize and customize your products accordingly. And ultimately, it is the crucial factor that leads to a successful business. Don't hesitate to engage with your audience—ask for their opinions and feedback, create polls, and learn about their preferences. It does more than you think!
These are some steps that can intrigue people to learn about your lipgloss business, but a good branding strategy boosts the quality of your online entity as a whole. A logo is the face of your business, and if it's unique and appealing enough, it can compel your audience to check out your products.
‍
How to design a lip gloss business logo in 6 easy steps
Are you looking for a lipgloss business logo? Well, you've hit the jackpot. Read on to learn the importance of a logo and how to make one for your lipgloss business!
A logo can help build the visual identity of your lipgloss business and aids in making it stand out from the competition. Remember, the beauty industry can be highly competitive, so having your business present itself in a positive light can do wonders for your brand.
Branding gives your lipgloss business a strong foundation, but effective branding does that and so much more.
Proper branding allows you to interact and bond with potential customers, encouraging them to learn more about you. Though a lipgloss business logo can elevate your brand's appearance, it has more significance than that— it provides you with credibility and a strong foundation.
Building your lipgloss business can help develop trust between you and your audience, which is essential as customers would be relying on you for their beauty and makeup needs.
Once you start to build a solid connection with your target market through effective branding, your job gets much more straightforward.
A strong logo is a big step in the right direction, and with our logo maker to assist you, your visual branding needs are set and good to go.
But before we get to that, it's also important to consider other ways you can make your lipgloss business stand out from the crowd.
Here are six easy steps to get your free lipgloss business logo and ways to market your brand with your new visual.
‍
Step 1: Use a lipgloss business name generator for inspiration
Lip gloss business names are more for the customers than it is for you. Decide on a name that oozes fun and beauty, so much so that it would incline viewers to learn more about your brand.
Consider using a lip gloss name generator to provide you with a great and memorable lip gloss business names along with a beautiful logo to go with it. There's nothing wrong with a bit of inspiration to guide you through this process. You'll know the right one when you see it.
All you have to do is input 1 to 3 relevant keywords that describe your business and optimize your preferences.
For example: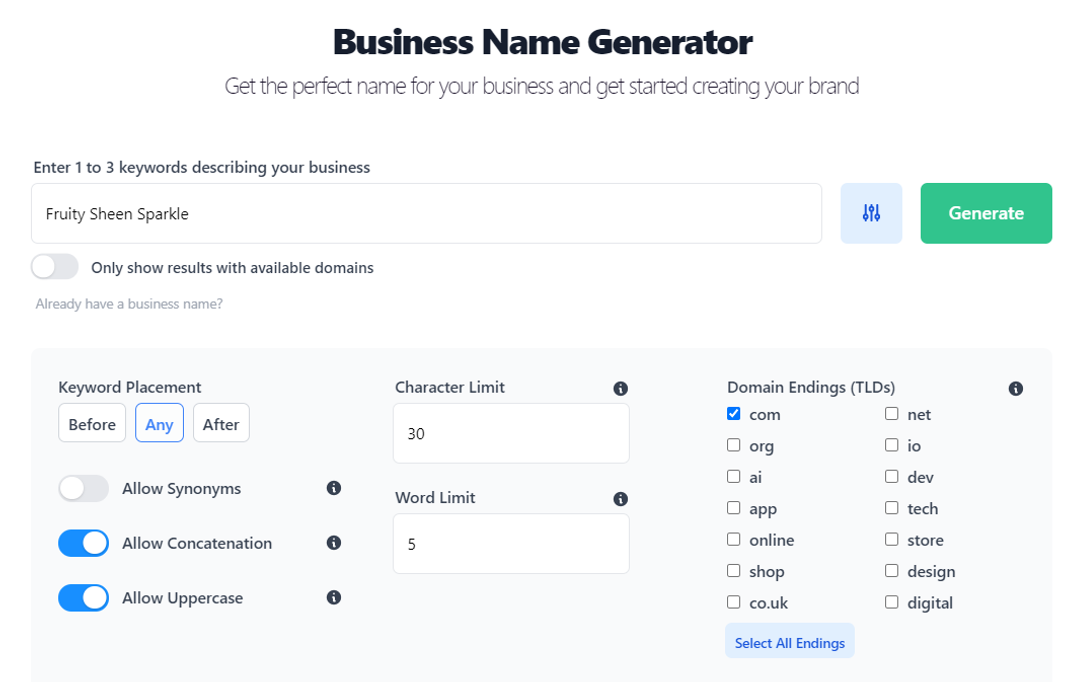 The tool will generate a ton of lip gloss business names along with potential logo designs for you to choose from.
Looking for some good lip gloss business name ideas? Here are some of the most unique lip gloss business names:
Glam Glow Gloss
Diva Deck
Glowise
UpGlow
Sparkle Up
Sheen Vibe
Blushish
Hues Drop
Luscious Lips
Glossy Galore
Pout Perfection
Sparkling Smiles
Glamour Gloss
Lip Lab
Luxe Lips
Glossy Goddess
Lip Love Co.
Kissable Cosmetics
Gloss Boss
Perfect Pout Cosmetics
Plump Lips Co.
Lippie Lane
‍What do good lip gloss business name ideas have in common? They should inspire beauty and elegance, and they need to correctly express precisely what you specialize in for your lip gloss business.
Step 2: Find a name that speaks to you and your brand

Browse through the selection of names and choose the one you like the best. Don't worry about the logo design for now—soon enough, you'll find hundreds of different designs to choose from.
Here are a couple of tips when you're choosing a great name for your lipgloss business. It should:
Be different and unique
Be relevant to the products and shades you are offering
Roll of the tongue well
Be simple and memorable
Comprise of who you are as a business
Once you have chosen your preferred name, click 'Ideas' on the upper left of the page to look through hundreds of logo designs.

‍
Step 3: Find a great logo and customize it
Every logo you see is fully customizable according to your preferences. All you have to do is look for the design that is closest to your ideal logo. Once you've found it, click it to start customizing it. From here, you can modify the logo's font, colors, icons, spacing— pretty much everything! Keep going until it reaches perfection.

To help you get an effective logo, consider these tips:
Decide on one or two brand colors at most to maintain simplicity
Opt for a neutral backdrop, so the elements aren't too overbearing
Choose the brand colors that best represent your lipgloss business
Consider sticking to one or two fonts at most
Avoid overcrowding the logo with too many elements and icons
Prioritize simplicity and substance
Consider sans serif fonts for their readability
Make sure that it looks memorable and distinctive
Choose the icon that best represents your products
Customization is fundamental because it ensures that your logo creation is 100% yours. You are in complete control here. You understand your vision the most, and with the help of a professional logo maker, you get to make that vision come alive and make it a reality.
Not to mention, customizing a lipgloss business logo also helps make your brand stand out from the crowd. Customization lets you add your own spin to the design. Nothing stands out as innovation does.
Keep in mind the benefits of logo customization:
You stand out from competitors
You let your creativity take control
You achieve your ideal logo design
You have an edge with distinction and memorability
You can make brand-specific elements come alive
You go home with a design that is ultimately yours
‍
Step 4: Finalize and preview your new logo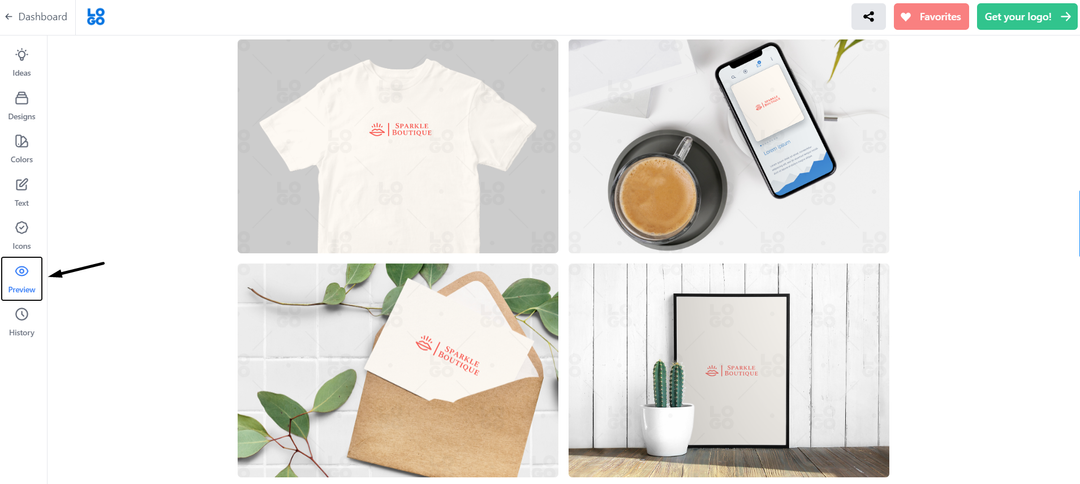 Once you're happy with your creation, click 'Preview' to see how your new logo will look on various products and merchandise. You will also find information about the logo's font, color palette, business cards— which you can keep in your branding records as a resource.
Can you believe it? That's all it took to get a lip gloss business logo—four simple steps, and you're almost finished.

Step 5: Take your free lipgloss business logo home
Once you have finalized your logo, click the 'Get Your Logo' button. From here, you can take your new lipgloss business logo home free of charge!
You can start using your lipgloss business logo right away with these benefits:
Full ownership of your logo - Once you purchase your logo, it completely belongs to you and no one else, even if you decide to delete your account.
Instant access to your logo - Your logo is safe in your account. It is secure for you to come back to it whenever you need it.
100% satisfaction guarantee - Your happiness is everything to us. If you're unhappy with your logo, we will issue you a full refund.
Launch your lipgloss business in almost no time at all. It's practical to get an early start, so go for it! But take note that your logo is just the start. You still need branding materials featuring your new logo to build your online presence.
This is where the Brand Plan comes in.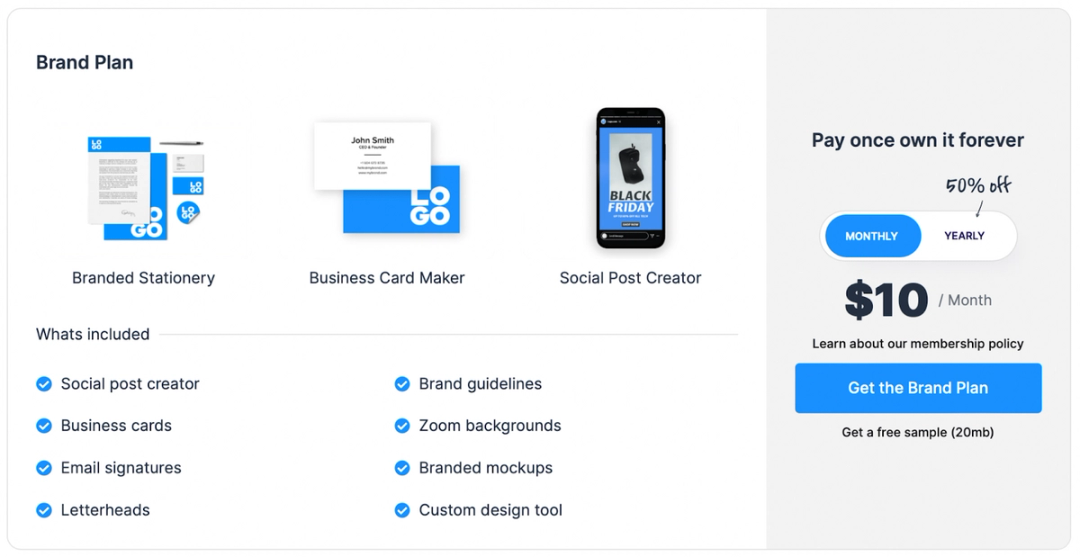 Our Brand Plan is your brand-building best friend. For only $10/month, you have instant access to:
Unlimited logo edits
Business card maker
Email signature maker
Custom design tool (Stitch)
Brand showcase
Brand guidelines
Perpetual brand backup
Oh, and all of them are pre-set with your new lipgloss logo. Say hello to instant convenience and results!
‍
Step 6: Market your lipgloss business on social media platforms
Having a solid social media marketing strategy allows you to efficiently promote your lipgloss business to your target audiences. Understanding what the platforms have to offer is a critical benefit in deciding where to specialize.
For example, statistics show that more women use Instagram than men, whereas Twitter and Facebook significantly have more male users than female users. Naturally, it makes more sense to promote on Instagram because that is where your primary demographic lies.
You may also use the platform to post gorgeous images of your lip glosses with fun and descriptive captions. But take note, before you post anything, you need to have a well-perceived credible business for users to truly notice you. And a way to build credibility in your lipgloss business is to make your social media presence consistent.
A social media kit offers this consistency. LOGO.com gives you ready-to-use files for all your social media platforms such as Facebook, Instagram, LinkedIn, Youtube, and Twitter. It's always a good idea to have this in your arsenal should you decide to explore more social media channels. Who knows what heights your lipgloss business could reach?
More importantly, to have a lipgloss business, you need a website for customers to place orders on your products. LOGO.com offers a website builder, which gives you countless possibilities for how you want to use it to promote your business.
You can make it a company website to feature your products, brand statements, and positive feedback. You can also use it for diving into other forms of promotion, such as creating blogs and content about your journey in starting a lipgloss business— providing tips for aspiring makeup moguls while also building your brand.
‍

Building a lipgloss business logo
A logo is the core of your visual branding needs because it builds a strong foundation between you and your target market. It shows that you care about your lipgloss business enough to brand it properly.
Compelling logos can ultimately set you apart from the competition, and they can potentially tell users a story with a single glance.
Ready to design your free logo? Get started with our logo maker!
‍‍