‍
Facebook founder Mark Zuckerberg recently announced that the company is changing its business structure and brand identity, including a new name and logo. That's right—Facebook is no longer Facebook.
The tech giant changed its name to 'Meta Platforms' or 'Meta' for short, with a new brand logo that resembles a distorted infinity symbol. The decision outlines Zuckerberg's intentions to further the virtual connections between people, which he regards as the 'metaverse' plan. The news was received with tons of opinions, thoughts, and criticisms.
There was speculation among users, given that Facebook has come under fire in the past for privacy and algorithm suspicions, as well as allegations for the inadequate policing of inappropriate content.
While the parent company changed its name to Meta, the social platforms Facebook, WhatsApp, and Instagram will all still be keeping their existing names. This decision is similar to Google's 2015 brand restructuring into a parent company known as Alphabet.
According to Zuckerberg, Facebook's rebranding was to communicate that the business is branching out to more than one service. He also noted that Meta was a better and more suitable representation of where the company is currently headed.
Key takeaways:
Mark Zuckerberg, Facebook's founder, recently stated that the corporation would be reorganizing and adopting a new name and logo.
Given Facebook's history of criticism for privacy and algorithm concerns, users speculated about the company's motives.
The branding changes were met with criticism, some of which revolved around the name and logo being unoriginal.
The brand name changed to Meta, a representation of a metaverse that holds interconnected worlds. The new Facebook logo is an infinity symbol.
Twitter, Hulu, and Wendy's, among other social media and brand heavyweights, all had a good chuckle after Facebook revealed its new identity.
Many believe that this change will allow Facebook to start again with a clean slate, but only time will tell if this is actually the case.
Facebook's new name: Meta
According to Zuckerberg, the metaverse is the new way. The Facebook founder, who is a fan of science fiction, stated that the word "meta" comes from the Greek word "beyond". And that is exactly where the new Facebook is going.
There are several potential reasons behind Facebook's new name.
It may have been a decision to distance from past allegations and attain a new beginning.
It may also help in placating investors by suggesting that Facebook's new brand identity suggests more clarity and transparency in its operations.
The more popular opinion, however, is that Facebook's new name is reflective of the company's desire to grow its reach and discover new heights. 'Meta' is short for 'Metaverse,' which is a science fiction term that connotes the existence of other interconnected worlds.
The symbolism behind the metaverse represents Facebook's dedication to unifying and universalizing communication in a much larger scheme than the company has achieved in the past.
This has massive implications for advertising. Over 97% of Facebook's revenue comes from ads, and this new commitment to the 'Metaverse,' a larger scheme of reach, shows the company's ability to offer value creation in addition to advertisements.
According to Mark Zuckerberg:
"Facebook just doesn't encompass everything the company does anymore. Today we are seen as a social media company, but in our DNA, we are a company that builds technology to connect people."
He continued to state that in the same way smartphones have replaced desktop computers, the metaverse will be the new way users interact with computers and each other.
Launch your brand in minutes with a free logo
‍
New Facebook logo 2022: An endless infinity symbol
Graphic design critics were abuzz when Zuckerberg revealed the wordmark logo for Meta at the end of his 80-minute speech at the Connect conference.
"The word 'Meta' comes from the Greek word [μετά] meaning 'beyond,'" he explained, revealing an animated design that resembled an infinity sign.
Replacing its iconic thumbs-up 'Like' sign, the new logo now features a blue infinity symbol, keeping its brand colors intact.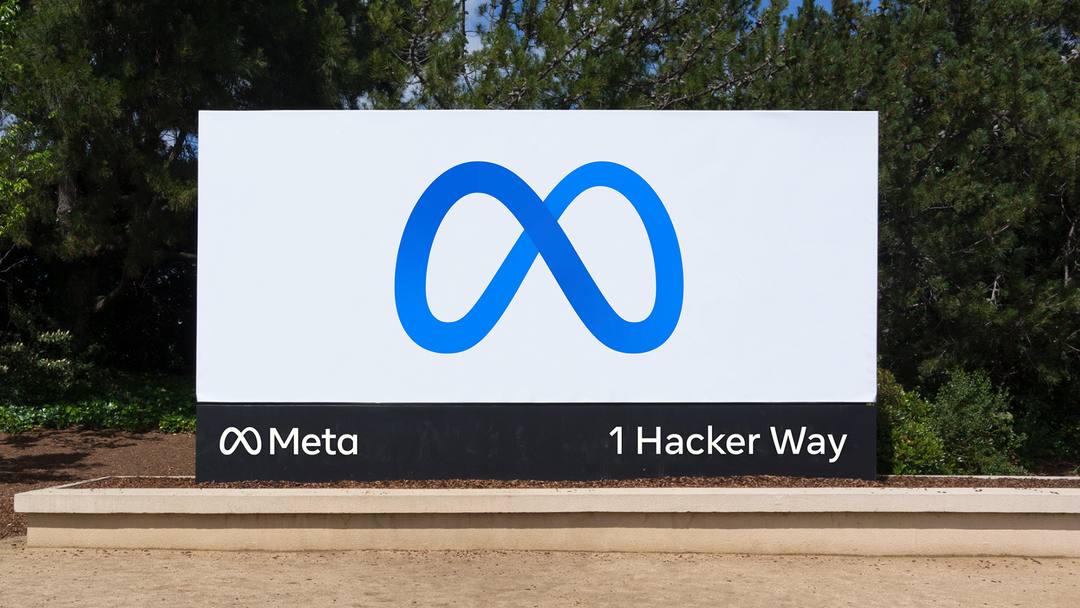 As Facebook makes the transition to a new brand name Meta, it has also decided to redesign its long-standing logo with a new stock symbol (to be official on Dec 1, 2021) and new social media handles featuring the blue infinity sign. Along with these beginnings come heavy critiques on the company's new design.
Let's just say that it may not be winning any logo design awards any time soon.
So far, the Facebook logo change has been compared to a Pringle chip, pretzels, a thigh master, and even certain unmentionable body parts. First impressions stick around, and users were quick to point out the unoriginality of the logo, as infinity symbols tend to get thrown around in many contexts.
However, Facebook added a special touch to the infinity symbol to incorporate a deeper and symbolic representation. The new Facebook icon takes on a never-ending motion to form an infinity loop. The company stated that it was designed to live in motion and 3D.
Regardless of the viewer's vantage point, the logo symbolizes a new meaning.
According to a Facebook blog post:
"The Meta symbol forms a continuous loop that works seamlessly between 2D and 3D contexts. It is designed to be experienced from different perspectives and interacted with. It can resemble an M for "Meta," and also at times an infinity sign, symbolizing infinite horizons in the metaverse."
The logo is designed to perpetually morph into various symbols relevant to the company's direction and mission: a never-ending journey to interconnectedness.
Many people have also noted the logo's resemblance to virtual reality goggles, which would be a fitting association to Facebook's venture into immersive visual realms or the metaverse as Zuckerberg regards it.
Launch your brand in minutes with a free logo
Facebook's new logo: The font
To add to the hotpot of controversy, font fanatics noticed a strong association between the new Facebook logo font and Meta, a popular sans serif typeface designed by Erik Spiekermann in the 1980s. Even the name similarities are quite uncanny, as Facebook's new name poses the same title as the typography.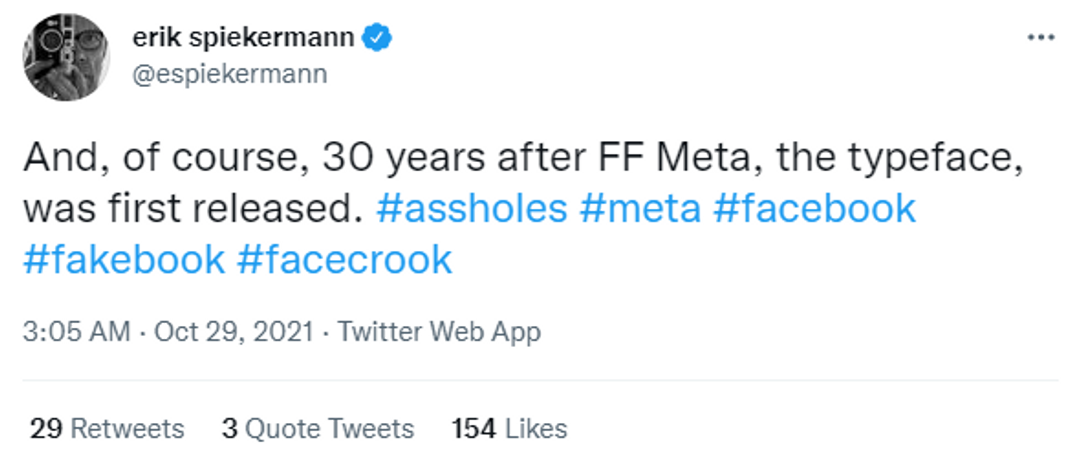 German typographer Erik Spiekermann voiced out his opinion on the subject in a controversial tweet, insinuating his dismay that his rightful design is now Facebook property.
Evidently, this did not do any favors for the Facebook new name and logo (or its existing reputation), which has been perceived to lack originality and innovation. Facebook has yet to comment on the subject.

Social media users react to Facebook's new name and logo
Facebook may believe to be revolutionizing the digital age, but the reign of social media has rendered Meta fodder for trolling and memes.
Following the announcement of Facebook's new identity, the internet had a good laugh about it, including fellow social media and brand giants like Twitter, Hulu, and Wendy's.
Here are a couple of hilariously controversial tweets surrounding Meta's emergence: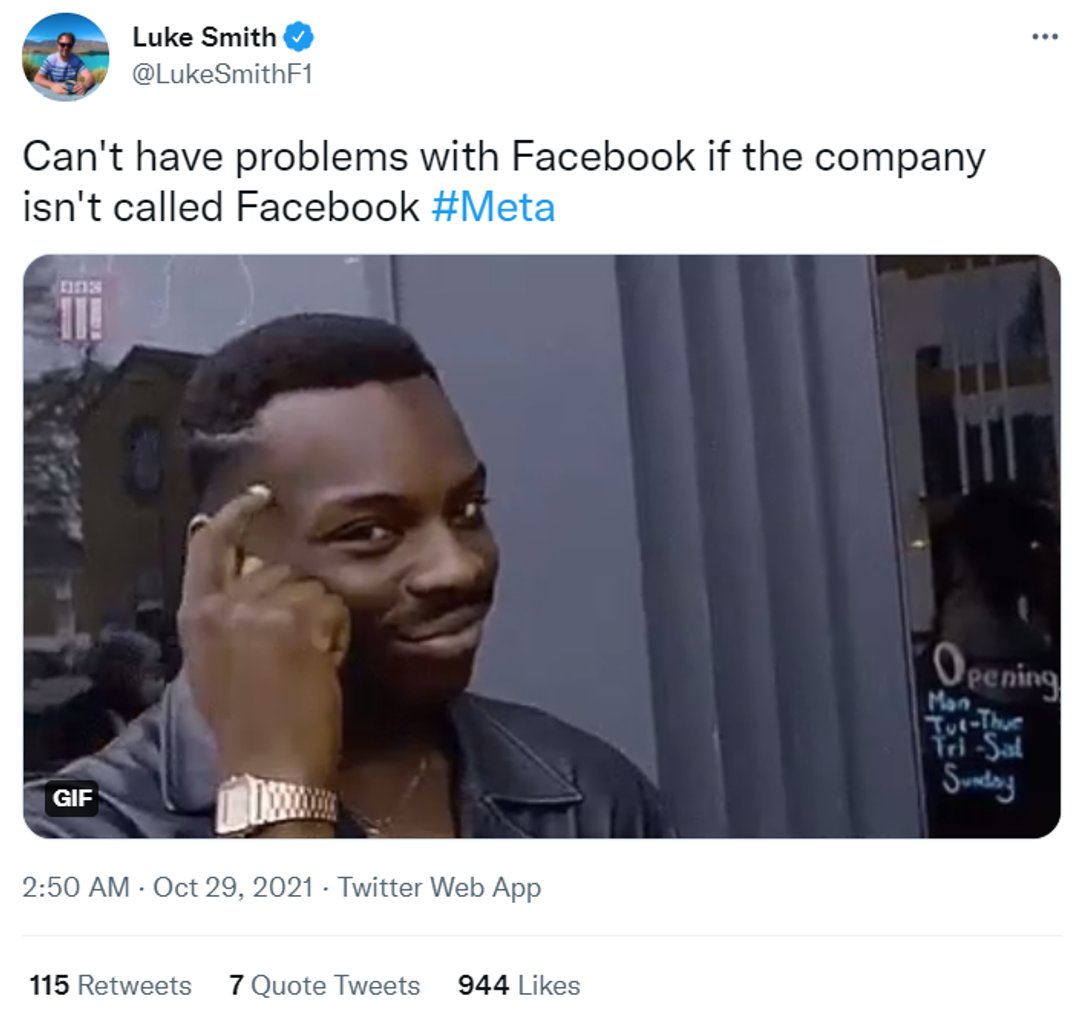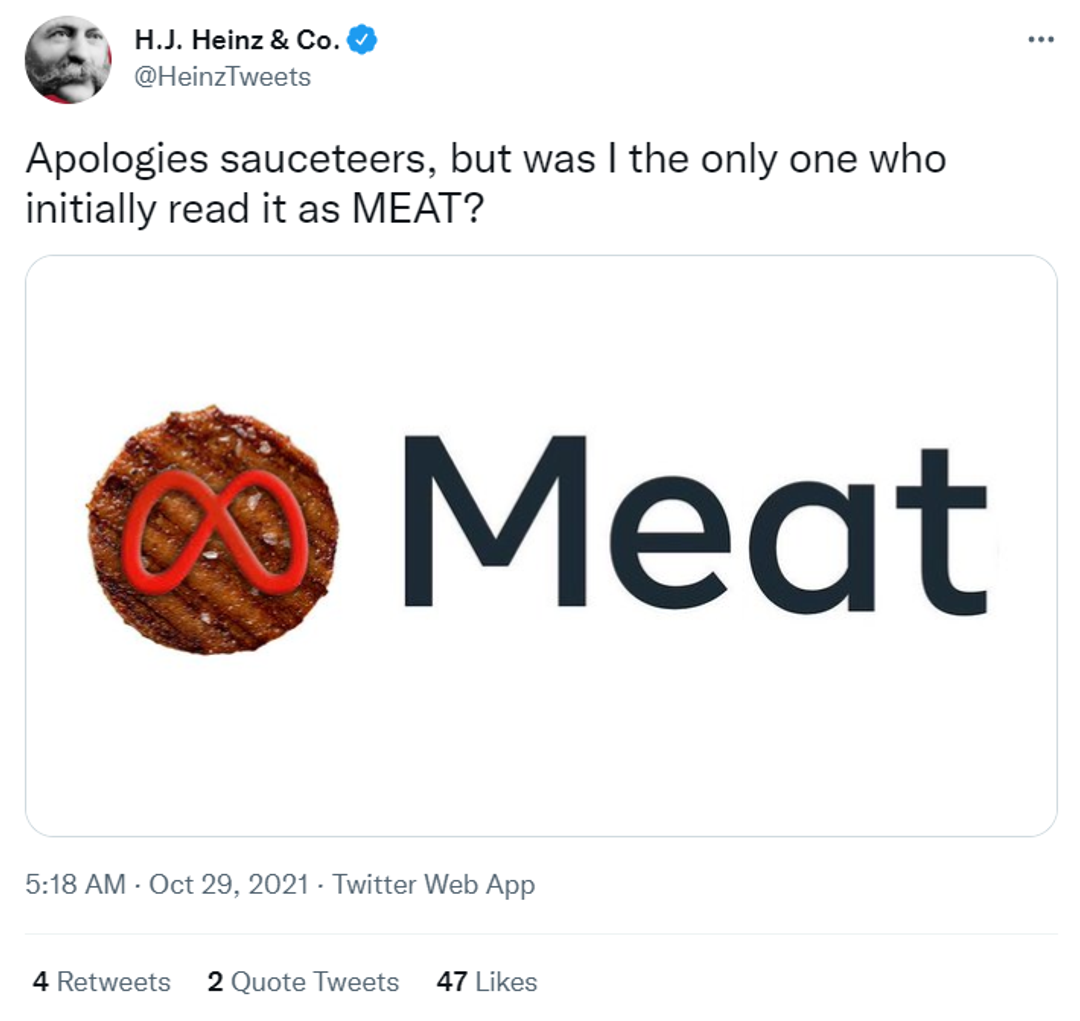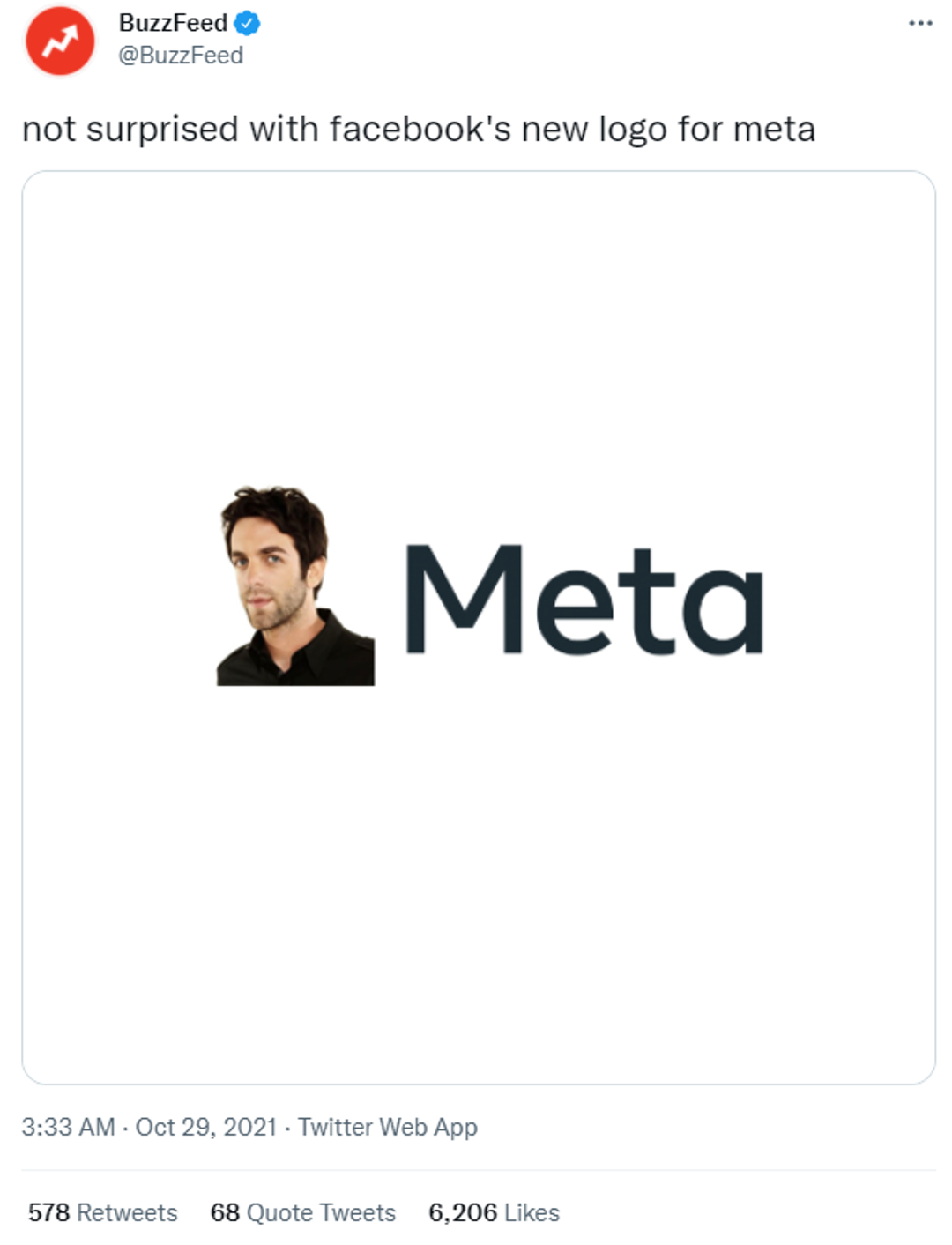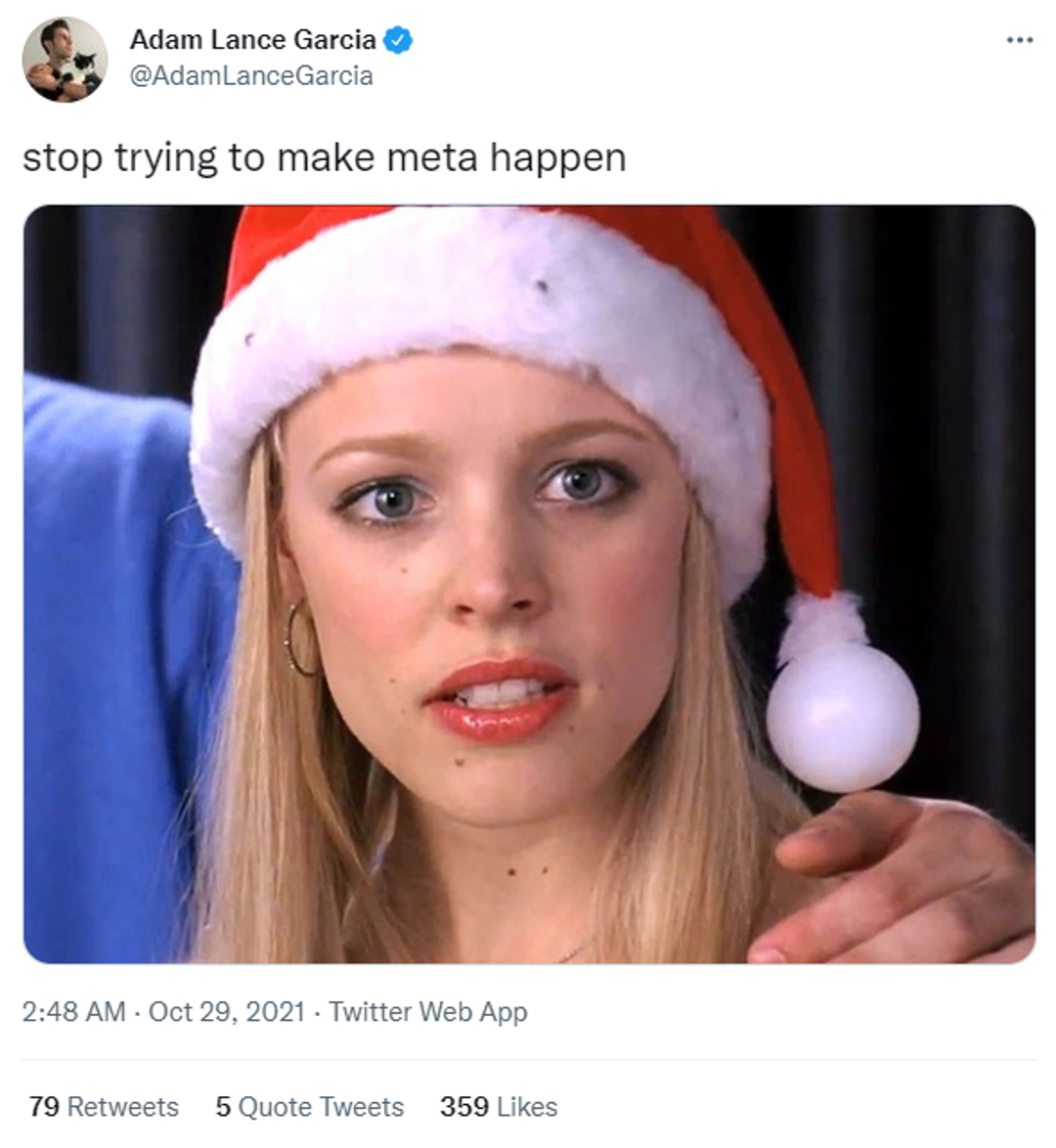 Though the backlash has significantly decreased since the announcement, users have a clear stance on the transition: they are not on board.
The mockery may have something to do with Facebook's past allegations of privacy fraud. Could the transition to Meta be an opportunity for Facebook to leave those accusations behind? Suffice to say, social media users are not letting Facebook (or Meta) off the hook that easily.
‍
Frequently asked questions about the new Facebook logo
What are some commonly asked questions about the newest Facebook logo? Get your questions answered with these three FAQs.
1. Why did Facebook turn into Meta?
In adopting a new moniker, the business is signaling its intent to expand beyond the realm of social media. The social networking service Facebook is now known as Meta, a name inspired by the science fiction concept of a "metaverse" where people can work and play online.
2. Why did they change the Facebook logo?
Mr. Zuckerberg stakes the company's future on virtual reality, so the branding team sought to create a new logo that evokes the same sense of movement and immersion. The current Facebook logo at the time was steeped in massive controversy.
3. How does Meta make money?
In its previous incarnation as Facebook, the company now known as Meta earns much of its money from selling ads on its various social media sites. Pricing for advertisements is dynamic and determined by an auction system.
‍
Facebook's new brand identity: To new horizons
Controversy aside, there is something to be said about Facebook's commitment to a vast reach for knowledge and communication. It would be unwise to judge the efficacy of branding (or rebranding) elements right away. Though there is room for holes, the company's never-ending fight for greatness is certainly palpable.
As of now, the critical response to Meta and its logo is undeniably connected to Facebook's tarnished reputation over the years.
It remains to be seen whether the Facebook new logo turns out to be a symbolic illustration for positive human interactions and intellectual curiosity, or yet another symbol of a company headed towards a down-turn.
Ready to design your free logo? Get started with our logo maker!
Launch your brand in minutes with a free logo
‍