Liviu Tanase is a serial entrepreneur, founder and CEO of ZeroBounce. Under his leadership, the email validation and deliverability company rose to no. 40 on the Inc. 5000 list in just three years. Recently, Forbes magazine included Liviu on the Forbes Next 1000 list of entrepreneurs who've had exceptional results in business in the past year.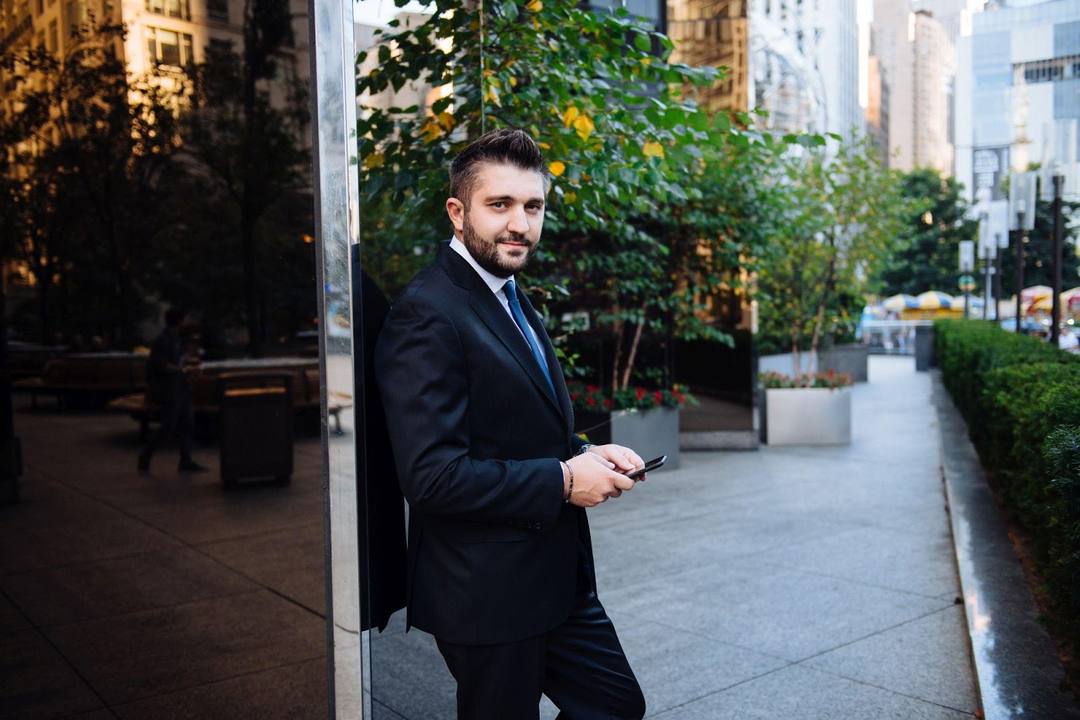 In this exclusive interview, Liviu talks about the beginnings of ZeroBounce, what his typical days look like, and why the ZeroBounce website and blog had to get a redesign.
What's more, he gets into his favorite topic, email – and shares his tips on making email marketing work for your business.
Let's dive in!‍
What inspired you to start an email company – especially since the competition was so fierce?
If loving email is wrong, I don't want to be right. It used to seem strange to say I love email, but being the CEO of ZeroBounce has exposed me to the world of email geeks. There are a lot of us. My fascination with email is the biggest reason for starting the company.
The other reason was that email marketing was growing so much. That growth hasn't stopped and it's true that there is a lot of competition. I like the competition, however, because it motivates us to improve.
Competition can mean you're in a good business because all of the competitors are filling a demand. Most towns have more than one mechanic because everyone with a car needs one eventually. There are many email companies because that's how human beings increasingly communicate.
How do you remember ZeroBounce's first year?
The first thing that comes to mind are the many late nights working to get it right. Of course, there were gallons of coffee that helped.
We had to arrive on the scene with an email validation system that was superb. So, with just a handful of people, we worked very hard to create a safe and fast platform.
There was this massive, never-ending to-do list. It felt overwhelming at times – but so thrilling, too. Nothing compares to the enthusiasm you have in the beginning.
Thankfully, with our industry being so prone to change and innovation, that feeling never goes away. On the contrary: as our company is evolving, we find ourselves more driven every day.
What does a typical day look like for you now?
Is it shocking that working at an email company, the first thing I do is check my email? I do and it's a testament to how important email is. I don't know any business people who don't check their inbox first.
Once I go through my emails and Skype messages and take care of urgent things, I get my body moving. Even if it's five minutes, a few simple physical exercises always help me to get going. That, plus water and coffee.
Then I get on the phone with my team, and always talk to Brian Minick, the Chief Operating Officer at ZeroBounce. Through our conversation I get an idea of what's going on that day and where we are with our plans.
Sometimes, I'll have back-to-back meetings. Other days I get to focus on deep work with the team to make sure our engines are running smoothly.
At around 7 PM or so I take a break from work: dinner with my wife followed by a movie and walking the dog. Then I get right back to it.
Working in the evening is something I find to be great for productivity. There are no interruptions and it's when I am at my peak.
If you work best at night, don't feel odd about it. Everyone has their productive hours and it's foolish not to take advantage of them.
What would you say were the three most important things that made the company successful?
Our success is first because we created a great product, but didn't stop there. We're constantly improving it, always adding new tools.
The second thing is how excellent our team is. To use the example of just one of our departments: customer support. I would put it up against any of the competitors because we're so responsive. Well, I feel that way about all of the departments. The people who work here were chosen for a reason.
Another aspect is that we've communicated what we do and how it helps. We've invested in marketing and public relations and it's been so rewarding. It's been key to getting our product in front of people.
On top of that, content marketing has been huge at ZeroBounce. We've provided tons of information, at no cost – whether you are a customer or not. I'm thrilled when someone reads our content and it helps them succeed. It doesn't matter to me if they don't become customers, I'm still glad to be of service.
You've just relaunched the website with a brand-new design. Why did it need a revamp and what did you have in mind?
Looking honestly at every part of our company, I felt there was a lot to be proud of. There were so many exceptional things about ZeroBounce, and our customers regularly communicated what they loved.
However, some of them were leaving less than 5-star reviews saying the only reason they didn't give us a higher rating was the website design. We knew how important it was and how much it would help in giving people a great experience in every aspect.
Someone who sees an unpleasant color scheme, poorly placed text or just a dated look may very well hit the "back" button. Generally, when someone does that they're never coming back.
So, a redesign of the website and blog were long overdue. On top of that, we had just launched three email deliverability tools. With ZeroBounce becoming more complex, people had to be able to find all of these tools easily. The new design allowed us to improve everything – including the structure.
I'm happy to say the reactions so far have been so positive.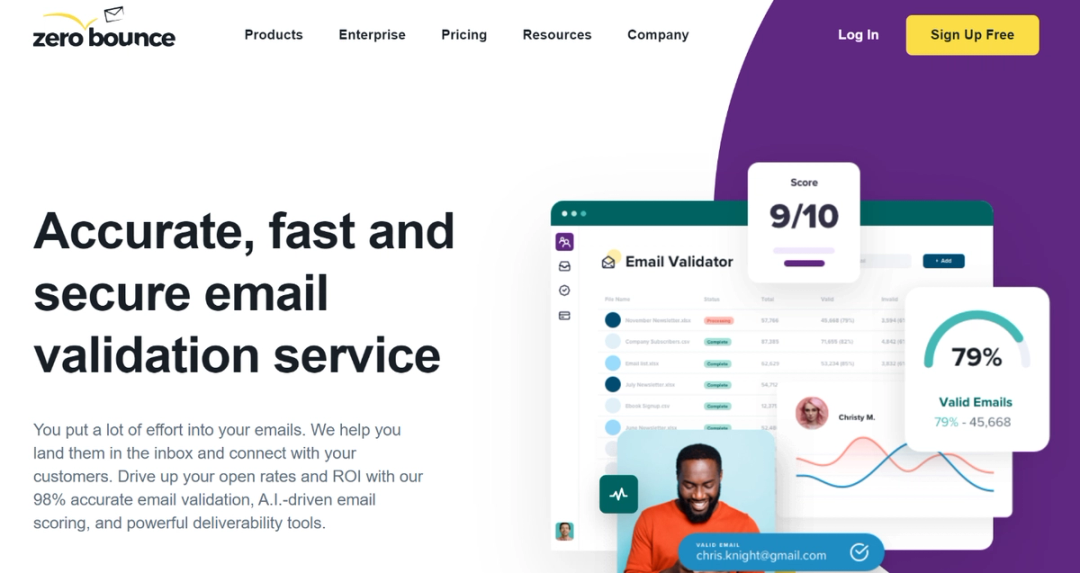 What is the story behind the ZeroBounce logo? How did you come up with it?
I like to think of our company as always in motion, and wanted the logo to reflect that. Also, it had to be friendly and bright.
Our goal is to help our customers land that email they've worked so hard on right in the sweet spot—the inbox. So we wanted the logo to show an envelope, to represent email. That email springs into the inbox where the person can see it.
It's the purpose of ZeroBounce. All the features and tools we offer work together to help you arrive in the inbox.
What are some of the most common email marketing mistakes you see?
The biggest mistake is forgetting that you're talking to people, and that's even in the B2B space. Things have improved, but I still see emails that come across distant and robotic.
The other problem is inconsistency. Someone starts sending emails and then for whatever reason they don't send anything for months. Internet service providers will think you're sending spam and some of your readers may mark you as spam. With all the emails they get, they can forget that they ever subscribed.
The other mistake is ignoring bad data. Email lists will go bad, so you have to tend to that data periodically. If you don't, it will cause deliverability problems and undermine the reason you use email marketing in the first place.
What would you tell business owners who don't know where to start with email marketing?
First, figure out what your goal is, so that you can determine what kinds of emails you need to send. That depends on your business.
For instance, if you're selling a product or service, you may want to consider a combination of newsletters and promotional emails.
If you have a magazine and are trying to get more traffic to your content, a newsletter is best.
Then, commit to a schedule for sending the emails. In general, at least once a month is the minimum. You have to know your business and what your customers expect. Maybe weekly makes sense, but perhaps even more is better.
Also, many email services have free trials. Why not take advantage of them to minimize your initial expenses?
Once you launch your email marketing, start telling people about it. Post about it on social media and have sign-ups there and on your website. It pays to grow your list organically, so don't add people without getting their permission. Always, always keep that word in mind: permission.
So, know what you want to accomplish, make every email count, keep your list fresh, and you should be seeing results – fast.
You're in a parallel universe – what is that one thing you're great at?
I'd be a professional chess player. I love chess. The way a lot of people feel about athletes, I feel about the greats in chess. In a parallel universe, I'd love to be sitting across from Kasparov, even if that meant taking a good beating.
Thinking of starting a business? Start designing your logo today!