‍
A favorite for designers, brands, and everyone who loves reading content—sans serif fonts are here to stay.
Some of the best sans serif fonts have stood the test of time and replaced hallmark fonts from the past. Because of their minimal footprint on pages, they are easy to read and adapt for digital and physical media.
‍
What is a sans serif font?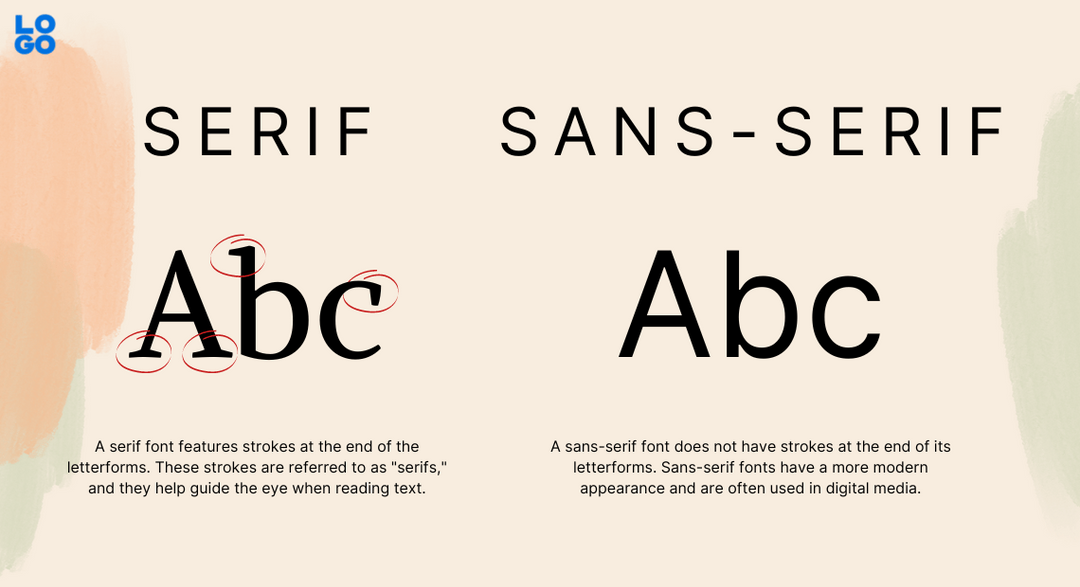 Any font that does not have tiny dashes, indents, and extensions at the tips of its characters is called a sans-serif font. It combines two words: "sans," which means "without," and "serif," which means "dash" or line.
One may wonder why such a minute difference creates a world of choices for designers and professionals. It all comes down to how fonts impact how we perceive the text we're reading. Serif fonts, with their dashes and tails, are best used in headlines. Sans serifs are commonly used in body content.
‍
How do you best use sans serif fonts?
Because of their minimal nature, sans serif fonts are best suited for longer content. Their increased legibility makes it possible to sift through large amounts of text quicker. To make the content look even lighter, choose thinner font styles when using sans serifs.
If you are a lifestyle, sports, or technology company, sans serif fonts will organically fit into your communications. More serious businesses like government entities, law firms, and pharmaceuticals tend to use serifs.
Launch your brand in minutes with a free logo
‍
The 18 best sans serif fonts for your branding & website
The best sans serif fonts need no introduction. They are available for free. Some more prestigious sans serif fonts may require to be purchased.
What matters are the styles and versatility of sans serif fonts, which will always be around, especially with the world becoming more digital. Because of their design, sans serif fonts make it easier to represent content on digital screens, especially smaller ones.
Here is a list of the eighteen best sans serif fonts you can use for your branding and content needs.
1. Roboto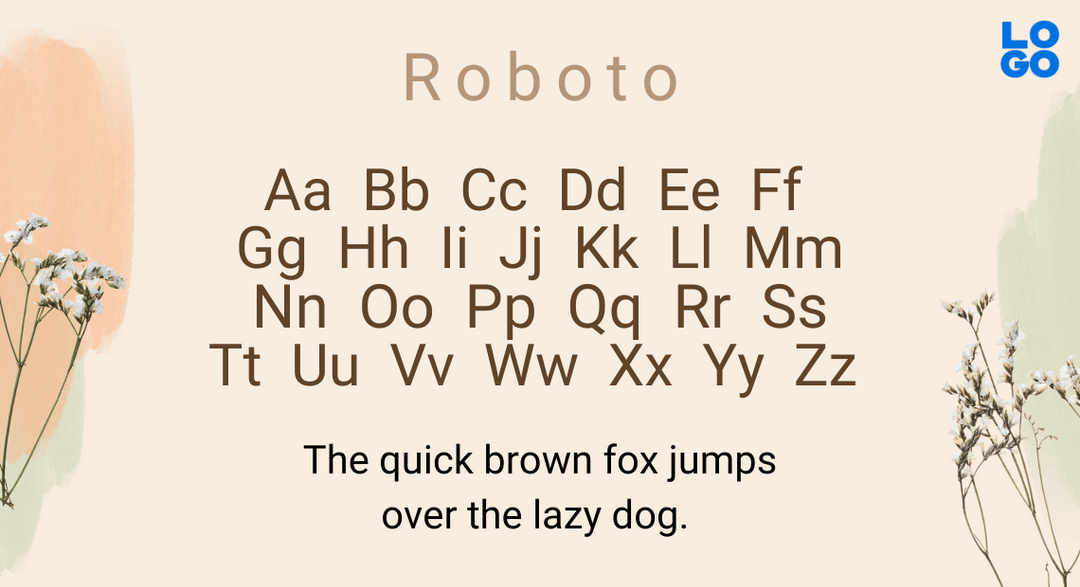 A neo-grotesque sans serif typeface, Roboto, has been developed by the Google system. It finds its most popular application as a system font for the Android database. It was released in 2011 with the Android 4.0 Ice Cream Sandwich operating system.
The font received a major facelift in 2014 when Android 5.0 "Lollipop" was released. Even though Roboto is a geometric font, it has a mechanical skeleton. The grotesque characteristic comes from the mildly chaotic, irregular character styles.
Catch Roboto in action with this logo example below! If you like it, click the image and customize the design to your liking. The best part? You can take the logo home for free, along with free logo files and brand guidelines. No strings attached!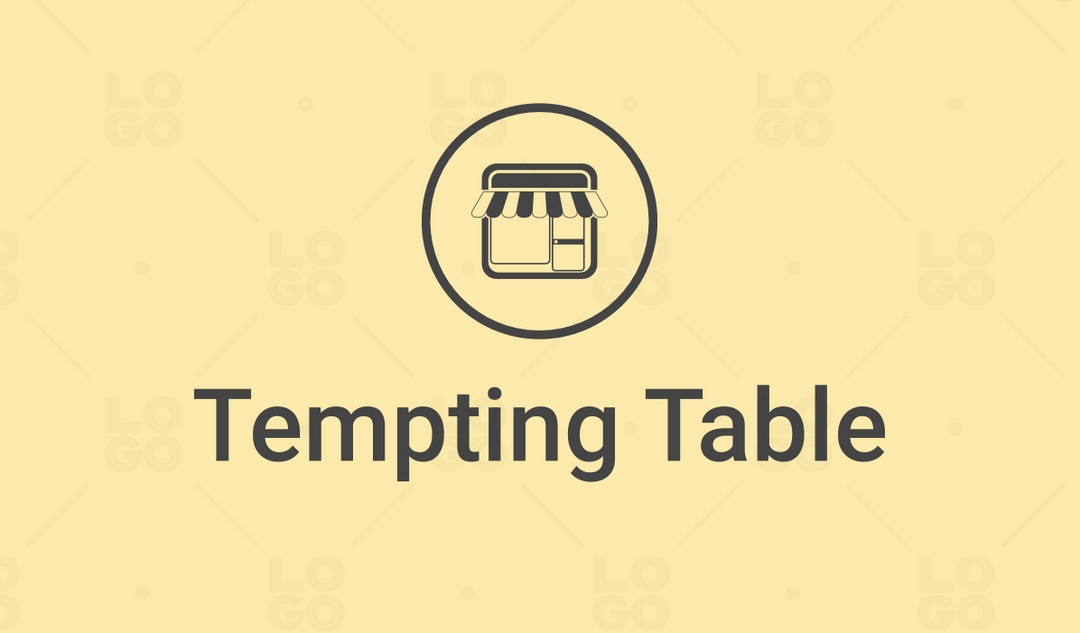 2. Oswald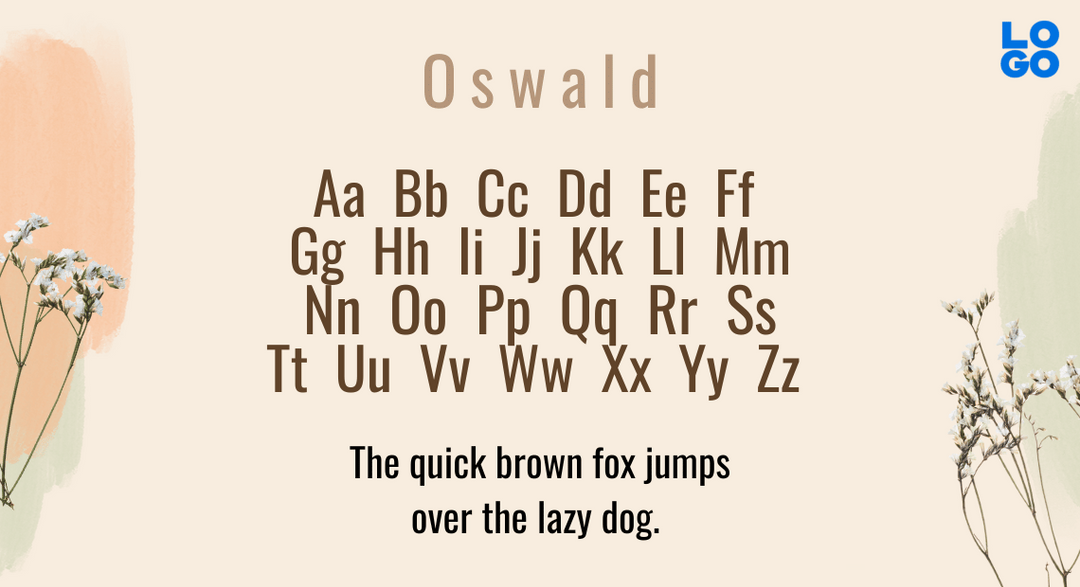 Sharply narrow, Oswald is a font that will only satisfy the acquired tastes of graphic designers. It borrows from the basics of Alternate Gothic and tweaks it for a more modern, sans serif interpretation.
The characters of Oswald are specially created to be conducive for use in digital screens. It is a free font that can be accessed across different operating environments and devices. Vernon Adams has consistently updated and improved Oswald to be more applicable and relevant in the digital age.
It supports light and bold weights and is available in Latin and Cyrillic languages. In 2016, the Latin font was updated by Kalapu Gajjar.
Catch Oswald in action with this logo example below! If you like it, click the image and customize the design to your liking. The best part? You can take the logo home for free, along with free logo files and brand guidelines. No strings attached!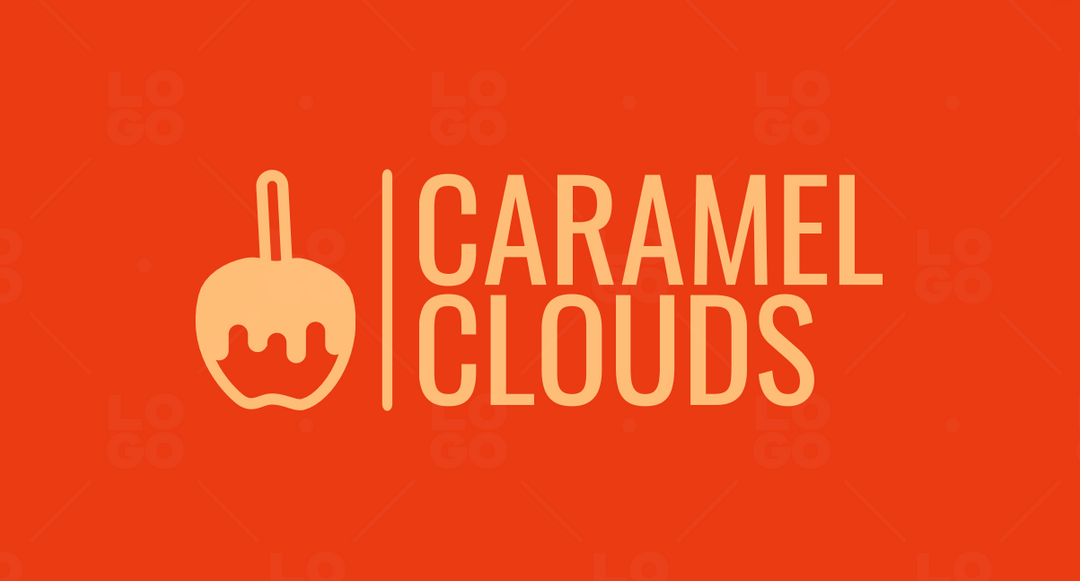 ‍
3. Visby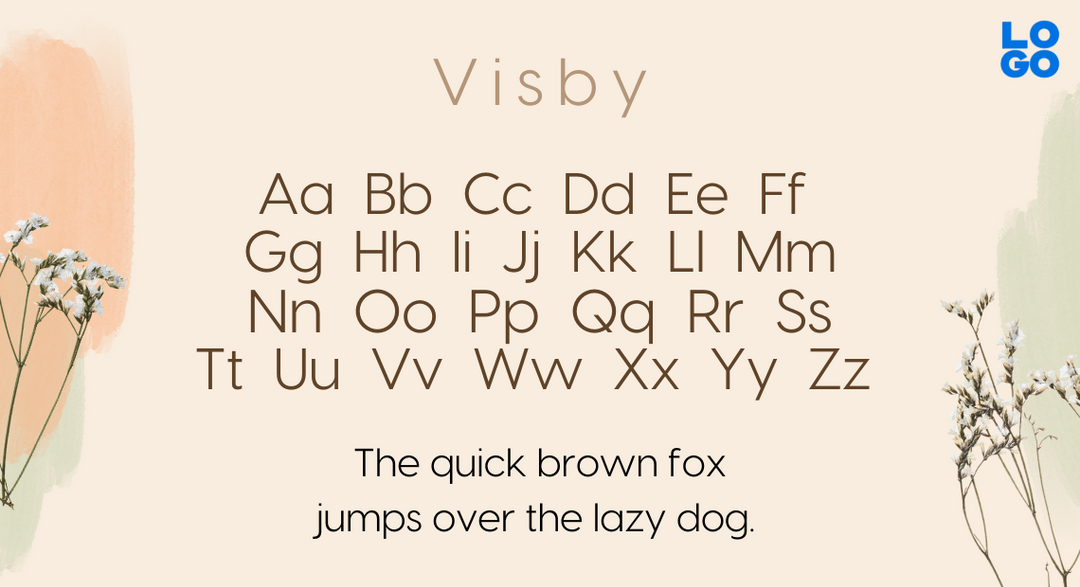 Visby is a geometric typeface. With clean, rounded letters, the font creates a distinct look for itself. If you choose Visby for your company's branding, you open up opportunities to leverage eight different weights and obliques that it can employ across various applications for your brand.
You could use heavier styles for headlines and thinner ones for denser body text. It works well as a lead font for posters, signage, and print advertisements. In addition to English, Visby also offers Cyrillic alphabets.
Tech companies, advertising and branding companies, and automobile brands tend to sport this font with natural flair.
‍
4. Signika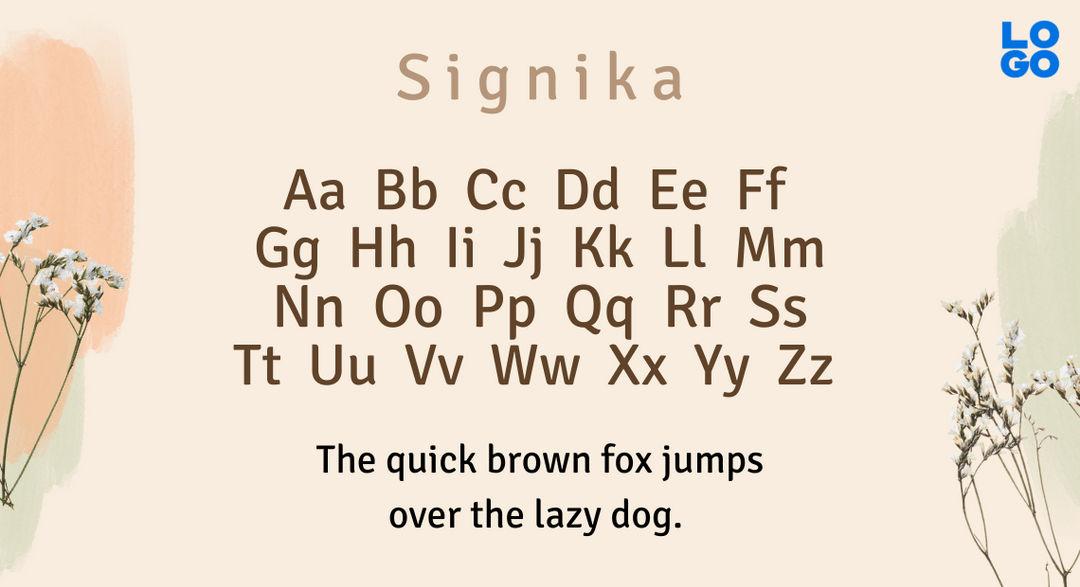 Sometimes you want to use a font with a strong character, maybe something that isn't too different from handwritten content. Signika is a sans-serif font that feels warm and friendly. It can be used interestingly on signage and as a primary font for body content.
The characters almost look as if they will connect with one another, as if in running handwriting. It makes it easy to read through content more quickly. The font supports characters from Polish and Czech scripts as well. The character set is wide, which makes the content feel roomy when written with Signika.
‍
5. Articulat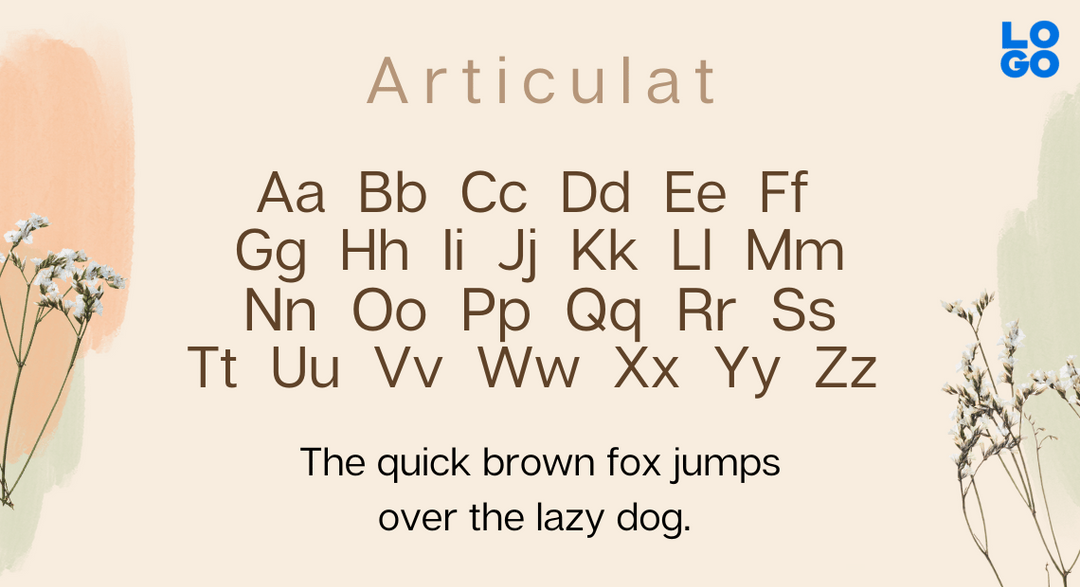 A modernist font, Articulat is among the best sans serif fonts with a Swiss style. It is sharp, confident, and assertive, offering creators ample options with ten weights and obliques.
OpenType features are available across all letterforms and styles. It is also available in a Cyrillic script. The different weights let you use this versatile font for headlines, print communications, visual design, and merchandise too.
The Articulat font package comes with glyphs, ligatures, fractions, and support for other languages. It was created by Connary Fagen to create a neat font that could stand by itself.
‍
6. Futura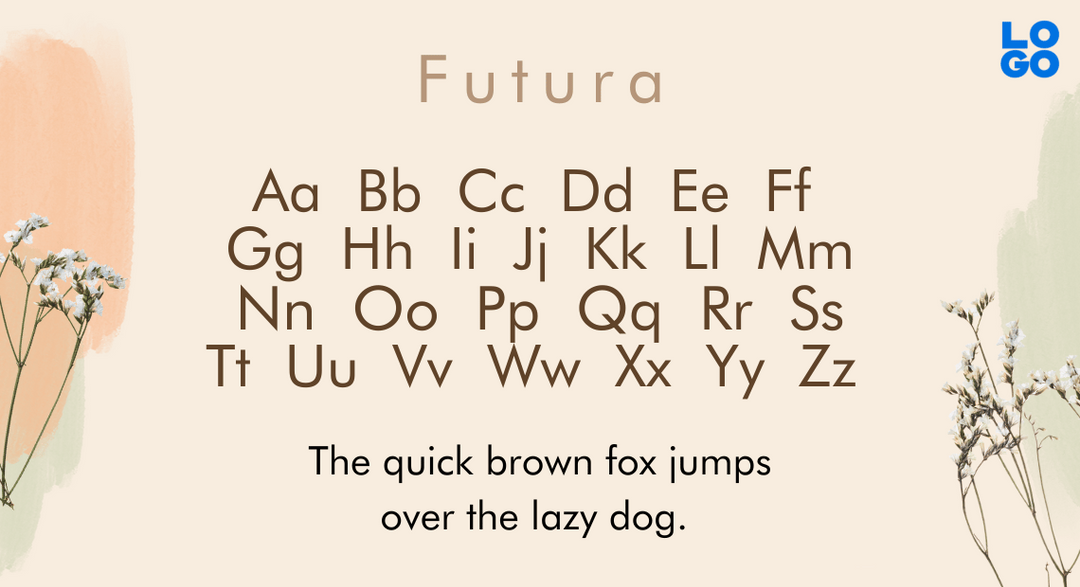 Among the oldest fonts of its style to be used even today, Futura has earned its place in typeface history. It was conceived in 1927 by the German type designer, Paul Renner.
True to its name, the font is modern and finds its relevance in the digital age. Futura is among the best sans serif fonts you could use if you are looking for a geometric typeface that can be used across various applications and be presented in different avatars.
The roundish bases of some alphabets in Futura make them easily recognizable. It is available in a variety of weights, giving you the flexibility to express your content in the best possible way.
Launch your brand in minutes with a free logo
‍
7. Stellar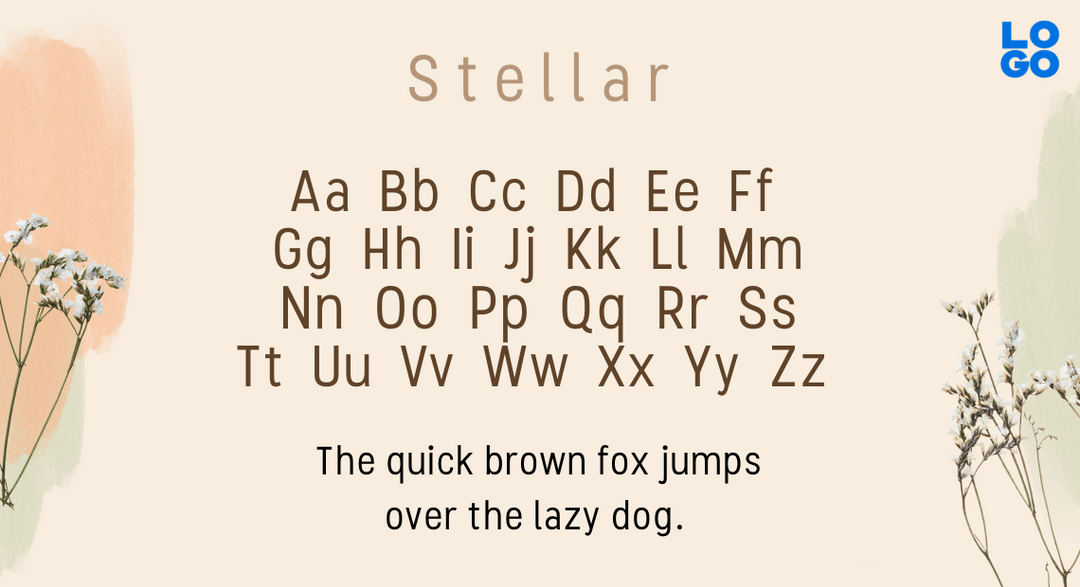 If you love using condensed fonts for text-heavy writing, then Stellar is a great choice. It is light on the eye and even lighter on paper. The taller x-height makes it easier to read than most other fonts.
The font was developed by Mathieu Desjardins. Unlike many condensed fonts, the characters aren't snuggly condensed together. Instead, they have a roomy gap between them, which aids the speed of reading. You can use Stellar for semi-formal communication where you are sharing informative content while maintaining the personality of your brand.
‍
8. Garet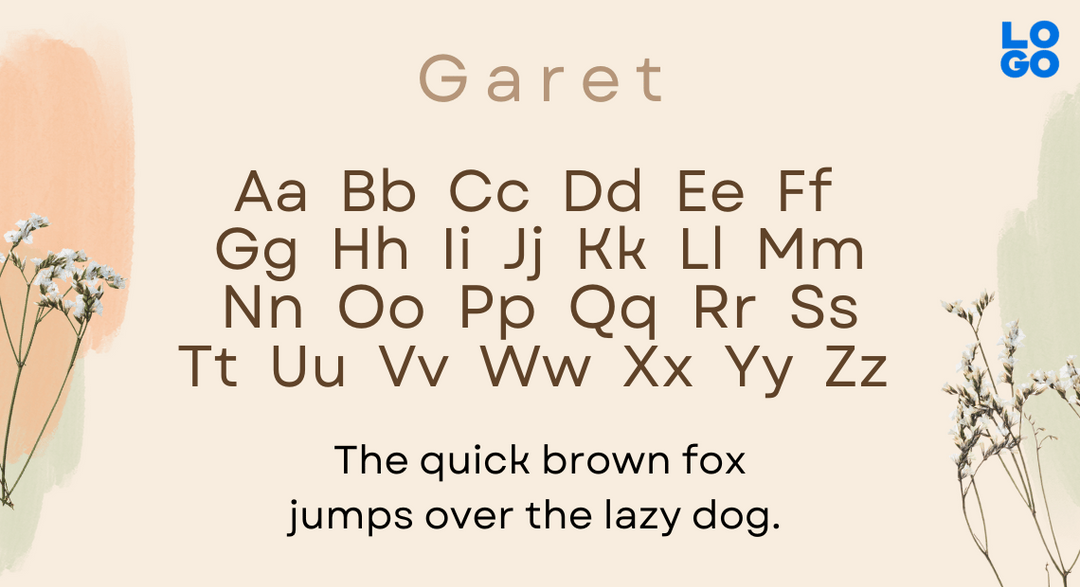 Garet is a geometric font, primarily based around a circle. Its higher x-height gives it a strong personality. The strong and high-contrast letters make it a great choice for headlines, titles, and even logo typefaces.
Letters like G, e, c, and n appear to be drawn inside a virtual circle. The roundness creates a soft and smooth appearance for the font. Garet is available in eleven weights ranging from thick arches to fine, slender curves. The font package also includes italics, so that you can emphasize content without losing the character of the text.
‍
9. Hero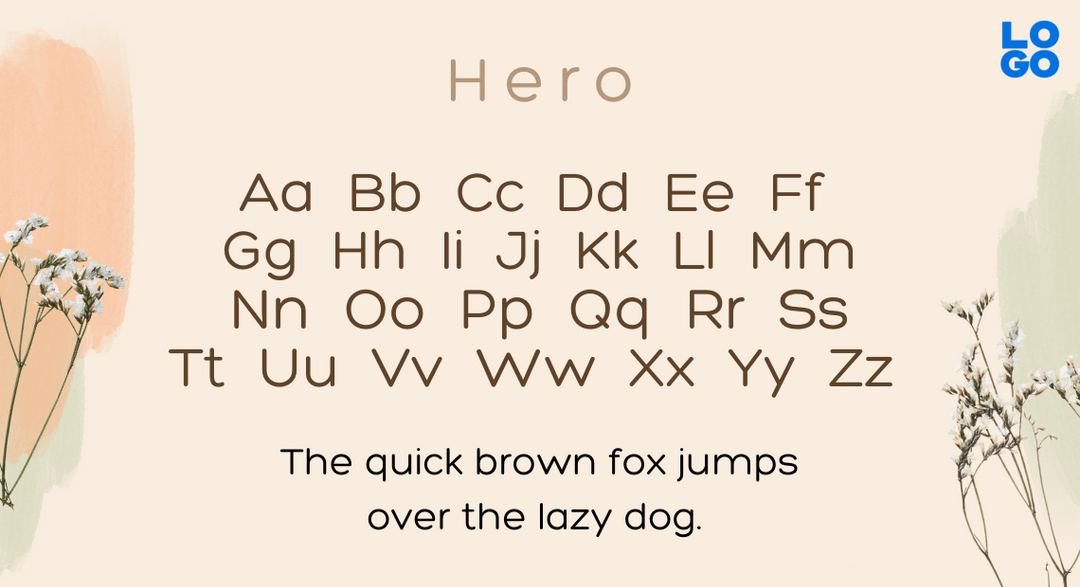 Here's one of the best sans serif fonts to be used in web applications, digital consoles, motion graphics, and even print. Hero is a free font that brings with it a simplicity that makes it an easy choice for any application.
The well-rounded characters stand out without trying too hard to be geometric while maintaining a roomy kerning for easy reading. The weights and variations of Hero make it usable across denser chunks of content, headlines, and captions.
‍
10. Greycliff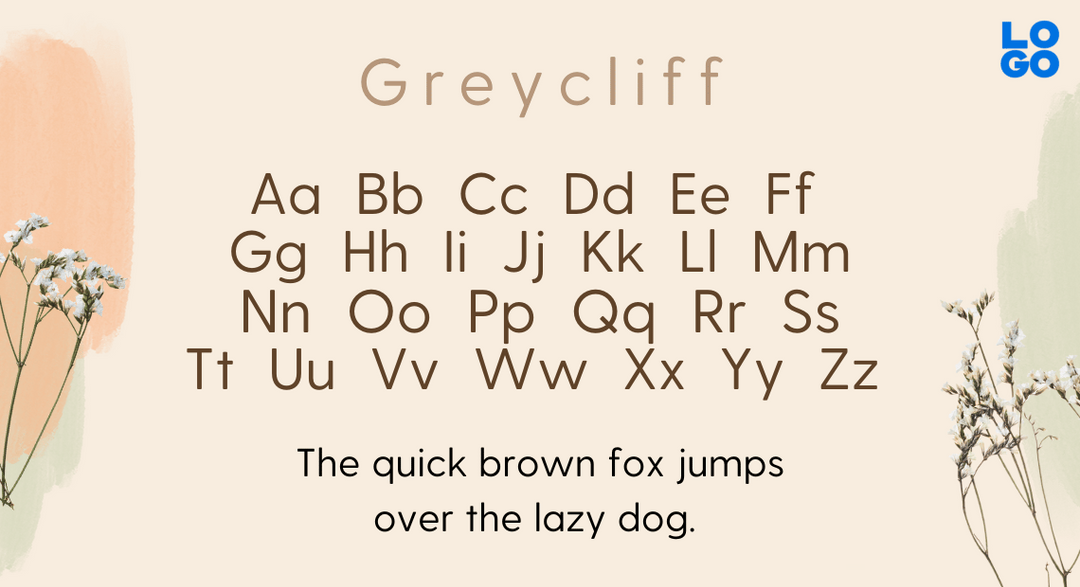 When you are picking the best sans serif font for your business, minimalism and simplicity could be among the top criteria of your selection. Greycliff is a font that doesn't leave your readers second-guessing what you were trying to convey.
It comes with 18 different font styles to give you the freedom to use it as your only brand font for different applications. It supports Latin and Cyrillic alphabets and all the benefits that an OpenType may give you. You can even lay your hands on the web-font version of Greycliff.
‍
11. Amicale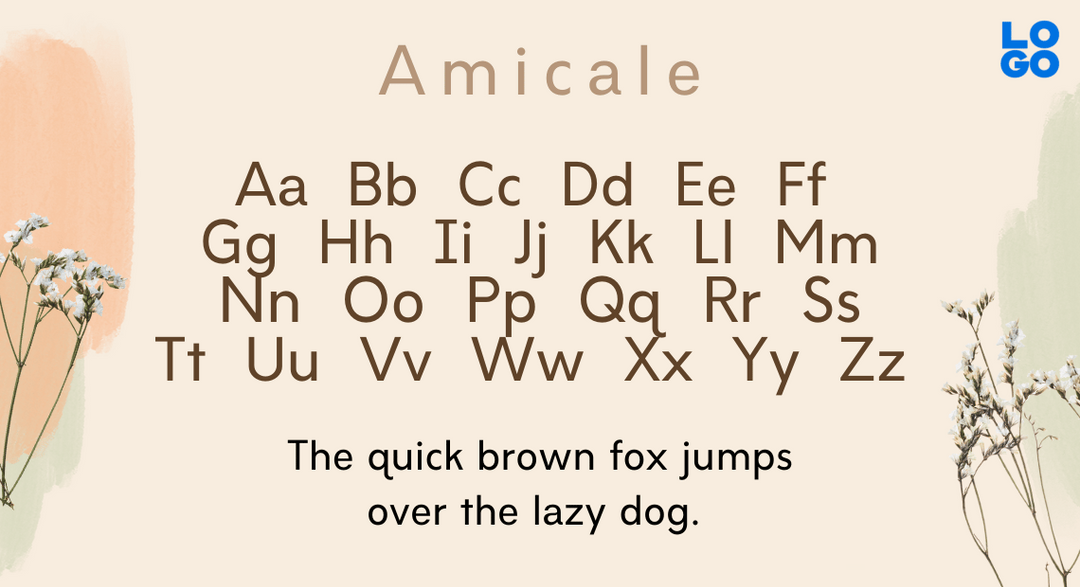 For more professional uses, you would prefer a sans serif font that can create an impact without seeming too formal. Amicale maintains that balance smoothly with letters that are well padded with sufficient kerning. The regular weight of the font is freely available for download.
Amicale also gives you the option to apply its nine Roma and nine oblique forms in an interesting manner. Amicale can be ideal for legal firms, pharmaceutical companies, and financial institutions that want to retain their modernity while communicating serious messages.
‍
12. Etna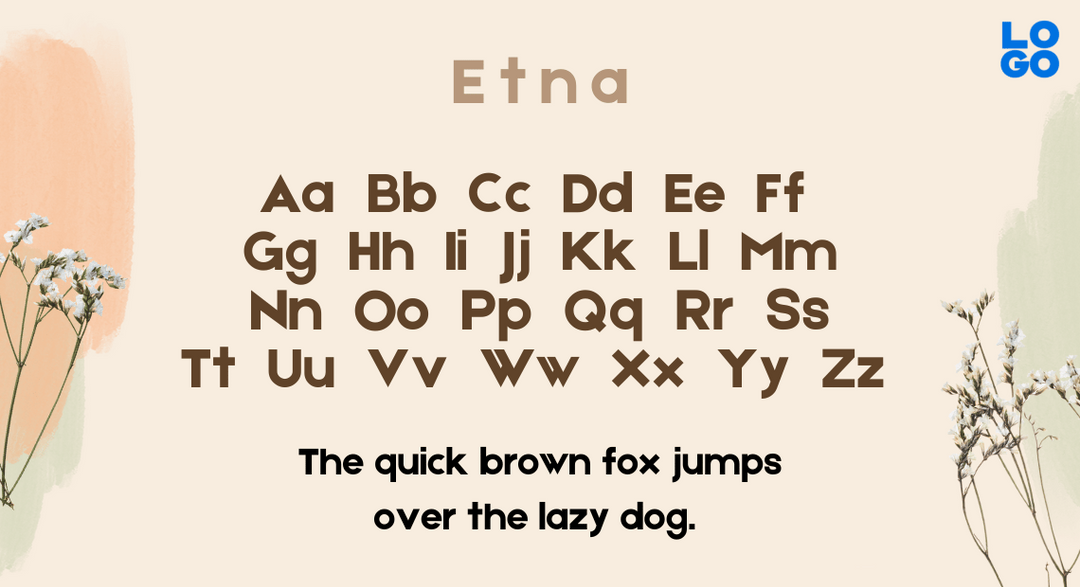 Etna offers among the best upper-case letters to create impactful headlines. This bold sans serif font is balanced and offers fantastic contrast against any background. You can imagine it being used for headlines on posters, magazines, and even t-shirts. It can also find its use in the logo designs of brands that are looking to make a powerful statement.
The entire Etna package comes with 415 glyphs, cyrillic, and Latin extensions. It is among the few fonts whose lowercase letters can be read with ease, even though it is primarily a bold font.
Launch your brand in minutes with a free logo
‍
13. Sarabun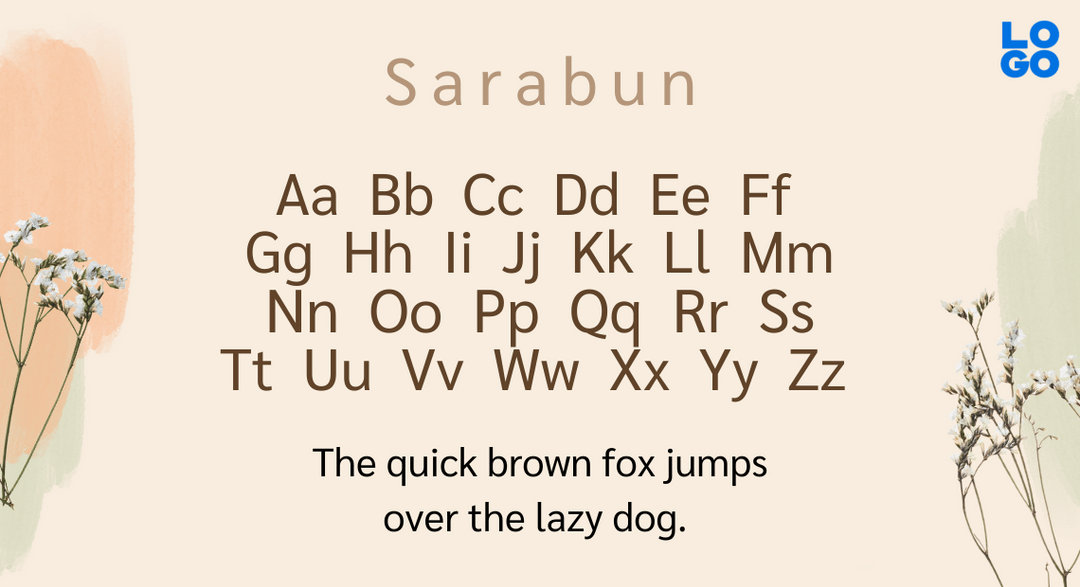 Sarabun translates to "documentary affairs," which indicates its use in more formal communication. The Government Gazette of Thailand uses Sarabun for its correspondence. It is a multi-script webfont that has Latin and Thai characters. The thinner variant of Sarabun looks great and is among the most popular weights of the font.
It is the most popular font from SIPA Thailand's National Fonts project. It was designed by Suppakit Chalermlarp and has always been intended for serious communication. Since it is originally a Thai font, it sports the Thai loop typeface style rather effortlessly.
‍
14. Prompt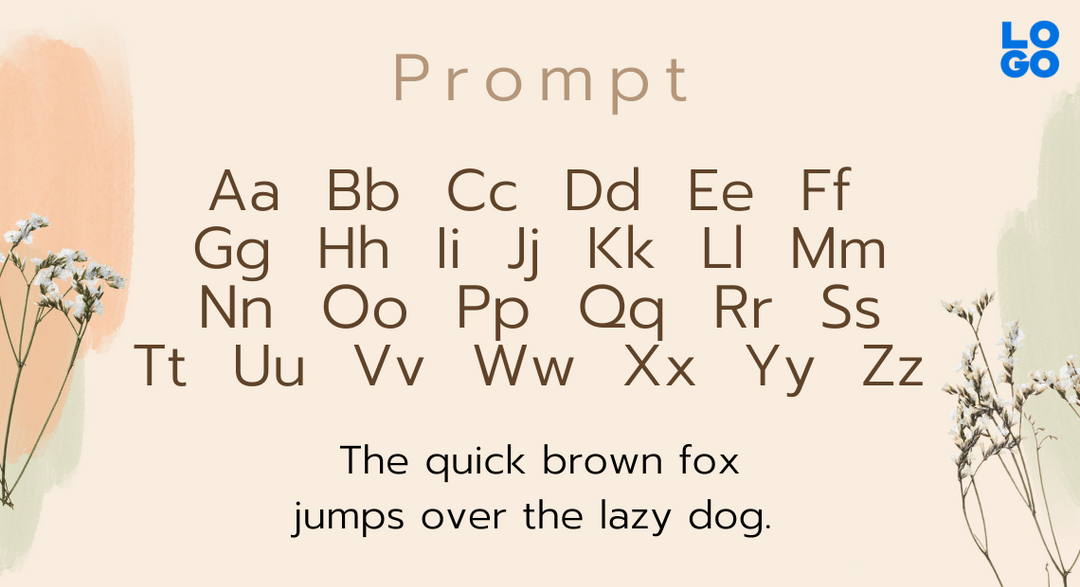 A loopless Thai and Latin typeface, Prompt, literally means to be "ready" and prepared. The Latin font is geometric and consistent with its Thai cousin in maintaining the loopless style. It can be used in magazines, newspapers, on posters, and even for simple handouts.
The characters are broad and well-spaced. Some of the Thai characters in Prompt may seem similar to one another, and as a result, the font has to be used with some reservation in a smaller type when writing Thai text. The font was created by Cadson Demak, a type foundry in Thailand.
‍
15. Alyssum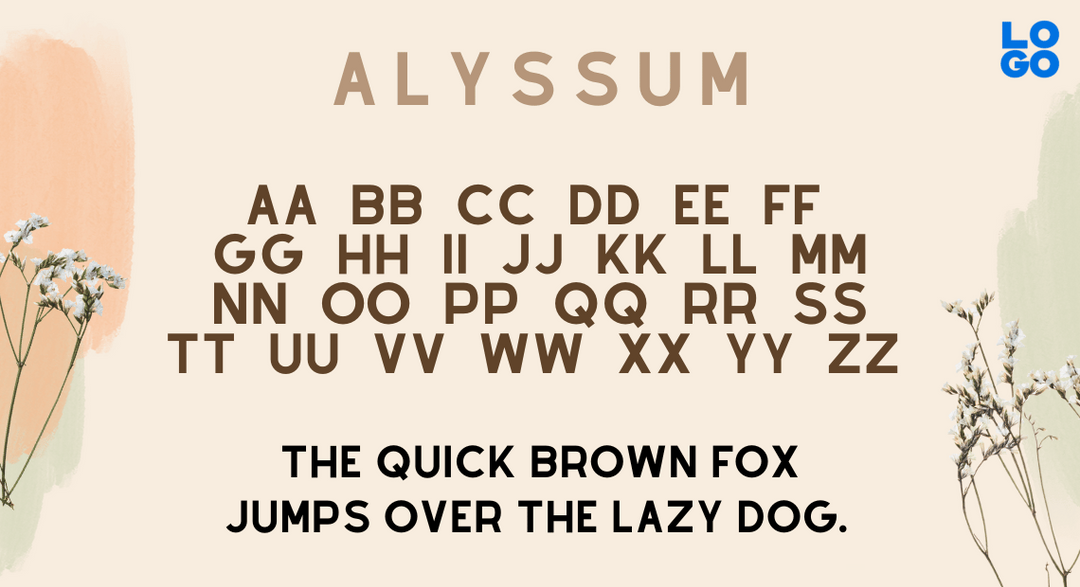 Sans serif fonts are rarely stylized and used for special occasions like wedding greetings or book covers. Alyssum, even with its simple style, manages to break the clutter of serif fonts that dominate stylized headlines.
The beautiful characters delicately balance out any piece of content that they represent with effective panache. The upper case characters are well spaced, narrow, giving impetus to each alphabet. It supports English, Spanish, and Portuguese.
‍
16. Livvic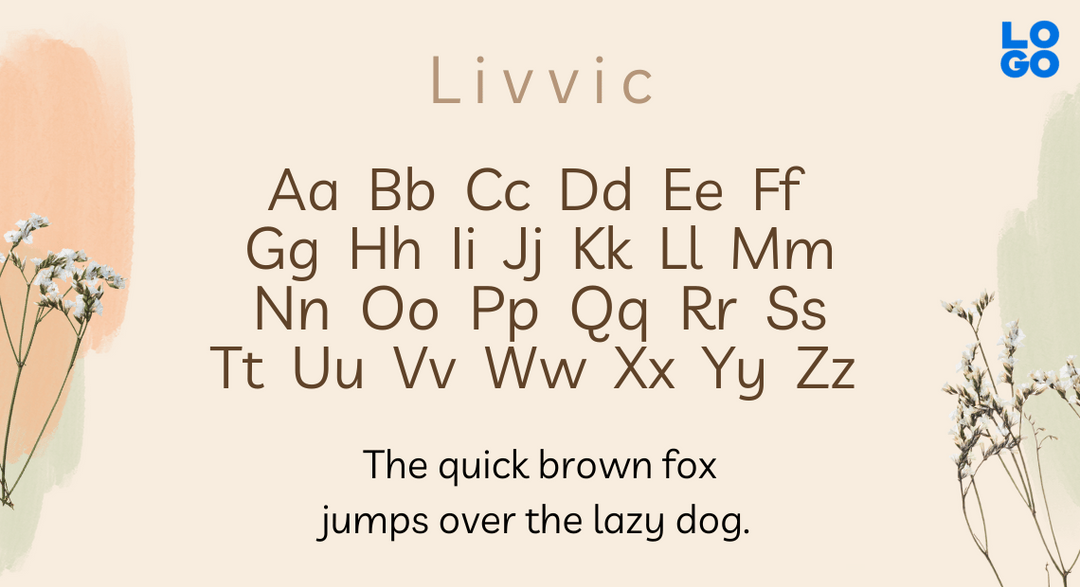 Intended to be a corporate typeface, Livvic has found its use across different genres of businesses. It was designed by Jacques Le Bailly for a UK-based insurance company, when he set out to create the brand's redesign.
Livvic was designed to convey the values and uniqueness of the brand. It isn't a typical corporate font because of the unique character it portrays to the reader. It is an open and friendly font that doesn't seem intimidating as some corporate fonts are expected to be. The inspiration from handwriting is evident in the way some characters are constructed.
‍
17. Sprout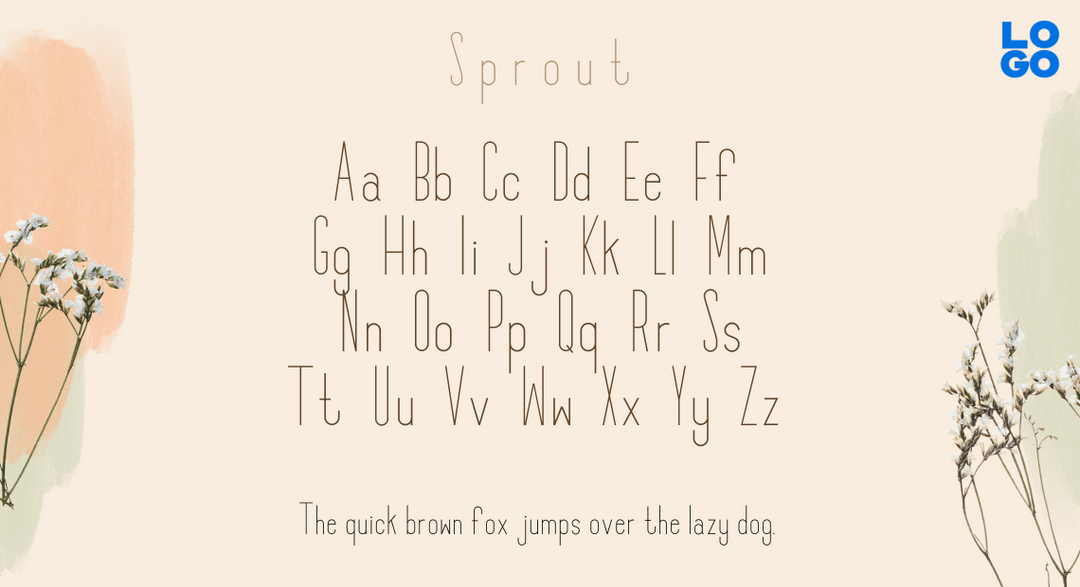 Thin, tall, accommodating, and friendly, Sprout is among the least serious sans serif fonts in this list. It works well on invitations, greeting cards, special notes, and blog headlines. The thin and condensed letters are endearing in the way they present themselves.
Sprout can be used when you are communicating about feminine products or services. Though tall, the characters offer a soft touch to the text. It offers language support for English, Portuguese, Spanish, and French and comes with uppercase and lowercase characters. Albeit, the upper case characters of Sprout are used more often.
‍
18. Gayathri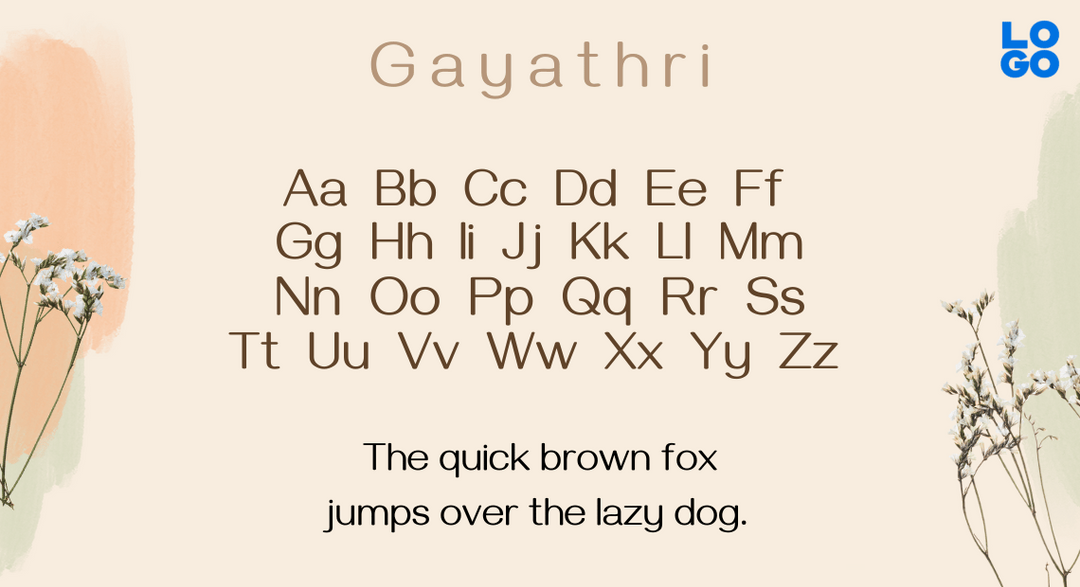 Gayathri finds its origin in Kerala, India, where Malayalam is the state's official language. It is a gentle and modern font that is available in three weights. Gayathri can be used in headlines, titles, and captions.
The letters are flatter but maintain a consistent x-height. This makes it easier to read content written with the font, even in smaller sizes, with minimum effort. The font is developed by Swathanthra Malayalam Computing (SMC). Gayathri Regular is used most often.
‍
Frequently asked questions about the best sans serif fonts
What are some commonly asked questions about the best sans serif fonts? Get your questions answered with these three FAQs.
1. How can you tell if a font is sans serif?
The "sans" in the name of a sans serif font indicates that it lacks the decorative lines or tapers (also known as "tails" or "feet") that are characteristic of serif fonts. Sans-serif fonts are distinguished by their absence of tails and the uniform width of their lines.
2. Why do brands use sans serif?
If your company is a start-up, represents an open and friendly attitude, or is trying to appeal to a younger or more tech-savvy demographic, then a sans serif font would be a good choice. Due to their lack of decorative embellishments, sans serif fonts are frequently used in digital publications.
3. What is a good sans serif font for print?
Microsoft and Evian both use Helvetica, a sans serif that has been around since 1957. The layout is uncluttered and straightforward, making it simple to read. This font is so well-liked that a film was made about it.
‍
Bottom line
The world is rife with sans serif fonts. Their minimalism and clean endings are preferred in modern digital applications. Since we access most of our content on mobile devices, it becomes necessary to choose fonts that look great, even when presented in a smaller form on a phone.
Sans serif fonts are not only easier to read but also ensure that you can read the content sooner.
You may have noticed by now that sans serif characters maintain the same height across alphabets, numbers, and symbols so that they do not cause any impedance to impatient eyes that need to go through large volumes of text on smaller screens while on the go.
Before picking the best sans serif font for your business branding:
Identify what other businesses in your category do with their typefaces and pick a font that is different from all your competitors
Choose one principal font and one as a backup that could be a serif or a sans serif font
Take stock of every possible format you will be communicating in, whether it is a massive outdoor hoarding by the highway or a tiny banner on a mobile website
Fonts have the power to represent the characteristics of your business, so choose them wisely and carefully.
Ready to design your free logo? Get started with our logo maker!
Launch your brand in minutes with a free logo