Are you in need of some inspiration and tips for a great beer logo for your business? Look no further. Keep reading to learn about the best ways to build a beer logo for your brand, with 10 design examples to fuel your creativity.
Interest in home brewing has been bubbling up since the emergence of the global pandemic, which keeps people stuck indoors and looking for ways to maintain a living. Despite the limitations of a new economy, people are starting to experiment with brewing their own beers and starting brewery businesses.
So if you are looking for a beer logo to be the face of your business, this is a perfect time! There are kegs of ideas out there for designing your own beer logo—feel free to scroll down to see 10 excellent examples of best beer logos for inspiration.
For now, let's get into the basics of what makes a strong and effective beer logo:
How do you start a beer company from scratch?
Use typography that emphasizes either boldness or relaxation (or both!), depending on the kind of beer you provide.
Choose icons that are relevant to your brewing process, beer, and your brand identity.
Pick a simple set of brand colors that complement each other and reflect your business's personality.
Choose a beer logo design below and start customizing it to get a free design for your beer company.
Let's dive a little deeper into the specifics, shall we?
‍
How to start a brewery company in 9 steps
As the world increasingly appreciates its uniqueness, the craft beer company has gradually increased its footprint. Formulating the idea of a craft beer is an initial challenge. You then need to turn it into a viable business option so that you can continue to grow and explore newer flavors.
Here are nine steps that can propel your beer company to new heights.
‍
1. Choose a business model
Yes, even a home brewer needs a business model to make their creations popular and bring in money. A business model helps forecast your growth, address granularities, and understand your market better.
The Community Brewing Company has seen inspiring growth. Here's how they do it
You can begin by identifying what makes your business different. Next, use this differentiator as a litmus test and see how consumers rate it over competitive products. If their product has one-upmanship over yours, find out what makes it possible.
Go on to define your market. Draw the personalities of your target customer. Find out what excites them and give your business the garb of that personality. For example, if you are a beer that appeases the palates of youngsters, you want to be peppy. If you make bitters, you want to be in the sophisticated zone.
Project and predict your business approach over the next month, quarter, and year. Define the milestones you have to achieve and plan how to get there.
Coming up with a business model is not easy. The Brewers Association offers resources to help budding brewers create business models.
‍
2. Choosing brewery equipment
Investing in appropriate infrastructure will help you financially in the long run. More than getting what's best for a brewing business, pick equipment that suits your needs.
Purchase equipment that matches these criteria:
The kind of beer you brew and the launches you plan in the next three to four quarters
The size of business you aspire to be. Do not invest for the next decade
The amount of branding you want to do. You will need to brand caps, labels, and cartons for your beer company
If you are low on cash, try investing in used equipment. Such equipment comes without a warranty. You may be left to fend for yourself in case of failure. Picking a reliable source can mitigate the risks.
Once you have the hardware for your brewery figured out, don't forget about brewery management software.
In this case, Ollie is a good example of a tool that can help you automate and better manage everything from the production process to acquiring raw materials, inventory, orders, and even payment processing.
‍
3. Secure licenses and permits
Getting your licenses and permits before you invest in equipment make perfect sense. Regulatory approvals are known to drag on for months. The simpler your business operations and structuring, the easier it is to get a license.
Once you get the wheels of your beer company running, you can scale at a gradual, measured pace.
‍
4. Find a good location for your brewery
The above steps will help you determine where you should set up your brewery. If your beer needs to be consumed more quicker, you must invest in an area closer to where your target audience resides.
You must consider the regulations of the land on which you intend to build your business. Then, consider the scale of your beer company. Investing in a small shed will not be viable after a few months if your business grows.
Barn Own Brewing has managed to set up in a smaller area but is delivering the big goods:
Make sure that you pick a location that gives you access to basic amenities and service professionals at the drop of a hat. Doing so will help you overcome production delays when you encounter downtime because of failure.
‍
5. Choosing your packaging design
The branding of your beer company will depend on who consumes it, where you wish to sell it, and how you define your product. The fun thing about beer brands is that they are free to express themselves. The fiercer, the better.
Vocation Brewery is a brewery based in Cragg Vale, West Yorkshire, England. The brewery was founded in 2013, and it is known for producing a wide range of high-quality craft beers.
The packaging is minimalistic but eye-catching, the colors and illustrations used on the cans and bottles are carefully chosen to reflect the style and personality of the beer, and the text is kept to a minimum to make sure that the design stays clean and uncluttered.
A good beer design should be able to attract the attention of potential customers and also help them to remember the brand, it should also be consistent with the brand and reflect the personality and style of the beer, and it should be easy to read and recognize.
When packaging beer, it's important to ensure that the packaging materials are of good quality and that the beer is filled, sealed, and labeled properly to ensure freshness and to provide customers with the necessary information.
Additionally, it's important to make sure that the packaging is appropriate for the type of beer and its intended use, such as outdoor events or home consumption.
‍
6. Hire the right team
You may conceive an idea for a beer company alone, but soon, you will need help. When you start, hire a lean but efficient team. Give dual roles to team members. For example, your branding, packaging, social media marketing, and PR person could be a single individual initially.
Here's the most resourceful guide to building an organizational chart for a beer company. It is best to begin small, decentralized control by hiring future leaders across departments, empowering these leaders with personnel, and finally creating a board and top management.
‍
7. Share your beer with the world
Distribution will be your final hurdle as a beer start-up. Once you think you have your infrastructure, licenses, and people in place, the distribution network will be one final nail to hammer down before you seal pandora's box.
A good distribution network will eventually take your beer to the customers. Study the distribution networks of others in the same space as you and pick a solution and partner who will do this for you.
‍
8. Build relationships with vendors and the local community
Even with the best team, you cannot grow a beer company without the support of the local community. Reach out to influential clubs, societies, and community leaders and introduce them to your product. Find ways to create sampling opportunities within your locality.
These community leaders will play a vital role in helping your business thrive and are resourceful advisors when you want to grow. The same goes for vendor networks. They are your partners who complete your business plan.
Vendors could be packagers, distributors, quality testers, legal advisors, or even influencers who propagate your product organically.
‍
9. Build a web presence
Gone are the days when you needed to hand out flyers to passers-by on a thoroughfare, informing them about your newly opened business. The internet is the modern thoroughfare. Even though you cannot make patrons sample your product online, you can get them to see their favorite people do it.
The BrooklynBrewing Company has a fascinating and informative website: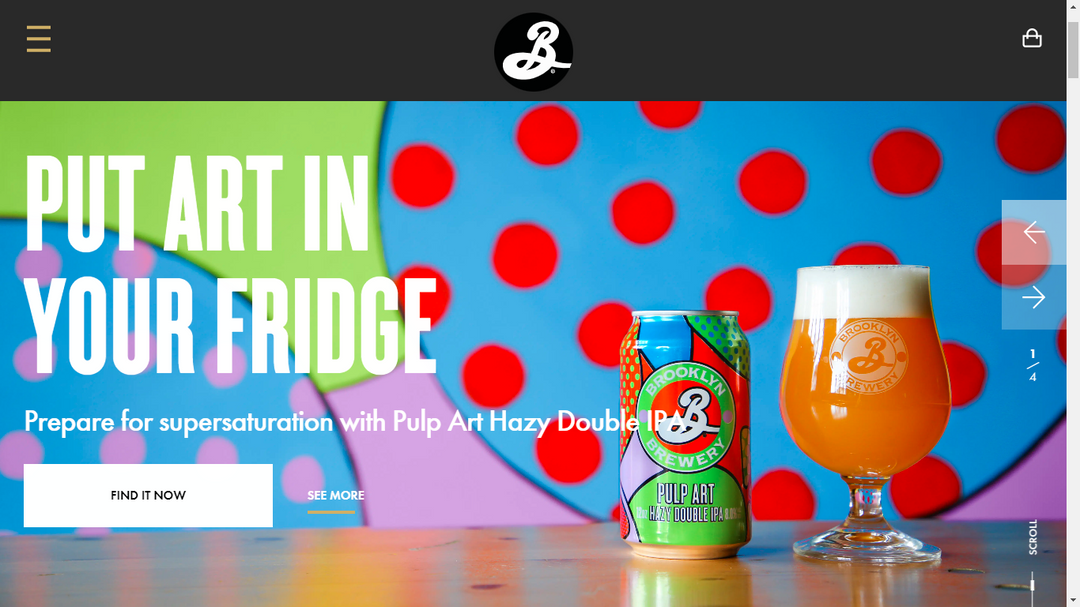 The internet is where you will have meaningful conversations with your customers and earn their trust by taking them behind the scenes and demonstrating how much you care about quality. The internet is where they will reach out to you and others to review your product. Keep listening. Keep acknowledging. Keep improving.
The modern consumer is discerning and loves researching before making a purchase. The internet is where they do it. Be visible and available by creating:
A website
A social media presence
A reachable email address
An advocate network with influencers and community personalities
An online reputation network to acknowledge and respond to mentions and complaints
It's important to note that starting a beer business requires significant investment and resources. It's also important to remember that the beer industry is highly competitive, so you'll need to have a unique selling point and be prepared to work hard to succeed.
To succeed, ensure your beer business branding is on-point.
‍
3 essential elements of a strong beer logo design
Building a logo is always a big decision, and it grants you many benefits in a business.
Your beer logo and business name will be a part of your visual branding for a long time, so take your time with the thought process and gather as much helpful information as you can. Fortunately, we can help you every step of the way.
Our logo maker is so intuitive that all you need to do is input your business name and slogan (if any). Then, you can start viewing an unlimited supply of readymade beer company logos that you can customize to your heart's extent.
Here are three essential elements to incorporate into your beer brand and logo.
‍
1. A relevant beer logo icon
Most craft beer brands follow the same structure: one or two prominent colors, a crest or icon, and an emphasizing name over or adjacent to the emblem. The rise of the craft beer industry has shown the prominence of artsy and emblem-like visuals that communicate a 'hip' energy to the product.
Choosing a logo icon entails looking into your brand identity and target audience. You can select anything from cartoonish illustrations to a noble emblem to extreme minimalism as long as it fits seamlessly with your brand identity and personality.

Go with a cartoon or mascot icon if you want to incorporate some fun, hipster vibes into your beer products. However, if you are just starting out with your business, going with a minimalist icon would be more practical. It leaves room for additions depending on your business direction. It also helps people remember your beer company easily, which is always a plus in your favor.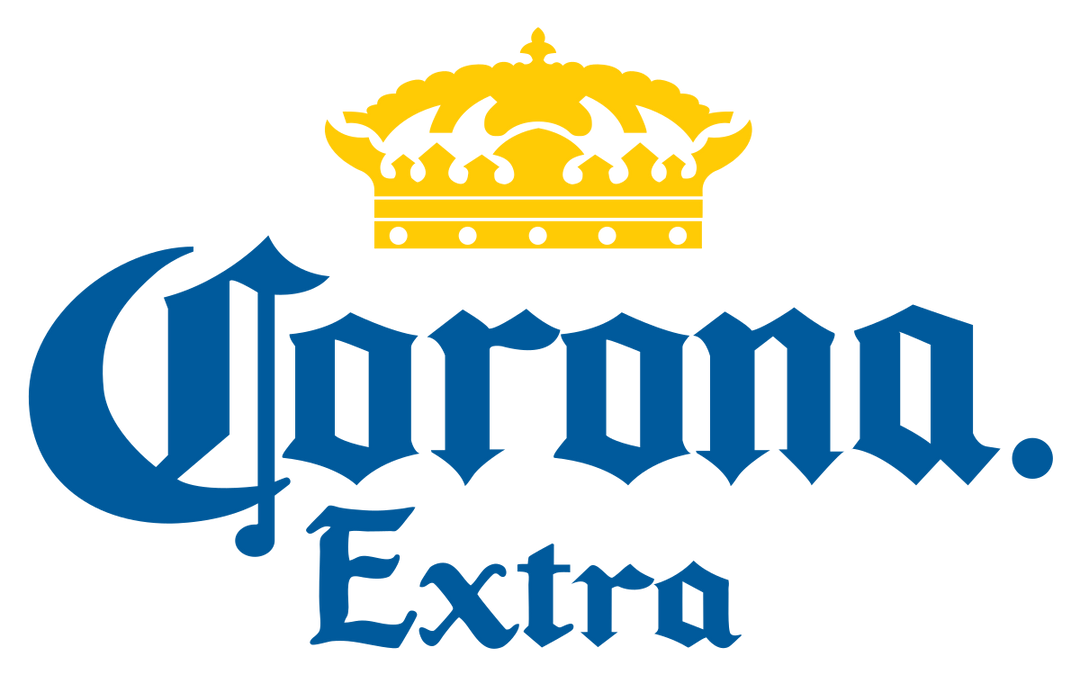 Check out Corona's logo! Talk about a world-renowned beer company with a logo as minimalist as it gets. A simple gold crown is enough to say exactly what the business needs to say—and they succeeded. It goes to show you don't need something elaborate to make your case.
Keep in mind that your target audience is a significant factor, as well. Choose an outlandish, hip, or trippy icon if your wild and adventurous beer flavors are meant for younger customers. If you are targeting a classier audience, a minimalist logo should do wonders.
Take an introspective dive into who you are as a brewery business and who you are catering to before deciding on a beer icon. Once you do, the answer becomes as sparkling clear as the beer you serve.
‍
2. A legible and strong beer logo font
Choosing the right beer font design for your craft beer logo can communicate so much about your brand personality. Though you want it to exemplify who you are to a tee, it must also be readable. The point of a beer logo is to have customers remember you, and if you choose a font with no legibility, it defeats the purpose of your design.
Consider using serif and sans serif fonts, as they are the most readable fonts among the rest. Now, decide if you want a modern or a classic feel for your brewery. If you are going for modern, choose sans serif. If you are looking for classic energy, go with serif. Now that you have limited your selection to a single type, choose typography that defines you and your style as a brand.
Your beer logo font has a significant impact on your visual, as it contributes to how your audience will perceive you and how they take in the vibe of your brewery.
The origin of beer goes back to 5,000 B.C., leading many brewery owners to choose vintage and script typographies to mimic its timelessness. Stella Artois did this well! Not only did they perfectly achieve the vintage look, but they also chose an incredibly readable font.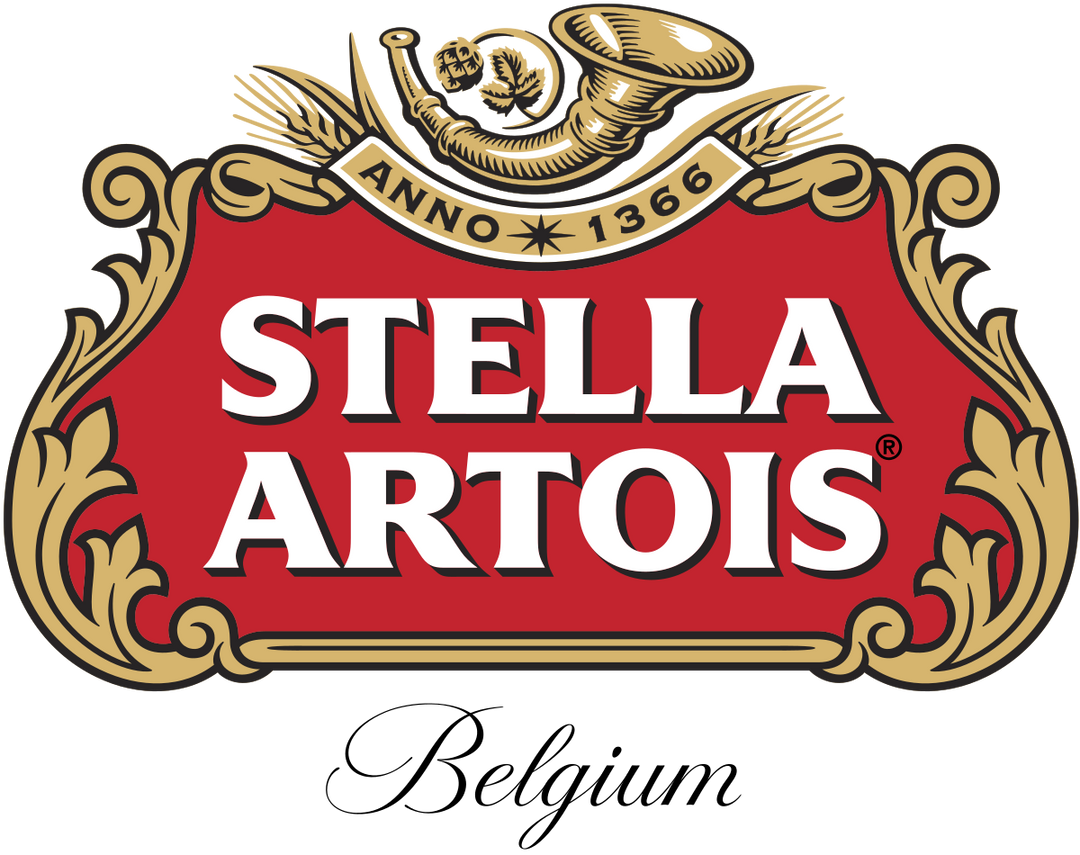 But don't put yourself in a box or feel compelled to swim with the stream. If you want something more simple, go for it! At the end of the day, your beer speaks for you.
As long as you choose a font that captures your personality and energy, that is all that matters. Nothing draws people in like heart and authenticity.
‍
3. A perfect set of brand colors
And perfect means perfect for your brewery. Every business from differing industries has its own set of brand colors that fit and pertain precisely to who they are and what they provide. You can't just roll the dice with this decision—you have to look into your brand personality to decipher the best colors for your business.
Each color has its own meaning and significance, almost like a symbolic representation of what your brand believes in. Now, as far as brewery colors go, the most common hues you see in the industry are:
Brown
Green
Orange
Red
Yellow
But again, don't put yourself in a box. Revert to your brand personality to get the answers. Every color sparks a distinctive emotional connotation, acting as a helpful "shortcut" for designers and marketers to communicate the complexities of their business with just a single glance. Standard color or not, it just needs to represent you.
Additionally, there is something to be said about unique choices. You may choose off-brand colors to set yourself apart from the competition.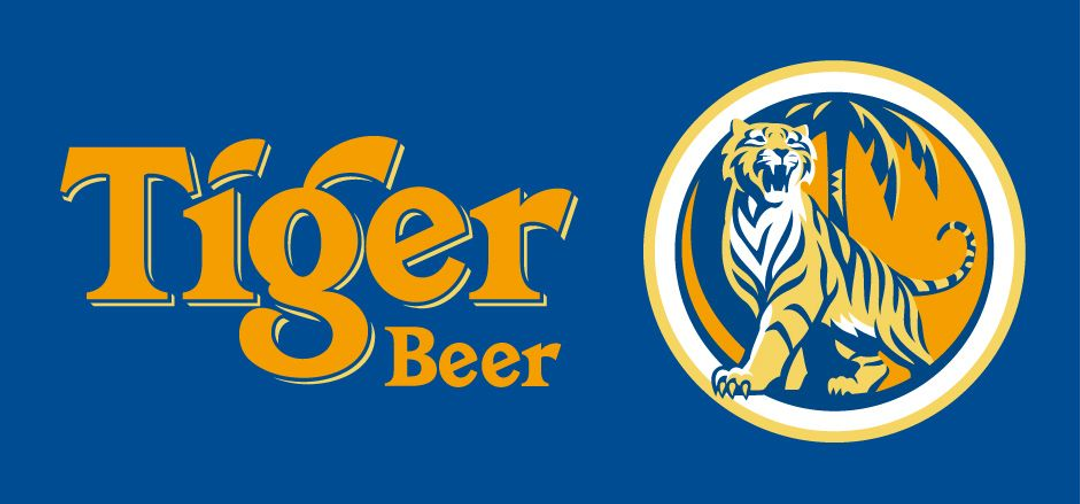 A great example of the power of uniqueness is Tiger Beer. Mixing orange and blue is not a popular color combination, yet Tiger Beer sets itself apart from the competition with such a distinctive color scheme that totally works!
The tricky thing here is that you still need to choose brand colors that are appetizing when associated with your products. For example, you wouldn't choose a dominance of red for an organic meal plan service. The same rules apply to the brewery industry.
Consider sticking to standard beer brand colors, but throw in a unique spin on them to set yourself apart. It's all about taking something mundane and making it extraordinary.
‍
10 beer logo examples to inspire you
Nothing can get your creative motors running like design inspiration! Check out these 10 examples of best beer logos with the help of our free logo maker.
With different business name examples to help you get an idea of craft beer branding that fit the industry, hopefully, this list sparks your innovation and desire to create a great beer logo for yourself.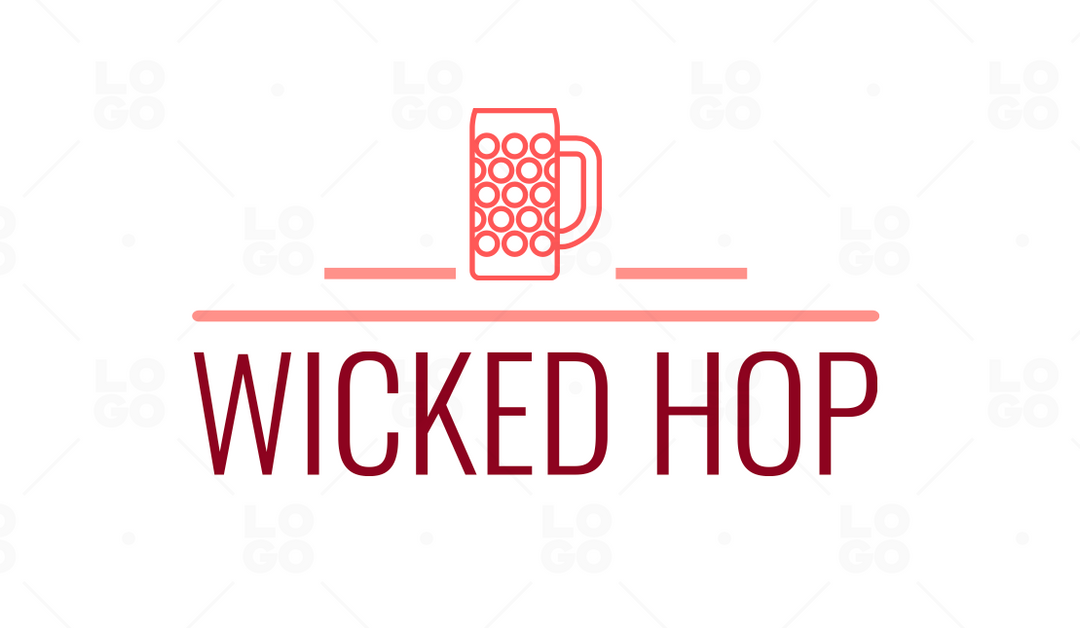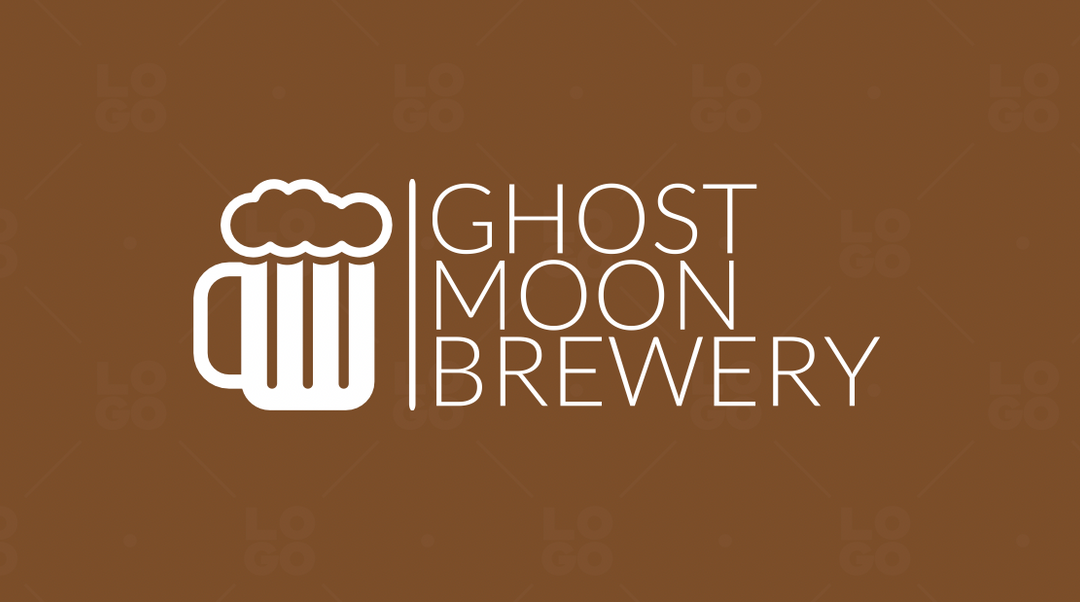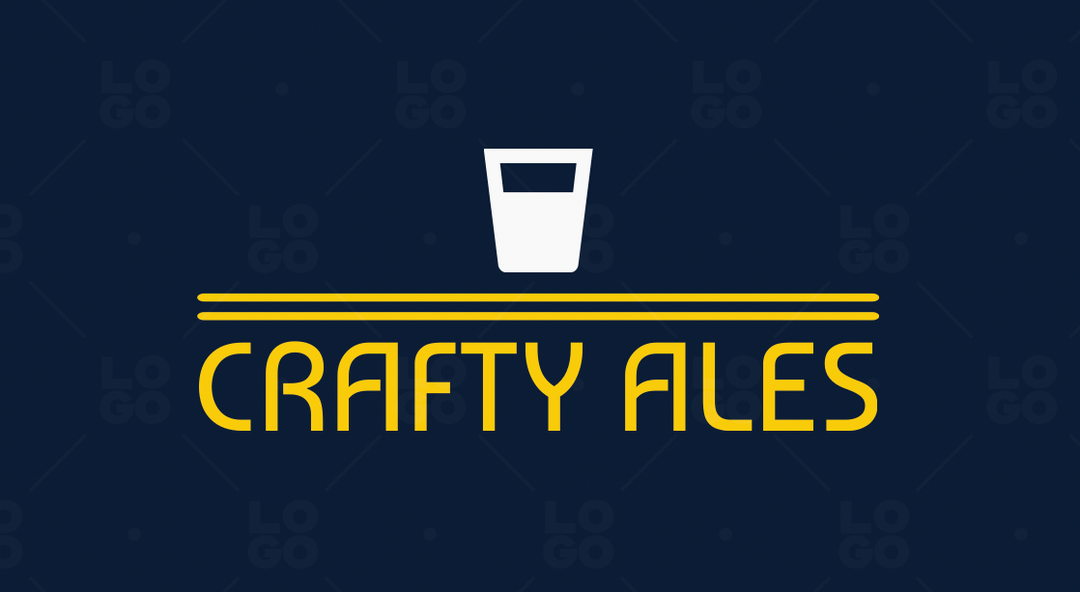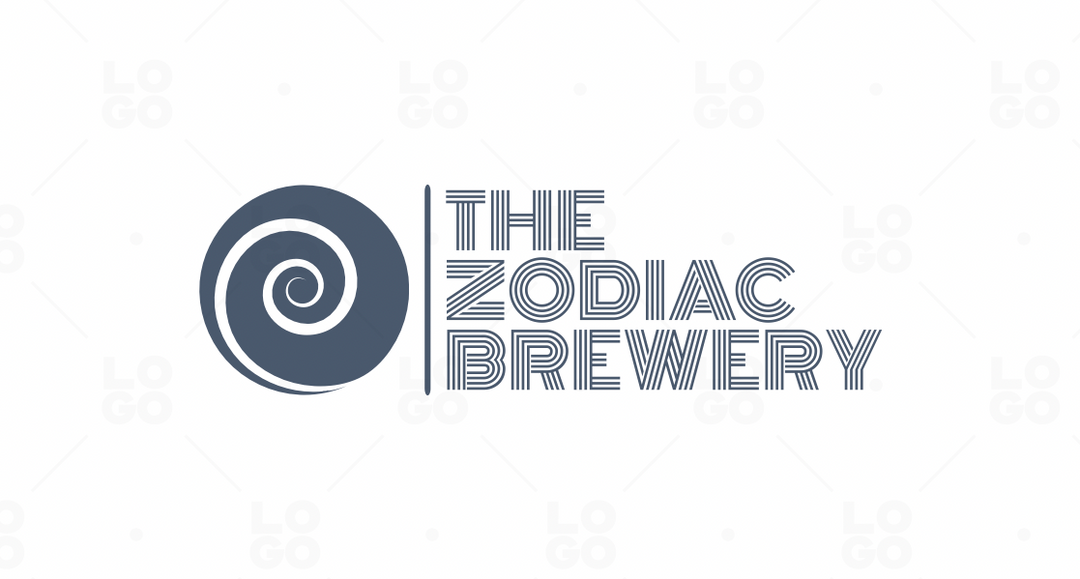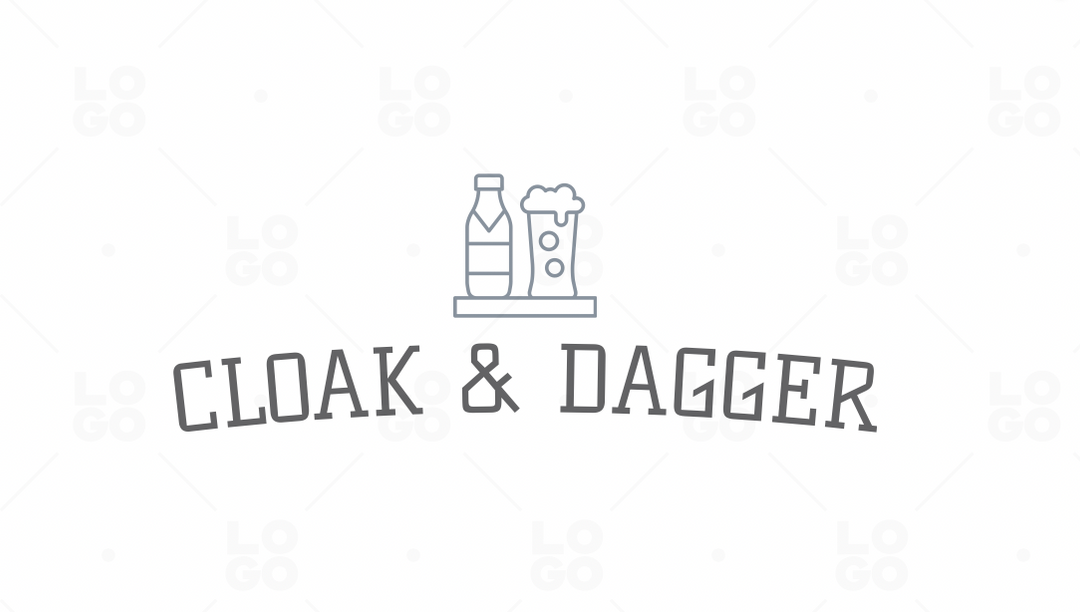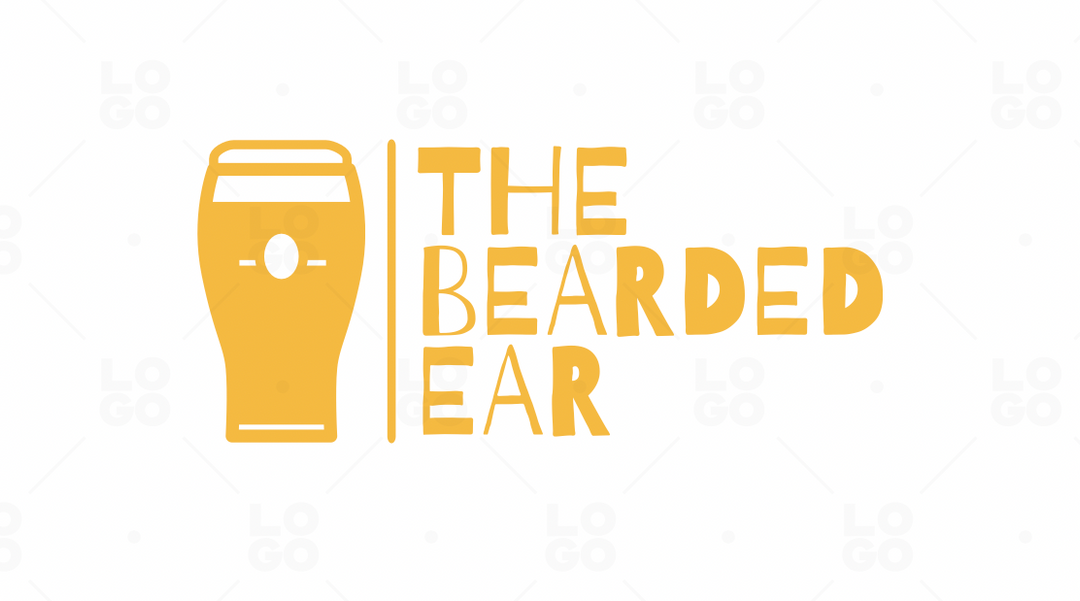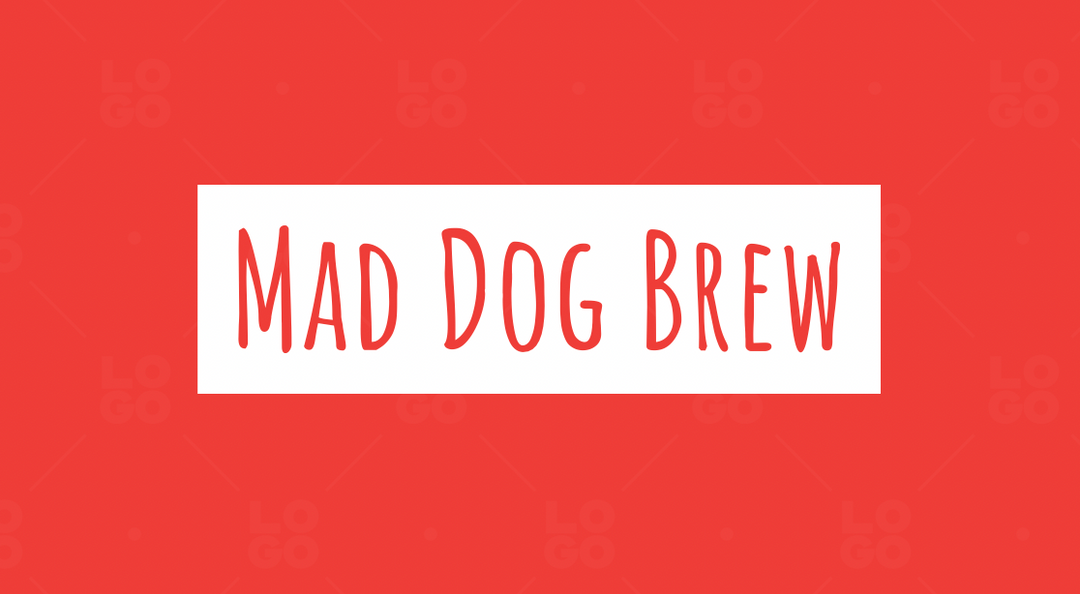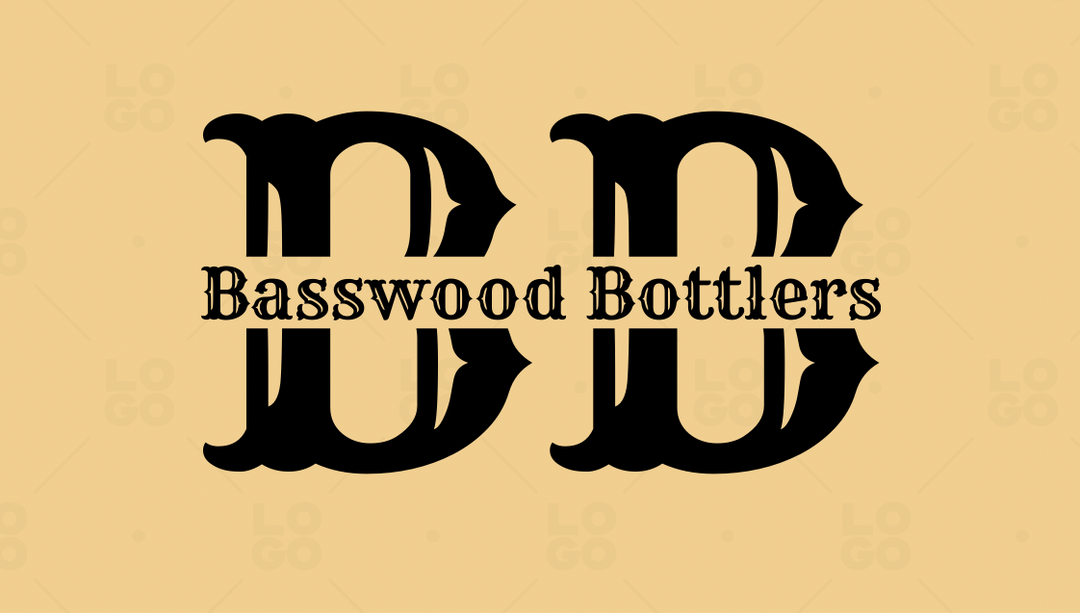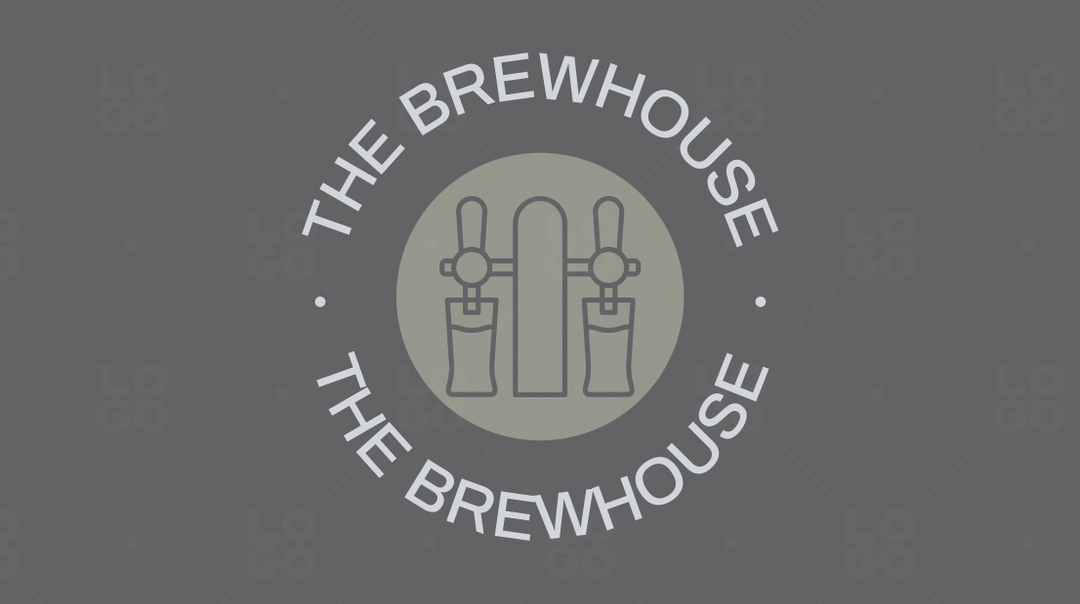 ‍
Frequently asked questions about starting a beer company
What are some commonly asked questions about starting a beer company and getting the best beer logo? Get your questions answered with these three FAQs.
1. What is the most popular beer company?
Budweiser. Anheuser-Budweiser Busch's beer is an American lager. With the unofficial moniker "The King of Beers," it's no surprise that Budweiser is at the top of this list of the nation's most popular beers.
2. How do you choose a beer company name?
Ultimately, the name should be chosen after much consideration and research. It should represent your brand and its personality and make it easy for customers to find and remember. For inspiration, you can use a business name generator for unique and effective beer company names.
3. What are the qualities of a good beer logo design?
A good beer logo should have the following qualities:
Simple and memorable: A simple logo is easier to recognize and remember, which is important for building brand recognition.
Unique and distinctive: A logo should be unique and different from other logos in the industry. It should stand out and be easily recognizable.
Relevant to the brand: The logo should reflect the personality and style of the beer, as well as the overall brand identity.
‍
Kick back with an awesome beer company and logo
You know, a logo is a lot like a pint of beer. It's about exploration, experimentation, and the desire to instill a certain feeling in your audience. Get started with our logo maker, and you will be brewing up the perfect beer brand and logo for your business in no time to spare.
Ready to design your free logo? Get started with our logo maker!