‍
For more than ten years, Walmart has topped every Fortune 500 list. There are always options, and they're all reasonably priced at this store. When in need of something, it's one of the first places most people look.
The name Walmart is known in every corner of society and can be found around the world. Yet, with humble beginnings as a simple variety store, what are the secrets that allowed it to grow into the massive corporation of today? And how did its logo evolution play a part in its eventual success?
‍
The Walmart logo evolution through the years
Let's start with the evolution of the Walmart logo starting at 1962.
‍
1962 to 1964: The original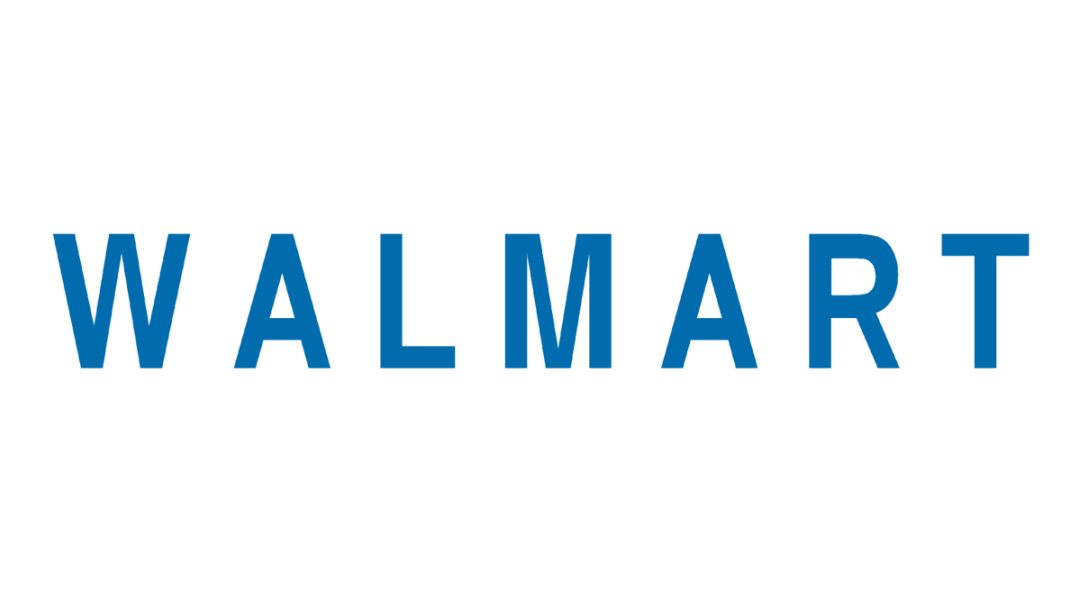 The logo design was a symbol of professionalism for the company, adopting a blue color scheme and a sans-serif font. Despite its legibility, clarity, and cleanliness, this logo failed to convey Walmart's true nature at a time when the company was still developing its brand identity and name recognition.
‍
1964 to 1981: The years of uncertainty
After only two years, the company decided to change the Walmart logo. And thus began the nearly two decades of rapid logo changes, sometimes even having multiple logos simultaneously.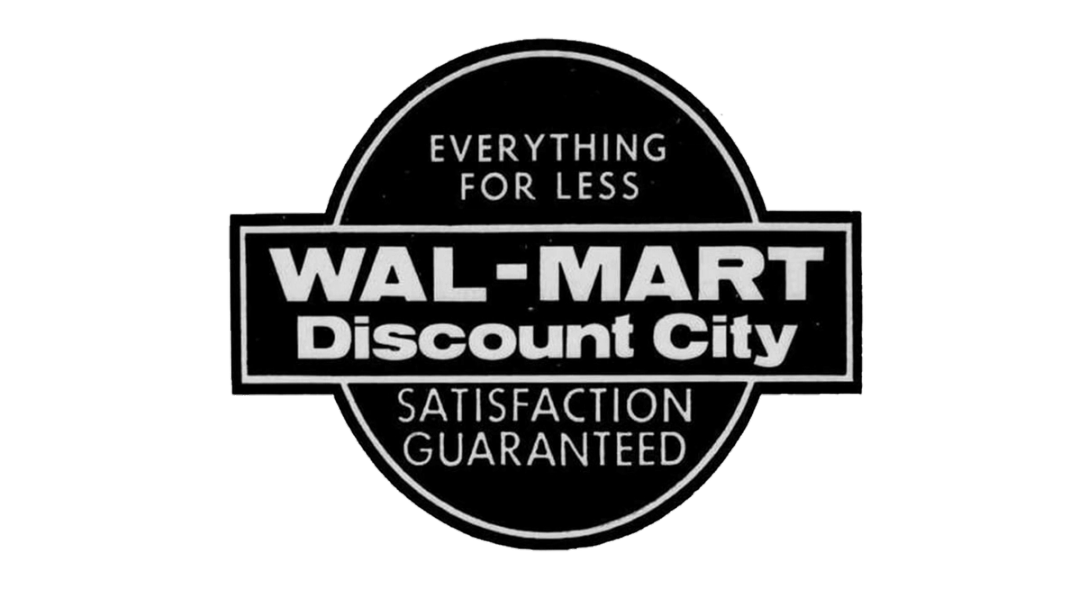 In 1964, a new logo was introduced as the first step. The hyphenated name was incorporated into the rounded logo design. While it was a fairly unremarkable logo, it did a good job of conveying the brand's mission and the benefits customers could expect.
Over the course of those roughly twenty years, this logo was regularly featured on Walmart's printed materials and home decor. However, this Walmart logo was never installed on the side of a building.
Between 1965 and 1981, there was a flurry of four similar logo designs. The Walmart design appeared to be maturing as it changed to a rectangular logo shape and was gradually simplified.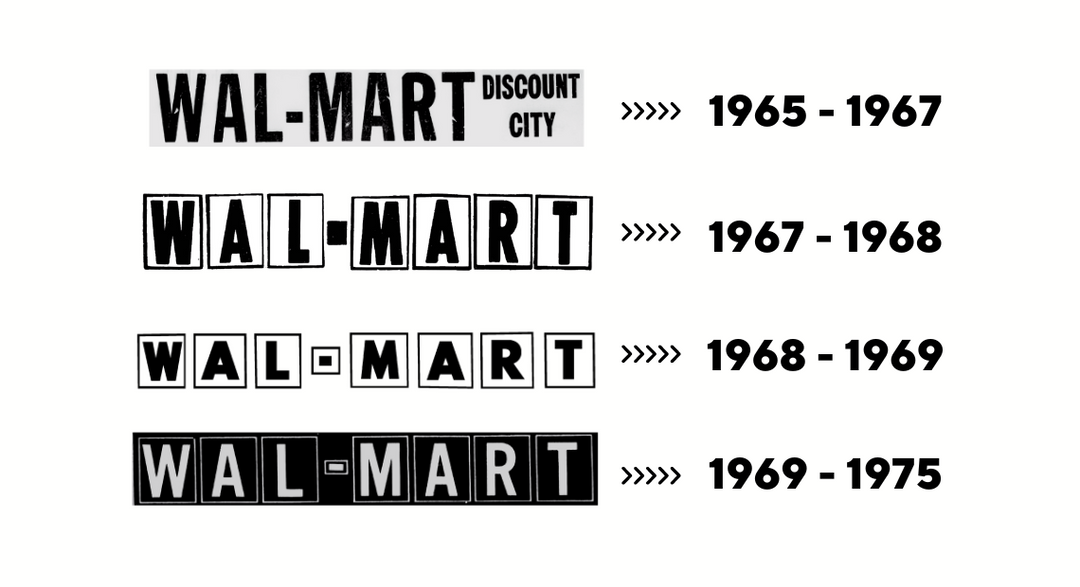 The shapes became more square and had cleaner lines. Walmart was slowly removing the extra phrases surrounding the logo. It was intended that the newer-looking boxes would convey a more contemporary vibe, while the original distressed logo was meant to evoke a more traditional one.
Continuing these rapid-fire changes, they updated their primary logo once again a mere two years later. This time, they inverted the colors while staying with a monochromatic color palette.
Finally, they settled on this frontier-style logo. All through the 1970s, this logo for Walmart was used, sometimes in the bold black shown above and other times in a muted blue. This emblem was noticeably more country-style. Over the course of Walmart's branding experiments in those decades, it was a fan favorite.
‍
1981 to 1992: The new look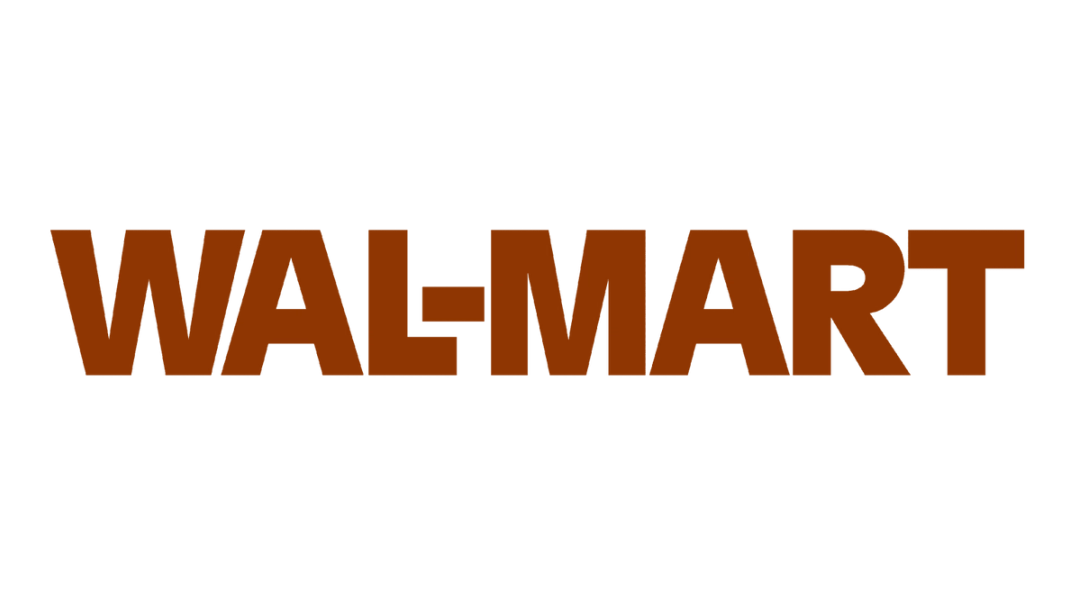 The next completely new Walmart logo was released in 1981. After a remarkable 11 years, this entirely brown logo was a marked step away from previous iterations.
The hyphen from earlier iterations was kept, and the design was completed in an all-caps style, albeit in a much cleaner sans-serif typeface, which was then given a bold emphasis. Brown made it possible for the brand to retain some of its earlier versions' rustic allure while also evolving into a much cleaner and more modern logo.
With a larger customer base and stronger brand identity, Walmart was able to revert to using only its name as the logo, as it had originally planned to do back in 1962.
‍
1992 to 2008: The star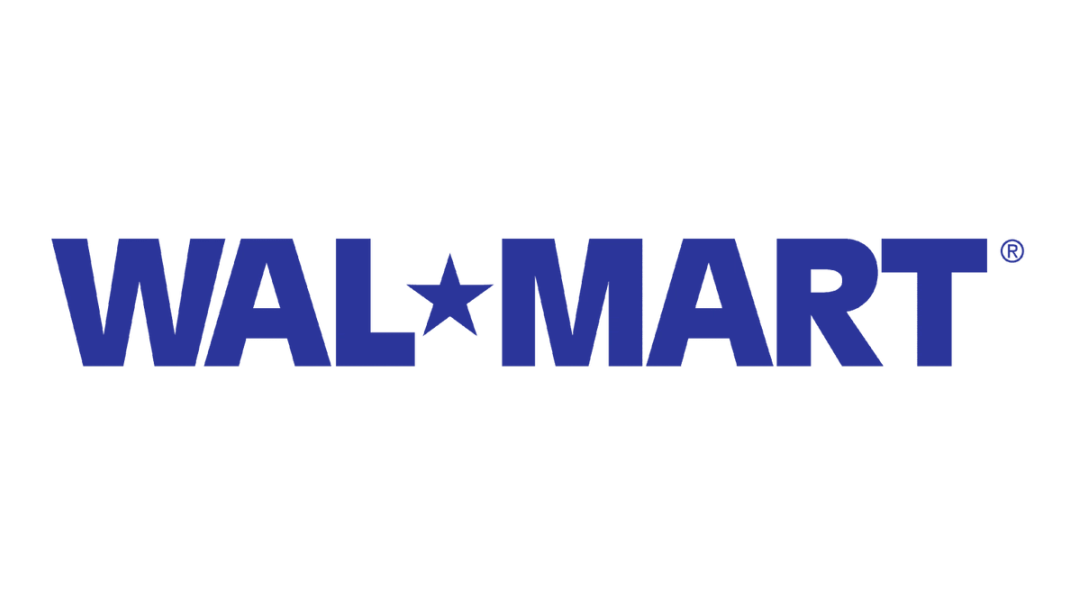 The original 1962 logo's blue color scheme was revived for this logo redesign. The font itself remained mostly unchanged, but the hyphen was given a starlike makeover.
The addition of blue gave the logo an air of sophistication and urban sophistication. Some stores in North America are still using this logo while they make the switch to the new one.
‍
2008 to today: The final version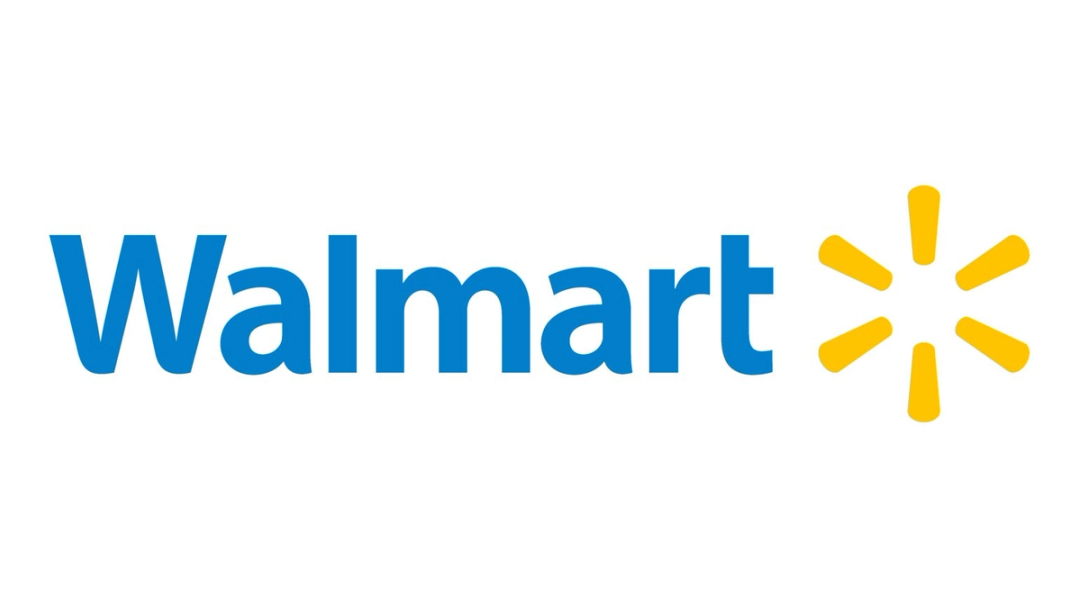 At long last, we arrive at Walmart's current logo. Even though the yellow "spark" is the only Walmart logo used in some places (like the Walmart app and website), most of us still recognize this one.
This new Walmart logo came at a time of transition for the company. They wanted to stop selling low-quality products and become a market leader through innovation and ethical business practices, so they switched to fair marketing.
Rebranding your company with a new purpose and set of values is a surefire way to alter its image in the eyes of the public.
The hyphen has been eliminated, and a new six-dot symbol known as a spark has been added as the most striking change from the previous version. Additionally, the brand rebranded itself from an all-caps name to one where only the first letter, "W," is capitalized.
The now-iconic yellow and blue brand colors were established by sticking to their roots. All of a sudden, the logo was bright and youthful thanks to the new color scheme.
The LOGO.com versions of the Walmart logo design
Over the years, the Walmart logo has gone through a number of distinct variations. But could the famous design be reimagined?
Design similar versions of the Walmart logo below and take them home for free!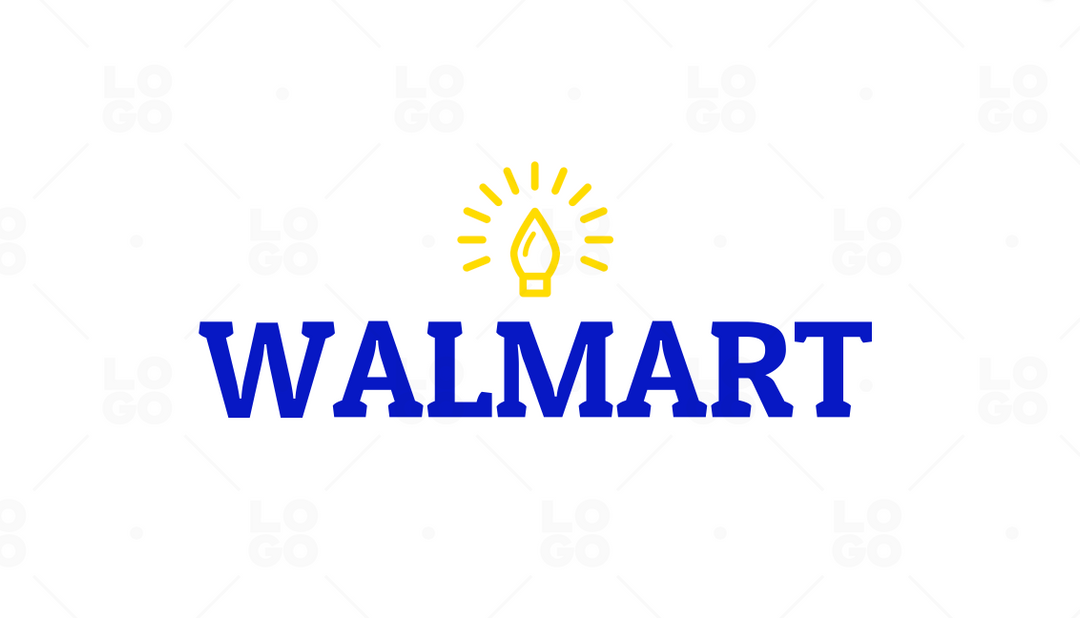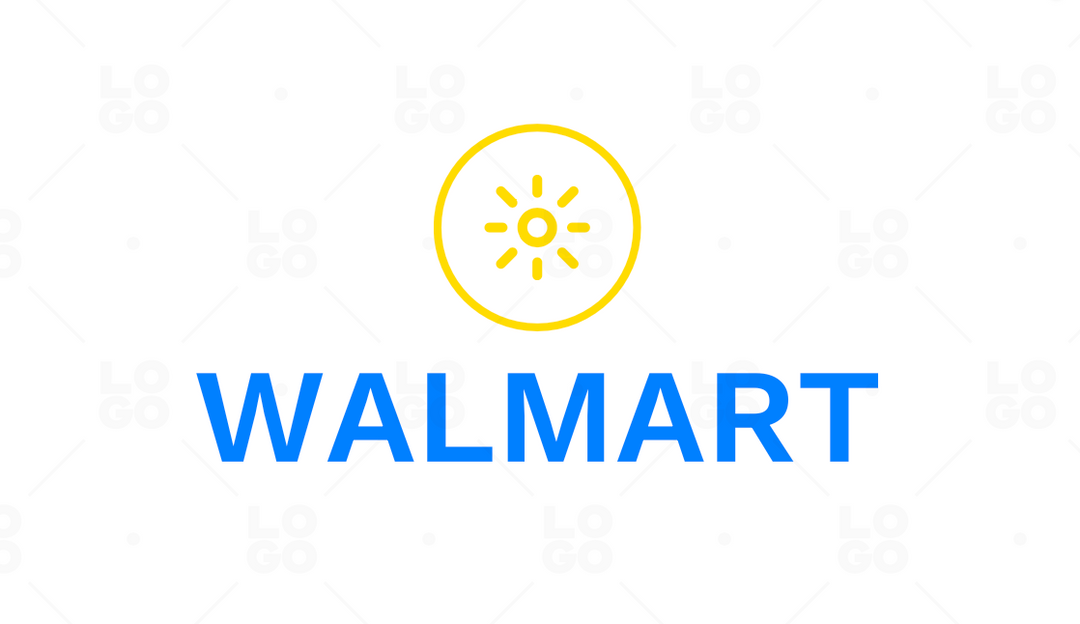 Thanks to a few subtle tweaks, we now have not one but two Walmart logo variations to take inspiration from.
‍
Design elements of the Walmart logo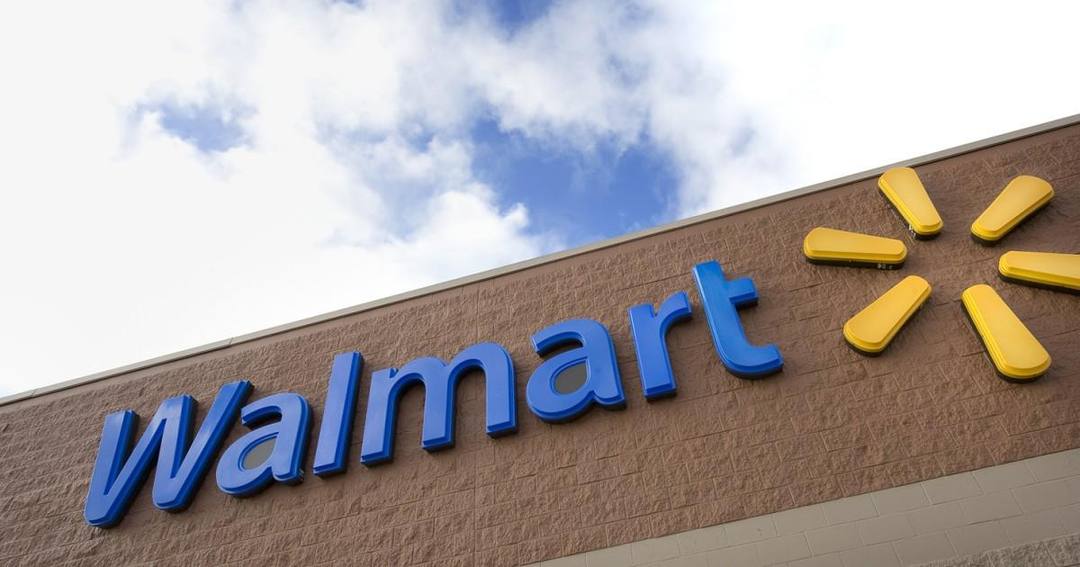 Originally, the company's goal was to be recognized as a truly American one, with an emphasis on country charm and low prices. Walmart understood that it had to adapt to survive. The public no longer desired their company. They preferred something fresh, cutting-edge, and high-end.
Everything began with the typeface. A straightforward sans-serif typeface was used, as this is one of the most popular choices for logos. This typeface, with its straightforward, uncluttered lines, is not only universally adaptable but also exceptionally pleasant to the eye.
The spark was a crucial part of the rebrand. The spark has come to symbolize the company more than its name, and it is said to represent Walmart's six core values.
According to representatives at Walmart, the six dashes (also known as sparklets) represent the customer, integrity, respect, associates, service, and excellence.
This new Walmart logo aimed to change the company's perception, moving away from budget goods and towards a more global audience. Walmart wanted to change its perception from being rough and rugged to being open and welcoming to everyone. With the company's incredible success, it is easy to say that they succeeded.
Changing your company's branding is essential if you want to give it a new image. Even if you rebrand, rebrand your marketing materials, and set new goals, keeping the same logo will make it difficult for people to perceive you in a new light.
‍
Five fun facts about Walmart
Walmart is one of the largest companies in the United States. While the company always attempts to put its best foot forward, there are still a few quirks and fun notes about this retail behemoth.
‍
1. Walmart has its own museum
The very first location of what would eventually become Walmart could be found in Bentonville, Arkansas. It's open to the public without charge and still sports its original tiling. Products from the original run and even the first office are on display.
‍
2. They once owned and operated the largest private satellite network
Granted, this was a long time ago, starting in 1987. Walmart invested 24 million dollars in this network in order to complete it. Its goal was to provide two-way voice and data and one-way video transmission between its over twelve hundred stores, regional offices, and distribution center locations.
Using antenna dishes that were usually around 6 feet wide and a 27-foot antenna dish at headquarters, the four-satellite network was the largest private network of its time.
‍
3. The largest Walmart is found in New York
At over 260 thousand square feet and two stories, the Crossgates Commons in Albany, New York, is Walmart's largest location. Since it is spread out over two floors, there are escalators both for you and your shopping carts.
‍
4. Walmart has a list of the most popular products by state
Walmart stocks a variety of items, and some are widely beloved by the general public. The Instant Pot was a huge hit and massively popular in many locations, but some best-selling products are definitely odd.
In 2018, crayons were the number one purchase in eight states, and condensed milk was the number one item in Maine. That said, across the country, the number one product was bananas.
‍
5. Walmart is the world's largest company by revenue
If you believe the 67th edition of the Fortune 500, they are the biggest business in the world. This is an enormous corporation, with over 10,500 stores spread across 24 countries and over 2.3 million employees.
And with sales of $573 billion, it easily outpaces Amazon, which comes in at #2 with $386 billion in annual revenue. Since 2013, it has consistently topped this list, making it its own for the past decade.
‍
A brief history of Walmart: How did it come to be?
Sam Walton, who was born in Kingfisher, Oklahoma, in 1918, is widely credited with launching what has become the largest retail empire in the world.
As a teenager, he watched his parents start small businesses and make entrepreneurial deals. Later, he attended the University of Missouri.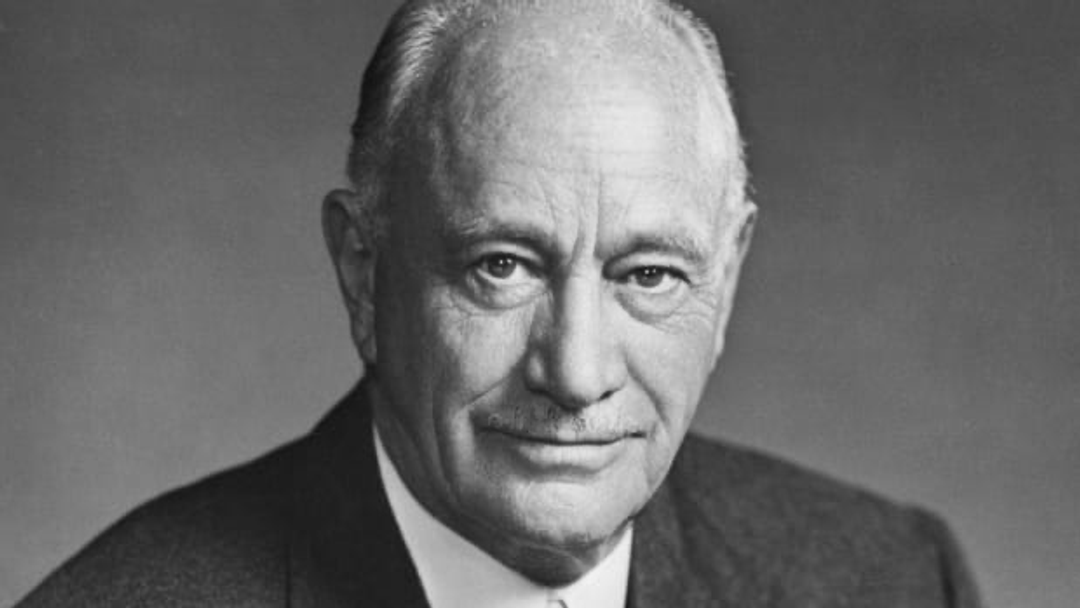 Following graduation, he started working as a sales trainee for what was then a single store in Iowa bearing the JC Penney name. However, he was rumored to be one of the worst workers there, and his boss reportedly threatened to fire him due to his poor bookkeeping. And yet, he was a master of the sales game.
After the war in 1945, Walton decided it was time to open his own business. Starting with only a loan from his father-in-law and his personal savings, he leased a small store. He took an unorthodox approach to ownership. Repeatedly finding loopholes in contracts to let him skirt rules and lower costs.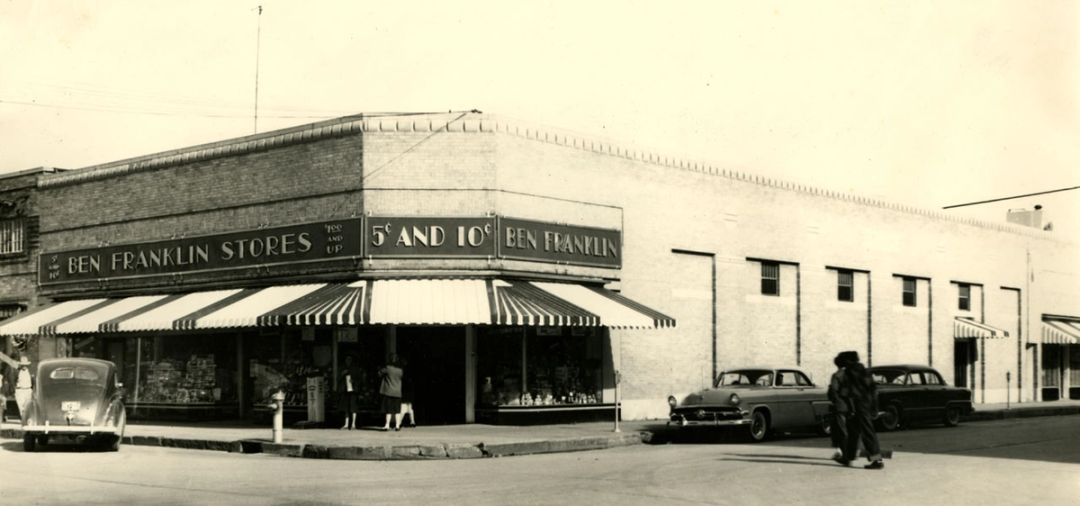 Only five years after starting his lease on the store, he had grown it to be the leading variety store in Arkansas. He was able to do this by sticking with his central philosophy, "make the customer's life better."
Unfortunately, he was not able to renew his lease and was forced to vacate the premises and the area when its term expired. The owners took this action because they were unhappy with his habit of breaking the rules and using loopholes. Therefore, he had to begin again.
‍
He opened a new store under a 99-year lease in 1950. Named Walton's, this brand would turn into the now well-known company, Walmart. He was constantly looking for ways to lower prices and keep his customers happy.
He was one of the first adopters of self-service (having the customer collect their goods), which is found in almost every store today. Over the next few years, he was able to make massive profits and open 15 new stores by the end of the decade.
But Walton had even bigger dreams. He devised a new strategy: build large variety stores with heavy discounts on all goods, and place them in small towns and suburbs.
This idea was already found in small stores in the city, but Walton wanted to bring a new version of it. By having incredibly low prices, he could undercut competitors and make money via exceptionally high volumes. This idea was the birth of Walmart. This philosophy would remain with the brand for decades to come.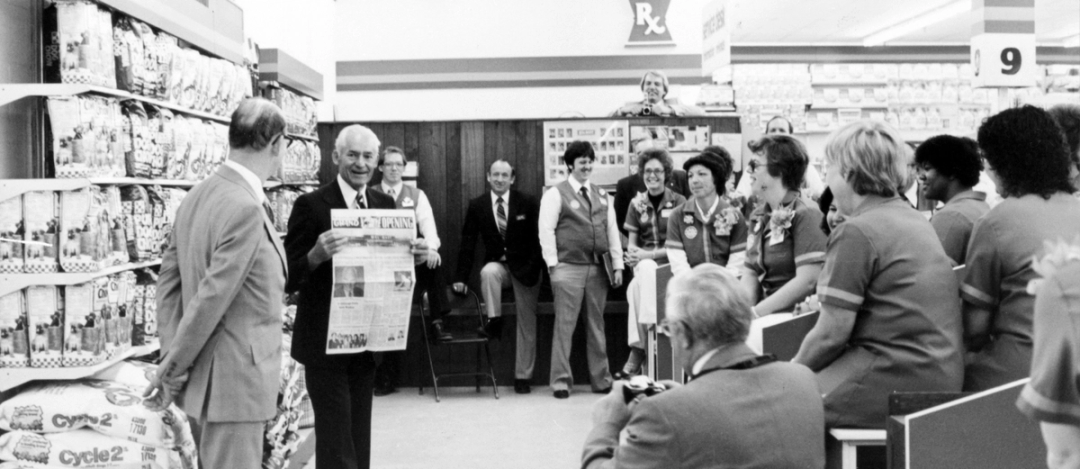 Finally, in 1970, Walton took Walmart public, raising $5 million to pay off the company's debts and loans. Over the next few years, he rapidly expanded. At first, adding stores in the single digits, and then in double digits. By the end of 1980, there were 276 stores, with 100 more opening every year.
Walton was able to grow Walmart by treating his workers well, making his associates partners, and incentivizing them with stock and monetary bonuses. That said, the low prices also allowed for market dominance and rapid growth.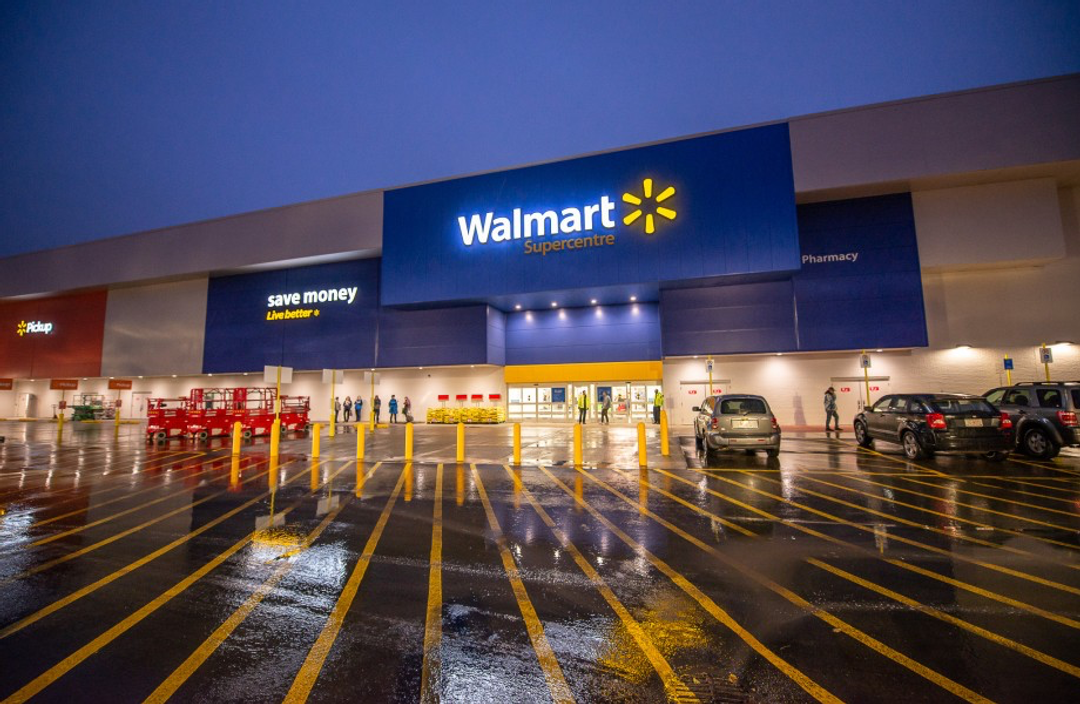 Walton was constantly innovating, being one of the first businesses to keep the store open for longer hours, use cheaper and more durable materials, create large free parking lots for the customers, and buy directly from manufacturers rather than wholesalers.
Today, Walmart continues its low-cost, high-volume philosophy, making over half a trillion dollars in revenue each year and operating over 10,000 stores.
‍
Frequently asked questions about the Walmart logo
What are some commonly asked questions about the Walmart logo? Get your questions answered with these three FAQs.
1. Why did they change the Walmart logo?
It was a major part of Walmart's plan to modernize its brand to switch to a new logo and create a new symbol. The Walmart branding team believes the spark represents innovation and inspiration.
2. What is Walmart's brand identity?
According to Walmart themselves, this is their brand identity:
"The Walmart brand identity is like a great pair of jeans: a perfect fit, comfortable for our customers, associates, and suppliers. It projects a relaxed and friendly image. We love wearing it every day."
3. How does Walmart attract customers?
Walmart has some of the best slogans in the world, and they succeed in attracting customers. Some of them are:
"Save money, live better"
"Lowest price store"
"Worry-free fresh"
"Everyday low pricing"
Television commercials, billboards, social media, and online marketplaces are just some of the many advertising channels utilized by Walmart, and one of their slogans never fails to make an appearance.
‍
Bottom line
Walmart is so successful today because the company and its founder weren't afraid to experiment, bend the rules, and try new things.
From the ever-changing logo in the 1970s to constant loopholes and innovations, Walmart has always been at the forefront of its industry, pushing to find what works, what doesn't, and how it can be a better version of itself for its customers.
By constantly and consistently adjusting to the times and taking advantage of developments, Walmart has become a case study for success.
Ready to design your free logo? Get started with our logo maker!