As you meticulously plan your new website, a significant concern will taunt your content team: how to write an About Us page.
Does it have to speak about what you do as a company? Should it describe your sector? Must it tell a story? These are relevant questions, which beg the need for an exclusive brainstorming session.
Here's Why You Need To Know How To Write An About Page
If your company is not one of the Fortune 500, it is safe to assume that you will have a number of visitors who want to learn more about you. Even popular brands mandate the presence of an About Us page because it allows a business to define itself.
Here's why you need to care about the way your About Us page is written:
1. It's The Heart Of Your Website
Modern website designs relegate the About Us page link to the footer of the home page. However, if you are a new brand, you want it up there in the global navigation.
It's where you will see the maximum number of visitors, especially if your brand is actively marketing for customer acquisition.
Here's a nice example of an About Us page that isn't heavy on promises but just an introduction to the humans behind the brand.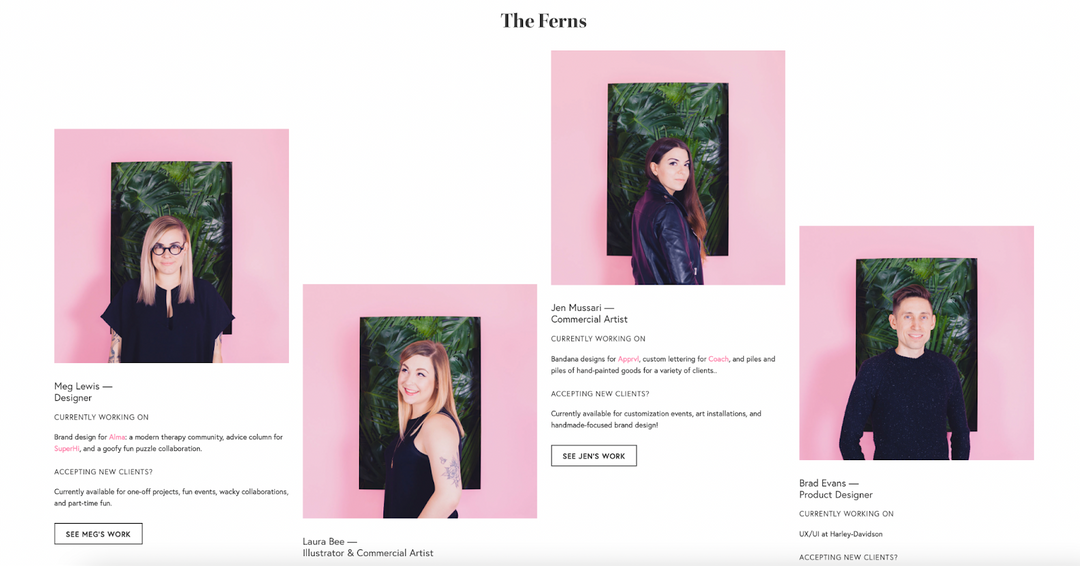 If you are a collective, you want to lead with your people.
2. It Creates Invaluable Trust
A brand confidently introducing itself online is the equivalent of a confident salesperson's handshake. It cements your position in the mind of the customer, who may be encountering your brand for the first time.
If you are a freelancer and want to create a level of trust among your visitors, you could take a leaf out of Blake Fili Suárez's incredibly engaging and sincere About Us section.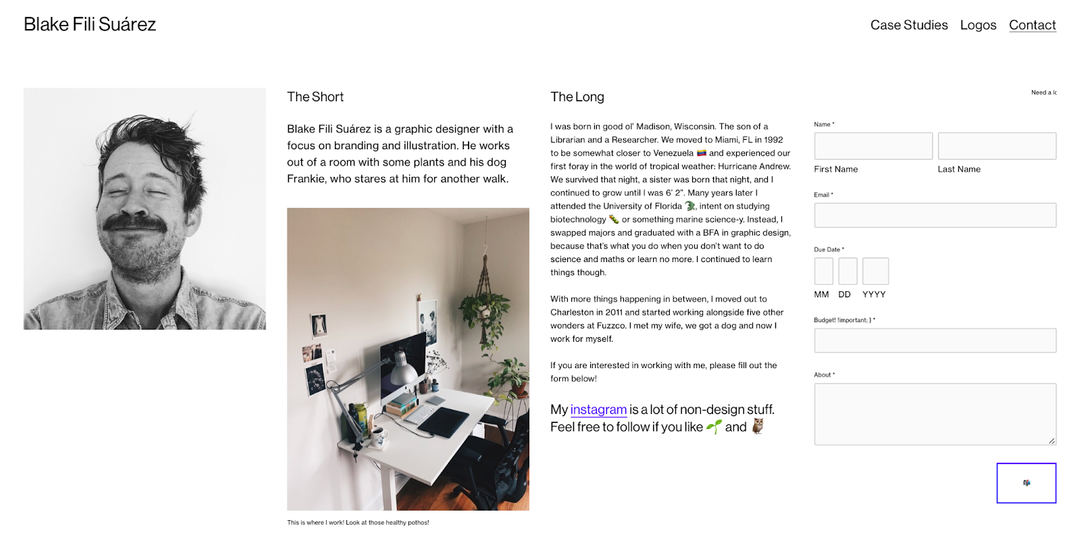 3. It Pushes Your Agenda
If you have a marketing claim in your About Us section, it becomes your motto. It proves what you stand for. It strengthens the recall of your brand in the mind of the visitor, and they begin to associate your values with your brand.
Surely, Unilever is a mammoth enterprise. But if they use their descriptor page to talk about what they stand for as a company, shouldn't it be good practice to do so?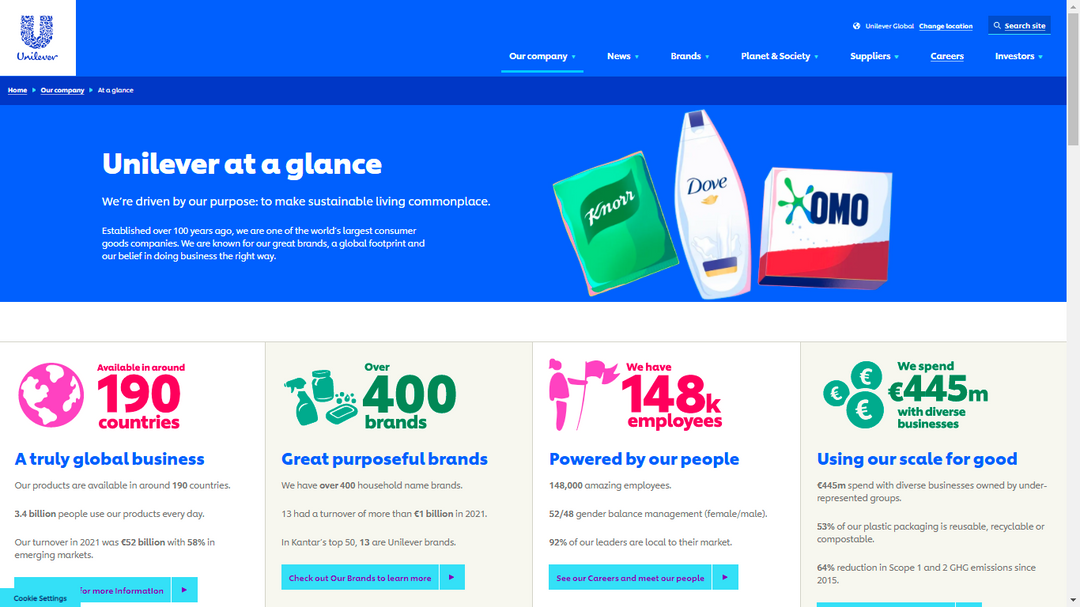 What Does An About Us Page Normally Comprise?
It's your website, and you want to make a great introduction to your visitors.
Your About Us page could end up being your sales pitch or reason-to-believe in your business. Here are some of the most common ingredients of successful About Us pages.
1. Your Brand's Story
Start with where you started. Be compelling and succinct. You do not want to come across as overzealous and mention every single detail of how you got your start. Viewers spend an average of just 5:59 seconds reading content on websites. So keep it brief.
2. Your Value Proposition
What do you offer that makes your brand stand out? This is a great place to showcase your unique selling point, something that gives you an edge over the competition.
So, what exactly is a value proposition? You'll find all the answers in this video:
‍
3. Your Mission
This is the time to get a little philosophical. Talk about what drives you to deliver the solution or product that your brand delivers and what you hope to eventually achieve as a business.
4. Your Team
If you have a small business, showcase your entire team. If you are slightly larger, add a picture and a description of your key players from the leadership team. You could even throw in a quote or two.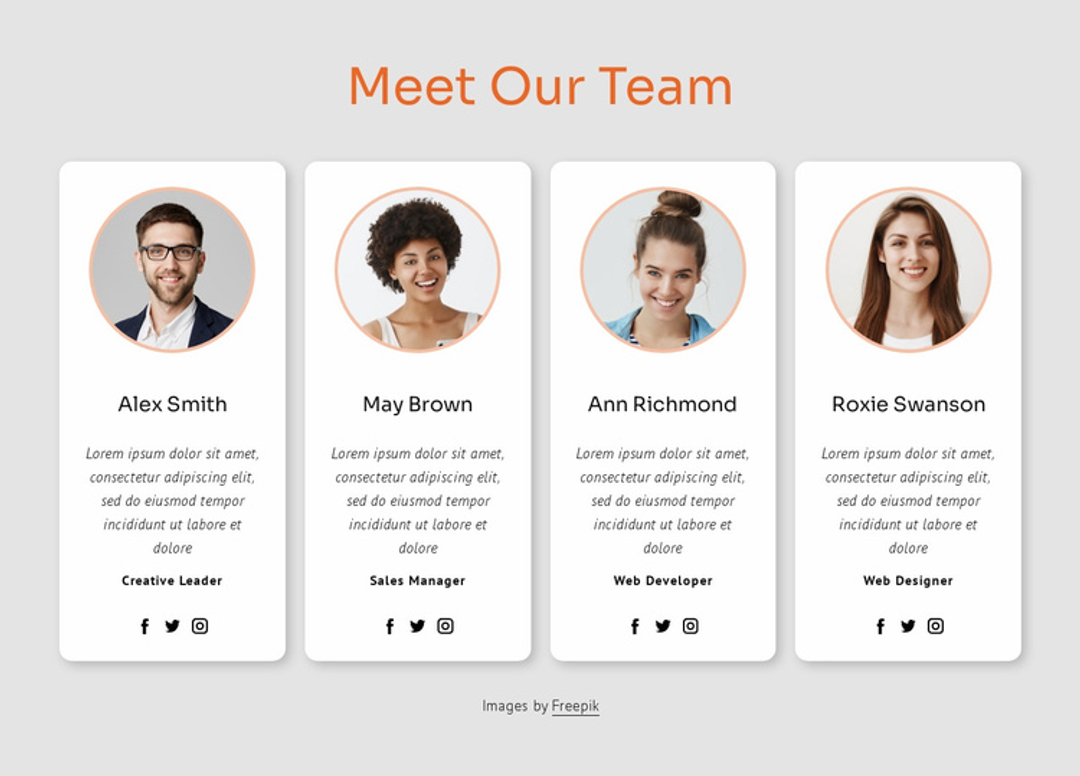 5. Your Target Audience
Here's where you define the kind of customer that you serve. It's better to be broad with your target audience if you are just starting out. Show dedication to the people you hope to cater to.
6. An Anecdote
Chase the consumer-mapping section with an interesting anecdote. This should ideally be a client story. Putting a testimonial or case study on your About Us page positions your brand as a more human entity. Remember, do not oversell.
7. A Strategic Redirect
Once you've got all the important things through, you could lead the visitor to the section of the website you want them to go to next. This helps reduce dropouts and keeps the visitor curiously engaged.
You could take them to a new product page or your entire catalog. You could also lead them to your Contact Us page from here. Unfortunately, 70% of small businesses lack a call-to-action on their websites.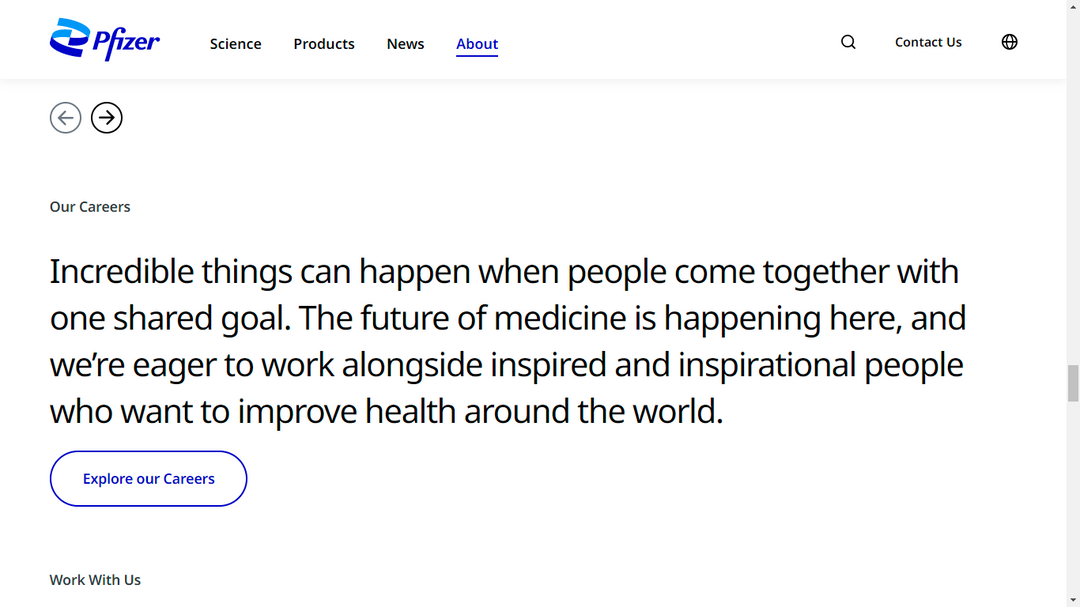 It takes just 50 milliseconds for a visitor to form an opinion about your brand once they are on your website. If you are a new business, your home page should be an About Us page. Use it to build a connection right away.
7 Incredibly Effective About Us Pages
Here are some compelling examples that will give you some inspiration on how to write an About Us page.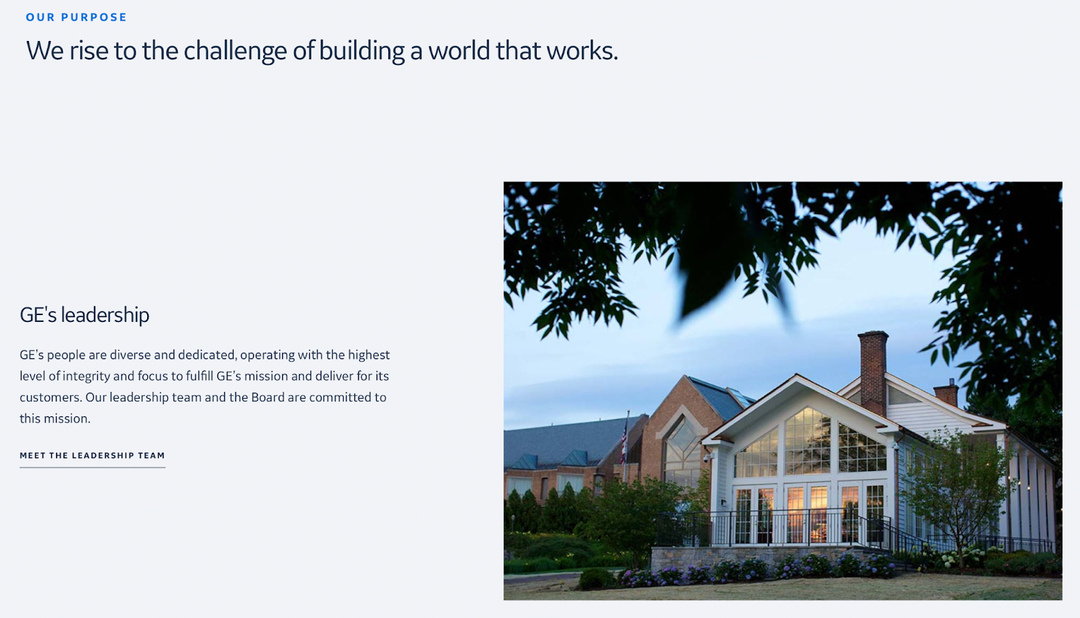 GE has achieved so much in its history but manages to crisply capture the essence of what the brand stands for on its About Us page. The page has an FAQ section at the bottom, being mindful that first-time visitors who are on the page may have a few things to ask.
Because of the nature of the work they do, the company needs its About Us page to be powerful and impactful. It begins with the story and goes on to shed light on the real work that they do, with spectacular detail.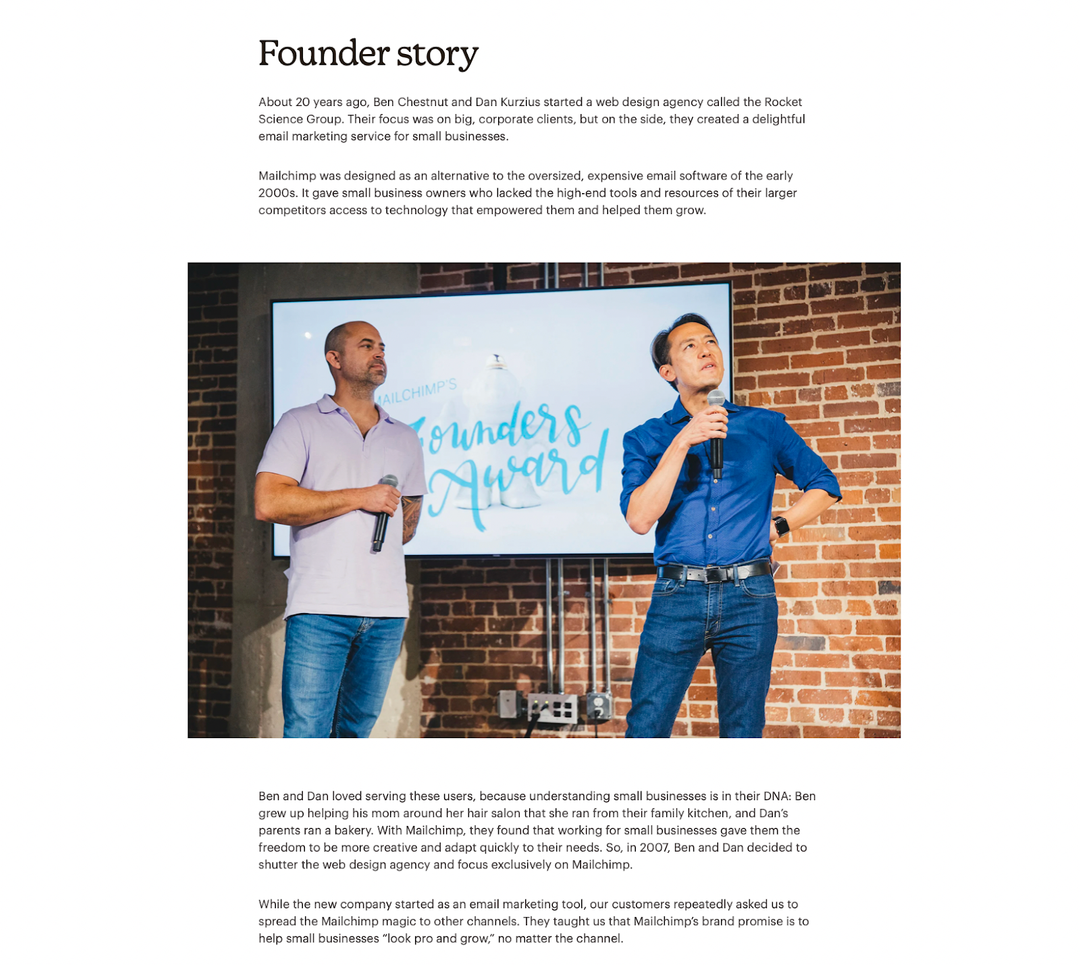 For a company that inspires and is inspired by small businesses, Mailchimp tells its story sincerely. However, it is also wordy since the company also has so much to say. Don't follow suit and prioritize substance over quantity.
The Nowness About Us page is among the simplest and briefest. People who visit the website will get an overall picture of the company's vision and even how it has changed in the last few years in just two paragraphs. How amazing is that?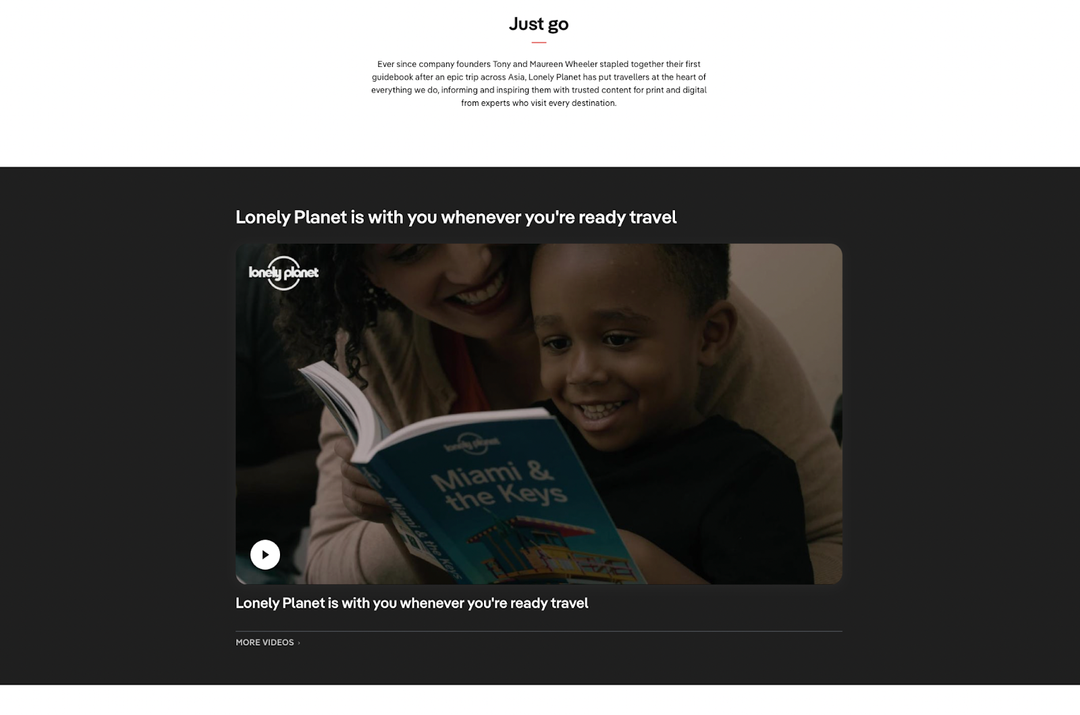 Sometimes a single paragraph is all it takes. Lonely Planet has a deeply engrossing message in its brief introduction that is titled 'Just Go', which in itself is a call-to-action. The details are relegated to the lower portion of the page and require the visitors to scroll.
Visual storytelling never fails to grip a customer. They are more engaged and will love following your story if it is told as tastefully as it is on the Guinness website.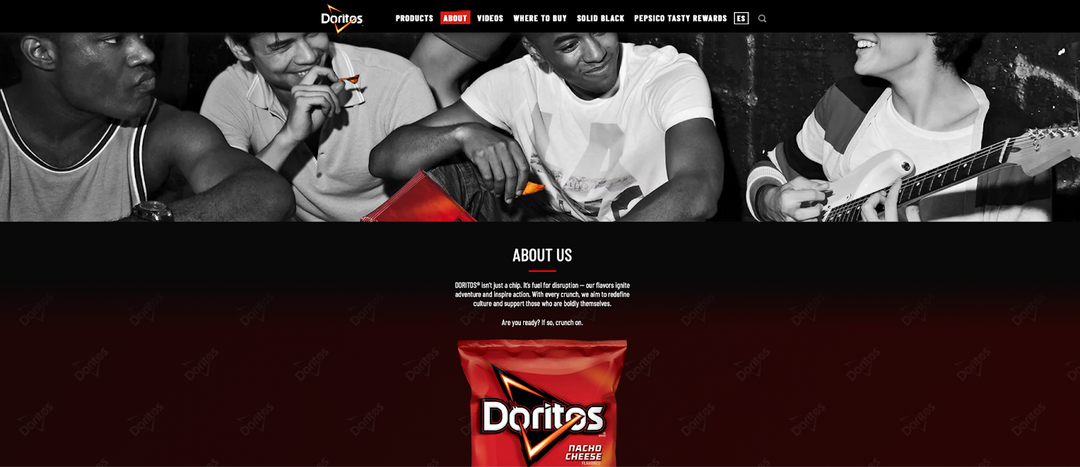 Ridiculously brief and palatably refreshing, the About Us section of the famous snack brand has cleverly integrated its Instagram feed into the About Us feed. That way, they keep the content fresh and live.
7 Steps To Guide You On How To Write An About Us Page
These simple, practical tips will help you address the tedious question of how to write an About Us page. What's important is that you remain sincere and honest at every stage of the process.
Step 1: Who, What, Why, Where
Start by giving a brief introduction to your business. Begin with the name of your enterprise, what you do, why you do what you do, and where you are based.
Step 2: A Short History
Describe the story of your business formation in brief. What inspired you, where it happened, and what has it led to?
Take Dell, for example. They created a full timeline of its history on their About Us page, which allows their customers to understand them better. This is a popular format among many brands, but do you! You don't have to put yourself in a box in one way.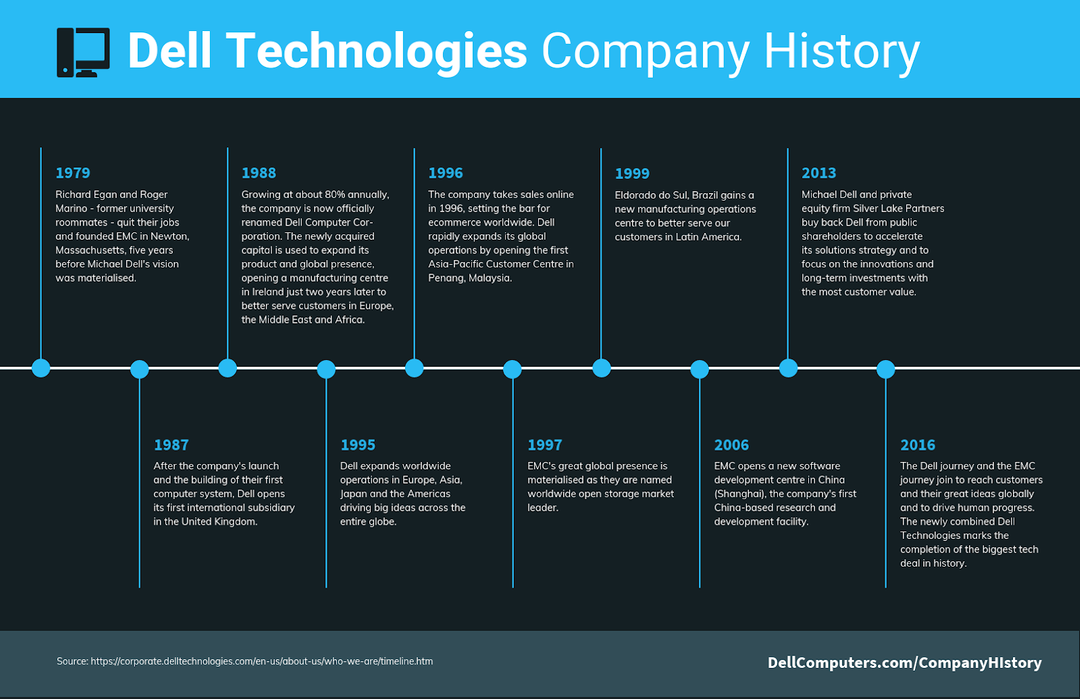 Just make sure you update the graphic for every business milestone.
Step 3: What You Bring To The Table
Now, get into the specifics of how your business has addressed a problem and shed light on how you plan to strengthen your efforts.
Step 4: How You Do It
Speak about your unique solutions or products (if any), introduce key members of your team (preferably with a quote from them), your process, and how you maintain quality. Introduce your mission statement and the vision that inspires you to achieve your goals.
Step 5: The Impact You Have Made
Substantiate all of the above with the impact your business has made, however small. Drop some statistics and significant numbers with a beautiful infographic. It's attractive and it builds your credibility.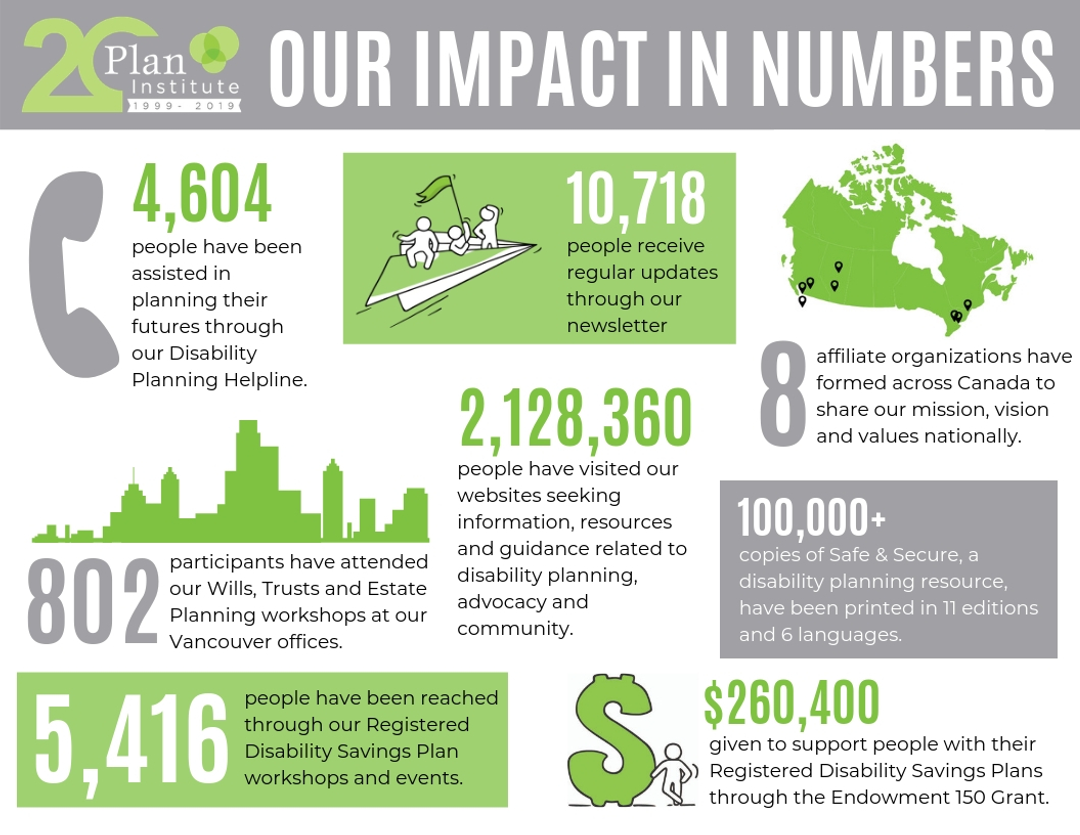 If there's any place to flaunt your achievements as a business, it's your About Us page.
Step 6: Add Visual Content
Add video and visual content that can convey key facts about your business while drawing people in. You could also include links in your About Us section that would take people to specific pages.
Step 7: End With A Call-To-Action
What's the first thing you want the viewer to do after reading about your company? Redirect them with a hyperlink or leave your contact information here.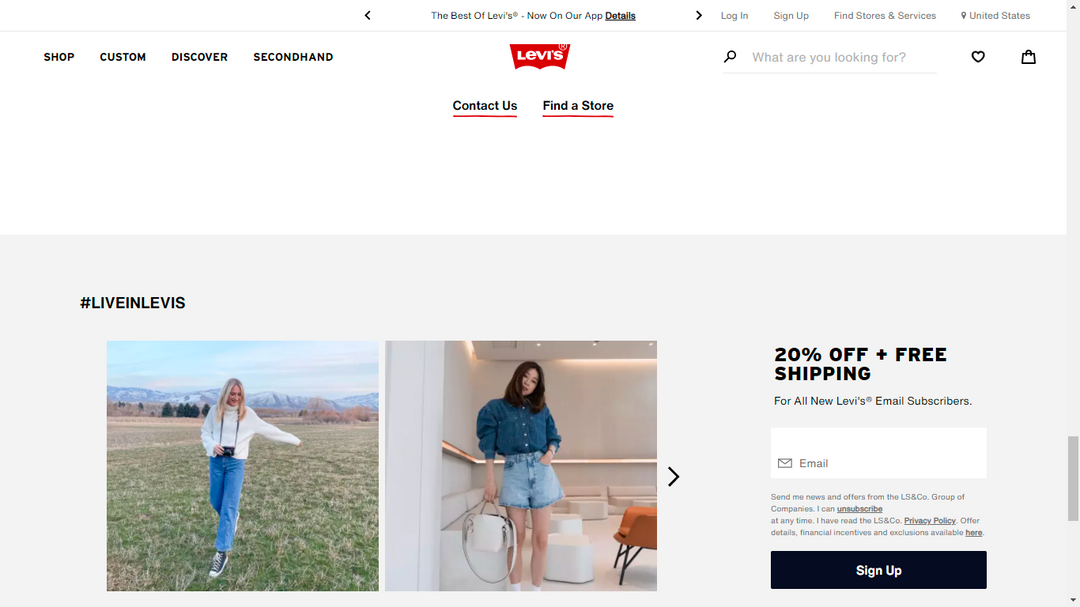 Levi's uses call-to-action links for people to find their stores or contact the brand. They also have a newsletter sign-up section.
Easy-To-Use Templates To Create Your About Us Page
Thanks to some kind folks, creating an About Us page isn't rocket science anymore. Here are some website templates you can use to create the basic structure of your About Us page.
‍

With a well-structured and highly customizable interface, Volusion gives you a basic guide on how to write an About Us page that slays.

Download a responsive Bootstrap About Us page template from Mobirise and make it your own. You can change it to fit your needs.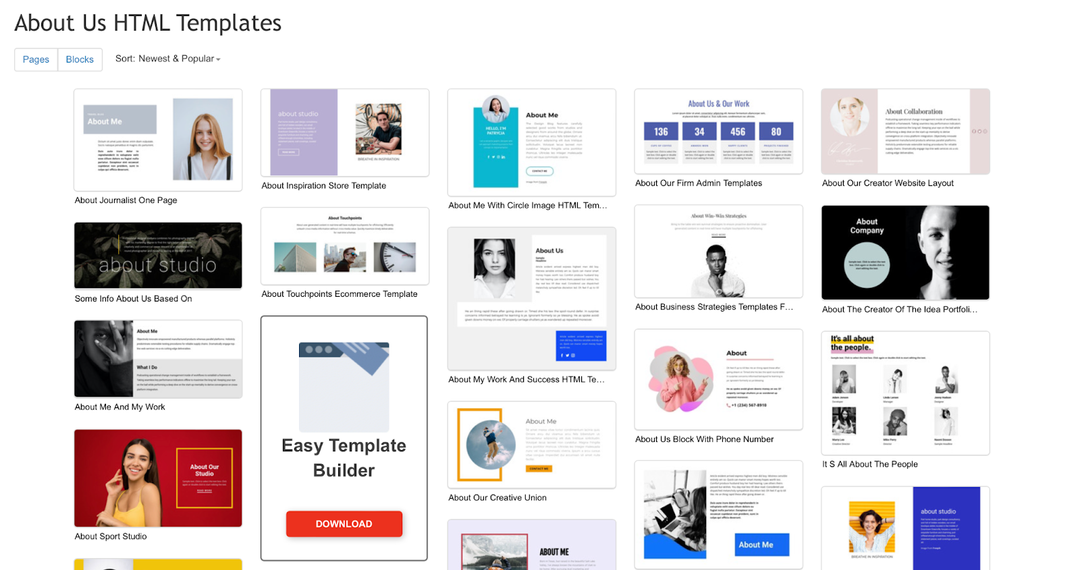 Nicepage spoils you with a wide selection of About Us page designs in HTML.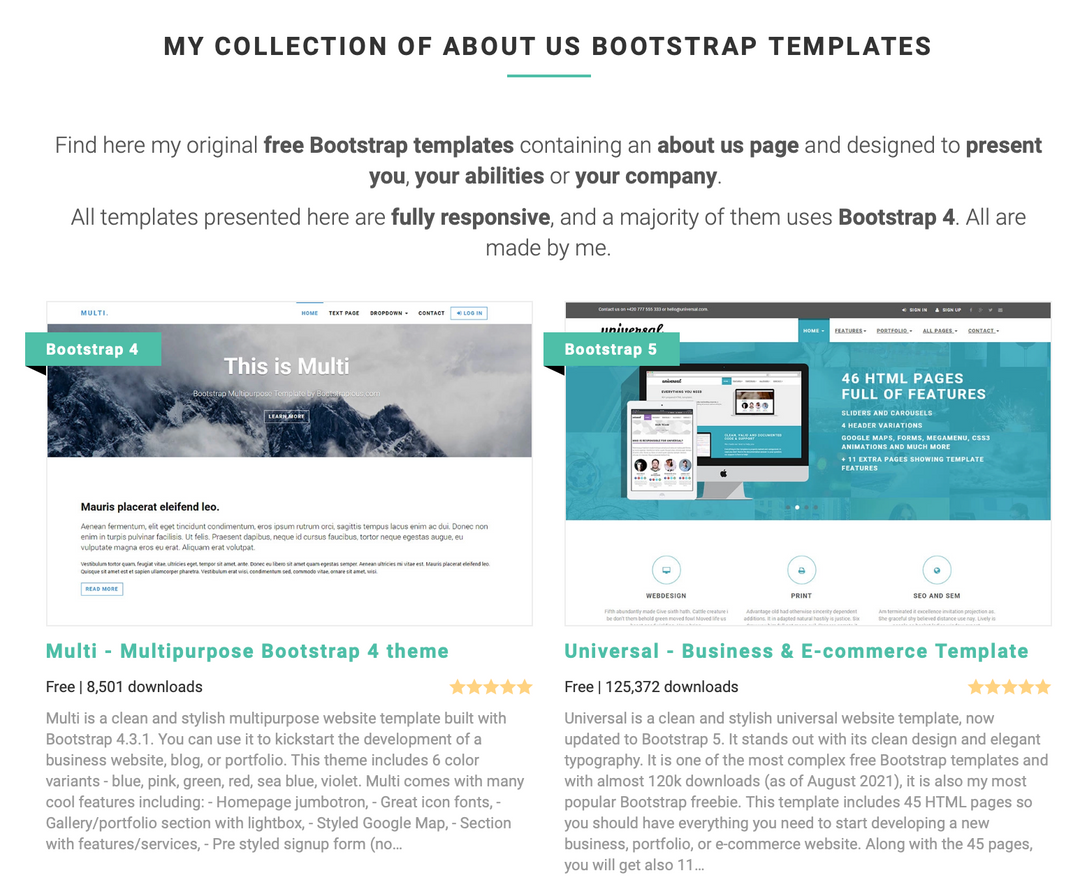 If you're looking for free Bootstrap templates, don't miss checking out the interesting layouts available here.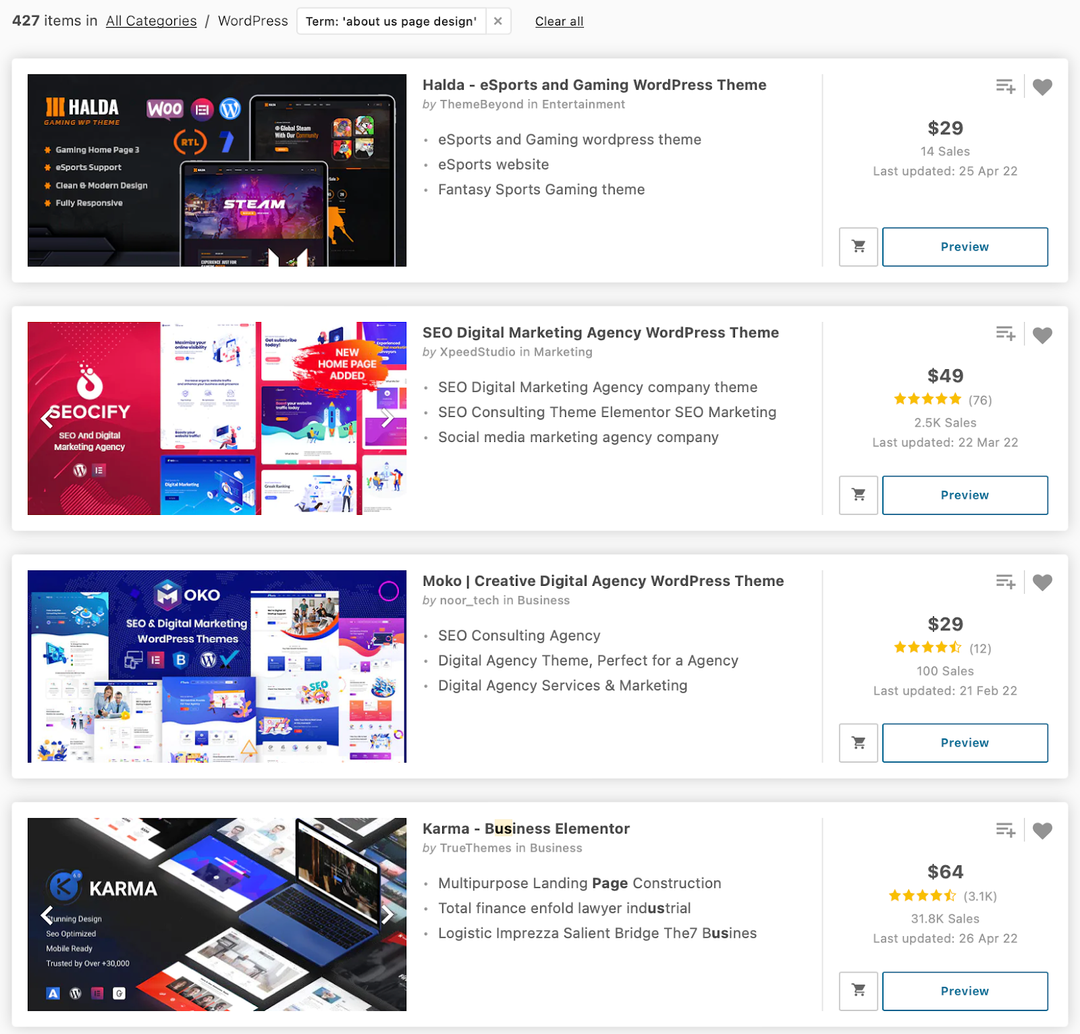 If you're a WordPress developer and are looking for an About Us page, then Themeforest is inevitably the ultimate destination for you.
Bottom Line
This is all the arsenal you need to address your problem of how to write an About Us page. It's worth repeating that authenticity is the name of the game. Add a little humor and a dash of emotional tugging, and you may just have potential customers hitting your Contact Us button soon.
Best of luck!
Ready to design your logo? Get started with our logo maker!