https://app.logo.com/editor/colors?logo=logo_365d65da-bb52-4eb8-86af-8e5240d8489f‍
A logo is one of the first interactions consumers have with your brand, and it is entirely natural to wonder how much does a logo cost. We shouldn't judge a book by its cover or a company by its logo, but an attractive crest can make your brand highly memorable to your consumers.
This is why, as an entrepreneur, you need to get your logo design just right. Does a good logo need to be expensive? Can you ask your friend who is studying graphics design for a favor? Does pizza count as an appropriate payment for a logo? There is no one answer.
Some of the most famous logos in the world, such as Nike's, were made for peanuts. Other logo design cost millions, even when they're redesigned. Figuring out how much does a logo design cost can be a bewildering process! That article makes that journey a lot easier by listing factors that can influence your decision.
Key takeaways:
It's only natural to wonder how much does a logo design cost, given that it's often the initial point of contact between you and your target audience.
How much is a logo? The price of your logo depends on where it's being designed and how many modifications need to be made.
The most cost-efficient way to have an affordable logo is to rely on effective online logo makers.
You can also rely on freelancers, freelance websites, and design agencies, but they can be a little pricey.
You can get charged from $0 to millions—your logo choices depend on how much you're willing to invest in it.
You CAN get an amazing logo for free, and you can get it right on this site. Don't even worry about asking how much for a logo!
‍
What factors affect the cost of your logo?
Knowing how to price logo design needs depends on a number of factors. A good logo is a non-tangible asset that can increase your brand's value exponentially. Designing a logo takes a lot of brainstorming, experimentation, and revisions that shape the design in your vision. When planning for your logo, ask yourself these questions and you'll be good to go.
1. Who's designing your logo?
Arguably, the biggest factor in your logo's cost rests on the shoulders of the designer. A world-class design agency will probably charge an arm and a leg for one logo, whereas a student might do it for a few hundred dollars. Better yet, get an experienced friend to do it for you, and it might just cost you a beer or two.
Agencies will most likely produce a better quality logo and will be more receptive to revisions than your friend, whose propensity to get paid in pizza and hugs might decrease with increasing feedback.
2. How big is your company?
While getting the perfect logo is optimal, it should be a later concern if you haven't even finalized your product yet. A prototype will more than suffice, and you can splurge on the perfect logo when you're ready to impress the world with your offerings!
Conversely, ‌look into hiring a trusted designer if you run an established company. Stakeholders view your logo every day, and it needs to stand out in a good way. Former Yahoo! CEO Marissa Meyer learned this the hard way while redesigning the company's logo herself, which wasn't well-received‌ by experts and consumers alike.
3. Will the logo have alterations?
When thinking about how much does a logo cost, listing down any alterations to the design can help you save on the final logo design price. Think about these things before assigning someone to create your logos:
Will your logo be animated? An animated logo is perfect for companies in the media industry or if you're looking to create a video advertisement. Creating such a logo requires additional illustration and animation work, which will add to your costs.
Will your logo be presented in multiple colors and shapes? Alterations can be a great way to make your logo stand out in different lighting and products. Plan to know how many you'll need to manage additional costs, and you'll be good to go!
Will you have more than one logo? A lot of fashion brands have a derivative crest, along with the main logo, that represents the business on items like colognes, belts, bags, etc. Creating these derivatives adds to the cost but can be a great investment if you have products of varying shapes and sizes.
‍
How and where can you get a strong logo?
Once you've selected a vendor, you will have a base cost in hand and can figure out the answer to the question, "How much does a logo cost?"
But, where are these sources? Where should you look for the perfect logo maker? Worry not! While there are plenty of places you can get your logo designed, these are some of the best options you can work with:
(Oh, we've listed their prices, so you know how much to expect).
‍
1. Relying on the power of a logo maker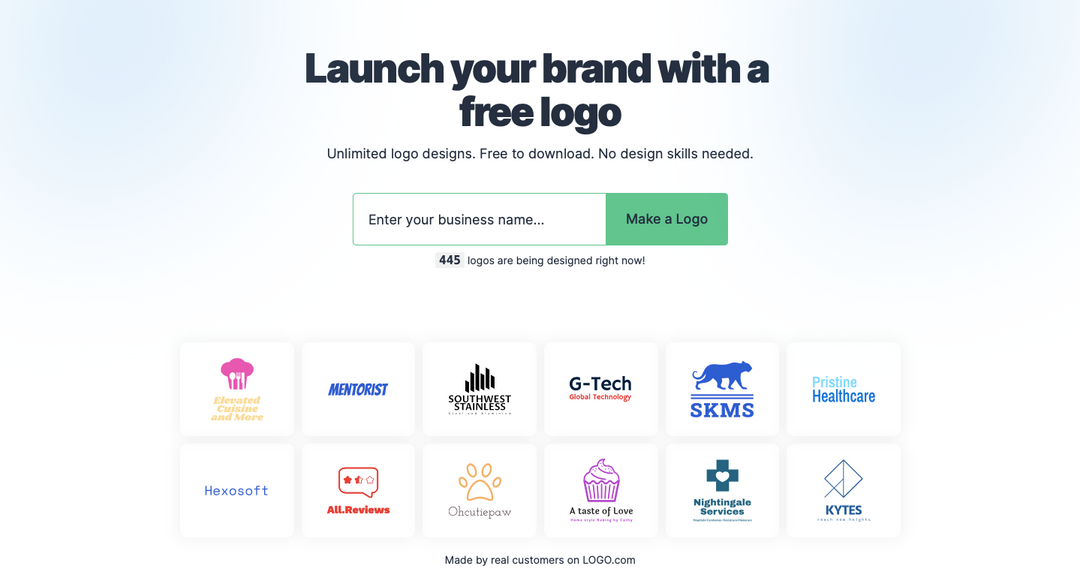 Online logo creators can be extremely useful tools when you're in the initial stages of your business. Not only do you get plenty of quality options, but the low price point makes changes accessible if the initial design doesn't fit. Brands like LOGO.com (hint: it's the website you're on right now) can create beautiful and effective logos for you for free!
That's right. In 2023, you can brand your business with a free logo and free brand guidelines. No strings attached. You can even take it a step further with business card templates, email signatures, branded stationery, and so much more! Here's an example of a free logo that you can click to customize and take home free of charge.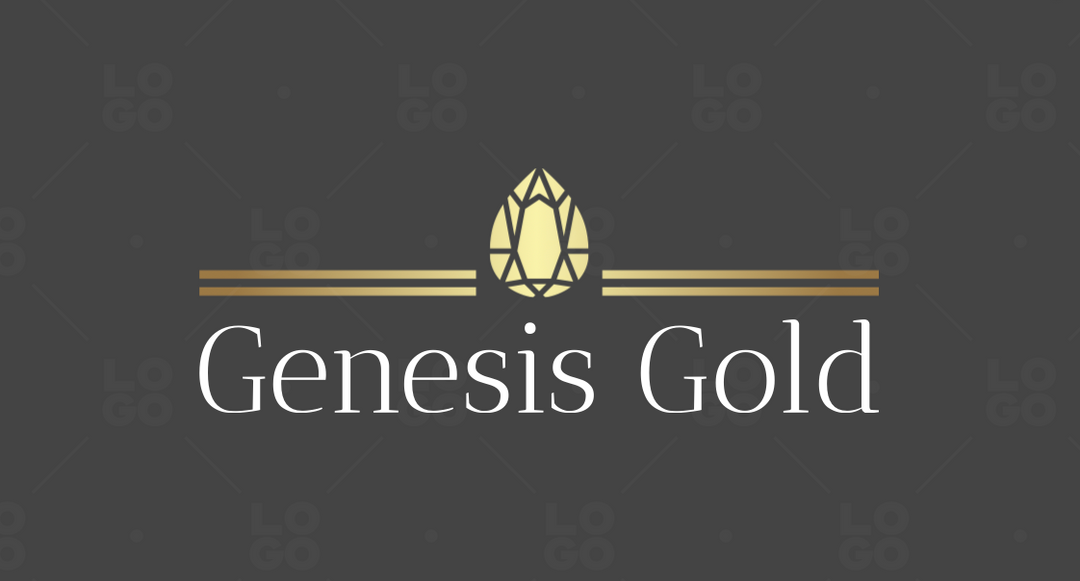 Users customize the design that the logo maker creates, and you only pay if you're satisfied with the end product. We go a step further and create all your logos for free. Want to give it a try?
💰 How much does a logo cost on a logo maker website? Anywhere between $0 and $200 for your logo. Many of the best online logo makers charge higher fees for highly customized and high-resolution logos. You can save on your logo design price if you plan and choose exactly what your brand needs.
‍
2. Using Fiverr or another freelance website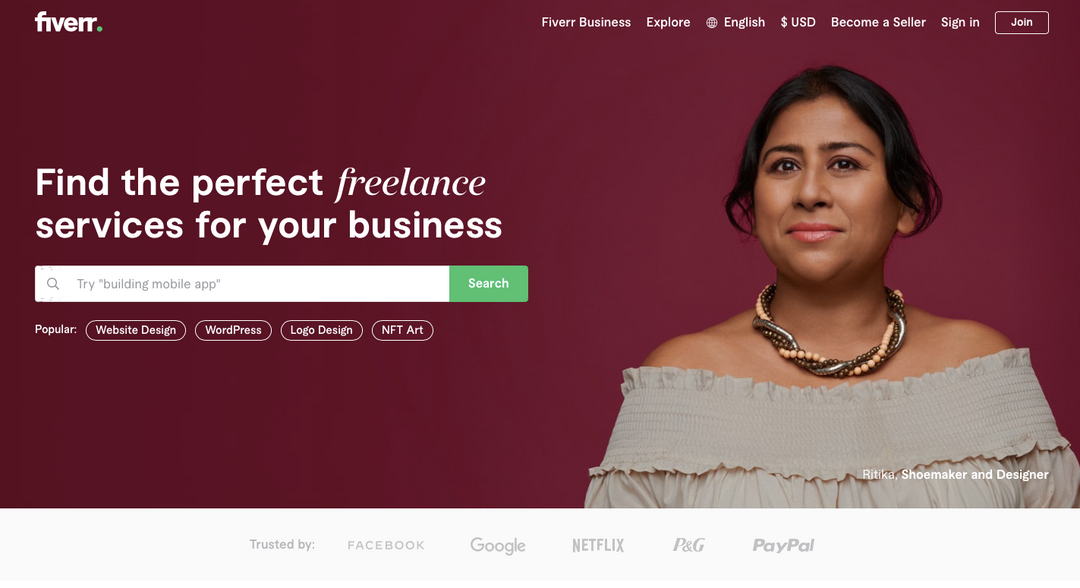 Fiverr's name immediately gives away its pricing — everything starts at $5. If the budget is a constraint, then online freelance portals can be your best friends. They host a ton of designers with distinct art styles and have reviews to guarantee good work. They also know how to price logo design requirements depending on revisions needed.
Fiverr also has a level system that helps buyers gauge prior customer satisfaction and sellers' work quality. The website's best sellers get the 'Top Rated Seller' rating, which tells buyers that their higher pricing is justified.
💰 How much does a logo cost on Fiverr? A minimum of $5 and ideally under $100 for your needs.
‍
3. Contacting freelancers directly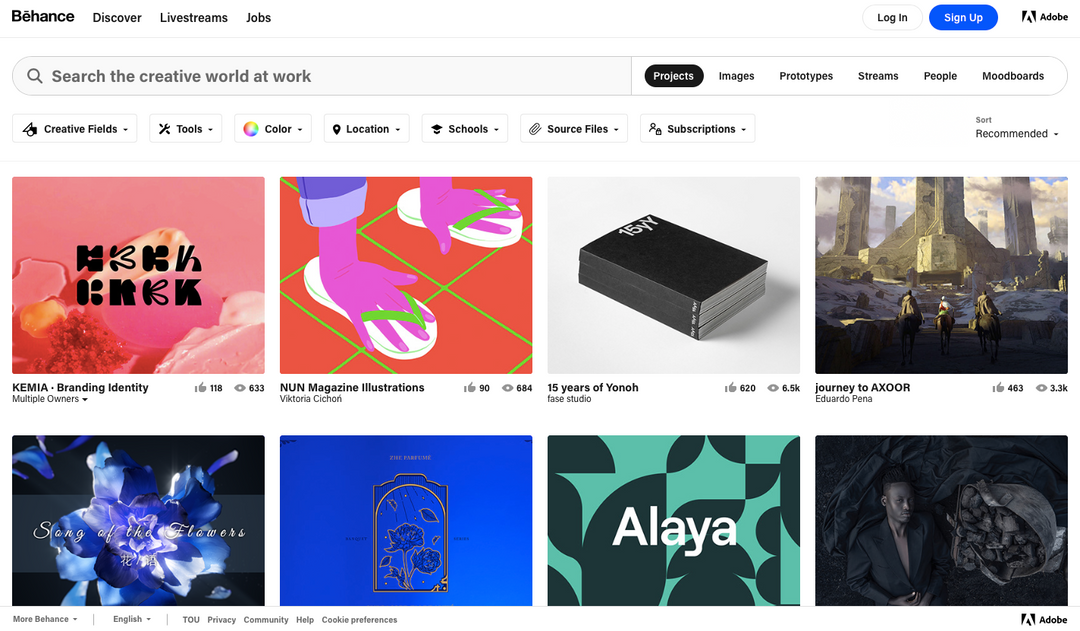 Don't just walk into a graphic designer's house uninvited — unless you know them personally. There are a few ways to hire good graphic designers online if you have no personal contacts — none is better than Behance.
The best graphic designers from around the world display their work on the portfolio website, which has turned into the world's largest networking portal for designers. Be sure to look at the designers' personal works that show their unique styles, which you can get incorporated into your logo.
However, given the artistic nature of the website, you don't truly know how capable some designers are with commercial work. You may have to re-send the designs for revisions if the logo becomes too personal to the designer's style and doesn't communicate your brand identity appropriately.
But as long as you know what you want, you'll get a beautiful logo at a reasonable price!
💰 How much does a graphic designer charge for a logo? Anywhere between $100 and $1,000 for your logo. With solo designers, you and your company credit card can rest easy since they don't charge agency royalties.
The range is high because there is no standard payment for individual designers, and those who've successfully designed for brands will charge higher.
‍
4. Hiring a design agency
Professional design agencies are paramount in guaranteeing quality work. Along with designers, agencies also have creative directors who ideate and ensure that you get the best logo possible for your brand's needs.
You have more control over the number of revisions and can get multiple high-quality logo options until you're satisfied. If you're as picky as the PlayStation chiefs and need 20+ great options until you settle, a design agency will do that for you.
A design agency also comes with a hefty price tag, since you're not hiring one freelancer but an entire team of quality creative people. Agencies also inflate their prices to include a fee that is used to pay administrative employees and grow the company. That fee varies from firm to firm but can be anywhere between 10% and 25% of the total cost.
💰 How much do design agencies charge for a logo? $1000+ for smaller agencies; $2,000+ for larger, established firms. Smaller agencies have fewer administrative costs and will compete on price with the bigger players to make their offerings attractive.
If your aim is a quality logo with no compromises, there's nothing more accountable (and expensive) than a top global agency.
‍
Frequently asked questions about how much should a logo cost
What are some commonly asked questions about how much a logo should cost? Get your questions answered with these three FAQs.
1. How much does it cost for a simple logo?
A logo's price can range from $0 to $2500 or more, depending on a number of factors such as whether the logo was created in-house or by a professional designer or agency. Logos made with some logo makers start at around $20, while logos made with design crowdsourcing websites begin at around $99.
2. What makes a logo expensive?
Since a lot of time, effort, and skill must go into designing the ideal logo for a company's brand, these symbols tend to be quite pricey. A design should be worth the cost by effectively conveying the brand's values without giving too much away.
3. What is the most valuable logo?
It cost $210 million to create the British Petroleum logo (and promote the company). The British Petroleum logo, which is one of the most expensive brand logos in history, was created to modernize the company's image.You CAN get an amazing logo for free, and you can get it right on this website.
‍
So, how much should you pay for your logo?
When thinking about how much does a logo cost, take your company's current situation into account. Despite being a powerful tangible asset, should a logo take up a good chunk of your budget or can you allocate that elsewhere?
You can also make that cost cheaper by taking the time to visualize what you want the logo to represent. Nike's logo was designed for as little as $35, thanks to Phil Knight's vision. So wondering how much is a logo can be a little subjective.
Some vendors charge $0, and celebrity designers can charge millions. It all depends on how deep your pockets are and what your priorities are.
As long as the logo is beautiful and represents your brand appropriately, it is mission accomplished! How much for a logo? Does it matter?
Ready to design your logo? You don't need to pay big to make an impact. You can get started with our free logo maker!