What can a great Facebook ad design do for you? For starters, Facebook boasts a whopping 2.89 billion active users on a monthly basis. Suffice to say, an effective Facebook ad design can rake in a hotpot of potential leads, just with the sheer number of people scrolling through the engaging application.

The platform is filled to the brim with exciting interactions and eye-catching posts. Now, what would it take for a business to capture the same atmosphere of pull and reach, so much so that it would potentially lead to sales? It's certainly doable!

Don't get caught up in the misconception that more people = more visibility. That may be true to some extent, but without a substantial Facebook ad design, it's a second of perusal before scrolling down to the next best thing. Quality over quantity is absolutely relevant here.
Why Do Visual Ad Designs Matter?
Put yourself in the audience's shoes. They are on Facebook for leisure, learning about their connections and sharing their thoughts. And then, bam! An ad appears trying to sell them something.
Now that they are being disrupted from their experience, wouldn't it be better if the disruption offered them value?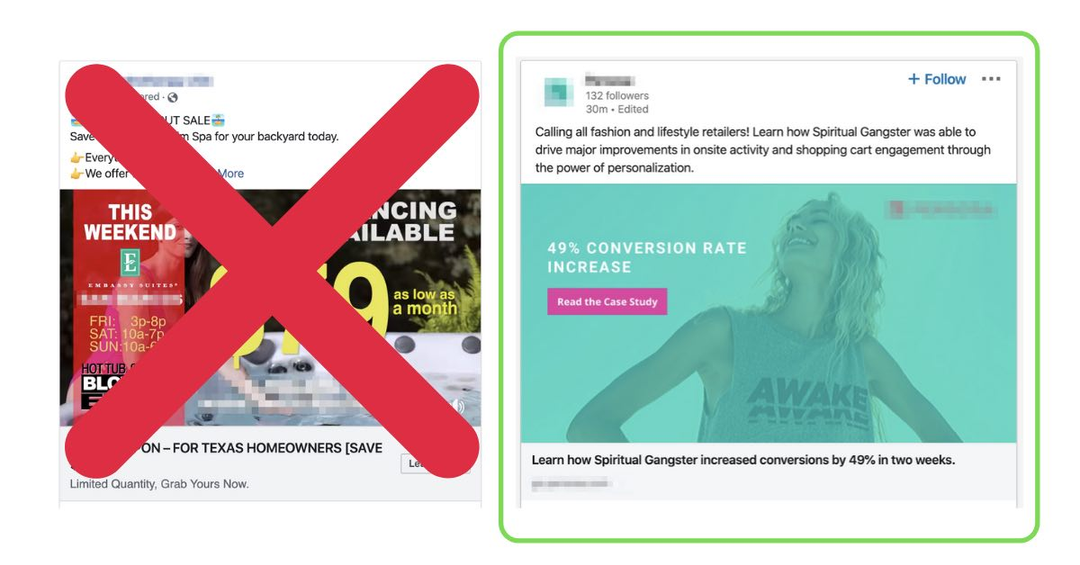 Facebook ad designs need to offer this value in terms of how attractive the images look, how clearly the message is defined, and what action the ad makes you want to take.
If you sell shoe laces, there's always a bigger, better advertiser selling those same laces online. The difference is that they are making those same laces look like satin ribbons. At the end of the day, which of the two will be remembered by your intended audience?
Facebook advertising is a crucial aspect of your brand marketing, whether you're a small business or a large corporation. Almost a third of the world's population is on it! An effective Facebook ad design can:

Generate more leads
Boost your sales
Increase your brand following

Don't even dare skimp on these promising assets.
What Are The Components Of An Effective Facebook Ad Design?
Before we dive into the strategies of a compelling Facebook ad design, what are the core aspects of an ad in itself? Follow these integral steps:

Headline: The focal point of what you're offering. It should express a call to action.
Design: This is the component that sways your audience to take a closer look. Let this be one of the strongest and balanced aspects of your ad.
Description: Optional, but can be utilized to your benefit if constructed well. Take this opportunity to include pertinent and stand-out details of your product or service.
Post text: This is the text that goes over your design. Optional, but if you choose to go ahead with it, use high contrast fonts to secure readability.
Call to action: Ideally, your call to action must depict a sense of urgency. Provide your audience with excitement and access to the benefits you can give them. Don't put yourself in a box with a "Learn more!". Get creative with it.
Going By The Numbers: Visual Content Statistics
Going from philosophy to actual numbers, the evidence remains strong that visual messaging is better received by audiences across the board.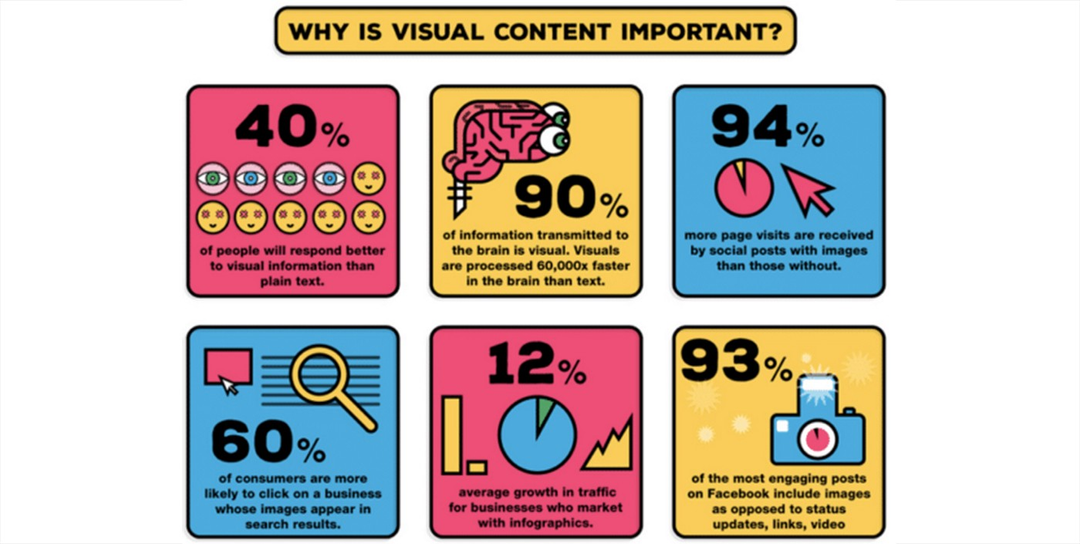 Here, we will explore the impact that good design can have on your Facebook ads, learn to think strategically about the way we deal with designs, and look at some inspiring examples.

10 Strategies To Create A High-Converting Facebook Ad Design

What does it take to have a Facebook ad design that can actually lead to an increase in sales? It's not as complicated as you think. Every tip, though seemingly small, can significantly change the perception of your ad in a positive and easily digestible manner.
While there are many tricks you can use to create click-bait ads, making ads that are genuinely good-looking and offer better value always wins in the long run.
Here are some simple-to-follow best practices your brand can adapt to create a truly impactful Facebook ad design.
1. Pick A Format That Suits The Message
Facebook spoils you with different formats. Your ad's design depends on the kind of format you are going with. If you choose a static post, you have to keep Facebook's advertising guidelines in mind. Smileys and thumbs up are just a couple of the many available copy-and-paste emojis that can easily be added to an image ad. Doing so will help it stand out.
Here's a handy guide to help you navigate your way past the stringent and ever-evolving Facebook ad policies.
If you are making an image ad, be sure to use minimal words on the image. Keep all the details for the post caption that appears with the post. Mix up some emojis to encourage action.
Keep a sharp eye out when picking a visual that stops your audience from scrolling. It is ideal for shooting your images, but if you resort to stock photography, do not pick images that are 'typical.'
Use the button to specify what exactly you want the viewer to do. It's the same with carousels, which are especially helpful when you have a series of features or objects to show.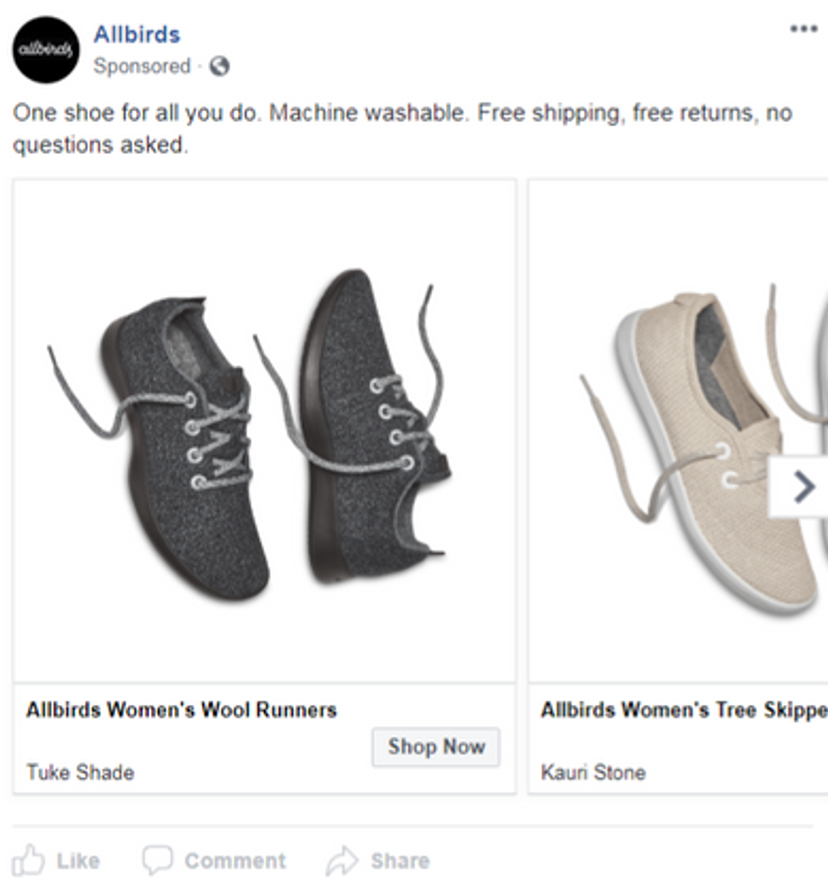 Keep video ads succinct; open with something that tells the viewer about what you're selling, and use minimal copy on the video.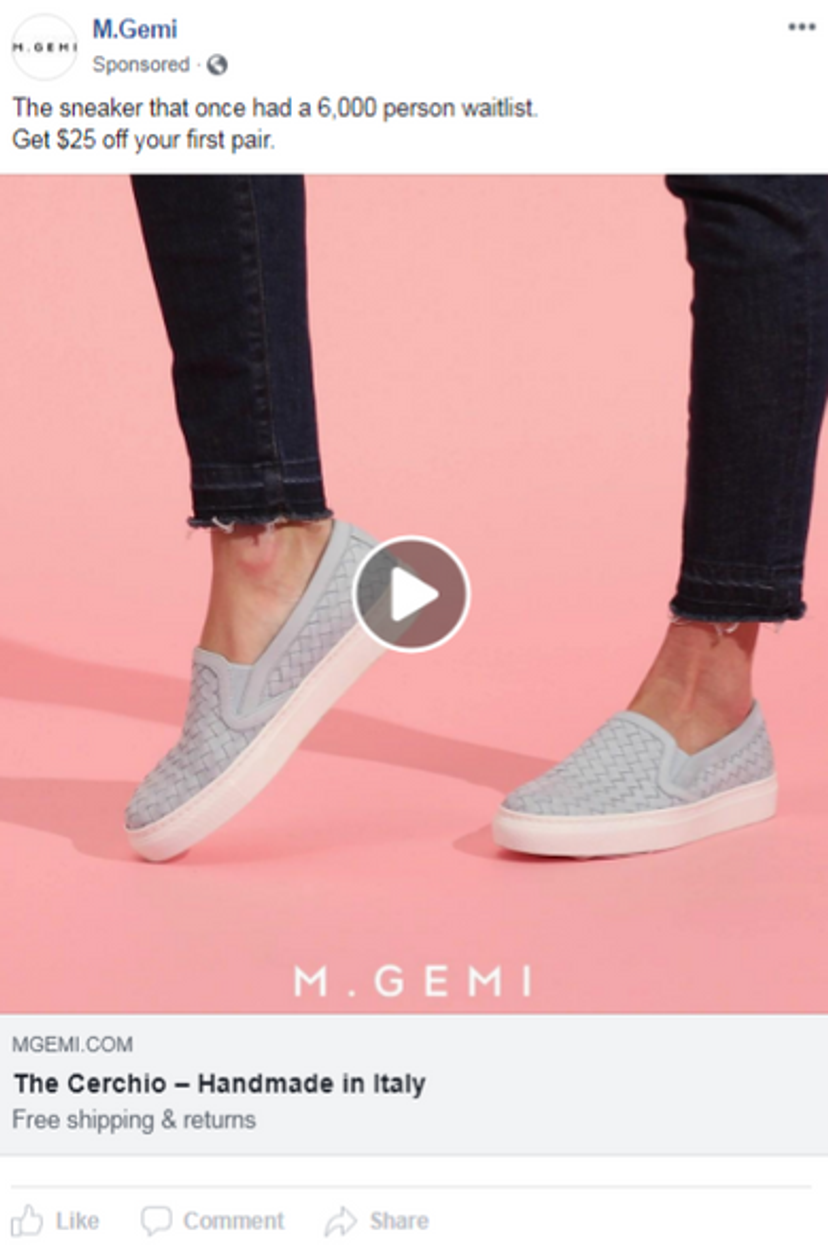 2. Keep The Ad Short And Sweet
When you scroll through social media, you likely don't spend hours on a single post (unless it's exceptionally engaging!). You stop at the ones that pique your interest, and when it's compelling enough, you dive a little deeper. Long ads tend to be overbearing—there's too much information to take in.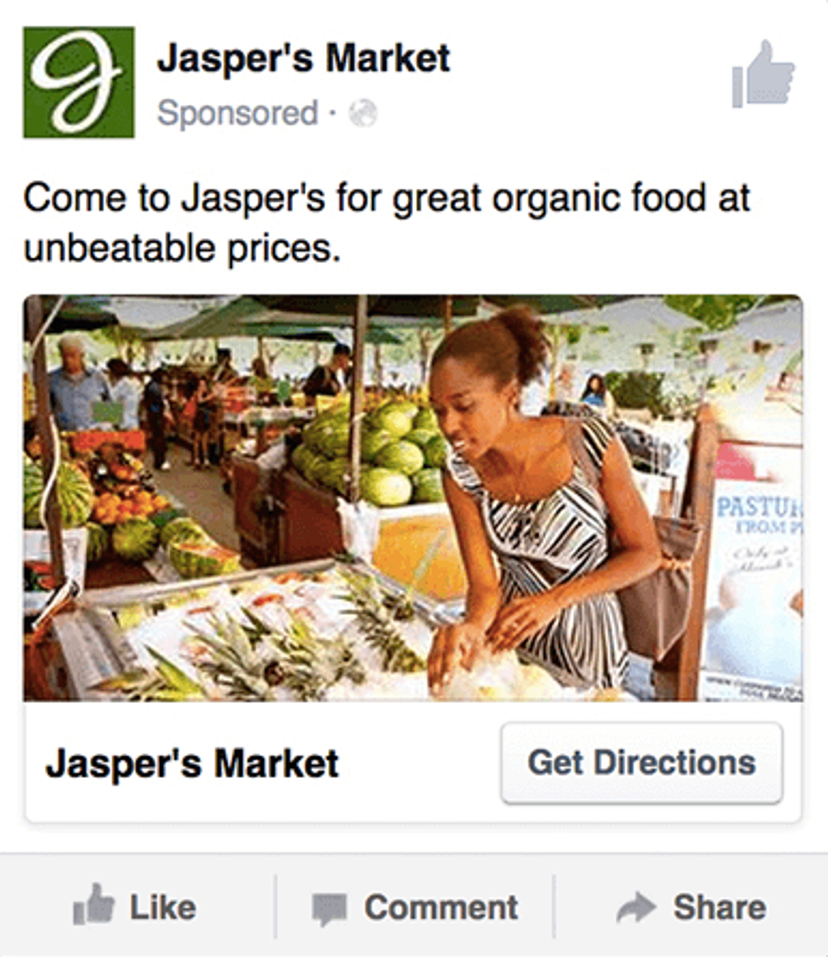 By keeping your ad short, you keep only the strengths and essence of your story while leaving room for the imagination. It's hard to be intrigued by something that overloads you with tons of information.

Create a Facebook ad design that's bold, interactive, and engaging while keeping it short and sweet. It's reported that the ideal length for a Facebook post is 40 characters. In fact, as long as it stays beneath 80 characters, the chances are it would earn 66% more engagement.
3. Continue The Story On The Landing Page
Why just limit your audience's attention to your post? The real conversion takes place on the landing page. It is best to replicate a part of the visual from your ad design (or the whole of it) on the landing page so that audiences know that they are part of the same conversation as your brand.
You could also try ads that lead users to learn more about a topic they may be interested in, like this listicle by Skyscanner.
Here's a great guide on how to create the perfect landing page for your Facebook ads.
4. Ensure That Your Brand Copy and Design Work Together

Symmetry is the key. You want your content and the design to come together flawlessly into a unified and relevant message. Keep in mind that this is Facebook, a platform full of visual content. So ensure that your design hits the mark perfectly.
‍

Still, your content counts significantly. This is the pull that gives them something to resonate and identify with, which ultimately leads to not only potential sales but also a connection with your audience. Think of it this way: your audience comes for the design, but they stay for the content.

Individually, these components are powerhouses of an effective ad. Make sure that they complement each other well; otherwise, they may end up taking each other down, and your ad overall to join it.
5. Have A Clear Call-To-Action
Facebook Ads Manager offers several call-to-action options, each with its own merits and purposes. Get the entire list here.
However, just using the buttons as a call to action may not be enough. If the visual and text beckon a user to take a certain action, it can be even more impactful.
Here's a great example of how your call-to-action can scream out from the post itself.

6. Understand Your Industry And Audience

There's so much to consider about your industry and target market, and it can positively impact the success of your Facebook ad design.

Do you sell yoga or meditation equipment? Make sure that your design emanates serenity with a clean and soothing visual. Do you own a food and beverage business? Throw in some appetizing colors in your design, like red, yellow, and green. Dealer's choice! As long as it seamlessly represents what you stand for as a brand.

By understanding your industry, you start understanding your audience too. For example, if your target market is men, you can use this awareness to modify your Facebook ad design in a way that would interact with them the most. You'd be surprised what this information could do for your overall design.
7. Sharp In Imagery, Sharp In Word
The only way you can communicate with your audience over Facebook ads is through visuals and words. Both of these need to be thoroughly thought out.
It's best to avoid ambiguous imagery and long-winded communication. Be to the point, show things as they are or are expected to be, and manage all of this while making your content more arresting.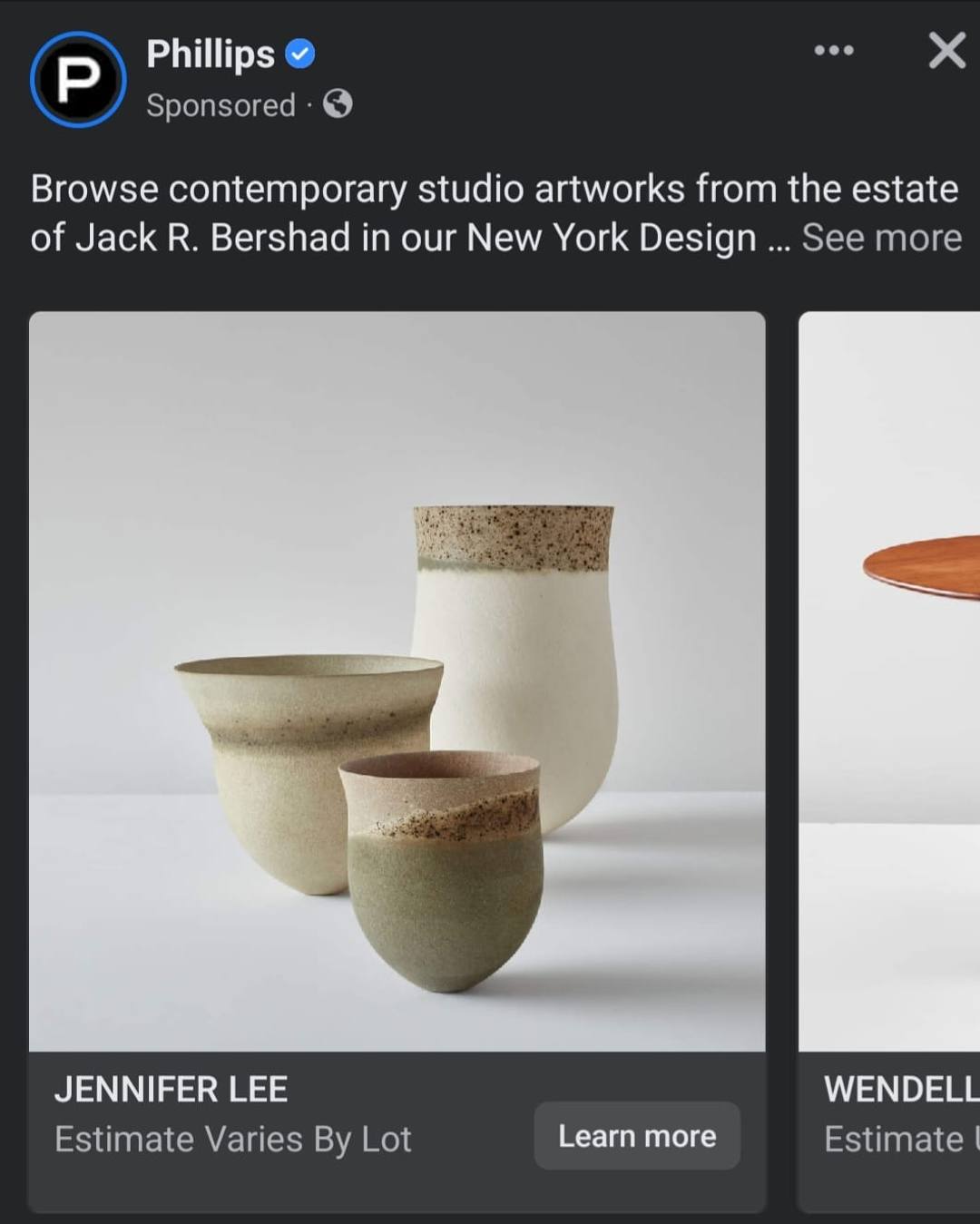 This ad by Phillips is both a good and a bad example. It's good because it portrays the spectacular products with great detail, not requiring copy on the image. However, it's bad because the caption has been truncated on account of it being too long.
8. Include Your Value Proposition In The Design

A value proposition is an attribute or benefit that you promise to deliver to your customers. Essentially, it explains WHY they should choose you and your services over your competitors. A common mistake here is adding too many details of your promises, enough that it starts to become overwhelming. Less is more.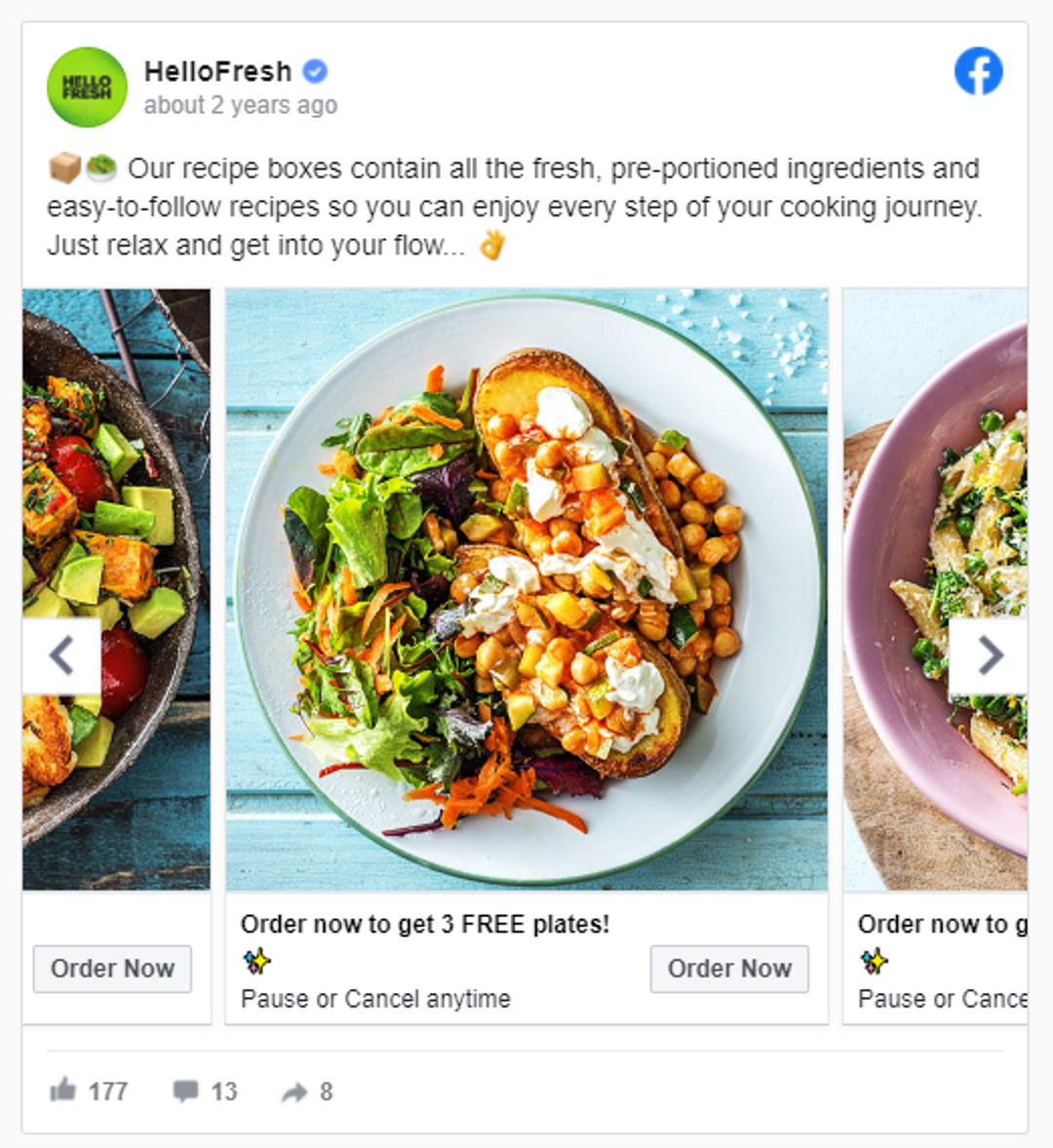 There are two perks in incorporating your value proposition in the design. One, it ensures that you follow the fundamental rule of keeping your ad short. There's only so much you can say about yourself within a design, which encourages you to stick to substance. Two, it simply works.

It helps in making your brand copy and design work together, which is crucial. People gravitate to appealing visuals, so if you incorporate a meaningful statement within it, they can't help but pay attention to that too. Avoid making claims, and solidify your stance with facts, statistics, and testimonials. Don't forget to throw in some fun in there too!
9. Make Your Ads Friendly For All Devices
Different devices treat your ads differently. Keep in mind that your audience could view the ad on different devices.
A great way to make your ad communication legible is to use less text and larger fonts, so that even if it is viewed on a phone with a small screen, it wouldn't require the reader to strain their eyes.
10. Show Real People In Your Design

Have you ever looked at a picture of a human doing something enjoyable and thought, "That could be me." That is precisely the power of having real, live people in your design. It resonates with people more than an abstract design would.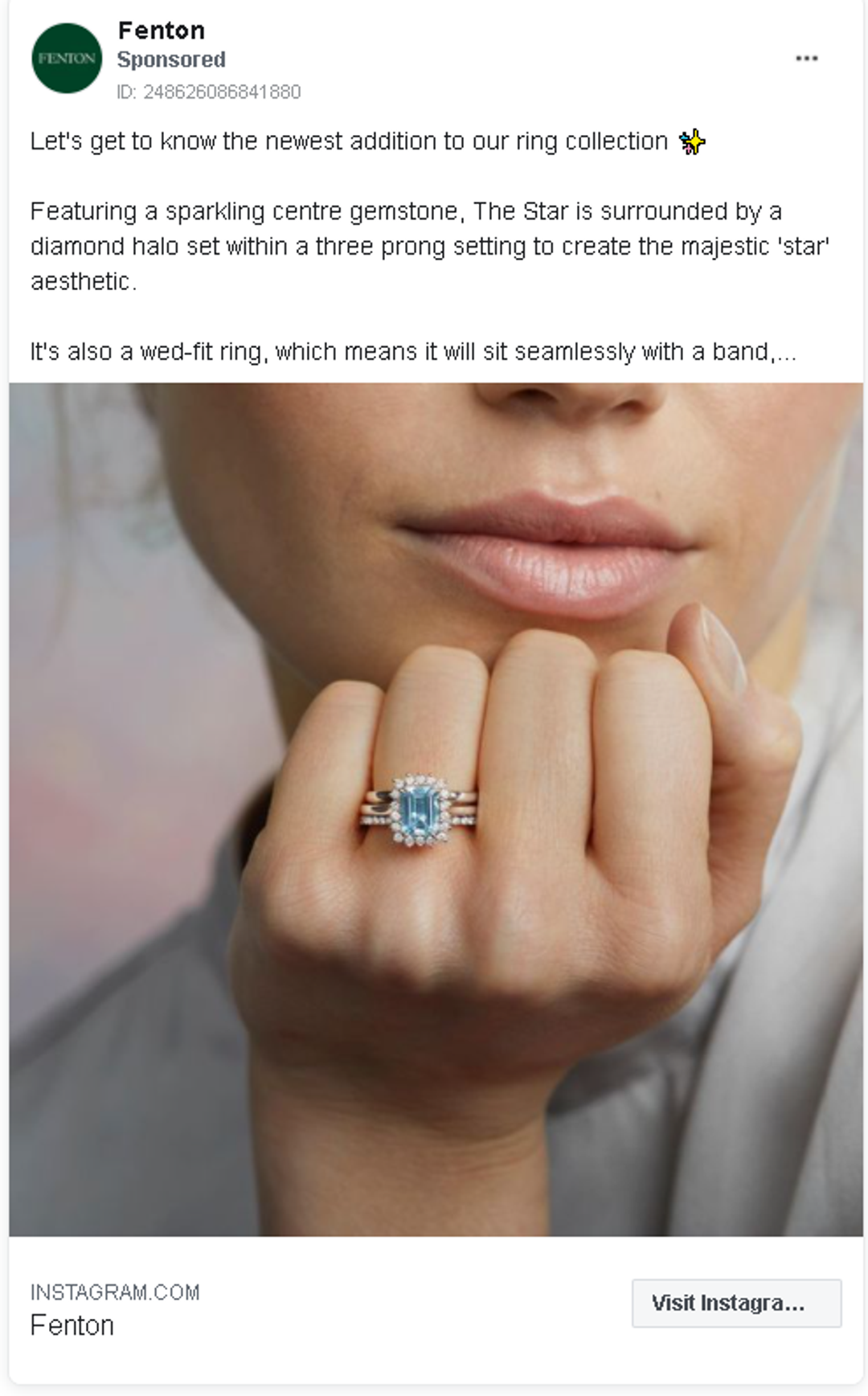 If you sell gorgeous jewelry, rare types of gemstones, or lab grown diamonds, wouldn't you rather showcase those stunning products on a model instead of just having images of the products on their own? As opposed to just having images of the products on their own. This provides your audience with insight into how your products and services would benefit them, giving you a decisive edge in the ad's success.

Having people visualize themselves if they purchase your product or service gives you more potential for sales and a following. Don't miss out on this!
Facebook Ads Done Right: 4 Perfect Brand Examples
There's no better inspiration than looking at Facebook ad designs that truly stand out. Notice how each of these adds a bit of their brand's personality to how they communicate, which helps them get better results.
1. Slack
Slack could be studious and boring, given that it is a workplace collaboration tool. But no. They breathe life into the way they communicate with ample fun illustrations.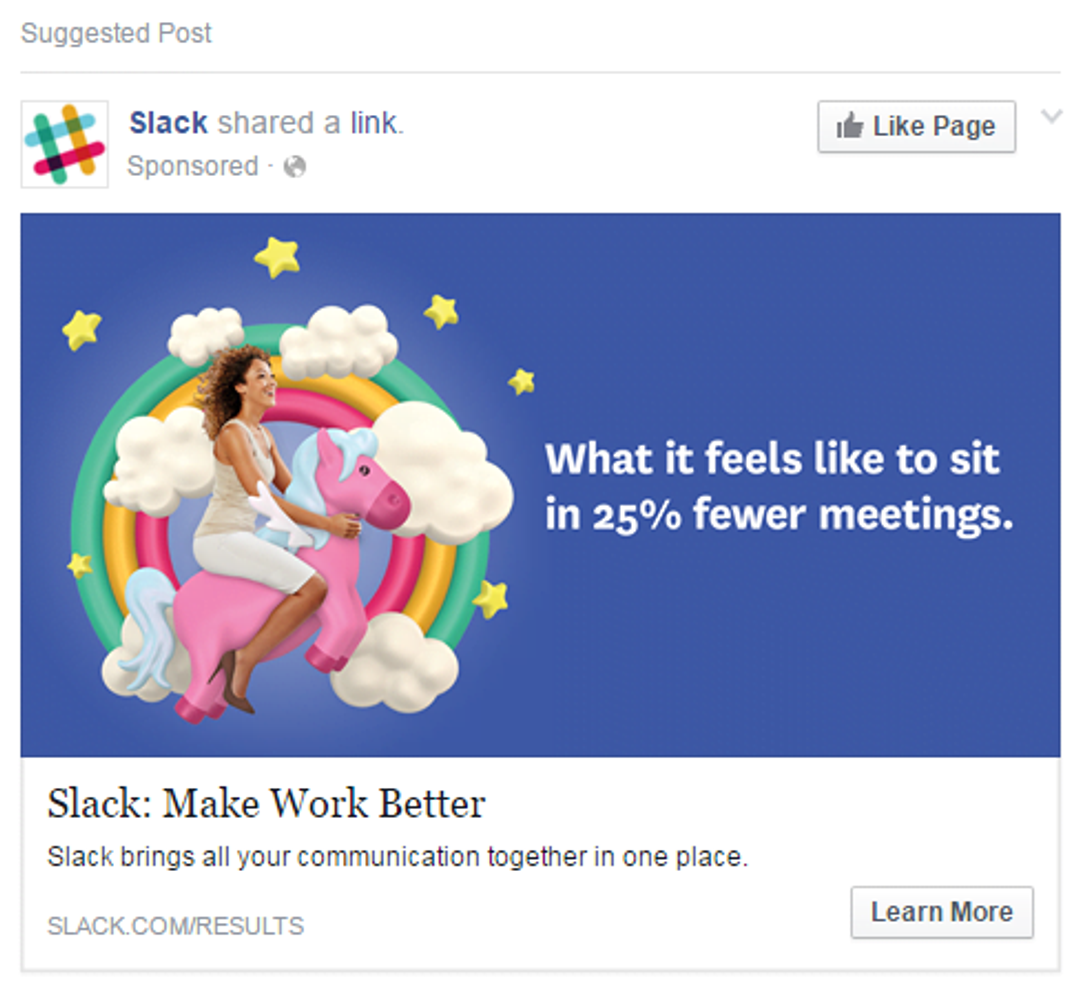 What matters is that they drop data that is factual and highly impactful. Notice the percentages in the captions? That's what wins them those precious clicks, without having to be mundane.
2. Shopify
Shopify leverages the ambition of aspiring and up-and-coming business owners. Their visuals are relatable and their captions are highly aspirational.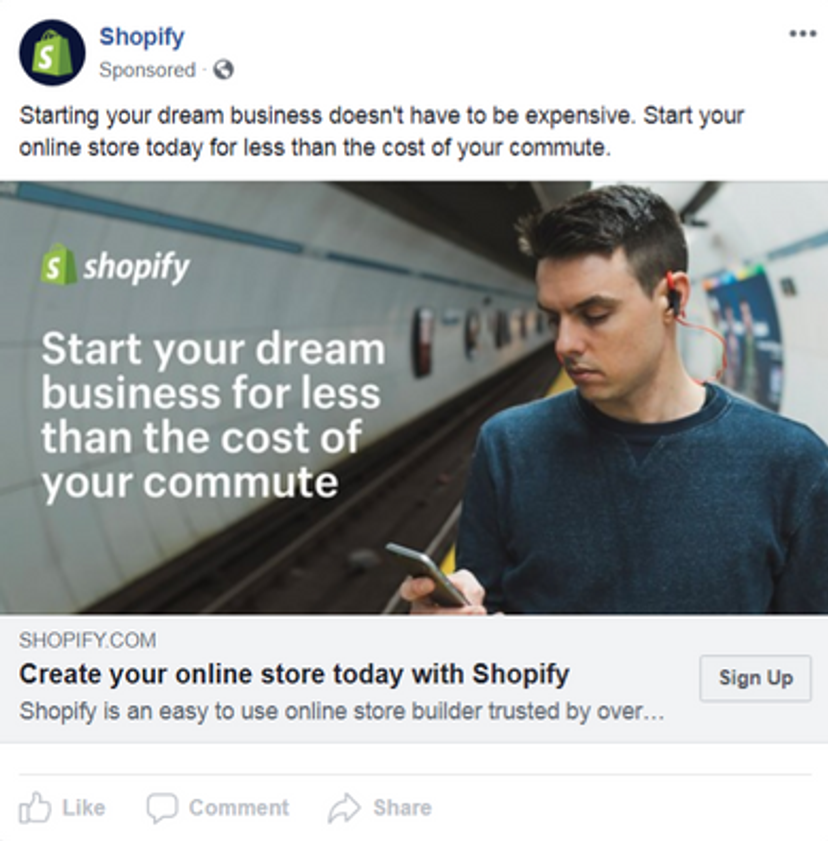 Not just on Facebook, Shopify advertises with this confident messaging across a variety of platforms, making their ad content one of the most memorable ones out there. There's no fluff and no beating around the bush. They get straight to the heart of the matter and tell you how to get stuff done.
3. Kawaii Pen Shop
If you are a retailer and are looking to create Facebook ad designs that can directly sell a product, then this is the best time to do so. The platform's incredible Shop feature allows you to showcase the price of the product right over its image.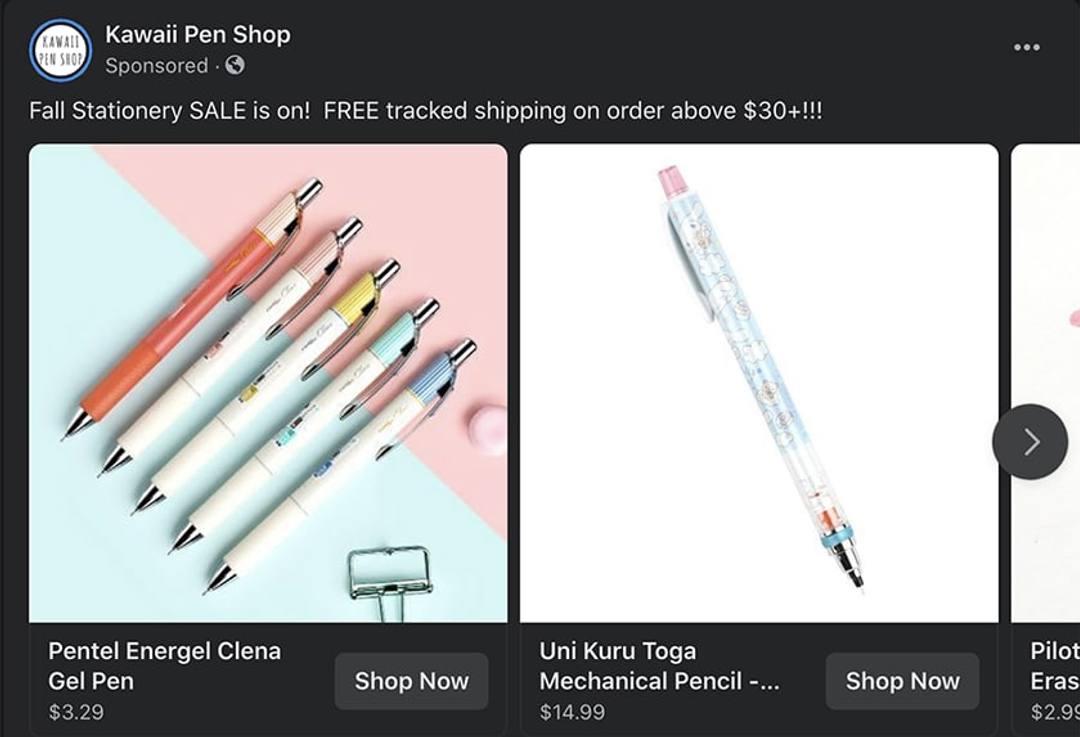 Kawaii Pen Shop uses this feature cleverly by adding price tags (in local currencies) to the products. Below is a 'Shop Now' button that directs the user to the purchase page. You can learn more about Facebook Shops and their availability in your region here.
4. Dollar Shave Club
Shaving is an intimate activity. Dollar Shave Club gleans insights into the problems and demands of shavers and creates advertising that is so relatable that it could bring a smile to a viewer's face.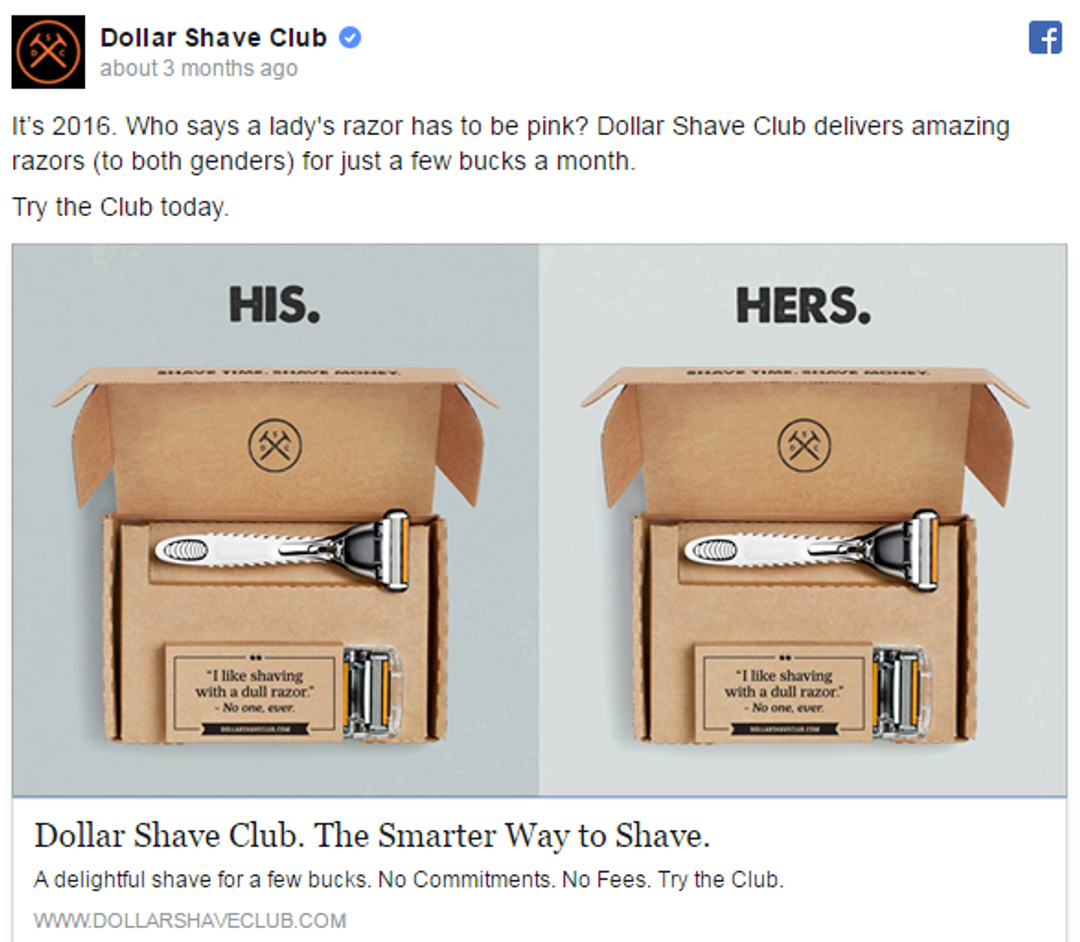 Their imagery is centered around the color palette of the products so that the buying experience is relatable, even when the actual product arrives at the customer's doorstep.
The Impact Of A Facebook Ad Design

We have seen how Facebook ad design can play an important role in your brand's marketing journey. Even if a user doesn't choose to click on your ad, your aim as a marketer is to make sure that they remember what you showed them and said to them in those few seconds, for which they stopped to look, read, and move on.
Anyone active on social media comes across tons of ads every day, so how do you stand out? As long as you incorporate these strategies, tap into your creativity, and understand your target audience, you'll hit the nail on the head.
Ready to design your free logo? Get started with our logo maker!
‍‍