The Canadian Imperial Bank of Commerce (CIBC) introduces a new look to its branding, and the new CIBC logo is as refreshing as its purpose. In an effort to renew its brand identity and goals, CIBC unveiled its new logo after almost 20 years.

The new CIBC logo symbolizes the bank's recurring belief system of helping their clients' ambitions turn into a reality, but this time, with enhanced capabilities.

The decision was brought upon by the global pandemic that has impacted business opportunities and financial standings. CIBC aims to reaffirm and strengthen its dedication to its customers during these unpredictable times.

CIBC was first established in 1961 in Toronto, Canada. Today, the bank is known to be one of the biggest and most reputable in its home country, as well as providing services and financial and banking consultations, not just in Canada but also in North America.

In a public release, the president of CIBC stated:

"Throughout our history, we have always made our clients' goals our own. The pandemic highlighted the role we play in our clients' lives. Our renewed purpose has been our north star throughout this time, and as we look to the future, it's more important than ever that our brand captures the bank we are today — one with a North American platform for growth, a client-centric culture, and a focus on the future for our stakeholders."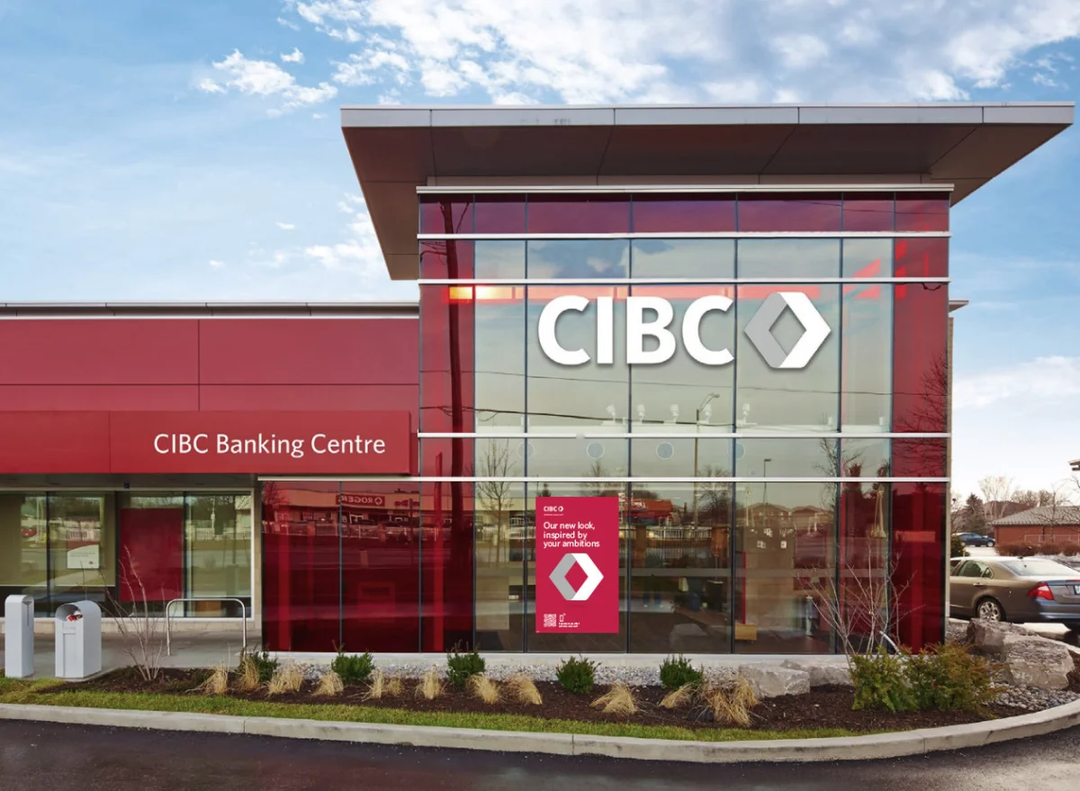 The CIBC logo has been redesigned multiple times over the years, and every logo has featured a geometric element to communicate precision and stability. The new CIBC logo continues to embody these characteristics with added inspiration from the bank's roots.
According to CIBC, the new logo was inspired by its 1966 version, the bank's first logo, as a tribute to its origins. The redesign is also a celebration of its 100th anniversary in business. Who knew going back to basics could pave the way for a new future?
What Does The New CIBC Logo Represent?

The new CIBC logo features two chevrons interconnected in opposite directions to represent the bank's past and future goals, as well as its relationship with its customers. According to a statement, the rebranding also comes with a broader attempt to transition into a customer-centric business.

As bold and modern as the new logo, CIBC aims to solidify its relationship with its clients and play a transformative role in achieving financial stability during the ongoing pandemic.

The iconic geometric chevrons have been brought back to life in CIBC's current visual identity. The CIBC logo also features a boldened sans-serif font in its usual burgundy, with simple yet stable lines to evoke a sense of professionalism and confidence. The bank chose to retain its brand colors to signify its unwavering attention to customers while keeping its outward recognition intact.

Smart move! There's a fine (and tricky) balance to achieve with logo redesigns. Ideally, rebranding efforts must not overtake the brand recognition a business has built over the years. A practical redesign is evolving the elements while maintaining the same core characteristics that made the business what it is.

And CIBC did precisely that.

"Connecting the past, present, and future. Our new logo represents your journey with us. It's a portal to your ambitions. It embraces our rich history while moving us further into the future — a future that is connected, vibrant, and deeply personal."

The bank's rebranding also came about through its expansion to North America, allowing existing and new customers to perceive them with refreshed eyes. CIBC's priority is to "meet the needs and expectations of clients on both sides of the border."

A consistent visual identity builds brand equity over time, which in turn, translates to trust. Though the new CIBC logo has different features than the last, the bank's messaging of preservation and renewal is another new beacon of trust that may grow over time.


Whether or not the new CIBC logo resonates with clients is a matter of how well the bank will live up to its promises. A design is just a design until it is given meaning through substance and action. Fortunately, it appears that CIBC is highly motivated to follow through on its new belief system. The new logo is just the beginning.
"We made changes to our look to reflect our commitment to you. Your ambitions, big or small, inspire us every day to put you at the heart of everything we do. From a bold new logo to a reaffirmed purpose, there are so many exciting changes to explore."
The New CIBC Logo: A Merge Between The Past and Future
The CIBC logo today encapsulates the bank's roots with a new perspective. In honor of its centennial, CIBC brings its origin story to the present in an effort to connect past and future opportunities.

With a fresh take on its first logo, an ode to a new beginning, CIBC introduces other beginnings for its customers—one with a strengthened sense of determination to keep afloat through unstable times.
Ready to create a logo as good as the CIBC logo? Get started with our logo maker!