Webinar marketing is a collection of techniques to promote a product or service in an educative and engaging manner. People take in information in different ways, and webinars are a strong favorite as they contain easily digestible, accessible, and valuable content.

The benefits go two ways. As viewers enjoy taking in the knowledge, brands get the opportunity to show off their expertise. This improves brand awareness and raises a strong sense of reliability and credibility.

Webinars allow you to show users who you are, how you talk, how you conduct yourself—and it is a direct reflection of what they would think about your business. Therefore, it's essential to approach webinar marketing with immense forethought and preparation.
8 Steps To Create An Amazing Webinar In 2022
Learning how to create a webinar can seem extremely complicated. You know the advantages, but how do you start? Like every other type of content, a webinar requires planning before its release. With the steps below, you'll learn how to set up and create a webinar on your first attempt.
Step 1: Choose A Subject And A Niche
A subject will give your webinar unparalleled value and ease the process of creating a structure for your event, but deep-diving into a subject and tapping into a niche will make your webinar unmissable. With a niche in hand, you'll be able to tap into a subculture and its passion.
For example, a webinar about video games might become too broad, which might lead to non-committal RSVPs. Narrow it down to a webinar about role-playing games, and you'll have a specific audience whose interests you will have piqued. Pigeonhole it to Cyberpunk RPGs, and you might get RSVPs from superfans who'll be counting down the days to attend the session.
But, do your research before selecting a niche. On average, webinars get anywhere between 40-50% attendance, and a niche with a small target market might not be the best choice if you want to attract an audience. The best place to start is industry literature and reports; read stats because numbers don't lie. Who knows? There might be a sizeable webinar audience for how to create a webinar.
Step 2: Finalize A Speaker
The right speaker will be an oasis of knowledge and a marketing asset in one package. A key opinion leader (KOL) is an influential person with extensive knowledge and credibility in a certain profession. Finding someone like this won't be quick or easy; key opinion leaders (KOLs) in an industry are always in demand and need to be booked in advance.
If planning ahead of time gives you butterflies, here are places you can contact KOLs:
LinkedIn
LinkedIn's networking powers have gone up a notch with initiatives like Top Voices. Top Voices sheds light on the 300 most influential and vocal professionals across industries. With features like this, LinkedIn makes it easy for you to find the best possible speaker for your webinar.
Community Websites
While LinkedIn is an umbrella professional social networking platform, there are also community websites for every industry. For example, IMDb and Goodreads are the world's biggest film and book communities, respectively. Every industry has respective sites you can use to contact potential speakers.
Cold Emails
While only 30% of cold emails get read, it could translate to 30 replies if you send 100 emails. Customizing emails for each recipient can be tedious, but it can prove successful if you research your contacts in advance.
Step 3: Decide On A Format
Learning how to create a webinar isn't the same process every time because you can produce an online event in multiple formats. A format that works for another brand might not flow well with your audience. Go through these formats and select the ones you think will leave your audience wanting more:
Roundtables
You can organize an online roundtable with debates and discussions if you know subject matter experts and industry leaders. An event like this will be interesting to industry insiders and fans — who want to hear the conversations about the present and future of their industry.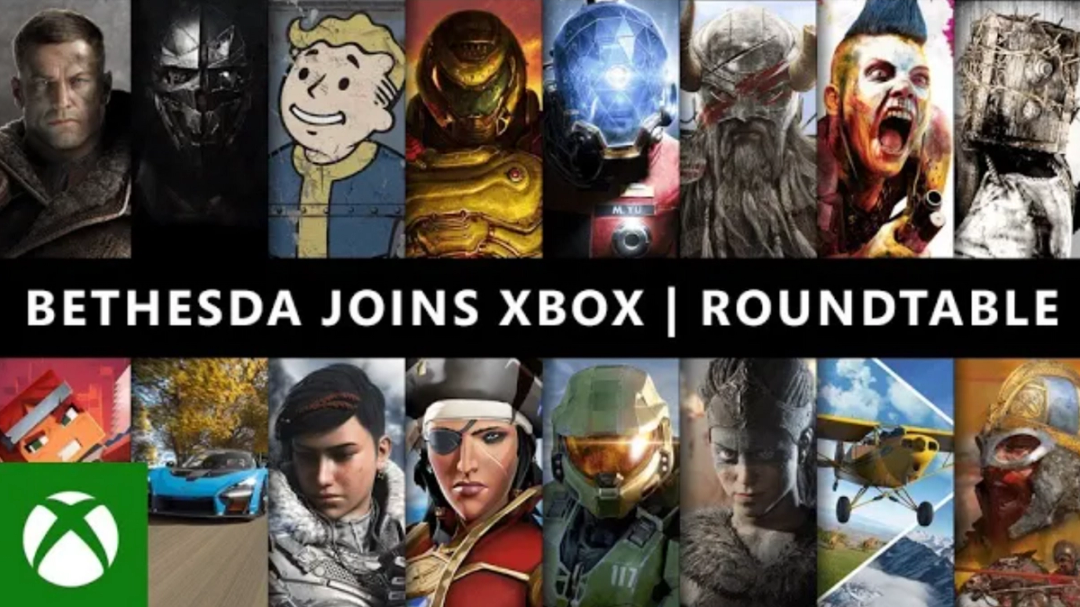 A recent example is the Microsoft-Bethesda roundtable that happened when the former's subsidiary, Xbox, acquired the gaming publisher. The event was insightful and gave creators, rivals, and consumers an idea of how this investment would affect them.
The key members of both companies talked about their future projects together, a subscription model for the gaming industry, and Xbox's plans for the coming generations. Such a candid conversation would otherwise not have taken place on another platform.
Interviews
Interviews have been produced in nearly every type of media out there. You've probably watched interviews in a variety of ways, like on a late-night celebrity show or a news channel.
A webinar can be an optimal place for an interview to happen, given that it is live. The audience will know that the talk isn't edited to create a particular narrative.
To make the interview even more interesting, you can experiment with the sit-down-and-chat format for something fresher. For example, you could conduct an interview between two people with contrasting personalities and experiences.
These discussions can work if both participants are willing to hear each other's points of view; just ask rapper Doja Cat, who had to talk about her song to a classical music expert!
Conferences And Fairs
Conferences and fairs can work if you're well-known in the industry and have access to multiple companies and professionals.
This will increase your scope of work but will also scale attendance by a considerable amount. Anyone who knows anyone will send out invitations. If that's your plan, make sure your server can handle all that traffic, for example, with an observability platform.
Production-wise, you'll need more cameras, better internet connectivity, a longer planning phase, a large space, and lots of runners during the day of the event.
Step 4: Prepare Your Content
Probably the most important aspect of learning how to create a webinar is getting the content right. You can have the best speaker, but people will leave if the content falls short.
Part of creating your webinar's content involves doing mock interviews and sessions with your speakers. You shouldn't get them to memorize what they're saying but help create topics and bullet points. This will make the talk sound extemporaneous as if it were appearing both on the spot and well-researched.
Also, don't forget to accompany the theoretical material with visual content - make a video or diagram, it will be better remembered by the participants.
It's best to do a dress rehearsal if you have multiple speakers. Even if you don't get access to the speakers before the event, do mock rounds internally to create time estimates and schedules for the event.
Step 5: Find A Place To Host Your Webinar
There are plenty of capable websites and platforms that allow you to host webinars. You don't need to go for the biggest and shiniest website if your content is simple or you have limited audience attendance. Whether you're aiming for a grand event or a small gathering, these platforms should do the trick:
Zoom Video Webinars
Zoom, one of the most popular video-conferencing apps, has a specific section and pricing dedicated to webinars. The software allows you to host up to 50,000 people and provides a plethora of backgrounds if your speakers are presenting from home.
The cheapest webinar plan starts at $690 per year, with higher prices allowing for larger audiences. Sounds like a hefty investment but get this: you can get free Zoom backgrounds that feature your logo with our affordable Brand Plan. The plan also provides you with a business card builder, email signature templates, brand guidelines, and so much more!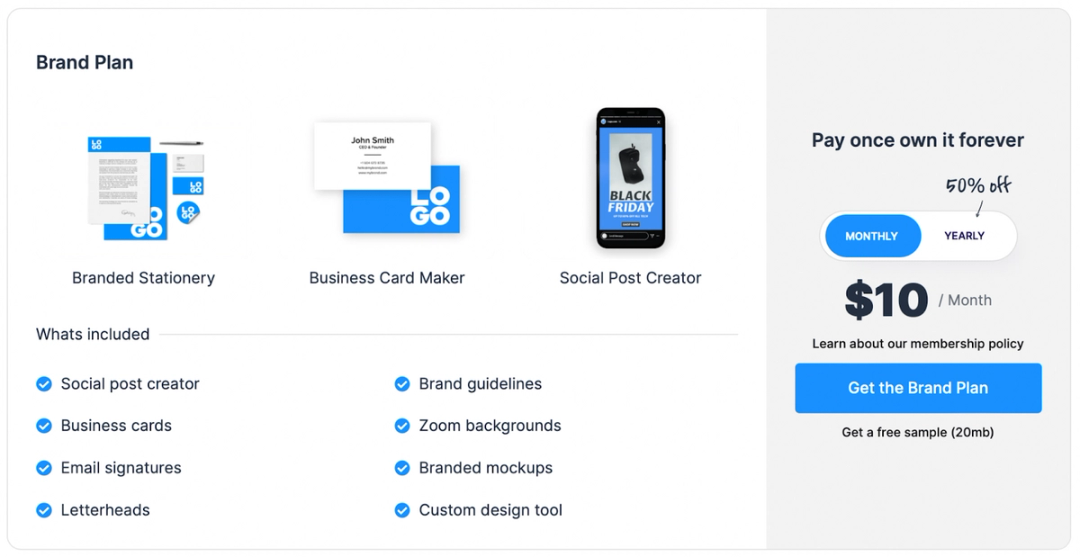 If you're going to spend big on a webinar plan, use it to your advantage by featuring your solid branding materials.
YouTube Live
YouTube Live wins the battle of price and visibility, hands down, given that it's both free and the world's most well-known video hosting platform. With YouTube, you have a ready-made audience, especially if you have an existing subscriber base.
You can either host a webinar on your own channel or partner with an existing creator to host your event. Additionally, you should also turn your webinar into an event so that viewers can anticipate it.
Demio
Demio is a viable option for small private webinars; the company offers affordable monthly and yearly pricing plans for webinars with an attendance of as little as 50 attendees.
Demio's advantage lies in its app integrations, which can help with production and marketing activities. For example, you can integrate Demio with your Mailchimp account to create an email funnel to increase possible attendance.
Step 6: Market Your Event
Because you need attendees to make an event successful, marketing is an important aspect of learning how to create a webinar. These methods can help spread the word about your event:
Use your speaker's network to generate word of mouth for your event. This can also double as a marketing activity if your speaker has followers on social media.
Create Google Ads that highlight your event and add the date, time, and speakers' information in the ad copy to create visibility.
Start an email newsletter in advance. If you have enough subscribers, you can share regular updates about the event to keep them in the loop.
Social media groups and events can be useful if you keep posting content regularly. Memes and GIFs can seem frivolous, but they can help keep viewers engaged and entertained.
For more in-depth webinar marketing strategies, just continue to read on. There are several tips to follow that would tip you closer to a successful webinar while keeping your expectations in check.
Step 7: Host Your Event
No amount of learning how to create a webinar can truly prepare you for the day of the event. Live events like music festivals, conferences, fairs, and webinars don't go 100% according to plan.
It is a rule of thumb to expect internet connections to fail, people to show up late, lights to turn off, and servers to crash. If you've done your homework, you'll avoid disasters and have solutions for hiccups. The day of will always be hectic; the best you can do is enjoy your hard work.
Step 8: Do Post-Event Marketing
Post-event marketing is important to keep your attendees engaged and informed about future events. To make this happen, make it necessary for your audience to submit their emails that you can use to send newsletters and event updates.
Be proactive and ask your attendees for feedback about the event and suggestions about how you can improve it. Regular and positive communication can make your next event larger and better.
With these steps, you can learn how to create a webinar that is both enjoyable and informative. There is always space for improvement, so work on your learning and you'll be good to go!
7 Ways To Promote Your Upcoming Webinar For Results

Given that you have the expertise and pertinent information about your subject, what it really comes down to is delivery. Certain strategies can help your webinar present itself nicely, and tips to make yourself (or the spokesperson) shine in a wonderful light.

Here are seven significantly helpful webinar marketing strategies to consider:

1. Make It Fun And Human

This is arguably the most fundamental tip. It's no fun to listen to a robot. Don't get too caught up in having a professional webinar without having a little fun too. Webinars don't need to be perfect, but they must show your personality well.

If you slip up a little in the middle of your explanation, don't sweat it. If you want to incorporate some appropriate humor here and there, go ahead! People engage the most with businesses that know how to tap into their authenticity. Instead of aiming for perfection, just be genuine and interactive.

2. Optimize The Webinar For Mobile

Statistics show that mobile phones generate 54.25% of traffic in 2021. Not to mention, people are on the go. Just as a webinar in itself is a convenient way to digest content, you must also optimize it to suit easily accessible methods.

Ensure that your webinar's font and captions are big enough to remain readable on mobile phones. It's essential for you to accommodate all channels that your webinar will be on and make sure that it continues to get the job done no matter the medium.

3. Manage Your Expectations

Keep in mind that this isn't everyone's cup of tea. Some people may prefer to read this information (which you can also do!), but that doesn't mean that webinars don't work. Again, people are on the go, and they need a convenient way to take in content.
‍

Manage your expectations—don't hold out for thousands of viewers off the bat. It's about quality engagements here. Statistics show that the average number of people attending a webinar is 148.

Don't let the number of attendees be your measure of a successful webinar. Even if it winds up resonating with a single person, that's still a win. And who knows, they may end up being a loyal customer.

4. Have An Eye-Catching And Impactful Title

Your webinar title must be relevant enough to explain what it is and appealing enough to hold their attention. Leave some room for the imagination, potentially swaying people to learn more about this intriguing topic.

The key is not to give it too much thought but instead an abundance of substance. You don't need to say too much to grab someone's attention. Something short and sweet can easily do the trick. Don't be afraid to pique their curiosity!

5. Choose Your Timing Well

You put so much time and effort into your webinar, and it's only right that it gets the visibility that it deserves. Of course, there is a touch of luck involved, but there's also a trick you can keep up your sleeve to move it in the right direction.

Don't just post your webinar any time without much thought—that's leaving way too much up to the luck gods! Instead, plan your timing well. Choose times when people are the most likely to be on the web, whether it's during lunch breaks or in the morning when they get in on the latest news.

Statistics show that about half of attendees prefer to watch webinars on Wednesdays and Thursdays. These are the hours that garnered more presence than the others:

11:00 AM - 16%
1:00 PM - 13%
2:00 PM - 14.5%

6. Include Channels For Feedback and Interaction

Choose your webinar platform accordingly, preferably something that allows your attendees to interact and engage with you. Ideally, your webinar shouldn't just be a monologue. It's a two-way conversation that will enable you to build a connection with your audience.

This way, you gain insight into the webinar's performance. Were people engaging with it? Did they find it interesting? What were the pain points? Whatever kind of possible feedback you get will ultimately improve your webinars in the long run. This also allows your audience to be a part of the discussion, which is a great way to build trust.

7. Record Your Webinar

In whatever form it comes in, the best thing about great content is that you can take it and repurpose it. Recording your webinar allows you to feature it on other platforms, such as email marketing campaigns and social media channels.

You can also take the pertinent bits of it and use it for other marketing purposes. Essentially, this strategy provides you with a larger reach. Just because some people didn't attend doesn't mean that others wouldn't be interested.

Additionally, this is a great way to analyze the webinar yourself, giving you insight into how you can improve it. It's a win on every corner.
The Benefits Of A Webinar: Why To Use Them More Often
Studies show that 58% of marketers use webinars to promote their products and services. That's a moderately high percentage, which begs the question: why is webinar marketing important? What could it potentially do for your business?

Firstly, webinar marketing isn't a must-do strategy; it truly depends on the stance and positioning of your business. Though not a requirement, webinars are an essential and universal tool that you can utilize to your benefit. That being said, it would be a good idea to prioritize webinar marketing if you are a business that:

Knows how to solve specific problems
Has expertise in a particular subject
Has exclusive information to share
Needs to explain how to use the products and services
Wants a more personal connection with your audience

Nurturing a relationship with your target audience is the focal priority for many brand marketing strategies. Webinar marketing is a mutually beneficial strategy, which essentially improves your business awareness and consumers' base of knowledge.
The Undeniable Impact Of Webinar Marketing

Having a great webinar in your arsenal is only halfway to success. The rest of the way to the finish line is effective delivery. This might seem like a lot of work, but if you consider these strategies for a compelling webinar, you can:

Generate leads
Retain viewer attention
Spark a connection with users
Build your brand reputation

Like any other type of content, pretty and professional information can only take you so far without value. The substance is the core of creating a meaningful discussion, which eventually pulls your audience into seeing value in you as a business.
Ready to design your free logo? Get started with our logo maker!
‍‍