‍
Thanksgiving is among the most anticipated holidays of the year, so knowing the best Thanksgiving marketing ideas is essential. November is the best time for aspiring and growing businesses to run promotions and campaigns.
Customers await Thanksgiving, Black Friday, and special holidays like Small Business Saturday to get the best offers from their beloved brands. So, what are you doing for your customers this holiday season?
The month before Christmas and the winter holidays, November, attracts shoppers preparing for the festivities. Devise a marketing plan that directs your customers toward your business and keeps you ahead of the competition.
We will show you how.
Key takeaways:
Create Thanksgiving content to bring the holiday joy while bringing visibility to your company.
Tap into Thanksgiving-themed email marketing, even if it simply means showing your customers some appreciation.
Thanksgiving is all about generosity and gratitude, so show you're thankful by giving your customers crazy deals and discounts.
Show love for your community by making donations or serving charities. It brings your business good attention (and good karma).
Customize your products and offerings according to the season, so incorporate common Thanksgiving elements into your website, social media, and more.
‍
7 Thanksgiving marketing ideas your customers will gobble up
Your Thanksgiving marketing ideas must be unique to make you stand out among the competition. Thanksgiving is a time for coming together, meeting people, gifting, eating great food, and dressing up. You have several avenues to craft your marketing ideas for Thanksgiving along with the demand of your customers.
Here are seven ways to shape your brand to the tune of Thanksgiving.
‍
1. Create Thanksgiving-themed content
Start by listing the elements that define Thanksgiving. You have friends, family, turkey, helping, togetherness, gratitude, and fall as usual words used during the festival.
Next, see how your brand can leverage these topics to create meaningful communication. Use Thanksgiving elements as props in your creative designs. If you run a brick-and-mortar store, decorate it and share the images online to let customers know that your business is ready to welcome them.
The content you put out in your ads should have a Thanksgiving feel to it as well. Talk about the holidays, more prominent themes of coming together, and meeting family and acquaintances. The emotional angles in your communication can be a recipe for sure success.
‍
2. Use Thanksgiving-themed email templates
Emails can work wonders for your brand. They are intimate, connect directly with your customer's needs, and give them a convenient call-to-action as a link. While you send emails to customers to wish them well or inform them about updates about your brand, you can give your communication a seasonal twist. Just email them for the fun of it!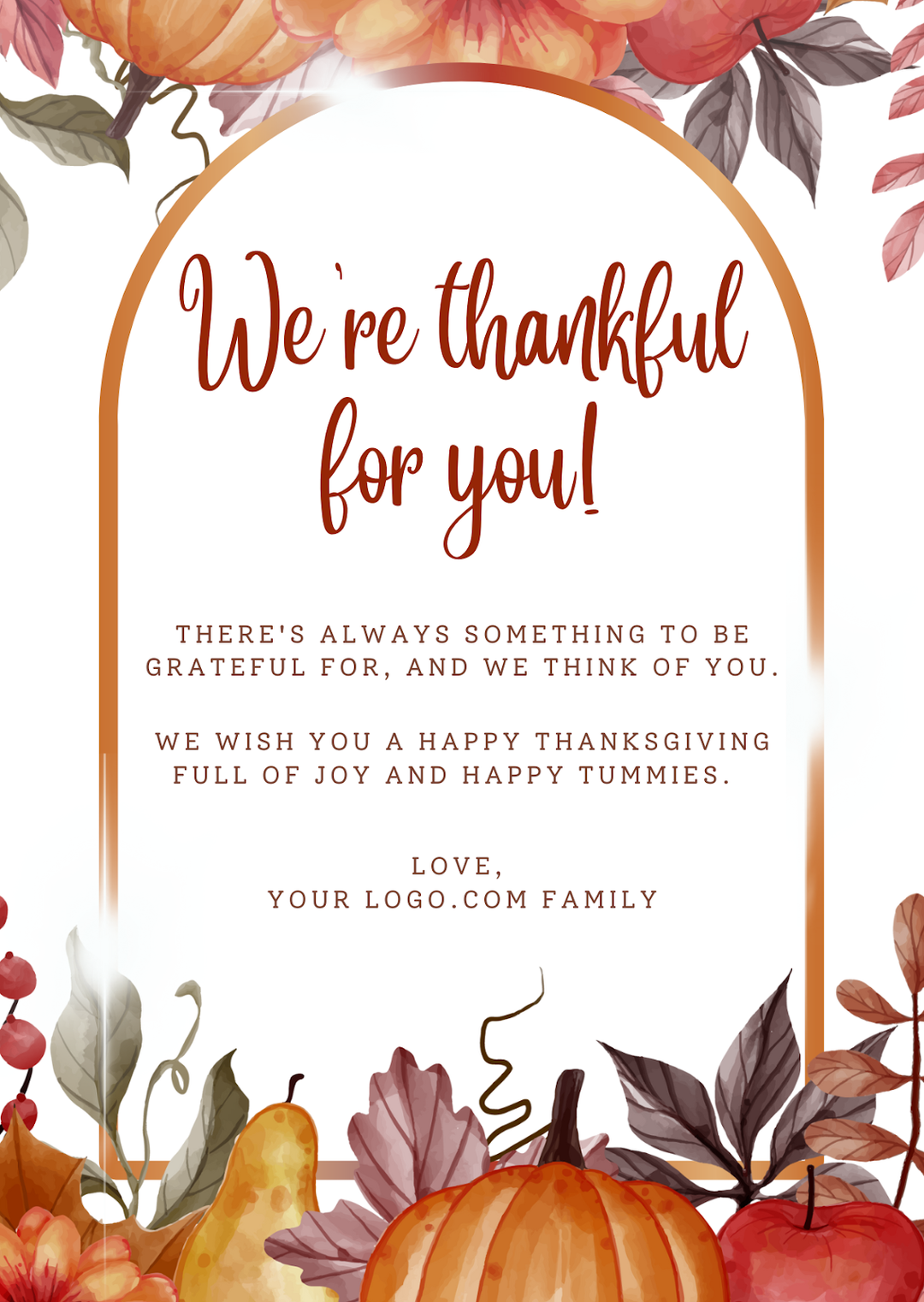 Create email communication that reflects the mood of the season. You can choose from several pre-designed email templates available online. Even if your messaging has nothing to do with the holiday, you can use props and elements of Thanksgiving to set the mood for your customers.
This strategy can work because, even though you may not have Thanksgiving-specific communication, your customers are in the holiday mood and will be more receptive to your emails.
‍
3. Show your community support
Here's a marketing idea for Thanksgiving that can carry forward even after the holiday. Your customers and community members who associate with your brand on digital and offline channels are in a celebratory mood. It's the perfect time to show them how thankful you are for their patronage and participation in your brand journey.
Take Tony Robbins, for instance. He was inspired by the spirit of Thanksgiving to create the One Billion Meals challenge. Tony grew up in an impoverished family. His family often couldn't afford Thanksgiving dinner. When he was 12, a stranger's charity altered his life. Tony's family was fed when they needed it most.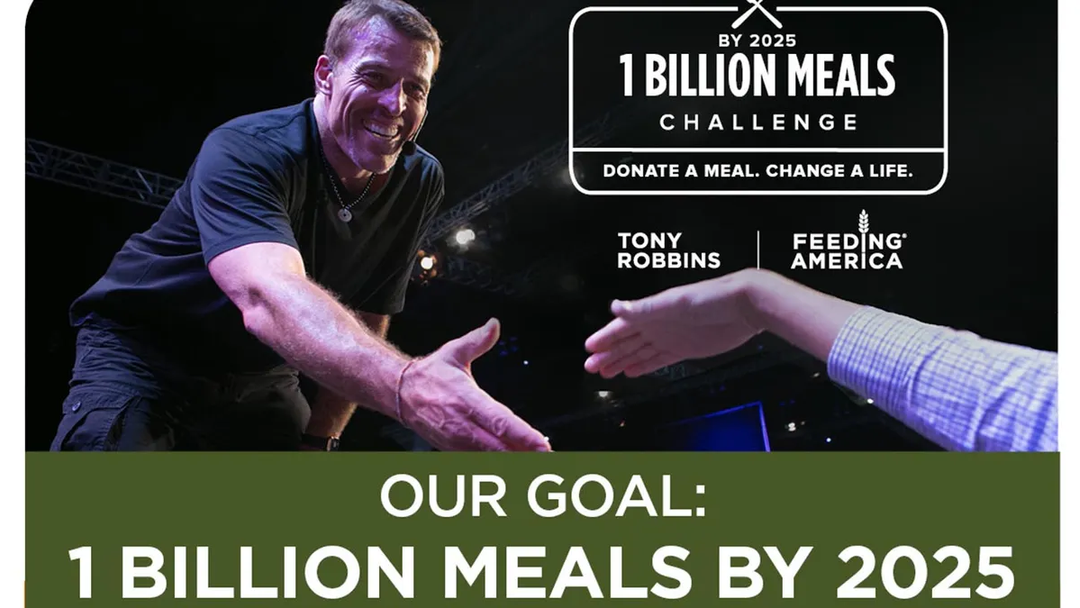 Since then, Tony has been utilizing his celebrity to raise funds and awareness for hunger relief efforts in the US and beyond.
It takes a little appreciation to build customer loyalty during the holidays. Your customers would love to explore your brand's human side, which does not only intend to sell a product to them. Use the holiday to humanize your brand. Talk about your brand story. Explain your vision for your brand and why the satisfaction of your customers is essential to you.
It may seem academic, but small gestures like these help strengthen the connection between your customers and your brand. And Thanksgiving is the perfect time to do this without seeming suspicious.
Lending support to your brand's community will not sweep in the sales, but it will create substantial equity in the minds of your customers.
‍
4. Market your products for the season
You could be a business that works in the food or gifting space and find Thanksgiving the perfect fit for your product line. Or, you could be a brand that manufactures something completely unrelated, like cement. If you use sharp wit and great analogies, you can shape your communication using your brand's category codes and the key elements of the holiday.
For example, if you have a business that makes phone covers, create content around how your products can be a beautiful gifting option. Conduct social media marketing that has the critical ingredients of Thanksgiving. Modify your products to suit the holiday. Exclusivity and limited-period offerings tend to attract customers.
If production isn't tricky, you can work with customers to create crowd-sourced or crowd-designed products. You can attribute these products to the contributors responsible for their inception. Doing this will create a valuable engagement opportunity for your customers.
‍
5. Give gifts to your best customers
This idea isn't a Thanksgiving promotion idea. It's something you always need to do. Reward customers who are loyal to you, or be responsible for giving your business a shoutout or a pedestal where you can advertise yourself in the quest for more customers.
These customers champion your cause by organically attracting potential customers to your brand. Reward them. Call them out and celebrate them. Get them to join in your Thanksgiving celebrations. Call them in physically if you must, and make public how you appreciate customers who are loyal to your brand. These occurrences could be rare and few in between, depending on the age of your business and its nature.
👀 Take note: Celebrating your best customers is a mighty hook to get new customers curious enough to learn more about your brand.
‍
6. Create month-long deals
Nothing spells the holiday season better than "deals." These deals must have longevity to maintain the relationship between you and your customers.
If you are a business that is set up and is looking to leverage Thanksgiving as a time to get your customers in droves, then run deals that last a more extended period (like an entire month).
Test your target audience at a smaller level and see if your profits are substantial. You can use a week's window to test this. Extend the deal if you observe an upward purchase curve, customer base growth, or positive reviews. Because during the holiday season, any deal is better than no deal. It also positions you firmly against your competitors' ideas.
‍
7. Donate some of your proceeds
Be excellent and genuine. Walk the talk and deliver where it matters most — to charity. This Thanksgiving marketing idea is more for your brand's positive PR than for sales. As a business owner who wants to create a beloved brand, you can pick a cause that affects your community locally or online. It would be ideal if the problem could be solved with your product.
Donate a share of your products and spread the goodness. Let your customers know what you're doing and invite them to join you in the donation process. You could donate new products you create, cash, or in kind.
You could also welcome a charity into your store and help the unprivileged enjoy your shopfloor experience. If you only sell online, organize a collection drive for patrons and fans of your brand. The world can always do with a kind deal, and it makes no delay in celebrating one.
‍
Frequently asked questions about marketing ideas for Thanksgiving
What are some commonly asked questions about Thanksgiving promotion ideas? Get your questions answered with these three FAQs.
1. What is the best form of marketing for the holiday?
The holiday season is a crucial time for many brands, and partnering with influencers is their top marketing priority. Some businesses put more than half of their advertising budget toward influencer marketing. Influencers will likely be posting frequently on their social media channels about upcoming holiday shopping events, which will help spread the word about your brand.
2. What makes a great holiday marketing strategy?
Knowing who you're trying to reach before the holidays is crucial to the success of your marketing efforts. Increase your social commerce efforts to share seasonal promotions and discounts with your younger customers (Gen Z and Millennials).
3. When should I start marketing for the holidays?
It's discovered that almost half of consumers intend to finish all of their holiday shopping before the end of the year. If you want to get a jump on the holiday season, you can start teasing your holiday messages in August, or at the very least, at the beginning of September.
‍
Bottom line
Armed with these clever Thanksgiving promotion ideas, you can rope in brands that would be busy battling off the monotony of regular posts. You can use one or multiple of these ideas to build the trust and loyalty of your customers.
You can choose these ideas based on your goals because you need to be genuinely thankful for all the customers that these strategies raked in—happy Thanksgiving to you.
Ready to design your free logo? Get started with our logo maker!