‍
Sony's PlayStation has become a staple in households and on children's Christmas lists, providing entertainment for all ages and helping many people cope with the challenging years of COVID-19 and solitude.
The PlayStation logo design has remained largely unchanged over the years, maintaining the same distinctive 3D look and typeface. Because of this uniformity, customers have come to trust the business and recognize the PlayStation brand identity.
Key takeaways:
The PlayStation logo has been unchanged since 2009, when it opted for a more monochromatic, minimalistic look.
The design's consistency has contributed to a strengthened understanding of the PlayStation brand identity.
PlayStation's 3D logo is a fitting emblem for the brand because it was among the first to introduce 3D graphics in the early 2000s.
Sony's PlayStation is compatible with more games and internet services than any other contemporary system.
The first PlayStation console came out in 1994 and the latest came out in 2020, showing strong, withstanding progress for 26 years.
‍
The Sony PlayStation logo history and evolution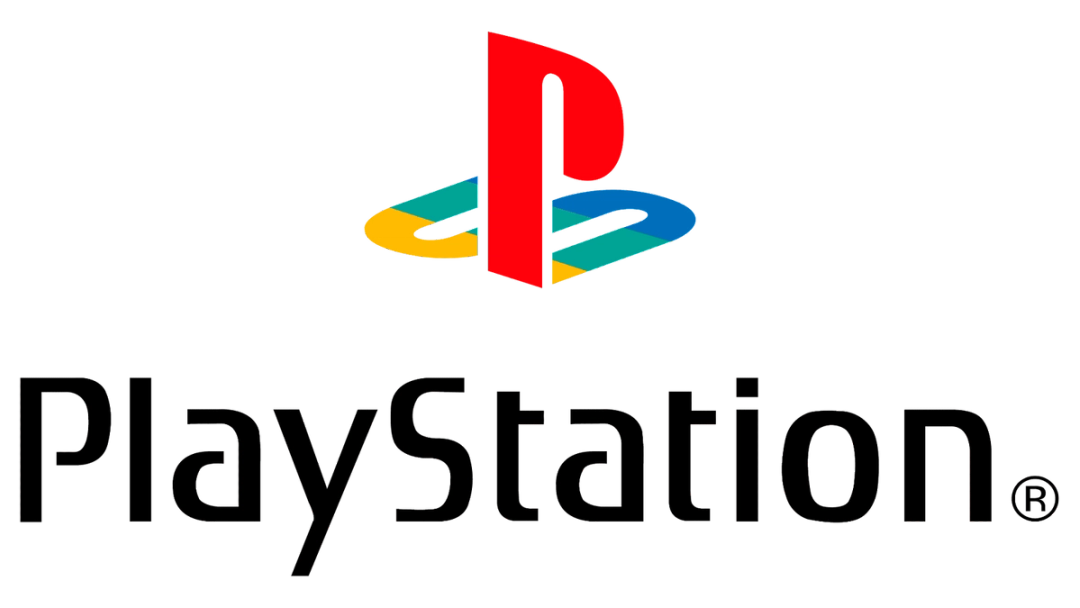 Since its inception in 1994, Sony's PlayStation sub-brand has used only two logo variations. After 15 years, in 2009, the PlayStation logo incorporated a small color change.
‍

A new version of the logo, with a monochrome aesthetic, was introduced in 2009. This simpler design was a better fit for the PlayStation brand identity, as its consoles are virtually always black. This pared-down approach is also more in keeping with contemporary norms.
‍
The PlayStation logo meaning and significance
The original Sony PlayStation logo was composed of an intertwined "P" and "S", short for PlayStation. They were given 20 different logos to choose from before settling on the one still in use today. The P towers over the shadowy S in this three-dimensional logo.
The sharp contrast between a logo's foreground and background makes 3D logos particularly effective. Since PlayStation was a pioneer in 3D gaming in the early 2000s (when the 3D logo was first created), it is a fitting symbol for the company.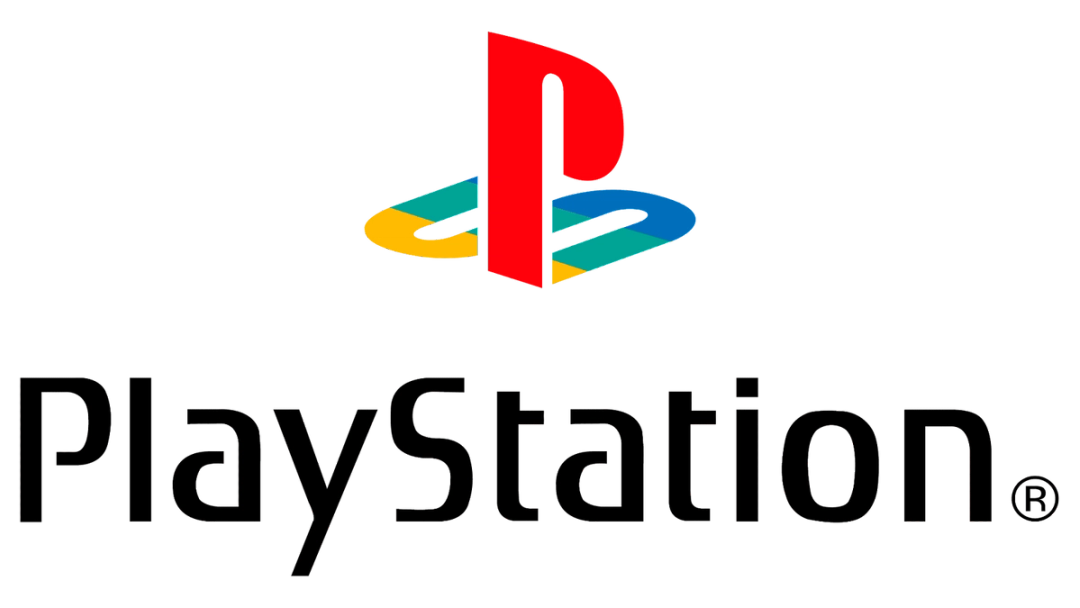 They picked brand colors of red, yellow, blue, and green. The logo originally consisted of the three primary colors (red, blue, and yellow), but the inclusion of green made for a livelier and more vibrant design.
Sony created the typeface specifically for the brand. The letters experiment with bold and delicate strokes, straight and curved lines, and smooth corners. This makes it look both contemporary and classic, while also adding a minimalist quality.
The LOGO.com versions of the PlayStation logo design
PlayStation, one of the most popular and cherished game systems, has a memorable logo that helps users to keep the brand in mind. But could the famous design be reimagined?
Design similar versions of the PlayStation logo below and take them home for free!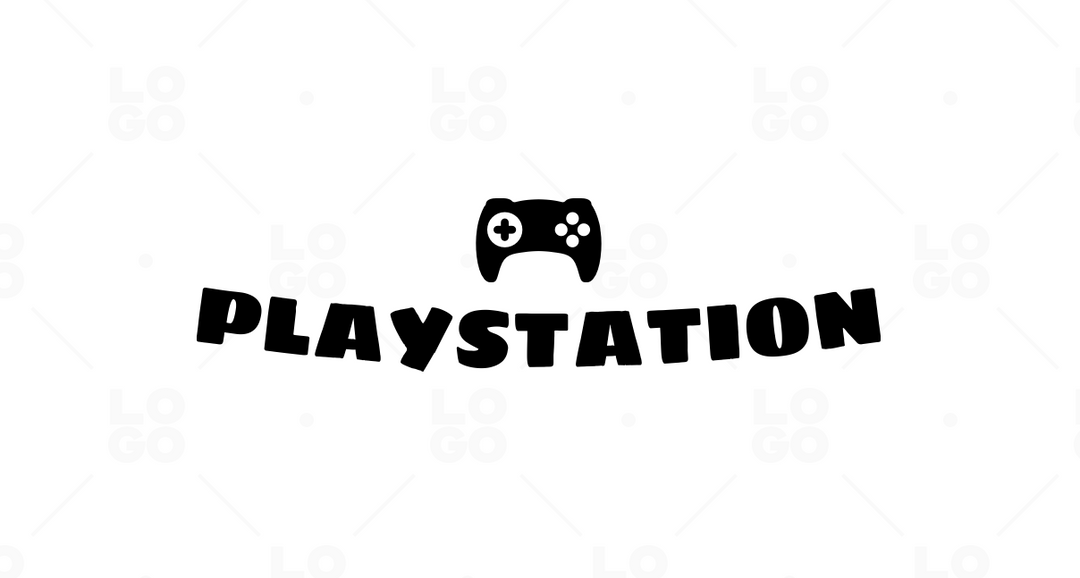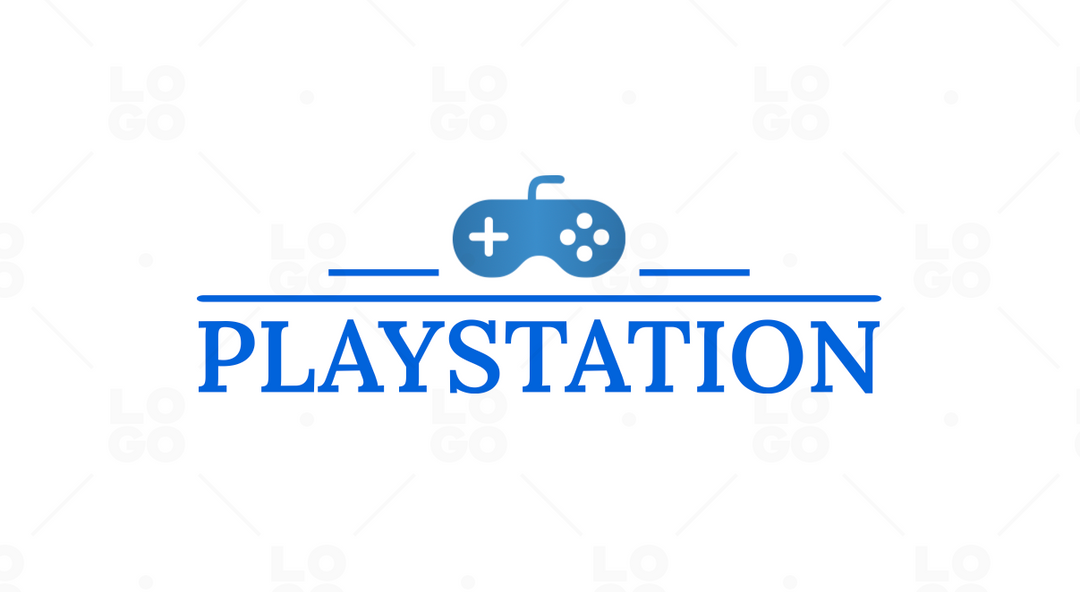 Thanks to a few subtle tweaks, we now have not one but two PlayStation logo variations to take inspiration from.
‍
5 fun facts about Sony PlayStation branding you won't believe
Looking for some fun facts you can sink your teeth into? Let's take a look at some surprising facts about the PlayStation that might further spike your interest:
‍
1. The original prototype sold for $360,000
The SNES PlayStation, the original partnership between Sony and Nintendo, had already made significant progress when the two firms went their separate ways. Thanks to their efforts, a functional model was still available. That original prototype was sold for $360,000 in Japan.
‍
2. The controller was designed for 3D gaming
In contrast to the flat, boxy Nintendo controllers of that time period, the newer ones had a more bubbly feel to their design. This form was created to advertise the 3D capabilities of PlayStation games.
Additionally, the well-known symbols actually have deeper meanings. The cross (which we all know as the "x") means yes, the circle means no, the triangle stands for a specific POV, and the square represents a piece of paper or the game's menu.
In many games today, the x button still means "accept," "o" means "undo," and the triangle means "change camera view," all of which are faithful representations of their original purposes.
‍
3. The PlayStation logo has a full 3D render
The Sony PlayStation logo features several odd angles since it was designed as a 3D rendering, not a 2D picture. The PS logo is a true 3D model that can be rotated and examined from any angle thanks to its meticulous design. Aesthetically, it's not as appealing when viewed from behind as it is in front.
‍
4. A man named himself PlayStation 2
A 29-year-old man named Dan Holmes was incredibly obsessed with the gaming console that he tried to legally change his name to "Mr. PlayStation 2." He even tried to marry the console.
‍
5. At launch, the PlayStation 1 only had eight games
Even if it wasn't ideal from a brand marketing standpoint, it did set the PlayStation off to a strong start. The fact that it could play music also contributed to the rapid selling out. The PlayStation was a huge success right from the start because of its low price and good quality, which made it comparable to, if not better than, many high-end CD players.
‍
A brief history of PlayStation branding and its evolution
Sony had originally planned to work with (now rival) gaming giant Nintendo to develop a CD expansion for the SNES. Sony, unfortunately, dropped out due to a disagreement over license terms.
In 1994, Sony released the PlayStation 1, and it was a massive hit, with over 100 million units sold. It was the first console that used CDs for games. This meant that the PlayStation games could store nearly 50 times as much data compared to the cartridges that most other manufacturers were selling.

For this reason, Sony's platform offered superior visuals and playability. The console's CD player was also excellent, so it served a dual purpose.
This multifunctionality was also found in their next release, the PlayStation 2. This second iteration incorporated a DVD player and had many other upgrades as well, such as storage and graphics improvements.
Released in 2000, it had over 155 million units sold, with people lining up outside BestBuy stores and other stores for days. This was also when the now famous two analog sticks were added.

While the PS3 wasn't quite as successful as the PS2, due to controversially high prices and expensive technology, it still sold over 87 million units upon its release in 2006.
It was a sizeable upgrade from the previous iteration, with better controllers, an online network, and other new features. This was when online gaming was more popular, specifically the Call of Duty and FIFA franchises.
The PlayStation 4 has the potential to run games with higher graphics and more functionality, making them more immersive and enjoyable. The PS5 was released in 2020 and featured enhanced processing power and visuals compared to its predecessor.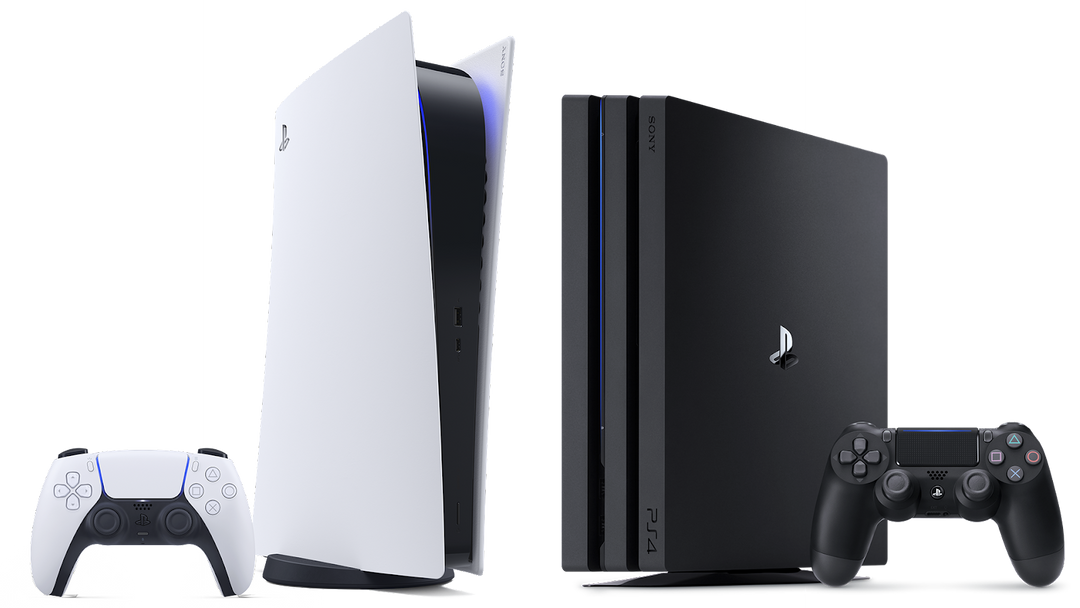 ‍
All about the Play Station logo and brand: How does it affect society?
Despite only launching a new primary product once every six or seven years, Play Station has become one of the most popular gaming console brands.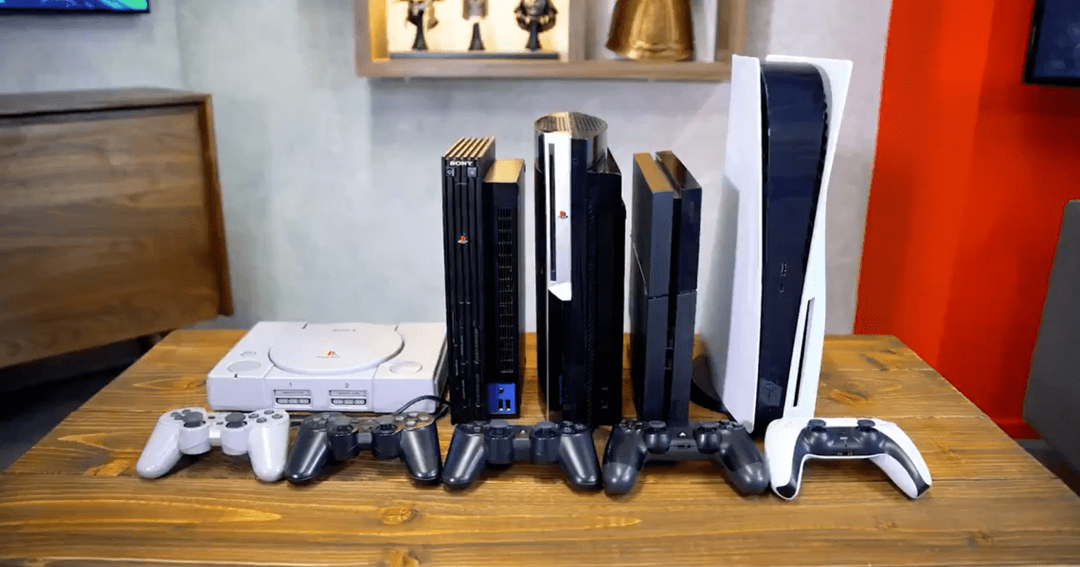 The Play Station is currently the market leader, with only a small number of competitors. Sony was ahead of the curve at the tail end of the 20th century and continues to reap the rewards of its foresight in this rapidly growing sector of the economy.
Sony's console boasts one of the widest ranges of compatible games and online services of any system currently on the market.
According to recent research, "playing video games had a positive effect on players' perceived well-being during the COVID-19 pandemic." The Play Station logo has provided us with a means of stress relief, escape, and social contact, all of which are integral, particularly during isolating experiences.
‍
Frequently asked questions: 4 popular FAQs about the Play Station logo
What are some commonly asked questions about the Play Station logo design? Get your questions answered with these four FAQs.
1. What does the Sony PlayStation logo mean?
Manabu Sakamoto created the iconic PlayStation emblem. He intended for the logo to convey the console's 3D capabilities, so he gave the letters "P" and "S" a false sense of depth to give the impression that they were floating in space.
2. Is the PS1 logo 3D?
Yes. The PlayStation 1 logo has been revealed to be a fully-functional 3D model that can be freely manipulated in any direction. Although it has always been clear that the design shows a vertical P atop a horizontal S, viewing the pattern from a perspective in which the letters are perpendicular is still a bit disconcerting.
3. How much is a PlayStation 5?
It depends! One version of the PlayStation 5 includes a 4K Ultra HD Blu-ray drive, whereas the other is a disc-less "digital edition." It costs $500 for the regular edition and $400 for the digital one.
4. What games are on PS1?
Some of the most iconic games on the PS1 were Silent Hill, Final Fantasy VII, Metal Gear Solid, Resident Evil, Crash Team Racing, and more. Most of these games have been remastered for PlayStation's future consoles.
‍
Bottom line
Sony's PlayStation branding has been popular for decades, with the company consistently releasing essentially the same product with major tweaks and upgrades. The innovative PlayStation logo and dependable brand identity make perfect sense given the company's unwavering dedication to its original mission and principles.
Ready to design your free logo? Get started with our logo maker!