As a new business, you would want to try out an incubator for startups to give your new venture that all-important first push. Here, we will explore the merits of partnering with the best accelerators in the world and help you find one that fits your business perfectly.
What Are Incubators For Startups?
Incubators for startups are created exclusively to empower small businesses in their journey towards growth. They can be broadly defined as programs that offer standardized or bespoke solutions for early-stage startups that have yet to gain funding.
Incubators could help you get co-working spaces, seed funding, training and counseling, networking, and partnership opportunities.
‍
Several incubators are run as non-profits and are associated with universities, colleges, government institutions, and private groups or individuals. Just as incubators for startups help businesses before they get started, the best accelerators are programs to help startups that are already operational to some degree.
The Top 15 Startup Incubators And Best Accelerators Worldwide
Here's a list of leading startup incubators and best accelerators that will help you make a more informed decision when picking your partner in growth.
With a strong focus on tech-based startups, Techstars has been empowering startups since 2006. Each year, they choose over 500 early-stage companies and invest up to $120,000 in them with mentorship opportunities.
With a funding of $21.3 billion, Techstars is a safe bet for technology startups. Several marquee events and programs are hosted by Techstars, including Startup Week and Startup Weekend. The company has invested in companies like Uber, SendGrid, and DigitalOcean, to name a few.
Originally known as just Highline in 2014, the company rebranded itself as Highline Beta in 2017. They identify as a hybrid corporate venture studio and venture capital firm that leverages their brand marketing expertise to give startups a tangible boost in their early-stage journey.
Highline's Venture Studio model and Pilot Program Accelerators help your venture be shortlisted, run a pilot, and gain a realistic view of your outcomes. The Venture Capital program by Highline Beta is a pre-seed VC that invests only in startups that are part of the company's Venture Studio or Pilot Accelerator programs.
Some beneficiaries of Highline Beta's VC program are Drop, Moselle, and Walnut Insurance.
Whether it is Airbnb, Coinbase, Dropbox, or Gitlab, Y Combinator has contributed to the growth journeys of the most recognizable startups in the world. Being a YC Founder is considered a privilege.
The YC program is a 3-month program that includes funding of $500,000 with specific caveats. They then engross the founders in a series of mentoring and molding programs leading up to Demo Day, where the founders present their ideas to a group of investors and selected members of the press.
Y Combinator continues its engagement with its benefactors even after the YC Program is completed with advice and special community programs to help them strengthen their footing.
India is a blossoming field of startups, and Venture Catalysts are the leading incubator for startups in the region. Their prolific portfolio is accredited to their approach that combines continuous capitalization, rich networking opportunities, gap-based mentoring, and sector-specific access.
With investments in the range of $200,000 to $2 million, the company clearly states that it "does not interfere" and "does not teach entrepreneurship." Venture Catalysts allows startups to find their own footing while acting as allies in their journey.
Their portfolio includes established male grooming brand Beardo, shopping app Fynd, and crowdfunding platform ImpactGuru. Their presence continues to grow globally.
Launched in 2011, the England-based incubator for startups, Ignite, had spread its influence across Europe before coming back to North-East England. They offer two programs: a Pre-Accelerator Program for early-stage startups and an Accelerator Program for startups at the seed stage.
The program involves workshops, mentoring sessions by experienced individuals, fireside chats, networking opportunities, business loans, and interactions, as well as unique travel opportunities to test ideas across borders.
Ignite leverages its partnerships with Google, AWS, SendGrid, and more to help startups gain credits and discounts worth GBP 250,000. The most recent batch of the programs is yet to be announced.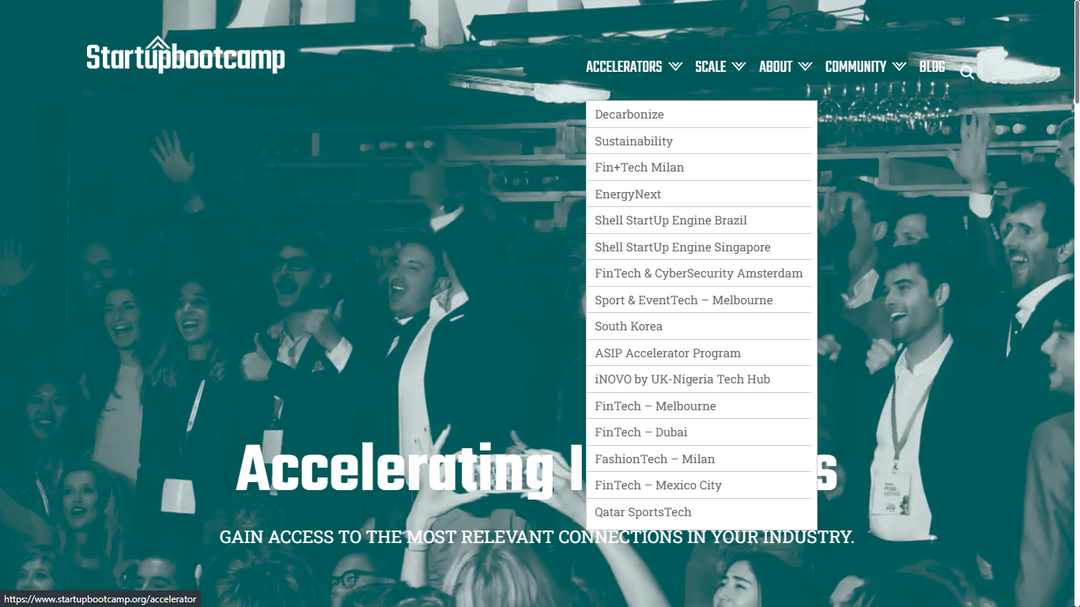 With over 20 industry-specific programs, Startupbootcamp has a sharp focus on empowering up-and-coming businesses in their areas of interest. With nearly 1085 startups accelerated at an average funding rate of EUR 1.27 million ($1.35 million), Startupbootcamp offers a strong proposition with leading growth partnerships.
The geographical and industrial cuts make Startupbootcamp an obvious choice for entrepreneurs who want to operate in those spaces. In addition to their accelerator program, they also offer scale programs.
500 Startups serves as both an accelerator program as well as a seed fund for startups. Primarily a venture capital firm, they have declared $2.7 billion in assets under management. Their key focus areas lie within markets that combine technology, innovation, and capital growth.
Having invested in over 2,600 global startups, their accelerator program is highly evolved for various markets. Some of the most notable ventures that have been powered by 500 Startups include Canva, Grab, and Credit Karma.
Arguably the biggest Asian incubator for startups, Chinaccelerator is a mentorship-driven program that helps enterprise software founders link up with their network of over 200 corporate partners. The 3-month SOSV program, which was founded in 1994, is conducted across five global geographies. The program invests in 150 companies per year.
There are over 300 Chinaccelerator mentors based across the globe to facilitate these programs. They put a lot of effort into making sure women are included, giving local businesses more power, bringing global expertise to China, and building long-term relationships with their partners and startups.
Firmly established in Europe, Startup Wise Guys boasts the claim of being the 'hottest B2B startup accelerator program.' They offer region-wise and discipline-wise accelerator programs in Europe and Africa, ranging from Sustainability, SaaS, and Fintech. They also have a pre-accelerator program for early-stage startups.
Startup Wise Guys was founded in 2012 and has since invested in over 290 early-stage startups. Their founder network spans 40 countries with an impressive success rate of 77%.
Here's their illustrious portfolio.
Focussed on IoT and tech hardware innovations, Buildit has established its niche over the last 8 years. They run 10 accelerator programs in Latvia.
The program involves over 10 teams working for 4 months, improving their startup journey and creating funding opportunities. The best-performing teams receive pre-seed investments in cash.
Set up in scenic Iceland, Startup Reykjavik is formed through the partnership of Arion Bank and Icelandic Startups, where the former helps with the funding while the latter helps with the execution of the program. As a seed-stage startup, the program offered is one of mentorship, and it runs for 10 weeks in the summer.
Participating companies receive funding of around $22,000, office space to operate in, access to several successful entrepreneurs and experts, and other perks. Arion Bank offers the funding in exchange for 6% of the equity.

This joint venture between German printing giants Axel Springer SE and Plug and Play Tech Center from California offers global opportunities for startups.
From ReachHero.de (an influencer marketing firm) to Myo (an app that facilitates communication between care homes and relatives of patients), Axel Springer Plug And Play has contributed to the launch of innovative startups.

The University of Toronto offers its own startup incubator accelerator called the Hatchery. The program has successfully launched several promising startups with its offering of startup building, team building, and business ideation opportunities.
If your company is into Deep Tech and is looking to set up operations in Europe, then StartupYard is highly recommended. They specialize in incubating startups that are into Augmented Reality, Predictive Analysis, Artificial Intelligence, Blockchain, IoT, Cryptography, Robotics, and other disciplines.
The 3-month program conducted by StartupYard is remote, so you can participate from anywhere in the world.

It's always good to get free credits to accelerate your startup journey, which makes AWS Activate the obvious choice. The program offers startups support plan credits, architectural guidance to grow your business, documentation and legal support, access to a wide marketplace and partner network, and the works!
You can start right away with $100,000 in AWS Credits. Among the most popular beneficiaries of AWS Activate are Airbnb, Deliveroo, and DoorDash.
There is also a way to optimize your cost of AWS by using Economize AWS Cost Optimization Tool. As your usage grows, this tool keeps track of all the costs and tells you where you can save your AWS credits. It can help to efficiently use AWS credit and get maximum ROI out of it.
What Are The Pros And Cons Of A Startup Incubator?
Incubators offer great value in terms of working spaces, advisory services, networking opportunities, mentorship, seed funding, and more. By now, you should be well-versed in the benefits that an incubator could offer you.
You must keep in mind that the application process to be selected by an incubator could be rigorous. It's best to approach them with a well-detailed business plan. Some incubators require you to stay committed to their schedules for longer durations, which takes up a significant amount of your bandwidth and focus.
Conclusion: Choosing The Right Startup Incubator
While picking a startup incubator accelerator as a partner, make sure that you have a solid understanding of what they have to offer, the commitment they demand, and what final value you are going to derive. Study their portfolio to understand what kind of businesses and markets they have succeeded in.
Eventually, your startup is your baby, and you want to give it the best that it needs. The program you pick should be part of your startup plan and not the other way around. Good luck!
Ready to design your free logo? Get started with our logo maker!