‍
When you think about starting your business, the obvious social media platforms to promote your business generally include Facebook, Twitter, Pinterest, and Instagram. However, you could find a wealth of value once you learn how to use LinkedIn for business.
The platform has earned its stripes as the world's biggest social media for professionals. With an increasing number of smaller setups, LinkedIn is now home to some of the most promising unicorns and start-ups. It doesn't only give them a voice to express themselves but also a ready networking opportunity — one that you could use very well.
‍
How to use LinkedIn for business: 16 power tips
Because of its unique nature and purpose, marketing on LinkedIn isn't the same as it is on other platforms. You have to be less frivolous yet less boring.
Between this, that, and everything, here are 16 power tips to help you set sail on this adventure.
‍
1. Pick between a profile and a page
A LinkedIn profile represents you as an individual professional, whereas a business page can be followed without sending a connection request.
It is ideal for you to first create your profile and then create your business's LinkedIn page. Make sure that you pick wisely between what is posted on which of the two.
‍
2. Complete your profile
Your LinkedIn page is your shopfront. And just as you ensure that your facade is at its best when customers arrive, the same goes with your profile. LinkedIn helps you with a completion bar that lets you know how much of your profile has been completed and how much is yet to be filled.
Complete your company's profile on the page too. Make sure that you include:
An eye-catching cover photo
A professional profile image
Your company logo design
Your website
Your contact details in the form of a shareable e-business card
An elaborate description of what your company does
Its ethos
💡 Tip: Don't forget to add presentations on SlideShare to give visitors a chance to get to know your business or a product in more detail.
‍
3. Create a custom URL
LinkedIn allows you to create a custom URL for yourself and your page. This makes it easy for contacts who you have just met in person to look you up and find you.
Use your business name as part of the URL so that it is easier for them to look you up and share a connection request with you.
Launch your brand in minutes with a free logo
‍
4. Make connections
You can look up LinkedIn members based on their geography, profession, seniority level, and several other parameters. Keep looking for potential clients or experts with your domain expertise and broaden your network.
The bigger your network, the greater the number of people you can promote your company page to, organically.
‍
5. Contribute to larger conversations
You aren't on LinkedIn to be a fly on the wall. Instead, you are here to network and make your business known. Be on top of conversations by being courteous and concise in the comments section. Celebrate the wins of others and wish them on their birthdays.
Even the LinkedIn boss knows how to keep conversations going with useful POVs.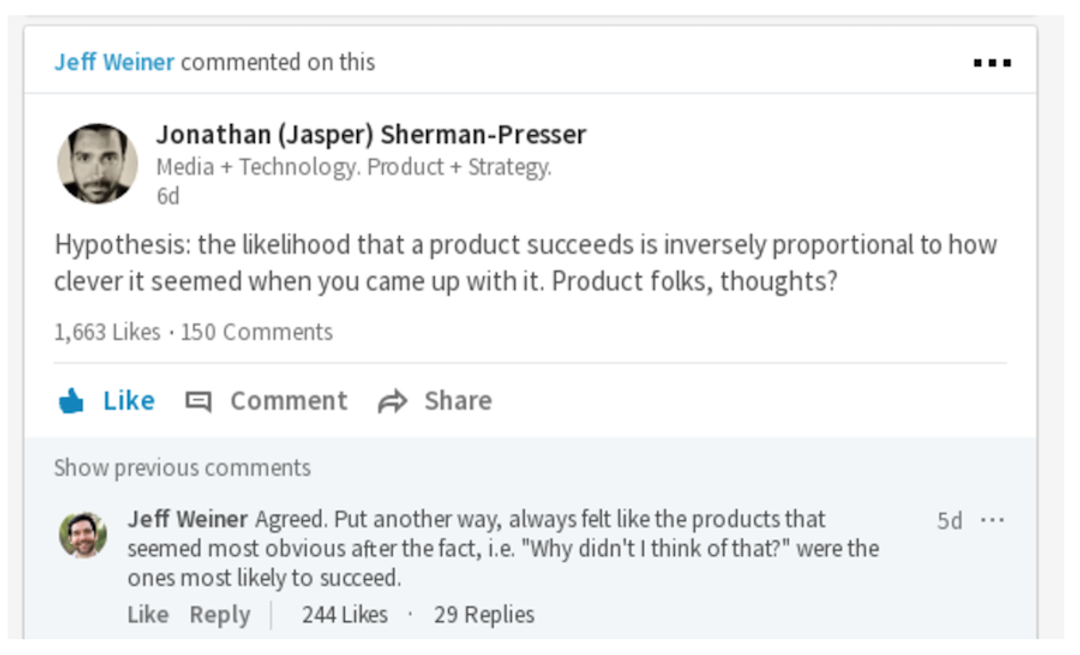 You can share your point of view and open up debates too, but always be courteous and decent.
‍
6. Explore groups
Groups on LinkedIn are simply underrated. They comprise individuals who are interested and invested in a particular topic or area of business. Get the basics of LinkedIn Groups right with this insightful tutorial:
Once you are part of the group, participate actively in the conversations going on and also reach out to the members from time to time by leveraging the Message option.
‍
7. Test your audience with varying content
One of the most common discussion points among new LinkedIn users is what content type is best suited. One of the keys to how to use LinkedIn for business effectively lies in experimenting with content types.
Try video, statics, carousels, infographics, presentations, thought-leadership pieces. Experiment with visual design and see what works for you.
‍
8. Use hashtags judiciously
A hashtag can be your campaign line, your brand's name, or even your area of expertise. These useful text tools act as bookmarks that can attract visitors to you. However, there is a limit. Place hashtags contextually without going overboard. In other words, don't do this:

It's important to avoid using too many hashtags. Stick to what you want people to associate your post with.
‍
9. Curate posts by others
Here's some good news. You needn't only post original content all the time, but you can also share content created by others that can fit into your business's communication strategy. It helps to accredit the profile from which you are sharing content by tagging it.
‍
10. Feature your employees
One of the most powerful features of LinkedIn is its ability to directly link your employees to your company. Make sure that they update their profiles so that you can periodically tag them and feature appreciative posts about their efforts and wins.
Your employees can go a long way in building your brand on LinkedIn. You never know, they could end up being the biggest advocates for your brand on the platform.
‍
11. Less pitches, more stories
People love reading stories on LinkedIn. Unlike other social media platforms, LinkedIn inspires good readership, even with longer posts.
Tell people your brand stories, narrate an inspiring customer experience, talk about your office pet, do any of this, but do not hard-sell. It's highly off-putting and can cause a drop in followers.
Launch your brand in minutes with a free logo
‍
12. Encourage introductions
Whenever someone follows you, start a conversation with them and have them introduce themselves to you. Any contact on LinkedIn can someday become a valuable professional acquaintance.
‍
13. Message only when necessary
While you have access to direct messaging, use it only when necessary. Avoid spamming other members. You could use LinkedIn's paid InMail messaging service, which is available at a premium and helps you land in the inboxes of exclusive members.
‍
14. Be consistent
Do not slack off. Be consistent with the content you put out. Devise a content calendar and stick to it. Show up consistently with these cool hacks!
Be attentive to the times of day and days of the week when engagement peaks for your category and design your strategy around this.
‍
15. Don't forget a call-to-action
Never leave your customers wondering, "Now what?" after they have seen your content. Give them something to do. You could invite them to visit your website or to have a quick conversation over direct message.
‍
16. Pump in some cash
LinkedIn is among the most expensive social media platforms to advertise on, but it helps get high-quality leads. This is because you can target individuals, professional groups, or companies based on specific professional parameters.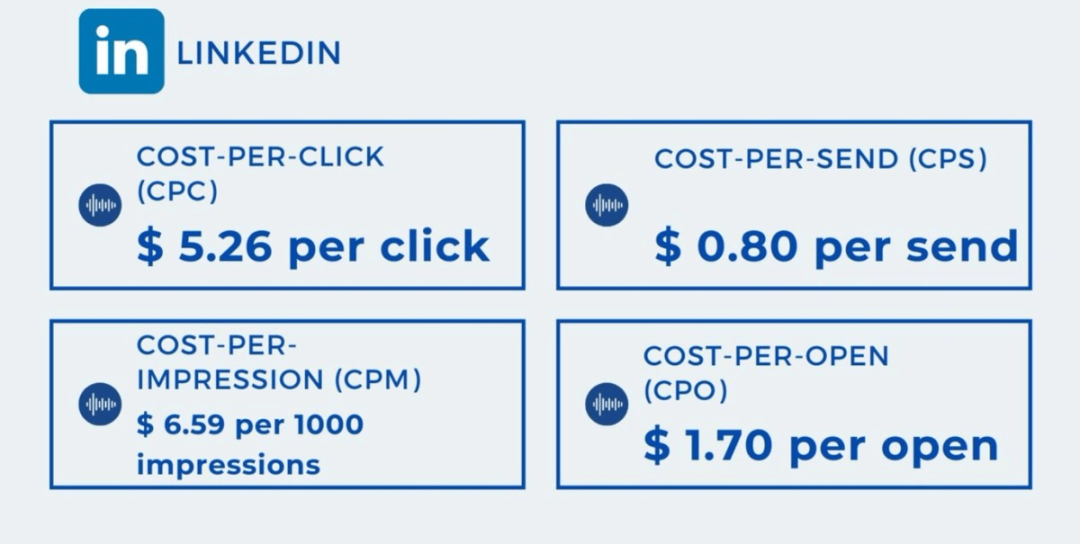 You can read more about ad spending on LinkedIn here.
‍
4 apps that make LinkedIn marketing even better
Growing on LinkedIn is about more than just building a large follower base, finding new talent, and peddling your wares. It is a tech platform that is constantly evolving to solve business problems. And with it, some exciting new apps add to the utility of the ecosystem.
Here are some helpful apps that help make LinkedIn even better:
If you use Google Chrome, you can download the extension 'LinkedIn Sales Navigator' that connects with your Gmail account. It makes the LinkedIn profile of every person who emails you appear. If you know how to use Sales Navigator, this app can go a long way in your quest to learn how to use LinkedIn for business effectively.
This sneaky but extremely handy extension works like a charm for any salesperson. After installing the Chrome Extension of eLink Pro, you create a search queue of your target customers and simply click Play.
The app automatically visits several hundred profiles of your target audience and shows up in their 'Who's viewed your profile section', giving you visibility where it matters the most.
You can use this handy tool to get the email addresses of LinkedIn contacts.
Are you tired of typing the same response messages over and over again? Simply install TextExpander and organize your ready-to-use responses.
Launch your brand in minutes with a free logo
‍
What makes LinkedIn favorable?
Before you ask how to use LinkedIn for business, you must know what makes it a worthy platform to represent your business. LinkedIn is a highly under-utilized social media platform for businesses.
It may not have the visual delights of Instagram or the clever and precise constraints of Twitter, but it surely elevates your business and your professional cred.
Some benefits of LinkedIn marketing include:
1. Access to a wider network
LinkedIn has nearly 800 million users worldwide. As a new business on the platform, you will discover several individuals and communities that operate within your areas of expertise.
2. Creating a personal brand
You can easily create your personal brand on LinkedIn and use it to hoist up your business. Thought-leadership, testimonials, and stories are among the most favored content pieces on LinkedIn, and they receive good interaction.
3. Richer leads
Leads generated on LinkedIn are often more effective than those on Facebook and Twitter. Brand marketing on the platform may be expensive, but you sure hit closer to the mark.
4. Trust
LinkedIn users trust the platform and what they see on it. Since its inception in 2003, LinkedIn has attracted professionals and created several job opportunities and industry dialogues that have gone a long way toward creating sustainable relationships between professionals.
‍
Frequently asked questions: 3 popular FAQs about how to use LinkedIn for business
What are some commonly asked questions about how to use LinkedIn for business? Get your questions answered with these three FAQs.
1. How to promote your business on LinkedIn for free?
Creating text-only posts on LinkedIn is a terrific approach to acquire more visibility for yourself and your business because it puts you in front of an audience that is actively consuming thought-leadership content and nuggets about your industry.
In the long run, it helps you become more credible in the eyes of your potential customers and strengthens your standing in the industry. Never forget that sharing your insightful ideas with the world is completely cost-free.
2. How to create LinkedIn account for business?
To begin, head over to LinkedIn and sign in. Once there, select the Work tab at the top of your homepage. To do so, click the right-hand window's Create a Company Page + button after scrolling down to it.
The next step in creating a LinkedIn business page is selecting the sort of page you want to make. Choose between the options of Small business (fewer than 200 employees), Medium to big business (more than 200 employees), Showcase page (for an established business page), or Educational institution.
All you have to do afterwards is fill in your business profile.
3. Is LinkedIn good for small business?
LinkedIn is not the most popular social media site (that goes to Facebook), but it is a powerful and reliable platform for small businesses with high-quality content ready to share.
LinkedIn may not be the most entertaining social media platform (not many cute emojis or GIFs to look at), but it does provide some useful tools for promoting a small business and networking with other professionals.
‍
Over to you
By now, you may have a good idea of how to use LinkedIn for business. But you must ensure that you keep it classy. What you put on LinkedIn is always viewed with a professional lens by your associates, peers, and clients.
It's a playground when you're getting started, but once you begin observing patterns that work for you, you will be able to shape things in the right direction. Until then, happy linking!
Ready to design your free logo? Get started with our logo maker!
Launch your brand in minutes with a free logo