A cleaning business is one of the most straightforward businesses for aspiring entrepreneurs. It is a time-tested business with proven demand.
Once you establish your brand, a healthy stream of revenue is guaranteed. However, like all other businesses, launching a cleaning business is not easy.
We have created a step-by-step guide to help you successfully launch your cleaning business.

7 Steps To Start A Cleaning Business
Explore the seven steps to start a cleaning business and maximize your profitability and exposure.
Step 1: Find Your Target Market
A cleaning business can take various forms, such as home cleaning, commercial spaces cleaning, carpet cleaning, windows cleaning, etc. The decision to choose your niche will depend on a host of factors such as the demand in your target market area, budget, professional expertise, etc.
The scope of commercial space cleaning is more expansive and would require greater expertise. You will also need a team of cleaning and administrative staff to operate the business.
While a cleaning business can cater to multiple target markets, it is recommended to start with one niche in the initial stages. Once you start seeing some cash flow, you can consider expanding to other target markets.
Step 2: Register Your Business
Once you have some clarity on your niche, you need to think of your business's appropriate name. The next step is to register your business as per government regulations in your locality.
Registering your business as a sole proprietorship is relatively simpler than registering the business as a company. If you are starting solo with a small team, registering as a sole proprietorship is a good way to get started.
Depending on your jurisdiction, you also need to check if government rules require you to have a separate license for a commercial business.
Step 3: Prepare A Business Plan
A business plan would help if you decided how much money you want to invest in your cleaning business. The cost of starting a home cleaning business is lower than starting a commercial space cleaning business.
Broadly, the cost can be divided into marketing and operating costs. Depending on your business's scale, marketing costs include creating a logo, a website, and other marketing collateral that helps showcase your capabilities to your prospective clients.
Operating costs include investments in cleaning products and equipment. If you plan to operate on a bigger scale and want to offer cleaning for commercial spaces, you might need to employ a bigger team.
You also need to invest in specialized cleaning equipment and vehicles to move across different sites.
Step 4: Raise Money
A common reason why most businesses fail is that they run out of money. It would be best if you kept in mind that it will take a while before getting payments from customers.
It's important to start with enough reserves to fund your operations for at least six months while also taking care of your living expenses. A business plan will give you an understanding of the estimated cash outflows.
Once you have an estimate, the next step is to raise money. You can choose to dig into your savings or sell any of your assets. A common source of funds for most startups is a loan from family and friends.
Depending on the availability of funds for large expenditures such as vehicles and cleaning equipment, you may choose to buy upfront or get a loan to fund these expenses. If you are using a loan, take into an account accruing interest.
Step 5: Define Your Services With Pricing
Before launching your cleaning business, you should have a fair idea of the services you can offer and how much to charge for them. Your pricing will depend on the cost of each service.
For example, a typical high-quality cleaning service catalogue for homes would include:
Kitchen, including appliances, exteriors, cabinets, etc.
Bathrooms, including mirrors, showers, counters, etc.
Walls, as needed
Cleaning of surfaces (special treatment to be given to delicate surfaces)
Windows (accessible)
Bedroom
Cleaning of electrical fixtures
Vacuuming
Mopping
Dusting
Estimate the effort required (in terms of working hours), the materials and equipment needed to offer these services. Initially, if you plan to do all the cleaning yourself, you can determine a fair price for your time per hour. If you are planning to employ staff, factor in the cost of their time as well.
When defining pricing, chart up a competitor analysis. Understanding the services offered by others and their prices can help you to establish a benchmark. Unless you offer premium services, you can't set prices much higher than the competition.
Step 6: Choose An Appropriate Location
Depending on your cleaning business scale, decide whether you want to operate from home or get an office on lease.
It's rare for clients to visit the office premises of a cleaning services provider. Therefore you don't need to invest in a plush office. However, if you plan to employ staff, it won't always be easy to operate from home.
A decent office space that fits your budget is adequate for the cleaning business. If your prospective customers are concentrated in a particular area, choosing a location closer to the customers can help save fuel expenses.
Step 7: Arrange For Resources
As mentioned earlier, you will need to arrange cleaning equipment and vehicles to move equipment around. For example, if you want to offer carpet cleaning, you may need specialized tools to provide such services.
Apart from that, you might want staff uniforms with custom branding. You will also need invoice software to manage, bill, invoice, and send payment reminders to clients.
It is recommended to get quotes from multiple sellers/service providers before making any of these investment decisions. Once you have enough quotes, you will be better positioned to negotiate and make a final decision.
How To Create A Logo For Cleaning Business In 6 Easy Steps
Are you in need of a logo design for cleaning business branding?
A logo can help establish the visual identity of your cleaning business and set it apart from the others in this industry. Good business branding allows you to connect with your potential customers, making them want to learn more about you and engage with you.
A relevant and unique logo design for cleaning businesses can elevate their appearance, but more importantly, it provides credibility.
Building your cleaning business can boost trust and reliability between you and your target market, which is vital as customers would be relying on you to upkeep their possessions and surroundings.
Once you manage to build a connection with your audience through effective branding, your job gets a whole lot easier.
A strong logo is one giant step that can help you get there, and with our AI-powered logo maker to assist you, your visual branding needs are pretty much set.
Before we get to that, here are some other steps you should take to make your cleaning business stand out from the crowd.
How To Make Your Cleaning Business Stand Out
A logo for cleaning businesses is essential, but there are other ways to stand out from the crowd. ‍
Statistics show that the cleaning industry in the United States has grown a total of 6.6% every year in the last ten years. The same study shows that the global pandemic has altered deep clean pricing from approximately $30 to $65 per hour.
Professional cleaning services are needed now more than ever, so it would be best to take advantage of this current industry boom by standing out and making your mark.
Branding is essential, but here are other valuable tips to consider:

Offer personalized cleaning services according to customer needs
Manage time and cleaning schedules accordingly
Find a brand niche (using eco-friendly products, providing evening service, etc.)
Use high-quality and well-trusted products
Offer competitive prices by the hour
Offer special deals for certain occasions or events
Build a team of highly competent staff and custodians
Invest in durable cleaning supplies and equipment
Offer separate rates for one-time cleans and weekly subscriptions
Emphasize that your business is customer-focused
Feature reviews of your services on your website
Promote your cleaning business on several social media platforms
Starting a cleaning business can be pretty lucrative, especially with the hygiene implications of the pandemic. This industry is in high demand now, and the best way to stand out from the competition is to keep your customers happy and satisfied by delivering outstanding work.
Invest in your team of cleaners and give them the appropriate training that they need to serve customers well. More importantly, keep them happy and sustained in their work. They will be the ones having direct contact with potential customers, and high spirits with the right attitude can boost your business significantly.
These tips can help keep customers stick around, but a good branding strategy boosts the professionalism and quality of your business as a whole. For example, a logo is like a visual pitch, and if it's appealing enough, it can compel your audience to check out your services.
LOGO.com can assist you with getting a free logo, a name for your cleaning business, and tons of services to help you market your brand. Find out how below!

Steps To Create A Free Logo Design For Cleaning Business
Here are seven easy steps to get a free logo design for cleaning businesses and ways to promote and market your brand with your new visual.
Step 1: Find A Great Cleaning Business Name

Your cleaning business name is more for your customers than it is for you. Decide on a name that oozes professionalism, so much so that it would compel your market to learn more about you.
Consider using a business name generator to provide you with a great and memorable name along with a beautiful logo to go with it. All you have to do is input 1 to 3 relevant keywords that describe your business and optimize your preferences.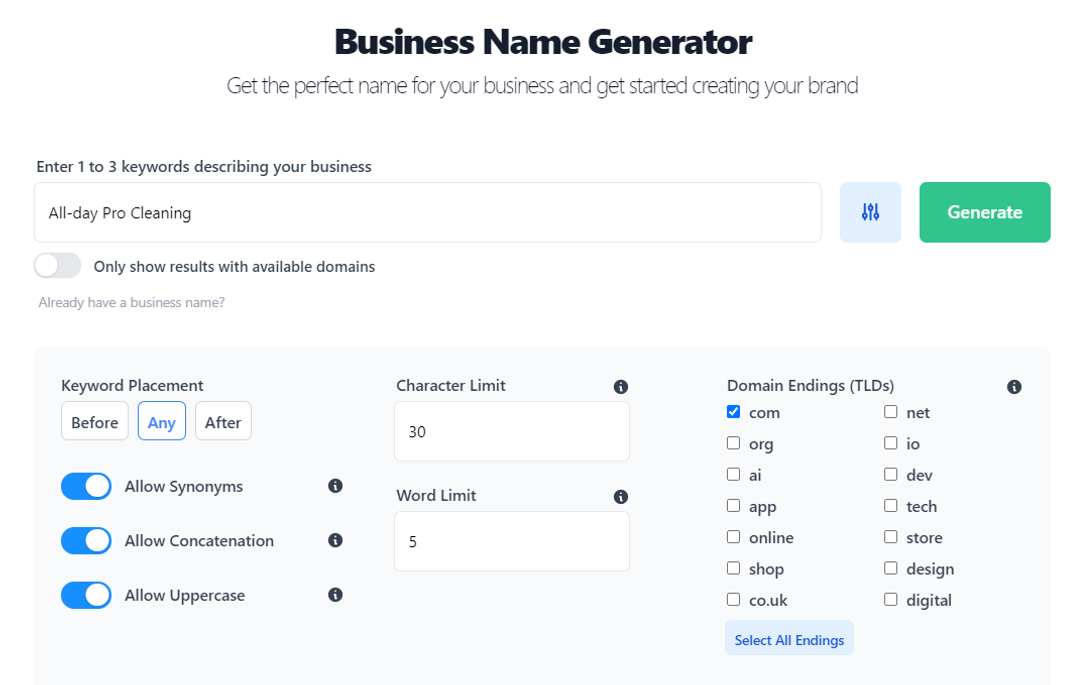 The tool will generate a ton of names along with potential logo ideas for you to choose from.
Step 2: Choose The Name You Like


Browse through the selection of names and choose the one you like the best. Don't worry about the logo design just yet— you'll soon get hundreds of different designs to choose from.
Here are some tips in choosing a great name for your cleaning business:

It should be unique and distinctive
It should be relevant to the type of services you are providing
It should be easy to pronounce and memorize
It should be simple and recognizable
It should reflect who you are as a brand

Once you have chosen the right name, click 'Ideas' on the upper left of the page to check out hundreds of logo designs for it.

Step 3: Find The Perfect Logo To Customize

Every logo you'll find is customizable according to what you prefer. Find one that is closest to your ideal logo design and click it to customize it. From here, you can modify its font, brand colors, icons, spacing— pretty much everything! Don't stop until it's perfect.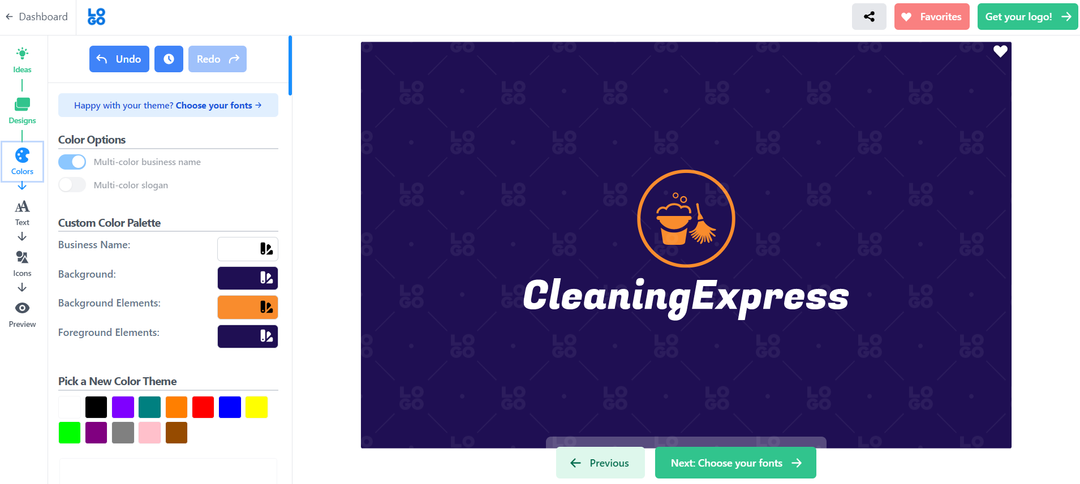 Here are some tips for when you customize the logo to ensure it's effective:

Use one or two colors at most
Opt for a neutral background
Choose the colors that best represent your cleaning business
Use one or two fonts at most
Consider sans serif fonts for their readability
Avoid overcrowding the logo with too many elements
Build a simple yet strong design
Ensure that it looks memorable and professional
Use an icon that best represents your services
See how the world of difference that customization allows in a logo?
Customization is essential because it allows you to make the design your own. You are in total control of its elements. Nobody knows your ideal logo as well as you do, and with a professional logo maker, you get to make your vision come alive in exactly the way you need it to.
Customizing a logo design for cleaning businesses also helps them stand out from the rest of the competition. You get to add your own spin to the design instead of using pre-designed and ready-made logos, which tend to be ordinary and monotonous.

These are the benefits of logo customization:

Helps in standing out from competitors
Allows you to tap into your creativity
Achieves your ideal logo design
Adds distinction and memorability
Helps make brand-specific elements come alive
Proves that the design is truly your own

Step 4: Finalize Your Logo Design

Once you're happy with the design, go ahead and click 'Preview' to see how your new logo will look on various platforms and merchandise. You will also receive details about the font, color palette, business cards— whatever you need to get your cleaning business running smoothly.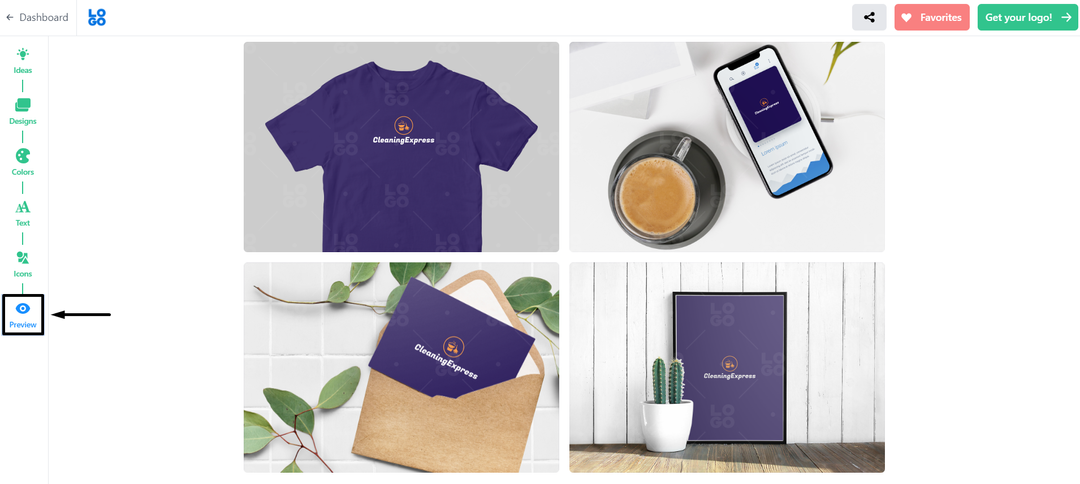 That's all it took to get a logo design for cleaning businesses— four simple steps, and you're almost at the finish line.

Step 5: Take Your Free Cleaning Business Logo Home

Once you have finalized your logo, click the 'Get Your Logo' button. From here, you can take your new cleaning business logo home free of charge!
You can start using your cleaning business logo right away with these benefits:
Full ownership of your logo - Once you purchase your logo, it completely belongs to you and no one else, even if you decide to delete your account.
Instant access to your logo - Your logo is safe in your account. It is secure for you to come back to it whenever you need it.
100% satisfaction guarantee - Your happiness is everything to us. If you're unhappy with your logo, we will issue you a full refund.
Launch your cleaning business in almost no time at all. It's practical to get an early start, so go for it! But take note that your logo is just the start. You still need branding materials featuring your new logo to build your online presence.
This is where the Brand Plan comes in.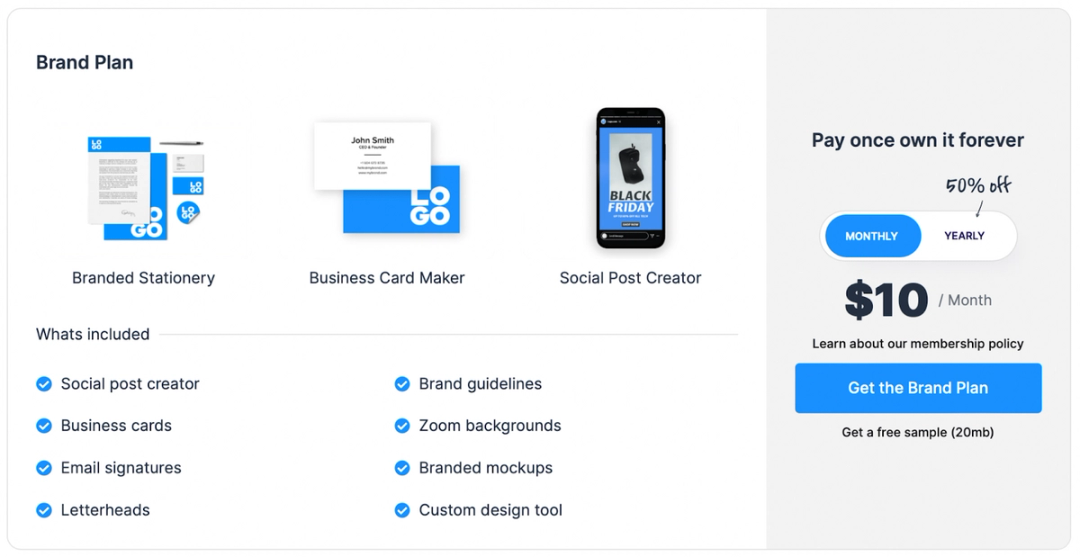 Our Brand Plan is your brand-building best friend. For only $10/month, you have instant access to:
Unlimited logo edits
Business card maker
Email signature maker
Custom design tool (Stitch)
Brand showcase
Brand guidelines
Perpetual brand backup
Oh, and all of them are pre-set with your new cleaning business logo. Say hello to instant convenience and results!
Step 6: Promote Your Cleaning Business

Social media is an effective tool that allows you to promote your cleaning business to the right audiences efficiently. With branding, a way to build credibility is to make your social media presence consistent.
A social media kit offers this consistency. LOGO.com gives you ready-to-use files for all your social media platforms such as Facebook, Instagram, LinkedIn, Youtube, and Twitter so that you can get started in no time.
More importantly, to have a cleaning business, you would need a website to display your services, so customers enlist and schedule for them.
If you already have a website for your business, you can also use the website builder to dive into other forms of promotion, such as creating blogs about your journey in starting a cleaning business and providing industry-specific tips for aspiring entrepreneurs who want to do the same while also promoting your brand.
According to a study from Hubspot, 80% of internet users interact with both social media and blogs. What are you waiting for? Get a social media kit and a website builder today!

10 Stunning Examples Of Logo Designs For Cleaning Business

Here are ten logo designs to get your creative juices running:
1. A minimalistic design is the best way to go for any business. A unique and relevant icon on a logo of black and white is a simple yet powerful visual.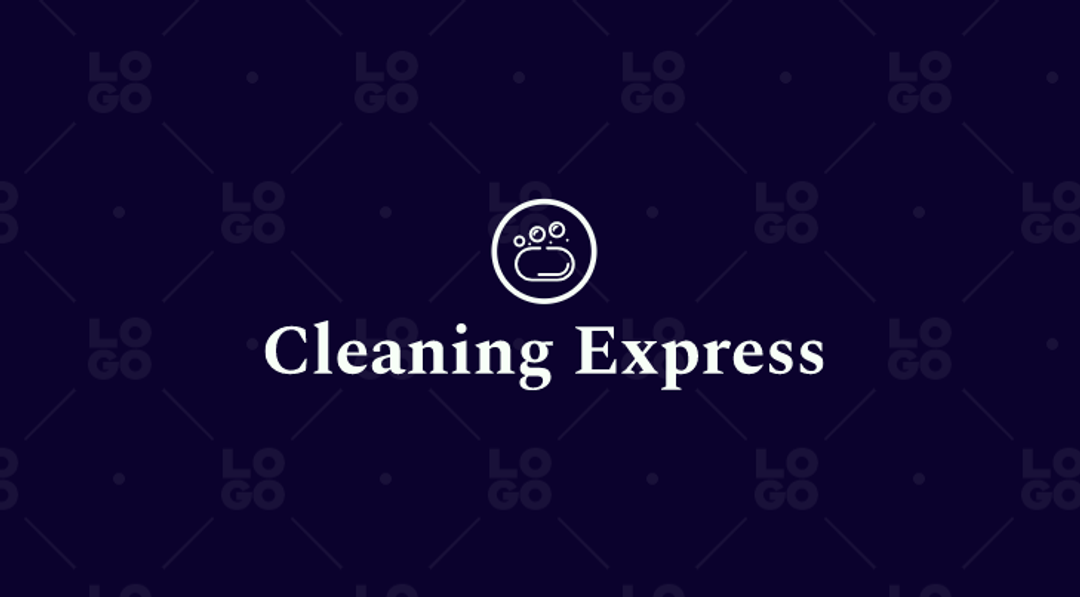 2. Why not add a touch of class to your logo with a classy yet legible font? Use shades of yellow or gold for the wording to give it a high-class spin.
3. Nothing says comfort like the soft hues of baby blue. A logo design for cleaning businesses should evoke care and efficiency, and blue is perfect for that.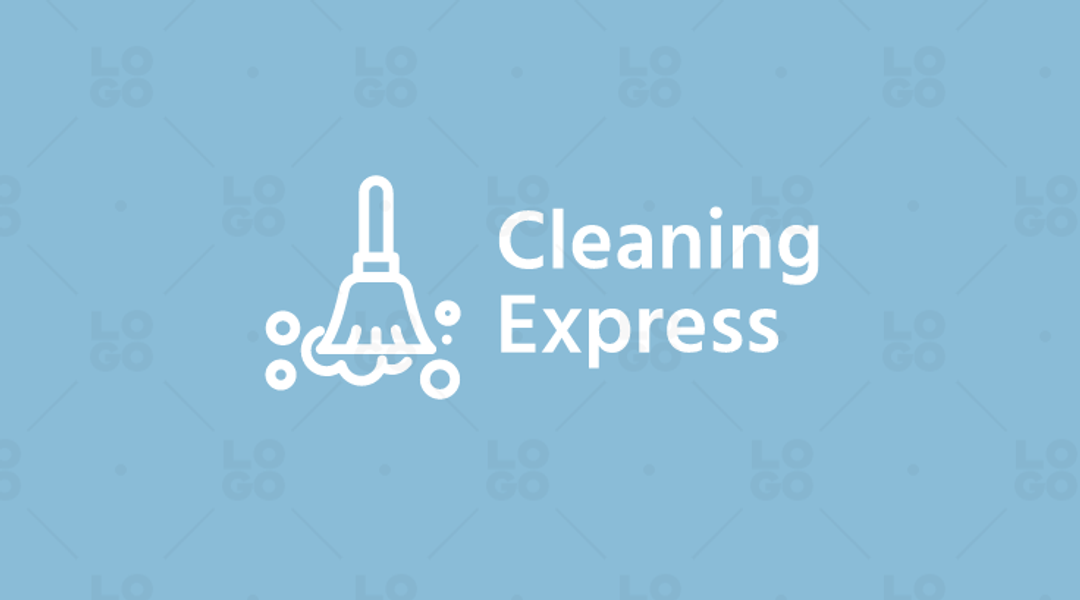 4. White space allows every element in a logo to stand out subtly, making it incredibly easy and pleasant to look at.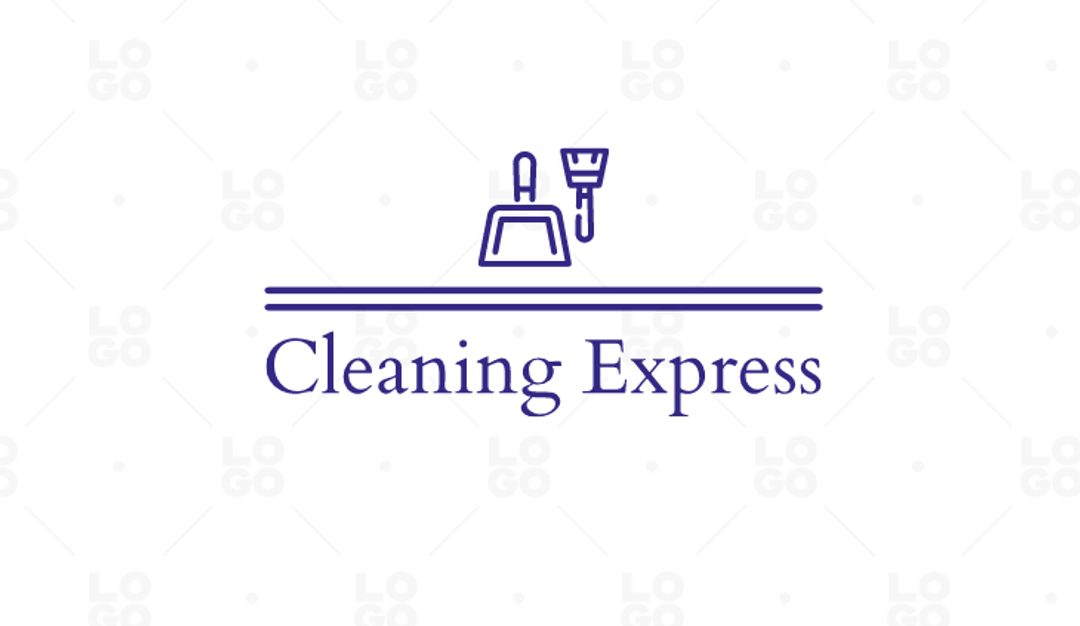 5. Red is notorious for catching attention. Use red as a background with the perfect icon of a swiftly moving broom, and your business message comes through successfully.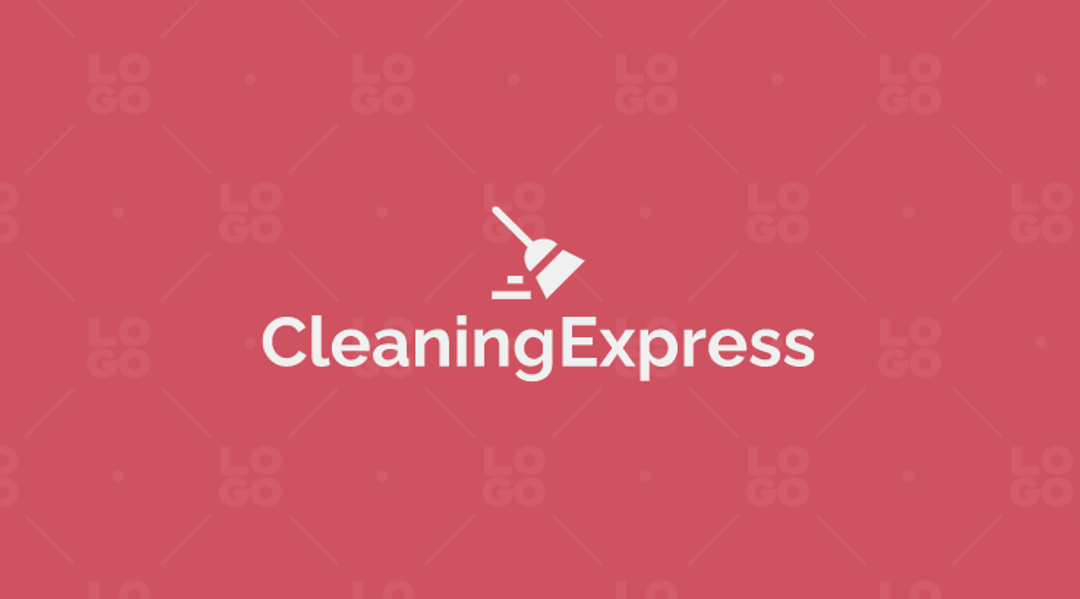 6. In the world of logo design, simple is always the best choice. Go with this minimalist and professional logo to show that your efficient services can speak for themselves.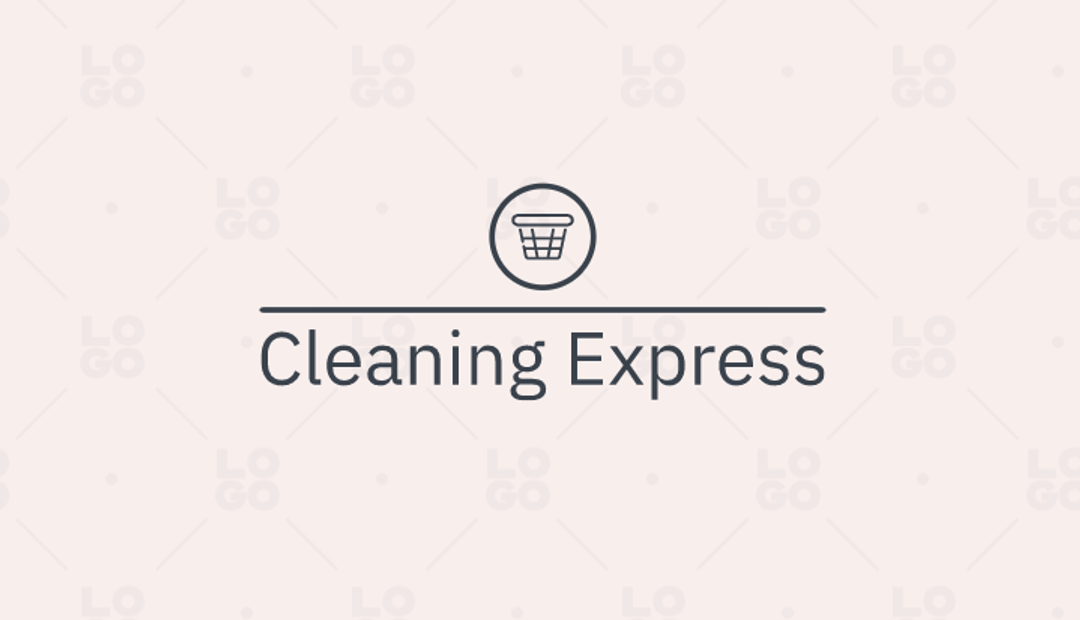 7. Yellow is a color that symbolizes brightness and positivity— it is also quite the eye-catcher! Hit two birds with one stone with this solid-looking logo that can say so much about your business attitude.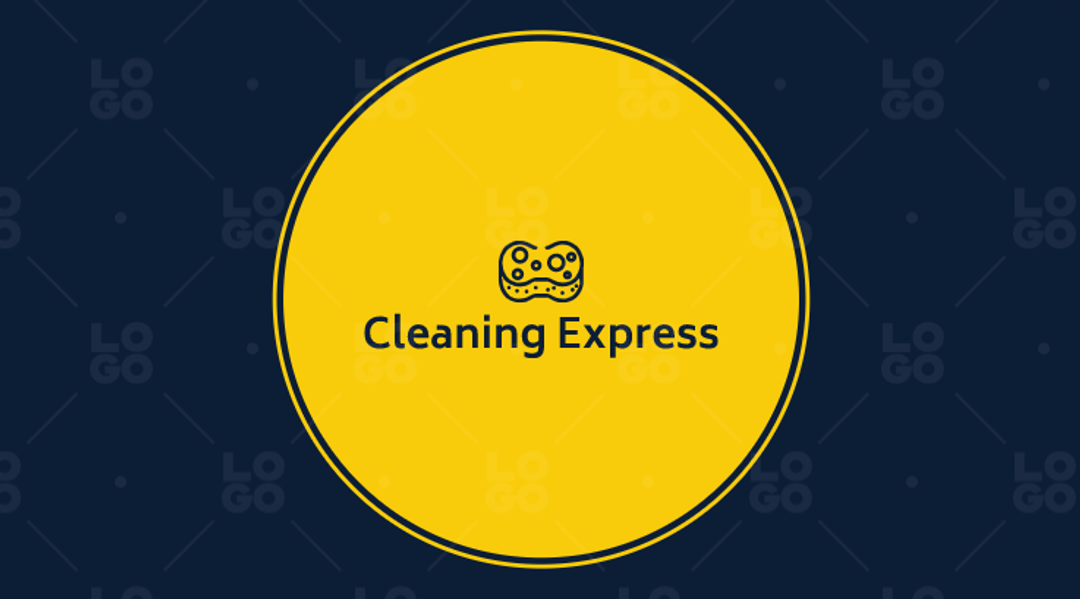 8. The absence of an icon allows people to focus on the wording, which you want them to remember the most. Mix in some red, and they are sure to be intrigued by your services.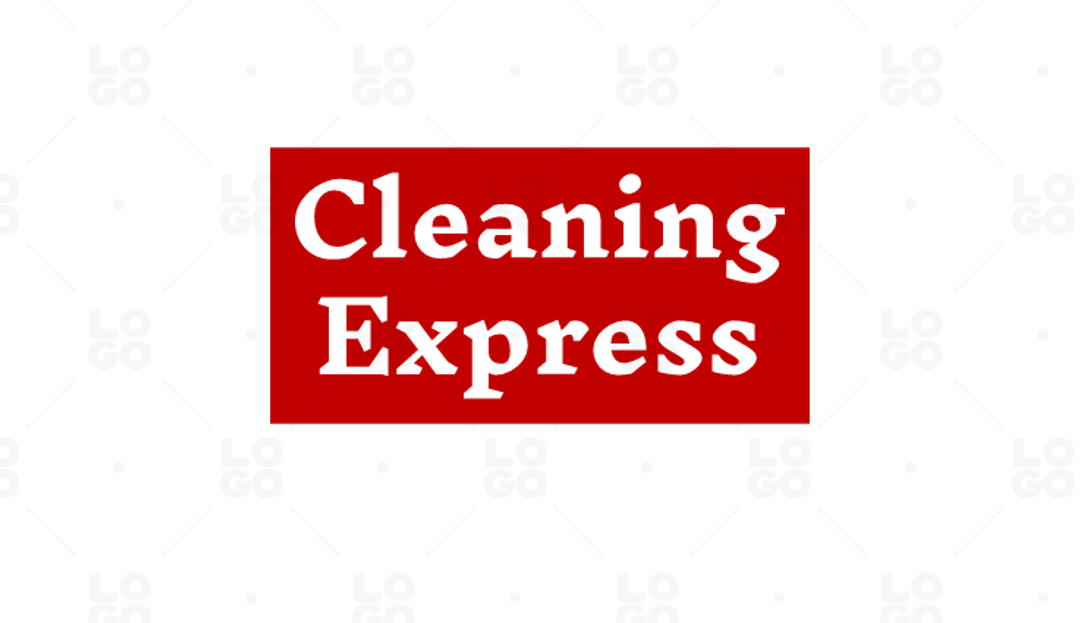 9. A logo design for cleaning businesses should portray cleanliness, hygiene, and movement— and what better way to represent those qualities than using green?
10. Red and yellow are like magic in a logo— both are colors that are eye-catching and strong. McDonald's hit a home run with it. Why not use the same color scheme for your new business?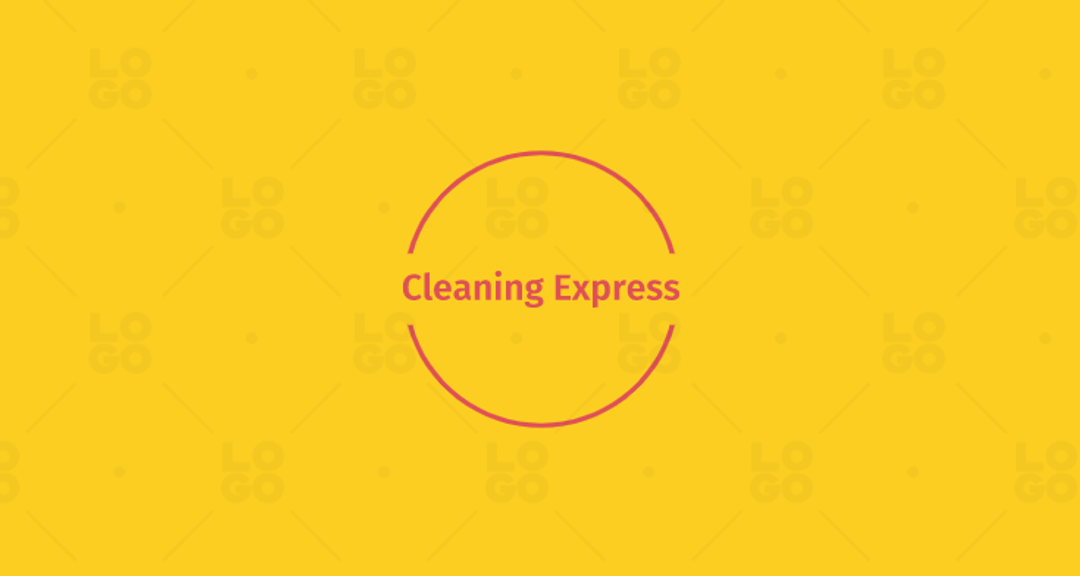 Build A Logo Design & Start Your Cleaning Business Today!

You can start a full-fledged cleaning business with the right amount of dedication and investment. However, it would help if you were super passionate and driven about your cleaning business as it is not the most glamourous of businesses.
A logo is the core of your visual branding needs because it builds a foundation between you and your audience. It shows that you care about your business enough to brand it properly.
Compelling logos can ultimately set you apart from the others in your industry, and they can potentially tell your audience a story with a single glance.
Give our logo maker a run, and let your story shine through with a free logo today!