‍
In a new episode of The Entrepreneur Ethos podcast, Richard Lau talks about the importance of covering all bases in your business and navigating the ups and downs of entrepreneurship.
There is a great deal of strength required to be an entrepreneur, not just to face and overcome the inevitable difficulties that arise in your personal life, but also to keep going no matter what else may come your way.
Richard shares the lessons he's learned while building successful businesses like Domains.com, Resume.com, and his latest venture, LOGO.com. The common thread that runs through all of these companies? Helping people launch their businesses.
Key takeaways:
LOGO.com is a free logo maker that aims to help people launch their brands right away.
Genuinely wanting to help people is a core component in the success of your business.
Practice due diligence with every aspect of your company if you want it to go all the way.
Do not infringe on copyright laws or you risk compromising the value of your business.
Treat your employees with respect and help them authentically believe in your mission.
Prioritize value and generosity rather than monetary gain.
‍
Richard's backstory
Known as "Tracker," Richard tracked down desirable domain names and kept them in his handy arsenal. He built a website that allowed people to search for their preferred domain names. As he worked from home in his bunny slippers, he managed to accrue four figures in revenue every day.
He eventually sold the business for $4 million and moved his family to California, but the deal fell through, so he got a severance and moved back to Canada with his wife and baby.
For ten years, Richard served as a domain name broker, hunting down valuable domain names to sell, flip, or keep for himself.
In collaboration with a partner, he developed Resume.com, a platform that facilitates the creation of polished resumes for those entering the job market. Indeed bought the service for a substantial fee. He then established Domains.com, the precursor to today's GoDaddy.
His current project is LOGO.com, a tool that allows you to create a professional logo for free. The company's goal is to help emerging businesses acquire their brand collateral without draining limited resources.
‍
What is LOGO.com?
Richard had many excellent choices among his domain names, but LOGO.com had the most potential. His interest in the domain name had grown over the years, so he dusted it off and applied the same formula as with Resume.com.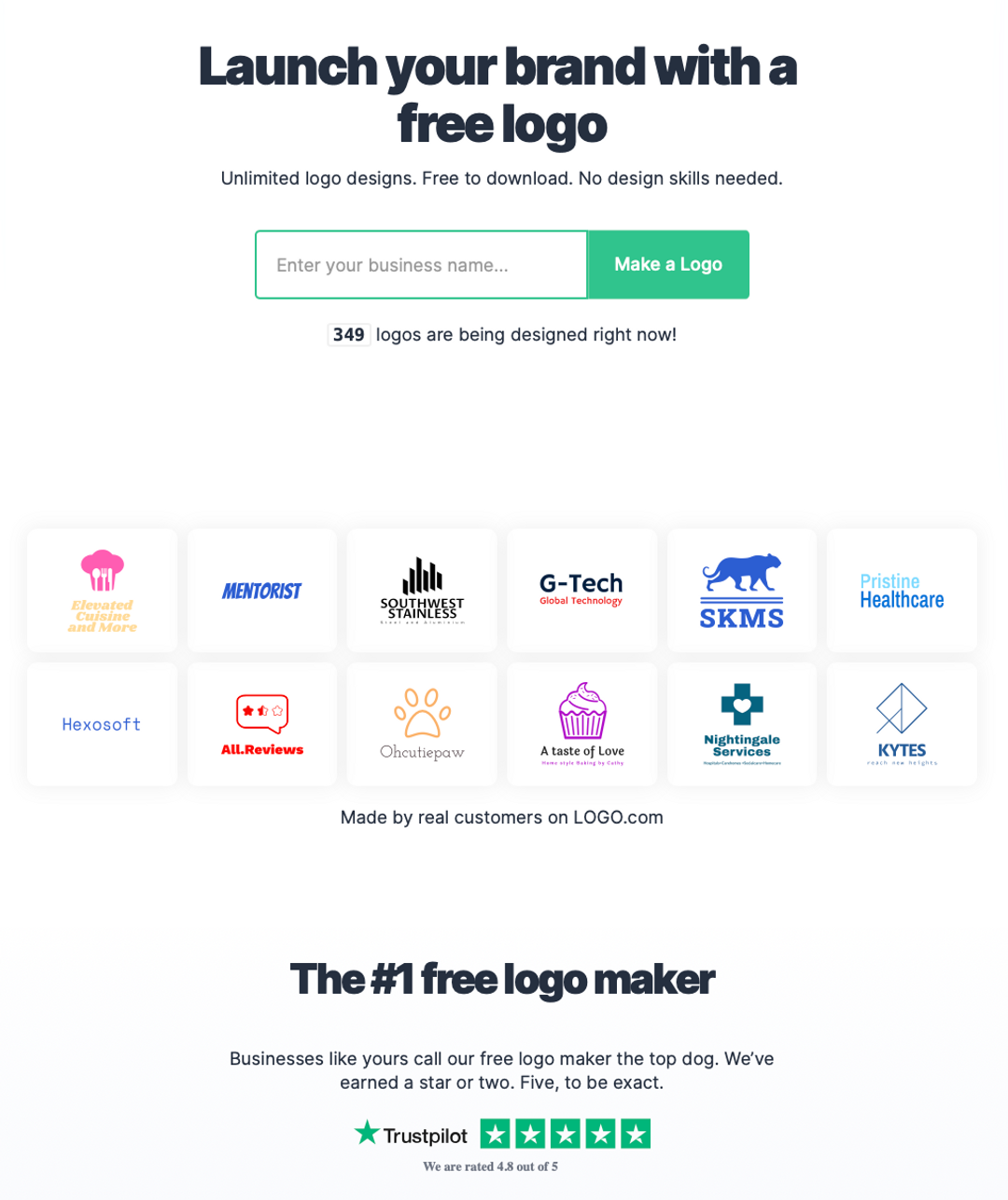 LOGO.com allows anyone to:
Design a logo for free that grants them full ownership
Receive free logo files for websites, social media channels, etc.
Use a free business name generator to get unique and relevant brand names
Experience 100% satisfaction guaranteed
Get constant support and guidance with 24/7 customer service
Secure brand marketing materials to help their business go all the way
Receive personal business cards, email signatures, websites, letterheads, etc.
Use Stitch, a social media creator, to build an online presence
The goal of LOGO.com is to facilitate as much good for budding business owners as possible. Inconvenience is the last thing an entrepreneur needs as they launch their company. LOGO.com's mission is to serve its users by making life easier and more meaningful through the supply of valuable resources.
According to Richard, monetary compensation is the equivalent of a "thank you." If people don't appreciate what you're providing, there's no point in taking their money. For this reason alone, LOGO.com offers a full money-back guarantee on all orders.
LOGO.com only wants to help people launch their businesses; making money is not the priority. It's about building positive relationships with their customers.
‍
How do you build a successful, desirable business?
In the middle of building his business, Richard contemplated the difference between being an entrepreneur and running a company that can operate without you. Following a moral code in business yields tangible outcomes that can help a firm grow. Take note of these valuable tips:
1. Start your business with an exit plan
Don't establish a business, whether it's a side hustle or your main source of income, just because you feel like it. Think like a buyer: what information would make you interested in purchasing this company? Employ features and functions that elevate your brand to a level that makes it almost impossible not to covet.
2. Create a detailed business document
If you want to sell your firm, you need to be able to present it in writing, outlining every facet of it. It's important to play it safe by checking that you're not breaking any copyright regulations or legal requirements. When you infringe on the law, it will prevent you from ever selling your company. If you do, your best bet would be to sell the company at a huge loss.
3. Make sure your employees are treated right
Be respectful and considerate of your staff. If your staff doesn't believe in the company's objective, you won't get very far. In business, it helps to have people who can vouch for you and say they truly believe in your method.
‍
The value of due diligence and honesty
Taking the time to ensure compliance with regulations and good business practices is essential. If you run your company with honesty and transparency, you'll be well on your way to closing a huge deal while still feeling tremendous pleasure in your accomplishments.
Check out the podcast right here:
Ready to design your free logo? Get started with our logo maker!