Your logo is your business's visual identity.
In the hustle and bustle of building a business and getting sales, one thing that often takes the backseat is good branding. You may have a great business name, strong brand colors, and more. But branding isn't limited to that. Your business needs a great logo.
The question is— how do you get one?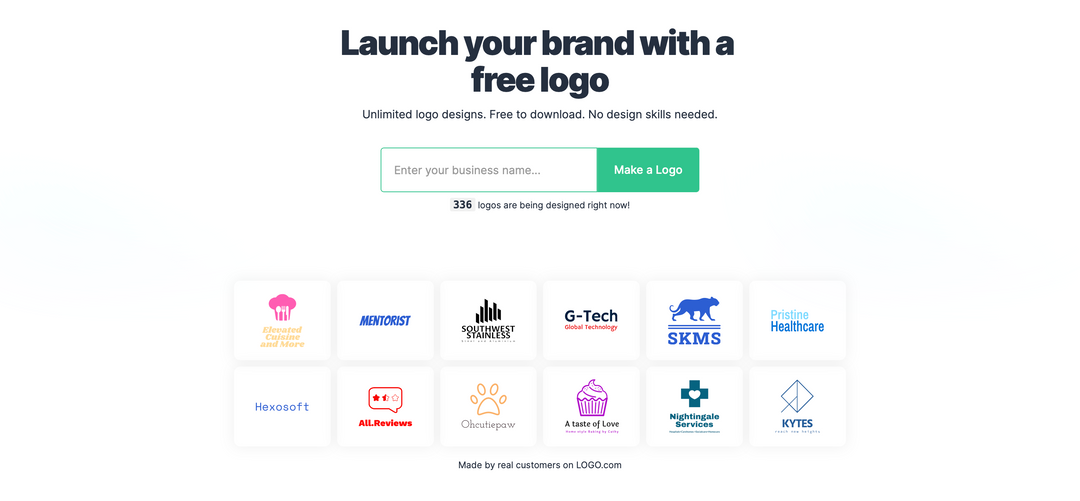 Online logo makers significantly reduce the stress, time, and energy of looking for a designer to create your perfect logo. A good logo maker can provide you with accessible and professional logos for your brand.

Is LOGO.com A Good Choice For You?
LOGO.com is a free logo maker, a business name generator, a domain name, website builder, social media kit, and basically everything you need to launch your business quickly and efficiently.

LOGO.com was created to make the branding process faster while maintaining quality at every step. The average price a business owner spends on their logo is around $300 to $1300. That is a significant amount that can be otherwise spent on projects that help boost your business.

With LOGO.com, it only takes around 20 to 30 minutes to design a professional logo. And you get it for a free! To get started, all you have to do is add your business name and slogan (if you have one) to receive a wide range of logo designs that you can customize from A to Z.

"Would give them 100 stars! The entire process was fun and simple! Questions are responded to immediately! I absolutely LOVE my logo and the value and service that Logo.com provided me was amazing!" — Stephanie

The best part is that you receive a brand new logo along with a free domain name, a social media kit, a website builder, and almost everything else you need to take your business online.

If you're looking for an online tool that can give you a stunning, meaningful, and memorable logo without spending a fortune on it, then LOGO.com is definitely for you.

Working with a designer can be a time-consuming and costly affair. You'll first have to find a great designer, explain your design and preferences to them, and go through multiple iterations (that can take up weeks before you get the finished product).

"My experience with LOGO.com was better than excellent! I managed to create an outstanding logo that none of the designers I worked with could develop. But not only that, when I had an issue with the downloadable files, the support team went above and beyond to solve it in no time! Thanks for a great experience." — Fede

As a business owner, you have a certain vision of your logo. That is precisely why LOGO.com's logo maker offers you the flexibility and creative freedom to design a logo that not only stands true to your vision but also helps your business.

Their services are ideal for startups, solopreneurs, and small businesses. New businesses need to be mindful of their expenses, however, they need strong branding elements. With an online logo maker, they can get a great logo without spending a fortune.
5 Steps To Make A Free Logo Online Using LOGO.com
Follow these five simple steps to find an amazing business name and design a free logo that makes your business move to new heights.
Step 1: Find A Great Name

Decide on a name that suits your brand personality. Consider using a business name generator to provide you with a great and memorable name along with a beautiful logo to go with it.
All you have to do is input 1 to 3 relevant keywords that describe your channel and optimize your preferences. The tool will generate hundreds of names along with potential logo ideas for you to choose from.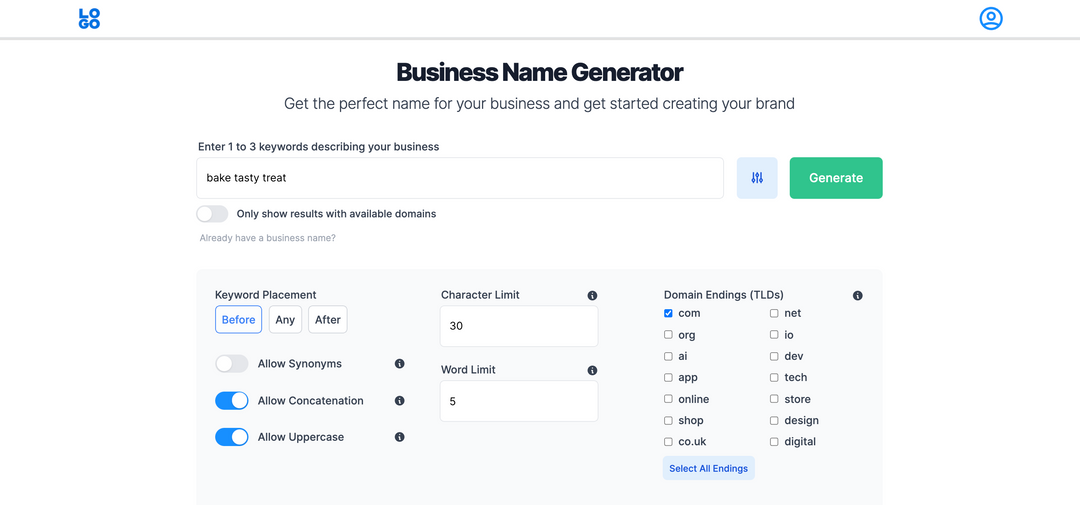 Step 2: Choose Your Business Name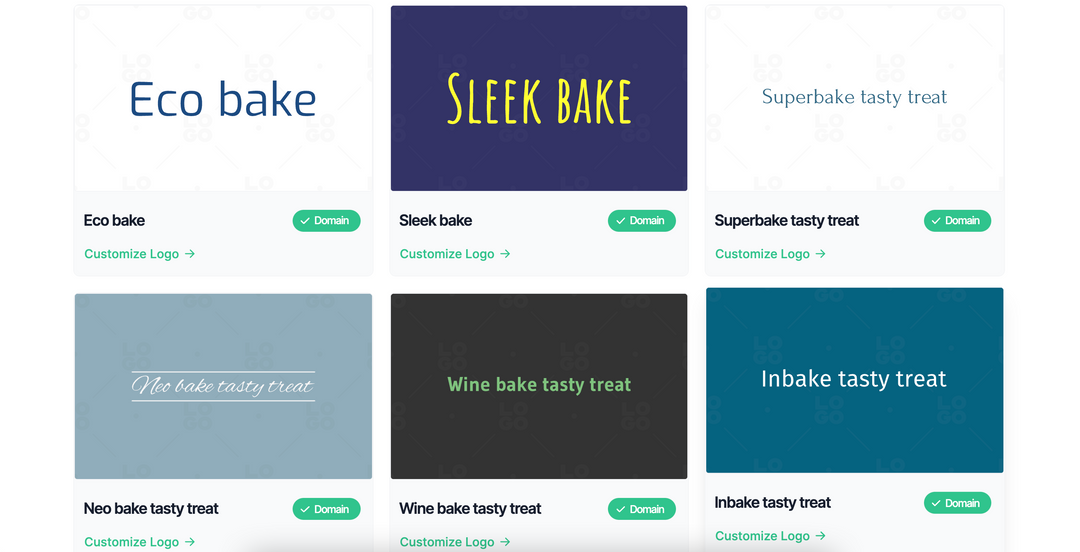 Browse through the selection of names and choose the one you like the best.
Here are some tips in choosing a great name for your business:

It should be unique and distinctive
It should be relevant to the type of content you are creating
It should be easy to pronounce and remember
It should be simple and recognizable
It should reflect who you are as a YouTube personality
Once you have chosen the right name, click on 'Ideas' on the upper left of the page to check out hundreds of logo designs for it.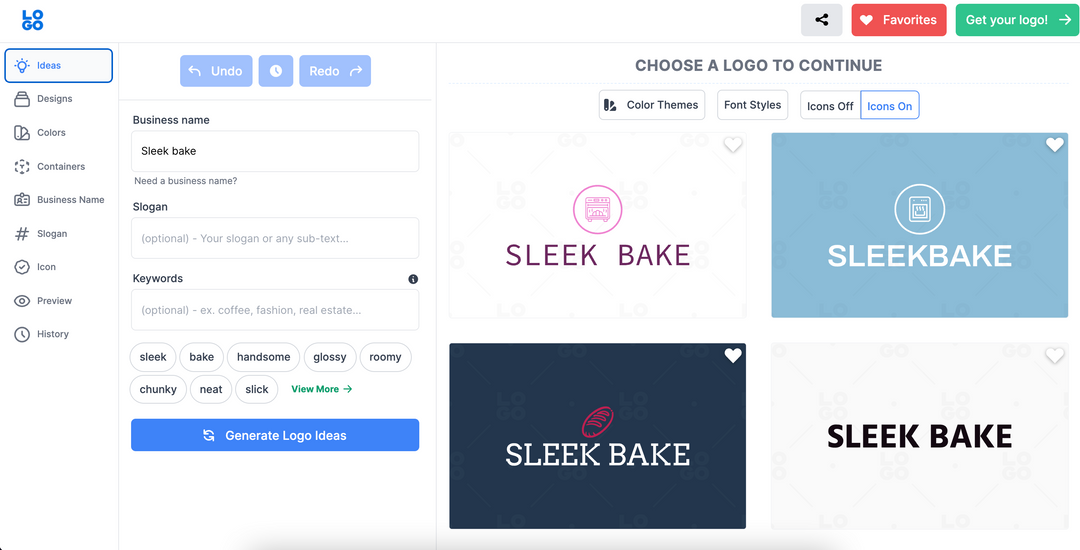 Step 3: Customize Your Logo
Every logo you'll find on the LOGO.com logo maker is customizable according to what you prefer. Find one that is closest to your ideal logo design for business and click it to customize it. From here, you can modify its font, colors, icons, spacing— pretty much everything! Don't stop until it's perfect.
Here are some tips for when you customize the logo to ensure it's effective:

Use one or two brand colors at most
Choose the colors that best represent your business
Use one or two fonts at most
Consider sans serif fonts for their readability
Avoid overcrowding the logo with too many elements
Build a simple yet strong design
Ensure that it looks memorable and professional
Use an icon that best represents your content

Customization is essential because it allows you to make the design your own. You are in total control of its elements. Nobody knows your ideal logo as well as you do, and with a professional logo maker, you get to make your vision come alive in exactly the way you need it to.
Step 4: Finalize Your Logo Design
On the logo maker, once you're happy with the design, go ahead and click 'Preview' to see how your new logo will look on various platforms and merchandise. You will also receive details about the font, color palette, business cards— whatever you need to get your business running.
That's all it took to get a logo design for business— four simple steps, and you're almost at the finish line.
Step 5: Take Your Free Logo Home
Once you have finalized your logo, click the 'Get Your Logo' button. From here, you can take your new free logo home free of charge!
You can start using your free logo right away with these benefits:
Full ownership of your logo - Once you purchase your logo, it completely belongs to you and no one else, even if you decide to delete your account.
Instant access to your logo - Your logo is safe in your account. It is secure for you to come back to it whenever you need it.
100% satisfaction guarantee - Your happiness is everything to us. If you're unhappy with your logo, we will issue you a full refund.
Launch your business in almost no time at all. It's practical to get an early start, so go for it! But take note that your logo is just the start. You still need branding materials featuring your new logo to build your online presence.
This is where the Brand Plan comes in.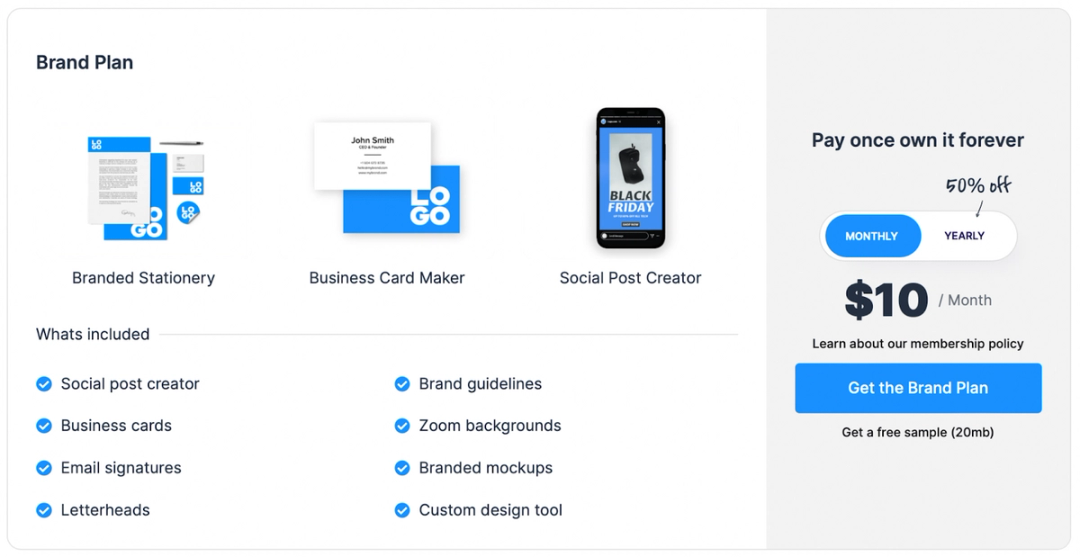 Our Brand Plan is your brand-building best friend. For only $10/month, you have instant access to:
Unlimited logo edits
Business card maker
Email signature maker
Custom design tool (Stitch)
Brand showcase
Brand guidelines
Perpetual brand backup
Oh, and all of them are pre-set with your new logo. Say hello to instant convenience and results!
How Long Does It Take To Create A Logo?
How much time you take with the creative process is up to you. But you can create your own logo on LOGO.com in less than 30 minutes. Most of our users have designed their beautiful logos in almost 20 minutes.
Can I Customize My Logo?
Yes, you can change the fonts, colors, layout, background, icons and more in our logo editor. Choose a template your like and customize it to make it your own. It doesn't require any design knowledge and our customers have describe the process as fun.
What Are Some Of The Top Features Of An Online Logo Maker?
Here are some of the (many) features of LOGO.com that can help you create your own logo design.
High Resolution And Vector Images
LOGO.com offers high-resolution vector images that ensure that your logo looks crisp and clean whether it's on a billboard or a small online banner. This is the kind of flexibility businesses need for their branding.
Full Ownership Of The Logo
When you download a logo from LOGO.com, you'll have complete ownership of the design. However, it is essential to note that ownership and a trademark are not the same things. Though LOGO.com can assure that the design is entirely yours, it cannot stop other people from replicating your logo.

It is highly recommended that you trademark your logo and secure the design from people who may copy it.

Flexible Dashboard
You can access your logos any time you prefer. Your work is safe and secure in the system, and your logos are ready to be downloaded 24x7.

As a growing business, your brand look and feel may change over time. If you need to edit or change your logo to portray new principles, you may access your saved logo and make the appropriate adjustments.
Social Media Kit
Social media is an effective strategy for connecting with people and getting them to engage with you.

A great way to build credibility is to make your social media presence consistent. A social media kit offers this consistency. LOGO.com gives you ready-to-use files for all your social media platforms such as Facebook, Instagram, LinkedIn, Youtube, and Twitter so that you can get started in no time.
Business Card Templates
Business cards are essential to form and build business relationships. Imagine being at a networking event and having a great conversation with a potential client. A great way to ensure that they remember you and get back to you is by giving them your business card.

As part of the complete branding package, LOGO.com offers hundreds of business card designs to help you get one that not only looks stunning but also helps you communicate your brand personality.
Free Domain Name
When you purchase a logo, you also receive a free domain name to help you get your business off the ground. Starting a business requires a lot of running pieces. LOGO.com makes it easier for you to get started.

Create Your Free Logo Today!
LOGO.com is one of the most helpful and efficient services in the market because of its genuine desire to help business owners, startups, and professionals in getting their business off the ground.

Every logo is free and carefully curated for the specific needs of a new business.

Customer representatives are consistently responsive and ready to help you regarding any matter. A world of resources is available when you need inspiration and insight. Quality services that would usually go for double or triple the cost in other markets are delivered to you in minutes.