We all like chocolate, vanilla, and strawberry from time to time, but giving new flavors a try can be a great way to get new ideas. And while it's great to try new flavors, it doesn't hurt to give a logo a new look and feel, either.
Baskin Robbins, the 77-year-old ice cream chain, has done precisely that with its new logo and a complete brand overhaul. The beloved ice cream brand is one of the oldest, most venerable, and most popular among its competitors.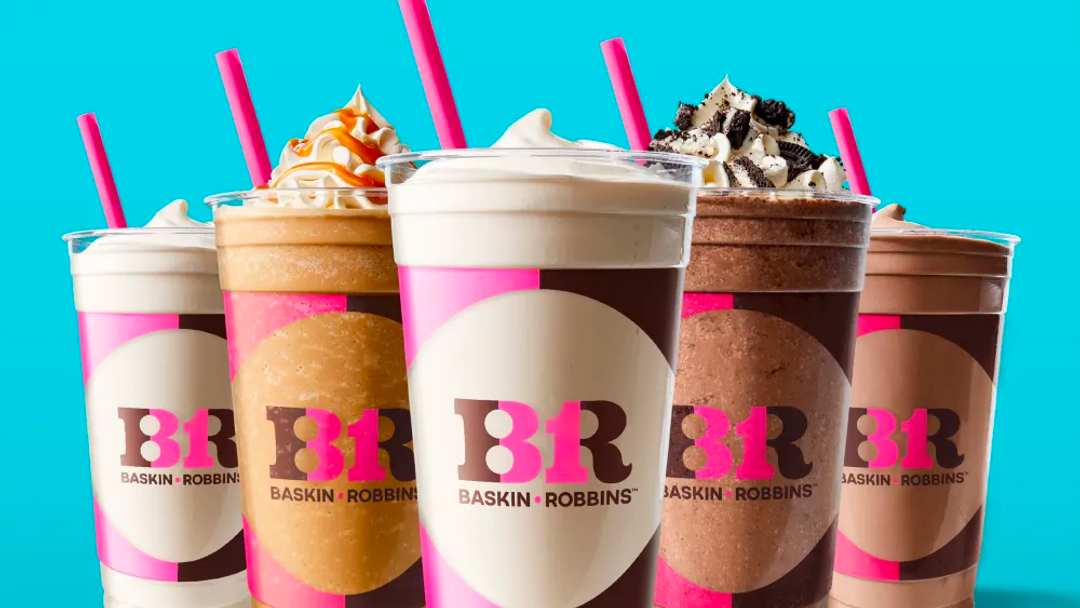 Cool facts about Baskin Robbins
Baskin Robbins is the current Guinness World Record holder for the largest cup of ice cream. It was made on September 13, 2005, in celebration of its 60th birthday. This massive chunk of vanilla ice cream weighed 8,865 pounds!
The traditional colors of Baskin Robbins were pink and brown. Pink was to represent cherry and brown, chocolate, while the polka dots were to give the feel of circus balloons.
Astronut and Lunar Cheesecake were invented in honor of the NASA space missions in the 1960s. They were introduced only after the astronauts reached home safely.
Baskin Robbins also has its share of unusual ice cream flavors, including avocado, garlic, azuki beans, jalapeno, and pumpkin. They even created dill pickle ice cream targeted at expectant mothers.
The Baskin Robbins Triple Play flavor is a blend of peanut popcorn Cracker Jack that stays crisp even when frozen.
Baskin Robbins logo history
The history of Baskin Robbins logo is a good one filled with different designs and famous flavours. The story begins back in 1945 when Irvine Robbins opened the first ice cream store in Glendale, California. This was followed by another store in Pasadena a year later by Irvine's brother-in-law.
Three years later, the two joined forces and expanded from two stores to six. It was around that time that they came up with the idea of assigning each store its own manager with a commercial interest in the operation.
This gave birth to the Baskin Robbins franchise model and quite a few Baskin Robbins logos, some of which is still alive even today, all these years later.
While the store opened in 1945, the first Baskin Robbins logo was created in 1953. The Baskin Robbins logo meaning shows growth and diversity, with the brand's never-ending strive for greatness.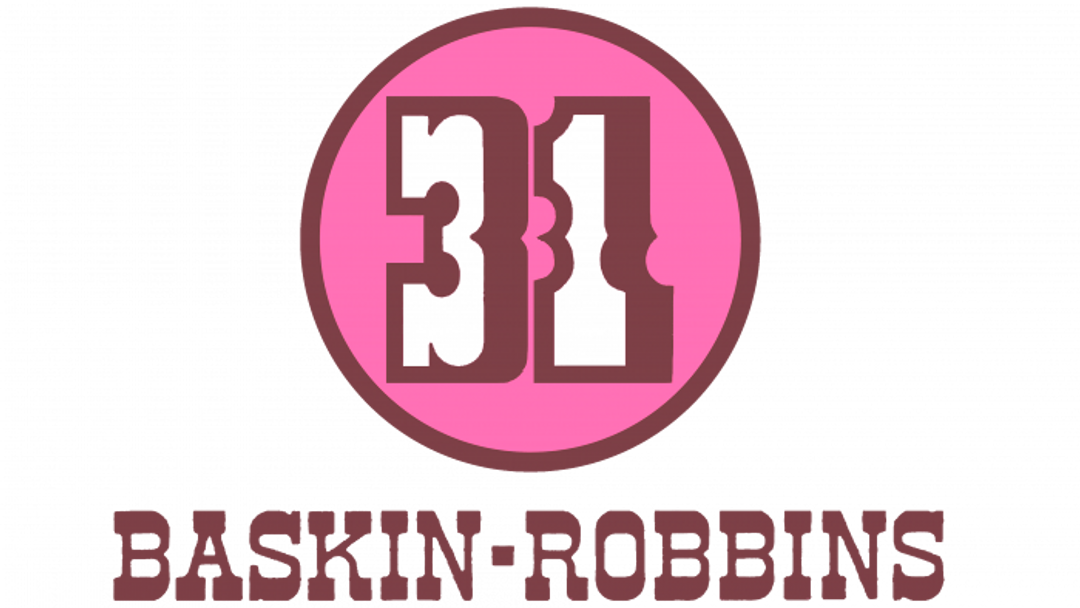 Carson-Roberts, a local advertising firm (that later became a part of Ogilvy & Mather), came up with the logo design and the slogan "31 flavors," which signified a flavor for each day.
Launch your brand in minutes with a free logo
The Baskin Robbins new logo and brand
For years, the Baskin Robbins logo color has been pink and blue, highlighting the number "31" in a quirky font to emphasize the fun and excitement that's associated with the joy of enjoying a scoop of delicious ice cream.
The new Baskin Robbins logo has replaced the quirky font with a slightly more refined and crisper typeface. The new branding comes in brown and pink and is all grown-up.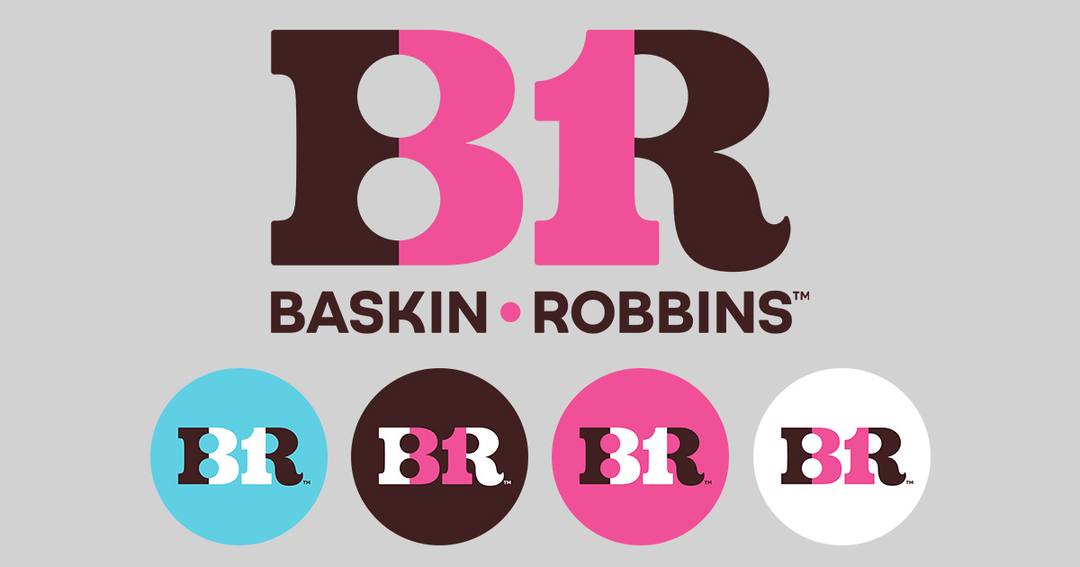 Speaking about the makeover and its journey, Vice President of Marketing and Culinary at Baskin-Robbins, Jerid Grandinetti, said,
"Our new look and manifesto recognize the extraordinary role ice cream has played in our customers' lives, along with our continued commitment to innovation and creating someone's next favorite flavor."
Aside from the new logo, color palette, and font, the brand also shared a new slogan:
"Seize the Yay!"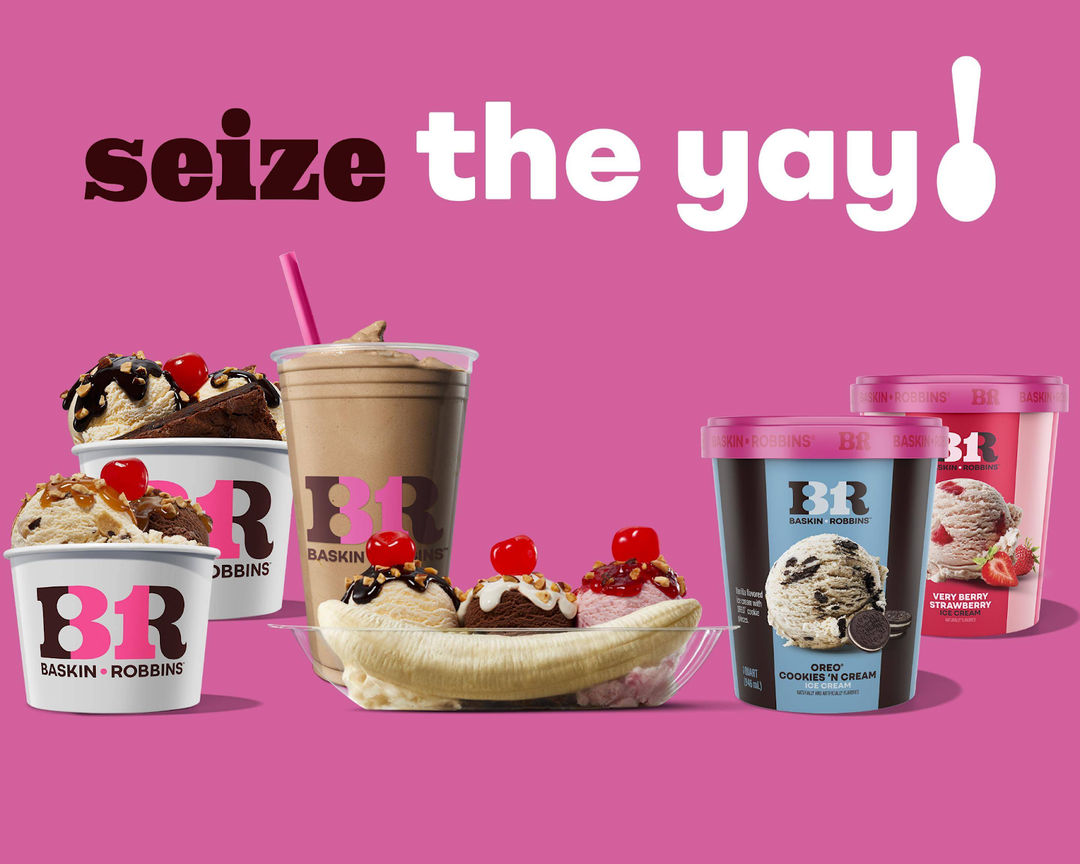 This is a play on words on the famous motto created by the Roman poet Horace. And Baskin Robbin's enthusiasts can enjoy three new pristine flavors, namely:
Totally Unwrapped: peanut butter and chocolate ice cream with fudge-covered pretzels, peanuts, and salted caramel.
Ube Coconut Swirl: made with coconut and ube (a purple yam commonly used in Filipino desserts).
Mint Chocochunk: a dairy-free classic with coconut milk.
The LOGO.com versions of the Baskin Robbins logo design
The Baskin Robbins logo represents taste and joy. The simple elements in the logo enhance mood and a sense of warmth. But could the famous design be reimagined once again?
Design similar versions of the Baskin Robbins logo below and take them home for free!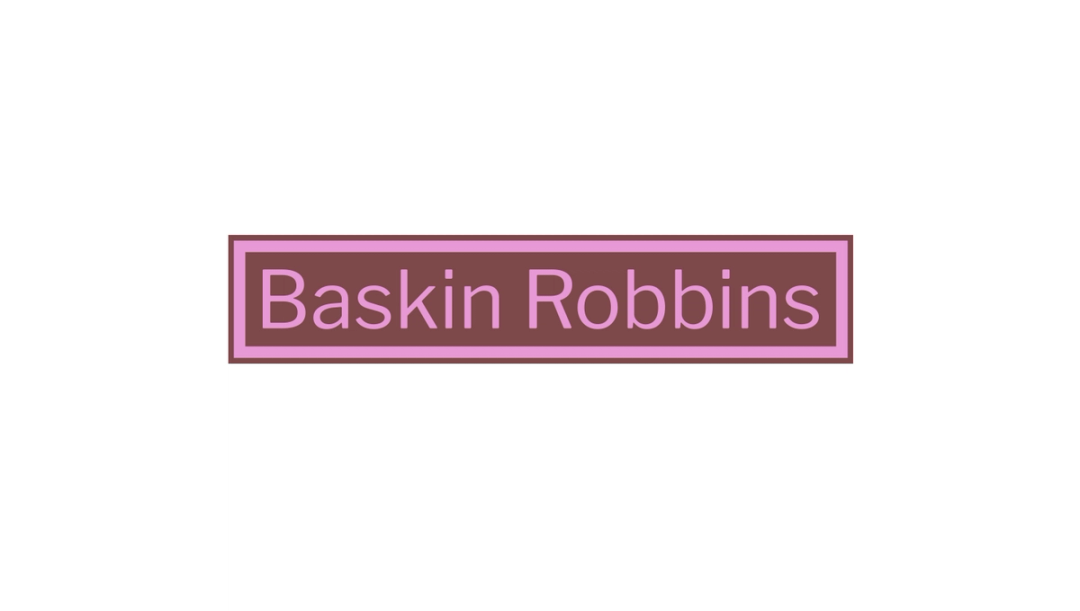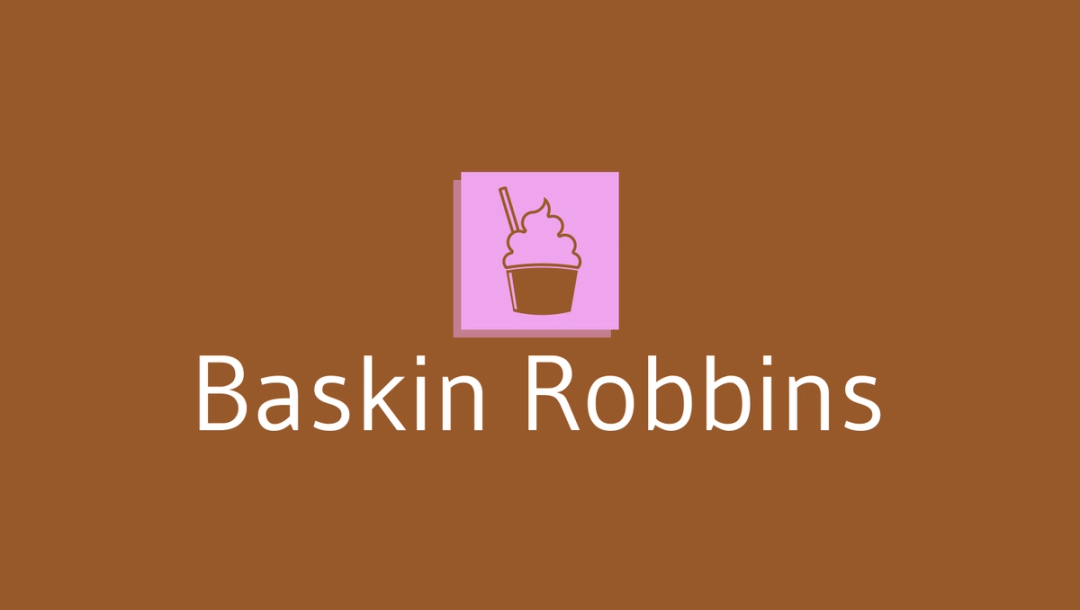 Thanks to a few subtle tweaks, we now have not one but two Baskin Robbins logo variations to take inspiration from.
Promoting the new look
There's more to the rebrand than just a new logo, slogan, and flavors. To promote the rebrand and engage new and old customers, the company is rolling out some limited-time swag, including branded scrunchies, sweatshirts, bucket hats, and even bicycles – all related to fun and excitement.
Nothing screams "Seize the Yay" like a ride on an ice-cream-themed bike that's all about celebrating small, joyous moments.
"We want to make sure that we celebrate with our guests," said Grandinetti. "What better way to do that than to provide some fun buzzworthy items, like a bicycle and clothing that can be part of their everyday lifestyle."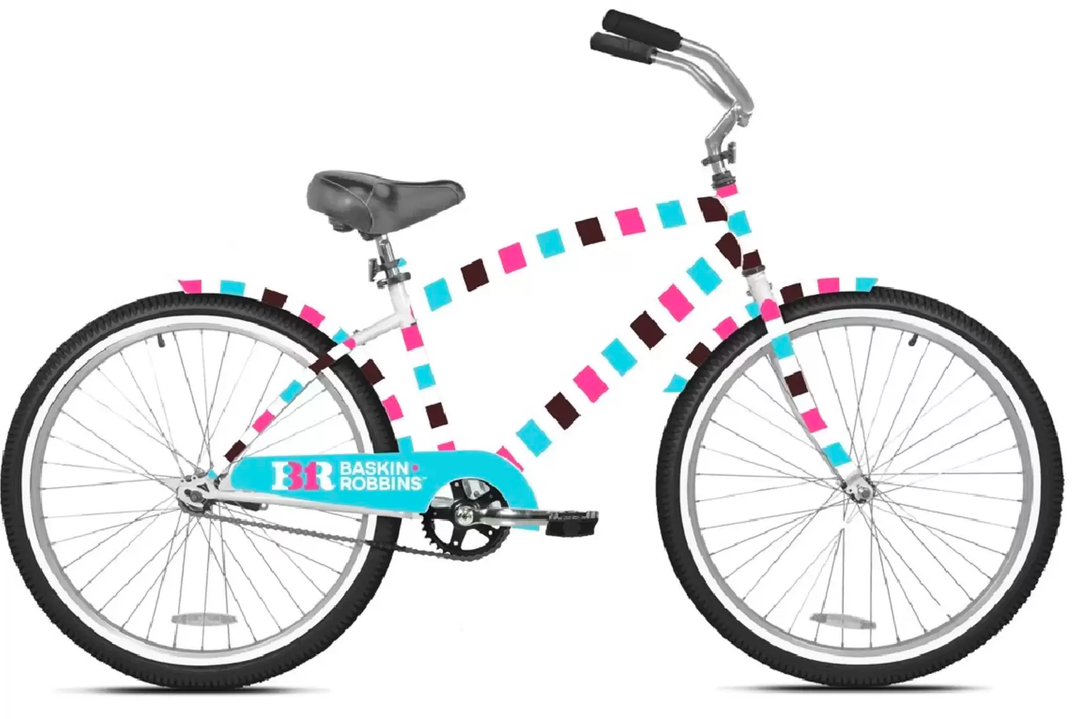 Why should you consider rebranding?
When iconic brands such as Baskin Robbins get with the times and rebrand themselves to stay relevant, it sends an important message to small businesses considering a rebranding move.
The idea is to listen to your customers and stay up to date with the market. Use that information to give your brand a new look and feel. Consider a logo redesign an opportunity to evolve your brand; take advantage!
Ready to design your logo? Get started with our logo maker!
Launch your brand in minutes with a free logo