Let's start with a short quiz.
Who's the CEO of Honda?
Who's the CEO of Aston Martin?
Who's the CEO of Hyundai?
Who's the CEO of Tesla?
Whether you're an auto-enthusiast or someone who's indifferent towards cars, there's no doubt you knew the answer to only one of those four questions.
(If you knew them all, kudos to you!)
There's a very tiny percentage of people who are unfamiliar with Elon Musk. Even your grandma has heard the name, even though she may have mistaken him for a cologne brand.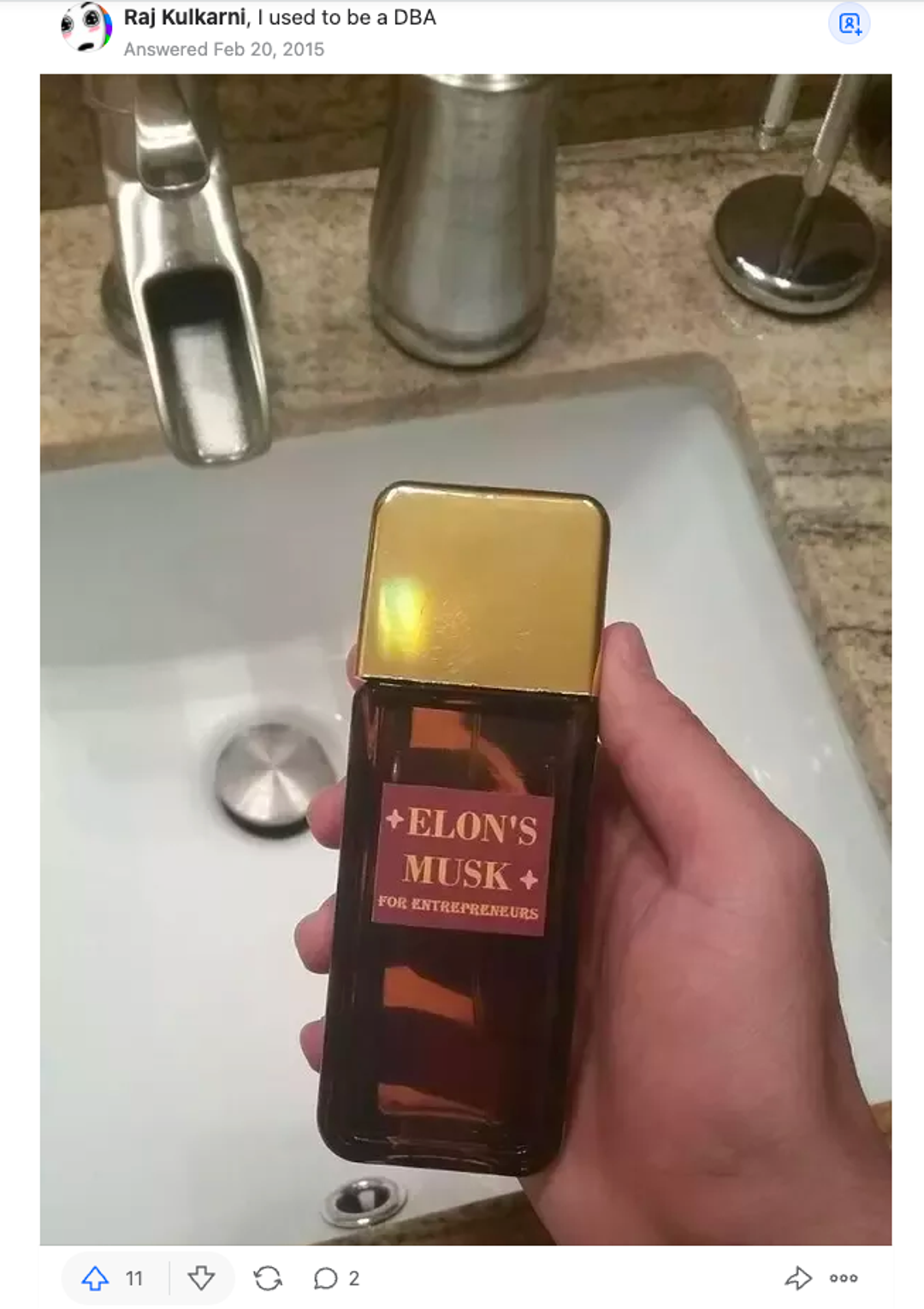 While he sometimes sparks criticism, Elon is a top dog when it comes to building successful brands.
For example, Tesla:
For a company that doesn't spend a dime on marketing, the amount of attention Tesla receives is incredible! In 2008, Tesla Motors released its first car, and by 2020, its stock price rose over 700%, boosting the value of the brand to over $800 billion. The value of the brand increased so dramatically that CEO Elon Musk became the richest person in the world (temporarily).
Two years before Tesla's launch (2008), Elon shared his Secret Tesla Motors Master Plan (just between you and me) on the car's website.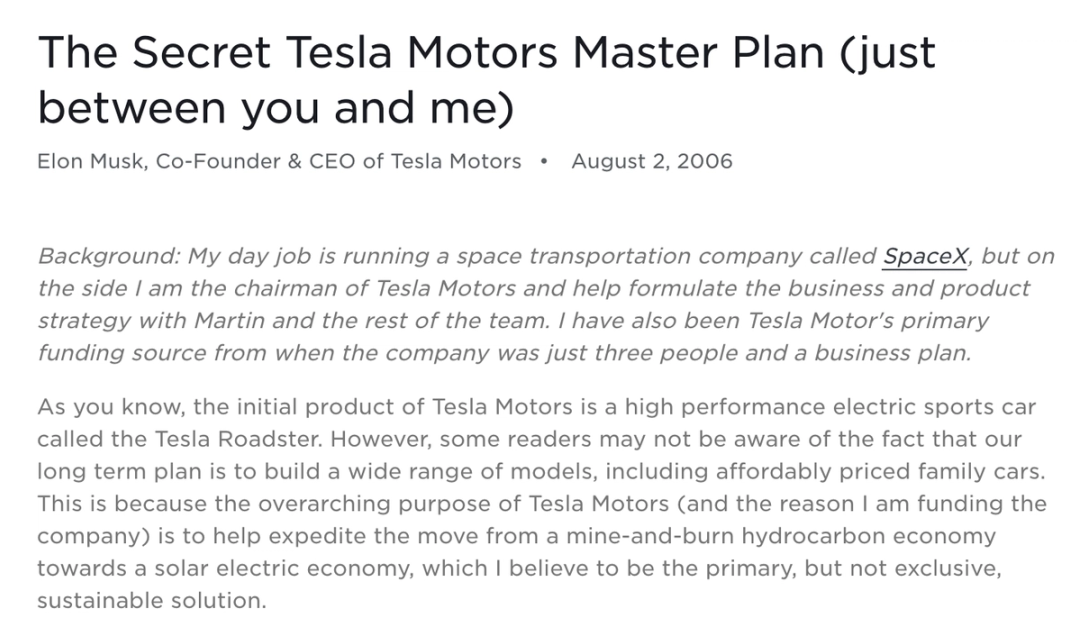 Tesla - A Master Case Study On Brand Building
Tesla not only made electric cars mainstream, it made them sexy. And if you were to really dissect it, there are three core reasons behind it.
1. Elon Musk himself
He has a Twitter following of over 80 million people. He wants to go to Mars, dates celebrities, and his hobbies include flamethrowers and getting into conflicts with Jeff Bezos. In fact, more recently, he accumulated a 9.2% stake and joined Twitter's board because he wants to make it a better platform.
In short, he's charismatic and authentic. There's no show with him. He does what he says, and more importantly, he actively interacts with his users. You may expect him to tweet only about Tesla or SpaceX, but it's the absolute opposite. He posts memes, shares honest opinions, and even highlights the bloopers.
And people are incredibly attracted to this charisma and authenticity.
2. Tesla made electric a status symbol
Basically, Tesla has become hard to get. You have to pay thousands of dollars to test drive the car. And the car itself is extraordinarily hard to get. There aren't any Tesla dealerships, all transactions happen online, there's no negotiation on the price, and after all that, you may have to wait months to get your car.
The fact that it's scarce and hard to get is what makes it so attractive. It's almost like a forbidden fruit; everyone wants a piece of it.
3. Addressing comments and criticism
Tesla's start may have been energizing, but it wasn't without flaws. Concerns have been raised about the company's financing and capacity to manufacture cars on a large scale. But Musk is known for responding to tweets from both reviewers and owners that give recommendations or share complaints.
He shows that the company is paying attention and is actively seeking and accepting suggestions. Being heard improves customer satisfaction and builds a brand reputation. Not to mention the added excitement of having a direct line with the company's CEO.
Tesla Logo
The Tesla logo is meant to resemble a cross-section of an electric motor.

The main body of the 'T' represents one of the poles that pop out from the rotor of a motor, while the second line on top highlights a piece of the stator. It creates a decent approximation of an electric-motor cross-section by repeating the Tesla logo in a circle, with the top of each "T" facing outward.
‍
Having Fun With Tesla
While Tesla's product, branding, and marketing are top-notch, the memes and jokes around this electric car aren't far behind. Here's a compilation of some of our favorites:
1. The flying Tesla
LAPD seeks hit-and-run driver in Tesla jump. In fact, if he wants to take it up as a full-time profession, we've got a free logo for him.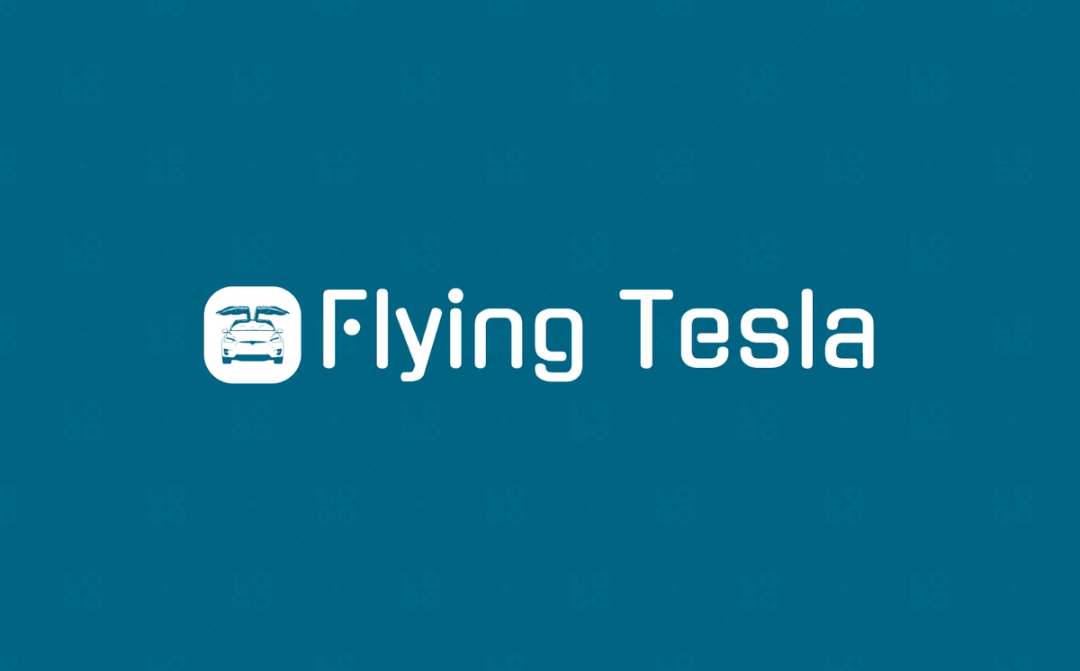 2. Tesla - Pretend to save the environment while looking rich
‍
3. Here's a guy who tried to put gas in his Tesla Model 3
‍
4. 97 year old in a Tesla (this one is ♥️)
‍
Last but not the least, we have Jeremy Clarkson!
5. Clarkson is astonished by the self-driving Tesla Model X
Wait for the moment where he races Tesla against Audi R8, a 600 horsepower beast.
‍
New Development: Elon Musk Buys Twitter
Musk made a bid for Twitter only 11 days ago, and on April 25, 2022, he sealed an agreement to purchase the microblogging network for $44 billion. In a bid made public on April 14th, Elon Musk proposed to purchase Twitter for $54.20 per share in cash.
Twitter users are a bit uncertain about the new direction, with most expressing outrage at the billionaire's investment, noting that it could have been utilized for more meaningful purposes.
Let's just say the platform is a little chaotic right now! Luckily, the Tesla CEO does also have people that support his decision.
Musk thrives on meme culture, making this a potentially good fit for both parties on the platform. Some users are showing a sense of humor about the transition, which, let's be honest, is essentially what Twitter is all about.
For example, Italian Elon Musk has been trending for days since the acquisition, and people are having fun with it.
The Tesla CEO has 85.6 million followers on Twitter, making him the sixth most-followed individual on the platform. Users may be apprehensive about the change, but Musk has declared an appreciation for free expression, alluding that not much may be changing.
Twitter is "the digital town square where things critical to the future of mankind are discussed," said the maverick billionaire in a statement after the transaction. "Free expression is the backbone of a functional democracy."
Let's see what's next!
Ready to design a logo as formidable as the Tesla logo? Get started with our logo maker!