"If you talk to a man in a language he understands, that goes to his head. If you talk to him in his own language, that goes to his heart." - Nelson Mandela
Language is one of the most important parts of human connection. It is the way by which people share their ideas, thoughts, and feelings with others. It has the power to build societies, and also tear them down.
We all grow up learning language but knowing another language allows us to connect to a whole different culture.
We recently chatted with Mandy Haffer de Ramírez, the mind, heart, and soul behind Sin Miedo al Éxito Spanish, a Spanish language school.
In this exclusive interview with us, Mandy talks about how she started teaching Spanish, what keeps her going, and how she built a stellar brand identity for her Spanish school.
Let's dive in!
1. Tell us about yourself and how your journey brought you to where you are now.
My name is Mandy! I am originally from the United States but right now, Honduras is home. I teach personalized Spanish lessons online through a program I started last fall, and when I'm not teaching, my full time job is being a wife and mama. My husband and I have an 18 year old daughter who joined our family through foster care and a one year old son.
After graduating with my Spanish degree in 2016, I moved to Central America to begin serving with a non-profit that works to see lives and communities transformed by God. I started out serving in Nicaragua, but unfortunately was evacuated during a time of civil unrest in 2018.
Though I absolutely LOVE the work of that organization and continued serving with them a couple more years here in Honduras, I began sensing God showing me that I needed to be more present as a mom. I didn't know what that looked like at the time, but made the decision to step back from my role as a missionary/non-profit worker last spring.
2. Tell us about the inception of Sin Miedo al Éxito Spanish. What inspired you to start this business?
Last summer, I began applying for part-time jobs that would allow me to be more present for my family, but experienced one closed door after another. Around that time, a few people from my church back in the US approached me wanting to learn Spanish. (My home church does mission work here in Honduras.)
Though my degree is in Spanish, teaching the language was not ever in my plans. But, since I was already looking for work, I put the opportunity out there to see if anyone else was interested. To my surprise, fifteen people reached out wanting to start studying Spanish!
I began putting together some basic lessons, and in August of 2021, Sin Miedo al Éxito was born! We now have 22 students spread across 9 states. Classes are each one hour long via Zoom.
"Sin Miedo al Éxito" translates to "without fear of success."
Fear of making mistakes is one of the biggest obstacles to learning a second language. We desire to see individuals overcome their fears and develop confidence to succeed in learning Spanish, through personalized 1x1 or 2x1 lessons from home.
3. Tell us about your logo–what was it that you wanted your logo to communicate?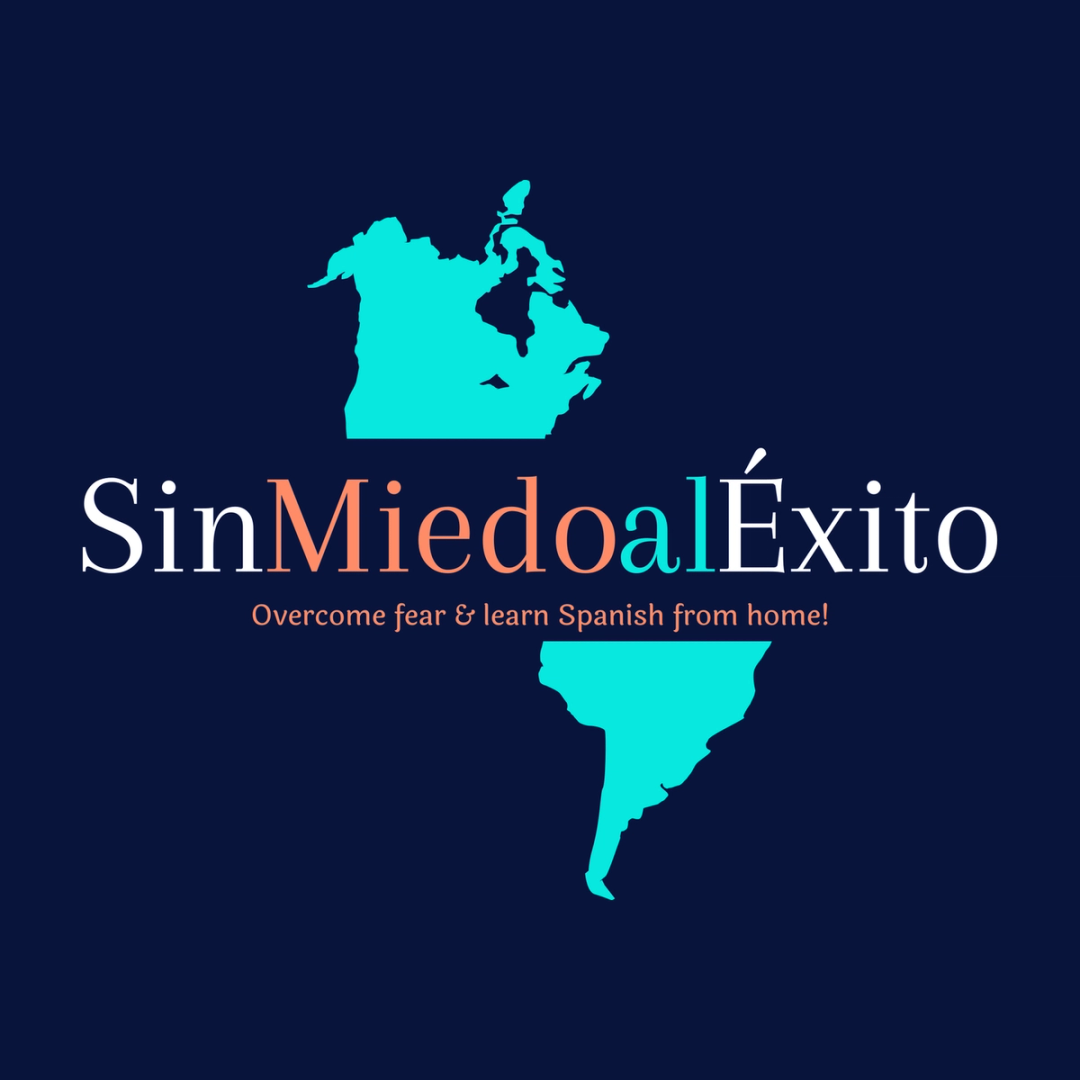 You will notice that our logo includes North, Central, and South America in the background. We have our business name right across the middle, and wanted to show that we are a bridge of sorts, connecting the two worlds of English-speaking North America and Spanish-speaking Latin America.
We had a previous logo that we designed ourselves, but were looking for something more professional to reflect our growing business, and feel like we found it with you guys!
4. What about your business is most fulfilling to you?
Our Spanish lessons are extremely practical, so instead of just memorizing long vocabulary lists, we work on speaking, listening, reading, and writing, and offer practical material that will actually help them communicate with others.
Many of our students are learning Spanish to better engage with native speakers on a mission trip setting, and others are professionals in the US (social workers, teachers, doctors, etc.) who interact with Spanish speakers on a regular basis.
The most fulfilling part of our business is seeing our students getting to put what they are learning to use in their individual contexts.
One of our newest students is actually a foster mom to four Spanish-speaking daughters who is studying with us in order to better communicate with her children.
We recently saw a quote that said "Strive not to be a success, but rather to be of value." We work hard in order to add value with our material, and tailor each lesson to the unique needs and context of our students.
5. How was your experience using LOGO.com to design your logo?
Here is what I loved about working with LOGO.com: Usually when you reach out to a company with questions, you either get an impersonal, canned response, or it takes forever to hear back. Since our business name is in Spanish and we needed to include a character with an accent mark, I sent a message asking how we could make that happen.
To my surprise, I received a quick, personal response (from an actual human!) who was willing to go out of his way to make our logo idea a reality. The LOGO.com team took extra time to help us make our logo the way we wanted it, without making us feel like a burden or charging any extra.
We would HIGHLY recommend them to any small business looking to create a more professional logo!
6. What are your aspirations for this year?
I am looking forward to seeing the continued growth of my students! We have a lot of students just starting out in their Spanish journeys and others who can already hold a conversation, but our hope with each student is not to focus on what they still have to learn, but rather to celebrate all the progress they have already made. We love seeing those ah-ha moments as they really start to "get it!"
7. What philosophies inspire you in your life and work?
My faith in Jesus inspires and influences every aspect of my life and work. Even though I technically left "full-time ministry," my students have become my ministry. Outside of just teaching Spanish, I get a unique front-row seat into their lives. In such a busy world, it is rare to get an hour a week face-to-face with someone.
We get to celebrate the good things together, and pray over the hard stuff. I've gotten to walk with my students through mental health challenges, loss of family members, job changes, parenting challenges, and so much more.
Getting to encourage and pray with my students each and every week is not something I take for granted.
8. Where can people who want to learn Spanish find you?
The best place to reach us is through our Facebook page- facebook.com/sinmiedospanish